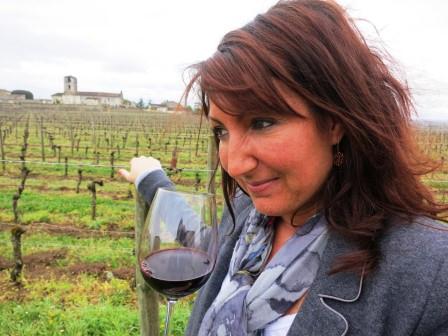 Everything about La Gomerie St. Emilion with wine tasting notes, wine and food pairings, best vintages, a history of the property, and information on the vineyards and winemaking. If you want to read about other important, Bordeaux Chateaux: Links to all Bordeaux Wine Producer Profiles
1995 was the debut vintage for La Gomerie in St. Emilion. La Gomerie is owned by the Becot family, who also count among their holdings, Chateau Beau-Sejour Becot and Joanin Becot.
La Gomerie Vineyards, Terroir, Grapes, Winemaking
The 2.52-hectare, vineyard of La Gomerie is planted to 100% old vine, Merlot. The Right Bank vineyard of La Gomerie is located not far from the village of Saint Emilion and close to Beau-Sejour Becot. The vines are close to 35 years of age.
The vineyards are planted to a vine density of 6,250 vines per hectare. The complex terroir actually consists of two different soil types. Sand on top of clay with iron deposits accounts for 73% of their soil. The remainder of the terroir is limestone, which is very similar to the soils in the vineyards of Chateau Beau-Sejour Becot.
To produce the wine of La Gomerie, extensive work takes place in the vineyards. The crop is deleafed two times before crop thinning takes place. After harvest, which is always done by hand, the fruit is sorted three times, before and after destemming.
The berries are lightly crushed before their 4-day that is no warmer than 6 degrees Celsius. This is followed by a 30-day maceration in truncated, 50 hectoliter, stainless steel tanks.
Daily pigeages take place during fermentation. Ecoulage is by gravity flow, malolactic fermentation, and aging on the lees is conducted in 100% new, French oak barrels. The Production of La Gomerie is small with an average of only 800 cases of their St. Emilion wine produced per vintage.
The best vintages of Chateau La Gomerie are 2010, 2009, 2005, 2001, 2000 and 1998.
When to Drink La Gomerie, Anticipated Maturity, Decanting Time
La Gomerie needs some time before it can be enjoyed. Young vintages can be decanted for an average of 1-2 hours. This allows the wine to soften and open its perfume.
Older vintages might need very little decanting, just enough to remove the sediment. La Gomerie is usually better with at least 4-6 years of bottle age. Of course, that can vary slightly, depending on the vintage character. La Gomerie offers its best drinking and should reach peak maturity between 5-20 years of age after the vintage.
Serving La Gomerie with Wine, Food, Pairing Tips
La Gomerie is best served at 15.5 degrees Celsius, 60 degrees Fahrenheit. The cool, almost cellar temperature gives the wine more freshness and lift. Chateau La Gomerie is best paired with all types of classic meat dishes, veal, pork, beef, lamb, duck, game, roast chicken, roasted, braised, and grilled dishes.
Chateau La Gomerie is also good when matched with Asian dishes, hearty fish courses like tuna, mushrooms, and pasta.
In 2011, a fire destroyed a large part of the chateau at La Gomerie. Renovations were completed the following year. However, with the renovations, following the 2012 St. Emilion classification, the final vintage for La Gomerie was 2011. The vines were integrated back into Chateau Beau-Sejour Becot.
The style of La Gomerie is forward, lush and sexy. It is soft, round, opulent, and soft, with ripe black plums, black raspberry, chocolate, and licorice flavors. Because of its open personality, La Gomerie can be enjoyed young, yet it ages well too.
Château La Gomerie Wine Tasting Notes
11 Vintages 85,463 Views Sort by Vintage-Rating
2011
Château La Gomerie (St. Émilion)

From 100% Merlot, this wine will be aged in 100% new oak. Black pepper, cherry and fat textures open into a chocolate and cherry finish. 89-91

3,579 Views

Tasted

Apr 24, 2012

2010
Château La Gomerie (St. Émilion)

La Gomerie produced from 100% Merlot offers deep color, silky textures, licorice, with melted black cherries, earth and truffle scents. Sensuous in texture, the wine ends in opulent layers of ripe black raspberries and licorice. 92-94 Pts

3,756 Views

Tasted

Apr 22, 2011

2009
Château La Gomerie (St. Émilion)

2009 Gomerie, 100% Merlot, is filled with licorice, plums, coffee, chocolate, and black raspberries with hints of jam. Soft, sexy, and round, it blends elegance with opulence, finishing with rich sensations of black raspberries and dark cherries. 92-94 Pts

3,198 Views

Tasted

Jun 28, 2010

2008
Château La Gomerie (St. Émilion)

2008 La Gomerie with its silky textures and floral, licorice, plum, oak and spice filled aromatics is a winner. The wine is refined opulence and ends with a clean fresh, black velvet finish. 93 Pts

3,366 Views

Tasted

Jul 18, 2009

2005
Château La Gomerie (St. Émilion)

Right where you want it to be, if you're seeking lush, sexy, supple, textures, truffles, fresh, ripe and over ripe black cherries, a hint of oak, earth and chocolate.

3,192 Views

Tasted

Jun 28, 2015

Starting off with a showy, licorice tinged, perfume with ripe black, red and blue fruit, coffee and toasty oak. Very polished and sexy with more structure than previous vintages allowing this to age and evolve.

4,894 Views

Tasted

Nov 9, 2007

Jammy dark berries, licorice, coffee and spicy scents abound. Round, opulent and sensous in the mouth, this rich, sexy wine is very seductive.

4,743 Views

Tasted

Jun 22, 2007

2004
Château La Gomerie (St. Émilion)

At full maturity, this medium bodied, flamboyant, lushly textured wine is filled with licorice, black raspberries, plum, chocolate and wet earth characteristics.

2,693 Views

Tasted

Nov 30, 2014

2001
Château La Gomerie (St. Émilion)

Incredibly seductive says it all. Pure silk and opulent textures allow the perfectly ripe, black cherries, plums, chocolate, licorice and truffle notes to shine. It's good to know that my last bottle was pulled when this is drinking at peak.

2,643 Views

Tasted

Jan 2, 2018

2000
Château La Gomerie (St. Émilion)

My last bottle from the case, as well as the final bottle of La Gomerie in my cellar, as the wine is no longer being made. The attention seeking nose serves up chocolate mint, black cherry, licorice and earthy aromas. Soft and silky, medium/full bodied and fully mature, there is no reason to hold this for further development as it feels like the fruit is about to gently slip from its peak, based on my memory of previous bottles. The wine was made from 100% Merlot.

4,664 Views

Tasted

Aug 28, 2015

The color is still dark. The licorice, black cherry, earth and subtle jam aromas pair well with the plush, round, silky, lush textures. Popped and poured, the wine filled out in the glass after 30 minutes.

3,172 Views

Tasted

May 10, 2014

This floods your pleasure centers with mounds of black raspberry, licorice, minerals, mocha and spice. Soft, plush, elegant and opulent, this full bodied wine feels great as it fills your mouth with intense fresh black plum and blackberry flavors. Close to fully mature, this will probably drink best over the next decade.

3,864 Views

Tasted

Mar 5, 2010

This delivered a lot of black, plummy fruit, licorice and spice on the nose with intriguing hints of minerals. Opulent, soft and plush on the palate with a fresh silk laden finish.

3,767 Views

Tasted

Jan 15, 2009

1999
Château La Gomerie (St. Émilion)

Medium-bodied, with more fragrance than fruit, the wine is in a gentle state of fading, making it time to drink up, before the remainder of the soft textured, fresh, lifted red fruits and thyme go missing.

1,953 Views

Tasted

Sep 18, 2021

1998
Château La Gomerie (St. Émilion)

Fully mature, this sensuous pleasure machine serves up a delicious dose of ripe, dark red fruits dipped in chocolate, licorice and espresso beans. Opulent in texture, with a lush, fruit filled finish, if you have a bottle, drink it as it's really in the perfect spot.

3,330 Views

Tasted

Dec 15, 2015

Licorice, coffee, truffle, black plum and cocoa lead to a seductive, lush, round, fully mature wine with silky tannins and textures.

3,756 Views

Tasted

Jun 11, 2013

Produced from 100% merlot, the perfume offers scents of black raspberry, coffee, licorice, coconut, chocolate and after time in the glass, hints of minerality and tobacco. Opulent, plush and sensuous in texture, this sexy wine ends with sweet berry, fennel and chocolate flavors.

3,742 Views

Tasted

Jan 8, 2011

Blackberry, truffle, fudge and dark cherry in the nose. Soft, round, rich and silky textures. The wine ends with a bitter chocolate, black cherry note. Close to fully mature. Drink over the next 8-10 years.

4,006 Views

Tasted

May 22, 2010

The ball rolling with a spicy, coffee, mocha fennel nose further complicated by black and blue fruits. The full bodied 100% Merlot wine has taken on secondary characteristics. The tannins have melted away. Plush, lush and stylishly sexy, this is a wine for hedonists.

3,799 Views

Tasted

Oct 14, 2008

Dark cherry, herb, raspberry, licorice scents make up the pefume. This round, silky, opulent wine finishes with ample ripe, dark chocolate and plum notes.

3,728 Views

Tasted

Aug 31, 2007

Shiny, black, purple color with slight pinking around the edges. Licorice, Blackberries, plums, wood, truffles, coffee, and chocolate mint ice cream excite the nose. This is a beautiful perfume. Full bodied, low acid, with lots of glycerin and no discernible tannin. Personally, I wish it had more backbone so it could age.

3,168 Views

Tasted

Apr 20, 2004

1995
Château La Gomerie (St. Émilion)

The debut vintage for La Gomerie is firm, with a tannic edge, as are most wines from the vintage. The wine lacks the plush, rich textures and layers of fruit found in most subsequent vintages.

4,196 Views

Tasted

Jul 9, 2013

Better on the nose than the palate with its earthy, dark chocolate, plum, mushroom and black cherry nose. The wine is soft in texture, but there is a dryness to the tannins that is peeking through into the finish that mars the finish, giving the wine a slight brawny quality. I'd drink this sooner than later to retain the remaining fruit.

3,789 Views

Tasted

Apr 11, 2013

The debut vintage for the 100% Merlot wine opens with black licorice, black cherry jam, coffee, spice and fresh black raspberries. Sensuous in texture, this fully mature Bordeaux wine ends in a round, supple, fennel and spicy plum finish.

2,465 Views

Tasted

Aug 17, 2011