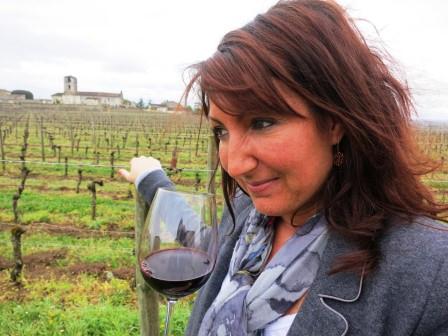 Learn everything about Chateau Joanin Becot Cotes de Castillon with wine tasting notes and wine with food pairing tips. Learn the best vintages, the history of the property, information on winemaking and terroir, wine tasting notes. If you want to read about other important, Bordeaux Chateaux: Links to all Bordeaux Wine Producer Profiles
Chateau Joanin Becot History, Overview
Chateau Joanin Becot was purchased by the Becot family in February 2001, who was already well-known for owning Chateau Beau-Sejour Becot in St Emilion. According to Juliette Becot, they chose this Bordeaux wine property because of the unique terroir. Joanin Becot is located at some of the highest elevations along the Gironde in the Cotes de Castillon.
Their Cotes de Castillon vineyard is named in part for the terroir. In fact, Joanin is situated on a "lieu-dit" or vineyard, which is called Joanin.
Shortly after purchasing the estate, the family added their name to the property as well. In 2001 at the time of the purchase, Joanin Becot was 5.4 hectares. With additional purchases, they increased the size of their vineyards to 12 hectares.
Juliette Becot, the owner and winemaker of Joanin Becot says, her philosophy is to consider her vineyard like a beautiful garden that takes work during the summer. She treats her grapes carefully, just like refined roses.
Starting with the 2010 Bordeaux vintage, Joanin Becot sported a new label to accompany the famous pink capsule.
Chateau Joanin Becot Vineyards, Terroir, Grapes, Winemaking
The 15-hectare Cotes de Bordeaux vineyard of Joanin Becot is planted to 80% Merlot and 20% Cabernet Franc. This shows a change in the vineyard with more Cabernet Franc plantings. The vineyard has also increased in size after the purchase of 2 additional hectares of vines, which include a parcel of old vine Cabernet Franc that dates back to 1870. Chateau Joanin Becot has a terroir of clay and limestone soils.
The vineyard is planted to a vine density that ranges from 5,200 vines per hectare to 6,250 plants per hectare. The higher levels of vine density are found with all the newer plantings.
In 2002 at Joanin Becot they installed new cellars for the vinification. The fermentation takes place in the upstairs portion of their cellar. The cellars for the barrel aging are on the lower level, which allows the wine to move by gravity.
The family ordered custom-made tanks for their Right Bank estate. These appear to resemble large pans, with a conical shape. This allows for extensive manual cap punching here.
Malolactic fermentation takes place in vat. When the alcoholic fermentation is finished, the wine is run off by gravity into a combination of 45% new, French oak barrels, foudres and the remaining portion is aged in amphora.
This is obviously a very labor-intensive project for any winery and more labor-intensive than many other wines in Cotes de Castillon. But the quality of the wine found in Joanin Becot is where those efforts pay off.
The best vintages of Chateau Joanin Becot are: 2022, 2021, 2020, 2019, 2018, 2017, 2016, 2015, 2014, 2012, 2010, 2009 and 2005.
When to Drink Chateau Joanin Becot, Anticipated Maturity, Decanting Time
Chateau Joanin Becot is much better with at least 3-4 years of aging in good vintages. Young vintages can be decanted for 1 hour or so. This allows the wine to soften and open its perfume.
Older vintages might need very little decanting, just enough to remove the sediment. Chateau Joanin Becot offers its best drinking and should reach peak maturity between 3-12 years of age after the vintage.
Serving Chateau Joanin Becot with Wine, Food, Pairing Tips
Chateau Joanin Becot is best served at 15.5 degrees Celsius, 60 degrees Fahrenheit. Chateau Joanin Becot is best paired with all types of classic meat dishes, veal, pork, beef, lamb, duck, game, roast chicken, roasted, braised, and grilled dishes.
Chateau Joanin Becot is also good when matched with Asian dishes, rich fish courses like tuna, mushrooms, and pasta.
Stylistically, Joanin Becot offers ample charm, freshness, ripe flavors, and soft textures. It drinks well young and is fairly priced for a Bordeaux wine of its quality.
Château Joanin Bécot Wine Tasting Notes
18 Vintages 65,464 Views Sort by Vintage-Rating
2022
Château Joanin Bécot (Castillon Côtes de Bordeaux)

Violets, plums, cherries and licorice fill the nose. From there, the medium-bodied wine is opulent, fruity, deep and dark, with elements of chocolate, black plums, black cherries, spice and licorice on the mid-palate that carry through to the finish. The wine is a blend of 80% Merlot and 20% Cabernet Franc. 15% ABV, 3.60 pH. Some of the vines used here date back 1870! Drink from 2025-2035. 92-94 Pts.

1,380 Views

Tasted

May 8, 2023

2021
Château Joanin Bécot (Castillon Côtes de Bordeaux)

On the nose you find flowers, cocoa, black cherries, espresso and leafy herbs. Medium-bodied, soft, and fresh, you find vibrancy and juicy fruits with touches of red berries, spice, chocolate and herbs on the mid-palate and on the backend. The harvest took place October 6 - October 9. The wine blends 85% Merlot with 15% old vine Cabernet Franc. Some of the vines used here date back 1870! Drink from 2023-2033. 90-92

1,534 Views

Tasted

May 20, 2022

2020
Château Joanin Bécot (Castillon Côtes de Bordeaux)

Flowers, truffle, sweet cherries and cocoa create the nose. Medium-bodied, silky, sensuous, fresh and packed with layers of ripe red fruits and touch of cocoa on the backend in the finish that already express a beautiful sense of purity. This is in contention for one of the top vintages of Joanin Becot ever produced. Drink from 2023-2036.

802 Views

Tasted

Mar 21, 2023

The combination of fresh, savory, spiced fruits, plums, mint and cherries is great from the get-go. Medium-bodied, soft, silky and pure, with a beautiful sweetness to fruits on the mid-palate, the wine ends with gentle polished kirsch and juicy plums. The wine is made from blending 90% Merlot and 10% Cabernet Franc. This is clearly a new level of quality for Joanin Becot. 92-94 Pts

2,596 Views

Tasted

May 20, 2021

2019
Château Joanin Bécot (Castillon Côtes de Bordeaux)

The nose opens with flowers, espresso, cocoa, licorice and plums. The wine is soft, silky, fresh and polished on the palate allowing all of its sweet, ripe, black raspberries, plums, cherries coffee and licorice to shine through. The wine was made from a blend of 75% Merlot and 25% Cabernet Franc. Drink from 2023-2034.

994 Views

Tasted

Mar 29, 2022

2018
Château Joanin Bécot (Castillon Côtes de Bordeaux)

The intriguing touch of mint that comes with all the ripe, black cherries, licorice and chocolate hits the spot. The wine offers nice richness and intensity with silky tannins and layers of elegant, ripe, sweet, round, juicy, red fruits that feel as good as they taste.

3,137 Views

Tasted

Mar 21, 2021

Chocolate mint, licorice, black cherry and smoke are easy to spot. There is volume with layers of ripe, dense, black fruits along with a touch of fig, dark cocoa and espresso bean. Fleshy, long and rich, this is clearly the best Joanin Becot ever. The blend of 75% Merlot and 25% Cabernet Franc is aging in a combination of 50% new, French oak barrels, 25% in vat, 15% in amphora and 10% in one-year-old barrels. 91-93 Pts

3,120 Views

Tasted

Apr 19, 2019

2017
Château Joanin Bécot (Castillon Côtes de Bordeaux)

Cushy, curvy and animated, this wine is already offering licorice infused, supple textured plushness with black cherry and cocoa character. The finish has some lift, leading me to believe it will be better with a year or two in the cellar -- though you can certainly drink this young for instant gratification. The wine was made from a blend of 75% Merlot and 25% Cabernet Franc.

2,454 Views

Tasted

Apr 26, 2018

2016
Château Joanin Bécot (Castillon Côtes de Bordeaux)

Licorice, black cherry and dark chocolate notes are in the nose, and the mouth. Soft, round, forward and plush, this will be even better in a few years, although, it will be fine to drink on release. The wine was made from a blend of 80% Merlot and 20% Cabernet Franc.

3,007 Views

Tasted

Apr 29, 2017

2015
Château Joanin Bécot (Castillon Côtes de Bordeaux)

Lush, forward, juicy, dark cherries, chocolate and licorice deliver a sweet, round, fleshy, flashy, sexy wine with freshness and loads of sweet, sensuous ripe fruits in the finish. This blend of 80% Merlot and 20% Cabernet Franc reached 14.9% ABV with a pH of 3.50.

3,529 Views

Tasted

Apr 29, 2016

2014
Château Joanin Bécot (Castillon Côtes de Bordeaux)

Ripe, soft, round and packed with licorice, ripe, black cherries and cocoa, this blend of 75% Merlot and 25% Cabernet Franc is going to show well early. 88-90 Pts

2,243 Views

Tasted

May 1, 2015

2013
Château Joanin Bécot (Castillon Côtes de Bordeaux)

Floral and black raspberry and coffee bean nose, medium bodied with an open easy to drink, soft and sweet personality. From yields of 25 hectoliters per hectare, the wine was produced from a blend of 80% Merlot and 20% Cabernet Franc. The wine reached 13% ABV and is aging in 50% new oak. 87-89 Pts

2,745 Views

Tasted

May 1, 2014

2012
Château Joanin Bécot (Castillon Côtes de Bordeaux)

Fresh vanilla bean and cherry on the nose, with a polished, soft, sweet, open core of black cherry, fennel and plum notes

2,698 Views

Tasted

May 15, 2015

Soft and ripe with licorice and black raspberry, this delicious and round wine will drink on release. 88-90 Pts

2,797 Views

Tasted

Apr 26, 2013

2011
Château Joanin Bécot (Castillon Côtes de Bordeaux)

Blending 70% Merlot with 30% Cabernet Franc and grown in clay and deep limestone soils, the wine opens with licorice, earth, jam and blackberry. Sweet, ripe, round and soft-textured, the wine ends with ripe, fresh black cherry and chocolate. 88-90 Pts

2,762 Views

Tasted

Apr 20, 2012

2010
Château Joanin Bécot (Castillon Côtes de Bordeaux)

Oak, earth, licorice and jammy fruits with an open personality that should offer pleasure with a year or so of bottle age.

2,823 Views

Tasted

May 7, 2013

2009
Château Joanin Bécot (Castillon Côtes de Bordeaux)

Flashy, fleshy and fun, this deep colored wine is packed with black licorice, espresso bean, plum liqueur, black cherry and smoke. Rich in texture, full bodied and concentrated with loads of juicy, ripe, black fruit and soft tannins, this blend of 75% Merlot and 25% Cabernet Franc will drink well young and age for at least a decade. This is my favorite vintage from Juliette Becot and Joanin Becot yet!

4,018 Views

Tasted

Mar 18, 2012

2008
Château Joanin Bécot (Castillon Côtes de Bordeaux)

2008 Joanin Becot is stuffed with blackberry, oak, spice, smoke and licorice aromatics. Soft, round and already approachable, this black cherry tinged wine should drink well young. 91 Pts

3,146 Views

Tasted

Jul 18, 2010

08 Joanin Becot (Cotes de Castillon) is deep ruby, fermented with carbonic ice for the first time to help extract more aromatic freshness in the color. Dark raspberry, licorice, and truffle run throughout the nose. The wine finishes with chocolate and blue and black fruits. 89-91 Pts

3,079 Views

Tasted

Aug 31, 2009

2006
Château Joanin Bécot (Castillon Côtes de Bordeaux)

Coffee, black cherry, truffle and smoke in the nose. On the palate, the wine offers ripe and over ripe plums, cocoa and black cherry with lush textures. This is drinking perfectly today.

4,710 Views

Tasted

May 14, 2012

2005
Château Joanin Bécot (Castillon Côtes de Bordeaux)

The up front licorice, chocalte and black cherry has morphed into more secondary flavors and aromatics. I'd opt for drinking this easy to like charming wine sooner than later as it's starting to drop its fruit and is not quite as good as it was a year or two ago.

3,495 Views

Tasted

Nov 23, 2012

This opulent, showy wine is filled with licorce covered black raspberries, chocolate, vanilla and jammy scents. Soft, ripe and already open, this sexy little treat will compare well in a blind tasting with much more expensive St. Emilion wines.

7,058 Views

Tasted

Jan 4, 2011

2003
Château Joanin Bécot (Castillon Côtes de Bordeaux)

Earth, licorice, cassis, spices, black fruit and forest floor aromas. Good concentration. Nice palate presence, but the finish is not long or complex. Fully mature, this will not improve. I imagine it will remain at this level for a few more years before continuing to decline.

1,337 Views

Tasted

Jan 10, 2007