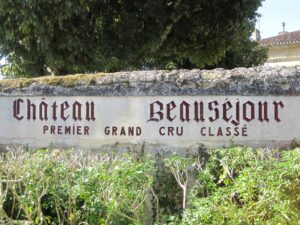 Learn everything about Chateau Beausejour Duffau-Lagarrosse St. Emilion, Premier Grand Cru Classe B with wine tasting notes, and wine with food pairing tips. Learn all the best vintages, the history of the property, and information on the vineyards and winemaking. If you want to read about other important, Bordeaux Chateaux: Links to all Bordeaux Wine Producer Profiles
Chateau Beausejour Duffau Lagarrosse History, Overview
Chateau Beausejour Duffau Lagarrosse started out life as a part of what we know of today as Chateau Beau-Sejour Becot in 1847. In 1869, the 14 hectare Beausejour vineyards became the property of Pierre-Paulin Ducarpe.
Pierre-Paulin Ducarpe divided the estate between his two children. The chateau, plus other structures along with 50% of the vineyards went to his daughter. After she married, she assumed her husband's name, Duffau-Lagarosse, and Chateau Beausejour Duffau-Lagarosse came into being. The other half of the property eventually became what we know of as Chateau Beau-Sejour Becot.
Beausejour Duffau the Modern Era
Prior to 2009, Beausejour Duffau Lagarrosse was considered a one-hit-wonder. Their stunning, 1990 Bordeaux wine is sought after by collectors all over the world. In fact, 1990 Beausejour Duffau-Lagarrosse has earned legendary status among wine collectors due to its 100 Pt score from Robert Parker.
Robert Parker called it one of his desert island wines. After the legendary 1990 was produced, it took almost twenty years before Chateau Beausejour Duffau-Lagarrosse produced another wine that might one day be considered close to the same level, or even better in my opinion than the legendary 1990.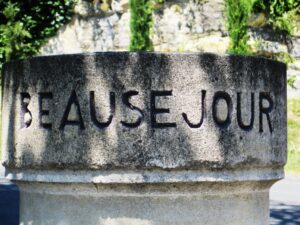 The 1990 Beausejour Duffau Lagarrosse was the product of an unintentional late harvest in the Right Bank vineyard. The chateau either forget or was just not ready to pick as early as they usually did. The results speak for themselves, which is why the chateau today makes it a point to harvest when they feel the fruit is ripe.
Much of the current success of Beausejour Duffau Lagarrosse is due to the efforts of Nicolas Thienpont and Stephane Derenoncourt who were hired in time for the 2009 harvest. Interestingly, Michel Rolland also continued in his role as a consultant.
Some of the first changes that took place at Beausejour Duffau, under the direction of Nicolas Thienpont and Stephane Derenoncourt included vast improvements to the drainage and trellising, the addition of new tools to aid in pigeage, punching down of the caps.
Yields were reduced and the grapes are being picked with a higher degree of ripeness. Selection is much more stringent. For the first time, the vineyard was harvested and vinified on a parcel by parcel basis. The vinification previously took place in 4 vats. Today, they use 7 tanks for the 10 parcels, allowing for much better results.
A program for replanting the vineyards also began taking place. Replanting slowly allowing for the vineyards to be planted at higher levels of density moving from 6,000 to 8,888 plants per hectare for new plantings.
Positive results were evident from the start of the harvest of the 2009 vintage. The mineral-driven, 2009 from Beausejour Duffau is one of the top Bordeaux wines from St. Emilion that year and it's quite possible the 2010 Beausejour Duffau-Lagarrosse is even better! 2020 was the final vintage for Derenoncourt and Thienpont at the estate.
The quality of Beausejour Duffau has continued improving with 2009, 2010, 2015, 2016, 2018, 2019, and 2020 all hitting extraordinary high levels of quality.
In April 2021, the estate was sold to the Courtin family in a partnership with Josephine Duffau-Lagrosse after a short, protracted legal battle and bidding war between Matthieu Cuvelier of Clos Fourtet and Stephanie de Bouard of Chateau Angelus.
The Courtin-Clarins family is best-known for owning the Clarins Cosmetics company. The selling price set a record for a Premier Cru Classe vineyard at a rumored 12 Million Euros per hectare. This marks the first investment in wine for the Courtin-Clarins family. Prisca Courtin-Clarins will look over the families investment in Beausejour-Duffau.
Chateau Beausejour Duffau Lagarrosse Vineyards, Terroir, Grapes, Winemaking
The small, 6.75-hectare vineyard of Beausejour Duffau-Lagarrosse is planted to 75% Merlot, 25% Cabernet Franc, although there are a few remaining Cabernet Sauvignon vines. This shows a moderate increase in the amount of Cabernet Franc and a reduction in the Cabernet Sauvignon. The goal here is to continue increasing the amount of Cabernet Franc. The vineyard is quite well placed in a single parcel on top of the Saint Emilion plateau.
The average age of the vines is close to 35 years of age, with some vines being much older. Their oldest vines were planted in 1957. Those old Merlot vines are located just in front of the office. The elevations on the hillside terroir range from 45 meters to 70 meters at its peak. The vineyard is managed using sustainable farming techniques with the goal of natural, low yields. In many years, yields might be as low as 20 hectoliters per hectare or even less.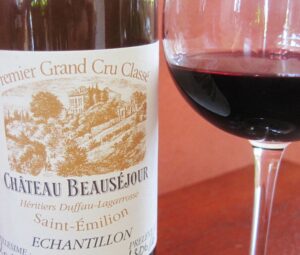 At Chateau Beausejour Duffau-Lagarrosse, the vineyard is managed using 100% organic techniques. But they choose not to be certified organic, allowing them to make a wider variety of choices. They are also biodiverse, meaning they are HVE certified.
The vineyard of Beausejour Duffau-Lagarrosse can be divided into two different terroirs. A large portion of the vines are planted are on the peak of the St. Emilion plateau. The remaining vines are planted on the slopes. The terroir is a mix of clay with serious limestone deposits over a deep bed of limestone.
The chateau is located just west of the beautiful St. Emilion village, its closest neighbors are Beau-Sejour Becot, Canon, Clos St. Martin, Angelus, and Clos Fourtet. It's a nice neighborhood to be in.
To produce the wine of Chateau Beausejour Duffau, the fruit is first sorted in the vineyards and again at the reception area using optical sorting technology.
The grapes are 100% destemmed before the whole, not crushed berries are moved by gravity where the grapes undergo a cold, pre-fermentation prior to whole berry fermentation. The vinification takes place in small, temperature-controlled, open-top vats that range in size from 49 hectoliters up to 83 hectoliters.
Today, one of the big improvements at the property is that they are able to see that the vinification is being one on a block by block basis, which allows for much more precision in the winemaking. Cuvaison with regular pigeages lasts for between 25 to 28 days.
Malolactic fermentation at Beausejour Duffau-Lagarrosse takes place in barrel, with the first six months spent on its lees, which are not stirred. The wine of Beausejour Duffau-Lagarrosse is aged in 75% new French, oak barrels for about 18 months. The barrels come from a myriad of different coopers.
The best vintages of Chateau Beausejour Duffau are: 2022, 2021, 2020, 2019, 2018, 2017, 2016, 2015, 2014, 2012, 2010, 2009 and 1990. Although I suspect great wines were produced here at various times before the 1960s. But sadly, I have never seen a bottle.
The style of wine at Chateau Beausejour Duffau-Lagarrosse in the best vintages is unique. It's thick, rich, vibrant, and intense with an exotic quality, minerality, silky tannins, and opulent, if not decadent textures.
On average, the production of Chateau Beausejour Duffau-Lagarrosse is close to 1,200 cases per vintage. However, there was less wine made in 2009, 2010, 2017, 2018, and 2020 for example.
In those years, perhaps the production was closer to 800 cases, making the wine difficult to find. There is a second wine, Croix de Beausejour. However, it is important to note that Croix de Beausejour is not produced in every vintage.
When to Drink Chateau Beausejour Duffau-Lagarrosse, Anticipated Maturity, Decanting Time
Chateau Beausejour Duffau is much better with at least 12-15 years of aging in good vintages. Young vintages can be decanted for 2-3 hours or more.
This allows the wine to soften and open its perfume. Older vintages might need very little decanting, just enough to remove the sediment. Chateau Beausejour Duffau offers its best drinking and should reach peak maturity between 12-40 years of age after the vintage.
Serving Chateau Beausejour Duffau with Wine, and Food Pairing Tips
Chateau Beausejour Duffau-Lagarrosse is best served at 15.5 degrees Celsius, 60 degrees Fahrenheit. The cool, almost cellar temperature gives the wine more freshness and lift. Chateau Beausejour Duffau-Lagarrosse is best served with all types of classic meat dishes, veal, pork, beef, lamb, duck, game, roast chicken, roasted, braised, and grilled dishes.
Chateau Beausejour Duffau-Lagarrosse is a perfect match with Asian dishes, hearty fish courses like tuna, mushrooms, and pasta as well as cheese.
Château Beausejour (Duffau Lagarrosse) Wine Tasting Notes
26 Vintages 513,761 Views Sort by Vintage-Rating
2021
Château Beausejour (Duffau Lagarrosse) (St. Émilion Grand Cru)

Right off the bat you notice all the crushed rocks and stones from the deep limestone terroir before moving on to the oyster shell, espresso, blackberries, black cherries and plums. There is an intense mineral essence that comes through on the palate accentuating the red fruits in the mid-palate. There is tension, with supple-textures, creamy tannins and a sweetness to the fruits in the finish. This is quite successful for the vintage. The wine blends 73% Merlot with 27% Cabernet Franc, 13.5% ABV. The harvest took place September 30 - October 14. Yields were low at only 28 hectoliters per hectare. Drink from 2025 - 2055. 93-95

1,099 Views

Tasted

May 20, 2022

2020
Château Beausejour (Duffau Lagarrosse) (St. Émilion Grand Cru)

Power, finesse, length, purity, and complexity is all over the place here. In the nose, with its elements of dried flowers, espresso, plums, cherries, licorice, spice, cocoa, herbs and crushed rocks. As good as that is, on the palate, the wine flows over your palate with its waves of vibrant, plums, cherries, black raspberries, blue fruits, salty tannins and purity. The lively, vibrant, long finish that doesn't know when to quit. That is a good thing because you want to enjoy it again and again. Drink from 2026-2055.

180 Views

Tasted

Mar 21, 2023

Inky in color with purple accents, the wine pops from the glass with notes of crushed rocks, flowers, licorice, espresso, plums, cherries, black raspberries and oceanic nuances. Fresh, full-bodied, concentrated and intense, the layers of plush, pure fruits are made even better by its salty tannins and seamless finish that doesn\'t know when to quit. There is an incredible sense of purity in the fruits that comes through loud and clear in the more than 50-second finish. The wine is a blend of 81% Merlot and 19% Cabernet Franc. 97-99 Pts

2,620 Views

Tasted

May 20, 2021

2019
Château Beausejour (Duffau Lagarrosse) (St. Émilion Grand Cru)

Elegant, fresh, deep, long and packed with elements of crushed rocks and stones, the wine is all about its mineral essence. The salty tannins on the backend of all the sweet, ripe, energetic, black cherries, plums and black raspberries provides additional complexities that come along with for the ride. The full-bodied, intense, rich wine finishes with loads of dark red fruits, licorice, coffee bean, spice and cocoa. Give it a few years in the cellar before pulling a cork and it could score even higher after the wine has matured. Drink from 2026-2050.

2,762 Views

Tasted

Mar 29, 2022

Deep in color, this is beautiful from start to finish. Elegant, full-bodied, sensual, sexy, fresh and sweet, there is ample concentration and length here. The fruit is ripe and clean with a fabulous sense of purity in its essence. The finish holds your attention, making you want to take another swirl, sniff and sip to see what else you can find here. The wine is made from blending 86% Merlot with 14% Cabernet Franc. The harvest took place September 24-October 7. The production is well above last year with close to 2,000 cases produced. This is one of the stars of the vintage. 97-99 Pts

8,244 Views

Tasted

Jun 8, 2020

2018
Château Beausejour (Duffau Lagarrosse) (St. Émilion Grand Cru)

With all the richness, density and concentration required, you also find endless waves of perfectly ripe, black, blue and dark red fruits, crushed rocks, stone, licorice, smoke, flowers and espresso. Here you find, intensity, purity, minerality, silk and velvety tannins and a seamless, 60 second finish that just won't quit. The wine blends is 80% Merlot with 20% Cabernet Franc. Only 1,150 cases were produced.

4,491 Views

Tasted

Mar 9, 2021

This is another off the hook vintage from Beausejour Duffau. I do not know where to start or to stop praising this wine. The texture is surreal. The level of density, concentration and power combined with more than ample energy is incredible. The wine tastes like you grabbed a handful of berries off the vine and placed them in a Vita mix blender with rocks and stones and drank it on the spot! After a recent vertical at Beausejour I was convinced they could never make a better wine than the 2010. Wrong! Very little of this elixir is made. So if you have the chance to buy it, do not pass. This is a cellar gem! The wine is made from blending 80% Merlot with 20% Cabernet Franc, reaching 14.5% alcohol. The harvest took place September 25-October 5. Only 1,150 cases were produced. 98-100 Pts

8,568 Views

Tasted

Apr 19, 2019

2017
Château Beausejour (Duffau Lagarrosse) (St. Émilion Grand Cru)

Showing a gleaming garnet hue, the wine is lush with flavor, cashmere tannins and length and purity of fruit. The finish combines dark, sweet fruits and minerality with salty tannins, making this not just a dazzling taste but a distinct feel as well. Reaching 14% alcohol, the wine is a blend of 88% Merlot and 12% Cabernet Franc. The harvest ran from September 22 to October 2.

4,812 Views

Tasted

Apr 26, 2018

2016
Château Beausejour (Duffau Lagarrosse) (St. Émilion Grand Cru)

Almost opaque in color, the wine smells like you are in a flower shop on an ocean liner at sea. The freshness makes this pop. The layers of unctuous, juicy, fresh, lively fruit give it life. And the finish which hits you in all the right spots, truly delivers the goods for over 60 seconds! Not as hedonistic as the 2015. Instead you find more focus, acidity and length. This is a beauty that still sells for a song, considering the high level of quality found here.

8,909 Views

Tasted

Sep 21, 2019

Almost opaque in color, the wine smells like you are in a flower shop on an ocean liner at sea. The freshness makes this pop. The layers of unctuous, juicy, fresh, lively fruit give it life. And the finish which hits you in all the right spots truly delivers the goods for over 60 seconds! Not as hedonistic as the 2015. Instead, you find more focus, acidity, and length. This is a beauty that still sells for a song, considering the high level of quality found here. This continues improving in score since the initial barrel tastings. With a few more years in the bottle, this should hit the triple-digit mark!

7,738 Views

Tasted

Mar 18, 2019

Packed and stacked with crushed rocks, stones and waves of perfectly ripe, deep, dark red fruits, smoke, licorice and wet earth. The wine is concentrated, fresh and pure, as well as tannic. Give it at least a decade, and probably closer to 2, before popping a cork.

7,921 Views

Tasted

May 21, 2018

Deep dark in color, this wine is all about the spirit of fresh picked flowers, stony minerals and black cherry. Full bodied and penetrating, the wine has a beautiful sense of purity, lift and finesse. There is intensity, concentration and layers of sweetly saturated, energetic, dark fruits, licorice and boysenberry that just keep going long after the last sip. The wine was produced from blending 90% Merlot, harvested October 7 to October 18 and 10% Cabernet Franc, picked October 18 to October 21. The wine reached 14.4% alcohol with a pH of 3.38.

8,798 Views

Tasted

Apr 29, 2017

2015
Château Beausejour (Duffau Lagarrosse) (St. Émilion Grand Cru)

Here is a wine that has jumped in score each time I've tasted it. And for good reason. Deep in color, the wine pops with roses, smoke, licorice, herbs, truffle, dark red pit fruits, and wet earth. Concentrated, opulent and bordering on decadent, this has just exploded since bottling. There are layers of depth, fruit, rocks, and tannins that are just great to explore as the wine hits your palate. Length, purity, complexity, and sensuality is a great combination, and you find that in spades here.

9,715 Views

Tasted

Mar 18, 2019

I did not see the greatness in this wine when first tasted in barrel. I dropped the ball. This has really stepped up its game since the barrel aging process began. Full bodied, deep and concentrated , the wine is mouth filling. There is an intensity of minerality at work here. Richly textured, but quite stony at this stage, you will need to age for 12-15 years before this softens and fully begins to come together.

5,467 Views

Tasted

May 21, 2018

This wine is sensuous, silky and lush with richness, freshness, sweetness, minerality and length in the finish. Produced from a blend of 90% Merlot and 10% Cabernet Franc, the wine reached 14.4% with a pH of 3.4. The harvest took place from September 25 to October 25. Beausejour Duffau can be difficult to get a handle at this stage. It's quite possible this will improve during the aging process. I look forward to seeing the wine in bottle. 94-96 Pts

5,926 Views

Tasted

Apr 29, 2016

2014
Château Beausejour (Duffau Lagarrosse) (St. Émilion Grand Cru)

A precocious vintage to enjoy while waiting for the 09, 10, 12, 15 and 16 to develop, the wine is medium/full bodied, smoky earthy, fresh and plummy. However, even though this is going to drink well early, it still needs another 5 years for the juicy plums to combine with all the secondary potential found here.

5,458 Views

Tasted

Mar 18, 2019

Licorice, sweet oak, thyme, flowers, plum and assorted pit fruit make an entrance. On the palate, the wine has a polish to the tannins, sweetness to the fruit and a stony refinement in the finish. This is a vintage of Beausejour to drink young, while waiting for the 09, 10, 12, 15 and 16 to come around. Very fine for the vintage.

6,338 Views

Tasted

May 24, 2017

Licorice, stone, smoke, truffle, flowers and black raspberries create the multifaceted bouquet. On the palate, this wine plays like a goddess -- sensuous, sexy, and sleek. It tastes as good as it feels with velvety tannins and sweet, luscious, fresh red and dark red fruits. Produced from a blend of 95% Merlot and 5% Cabernet Franc, the wine reached 14.2% with a pH 3.5. 94-96 Pts

7,488 Views

Tasted

Apr 27, 2015

2013
Château Beausejour (Duffau Lagarrosse) (St. Émilion Grand Cru)

Medium bodied and on the fresh, floral, red, light, bright side of the style range, there is a nice red plum character to the fruit, which is accompanied by olives and herbs. The wine needs a few years while it tries to round out, but do not wait too long, as the fruit is light in this vintage.

2,867 Views

Tasted

Mar 18, 2019

Fruity, forward and offering a spicy, red berry palate with polished tannins, earth and crushed rocks, this is a wine you can enjoy on the young side or age it for a few years for more secondary development.

3,376 Views

Tasted

May 25, 2016

The silky fruit borders on opulent with its layers of sweetness and polish. There is a real sense of purity in the fruit from start to finish. This would be a strong wine for most chateaux in any vintage, but it's a miracle in 2013. From yields of 25.75 hectoliters per hectare, the Grand Vin represents 43% of the harvest. Blending 88% Merlot and 12% Cabernet Franc, the fresh wine is aging 50% new French oak. 93-94 Pts

4,615 Views

Tasted

Apr 28, 2014

2012
Château Beausejour (Duffau Lagarrosse) (St. Émilion Grand Cru)

This is starting to show quite well. With about 90 minutes of decanting you find notes of flowers, black cherry, bay leaf, smoke, espresso, licorice, and dark chocolate. Rich, full-bodied, elegant, and on the way to lush, there is a nice touch of minerality to accompany the ripe, dark red fruits, cocoa, and espresso bean in the finish. It is quite nice now, but will be even better with just a couple of years of cellaring.

2,789 Views

Tasted

Jan 12, 2022

Smoke, olives, herbs, flowers, red fruits and earthy scents are easy to locate. On the palate, the wine shines with its fresh, ripe, vibrant, strict, fresh blast of ripe, sweet crisp red fruits. The wine exudes its unique combination of fruit, rocks, lift and purity. You are going to need 5 years or so of cellaring time for this wine before it starts showing its true character.

4,771 Views

Tasted

Mar 18, 2019

Minerality, fresh thyme, a hint of mocha, spearmint and ripe, juicy, dark, juicy plums with black cherries are all over the place. The wine is full bodied, supple, long and fresh, with a good sense of purity, stone and black and red fruits in the finish. In 5-10 years, this will really be rockin'!

7,367 Views

Tasted

Jul 6, 2017

One of the top wines from the vintage, you can expect a blast of mineral driven, ripe, plums, black cherry, espresso bean, cocoa and earthy scents. On the palate, the wine is rich, concentrated, lush and plush, with a long, sweet, fruit and stone filled finish.

6,827 Views

Tasted

May 15, 2015

Showing a lot of depth in the color, fresh, dark, smoky and jammy berries, fleshy, rich, opulent textures and a velvet-textured, full-bodied, mineralistic, rich, and concentrated finish are the hallmarks of this wine. Produced from low yield of only 23 hectoliters per hectare, from a blend of 75% Merlot and 25% Cabernet Franc, the wine reached 14.3% alcohol. 94-96 Pts

9,452 Views

Tasted

Apr 26, 2013

2011
Château Beausejour (Duffau Lagarrosse) (St. Émilion Grand Cru)

It takes some effort to get the wine to open. From there you find a medium/full-bodied, firm wine with sweet, dark cherries, smoke, flowers, licorice, chalky tannins and a blast of cherries in the finish. Give this perhaps 7-9 years before pulling a cork.

5,244 Views

Tasted

Mar 18, 2019

Truffle, licorice, coffee, boysenberry and fresh cherries couple with soft, polished tannins and minerality. The plush wine ends with a silky, blackberry and licorice note. Give this a few years to soften and add more complexity. This is one of the top wines from a very difficult year.

7,888 Views

Tasted

May 20, 2014

From an assemblage of 80% Merlot and 20% Cabernet Franc, the fruit was harvested between September 26 and October 4, and the wine reached 14.5% alcohol. Inky in color with licorice, sweet black plum, espresso, smoke, caramel and ripe cherries, this is lush, concentrated, silky and polished, as well as very deep for the vintage. 95-97 Pts

4,973 Views

Tasted

Apr 24, 2012

2010
Château Beausejour (Duffau Lagarrosse) (St. Émilion Grand Cru)

The color is still inky, like a barrel sample. And that is just part of the story. The nose knocks you out with its power, complexity, and depth. On the palate, the wine is insanely concentrated. But don't let that fool you. This is no one trick pony! The waves of fruit just keep on coming. They are dark, pure sweet and taste like you took a basket of fresh picked plums and cherries at their perfect level of ripeness and squeezed them over rocks and stone before placing all that gorgeous juice in the bottle. This is a legend in the making that will be talked about for future generations. The texture, weight, density, and quality of the fruit is surreal. There were only 1,100 cases produced, so if this sounds like your style of wine, you should have this in your cellar.

6,116 Views

Tasted

Mar 18, 2019

Silk and velvet textured fruit coat every nook and cranny of your palate. The wine is pure, intense, powerful, concentrated and fresh. There is a beautiful polish to the ripe tannins and purity of fruit that make each sniff, swirl and sip a unique, unforgettable tasting experience. Based on how young the 1990 continues showing at close to 25 years of age, this should age and improve for decades.

9,840 Views

Tasted

May 7, 2013

This stunning Bordeaux wine is the color of black ink with shiny purple accents. Aromatically, the wine open with fresh picked flowers, espresso bean, chocolate covered black cherries, blueberry, licorice, crushed stone and truffle. In the mouth, this incredibly concentrated wine fills your palate with layers of rich, ripe, black, blue and red fruits. Everything is in balance and harmony. Nothing is out of place in this sublime St. Emilion which builds in your mouth for a finish that lasts over 60 intense seconds! 98-100

11,851 Views

Tasted

Jul 6, 2012

2010 Beausejour Duffau-Lagreosse Thanks to help from St. Emilion's dynamic duo, Stephan Deroncourt and Nicholas Thienpont, this is the second year in a row, wine close to the level of the legendary 1990 was produced. However, it's possible that 2010 could eclipse the 1990 in 20 years! A blend of 73% Merlot, 24% Cabernet Franc and 3% Cabernet Sauvignon produced a black/purple colored wine. The wine coats the glass as you swirl to find the licorice, minerals and ripe, spicy ripe black fruit scents. Powerful, intensely concentrated, sweet and mouth coating, this is a hedonistic thrill to sip that also gives you something to think about. The opulent wine ends with a long, fresh, complex, seamless finish of intense purity of fruit and stone that grows in your mouth and lasts over sixty seconds! 98-100 Pts

10,164 Views

Tasted

Apr 22, 2011

2009
Château Beausejour (Duffau Lagarrosse) (St. Émilion Grand Cru)

The intensity on the nose is instantly noticeable. The strong aromas of juicy plums, crushed stone, flowers, oceanic nuances and herbs pop right in front of you. The fireworks however is on the palate. The wine is incredibly concentrated, full-bodied, rich, flamboyant and sexy. The fruit is energetic, pure, velvety, long and intense. The wine fills your palate with sweet fruits and doesn't want to leave, which is a good thing as you don't want it to stop! 2009 marks the initial vintage for the team of Nicolas Thienpont, where they were in charge of everything from start to finish.

4,841 Views

Tasted

Sep 20, 2019

The intensity on the nose is instantly noticeable. The strong aromas of juicy plums, crushed stone, flowers, oceanic nuances and herbs pop right in front of you. The fireworks however is on the palate. The wine is incredibly concentrated, full-bodied, rich, flamboyant and sexy. The fruit is energetic, pure, velvety, long and intense. The wine fills your palate with sweet fruits and doesn't want to leave, which is a good thing as you don't want it to stop! 2009 marks the initial vintage for the team of Nicolas Thienpont, where they were in charge of everything from start to finish.

5,339 Views

Tasted

Mar 18, 2019

Deep, dark ruby with some purple accents, explosion of spice, earth, stone, incense, black cherry liqueur, floral and plum aromas. Powerful, rich, dense and concentrated with silk and velvet layered fruit, the wine build in the mouth and remains on your palate for 60 seconds. The scary thing to consider is, 2010 is even better and 2011 is not that far behind!

13,308 Views

Tasted

May 1, 2012

An explosive perfume filled with flowers, fennel, crushed stone, chocolate and ripe black plums grabs your attention. Fat, sexy, juicy, silky and erotic textures couple with the luscious mouth coating layers of intense, ripe black fruits and sweet black cherry jam that last for over forty seconds. The wine was bottled, May 15.

9,004 Views

Tasted

Jul 30, 2011

2009 Beausejour Duffau is no longer a one hit wonder. 1990 was the last time this stunning terroir produced a must have wine, but the 2009 is the real deal. Thanks to the assistance of St. Emilion's dynamic duo, Stephane Derenoncourt and Nicholas Thienpont, things have officially turned around at Beausejour Duffau. Inky colored, with intense flavors of minerals, licorice, and jammy dark fruits, this wine stains your palate. Decadently textured, with freshness and length, this serious wine ends with licorice, chocolate covered black cherries, and plums. One of the top wines from St. Emilion in 2009. 96-98 Pts

9,115 Views

Tasted

Jun 28, 2010

2008
Château Beausejour (Duffau Lagarrosse) (St. Émilion Grand Cru)

The is the debut vintage for the team of Nicolas Thienpont and Stephane Derenoncourt at the property. They were not involved in the picking, but they were responsible for aging and blending the wine. Now, you pick up floral notes with smoke, plums cherries, and truffle. Medium-bodied, fresh, vibrant and showing sweet, clean, slightly crisp red fruits in the finish, you can drink this now, or age it for a few more years to allow for additional nuances.

4,154 Views

Tasted

Mar 18, 2019

Close to fully mature, there is secondary aromatic development, softness and earthy, spicy, mineral driven fruits, with sweetness and character, but the fruits begin fading quite early in finish. There is no real hurry to drink this, but no reason to age it any longer either.

3,438 Views

Tasted

Sep 17, 2018

Tannic, firm, fresh, tight and not in the mood for current drinking, this blend of 70% Merlot, 26% Cabernet Franc and 4% Cabernet Sauvignon has potential. But you're going to need to wait for its mineral driven personality to shine through.

3,296 Views

Tasted

Jul 4, 2015

2007
Château Beausejour (Duffau Lagarrosse) (St. Émilion Grand Cru)

The wine is firm, dusty, medium bodied, bright, crisp and with an earthy, smoky, mineral driven, red berry, coffee bean and herbal quality.

3,128 Views

Tasted

Nov 18, 2017

2006
Château Beausejour (Duffau Lagarrosse) (St. Émilion Grand Cru)

Fully mature, the color looks older than its true age. The wine is medium bodied, fresh and focused on its red berry, thyme and stony essence.

5,181 Views

Tasted

May 25, 2016

2005
Château Beausejour (Duffau Lagarrosse) (St. Émilion Grand Cru)

Getting close to ready, you find tobacco, olives, red fruits and crushed stones without effort. There is a strong salty character to the tannins, and freshness in the juicy, red plum finish. The tannins are still noticeable, so give this another 3-5 years before pulling a cork.

5,212 Views

Tasted

Mar 18, 2019

Earthy, spicy, truffle and black plummy nose. The wine is fresh, soft, medium bodied and drinks well. But it clearly lacks the wealth of fruit and sensuous textures found in the wine since 2009.

5,586 Views

Tasted

Jun 27, 2015

Deep in color, with a powerful nose of licorice, minerality, chocolate, blackberry liqueur and black berries, this lush, opulent, fresh wine offers supple textures, freshness, balance and harmony. The ends with a sweet, ripe, black fruit and fennel filled finish. Still young, give it another 4-5 years.

7,130 Views

Tasted

Jul 30, 2011

2004
Château Beausejour (Duffau Lagarrosse) (St. Émilion Grand Cru)

The stone, cherry, licorice and smoky tobacco nose is the best part of the wine. The soft, but drying fruit on the palate lets you know this wine needs to be consumed.

4,219 Views

Tasted

Nov 30, 2014

2003
Château Beausejour (Duffau Lagarrosse) (St. Émilion Grand Cru)

The aromatics are light, but there is a nice sweetness and silky texture to the fruit. The wine is not deep. This is all about the texture. It was a nice surprise to find this showing this well.

3,520 Views

Tasted

Dec 18, 2013

2001
Château Beausejour (Duffau Lagarrosse) (St. Émilion Grand Cru)

This is my first time with 2001 Beausejour Duffau. From a blend of 70% Merlot, 20% Cabernet Franc and 10% Cabernet Sauvignon, the wine offers earthy, fennel, black cherry, plum, cocoa and floral notes. Medium/full bodied, with silky tannins, there is a nice sense of minerality in the soft textured finish. This is not going to make old bones. I'd drink this before the wine celebrates its 20th birthday.

4,991 Views

Tasted

Jun 13, 2012

2000
Château Beausejour (Duffau Lagarrosse) (St. Émilion Grand Cru)

On the red fruit side with herbs, licorice, truffle and leafy aromatics, the wine is fully developed. Medium bodied, soft, fresh and with a dusty, red fruit and olive palate presence, this is easy to drink today. However, it is not a wine to hold. Enjoy it over the next 4-5 years.

3,300 Views

Tasted

Mar 18, 2019

This starts off with plums, minerality, herbs and truffle. Well made and without faults, there is no excitement or unique characteristic in the wine.

6,070 Views

Tasted

Mar 5, 2010

1998
Château Beausejour (Duffau Lagarrosse) (St. Émilion Grand Cru)

Fully developed, with silky, soft textures, medium body and a core of ripe, sweet, plums, earth, freshly picked flowers, crushed rocks and thyme. This has a lot of charm, but it lacks the depth, complexity and excitement found in the best vintages.

3,134 Views

Tasted

Nov 9, 2016

1990
Château Beausejour (Duffau Lagarrosse) (St. Émilion Grand Cru)

Opulent, lush, flamboyant, showing and rich, from start to finish this had it all going on. Intensely concentrated, with layers of dark red plums, black cherries, thyme, crushed rocks and flowers, the wine coats your palate and seamlessly lingers.

3,509 Views

Tasted

Apr 8, 2022

This mindblowing bottle hit every note on the scale! At 30 this is so rich, intense, opulent, concentrated, long and hedonistic, it's almost beyond belief. Bottled decadence with endless, non-stop waves of ripe, deep, palate filling fruit. The finish went well past the 60-second mark!

4,886 Views

Tasted

May 4, 2020

An intellectual sex bomb of a wine! Combining its potent blend of hedonism with concentrated layers of perfectly ripe, mineral-driven fruits, salty, velvet drenched tannins and a fruit-filled finish that lasts at least 60 seconds. This wine, if well stored is off the hook and off the charts. It is simply mind-blowing juice. Frightfully expensive, if you have patience, the 2009 and 2010 are both better, selling for about half the price of the 1990.

5,553 Views

Tasted

Jul 23, 2018

With the weight and heft of Vintage, dry Port, this got going and never stopped. Unctuous, rich and with so much density, you could eat it, or slowly sip from the glass, this had it all. The fruit, with its melange of ripe, over ripe, and perfectly ripe fruit, moved from black, to red and back to black again. The mineral driven nose, with its truffle, plum and smoke filled accents brought everything together. This is a wine for hedonists, that like to think about what's in their glass. This should age for decades, if properly cellared.

5,309 Views

Tasted

Nov 16, 2017

Spicy, smoky, licorice, incense, espresso bean, blackberry liqueur, roasted plum, wet earth and black peppery aromatics were in full force. And that was not even close to the main event. On the palate, the wine is intense, erotic and incredibly sexy in a good girl, gone bad way. The texture was akin to liquid silk. This decadent wine can be summed up as pure sex in a bottle. As a tip, I'm positive that the 2009 and 2010 at the same age will be even better!

6,305 Views

Tasted

Dec 12, 2016

One of the most consistently stunning wines, this bottle was no exception. Still young in color, the nose, with its tobacco, blackberry liqueur, tobacco, smoke, Cuban cigar wrapper and dark plum aromatics really prime your pump. When the waves of dense, lush, opulent, sweet, fresh fruits begins to coat your palate, you know you're in for a true ride of pleasure. Balanced, powerful and harmonious, this is one of the few, expensive wines that is actually worth the money.

4,441 Views

Tasted

Dec 3, 2015

One of the great wines of your life, with its unique, erotic textures, exotic perfumes and one of a kind character. The fruit is perfectly ripe, with just the right amount of over ripeness and al dente character to deliver a complex, tasting experience that needs to be tasted at least once. As good as this is, I'm betting the 2009 and 2010 are even better! We just need to be patient.

6,030 Views

Tasted

Aug 25, 2015

As good as this bottle was, it was not quite at the level of the best bottles. Yet, even with that in mind, the showy, mineral driven truffle, tobacco, black plum, cherry pie and earthy nose grabbed you. Full bodied, deep and concentrated, the tannins are plush, plush and powerful, allowing the wine to feel like pure, polished elegance. However this bottle was not quite as deep as the best bottles and slowly faded in the glass after an hour. All things considered, this was still an amazing treat.

5,291 Views

Tasted

Oct 20, 2014

1990 Beausejour remains deeply colored. What I loved about this Bordeaux wine was, it started with a powerful fragrance filled with fresh herbs, ripe black fruits, spice, minerals, fennel, smoke and flowers. The flavors cascading across my palate were filled with plums and incredibly decadent, ripe black fruit. This amazingly concentrated wine has a mouth feel that is as exotic as Guigal's La Mouline from a great year! And the massive concentration had as much fruit and weight as a great year of Latour! Everything was in perfect balance with an worldly finish lasting 60 seconds or more. The wine continued developing in the glass for over 2 hours. It would kept getting better for several hours after that, but, it was difficult not to keep drinking it.

12,805 Views

Tasted

Jul 1, 2013

Aromatics jump from the glass like a bullet from a gun! Licorice, truffle, crushed stone, black cherry liqueur, plum, spice, flowers, earth and forest floor notes start the party, but the main event takes place with an endless series of waves made from black licorice, essence of cherry, truffle, plum and chocolate. The motor oil, rich finish remains on your palate for over sixty seconds! And it's still not fully mature!!!

8,767 Views

Tasted

May 1, 2012

There are great wines. There are the world's great wines. Some bottles go one step further offering "Oh My God," tasting experiences! 1990 Beausejour Duffau can be an OMG wine. With a perfume that explodes with black licorice, truffle, crushed rocks, smoke, black raspberries, BBQ, spicy black cherries, forest floor and tobacco scents, your nose is riveted to the glass. Once past the compelling perfume, waves of incredibly concentrated pure, ripe, dark fruits and minerality coats your mouth and palate, due to the amazing viscosity of the wine. The dry Port like finish of plum liqueur remains for over sixty seconds. This incredible Bordeaux wine tasting experience is only going to get better over the next few decades. It will be interesting to see if the 2009 or 2010 reach this same level of perfection. This bottle was popped and poured into a decanter and served within a few minutes.

14,985 Views

Tasted

Sep 7, 2011

It explodes from the glass with an array of ripe scents blackberry liqueur, caramel, tobacco, licorice, jam and espresso. Opulent decadence, is either the name of a Porn Star, or what this wine deserves to be called. Rich, deep, concentrated and intense, the amazing mouth coating finish fills every nook and cranny of mouth, palate and sense. This amazing wine is young and will only get better with time.

14,717 Views

Tasted

Jun 22, 2010

This was stuffed with plums, blackberry, floral and wood aromas. This is a very sexed up, decadent, style of wine with an opulent character that will keep improving and adding complexity for years.

13,731 Views

Tasted

Jun 30, 2009

Truffles, truffles and more truffles were in the nose, along with spice, herbs, tobacco, earth, dried cherries and lavender notes. This amazingly, rich, full bodied, concentrated, decadent Bordeaux wine is a perfect expression of St. Emillion. Elegant and exotic, ripe, complex and sexed up, this unique Bordeaux excited the palate and senses. Some bottles bring tears when you drink them. Others bring tears to your eyes when you finish them

14,836 Views

Tasted

Jun 13, 2009

Deeply colored. A huge nose of blackberry liqueur, spices, herbs, minerals and coffee truly explode from the glass. Massive amounts of concentrated ripe fruit fill the glass and your palate. The wine ends with intense layers of deep, rich, opulent, decadent fruit that seem to last close to a minute. Very rich and velvety with motor oil weight that's thrilling to experience.

13,563 Views

Tasted

Feb 11, 2009

Incredible purity of fruit. Balance, elegance, richness, extrodinary concentration and a complex finish that lasts over a minute. Very powerful. Interestingly, while in Bordeaux in June, I had dinner with their previous winemaker who told me a lot of the power in that wine comes from the large percentage of Cabernet Sauvignon in the blend. 25% CS is in the cepage! Still young, this wine as good as it is will only get better.

15,481 Views

Tasted

Dec 1, 2007

Tasted from a bottle that had not been moved was a treat. I experience this wine a lot in America, but having one that has never moved was even better as it showed so young. The man who brought it used to work at Beausejour and when I asked him what made this so much better and bigger than any other vintage, he said... "aside from the extra ripeness the wine was allowed to achieve, they also included a large percentage of Cabernet Sauvignon in the blend." 90 Beausejour, at almost 18 years of age remains young. Intense, ripe, rich, lush and exotic in style. A complex perfume is made even better with an amazing, seamless finish. This is an outrageous wine.

13,085 Views

Tasted

Nov 6, 2007

Deep color and an exciting, complex nose that explodes from glass! Flamboyant is the best descriptor I can think of for the palate. Endless layers of rich, opulent fruit cascade over your palate. The viscosity this wine displays must be experienced to be believed.

10,422 Views

Tasted

Sep 15, 2006

The color is so dark, it looks like a 2000 Bordeaux. The glass explodes with ripe fruit, oak, and assorted spices. Massive layers of plush, decadent, opulent, plumy, black fruit coat your senses. The seemingly endless finish is kicked up with touches of licorice and chocolate. Still young and tannic. Stupendous wine

7,804 Views

Tasted

Mar 14, 2006

This flamboyant juice is utterly captivating. The perfume blends toasty oak, exotic Asian spices, coffee, floral and licorice scents. The body is thick with a mouth feel that reminds me of a great vintage of La Mouline. I've read the proprietor claims, "the wine was made by accident, he left the fruit on the vines too long." Why can't he repeat that same mistake?

7,153 Views

Tasted

Jun 15, 2005

At 14 years of age, 90 Beausejour is still inky black. Ripe black fruit, herbs, smoke, licorice and flowers made the perfume. The flavors cascading across my palate were filled with plums and incredibly decadent, ripe black fruit. This amazingly concentrated wine has a mouth feel that is as exotic as Guigal's La Mouline from a great year. The finish was other worldy lasting 60 seconds or more. The wine continued developing in the glass for over 2 hours

10,300 Views

Tasted

May 21, 2004

1964
Château Beausejour (Duffau Lagarrosse) (St. Émilion Grand Cru)

Not the most concentrated wine, but the silky textures, purity in the fruit, mineral essence, length and complexity got your attention. It is close to impossible to find these older bottles, but if you run across any, they are worth taking a chance on.

1,777 Views

Tasted

Sep 8, 2018

1959
Château Beausejour (Duffau Lagarrosse) (St. Émilion Grand Cru)

The wine is fading quickly, dropping fruit, gaining in acidity. If you have a bottle, it is time to drink up.

1,623 Views

Tasted

Sep 8, 2018

1953
Château Beausejour (Duffau Lagarrosse) (St. Émilion Grand Cru)

Rusty, ruby in color, with truffle, spice, earth and kirsch aromas, the patina of age adds a lot of complexity to this charming, older St. Emilion. I wonder what it tasted like in its youth?

2,748 Views

Tasted

May 1, 2012