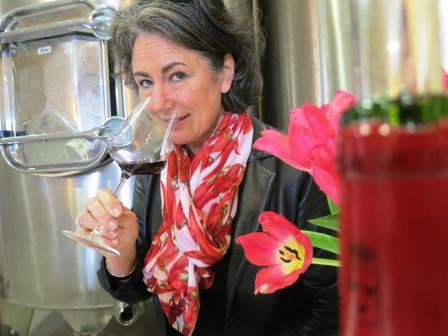 Learn everything about Clos St. Martin St. Emilion with wine tasting notes, wine, and food pairing tips, best vintages, a history of the property, information on winemaking and vineyards. If you want to read about other important, Bordeaux Chateaux: Links to all Bordeaux Wine Producer Profiles
Clos St. Martin History, Overview
Clos Saint Martin dates back to at least the early 1800s. The vineyard has been owned by the Rieffers family since 1850. However, the Rieffers family has been active in St. Emilion even longer, as they date back to the 1600s.
Clos Saint Martin takes its name from St. Martin, who is the Patron Saint for winegrowers, soldiers, and beggars. Clos Saint Martin was managed by Sophie Fourcade for the Rieffers family for years.
Sophie Fourcade gave up her promising career as a successful attorney to make Bordeaux wine at the family's three properties in St. Emilion. Sophie Fourcade is also in charge of two other Saint Emilion estates, Chateau Les Grandes Murailles and Chateau Cote de Baleau.
That changed in March 2013, when the Cuvelier family, the owners of Chateau Clos Fourtet, headed by Matthieu Cuvelier, purchased the property.
Fortunately for fans of Clos Saint Martin, just before the 2013 harvest, Sophie Fourcade purchased a portion of the vineyard back from the Cuvelier family and entered into a partnership to manage the estate. Michel Rolland will continue to consult the wine-making for the chateau.
Character and style of Clos St. Martin
The style of Clos Saint Martin is a wine for pleasure seekers. The wine is sensuous, offering round, opulent, soft, velvet textures, coupled with plums, dark berries, licorice, and minerality. Vintages prior to 2000 are not produced with the same sexy character you find today.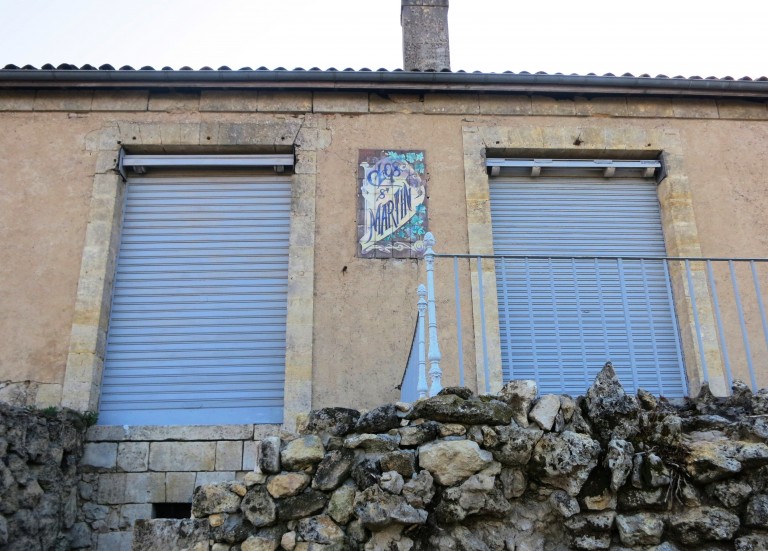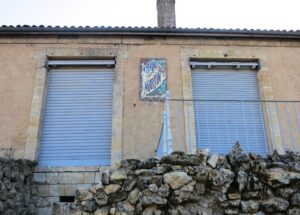 Clos St. Martin Vineyards, Terroir, Grapes, Winemaking
The petit 1.33-hectare vineyard of Clos St. Martin is planted to 70% Merlot, 20% Cabernet Franc and 10% Cabernet Sauvignon. With a vineyard this small, as you might expect, the vines are planted in one single parcel.
The terroir is a mix of clay and limestone soils on the peak of the limestone plateau with a southwesterly exposure. The vineyard is planted to a vine density of 7,000 vines per hectare. The property is located near the St. Martin Church and not far from the famous, wall of Saint Emilion.
Clos St. Martin is in a great location with neighbors like Chateau Canon, Chateau Beau-Sejour Becot, and Chateau Beausejour Duffau. Clos St. Martin with its 1.33-hectare vineyard is the smallest classified Bordeaux wine in the Saint Emilion appellation. In fact, this single parcel of vines is also the smallest classified Bordeaux wine I know of. But good things come in small packages.
To produce the wine of Clos St. Martin, it takes a lot of work starting with an eight-day pre-fermentation, cold maceration at 8 degrees Celsius.
The wine is vinified using micro-vinification techniques, meaning that the wine is vinified entirely in 100% new, French oak barrels. This micro vinification technique, according to Sophie Fourcade, adds additional freshness with a softer texture and feel to this unique wine.
Clos St. Martin has been aged in 100% new, French oak barrels since the 2008 vintage. However, starting with the 2016 vintage, a portion of Clos St. Martin is being aged in clay, amphora jars. The first 4 months of the aging process are spent with the wine aging on its lees. The wine is aged for an average of 20 months before bottling.
Most vintages produce about 500 cases per year of Clos St. Martin. Sadly, for fans of the wine, portions of the vineyards are currently being replanted, so the production is even smaller and more difficult to find than usual for Clos St. Martin.
The best vintages of Clos St. Martin are: 2022, 2021, 2020, 2019, 2018, 2017, 2016, 2015, 2014, 2012, 2010, 2009, 2008, 2005, 2001 and 2000. I am not as fond of the wine in pre-2000 vintages. 2005 Clos St. Martin remains the finest wine this estate has ever produced. But in time, 2009, 2010, and 2015 could give it a run for the money. While the wines can be difficult to find, it's worth the effort to locate at least a few bottles.
When to Drink Clos St. Martin, Anticipated Maturity, Decanting Time
Clos St. Martin needs 4-6 years in the cellar before starting to show its best. Of course, that can vary slightly, depending on the vintage. Clos St. Martin is best enjoyed in the first 5-20 years of life.
Young vintages can be decanted for about 90 minutes, give or take. This allows the wine to soften and open its perfume. Older vintages might need very little decanting, just enough to remove the sediment.
Serving Clos St. Martin with Wine and Food Pairings
Clos St. Martin is best served at 15.5 degrees Celsius, 60 degrees Fahrenheit. The cool, almost cellar temperature gives the wine more freshness and lift. Clos St. Martin is best paired with all types of classic meat dishes, veal, pork, beef, lamb, duck, game, roast chicken, roasted, braised, and grilled dishes.
Clos St. Martin is also good when matched with Asian dishes, rich fish courses like rare tuna, mushrooms, and pasta.
Château Clos St. Martin Wine Tasting Notes
27 Vintages 183,134 Views Sort by Vintage-Rating
2022
Château Clos St. Martin (St. Émilion Grand Cru)

Flowers, black cherries, licorice, smoke, spice, espresso, cinnamon, and plums open the attention-seeking perfume. On the palate, the wine is sensuous, silky, long, and polished. The array of perfectly ripe, black, red, and blue fruits, with their chocolate edge lingers as the berries caress your palate from start to finish. Drink from 2025-2042. 95-97 Pts.

1,862 Views

Tasted

May 8, 2023

2021
Château Clos St. Martin (St. Émilion Grand Cru)

Licorice, plums, chocolate, strawberry, espresso, smoke and black cherry form the core of the perfume. Soft, silky, fresh and vibrant, the wine is medium-bodied with a nice freshness to the elegant and supple-textured fruits in the finish. Drink from 2023-2038. 92-94

1,104 Views

Tasted

May 20, 2022

2020
Château Clos St. Martin (St. Émilion Grand Cru)

Texturally, this is one of the sexiest wines in all of Bordeaux. The levels of opulence, sensuality and silk are almost off the hook, and they make the perfect backdrop for the layers of blackberries, black plums, licorice, chocolate, black cherries, espresso and spice. Long, rich, balanced, fresh and hedonistic, this is going to offer pleasure for the following 2 decades. Drink from 2024-2047.

631 Views

Tasted

Mar 21, 2023

Opulent, silky and rich, this is pure bottled hedonism. Flamboyant, showy plums, cherries, smoke, licorice, spice, oak and earthy nuances seek your attention. Rich, lush and opulent on the palate, the wine finishes with layers of perfectly ripe, sensuous fruits. Give it 7 years or so for the oak to fully integrate and enjoy over it the following 2 decades. 96-98 Pts

1,883 Views

Tasted

May 20, 2021

2019
Château Clos St. Martin (St. Émilion Grand Cru)

Layers of elegantly-textured, silky fruits with equal amounts of freshness and polished opulence are what you will discover here. The waves of cherries and plums along with espresso, cocoa, smoke, licorice flowers and chocolate are perfect for the velvety tannins in the creamy endnote. Give it a few years to develop and it will be an even better experience. Drink from 2024-2047.

973 Views

Tasted

Mar 29, 2022

Polished, silky fruits, velvet-textured tannins, and a wave of ripe, sweet black cherries, licorice, herbs and espresso are what you will find here before working your way to the fruit-filled, creamy finish. The wine was made from a blend of 80% Merlot, 15% Cabernet Franc and 5% Cabernet Sauvignon. 94-96 Pts

3,416 Views

Tasted

Jun 8, 2020

2018
Château Clos St. Martin (St. Émilion Grand Cru)

Sexy, silky, velvety textured ripe, sweet fruits coat your palate. The balance between the weight, depth, layers of voluptuously textured fruits is dead on. Rich, opulent and sensuous, this decadent offering from the plateau of Saint Emilion is going to offer pleasure for at least two decades and probably longer.

2,781 Views

Tasted

Mar 9, 2021

Velvet textured red berries, smoke, spice, licorice, wet earth, and stone are all over the place. The wine is opulent, concentrated and polished. The berries are ripe, sweet, fresh and silky. This decadent offering from the plateau of Saint Emilion is going to offer pleasure for at least two decades and probably longer. 96-98 Pts

2,499 Views

Tasted

Apr 19, 2019

2017
Château Clos St. Martin (St. Émilion Grand Cru)

Black cherries, licorice, espresso and fudge are the first thing you'll notice. From there, you'll quickly move to the creamy, silky textures, lush, polished tannins and the decadently ripe, dark fruits and espresso-filled finish.

1,796 Views

Tasted

Apr 26, 2018

2016
Château Clos St. Martin (St. Émilion Grand Cru)

Cherry liqueur, kirsch, black raspberry, flowers, espresso and licorice create the perfume, while on the palate, you'll find silky, sensuously textured black cherries and velvet tannins. This is a very hedonistic treat – hypnotic in a way. The wine was made from a blend of 80% Merlot, 15% Cabernet Franc and 5% Cabernet Sauvignon.

2,479 Views

Tasted

Apr 29, 2017

2015
Château Clos St. Martin (St. Émilion Grand Cru)

Bottled sensuality, the wine is silk and velvet with layers of velvety, dark red fruits that fill your palate. The wine is in balance. It is never heavy, offering complexity with decadence.

3,239 Views

Tasted

May 21, 2018

90% Merlot, 5% Cabernet Sauvignon and 5% Cabernet Franc produced a wine with sensuous, opulent, silky textures, dense, dark, ripe, sweet fruits and a long, round finish. Like a first date you end up taking home to meet Mama.

3,089 Views

Tasted

Apr 29, 2016

2014
Château Clos St. Martin (St. Émilion Grand Cru)

This is ready to go, as you can already sense the secondary notes of tobacco, truffle, smoke, earth, fennel and plum. Medium bodied, with sweet, ripe, cherries and black plums, the wine is silky and polished. This is not going to make old bones, but this is will be charmer to taste for first 10-15 years of life.

2,002 Views

Tasted

May 10, 2017

Silky, pure, sweet and fresh, with a licorice, cocoa, dark chocolate-covered red and black cherry charm, this wine ends with a supple, elegant, finish. 91-93 Pts

2,464 Views

Tasted

Apr 27, 2015

2013
Château Clos St. Martin (St. Émilion Grand Cru)

Soft, polished and plush with plums, cherries, licorice and espresso bean in the nose, this round, forward, medium-bodied wine was made from a blend of 80% Merlot, 15% Cabernet Franc and 5% Cabernet Sauvignon. The wine reached 13.5% ABV, with pH of 3.8. The yields were 28 hectoliters per hectare. This is all about finesse on the palate. 89-91 Pts

1,922 Views

Tasted

Apr 28, 2014

2012
Château Clos St. Martin (St. Émilion Grand Cru)

Blending 70% Merlot, 20% Cabernet Franc and 10% Cabernet Sauvignon, the wine reached 14% ABV, with a pH of 3.76. Coffee bean, licorice and jammy cherries open to a silky, sensuous, lush, black cherry filled, spicy wine. The final vintage made by Sophie Fourcade. 91-93 Pts

2,758 Views

Tasted

Apr 26, 2013

2011
Château Clos St. Martin (St. Émilion Grand Cru)

The production is always tiny, but with the combination of only 20% of the vineyard being replanted and a difficult vintage, less than 500 cases will be made of the 2011. From 70% Merlot, 25% Cabernet Franc and 5% Cabernet Sauvignon, the wine is aged in 100% new oak. Coffee, floral, black plum, earth and smoky barbecue aromas open to a supple-textured, round, sweet, black cherry-filled wine. 91-93 Pts

2,882 Views

Tasted

Apr 24, 2012

2010
Château Clos St. Martin (St. Émilion Grand Cru)

2010 Clos St. Martin, the smallest classified wine in the Bordeaux appellation comes from a 1.33-hectare vineyard. Planted to 7,000 vines/ha, with an average age of 31 years. The terroir is planted on clay and limestone soils over the limestone plateau. Smoke, mineral, licorice, oak, and jammy berry scents open to a supple, ripe, silky textured concentrated wine ends with a long fresh, black cherry, spice and licorice finish. 94-95 Pts

6,896 Views

Tasted

Apr 22, 2011

2009
Château Clos St. Martin (St. Émilion Grand Cru)

2009 is the perfect vintage for Clos Saint Martin. It exacerbated the wines sensuous character. In contention for one of the most hedonistic wines in Bordeaux, this is opulence at its best. Rich, deep, full and long, the wealth of chocolate coated pit fruits, crushed rocks, purity and sexiness is impossible to miss. This is drinking stellar today. Drink from 2023-2039.

1,983 Views

Tasted

Jan 14, 2023

This sexy treat is all about hedonism. Silky, opulent and sensuous, the wine feels just great on your palate. The layers of flamboyant plums, cherry, earth, licorice and cocoa offer an unequaled, palate feel. This is just starting to hit its stride. I am sure it will easily be there for you for at least another 12-15 years of pleasure.

2,317 Views

Tasted

Sep 20, 2019

This is one sexy little beast. Pure silk and velvet textures, with ripe, plush, sweet fruits, earth, truffle, licorice and a hint of espresso. The wine is all about pleasure from start to finish. I usually prefer drinking Clos St. Martin within about 15 years of the vintage.

4,072 Views

Tasted

Jul 3, 2015

Sporting a deep ruby hue, truffle, smoke, black cherry liqueur, plum and vanilla scents lead the way to silk and velvet drenched, opulent, polished wine. Lush and sweet, there is a lot of purity found in the sweet, plush, long, sensuous finish.

5,638 Views

Tasted

May 1, 2012

2009 Clos St. Martin is the smallest classified wine in the Bordeaux appellation. It comes from a 1.33 hectare vineyard planted 7,000 vines/ha on clay and limestone soils. The vines have an average age of 31 years. The wine is filled with spicy dark fruit, anise, stone, plum, and espresso scents. This richly textured, sultry wine was produced from 75% merlot, 15% cabernet franc, and 10% cabernet sauvignon. The wine ends with black cherries infused with anise. 92-95 Pts

3,847 Views

Tasted

Jun 28, 2010

2008
Château Clos St. Martin (St. Émilion Grand Cru)

2008 Clos St. Martin opens with an enticing perfume of dark berries, mint, minerality, licorice, cherry blossoms and sweet oak. The texture feels like polished silk and velvet. This sensual wine ends with a long sensation of fresh, ripe blackberries. Only 480 cases were produced. 94 Pts

3,421 Views

Tasted

Jul 18, 2010

08 Château Clos St. Martin. This château, situated close to Angelus, Beau-Sejour Becot, and Beausejour Duffau, provides a hit in 2008. With clay and limestone soil and a southwest exposure, the château never produces more than 600 cases in any vintage. In 08 it produced only 460 cases. Starting with 2008, the wine will be fermented in new oak, then placed back in the same barrel to add additional freshness and a softer feel to the fruit. The wine, with its dark ruby and purple hue, has a complex perfume of minerals, black fruit, raspberry, forest, and oak. In the mouth, good structure and ample concentration of ripe fruit. The wine finishes with a blast of blackberry liquor and kirsch. 93-96 Pts

3,131 Views

Tasted

Jul 1, 2009

2006
Château Clos St. Martin (St. Émilion Grand Cru)

Dominated by red fruit, earth, spice and black raspberries, this medium bodied, lighter styled wine is rapidly maturing and should be enjoyed sooner than later.

3,443 Views

Tasted

Mar 12, 2012

2005
Château Clos St. Martin (St. Émilion Grand Cru)

Lush, rich, opulent, and showy, the wine is loaded with dark chocolate-covered cherries and sweet, juicy dark plums, licorice, and smoke from start to finish. No need to wait here, this is ready to go! Drink from 2022-2032.

2,416 Views

Tasted

Aug 13, 2022

This feels close to fully mature. The wine is silky, lush and rich. Full-bodied, with layers of black plums, dark cherries, licorice, chocolate and wet earth on the palate, those sensations carry though the sensuously textured finish. If you are sitting on any, this is a good time to start popping the cork.

2,545 Views

Tasted

Oct 1, 2020

Made for hedonists, this is a sensuous, textural experience. Opulent, velvet-textured plums, black cherries, smoke, licorice, flowers and truffle from start to finish. The wine is full, rich, deep, luscious and polished and it improves in the glass. you can enjoy this now and for at least another 12 years or so.

4,105 Views

Tasted

Dec 17, 2019

Round, opulent, fat and juicy, the sweet, ripe black cherries are coated with licorice, dark cocoa, smoke and chocolate. Full-bodied, concentrated and richly textured, this hedonistically styled wine hits that spot in all the right ways. Youthful, but just starting to be a good place today, give it an hour in the decanter and it is ready to go.

4,576 Views

Tasted

Jul 20, 2018

It's going to hard to find a sexier wine than this. The texture is incredibly sensual, the ripe, fruit offers sweetness, freshness and purity, and the truffle, black cherry and earthy nose is right where it needs to be. There is some room for improvement, but this is such a treat today, if you have more than a few bottles, pop one of the corks.

5,058 Views

Tasted

Mar 21, 2016

What a beauty this is. With only 20 minutes of air, flowers, chocolate covered raspberries, truffle, smoke and licorice scents pop from the glass. If you like that, the sensuous, lush textures should seal the deal! At 10, this is the right time to be drinking this pleasure machine. It's not a wine to age, hoping it will make old bones. Because it won't. I'm going to finish my remaining bottles before this is 18-20 years of age. Fortunately, it's so much fun to drink, I cannot wait to pop another cork.

5,172 Views

Tasted

Feb 4, 2015

No need to wait any longer for this beauty. If you like opulent textures, a nose with smoke, licorice, black cherry, licorice and wet earth, and a luscious, soft finish, you came to the right place. I've found that this wine shows best between 10-15-20 years of age. It's a wine for pleasure seekers. However, it's not a wine to hold for decades.

5,367 Views

Tasted

Sep 3, 2014

This wine has it all. Incredible concentration of ripe dark, fruit, a perfume that knocks you out and an incredible, plush, velvety, mouth feel that reaches into every nook and cranny of your palate. This special Bordeaux wine defines decadence. The dark chocolate covered blackberry, licorice tinged finish was further complicated with a hint of blueberry and seems to go on for over sixty seconds!

5,384 Views

Tasted

Jun 21, 2009

Deep, opaque in color. A haunting perfume and an incredible, lush, mouthfilling sensation packed with so much glycerin, this Bordeaux wine over takes your senses. If you're into texture, this wine will blow you away! The melange of black, red and plum flavors are further complicated with a hint of blue fruit that creeps in. After being open for a few hours, the wine gained in structure. The tannins are extremely fine. I would have scored this higher, but, there was another wine I liked even more. Only 600 cases of this sublime wine were produced. If this intellectual sex bomb of a wine sounds like your cup of tea, but it sooner than later as it is only going to become harder to find and more expensive.

4,631 Views

Tasted

Jun 6, 2008

2004
Château Clos St. Martin (St. Émilion Grand Cru)

Soft, silky, elegant and lush, the sweet plums, smoke, licorice and black cherries shine though in this medium bodied, velvet textured, ready to drink wine.

2,908 Views

Tasted

Nov 30, 2014

Complex, spicy ripe fruit and anise aromatics pairs perfectly with a rich, silky entry and the long, fresh, ripe, opulent plummy finish.

2,484 Views

Tasted

Jun 21, 2009

2003
Château Clos St. Martin (St. Émilion Grand Cru)

Medium bodied and already fully mature, this light style of wine needs to be drunk up.

3,725 Views

Tasted

Jun 21, 2009

2002
Château Clos St. Martin (St. Émilion Grand Cru)

Light in the nose, this medium bodied wine offers some ripe dark fruit with a slightly drying finish.

1,870 Views

Tasted

Jun 21, 2009

2001
Château Clos St. Martin (St. Émilion Grand Cru)

Smoke, caramel, truffle, black cherry, fresh herbs, chocolate and earthy aromas open to a fully mature St. Emilon. Soft,supple, round and lush, with no hard edges, the finish is pure, sweet cherries with hints of chocolate, mocha and minerality. This was tasted with about 10 minutes of air. A long decanting will not help this wine. While I doubt the wine is going to develop additional complexities from this point forward, there is no hurry to drink it. I'd look to drink it over the next 5-8 years.

4,497 Views

Tasted

Sep 29, 2012

Fennel, juicy plums, mushroom, chocolate and blackberry aromas meshed perfectly with the soft, plush, round textures and the sexy, chocolate covered blackberry finish. This is close to mature and should be consumed before by the time the wine hits 20. While a very successful and delicious Bordeaux wine, I am not sure it's going to make old bones.

3,217 Views

Tasted

Jul 22, 2011

Licorice, chocolate, black raspberry jam, plum, coffee and hints of vanilla scents make up the perfume. The wine offers plush, sexy, edible textures that and a blast of licorice covered black and red fruits in the finish

3,323 Views

Tasted

Jan 11, 2011

In quality, tis not that far from the stellar 2000! The exotic perfume pops from the glass with earthy, spicy, soy and back fruit aromas. Lush and concentrated on the palate. The wine finishes with a blast of fresh, ripe dark fruit and opulent textures.

3,223 Views

Tasted

Jun 21, 2009

2000
Château Clos St. Martin (St. Émilion Grand Cru)

Fully mature, medium/full-bodied with an earthy plum, espresso, smoke, licorice, and dark cocoa-packed perfume, the wine continues to rock the palate with its plus, silky, sensuous textures and earth, imbued fruit on the palate and in the finish. This is clearly fully mature, no decanting, pop, pour and enjoy.

3,309 Views

Tasted

Oct 26, 2021

Medium/full bodied, sensuous, silky and fresh, with loads of ripe, juicy, cherries and earth. No need for further aging here. The finish has a hint of dusty tannins in the endnote.

3,777 Views

Tasted

May 10, 2017

Fully mature, silky, soft and polished in texture, the wine offers freshness, earth, floral and ripe plum notes that please all the senses from start to finish. If you have a bottle, pop a cork, as there is no reason to wait. This was simply popped and poured, which seemed like the right way to go.

3,348 Views

Tasted

Nov 25, 2016

The second bottle of this in just as many weeks. Both bottles are not as good as this wine was about 2 years ago. The aromas remain interesting with its earthy, licorice, black plum and vanilla notes. The textsure is still supple, but the fruit seems to be starting to gently fade away. I'll try drinking my remaining bottles over the next 4-6 years.

3,725 Views

Tasted

Oct 9, 2013

If you're seeking sex, silk and velvet, look no further. This supple, hedonistic wine is packed with vanilla, licorice, black cherry liqueur and truffles. Rich, concentrated and without a single hard edge, while this St. Emilion will improve, there is no reason to delay experiencing its ample charms.

4,468 Views

Tasted

Jan 21, 2012

Silk, elegance and ripe fruit are the hallmarks of this Bordeaux wine. Dark berries, minerality and juicy plums are made better by the opulent, velvet laden textures that coat your palate.

4,710 Views

Tasted

Mar 5, 2010

With a perfume that takes over your senses. You are blasted with blackberry, truffle, oak and creamy raspberry aromatics. Opulent and rich on the palate. Concentrated and full bodied with an intense, silky mouth feel that is out of this world. The sexy licorice covered, black fruit finish is a treat.

4,209 Views

Tasted

Jun 21, 2009

Dark berry, licorice and spicy aromatics with hints of coco. Great structure. Lots of concentration, balanced, lush and opulently textured. This sublime wine finishes with a blast of soft, round, silky, ripe plums and berries.

4,058 Views

Tasted

Jun 6, 2008

1999
Château Clos St. Martin (St. Émilion Grand Cru)

Fully evolved with aromas of herbs and fresh red fruit, there was some dryness in the finish. I would drink this sooner than later

1,276 Views

Tasted

Jun 21, 2009

1998
Château Clos St. Martin (St. Émilion Grand Cru)

Although complex aromatically, this lighter bodied and styled wine does not follow through on the palate. The finish, while pleasant, is short. Since the wine is ready to drink today, there is no reason to wait for further evolution.

3,034 Views

Tasted

Oct 11, 2012

Opening with complex mineral, spice box and black fruit aromatics. The wine had a plush entry, but lacked the depth and concentration of morerecent vintages. With 98, you see a huge jump in style and quality. This was the first year Sophie Foucarde began turning things around for the property. Drink this wine on the young side.

2,742 Views

Tasted

Jun 21, 2009

This kicked off with a powerful nose. But that's where it left off. Medium bodied and light on the palate without much follow through. Ready to drink today.

1,556 Views

Tasted

Jun 6, 2008

1996
Château Clos St. Martin (St. Émilion Grand Cru)

Light in color, medium bodied and showing some hint of underripeness in the finish.

1,941 Views

Tasted

Jun 21, 2009

1990
Château Clos St. Martin (St. Émilion Grand Cru)

Light ruby with bricking in the color. The nose of strawberry and spice accompanied this fully mature wine which finished with hints of dark fruit. Drink up.

2,115 Views

Tasted

Jun 21, 2009

1964
Château Clos St. Martin (St. Émilion Grand Cru)

After opening and tasting the wine, Sophie said, "this was not a perfect bottle." The wine was light and sadly had moved past its prime. But, so what? I was tasting a 44 year old bottle of Clos St. Martin with the owner. Life does not get better.

1,837 Views

Tasted

Jun 21, 2009