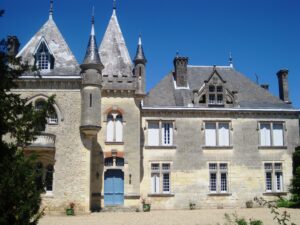 Learn everything about Chateau Cote de Baleau St. Emilion with wine tasting notes and wine with food pairing tips. Learn the best vintages, the history of the property, and information on the vineyards and winemaking. If you want to read about other important, Bordeaux Chateaux: Links to all Bordeaux Wine Producer Profiles
Chateau Cote de Baleau History, Overview
Chateau Cote de Baleau is a small vineyard in the St. Emilion appellation managed by Sophie Fourcade. For years, Sophie Fourcade had her hands full as she was also in charge of the neighboring estates, Clos St. Martin and Chateau Les Grandes Murailles. All three Right Bank estates are located in Saint Emilion.
Chateau Cote de Baleau was founded in 1643 and has remained in the hands of the Reiffers family for generations dating back to the reign of King Louis XIV when an ancestor of the current owner was awarded the Saint Emilion vineyard for his exploits as a loyal soldier.
That changed in March 2013, when the Cuvelier family, the owners of Clos Fourtet and Chateau Poujeaux in the Haut Medoc appellation, headed by Matthieu Cuvelier, purchased the property.
Chateau Cote de Baleau Vineyards, Terroir, Grapes, Winemaking
The vineyard of Chateau Cote de Baleau is planted to 70% Merlot, 20% Cabernet Franc and 10% Cabernet Sauvignon. The vineyard consists of 17 hectares cultivated with vines.
14 of those hectares are classified. In fact, in the recent 2012 St. Emilion Classification, those 14 hectares were upgraded to Grand Cru Classe status. The estate also owns 3 hectares of unclassified vines.
Chateau Cote de Baleau is situated just outside of the St. Emilion village. The terroir consists of limestone and sand soils, located not far from Chateau Beau-Sejour Becot.
The age of the vines is impressive as the vines are on average, close to 40 years old. Since 1998, a slow program of replanting has been taking place with the new vines being planted to a higher density of 8,500 vines per hectare.
A lot of work goes into the production of the wine from Chateau Cote de Baleau starting with their efforts in the vineyards. Vineyard management includes tilling of the soil every other row, debudding, deleafing, crop thinning, and hand-harvesting.
To produce the wine of Chateau Cote de Baleau, following a 4-day cold soak at 10 degrees Celsius, the fruit is fermented in stainless steel tanks for a 30-day maceration period. The wine of Chateau Cote de Baleau is then aged in 50% new, French oak barrels for up to 18 months before bottling.
The best vintages of Chateau Cote de Baleau are: 2022, 2021, 2020, 2019, 2018, 2017, 2016, 2015, 2014, 2010, 2009, 2005 and 2000.
Chateau Cote de Baleau is consulted by Michel Rolland. On average, 3,000 cases of Chateau Cote de Baleau are produced every vintage.
When to Drink Chateau Cote de Baleau, Anticipated Maturity, Decanting Time
Chateau Cote de Baleau is better with 2-4 years of bottle age. Of course, that can vary slightly, depending on the vintage. Chateau Cote de Baleau is best enjoyed in the first 3-10 years of life.
Younger vintages can be decanted for up to 1 hour or so. This allows the wine to soften and open its perfume. Older vintages might need very little decanting, just enough to remove the sediment.
Serving Chateau Cote de Baleau with Wine and Food Pairings
Chateau Cote de Baleau is best served at 15.5 degrees Celsius, 60 degrees Fahrenheit. The cool, almost cellar temperature gives the wine more freshness and lift. Chateau Cote de Baleau is best paired with all types of classic meat dishes, veal, pork, beef, lamb, duck, game, roast chicken, roasted, braised, and grilled dishes.
Chateau Cote de Baleau is also good when matched with Asian dishes, rich fish courses like tuna, mushrooms, and pasta.
Chateau Cote de Baleau is an early drinking, elegant, charm-filled, style of Saint Emilion wine that remains one of the better Bordeaux value wines in today's marketplace. 
Château Côte de Baleau Wine Tasting Notes
15 Vintages 62,437 Views Sort by Vintage-Rating
2022
Château Côte de Baleau (St. Émilion Grand Cru)

Flowers, black raspberries, licorice, espresso, and black cherries form the core of this wine. Medium-bodied, soft, elegant, forward, and already delicious to enjoy due to all of its supple, sweet, polished, ripe, fresh fruits, this is going to be a pleasure to enjoy on release. The wine blends 90% Merlot with 10% Cabernet Franc. Drink from 2025-2036. 91-93 Pts.

596 Views

Tasted

May 8, 2023

2021
Château Côte de Baleau (St. Émilion Grand Cru)

Red fruit and flowers show up easily in the nose and on the medium-bodied, fresh, vibrant, red berry filled palate. The wine blends 90% Merlot with 10% Cabernet Franc, 13.8% ABV. Yields are quite low as more than 50% of the harvest was destroyed by frost. Drink from 2023-2033. 89-91

957 Views

Tasted

May 20, 2022

2020
Château Côte de Baleau (St. Émilion Grand Cru)

Elegant, floral and fresh on the nose, the wine is silky, vibrant and refined on the palate, serving up its layers of ripe, cherries and plums with ease. I am sure fans of Cote de Baleau are going to love it as much as I did. One of the best values from Saint Emilion, enjoy this on release, or give this just a few years in the cellar. Drink from 2023-2035.

400 Views

Tasted

Mar 21, 2023

Black cherries, earth, thyme, spice and stone notes open the nose. The wine is medium-bodied, elegant, forward and fresh, with a nice fruity, soft textured palate and finish. This has a little more volume than usual, so I am sure fans of Cote de Baleau are going to love it. One of the best values from Saint Emilion, give this just a few years in the cellar and it should offer delicious drinking for at least 10 year after that. 92-90 Pts

1,182 Views

Tasted

May 20, 2021

2019
Château Côte de Baleau (St. Émilion Grand Cru)

Medium-bodied, soft, fresh, elegantly-textured, forward wine with loads of sweet, ripe, red fruits, touches of spice, cherries, plums, espresso and cocoa on the palate and in the finish. Drink from 2022-2033.

2,281 Views

Tasted

Mar 29, 2022

Flowery, with a basket of fresh picked raspberries, licorice and smoke, this wine is medium-bodied, forward, soft and fruity. You can enjoy this on release and over the next decade easily. The wine blends 90% Merlot with 10% Cabernet Franc, reaching 14.8%. The wine should sell for roughly $25 making this one of the top value wines of the vintage. This is worth buying by the case. 89-91 Pts

4,670 Views

Tasted

Jun 8, 2020

2018
Château Côte de Baleau (St. Émilion Grand Cru)

Medium-bodied, soft, elegant, forward and showing a nice flowery touch in the bouquet, the silky, sweet, cherries and plums come along with licorice and the right touch of chocolate on the nose and palate. Give this just a few years in the cellar and it should offer delicious drinking for at least 10-15 year after that.

980 Views

Tasted

Mar 9, 2021

With a strong floral nature, the wine is medium bodied, silky, soft and fresh. Red pit fruit, smoke, licorice and berries with just a hint of cocoa, this forward, open, fruity, early drinking charmer hits all the right notes. 89-91 Pts

2,150 Views

Tasted

Apr 19, 2019

2016
Château Côte de Baleau (St. Émilion Grand Cru)

Blending 80% Merlot, 15% Cabernet Franc and 5% Cabernet Sauvignon, this wine is sweet, fresh, soft, medium bodied and crisp with a Sweetarts finish that offers both sweet red fruits with a hint of crispy, tart accents.

4,085 Views

Tasted

Apr 29, 2017

2015
Château Côte de Baleau (St. Émilion Grand Cru)

Fully ready to go, though not yet mature, the wine is medium-bodied, soft, fresh and obviously forward. Silky textured, and fruity with a lean to the sweet, spicy, red fruit side of the style range, this is already offering a lot of pleasure and should get better with another year or two of cellaring. This is one of those great value Bordeaux wines that savvy shoppers should be all over.

3,372 Views

Tasted

Jul 24, 2020

You can already see some lightening in the color. From there, floral notes are the first thing you notice, before moving on to the fresh, red cherries. Medium bodied, soft and easy to like, you can pop a cork as soon as this hits the stores. This will be at its best from the time it hits the shelves until its 10th birthday.

4,733 Views

Tasted

May 21, 2018

Blending 90% Merlot, 5% Cabernet Franc and 5% Cabernet Sauvignon, this wine is medium bodied, soft, fresh and forward, with a sweet, berry-filled finish.

4,163 Views

Tasted

Apr 29, 2016

2014
Château Côte de Baleau (St. Émilion Grand Cru)

Blending 80% Merlot, 15% Cabernet Franc and 5% Cabernet Sauvignon, this wine is sweet, fresh, soft, medium bodied and crisp in a sweet and tart finish. 86-88 Pts

2,785 Views

Tasted

Apr 27, 2015

2013
Château Côte de Baleau (St. Émilion Grand Cru)

80% Merlot, 15% Cabernet Franc and 5% Cabernet Sauvignon produced a medium-bodied, simple, light, bright wine with red berries and powdery tannins. 84-86 Pts

2,486 Views

Tasted

Apr 28, 2014

2012
Château Côte de Baleau (St. Émilion Grand Cru)

80% Merlot, 15% Cabernet Franc and 5% Cabernet Sauvignon create the blend. Medium-bodied, earthy red berries with a light red fruit-filled finish. 85-87 Pts

3,493 Views

Tasted

Apr 26, 2013

2011
Château Côte de Baleau (St. Émilion Grand Cru)

80% Merlot, 20% Cabernet Franc create the assemblage. The wine will be aged in 50% new oak. With coffee, spice, black raspberry and earth, this medium-bodied wine finishes with cherry and a touch of oak. 87-88 Pts

3,764 Views

Tasted

Apr 24, 2012

2010
Château Côte de Baleau (St. Émilion Grand Cru)

2010 Cote de Baleau. 70% Merlot, 20% Cabernet Franc and 10% Cabernet Sauvignon, (the same portions the vineyard is planted in) make-up the blend. Licorice, 5 spice and black cherry scents open to a medium bodied, fennel and black cherry filled winish. Lovers of well-priced St. Emilion wine should be all over this wine. 89-91 Pts

3,931 Views

Tasted

Apr 22, 2011

2009
Château Côte de Baleau (St. Émilion Grand Cru)

Oak, smoke, black cherry, medium bodied, this fun, crowd pleasing kirsch filled wine is already open for drinking.

4,275 Views

Tasted

May 1, 2012

2009 Cote de Baleau is a definite candidate for the top value Right Bank wine of the vintage. The eight hectare vineyard is planted at 7,000 vines/ha. The wine is 70% merlot, 15 cabernet franc, and 15% cabernet sauvignon. 3,000 cases were produced. Licorice, berries, and hints of oak are easy to find. Fleshy in texture, the wine has a round, dark berry filled finish. Only infrequently are consumers offered good wine from a great vintage at reasonable prices. Lovers of St. Emilion should be all over the Cote de Baleau. It will drink well early. 89-91 Pts

3,949 Views

Tasted

Jun 28, 2010

2008
Château Côte de Baleau (St. Émilion Grand Cru)

08 Château Cote de Baleau is a light style of wine, a definite crowd pleaser with its plummy character and fresh, black fruit filled finish. 88-90

3,842 Views

Tasted

Jul 1, 2009

2005
Château Côte de Baleau (St. Émilion Grand Cru)

Medium bodied, with aromas of kirsch, plums, earth and spice, already open, this likable, crowd pleasing wine should be enjoyed before its tenth birthday.

4,343 Views

Tasted

Oct 11, 2011