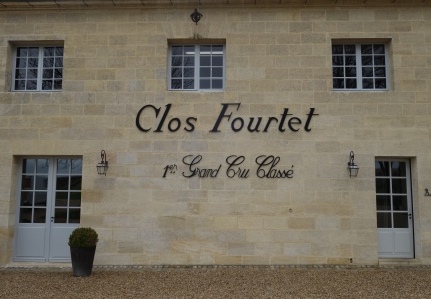 Learn everything about Clos Fourtet St. Emilion, Premier Grand Cru Classe B with wine tasting notes, and wine with food pairing tips. Learn all the best vintages, a history of the property, and information on the vineyards and winemaking. If you want to read about other important, Bordeaux Chateaux: Links to all Bordeaux Wine Producer Profiles
Clos Fourtet History, Overview
Clos Fourtet did not start out as a vineyard. Even with its picture-perfect terroir, Clos Fourtet, due to its proximity to the Saint Emilion village was built for use as a defensive fort called Camfourtet during the middle ages. Camfourtet can be loosely translated to Camp Fort. Vines first appeared here in the mid to late 1600s.
In the late 18th century, the property was owned by Elie de Carle, who also owned Chateau Figeac at the same time. The chateau on the property today was constructed by the Rulleau family. The Rulleau's were also responsible for evolving the name from Camfourtet to Clos Fourtet in 1868.
The first part of the modern era of Clos Fourtet begins in 1919 when it was purchased by Fernand Ginestet. The powerful Ginestet family owned several vineyards and they were also successful negociants. The Ginestet family eventually sold Clos Fourtet to raise money for their purchase of Chateau Margaux in 1949.
Clos Fourtet The Modern Age
In a convoluted, three-way transaction, Clos Fourtet passed to the Lurton family. In fact, Pierre Lurton, who is now in charge of Chateau Cheval Blanc managed Clos Fourtet until 1991. The Ginestet family sold Clos Fourtet in 2001 to the current owners, the Cuvelier family.
Before Philippe Cuvelier became a full-time Bordeaux wine producer, he made his career in office stationery in Lille. Cuvelier ran the Guilbert stationery trade until 1999. That was the year he sold his company to the Pinault Printemps Redoute (PPR) group.
The Cuvelier family also owns Chateau Poujeaux in Moulis, located in the Haut-Medoc appellation. Today, Matthieu Cuvelier is fully in charge of managing Clos Fourtet and all the other family-owned vineyards. Once they took over they completely modernized the cellars and replanted large sections of their vineyards.
In March 2013, the Cuvelier family once again added to their holdings with the purchase of additional estates in St. Emilion, Chateau Les Grandes Murailles, Clos St. Martin, and Chateau Cote de Baleau. Starting with the 2022 vintage, the vines from Les Grandes Murailles were included in Clos Fourtet.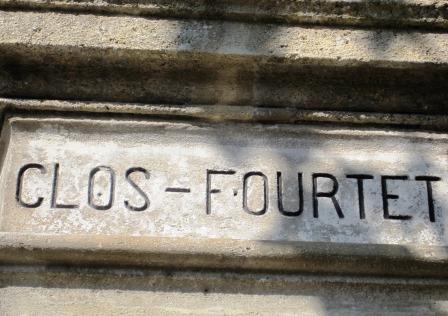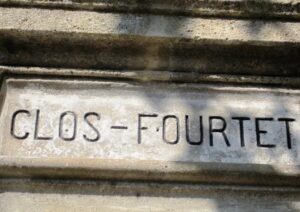 Clos Fourtet Vineyards, Terroir, Grapes, Winemaking
The 22-hectare Right Bank vineyard of Clos Fourtet is planted to 85% Merlot, 8% Cabernet Franc and 7% Cabernet Sauvignon. The vineyard and chateau are situated only a stone's throw from the village of St. Emilion, right on top of the limestone plateau. The terroir is deep limestone and clay soils.
Their best vines are on the peak of the limestone plateau, close to the chateau. They also have a small parcel of vines planted in the north of the appellation, next to Cadet Piola. However, those vines are used primarily for their second wine.
The vines are on average 30 years of age. The average vine age is young here, as much of the vineyard was replanted in 1991. As the vines continue aging, you can expect an increase in the quality of the wines here.
The vineyard of Clos Fourtet is planted to a density of 6,000 vines per hectare. Thanks to the spare no expense attitude of the new owners, Clos Fourtet is doing what it takes to make the best wine possible.
This effort begins in the vineyards. They practice sustainable, vine-growing with an increasing biodynamic farming approach.
As that technology is proving to be quite favorable to the wines of Clos Fourtet, slowly, they have continued increasing the percentage of the vineyard that is being farmed using a biodynamic approach.
To produce the wine Clos Fourtet, the grapes are whole berry fermented. Vinification of Clos Fourtet takes place in temperature-controlled, stainless steel vats. Malolactic fermentation is performed in the barrel.
The wine of Clos Fourtet is aged for 18 months in between 60% to 80% new, French oak barrels. For a large portion of that time, the wine is aged on its fine lees. Close to 4,500 cases per year are produced of Clos Fourtet in an average vintage. There is a second wine, Closerie de Fourtet.
Clos Fourtet is consulted by Stephane Derenoncourt and Jean Claude Berrouet, who make an odd pair, as Derenoncourt is known for picking ripe fruit while Berrouet, who earned fame for his multiple decades as the winemaker for Petrus. Clos Fourtet is managed by Mathieu Cuvelier.
Step by step, Clos Fourtet continues experimenting with biodynamic techniques and striving to be more natural in their Bordeaux winemaking approach. According to Mathieu Cuvelier, they are impressed by the work and progress that Alfred Tesseron is employing at Chateau Pontet Canet in Pauillac and they want to use some of those methods at Clos Fourtet in Saint Emilion.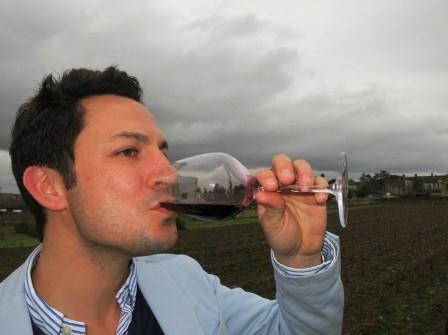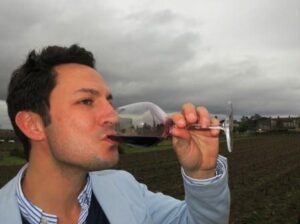 The best vintages of Clos Fourtet are: 2022, 2021, 2020, 2019, 2018, 2017, 2016, 2015, 2014, 2012, 2010, 2009, 2008, 2005 and 2003. While I have not had much experience with really old vintages, 1949 was a beauty. And so was 1921. If that is any guide, with such a great terroir, older vintages could be worth taking a chance on at auction.
Character and Style of Clos Fourtet
Clos Fourtet is an exciting Bordeaux wine. Located just outside the village of St. Emilion, over a series of deep, limestone caves, this mineral-driven, dark berried, fresh, ripe, opulent, flamboyant wine offers intense, pure flavors, rich textures, and spicy aromatics with hints of licorice. The wine keeps getting better and better. As the vines continue aging, you can expect the wines to add even more richness and complexity over the years.
When to Drink Clos Fourtet, Anticipated Maturity, Decanting Time
Clos Fourtet is much better with at least 10-15 years of aging in good vintages. Young vintages can be decanted for 2-3 hours or more. This allows the wine to soften and open its perfume.
Older vintages might need very little decanting, just enough to remove the sediment. Clos Fourtet offers its best drinking and should reach peak maturity between 12-35 years of age after the vintage.
Serving Clos Fourtet with Wine and Food Pairings
Clos Fourtet is best served at 15.5 degrees Celsius, 60 degrees Fahrenheit. The cool, almost cellar temperature gives the wine more freshness and lift.
Clos Fourtet is best paired with all types of classic meat dishes, veal, pork, beef, lamb, duck, game, roast chicken, roasted, braised, and grilled dishes. Clos Fourtet is also good when matched with Asian dishes, rich fish courses like tuna, mushrooms, and pasta.
Clos Fourtet Wine Tasting Notes
32 Vintages 340,618 Views Sort by Vintage-Rating
2022
Clos Fourtet (St. Émilion Grand Cru)

With a dark, almost purple hue, the wine expresses flowers, licorice, smoke, black cherries, blue fruits, spice, salt and oyster shell. The fruits on the palate are long, rich, elegant, deep, and ripe. There is concentration, silky tannins, vibrancy, length and strong, mineral-influences on the mid-palate, and in the opulent, lively, long and intense finish. This is the first vintage where the parcels of Grandes Murailles were integrated into Clos Fourtet. The wine blends blending 90% Merlot, 7% Cabernet Franc and 3% Cabernet Sauvignon, 14.5% ABV, 3.54 pH. The harvest took place, September 9 - September 27. Drink from 2027-2055. 97-99 Pts.

2,396 Views

Tasted

May 8, 2023

2021
Clos Fourtet (St. Émilion Grand Cru)

Dark plums, chocolate, blackberries, espresso, smoke, and wet earth on the nose. The palate is medium-bodied, soft, fresh, and silky and with a sweetness and energy to the red fruits with a touch of spice and salt that come in the endnotes. Refined and fresh, this is a refined vintage of Clos Fourtet. The wine was made by blending 90% Merlot, 7% Cabernet Franc and 3% Cabernet Sauvignon, 13.5% ABV. The harvest took place, September 28 - October 15. Drink from 2024-2049. 94-96

1,185 Views

Tasted

May 15, 2022

2020
Clos Fourtet (St. Émilion Grand Cru)

Scoring at the top of my range from my barrel scores, this is a majestic vintage for Clos Fourtet. With stunning levels of concentration, intensity, purity and sensuality, the wine paints your palate with layer after layer of black and red fruits. The velvet-drenched finish seals the deal with its seamless, mineral driven finish that builds, lingers and expands. Drink from 2026-2060.

2,383 Views

Tasted

Mar 21, 2023

Dark garnet in color, the wine gets your attention quickly with its licorice, smoke, dark cocoa, chalk and plummy aromas. Pure silk and velvet on the palate, with a fabulous sense of purity in the fruits, lift, length, richness, concentration and minerality. This is clearly a top vintage for Clos Fourtet that will age for decades. The wine was made from blending 90% Merlot, 7% Cabernet Franc and 3% Cabernet Sauvignon, 14.5% ABV. 96-98 Pts

3,757 Views

Tasted

May 20, 2021

2019
Clos Fourtet (St. Émilion Grand Cru)

Even better in the bottle after its aging period, the wine explodes with flowers, black cherries, plums, mint, espresso, cocoa, licorice and crushed rocks. The wine is full-bodied, opulent, rich, silky, fresh and long. The palate is coated with layers of dark red pit fruits with that elusive touch of salt, silky tannins and purity in the fruits that radiate from the mid-palate continuing all the way through to the long, velvety, harmonious finish. Give this at least a few years in the cellar and it should offer pleasure for the following 3 decades with ease. Drink from 2025-2055.

4,261 Views

Tasted

Mar 29, 2022

Deep in color, the wine opens with licorice, flowers, smoke, dark cocoa, wet earth and truffle nuances. The wine is fresh, rich, concentrated and balanced. With silky tannins, elegance and purity to the fruits, the supple texture combines the purity of fruit, lift, refinement and harmony in the fruit-filled, spicy finish. The wine blends 90% Merlot, 7% Cabernet Sauvignon and 3% Cabernet Franc, reaching 14.5% ABV. The harvest took place September 24, ending October 10. 95-97 Pts

6,330 Views

Tasted

Jun 8, 2020

2018
Clos Fourtet (St. Émilion Grand Cru)

Inky in color, the wine is quite floral in nature, which adds to all the beautifully ripe, red and black fruits, spice, dark chocolate, licorice, espresso and crushed rock character. Full-bodied, concentrated and with a serious depth of flavor, the long finish focuses on you its freshness, rich, voluptuous textures and purity.

2,640 Views

Tasted

Mar 9, 2021

Inky in color, the wine is almost opaque. The fruits are ripe, dark and deep. There is a touch of fig, black cherry, dark chocolate, flowers and licorice. Full-bodied, concentrated, intense, dense and yet with ample lift keeping the wine energized on your palate. The finish hangs in there with multiple shadings of ready pit fruits, luscious textures and purity. The yields are quite small for 2018 at only 33 hectoliters per hectare. 96-98 Pts

3,416 Views

Tasted

Apr 19, 2019

2017
Clos Fourtet (St. Émilion Grand Cru)

For a magnificent opening there is a crushed rock nature, followed by a mixed bouquet of flowers, licorice and red berries. With a lovely dense color, this is grand and ornate yet bright and zippy, the fruit flows along perfectly from the attack to the finish. The wine was made from blending 86% Merlot, 10% Cabernet Franc and 4% Cabernet Sauvignon, reaching 14% ABV.

2,728 Views

Tasted

Apr 26, 2018

2016
Clos Fourtet (St. Émilion Grand Cru)

This has started emerging from its youth and already offers a luscious expression of black, and red fruits, licorice, salt, and flowers. The wine is rich, deep, concentrated, long, and silky, with a finish that easily hits the 50-second mark. Drink from-2023-2050.

716 Views

Tasted

Sep 19, 2023

Deep in color, the wine is lush, fresh, polished and deep. There is a sweetness to the smoky, dark red berries that pairs nicely with its natural freshness. The perfume offers espresso, flowers, licorice, and dark red fruits. But the real joy comes from the palate, due to the silky textures and juicy freshness in the fruit. Give this at least a decade and enjoy it over the following 20-25 years.

6,402 Views

Tasted

Sep 21, 2019

This stunner keeps getting better and better. The wine has gained in richness and intensity. The ripe, sweet, luscious plums, licorice, smoke and dark chocolate notes are singing. Concentrated, silky and opulent, this should age for decades.

4,654 Views

Tasted

May 21, 2018

Smoky with licorice, violets, lilacs, cigar wrapper and dark fruits, this wine is silky and structured, precise and polished, concentrated and fresh. The finish has all this great juice that moves from black to red fruits, to spice and then sweetness and back again. The wine was produced from a blend of 90% Merlot, 8% Cabernet Sauvignon and 2% Cabernet Franc, reaching 14% ABV with a pH of 3.35. The harvest took place October 4 to October 20.

5,002 Views

Tasted

Apr 29, 2017

2015
Clos Fourtet (St. Émilion Grand Cru)

Deep in color, the wine is all about the levelsof depth in the dark, cherry and plummy fruits. There is a lot of sweetness along with the balancing of acidity that gives everything life. The wine is full bodied, concentrated, supple, and sensuous. There is a purity in the fruits and a silkyness in the texture with a finish that sticks with you for close to 50 seconds.

5,687 Views

Tasted

May 21, 2018

Inky in color, the wine has an incredible depth of flavor. Dark, black cherry fruits are all over the place. Add licorice, cocoa, truffle, smoke, boysenberry and crushed stone and get the picture, as far as the perfume goes. However, it is the richness, opulent and even decadent palate presence that steals the show. This is almost at the same level as the stellar 2005. And who knows, with a decade in the cellar, the 2015 could be the better wine!

5,339 Views

Tasted

Mar 12, 2018

This estate is one fire, with one great vintage after another. The 2015 is really developing great. The lush, sexy textures are even more polished, the wine has gained in complexity and weight, this is quite strong.

5,714 Views

Tasted

Jul 12, 2017

An arousing blend of silky, supple textures, opulent, sensuous fruits, rich, intense flavors, length and purity, this wine is like basking on the sands of St. Tropez with Scarlett Johansson by your side. Smoke, licorice and kirsch liqueur with a strong sense of minerality are all over the place! This dazzler delivers a finish that will roll over in your mind for days. Voluptuously textured, the wine is a blend of 88% Merlot, 10% Cabernet Sauvignon and 2% Cabernet Franc, reaching 14% ABV with a pH of 3.70. The harvest took place from September 18 to October 12 and the wine is aging in 60% new, French oak barrels.

5,388 Views

Tasted

Apr 29, 2016

2014
Clos Fourtet (St. Émilion Grand Cru)

Dark, red, ripe, plummy, sweet fruits, smoke, licorice, espresso bean and black cherry are right out in front. Lush and silky textured on the palate, the wine leaves with you sweet, black cherries, cocoa and a hint of truffle in the finish.

3,718 Views

Tasted

Feb 5, 2017

Supple textures make it easy to enjoy the pure, fresh feeling of clean, ripe fruits and silky tannins. Red licorice and sweet, silky, fresh berries in the finish, this wine was made from a blend of 89% Merlot, 7% Cabernet Sauvignon and 4% Cabernet Franc. It reached 13% ABV with a pH of 3.57 and will be aging in 60% new, French oak barrels for 15 months. 93-94 Pts

2,915 Views

Tasted

Apr 27, 2015

2013
Clos Fourtet (St. Émilion Grand Cru)

Medium bodied, forward, early drinking style of Clos Fourtet with a soft polished, fresh, light cherry, thyme, floral and stony, earthy profile.

3,785 Views

Tasted

May 25, 2016

Long, silky and lush with ripe fruit, licorice and minerality, the black cherry and fennel flavors carry through from start to finish. From 87% Merlot, 7% Cabernet Franc and 6% Cabernet Sauvignon, the wine reached 13.1% ABV, with a pH of 3.48. From yields of 18 hectoliters per hectare, the Grand Vin represented 60% of the harvest. The wine is aging in 60% new oak. 91-93 Pts

4,270 Views

Tasted

Apr 28, 2014

2012
Clos Fourtet (St. Émilion Grand Cru)

Licorice, truffle, cherry pipe tobacco and dark chocolate scents create the attention seeking perfume. Full bodied, rich and concentrated, the wine is lush, round and rich, with a long, sweet, fleshy, silky, fruit filled finish.

5,287 Views

Tasted

Apr 15, 2016

Smoke, truffle black cherries and licorice scents catch your attention and the smooth, soft, silky, polished, sweet, ripe fruits on the palate keep you focused on what's in your glass. The long, supple, chocolate coated, black cherry finish is a treat.

4,017 Views

Tasted

Mar 11, 2015

With 86% Merlot, 10% Cabernet Sauvignon and 4% Cabernet Franc, the wine reached 14% ABV with a pH of 3.7. The wine will be aged in 60%, new French oak barrels for 18 months. Deep in color with floral, licorice, dark red berries and earth in the nose, the wine is rich, lush and deep with soft tannins. The wine ends with sweet licorice and chocolate-covered berries. To produce the wine in this difficult vintage, Chateau Clos Fourtet performed 3 green harvests during the growing season. 92-94 Pts

6,605 Views

Tasted

Apr 26, 2013

2011
Clos Fourtet (St. Émilion Grand Cru)

The wine is tight at the moment, with elements of minerality, plum and fennel that barely poke through. There is good concentration, but the soft, blackberry finished is marred by hints of dry tannins.

5,872 Views

Tasted

May 20, 2014

Coffee, black cherry, minerality, black raspberry liqueur with rich, silky, opulent textures, deep color and a long sensuous mouth feel are found in the wine. From a blend of 85% Merlot, 10% Cabernet Sauvignon and 5% Cabernet Franc, the wine will be aged in 60% new oak. Licorice, sweet blackberry, jam, truffle, chocolate, floral and black cherry aromas are found in the aromatics. Very rich for the vintage, the wine is packed with sweet, ripe, juicy and luscious dark berries. Balanced and supple, there is a lot to like about this wine. 94-96 Pts

3,856 Views

Tasted

Apr 24, 2012

2010
Clos Fourtet (St. Émilion Grand Cru)

Deep in color, the wine pops with black licorice, truffle, earth, dark berries, silky textures, velvety tannins and a long, polished, sexy finish that builds in intensity.

12,588 Views

Tasted

May 7, 2013

Packed with minerality, licorice, flowers, jammy blackberry, dark cherry, kirsch, smoke, vanilla bean and coffee scents, the wine is thick, luxurious, rich, powerful and concentrated. On the palate, the wine offers the unique combination of mouth filling and freshness ending with a boatload of sweet black licorice coated blackberries, plums and jam. The finish remains in your mouth for over 40 seconds. This St. Emilion wine has improved since last tasted in April. 96-97 Pts

6,206 Views

Tasted

Jul 30, 2011

2010 Clos Fourtet With a clay and limestone terroir, the vineyards are located close to the center of the St. Emilion village abutting Chateau Beau-Sejour Becot. From an assemblage of 87% Merlot, 10% Cabernet Franc and 3% Cabernet Franc, the wine reached 14.5 ABV. Intense aromas of jammy dark berries, black licorice, minerality and plum liqueur lead the way to a sexy, opulent and multi-layered Bordeaux wine with waves of sweet, rich, juicy fruit. The long finish ends with a mouthful of rich, licorice coated dark berries and cassis. 95-96 Pts

6,108 Views

Tasted

Apr 22, 2011

2009
Clos Fourtet (St. Émilion Grand Cru)

Silky, pure, fresh, ripe, concentrated and loaded with opulently textured, ripe, deep fruits, this is delicious. Full bodied, lush and mouth filling, the wine serves up licorice, smoke, spice box, plums, cherries, earth and herbs with ease. This stunner is just starting to wake up, in a few more years, this is going to be even better!

5,683 Views

Tasted

Sep 20, 2019

With additional years of aging, this has exploded. The wine has dramatically much more weight, density, softness of tannins and length. The wine is opulent, showy, sexy and feels like crushed velvet on your palate. Layers of perfectly ripe, dark red fruits, licorice, smoke, wet earth and black cherry coat your mouth and palate. The finish hangs in there for at least 50 seconds. With another 5-10 more years of bottle age, this will be screaming!

5,838 Views

Tasted

Jul 19, 2018

Minerality, espresso beans, truffles, licorice and sweet, ripe boysenberry aromas combine with mouth filling, plush textures and silky tannins. Fresh, ripe and pure, this is a delicious St. Emilion wine

7,029 Views

Tasted

Feb 10, 2012

Aromas of crushed stone, licorice, black raspberry and coffee bean are easy to find. This St. Emilion wine is deep, concentrated and powerful with layers of sweet, opulently textured jammy berries and licorice.

7,148 Views

Tasted

Jul 30, 2011

2009 Clos Fourtet is dark ruby. Filled with jammy blackberry and licorice scents, this powerful, fleshy wine ends with a silky, black fruit finish. 94-96 Pts

7,284 Views

Tasted

Jun 28, 2010

2008
Clos Fourtet (St. Émilion Grand Cru)

The intense perfume is filled with minerality, black cherry, coca powder, espresso, licorice and truffles, The concentrated, powerful, full bodied, rich wine offers depth and length, ending in a polished blackberry and cherry filled finish.

6,110 Views

Tasted

Jan 25, 2011

2008 Clos Fourtet starts with a complex licorice filled nose coupled with chocolate, black raspberry jam, and concentrated, ripe plums. Combining freshness and lush textures, this potent wine ends with a mouthful of spicy blackberries and anise. 94 Pts

6,336 Views

Tasted

Jul 18, 2010

08 Château Clos Fourtet is deep ruby. Black fruit, flowers, licorice, coffee, and minerals in the nose. Full bodied with soft tannins, this ample wine shows a long, fresh finish marked with licorice and ripe blackberries. 92-95 Pts

6,156 Views

Tasted

Jul 1, 2009

2007
Clos Fourtet (St. Émilion Grand Cru)

Fully mature, the wine is medium bodied, soft textured, open and offers its sweet, licorice covered, black cherry and earthy notes easily. This is not a long term ager, drink this while waiting for the 2005, 2009 or 2010 to come around.

3,432 Views

Tasted

Nov 18, 2017

2006
Clos Fourtet (St. Émilion Grand Cru)

Silky, full bodied, rich and concentrated, serving up a delicious array of sweet juicy plums, dark red fruits, spice, licorice and stone. The wine is now starting to come around. There is depth, richness, minerality and silky tannins that leave a great impression.

4,125 Views

Tasted

May 25, 2016

Light for Clos Fourtet, this medium bodied St. Emilion produced from 80% Merlot, 10% Cabernet Franc and 10% Cabernet Sauvignon offers licorice, blackberry, plum, coffee and earthy scents. The wine ends with a tannic, espresso bean, red and dark berry finish. Give it another 4-5 years to allow it to come together.

4,189 Views

Tasted

Dec 26, 2011

2005
Clos Fourtet (St. Émilion Grand Cru)

It's the razor blade of crushed limestone that runs down the middle of your palate that grabs your attention. From there, I headed back to the nose due to its floral, dark cocoa, red fruit, crushed rock, and licorice. Deep in color, from the looks of it, you could easily confuse this with the 2015. Concentrated, opulent, dense and elegant, the sexy, vibrant, red fruit and flower-filled finish tastes and feels great. Give this 2 hours in the decanter or wait 5 years and it is going to be a cellar treasure!

6,052 Views

Tasted

Feb 23, 2020

Just a gorgeous wine. Layer after layer of licorice coated, black cherry, plum and truffle are all over the place, in the nose and on the palate. Silky, polished and lusciously textured, if you like young wines that are considering entering their drinking window before they reach the secondary stage, you can pop a cork. Else, wait about 5 years. Either way, this is a beauty

6,684 Views

Tasted

Jul 19, 2018

Young, but it's impossible not to find the potential in the glass here. Dark in color, with powerful, but refined tannins. The wine is elegant, regal, full bodied and loaded with licorice, dark plums, cherries, earth and truffle. Another 5 years will add a lot to this wine.

6,910 Views

Tasted

Jun 18, 2017

This is a knock out from the first sniff that gets even better after the first taste. The attention seeking nose packed with licorice, caramel, smoke, truffle and black cherry liqueur only starts the show. The opulent, sexy, hedonistic. decadent textures with all those ripe tannins and even riper, sweet fruits that coats your palate and lingers for ages seals the deal. Yes, this is still young and is only going to get better. But it so damn tasty now, I went back for another pour. If this is your style of wine, you should consider adding it to your cellar.

8,828 Views

Tasted

Jan 22, 2016

Showing some lightness to the color, the wine serves up truffle, licorice, black plums, cherry liqueur and cigar box, with burning embers in the nose. The wine is youthful, fresh, mouth filling, long and rich. There is fruit, freshness and flavor galore. Still young, give this just a few more years and enjoy the fireworks.

6,132 Views

Tasted

Jun 28, 2015

Intense aromas of licorice, jammy black fruit, truffle, spice, cocoa and earth, rich, succulent, plush, sexy, opulent textures, length, purity and palate presence. If you missed the 2009 Clos Fourtet and want a wine that is not that far off quality for less, this is the wine to buy!

9,210 Views

Tasted

May 1, 2012

Still deep in color, sporting licorice, coffee bean, blackberry, black cherry, mineral and spicy aromatics, this powerful, full bodied, opulently styled, ripe, silky wine ends with a long, dark cherry liqueur, vanilla and licorice sensation. Lush and seductive, give this 3-5 years to come together.

8,048 Views

Tasted

Mar 11, 2012

This is intense, complex and concentrated. Deep levels of fat, ripe, polished dark fruits. Massive, dense and sexy. Multiple layers of licorice tinged black fruit and plums are all over the place. This is a thrill a sip wine. This is a wine for pleasure seekers.

10,821 Views

Tasted

Jan 20, 2008

Inky colored and packed with incredibly rich, ripe black fruit, licorice and minerals, this full bodied, intense, powerful wine fills your mouth with gobs of prefectly ripe berries, plums and spice.

10,408 Views

Tasted

Jun 24, 2007

2004
Clos Fourtet (St. Émilion Grand Cru)

Truffle, cigar box, tobacco, licorice, plum and coffee bean create the complex aromatics. Soft, silky black cherries, licorice, spice and minerality in the finish. The wine was made from a blend of 85% Merlot, 10% Cabernet Sauvignon and 5% Cabernet Franc.

3,872 Views

Tasted

Nov 30, 2014

Medium/full bodied, round, supple, soft textured, with chocolate, red plums and blackberries. This is already starting to open and show well.

3,222 Views

Tasted

Jan 17, 2013

2003
Clos Fourtet (St. Émilion Grand Cru)

Ripe, OK very ripe, but it is not over the top, or too much. Opulent, velvet-textured, dark plums, black cherries, hints of fig, smoke, licorice, wet earth and cocoa are all over the place. No decanting is needed. Just pop, pour and enjoy the texturally, hedonistic ride.

3,473 Views

Tasted

Oct 14, 2021

I tasted this wine twice in Bordeaux a few weeks ago, and now with a pristine bottle from my cellar. Each of the three bottles showed consistent results. This is not quite the overtly, sexed up, potent treat from its opulent youth. Fully mature, the wine is soft, silky, plush, ripe and packed with a melange of ripe and over ripe, plum and cherry notes ending with velvety, opulent textures. My only fear is this needs to be consumed sooner than later. I'd opt for drinking this over the next 5 to 10 years.

4,772 Views

Tasted

May 4, 2014

Showing an advanced color, with cooked, jammy berries, forest floor, smoke and tobacco notes, this needs to be consumed sooner than later before the rest of the fruit fades away.

5,129 Views

Tasted

Dec 18, 2013

Licorice, chocolate, black and blue fruit, cherries and stone scents, fat, rich, plush textures and a silky, opulent finish. This is a lot of fun to drink today and it's only going to get better and develop additional layers of complexity as it starts to improve. This is a very lusty, sexy style of St. Emilion.

6,201 Views

Tasted

Jun 17, 2012

Filled with licorice, stone, blackberry jam, cocoa and black cherry liqueur, while not mature, this St. Emilion is starting to drink well. Full bodied, lush and concentrated with ripe, dark berries and minerality, the wine ends with rich sensations of fennel, chocolate and plum.

7,757 Views

Tasted

Aug 11, 2011

2001
Clos Fourtet (St. Émilion Grand Cru)

The mature wine opens with truffle, earth, forest, dark berry and cedar notes. The soft textured wine ends with spicy dark plums, coco and hint of green in the finish.

3,261 Views

Tasted

Jul 9, 2010

2000
Clos Fourtet (St. Émilion Grand Cru)

Clearly this has entered its prime time drinking window. Silky and round, the licorice, dark plum, cherry and earthy nose is starting to come out. Full bodied and plush, the wine shows a lot of ripe, sweet, fruits and earthy characteristics in the soft textured finish.

3,798 Views

Tasted

Dec 21, 2015

1998
Clos Fourtet (St. Émilion Grand Cru)

Medium-bodied, soft, silky, elegant, and loaded with truffles, cigar wrapper, dark plum and red cherry notes, the finish is refined, earthy and fresh. This is full-mature and should be consumed over the next 3-5 years.

3,343 Views

Tasted

Aug 29, 2021

1990
Clos Fourtet (St. Émilion Grand Cru)

Fully mature and perhaps even a bit past that point, there is more earth, tobacco, spice and leafy aromatics, than fruit. Dusty, bright, plums line the finish. This is on the way out and requires drinking.

3,115 Views

Tasted

Nov 14, 2016

1982
Clos Fourtet (St. Émilion Grand Cru)

Past full maturity, but there was still some gas left in the tank, which delivered a medium-bodied wine loaded with dried flowers, tobacco leaf, red cherries, herbs, and truffle. Soft in texture, with a plummy edge on the palate, no decanting is warranted here, just pop, pour and let it rip before the fruit continues to fade. Drink from 2022-2025.

2,110 Views

Tasted

Dec 6, 2022

1979
Clos Fourtet (St. Émilion Grand Cru)

I was surprised at how good this was, the red berries were vibrant, fresh and sweet. Not quite high toned, but on the red fruit side, with a touch of fresh apple is medium bodied, offering tobacco and forest notes to make things more interesting. Not a wine I would hold, but if you see a bottle, it is worth taking a chance on.

1,974 Views

Tasted

Jan 28, 2018

1961
Clos Fourtet (St. Émilion Grand Cru)

Old-school-charm galore here with all of its licorice, leaf, cocoa, strawberry tobacco and dark, cocoa powder nuances. Medium-bodied, elegant and still fresh, with an array of juicy, red, sweet fruits in the finish, this is clearly at peak today.

2,789 Views

Tasted

Feb 2, 2020

Just a stunning wine that captures the beauty, depth and concentration found in the 1961. The wine shows off its tobacco, cedar, wet earth, forest floor and cherry filled personality with ease. Still fresh, with depth, length and complexity, this is a stunner. As good as this is, the wines made at Clos Fourtet today are going to reach much higher levels of quality as they mature. Note, this tasting was based on a magnum from the chateau, so your experience might vary.

3,272 Views

Tasted

Jul 19, 2018

1949
Clos Fourtet (St. Émilion Grand Cru)

I was more than surprised to find this wine showing so well. It tasted at least 10-20 years younger than I had expected. With a floral, cherry blossom, truffle and cigar store aromatic profile, the soft, silky wine displayed a purity of sweet cherry fruit in its finish. With wines this old, it can go either way, but this fortunately turned out to be a fine example of a fully mature St. Emilion.

2,998 Views

Tasted

Mar 2, 2016

1947
Clos Fourtet (St. Émilion Grand Cru)

Every bottle is different and unique, especially at this age. But this was barely hanging on to life with only a wisp of fruit remaining. I imagine this was fabulous 2 decades ago.

2,138 Views

Tasted

Mar 25, 2021

1929
Clos Fourtet (St. Émilion Grand Cru)

Not a wine I'd ever have guessed I would see, the anticipation was strong for the initial sniff, swirl and sip. Better on the nose, with its secondary aromatics mixing tobacco, flowers, wet earth and cherries. The wine was light and on the palate, although the silky textures and still fresh, pure, red cherry notes remained a treat. I imagine 20-30 years ago, this was probably stunning!

1,714 Views

Tasted

Nov 19, 2018

1921
Clos Fourtet (St. Émilion Grand Cru)

At 97 years of age, this show stopper of a wine has the silky, exotic, patina of age to its texture, with this, medium bodied, beautiful mix of flowers, cherry and strawberry, buttressed by tobacco leaf, smoke, barbecue and herbs. Elegant, sensuous and still, with purity of fruit in the finish. I could have waited 3 years, until it was 100, but what if the wine was there, and I wasn't?

1,851 Views

Tasted

Jan 28, 2018

Silky, soft, polished, medium bodied, elegant and refined, as well as sensual, the red fruits tasted as good as they felt.

1,647 Views

Tasted

Apr 13, 2017

1920
Clos Fourtet (St. Émilion Grand Cru)

From a bottle that was never moved from its cold Bordeaux cellar, tea in color with earth, cigar box, tobacco, ash and light cherries. Light on the palate, with a tart, cherry finish, it was still a treat drinking a wine close to 100 years old.

2,534 Views

Tasted

May 1, 2012