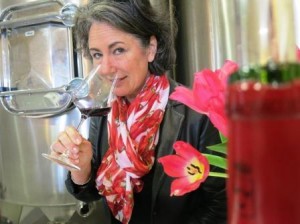 Learn everything about Chateau Les Grandes Murailles St. Emilion with wine tasting notes and wine with food pairing tips. Learn the best vintages, the history of the property, information on the vineyards and winemaking. If you want to read about other important, Bordeaux Chateaux: Links to all Bordeaux Wine Producer Profiles
Chateau Les Grandes Murailles is produced from a small 1.46-hectare vineyard located on the Saint Emilion plateau not far from Clos Fourtet, just outside the village.
Chateau Les Grandes Murailles had been managed by Sophie Fourcade. Fourcade gave up her promising career as a successful attorney to make Bordeaux wine at the family's multiple properties.
Sophie Fourcade is also in charge of two other Right Bank chateaux. She also manages Chateau Clos St. Martin and Cote de Baleau. That changed in March 2013, when the Cuvelier family, the owners of Chateau Clos Fourtet, headed by Matthieu Cuvelier, purchased the property.
2021 was the final vintage for Les Grandes Murailles as the vineyard was annexed into Clos Fourtet after the 2022 classification.
Chateau Les Grandes Murailles Vineyards, Terroir, Grapes, Winemaking
The small 2-hectare vineyard of Chateau Les Grandes Murailles is planted to 100% Merlot. The vines are planted to a density of 7,500 vines per hectare. The terroir is sandy-clay over limestone soil.
The young St. Emilion vineyard is now over 20 years old. It reflects a higher than usual density for the appellation, due to more recent plantings.
Vineyard management practices include deleafing as deemed necessary and green harvesting. The fruit is able to be picked in a single day, which allows the grapes to be picked at the perfect level of ripeness.
Once the grapes are harvested at Chateau Les Grandes Murailles, the berries go through a four-day cold soak at 10 degrees Celsius. Next, the fruit is fermented in temperature-controlled, stainless steel vats with a 28-day maceration. Malolactic fermentation takes place in 100% new French oak barrels from eight different coopers. On average, the wine is aged in 100% new, French oak for close to 20 months.
The best vintages of Chateau Grand Les Grandes Murailles are: 2022, 2021, 2020, 2019, 2018, 2017, 2016, 2015, 2010, 2009, 2005, 2000.
Only 600 cases of Chateau Les Grandes Murailles are produced per vintage. Chateau Les Grandes Murailles is consulted by Michel Rolland.
When to Drink Chateau Les Grandes Murailles, Anticipated Maturity, Decanting Time
Chateau Les Grandes Murailles is better with at least 4-7 years of bottle age. Of course, that can vary slightly, depending on the vintage.
Chateau Les Grandes Murailles is best enjoyed in the first 5-20 years of life. Young vintages can be decanted for about 1 hour to 90 minutes. This allows the wine to soften and open its perfume. Older vintages might need very little decanting, just enough to remove the sediment.
Serving Chateau Les Grandes Murailles with Wine and Food Pairings
Chateau Les Grandes Murailles is best served at 15.5 degrees Celsius, 60 degrees Fahrenheit. The cool, almost cellar temperature gives the wine more freshness and lift.
Chateau Les Grandes Murailles is best paired with all types of classic meat dishes, veal, pork, beef, lamb, duck, game, roast chicken, roasted, braised, and grilled dishes. Chateau Les Grandes Murailles is also good when matched with Asian dishes, rich fish courses like tuna, mushrooms, and pasta.
Chateau Les Grandes Murailles is a lush, sensuous, forward style of Saint Emilion that drinks well young and remains well priced for wine of this quality.
Château Les Grandes Murailles Wine Tasting Notes
16 Vintages 59,479 Views Sort by Vintage-Rating
2021
Château Les Grandes Murailles (St. Émilion Grand Cru)

Flowers, black cherries, wet earth, thyme and espresso on the nose. The wine is medium-bodied, soft, silky, refined, sweet and fresh, with loads of silky red fruits on the palate and in the finish. Drink from 2023-2037. The wine is produced from 100% Merlot, 13.5% ABV. Drink from 2023-2037. 91-93

1,360 Views

Tasted

May 20, 2022

2020
Château Les Grandes Murailles (St. Émilion Grand Cru)

Supple, and vibrant with layers of sweet, ripe, black plums, chocolate, licorice and smoke. Texturally, this is pure silk with a bit of chalk that is perfect for showing off all of its flawlessly ripe black cherries and plums with their licorice and chocolate accents. Priced from 100% old vine Merlot, this is going to be delicious on release, and it will be even better with age. Drink from 2023-2040.

182 Views

Tasted

Mar 21, 2023

Deep in color, the wine hits you up with its bouquet of flowers, licorice, crushed rocks, red and black plums, smoke, and blackberries. On the palate, the wine is silky, refined, supple and fresh. The finish leaves you with dark cocoa-dusted plums, thyme and creme de cassis. The wine is produced from 100% Merlot and is aged in 50% new, French oak barrels. 92-94 Pts

1,599 Views

Tasted

May 20, 2021

2019
Château Les Grandes Murailles (St. Émilion Grand Cru)

Dried flowers, smoke, licorice, plums, espresso and cherries show off easily in the perfume. Medium-bodied, elegant, silky, fresh and filled with ripe, pure, fruits, the finish leaves you with sensuously-textured, cocoa-topped sweet cherries, licorice, coffee bean and spice. Give this just a year or 2 in the cellar and it is going to even better! The wine is produced from 100% old vine Merlot. Drink from 2023-2036.

885 Views

Tasted

Mar 29, 2022

Dark garnet in color, the wine is all about the smoke, licorice, espresso bean, flowers, wet earth, and black with dark red fruits. Opulently textured, sexy in style, long and velvety in the finish, give this 4-5 years in the cellar and enjoy over the following 2 decades as it ages and evolves. The wine is made from 100% old vine Merlot. 92-94 Pts

3,008 Views

Tasted

Jun 8, 2020

2018
Château Les Grandes Murailles (St. Émilion Grand Cru)

Medium-bodied, silky, fresh, soft and vibrant, the fruits come along with crushed rock and stone, touches of flowers, licorice, cocoa and espresso. Supple textured with length and complexity, this is already great to taste now and will only get better with a few years of age. Made from 100% old vine Merlot, the wine is being aged in a combination of 65% new, French oak, 20% in amphora and 20% in used oak barrels.

1,379 Views

Tasted

Mar 9, 2021

Flowers, black raspberries, licorice and plums are in the nose. The wine is concentrated, lushly textured, fresh, silky, fruity and opulent in nature. Made from 100% old vine Merlot, the wine is being aged in a combination of 65% new, French oak, 20% in amphora and 20% in used oak barrels. 92-94 Pts

1,934 Views

Tasted

Apr 19, 2019

2017
Château Les Grandes Murailles (St. Émilion Grand Cru)

Truffle, chocolate, plum and leafy notes on the nose lead to a medium bodied, polished, fresh wine. You'll find dark plummy, round fruits, silky tannins and a touch of oak on the back end. The wine is made from 100% old vine Merlot, reaching 14.4% alcohol

1,277 Views

Tasted

Apr 26, 2018

2016
Château Les Grandes Murailles (St. Émilion Grand Cru)

Fresh, fruity and juicy, the wine is vibrant, serving up a melange of red fruits, licorice and cherry griotte. The wine is bright, medium/full bodied wine, soft, long and complex, with a lively, fresh, licorice and cherry filled finish.

1,881 Views

Tasted

Sep 21, 2019

The drawing room meets the greenhouse. Flowers, mostly lilies, smoke and kirsch on the nose, this is one of those great value wines from St. Emilion that combines a forward, supple style and sweet black raspberries with a sensation of minerality on the finish. Produced from 100% Merlot, the wine reached 14.8% alcohol.

1,408 Views

Tasted

Apr 29, 2017

2015
Château Les Grandes Murailles (St. Émilion Grand Cru)

Silky in texture, with a melange of dark red fruits, licorice and cherry griotte, this medium/full bodied wine is a beauty. It's sensuous, soft and long, with the right amount of decadence in the end note to make you go back for more.

2,009 Views

Tasted

May 21, 2018

Floral notes paired with lilies, smoke and kirsch on the nose, this is one of those great value wines from St. Emilion that combines a forward, supple style and sweet black raspberries with a sensation of minerality on the finish. Produced from 100% Merlot, the wine reached 14.8% alcohol.

1,794 Views

Tasted

Apr 29, 2016

2014
Château Les Grandes Murailles (St. Émilion Grand Cru)

With lilies, soil and cherry griotte in the nose, this polished, fresh wine ends with soft, elegant texture s Produced from 100% Merlot, the wine reached 13.5% alcohol with a pH of 3.56. 90-92 Pts

1,827 Views

Tasted

Apr 27, 2015

2013
Château Les Grandes Murailles (St. Émilion Grand Cru)

From low yields of 25 hectoliters per hectare, this 100% Merlot wine reached 13% alcohol. Cherry, coffee bean and licorice accents accompany soft tannins, while the finish shows fresh black raspberries and oak. The wine is aging in 100% new oak and will be ready to drink on release. 87-89 Pts

1,702 Views

Tasted

Apr 28, 2014

2012
Château Les Grandes Murailles (St. Émilion Grand Cru)

From 100% Merlot, the wine reached 13.5% alcohol. Licorice, kirsch, black raspberry liqueur, flowers and oak scents create the aromatics. On the palate, the wine is silky and medium-bodied and ends with fresh black raspberries. 89-91 Pts

2,508 Views

Tasted

Apr 26, 2013

2011
Château Les Grandes Murailles (St. Émilion Grand Cru)

From 100% Merlot planted on clay and limestone soils, the vines are, on average, 25 years of age. The wine is aged in 100% new oak. This medium-bodied wine opens with espresso bean, smoke, black and blue fruit, and truffle, and ends with burnt toast and fresh black cherry. 90-91 Pts

2,160 Views

Tasted

Apr 24, 2012

2010
Château Les Grandes Murailles (St. Émilion Grand Cru)

2010 Grandes Murailles - This tiny, 1.46-hectare vineyard is planted to 100% Merlot on clay and limestone soils. Licorice, minerality, coco powder, fresh jammy berry scents and oak pair well with the opulent, round textures and rich layers of juicy ripe, licorice coated black cherries. 92-94 Pts

5,151 Views

Tasted

Apr 22, 2011

2009
Château Les Grandes Murailles (St. Émilion Grand Cru)

Layers of silky, luscious, showy fruit are the first thing you notice as the wine crosses your palate. Loaded with licorice, chocolate, black plums and cherries, this is quite the hedonistic treat. And even though the production is tiny, the wine still sells for a song.

2,171 Views

Tasted

Sep 20, 2019

This is already serving up a lot pleasure, with its opulent textured fruits, forward style and silky tannins. There is ample fruit, low acidity and sweetness. Plus, it sells for a more than fair price.

3,218 Views

Tasted

Jul 3, 2015

Fresh black raspberry, flowers, black cherry and espresso notes, supple, round textures and sweet black cherry are found in the finish.

4,017 Views

Tasted

May 2, 2012

2009 Grandes Murallies is a knock out. This tiny (1.46 hectare) vineyard is planted at 7,500 vines/ha, all merlot. The soils are sandy clay atop the Saint Emilion limestone plateau. Deeply colored, with cocoa, spice, fresh baked fruit pie, cinnamon stick, and jammy berries that explode from the glass. This sexy, stylish wine pours into your mouth with an intense, thick, black and blueberry filled finish, made complex by licorice and dark cherries. This is the first time I have scored this wine higher than their Clos St. Martin. But Grandes Murallies deserves the boost. 94-96 Pts

3,874 Views

Tasted

Jun 28, 2010

2008
Château Les Grandes Murailles (St. Émilion Grand Cru)

2008 Grandes Murailies is filled with roasted black cherry, spice, fennel and earthy scents. This concentrated wine ends with soft, textures, silky tannins and flavors of fresh strawberry and black plums. 92 Pts

3,802 Views

Tasted

Jul 18, 2010

08 Château Les Grandes Murailles, from soils with ample clay deposits, saw 100% new oak. Fresh black raspberry and minerals quickly come to fore in the nose. The soft, round fruit and elegant tannins, complemented by the long, black and red fruit finish, make this a pleasing style of wine. 91-94 Pts

3,739 Views

Tasted

Jul 1, 2009

2005
Château Les Grandes Murailles (St. Émilion Grand Cru)

This lush, plush, little sex pot of a wine is already delivering a boatload of pleasure. Packed with licorice, chocolate, coffee bean, black raspberry, jam, stone and earthy scents, the sensuous finish delivers a lot of fresh, ripe, sweet, juicy fruits.

4,643 Views

Tasted

Jun 1, 2012

2004
Château Les Grandes Murailles (St. Émilion Grand Cru)

Fully mature. this soft, plummy, silky, medium bodied, earthy, sweet, ripe, smoky, ripe wine is packed with licorice and fresh cherries.

1,951 Views

Tasted

Nov 30, 2014