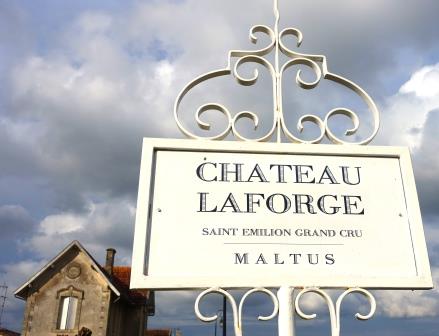 Learn everything about Chateau Laforge St. Emilion with wine tasting notes, wine, and food pairing tips, best vintages, a history of the property, information on the vineyards, and winemaking. If you want to read about other important, Bordeaux Chateaux: Links to all Bordeaux Wine Producer Profiles
Chateau Laforge History Overview
Chateau Laforge takes its name from the trade of the previous owner. He was a local blacksmith. The vineyards were purchased in 1998 by Jonathan Maltus, who was an experienced winemaker and chateau owner by that time, as he already owned Chateau Teyssier and Le Dome.
Prior to being purchased by Jonathan Maltus, the vineyards of Chateau Laforge were assembled over decades, so what you really had was a patchwork of various terroirs as the vineyards for Chateau Laforge was created in a piecemeal fashion.
What happened was, the blacksmith would take land to settle unpaid bills. Eventually, all that property was purchased later acquired by Jonathan Maltus.
Chateau Laforge Vineyards, Terroir, Grapes, Winemaking
The 5.8-hectare vineyard of Chateau Laforge is planted to 92% Merlot and 8% Cabernet Franc. Out of all the Maltus owned estates, this is probably the vineyard with the highest percentage of Merlot found in any of their properties.
Over time, due to additional purchases of land by Jonathan Maltus, he has been able to slowly increase the size of the vineyard here. The vineyards as we mentioned are placed in a myriad of locations that range from just outside the village of Saint Emilion, close to Chateau Grand Pontet, while other parcels are situated near Chateau Monbousquet.
Because the vines are spread out, you have a disparity of quality found in the vineyards here.
Because no actual cellars or chateau for Chateau Laforge exists, the wine of Chateau Laforge is made at their well-known and much larger property, Chateau Teyssier. The modern cellars of Chateau Teyssier only move wine by gravity flow.
The vinification takes place in temperature-controlled wood vats. Malolactic fermentation takes place in French oak barrels. The wine of Chateau Laforge is aged in 80% new, French oak barrels.
The best vintages of Chateau Laforge are: 2022, 2021, 2020, 2019, 2018, 2017, 2016, 2015, 2010, 2009 and 2005.
On average, the production is close to 2,500 cases of wine per vintage.
When to Drink Chateau Laforge, Anticipated Maturity, Decanting Time
Chateau Laforge needs some time before it can be enjoyed. Young vintages can be decanted for an average of 1-2 hours allowing the wine to soften and open its perfume. Older vintages might need very little decanting, just enough to remove the sediment.
Chateau Laforge is usually better with at least 4-7 years of bottle age. Of course, that can vary slightly, depending on the vintage character. Chateau Laforge offers its best drinking and should reach peak maturity between 5-15 years of age after the vintage.
Serving Chateau Laforge with Wine, Food, Pairing Tips
Chateau Laforge is best served at 15.5 degrees Celsius, 60 degrees Fahrenheit. The cool, almost cellar temperature gives the wine more freshness and lift.
Chateau Laforge is best paired with all types of classic meat dishes, veal, pork, beef, lamb, duck, game, roast chicken, roasted, braised, and grilled dishes. Chateau Laforge is also good when matched with Asian dishes, hearty fish courses like tuna, mushrooms, and pasta.
Château Laforge Wine Tasting Notes
17 Vintages 76,869 Views Sort by Vintage-Rating
2022
Château Laforge (St. Émilion Grand Cru)

Noticeably oaky in the nose, you quickly move to its chocolate-cherry, licorice, and plummy side in the perfume. On the palate, the wine is soft, round, fruity, and fresh, with polished tannins, and an easy to enjoy character. The wine blends 92% Merlot with 8% Cabernet Franc. Drink from 2025-2037. 91-93 Pts.

703 Views

Tasted

May 8, 2023

2021
Château Laforge (St. Émilion Grand Cru)

Flowers, smoke, plums and black raspberries, with a touch of espresso come through on the nose. Medium-bodied, soft, forward, fresh and polished on the palate, the wine will be easy to enjoy on release. The wine blends 92% Merlot with 8% Cabernet Franc. Drink from 2023-2035. 89-91

1,584 Views

Tasted

May 20, 2022

2020
Château Laforge (St. Émilion Grand Cru)

Leafy black cherries, licorice, espresso, and dried flowers come through in the nose while the medium-bodied palate is round, soft, polished, and fruity, leaving you with a luscious display of creamy, polished, dark red pit fruits. Drink from 2023-2040.

631 Views

Tasted

Mar 21, 2023

Oak, smoke, cherries, licorice and incense permeate the nose, while the medium-bodied palate kicks in with its soft, fresh display of plums, kirsch, espresso and licorice. Forward, polished and close to ready to drink on release, give it 2-4 years and it should be even better. 90-92 Pts

1,700 Views

Tasted

May 20, 2021

2019
Château Laforge (St. Émilion Grand Cru)

Flowers, smoke, licorice, and cherry aromas permeate the perfume. Medium-bodied, vibrant, soft and fresh, the wine is forward, polished and lifted in the red berry filled, oak accented finish. You can enjoy this just about on release. Drink from 2023-2036.

994 Views

Tasted

Mar 29, 2022

Flowers and fruit work well here on the nose. Full-bodied, round and fruity, with lift and a strong oak presence on the palate, the wine leaves you with blackberries and plums in the finish. If the wood integrates, this will be a better wine. 91-93 Pts

3,366 Views

Tasted

Jun 8, 2020

2018
Château Laforge (St. Émilion Grand Cru)

Licorice, smoke, chocolate and plums open the wine and carry through from the nose to the palate. The wine is juicy, silky, round and sweet with layers of cherries and silky tannins. The wine was produced from blending 92% Merlot and 8% Cabernet Franc.

2,151 Views

Tasted

Mar 9, 2021

Charcoal, black raspberry and vanilla bean aromas open the wine. From there, you'll move to a medium-bodied, elegant, polished wine with a nice note of fresh blackberries and licorice in the finish. The wine was produced from blending 92% Merlot and 8% Cabernet Franc.91-93 Pts

2,496 Views

Tasted

Apr 19, 2019

2017
Château Laforge (St. Émilion Grand Cru)

Smoke, licorice and dark red berries are at the core of the wine. On the palate, the wine is medium bodied, fresh, sweet, soft and just a bit spicy. Give this just a few years and it should be showing quite well. The wine was produced from blending 92% Merlot and 8% Cabernet Franc. Due to the frost, production is down by 30% here this year.

1,866 Views

Tasted

Apr 26, 2018

2016
Château Laforge (St. Émilion Grand Cru)

From a blend of 82% Merlot and 8% Cabernet Franc, licorice, espresso, smoke, wet earth and red fruits open the perfume. Medium/full bodied with round, polished tannins, black cherries and oak on the palate, the finish reveals layers of juicy black fruits and more oak. If the wood integrates, this will be a better wine.

3,565 Views

Tasted

Apr 29, 2017

2015
Château Laforge (St. Émilion Grand Cru)

Using 92% Merlot and 8% Cabernet Franc, this wine shows a spicy, stony, earthy, silky character, with ripe, dark fruits and a spicy, anise-filled finish.

2,349 Views

Tasted

Apr 29, 2016

2014
Château Laforge (St. Émilion Grand Cru)

Fresh, soft and round with a nice sweetness in a black raspberry, chocolate and mocha-tinged finish. 89-91 Pts

2,688 Views

Tasted

Apr 27, 2015

2013
Château Laforge (St. Émilion Grand Cru)

Using 92% Merlot and 8% Cabernet Franc, the wine reached 12.8% ABV and delivers an aromatic profile of coffee bean, smoke and plum. The wine is soft, smooth, open and fleshy. The finish is a bit too short, else this is a very nice wine. 88-90 Pts

2,126 Views

Tasted

Apr 28, 2014

2012
Château Laforge (St. Émilion Grand Cru)

Blending 92% Merlot with 8% Cabernet Franc, the wine opens with black cherry, cocoa and fennel. Medium-bodied with a short, mineral-driven blackberry finish. 89-91 Pts

3,832 Views

Tasted

Apr 26, 2013

2011
Château Laforge (St. Émilion Grand Cru)

With good color, notes of espresso bean and black cherry lead to ripe, sweet licorice and black cherry with strong coffee tones in the round finish. 90-91 Pts

3,611 Views

Tasted

Apr 24, 2012

2010
Château Laforge (St. Émilion Grand Cru)

Laforge, which takes its name from the trade of a former owner who was a blacksmith, is produced from 92% merlot and 8% Cabernet Franc. Licorice, spicy blackberry and earth aromas, medium/full bodied, round textures and a finish filled with chocolate covered black cherries. 90-93 Pts

5,013 Views

Tasted

Apr 22, 2011

2009
Château Laforge (St. Émilion Grand Cru)

2009 Laforge, which takes its name from the trade of a former owner who was a blacksmith, is deeply colored. With licorice, blackberry, and coffee notes, this full bodied, richly textured wine finishes with fennel and dark berry flavors. 90-92 Pts

5,811 Views

Tasted

Jun 28, 2010

2008
Château Laforge (St. Émilion Grand Cru)

Black cherry, spice, coffee bean, earth and blackberry aromas. In the mouth, this full bodied, earthy, round wine ends with a melange of spicy red and black fruits

5,127 Views

Tasted

Feb 17, 2011

08 Château Laforge comes from three different terroirs with unique soil types of clay, sand, and limestone. With 91% merlot and 9% cabernet franc, it offers an oak, fennel, spice, and black fruit nose. Supple and open, the wine finishes with lush black fruits. 90-92 Pts

5,016 Views

Tasted

Jul 1, 2009

2005
Château Laforge (St. Émilion Grand Cru)

Nice wine, that is showing just a bit of rusticity that rides on top of the ripe, juicy, dark red fruits, licorice, espresso, earth, plum and cocoa. A bit of air helps.

2,700 Views

Tasted

Jul 17, 2018

Drinking at close to peak maturity, the wine is full bodied, round, soft and polished, with a smoky, licorice, dark chocolate and black cherry center, that carries through to the finish. Popped and poured, was all it needed. There is no reason for further aging.

2,841 Views

Tasted

Aug 28, 2017

Popped and poured, and allowed to open in the glass for 20 minutes, before taking a look at the wine. On the nose, flowers, licorice, smoke, subtle oak aromas and dark plums can be found. On the palate, the wine is round and soft in texture. The sweet, juicy, plums, boysenberry, stone and hint of chocolate says this ready to go. But the finish is a tad short, with dusty tannins in the end note. This is probably fully mature and will be at its best over the next 8-10 years.

3,048 Views

Tasted

Nov 1, 2016

Tobacco, plum, spice, licorice, earth and fresh blackberry aromas mesh well with the round, soft textures and the long, spicy, black cherry filled finish.

4,236 Views

Tasted

Feb 17, 2013

This shows an oak, smoke and jammy black fruit nose. Rich, ripe and fun to drink with soft tannins and a black fruit, licorice and chocolate tinged finish. 2,000 cases produced.

4,614 Views

Tasted

Jun 12, 2008

2001
Château Laforge (St. Émilion Grand Cru)

The Debut vintage for this wine showed tobacco, jam, smoke, coca and mint scents. Already past its prime, the wine ends with a candied cherry finish. Starting with the 2005 vintage, the wine has shown definite improvements.

4,801 Views

Tasted

Feb 17, 2011