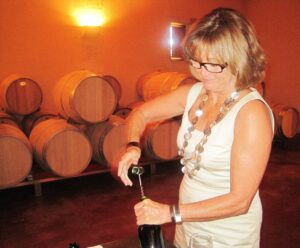 Learn everything about Chateau Grand Pontet St. Emilion with wine tasting notes and wine with food pairings. Learn about the best vintages, the history of the property, the vineyards, and winemaking. If you want to read about other important, Bordeaux Chateaux: Links to all Bordeaux Wine Producer Profiles
Chateau Grand Pontet was purchased by the Becot family in 1980 from the Barton and Guestier families. If the Becot family name sounds familiar that is because they also own the well-known Right Bank estate, Chateau Beau-Sejour Becot, as well as La Gomerie in St. Emilion and Joanin Becot in Cotes de Castillon.
If the Barton name also rings a bell, it is because they own Chateau Leoville Barton, which is located in one of the other saints, St. Julien, as well as Chateau Langoa Barton.
The Becot family purchased Chateau Grand Pontet because it's on good terroir that is located not too far from their other vineyards. Sylvie Pourquet, the sister of Gerard Becot and Dominique Becot managed Chateau Grand Pontet until the middle of 2021. In July 2021, it was announced that the owners of Chateau Haut Brion purchased Grand Pontet. This is their second vineyard in St. Emilion as they already own Chateau Quintus.
Chateau Grand Pontet Vineyards, Terroir, Grapes, Winemaking
The 19-hectare vineyard of Chateau Grand Pontet is planted to 70% Merlot, 17.5% Cabernet Franc, 5% Cabernet Sauvignon. Located right off the main road that runs in and out of the Saint Emilion village, the vineyard is planted in 1 large block of vines. The terroir is thin clay and sand over limestone soils.
The vines are planted to a density that runs from 5,500 to 8,000 vines per hectare. The vines are old averaging close to 40 years of age.
They have good neighbors here. They are not far from Chateau Canon, Beau-Sejour Becot or Clos Fourtet. Their best terroir is placed close to the chateau, on a clay and limestone slope that rises up to 55 meters at its peak.
To produce the wine of Chateau Grand Pontet, vinification of Chateau Grand Pontet takes place in small, temperature-controlled, stainless steel vats that range in size. The smallest vat is 27 hectoliters. The tanks increase in size from that point up to 100 hectoliter tanks. Malolactic fermentation takes place in a combination of barrel and tank.
The wine of Chateau Grand Pontet is aged in 80% new, French oak barrels for between 12 to 18 months. The amount of age and percentage of new oak varies, depending on the vintage conditions and characteristics.
The best vintages of Chateau Grand Pontet are: 2022, 2021, 2020, 2019, 2018, 2017, 2016, 2015, 2010, 2009 and 2005.
On average, close to 8,000 cases of Chateau Grand Pontet wine are produced each vintage. There is a second wine, Dauphin de Grand Pontet.
When to Drink Chateau Grand Pontet, Anticipated Maturity, Decanting Time
Chateau Grand Pontet can be enjoyed on the young side. The wine is usually better with just a few years of bottle age. Of course, that can vary slightly, depending on the vintage.
Grand Pontet is usually best enjoyed in the first 10-15 years of life. Young vintages of Chateau Grand Pontet can be decanted for up to 1 hour. This allows the wine to soften and open its perfume. Older vintages might need very little decanting, just enough to remove the sediment.
Serving Chateau Grand Pontet with Wine and Food Pairings
Chateau Grand Pontet is best served at 15.5 degrees Celsius, 60 degrees Fahrenheit. The cool, almost cellar temperature gives the wine more freshness and lift.
Chateau Grand Pontet is best paired with all types of classic meat dishes, veal, pork, beef, lamb, duck, game, roast chicken, roasted, braised, and grilled dishes. Chateau Grand Pontet is also good when matched with Asian dishes, rich fish courses like tuna, mushrooms, and pasta.
Château Grand-Pontet Wine Tasting Notes
14 Vintages 62,994 Views Sort by Vintage-Rating
2020
Château Grand-Pontet (St. Émilion Grand Cru)

Medium-bodied, with notes of wet earth, espresso, licorice, dark red berries and cocoa on the nose. Soft, round, lush and polished, the wine is forward, fruity and a bit oaky at the moment. Give it a few years to come together and it will be an even better wine. 89-91 Pts

1,321 Views

Tasted

May 20, 2021

2019
Château Grand-Pontet (St. Émilion Grand Cru)

Espresso, smoke, licorice and ripe dark red berries galore here. Medium-bodied, round, soft and juicy. This is best Grand Pontet ever produced! 89-91 Pts

2,564 Views

Tasted

Jun 8, 2020

2018
Château Grand-Pontet (St. Émilion Grand Cru)

Round, lush, soft, forward and fruity, with ample cocoa, licorice, dark cherries, spice and chocolate, this is already nice to drink and will only get better with a few years of aging.

1,031 Views

Tasted

Mar 9, 2021

Medium-bodied, juicy and already showing its dark cherry and espresso bean profile, the wine is round and fruity. With just a few years of age, it will be perfect for consumption. 89-91 Pts

2,280 Views

Tasted

Apr 19, 2019

2017
Château Grand-Pontet (St. Émilion Grand Cru)

Flowers, earth, thyme and coffee bean form the character here. On the palate the wine is round, soft and polished, leaving you with a sweet, juicy, fruity finish.

1,919 Views

Tasted

Apr 26, 2018

2016
Château Grand-Pontet (St. Émilion Grand Cru)

Medium bodied with wet earth, smoke, licorice, espresso and red fruits, the wine is sweet fresh, round and even shows minereality in the finish. Give it a few years of age.

2,368 Views

Tasted

Sep 21, 2019

Medium bodied with ripe, fresh red fruits, spice, earth and a finish of juicy cherries and stone.

3,217 Views

Tasted

Apr 29, 2017

2015
Château Grand-Pontet (St. Émilion Grand Cru)

This is the best vintage ever produced at Grand Pontet. The fruits are ripe, round and forward. There is sweetness, length and depth, with silky qualities in the finish. You can drink this young, or age it for a few years.

4,426 Views

Tasted

May 21, 2018

The best vintage ever from Grand Pontet, the wine is open and already shows its round, lush, soft, ripe, plums, licorice and cocoa character with quite easily.

4,339 Views

Tasted

Mar 12, 2018

Forward in style, the wine is lush, round and soft, with juicy, sweet, black cherries, espresso and dark chocolate. The wine is already easy and fun to taste.

4,923 Views

Tasted

Nov 22, 2017

Loads of dark chocolate, ripe, juicy plums, cherry and floral notes, this wine is polished with silky textures and a sweet, fruit-filled finish.

2,711 Views

Tasted

Apr 29, 2016

2014
Château Grand-Pontet (St. Émilion Grand Cru)

Licorice and black raspberries with a stone and black cherry center and a slightly drying finish. 87-89 Pts

3,348 Views

Tasted

Apr 27, 2015

2013
Château Grand-Pontet (St. Émilion Grand Cru)

Light, open and lacking in volume, this plummy wine will be best in its youth. 85-87 Pts

1,614 Views

Tasted

Apr 28, 2014

2012
Château Grand-Pontet (St. Émilion Grand Cru)

Easy drinking charmer, with soft textures, sweet, fresh, soft, cherries, earth, floral and licorice overtones.

2,864 Views

Tasted

Nov 8, 2015

Firm tannins, spicy red fruit, anise, espresso and earth on the nose, makes this slightly more interesting in the perfume, than on the palate.

2,979 Views

Tasted

Jul 6, 2015

2011
Château Grand-Pontet (St. Émilion Grand Cru)

With its oak and cherry character, medium body and light style, this slightly tart wine needs to be consumed young.

3,047 Views

Tasted

Nov 17, 2013

2010
Château Grand-Pontet (St. Émilion Grand Cru)

Deep in color, the wine offer ripe notes of licorice, blackberry, cherry, wet earth and coffee bean. Soft in texture and already approachable, this should turn out nice with a few years of age.

3,349 Views

Tasted

Aug 12, 2013

2009
Château Grand-Pontet (St. Émilion Grand Cru)

Popped and poured, this is clearly open for business. This charming St. Emilion offers licorice, espresso bean and chocolate covered plums with hints of boysenberry in the nose. Round tannins and plush textures make this even better. Even though the wine is 15% ABV, there is no sensation of heat in the fennel and black cherry filled finish.

5,153 Views

Tasted

May 21, 2013

2005
Château Grand-Pontet (St. Émilion Grand Cru)

Still deep in color, with nose packed with licorice, chocolate covered black cherry and plum with soft, round textures and a fresh, concentrated, blackberry, fennel and cocoa finish. This is just starting to drink well and the best is yet to come.

6,140 Views

Tasted

Jun 3, 2012

2001
Château Grand-Pontet (St. Émilion Grand Cru)

Fully mature, this lusciously textured wine shows off its dark plums, licorice, black cherry, dark chocolate and floral charms with ease. With enough flesh to please the hedonists, and freshness to give it life, this is the best of older vintages of Grand Pontet I have ever tasted.

3,401 Views

Tasted

Dec 13, 2017