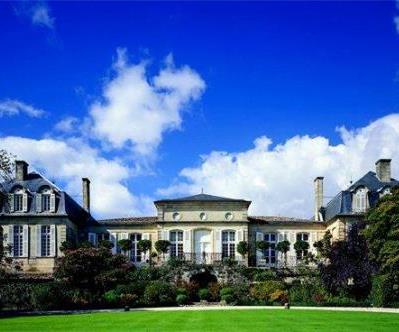 Learn about everything about Chateau Leoville Barton St. Julien Second Growth with wine tasting notes and wine with food pairing tips. Learn the best vintages, a history of the property, information on the vineyards and winemaking. If you want to read about other important, Bordeaux Chateaux: Links to all Bordeaux Wine Producer Profiles
Chateau Leoville Barton History, Overview
At one time, Leoville Barton was part of a much larger estate. The vineyards also included what we know of today as Château Leoville Las Cases and Chateau Leoville Poyferre as well! In fact, it was the largest property in St. Julien.
The Barton family, the current owners of the estate trace their Bordeaux roots all the way back to 1722. That was the year that Thomas Barton left Ireland for Bordeaux. Like many successful owners, he started out as a Bordeaux negociant, or wine merchant.
The first foray into ownership for the Barton family was in St. Estephe, with Chateau Le Boscq in 1745. The family continued being active in not only buying Bordeaux chateaux, but as successful negociants. The Barton family eventually partnered with another powerful Bordeaux family, the Guestier family.
Together, the two families created an extremely successful negociant company, Barton and Guestier. Founded in 1745, Barton and Guestier are still active in the Bordeaux wine trade today.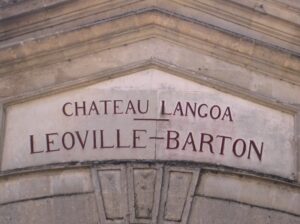 The next big purchase for the Barton family clan in the Medoc took place in 1821, when they bought their first Saint Julien estate, Pontet-Langlois. Shortly after the sale, they renamed it, Langoa Barton. Their next acquisition was from vineyard land that was culled from Leoville Las Cases.
After closing the deal, the family, following the custom of the day, renamed the property in their honor as Chateau Leoville Barton. Because no cellar or wine making facilities came with the purchase, they were forced to make the wines at Langoa Barton. In time, this became a tradition.
Unlike most Bordeaux estates, Chateau Leoville Barton has no chateau. The wines are made at their sister property, Chateau Langoa Barton. Here's a little bit of Bordeaux wine trivia for you, the chateau pictured on the label for Leoville Barton is actually their sister Saint Julien estate, Chateau Langoa Barton.
Leoville Barton is now one of two chateau from the 1855 Classification of the Medoc that remains in the hands of the same family that owned it at the time it was classified. Chateau Leoville Barton is still the property of the Barton family today.
While the wine making and marketing for Leoville Barton has always been traditional, during the Art Deco era, the estate redesigned their label to match the times and in my view, created one of the most beautiful labels of the era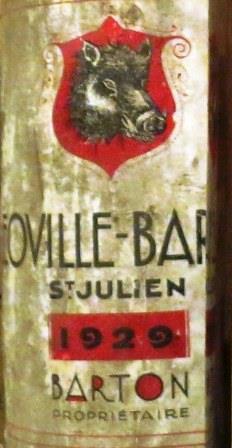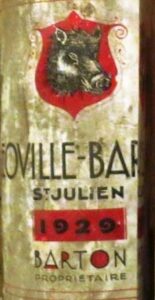 Chateau Leoville Barton The Modern Era
Tradition has always remained important at Leoville Barton. When Ronald Barton took over managing the Left Bank estate, he did not believe in any modern winemaking technology. I wonder what he'd think of wine making in Bordeaux for many estates today?
While the wines of Leoville Barton are in many ways, more traditional than most, they remain popular for that reason, coupled with the estates fair pricing policy that did not become truly expensive until the 2005 vintage.
Following Ronald Barton, Anthony Barton took over the Saint Julien estate in 1983. Within a few years, Anthony Barton renovated the cellars, keeping the large, traditional, oak, wood, fermentation vats. Lilian Barton Sartorius was the next in her family to be completely in charge of the vineyard.
In September, 2011, the Barton family purchased an additional Bordeaux estate, Chateau Mauvesin in Moulis. The family changed the name to reflect their new ownership; renaming the estate, Chateau Mauvesin Barton.
Chateau Leoville Barton Vineyards, Terroir, Grapes, Winemaking
The 51 hectare St. Julien vineyard of Leoville Barton is planted to 74% Cabernet Sauvignon, 23% Merlot and 3% Cabernet Franc. This varietal blend shows an increase in Merlot plantings from what was planted in the vineyard in previous decades. The amount of Cabernet Franc in the vineyard continues to be reduced.
The terroir is mostly gravel with a subsoil of clay. The vines, which are located on both sides of the D2 road have an average of 30 years of age. However, there are some parcels with much older vines. They have Merlot vines that are close to 60 years of age.
You can basically divide the vineyard into 3 main sections with with 2 of those sections placed close to the chateau while the third section is closer to the Gironde river with a clear view of the water. The vineyard of Chateau Leoville Barton is planted to a vine density of 9,000 vines per hectare. Close to 50% of the vineyard is farmed organically.
The style of Chateau Leoville Barton is of course different than what you experience from tasting the wines of their sister estate, Chateau Langoa Barton. A large part of that of course has to do with their vineyards and their location in the Saint Julien appellation.
The vines for Leoville Barton are situated north of Langoa Barton, and just west of the chateau. Those parcels enjoy a , with a warmer terroir with more access to direct sunlight.
It is important to note that Chateau Leoville Barton does not green harvest. Instead they rely on pruning to reduce yields. Aside from their vineyards, the estate also include one of the most beautiful, picturesque gardens in the Medoc, located directly behind the chateau.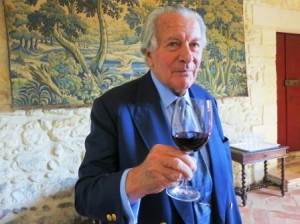 Chateau Leoville Barton Winemaking
To produce the wine of Leoville Barton, vinification takes place at Chateau Langoa Barton, which is located just across the street from Chateau Leoville Barton. The wines are traditionally made with vinification taking place in large, 200 hectoliter wooden vats. They range in age with oldest vats dating back to 1963.
For the fermentation process, Leoville Barton now prefers the practice of co-inoculation, which means that the alcoholic and malolactic fermentation take place at the same time.
It is interesting to note that prior to the 2010 vintage, all of the barrels came from just one cooper. Since then, they now use at least four different suppliers. The wine of Chateau Leoville Barton is aged in an average of 50% new, French oak barrels for about 20 months before bottling.
On average, Chateau Leoville Barton releases slightly more than 20,000 cases of Bordeaux wine per year. There is a second wine, La Reserve de Leoville Barton. In 2014, La Reserve de Leoville Barton was bottled with a beautiful, new label, that was modeled after the original, Art Deco styled label previously used for Leoville Barton.
The best vintages of Leoville Barton are: 2020, 2019, 2018, 2017, 2016, 2015, 2014, 2012, 2010, 2009, 2005, 2003, 2000, 1990, 1985 and 1961. Leoville Barton is a wine that ages quite well. I have tasted vintages from the 1950's, which were quite good.
But it has been years since I've seen older wines from the estate. With their well-earned reputation for aging, older vintages are definitely worth taking a chance on at auctions, if you can get a sense of the provenance.
Chateau Leoville Barton Character and Style
Leoville Barton is a sturdy, structured Bordeaux wine with tannin that requires time to develop. Traditional, masculine and beefy in style, this property is popular with some collectors because of the reasonable prices the estate charged for their wines. Due to the high tannin levels and style of the wine, the best vintages often require decades of age, before drinking well.
When to Drink Chateau Leoville Barton, Anticipated Maturity, Decanting Time
Chateau Leoville Barton is not a wine to drink in its youth. The wine is usually far too tannic, powerful and backwards during when it is young. Young vintages can be decanted for an average of 3-4 hours, give or take. This allows the wine to soften and open its perfume. Older vintages might need very little decanting, just enough to remove the sediment.
Chateau Leoville Barton is usually better with at least 15 years of bottle age. Of course that can vary slightly, depending on the vintage character. Chateau Leoville Barton offers its best drinking and should reach peak maturity between 15 and 30 years of age after the vintage.
Serving and Decanting Chateau Leoville Barton with Wine, Food, Pairing Tips
Leoville Barton is best served at 15.5 degrees Celsius, 60 degrees Fahrenheit. The cool, almost cellar temperature gives the wine more freshness and lift.
Chateau Leoville Barton is best served with all types of classic meat dishes, veal, pork, beef, lamb, duck, game, roast chicken, roasted, braised and grilled dishes. Chateau Leoville Barton is a perfect match with Asian dishes, hearty fish courses like tuna, mushrooms and pasta as well as cheese.
Aside from owning Chateau Langoa Barton and Chateau Mauvesin Barton, the family also own a negociant company, Les Vins Fins Anthony Barton. In addition, they are also one of the founding partners in the Barton and Guestier negociant house that dates its beginnings back to 1725.
Château Léoville Barton Wine Tasting Notes
35 Vintages 510,715 Views Sort by Vintage-Rating
2020
Château Léoville Barton (St. Julien)

Inky in color, it takes only one sniff to see how much ripe fruit is packed in here. Blackberry, currants, smoky cherries, tobacco leaf, cedar, flowers and creme de cassis aromas come on strong. The wine is full-bodied, bold, powerful, tannic, balanced and fresh. The palate filling finish is long, energetic, rich and expansive. This is a superb vintage of Leoville Barton that will need at least a decade in the cellar and will age and evolve for another 2-3 decades after that. 95-97 Pts

2,472 Views

Tasted

May 20, 2021

2019
Château Léoville Barton (St. Julien)

Dark, almost inky in color, the showy nose, with its cedar, tobacco, herb, blackberry and black currant perfume grabs your interest. On the palate, the action really kicks in with its rich, full-bodied, tannic, fresh, powerful, yet graceful character. Mouth-filling and long, all those sweet black fruits linger. This is clearly a top vintage for Leoville Barton. 95-97 Pts

10,288 Views

Tasted

Dec 9, 2020

2018
Château Léoville Barton (St. Julien)

With a dark, inky, purple accented hue, the perfume pops with all its ripe, blackberry and currants, accompanied by cigar box, forest floor, herbs, cedar and cigar wrapper notes. Full-bodied, concentrated, powerful, yet refined, the finish is deep, long and intense. Wait at least a decade before pulling a cork. It is going to be difficult to pick the best vintage of Leoville Barton from the 2009, 2010, 2015, 2016 and 2018 but it is going to be fun tasting them together over the next several decades. The wine blends 82% Cabernet Sauvignon and 18%. 97 Points

4,135 Views

Tasted

Mar 9, 2021

Deep in color, the aromatic quality reminds me of a basket filled with just picked black currants along with cigar wrapper, tobacco, herbs and cedar. Full-bodied, dense, concentrated and long, the wine straddles a wonderful place between firmness, classical austerity, freshness and ripe fruits. You will need to offer this wine over a decade of age before pulling a cork. It is going to be difficult to pick the best vintage of Leoville Barton from the 2009, 2010, 2015, 2016 and 2018 but it is going to be fun tasting them together over the next several decades. Blending 82% Cabernet Sauvignon and 18% Merlot, the wine reached 14.03.% alcohol and is aging in 60% new, French oak barrels. 95-97 Pts

4,501 Views

Tasted

Apr 19, 2019

2017
Château Léoville Barton (St. Julien)

Tannic, bright, fresh and crisp, the red berries really pop and sing here. The wine is lively, bright and fresh, with nice concentration and a long, fruit-filled finish. But patience will be a virtue for this classic gem. 94 Points

5,770 Views

Tasted

May 14, 2020

A striking blood red in color, this wine opens easily with smoldering cedar, tobacco and an unhurried pour of cassis. On the palate, the wine is concentrated, full bodied, fresh and classically styled. Buoyancy, creaminess, smart tannins with a crisp, juicy finish wrap everything up nicely. Blending 93% Cabernet Sauvignon and 7% Merlot, the wine reached 13.% alcohol and is aging in 60% new, French oak barrels. 94 Points

4,608 Views

Tasted

Apr 26, 2018

2016
Château Léoville Barton (St. Julien)

Deep in color the wine offers intensity, vibrancy and length. The wine is all about its big, juicy blast of ripe fruit. It is full-bodied, tannic, joyous and classic. If you can wait about 15 years, this is going to be a knockout! 96 Points

8,398 Views

Tasted

Sep 21, 2019

The wine is a pure explosion of blackberries, cassis licorice and tobacco. Dark in color, there is intensity, lift and persistence providing you with a juicy, full-bodied, tannic, structured mouthful of sweet black fruit. If you can wait about 15 years, this is going to be a knockout! 96 Points

7,154 Views

Tasted

Feb 9, 2019

This just keeps getting better as it ages in barrel. Showing more depth and concentration, the wine has a polish to its textures, making an even better treat so you can really get into the sweet, ripe, black and dark red fruits, licorice and cigar wrapper nuances. Powerful, refined and long, 15 years in the cellar will allow the wine to really step into high gear. 96 Points

9,616 Views

Tasted

May 13, 2018

A nose of blackberry, licorice, earth and smoky tobacco is easy to notice. Darkly colored, Full bodied, rich, fresh, long and sweet, there is a reflection coming off the ample tannins and lift that accentuates the densely textured, fruit-filled finish. This wine leaves a great impression. Produced from blending 86% Cabernet Sauvignon and 14% Merlot, the wine reached 13% alcohol. The harvest took place September 29 to October 13. 95 Points

7,037 Views

Tasted

Apr 29, 2017

2015
Château Léoville Barton (St. Julien)

Another 2015 wine that took a giant leap from its showing in elevage. This is a beauty. Layers of ripe, dark, red fruits, tobacco leaf, spice box and cassis notes. Full bodied, concentrated, elegant and powerful, with a serious depth of flavor, this is one of the great vintages for Leoville Barton. This is going to age quite well. 96 Points

7,058 Views

Tasted

Mar 12, 2018

A really good vintage here, the wine has a smoky, spiced cassis and tobacco charm and it's not even out of the box, or the bottle yet. Concentrated and long, this will age rather well. 94 Points

7,133 Views

Tasted

Jul 12, 2017

Deep garnet in color, the first thing you notice about this wine is fresh, dark, red berries, espresso and cherries. The tannins feel creamy and the wine is balanced, finishing with juicy, peppery, fresh, ripe fruits. The fruits linger nicely in the finish. Blending 86% Cabernet Sauvignon and 14% Merlot, this wine reached 13% alcohol and is aging in 60% new, French oak barrels. 93 - 95 Pts

6,948 Views

Tasted

Apr 20, 2016

2014
Château Léoville Barton (St. Julien)

Closing down at the moment, the wine had concentration, ripe red fruits with sweetness and quite a bit of freshness. Give this at least 7-10 more years and it should soften, gain complexities and flesh out nicely. 93 Points

6,789 Views

Tasted

Sep 17, 2018

Waves of smoke, tobacco, dark, red fruits, earth and cedar are all over the place. Concentrated, with ripe, fresh, berries, round tannins and a lengthy, fruit filled finish. For a wine that can quite often demand 10-15 or 20 years to come around, this should drink well nicely with just 5-7 years of aging. 93 Points

7,065 Views

Tasted

Feb 2, 2017

With a sweet, ready note of vanilla and cherry, this wine features spicy, crisp dark red fruits and a fresh, bright, tannic finish. Blending 83% Cabernet Sauvignon, 15% Merlot and 2% Cabernet Franc, the wine reached 13.5% alcohol and is aging in 60% new, French oak barrels. 92-94 Pts

8,134 Views

Tasted

Apr 16, 2015

2013
Château Léoville Barton (St. Julien)

Quite nice for the vintage, and it's going to drink well young, which is something you do not often find in Leoville Barton. The wine provides a medium bodied, early drinking, soft textured, cassis and plum character, with hints of cedar, tobacco and earth. A few years in the cellar should be about right. 90 Points

1,952 Views

Tasted

Feb 9, 2016

Using 85% Cabernet Sauvignon and 15% Merlot, the wine reached 13% alcohol and will be aged in 60% new French oak barrels. Licorice, coffee bean, cassis and dark cherry aromas open to a forward, classic style with an easy dark cherry finish. Unlike many vintages of Leoville Barton, this should drink well quite early. 89-92 Pts

3,605 Views

Tasted

Apr 20, 2014

2012
Château Léoville Barton (St. Julien)

Filled with juicy, ripe cassis, cedar wood, tobacco, soft tannins, length and freshness, this is a really nice wine that will improve with age. 92 Points

4,113 Views

Tasted

Mar 11, 2015

Reticent aromas of oak, forest and cassis opened to a soft, medium/full-bodied wine dominated by fresh black cherries and cassis. Produced from a blend of 80% Cabernet Sauvignon, 15% Merlot and 5% Cabernet Franc, the wine will be aged in 60% new French oak. Tannic, but refined, this will need time to come together. 91-93 Pts

6,247 Views

Tasted

Apr 23, 2013

2011
Château Léoville Barton (St. Julien)

Surprisingly open and approachable, a light touch was just what the doctor ordered during the vinification, which was perfect for the cassis, earth, spice, smoke, espresso and black cherry filled wine. For Leoville Barton, this will drink well young. 90 Points

3,846 Views

Tasted

Feb 16, 2014

From an assemblage of 80% Cabernet Sauvignon, 15% Merlot and 5% Cabernet Franc, the wine will be aged in 80% new oak. The wine reached 12.5% alcohol. According to Anthony Barton, with a little more rain, the wines could have been as good as 2009 or 2010. Deep color with lead pencil, earth, flint, cassis and truffle scents in the nose. Tannic, fresh, bright, crisp cassis is found in the finish. 91-93 Pts

5,028 Views

Tasted

Apr 13, 2012

2010
Château Léoville Barton (St. Julien)

Powerful, concentrated, tannic and intense, there is good volume, mouth searing tannins and a richness of vibrant, ripe, crisp fruit that create a long lived wine. From a blend of 77% Cabernet Sauvignon, 21% Merlot and 2% Cabernet Franc, fans of this estate, with patience and the funds should definitely be on the lookout for it. 95 Points

10,888 Views

Tasted

Feb 8, 2013

Leoville Barton – Deep ruby with purple accents, cassis, earth and spice aromas open to a big mouthful of juicy, chewy, tannic, cabernet sauvignon. While tannic and broad shouldered, the tannins are soft and round. This is one of my favorite vintages of Leoville Barton. Like all the estates wines, this will age well, but it should be accessible earlier than 2005. 94-96 Pts

11,339 Views

Tasted

Apr 23, 2011

2009
Château Léoville Barton (St. Julien)

Cigar box, spice, tobacco leaf, cocoa and earthy, spicy red fruits. The wine is full-bodied, and still youthful, but the tannins are so ripe, with 3-4 hours of air, you can drink it now. Or if you can wait another 5 years, this is going to be so much better. The wine was made from blending 77% Cabernet Sauvignon, 22.5% Merlot and .05% Cabernet Franc. 95 Points

6,592 Views

Tasted

Sep 20, 2019

Blending 77% Cabernet Sauvignon, 22.5% Merlot and a pinch of Cabernet Franc, this powerful, full bodied, concentrated fresh wine is packed with cedar wood, oak, cassis, minerals and fresh, juicy blackberries. Tannic and refined, buyers will need to forget about this wine for two decades before it's ready to drink. 93 Points

14,809 Views

Tasted

Feb 5, 2012

2008
Château Léoville Barton (St. Julien)

Tobacco leaf, cigar wrapper, cedar and green pepper corns are the first thing you notice. Full bodied, quite crisp and sharp, this is concentrated, peppery and crisp. This will be much better with 5-8 more years in the cellar. 92 Points

7,586 Views

Tasted

Sep 17, 2018

Big, powerful, tight and tannic, this masculine, chewy wine fills your mouth with cassis and tannin. This was one of the more backward wines from the tasting. 90 Points

14,167 Views

Tasted

Jan 27, 2011

08 Château Leoville Barton is deeply colored. With black fruits and hints of cherry, the fragrance was a pleasure. In the mouth, while the flavors were concentrated, the tannins were slightly rustic, leaving a dry sensation in the finish. 90-92 Pts

10,711 Views

Tasted

Aug 31, 2009

2007
Château Léoville Barton (St. Julien)

Quite strong for the vintage, the wine offers soft, charming, red fruits in a medium bodied, earthy, spicy, fresh style. Slightly more interesting with its tobacco and cedar infused, red berry nose, than on the palate, this is ready to drink today. 90 Points

4,407 Views

Tasted

Sep 2, 2017

2006
Château Léoville Barton (St. Julien)

Tobacco, cigar box, cedar wood and spicy red fruits make up the perfume. Still deep in color, there is some lightening at the edges of the glass that is becoming apparent. Austere in character, the Cabernet Sauvignon is fresh, crisp and tannic. This definitely needs several more years before it becomes close to user friendly. 92 Points

8,116 Views

Tasted

May 25, 2016

Concentrated, with loads of cedar, tobacco and tannin, the fruit is fresh, ripe, clean, sharp and tannic. This classic Bordeaux demands at least another decade in the cellar to come around. 91 Points

7,245 Views

Tasted

May 13, 2015

With an earthy, tobacco, cassis, spice, black raspberry, herb and smoky nose, this structured, masculine, tannic, young, St. Julien wine demands another 10 years before the ample tannins soften and begin to meld into the wine. It will probably always be brawny and classic in style. 90 Points

14,337 Views

Tasted

Sep 6, 2011

2005
Château Léoville Barton (St. Julien)

Espresso bean, cassis, spice, earth, cedar and tobacco open the nose. With a serious tannic backbone that demands more time in the cellar, give this powerful, structured, masculine wine another 5-10 years to soften and become fun to drink. It's going to be worth the wait. 93 Points

9,569 Views

Tasted

Jun 28, 2015

There is a lot going on in this masculine, styled, full bodied wine. Filled with tannin and fruit, this demands up to two decades before becoming civilized. 92 Points

18,529 Views

Tasted

Jan 20, 2008

2004
Château Léoville Barton (St. Julien)

With a tobacco, truffle, cedar wood, cigar box and blackberry personality, this is just starting to open. Firm, classic and traditionally styled, there is still some tannin to be resolved Give it another 5 years. 91 Points

7,849 Views

Tasted

Jan 4, 2015

2003
Château Léoville Barton (St. Julien)

This just keeps getting better as it ages. Still young and vibrant, the wine manages to avoid the trappings of the growing season and instead provides an earthy, cedar, tobacco, dark red fruit and licorice filled perfume. Rich and lively on the palate, with layers of sweet, ripe, round, dark red berries, the wine tastes as good as it feels. With 1 hour of air, this is good to go. 96 Points

4,490 Views

Tasted

Oct 9, 2020

I really like how this is showing. In many top vintages for Leoville Barton, 15 years of age makes it a baby. Not with the 2003. The wine is concentrated with layers, of deep, fleshy, red fruits, soft, supple tannins and the finish delivers the goods. Drink it now, or wait 5 years, either way, it is a winner! 95 Points

6,951 Views

Tasted

Nov 1, 2018

This is probably the only early drinking vintage of this chateau, which normally takes years to develop. Concentrated, full bodied and with round tannins, the fruits are fresh and lively. This should even get better as it develops more secondary characteristics. 95 Points

8,546 Views

Tasted

Feb 28, 2017

As you know, the extreme weather in 2003 worked better for some Bordeaux chateaux than for others. In 2003, Leoville Barton hit it out of the park. Showing no signs of heat, jam or too much alcohol, the wine is all about the rich, fleshy, lush, dense textures and layer on layer of perfectly ripe, dark berries that tastes as good as it feels on your palate. 95 Points

8,935 Views

Tasted

Jan 22, 2016

Tobacco, forest floor, truffle, cigar box, ash, blackberry and fresh herb notes create the complex set of aromatics. On the palate, the round, black cherry and spicy sensations are a treat. Probably close to mature, there is no reason to wait to pop a cork. But there is no hurry either. Drink this delicious wine over next 10-15 years. 94 Points

11,748 Views

Tasted

Nov 18, 2015

Time has been good to 2003 Leoville Barton. It was a good wine when last tasted a few years ago and it's only gotten better. Secondary notes of tobacco, earth, cassis, cedar chest and cigar box are poking through. Silky tannins, purity of fruit and a long, rich, round palate are perfected by the long, lush, fleshy finish. Drink now, or wait another decade before popping a cork. I'm happy to own it in my cellar, which at the end of the day is strongest comment a taster can make. 95 Points

13,628 Views

Tasted

Feb 20, 2013

Normally, this wine is very rustic and masculine. But in 2003, I find the ripeness of the fruit helped produce a great style of wine for this traditionally styled St. Julien. Cassis, coffee and licorice entice your nose. The serious fruit, ripe tannins and pure cassis that pours over your palate lets you know this will be a very special wine for Leoville Barton when it matures. 94 Points

9,854 Views

Tasted

Jun 1, 2009

2002
Château Léoville Barton (St. Julien)

The wine opens with cedar, cassis and earth and forest floor scents are found with time and animated coaxing. Austere and tannic, the wine demands at least another decade before the wall of tannins begin to be resolved. 90 Points

10,228 Views

Tasted

Feb 17, 2012

2001
Château Léoville Barton (St. Julien)

Soft, ripe and fun to drink reasonably well young for Leoville Barton, the wine is just starting to open and reveal its tobacco, blackberry cassis and earthy, fresh character. There is still some tannin to be resolved. Give it another 3-5 years. 92 Points

6,459 Views

Tasted

Jan 4, 2015

Tobacco, cedar, forest floor, cassis, and blackberry scents open to a concentrated wine. Leoville Barton is usually a wine demanding at least one or two decades before it's fun to drink. Every rule has an exception and 2001 breaks that rule with its forward, soft, approachable, black fruit and earthy profile. 92 Points

12,373 Views

Tasted

Sep 4, 2011

2000
Château Léoville Barton (St. Julien)

On the firm, tannic, stoic side, the wine remains stubbornly youthful. Even at 20, the tannins are strict. Once the tannins subside, there is a wealth of concentrated, ripe, juicy, fresh, crisp Cabernet Sauvignon with real staying power. But this wine demands at least another decade in the cellar before it moves into its prime time drinking window. Those that prefer old-school classic Bordeaux should be all over this wine. 93 Points

6,447 Views

Tasted

Nov 29, 2020

This young, primary wine, expresses an elegant style of Leoville Barton. Blackberry, cassis, earth and tobacco scents open up what seems like an early maturing wine for this chateau. The tannins have more softeners and polish that I usually detect in their wine. Give it another couple of years to develop complexities. 92 Points

19,568 Views

Tasted

Jan 20, 2011

Black fruit, truffles and spice in the perfume. Normally, this is a big, brooding, old school wine that takes decades to shed its ample tannin. 2000 is a refined vintage for this Chateau. The wine is already showing well. 92 Points

16,849 Views

Tasted

Mar 5, 2010

1999
Château Léoville Barton (St. Julien)

Medium bodied, with more going on with the nose with its tobacco edged, forest floor and leafy quality than on the bright, firm, quite fresh, bright, red berry filled palate. You can drink this now. Holding it for more aging is probably not going to change things for the better. 89 Points

3,714 Views

Tasted

Sep 22, 2018

1998
Château Léoville Barton (St. Julien)

Firm, structured, tannic, classic, austere and youthful, this needs at least a decade for the tannins to become civilized and catch up with the secondary nose that is developing. 90 Points

4,250 Views

Tasted

Apr 16, 2016

1996
Château Léoville Barton (St. Julien)

Tannic, young and slightly on the austere, masculine side of the style range. The nose offers secondary notes of tobacco, earth and cedar, but on the palate the wine is still young, crisp and tannic. Give it another 5 years and it could soften. But it will always be a beefy, traditional style of Bordeaux wine. 91 Points

7,019 Views

Tasted

Feb 20, 2014

1995
Château Léoville Barton (St. Julien)

Still backwards at 17, this soild, masculine, tannic, brawny wine demands at least another decade before coming together. 90 Points

12,161 Views

Tasted

Nov 27, 2011

1994
Château Léoville Barton (St. Julien)

Quite nice, especially considering the vintage, the fruit is fresh with a bright leaning. The nose with its tobacco, forest leaf and cigar box character is even better than what you find on the palate. With an hour in the decanter, this is fully ready to go. 90 Points

3,919 Views

Tasted

Oct 5, 2018

1990
Château Léoville Barton (St. Julien)

Still backwards and with boatloads of tannin, this traditionally styled, masculine, tannic wine demands another decade of sleep 90 Points

6,627 Views

Tasted

Dec 20, 2009

Beffy, chewy and masculine in style with a big, tannic backbone. Tight. Lacks charm and elegance. 90 Points

6,356 Views

Tasted

Jun 15, 2007

1989
Château Léoville Barton (St. Julien)

Spice, cassis, tobacco and cherries on the nose. The wine finishes with roasted black and red fruit. This is an elegant style of wine for the Chateau. All the tannin is resolved, and the wine is ready for prime time drinking. Owner Lillian Barton thinks the 89 and 90 are the same level of quality, but feels the 90 needs more time before it is mature. 88 Points

4,921 Views

Tasted

Jun 18, 2009

Traditionally made, rustic, austere and hard in style. Not my cup of tea. 86 Points

3,451 Views

Tasted

Feb 27, 2006

1986
Château Léoville Barton (St. Julien)

Scents of black fruit emerge with coaxing. Event though this 21 year old Bordeaux was decanted 2 hours, it remained brutally tannic reminding me of a 5 year old wine. Masculine in temperament, beefy, almost hard, daring you to take a bite out of it, or a sip. Layers of ripe black fruit could be sensed under the huge, tannic cloud, but will this be any fun to drink before it hits 30 years old? I doubt it. 89 Points

3,290 Views

Tasted

Jan 15, 2007

1985
Château Léoville Barton (St. Julien)

More interesting on the nose than the palate, and this is saying something, as I really liked the softening, full bodied, round, cassis, spice, earth and black cherry finish that got better as time wore on. At close to 30 years of age, this is really showing nicely. 92 Points

6,090 Views

Tasted

May 9, 2014

1982
Château Léoville Barton (St. Julien)

Firm, crisp, tough, rustic, old school classic here, with good concentration of fruit, paired with tough tannins and peppery herbs in the cranberry finish. This old school classic will appeal to some more than others. 87 Points

2,570 Views

Tasted

Feb 9, 2019

Tobacco, cassis, earth, green pepper, tobacco and forest scents were easy to find. At close to 30, this wine remains beefy, brawny and tannic. With its hard, austere, tannic personality, it's truly a wine for fans of real, old school Bordeaux. The wine ends with a cassis, green herbal, and cranberry finish. This will probably improve with more time, but it's always going to have a masculine character. 89 Points

8,623 Views

Tasted

Nov 23, 2011

Traditional, masculine and austere style. Smoke, cedar, cassis, toffee, earth and black fruit on the nose. This hard, charmless wine does not offer much pleasure in the mouth, as the tannins were hard and searing. This wine lacks charm and elegance. 88 Points

8,238 Views

Tasted

Jun 30, 2009

Earthy, forest scents were made better with notes of truffles, tobacco and cassis. Rustic and masculine in style, the wine finishes with red and black fruits with austere textures. Very old school style of wine. 90 Points

3,868 Views

Tasted

Nov 14, 2004

1961
Château Léoville Barton (St. Julien)

Firm, old school, austere, yet completely charming wine that is still going strong. The tannins are resolved, the cassis has freshness, the secondary tobacco, earth and forest floor aromatics hit the spot. This is a solid example of a classy and classic, mature Bordeaux. 92 Points

2,368 Views

Tasted

Nov 13, 2016

1959
Château Léoville Barton (St. Julien)

Earthy, seductive with loads of cedar, forest leaf, herbs, cigar box, tobacco and bright red fruits. The wine is classic, but there is a polish to its nature and ample, tobacco and herb, infused bright red fruits in the earthy finish. 92 Points

2,948 Views

Tasted

Jun 5, 2018

1929
Château Léoville Barton (St. Julien)

Poured from a bottle featuring a beautiful, art deco inspired label, the wine was filled with smoke, earth, cigar box, tobacco leaf, mineral, cassis, baked cherry pie, ash and vanilla bean. Full bodied, rich and packed with flavor, the wine finished with, rich, plush, sweet plums, earth and cocoa. This was a perfect example of why 1929 remains my favorite mature Bordeaux vintage. They can be incredibly seductive. 94 Points

3,946 Views

Tasted

Mar 29, 2012

1920
Château Léoville Barton (St. Julien)

Surprisingly good at close to 100 years of age, the cedar wood, smoke, cigar box, tobacco, forest floor and cherries were the best part of the wine. Stern in character, medium bodied, there was some strawberries that carried through in the austere finish. 84 Points

2,239 Views

Tasted

Dec 15, 2014