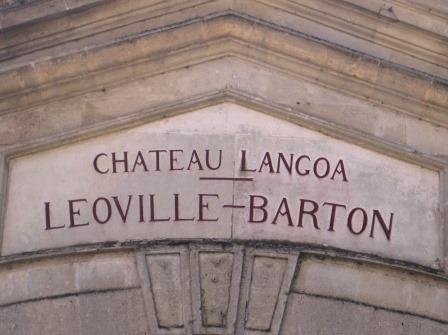 Learn everything about Chateau Langoa Barton St. Julien Third Growth, with wine tasting notes and wine with food pairing tips. Learn the best vintages, a history of the property, information on the vineyards, and winemaking. If you want to read about other important, Bordeaux Chateaux: Links to all Bordeaux Wine Producer Profiles
Chateau Langoa Barton History, Overview
The Barton family, the current owners of Chateau Langoa Barton are able to trace their Bordeaux roots all the way back to 1722. That was the year Thomas Barton left Ireland and made his way over to Bordeaux. Like many successful owners, Thomas Barton started out as a negociant, or wine merchant.
The first foray into ownership for the Barton family was in St. Estephe with Chateau Le Boscq in 1745. The family continued being active in not only buying and managing Bordeaux chateaux in the Medoc but as successful wine merchants.
They eventually partnered with another powerful Bordeaux family to form a massive negociant company, Barton and Guestier. Founded in 1725, the firm is still active in the Bordeaux wine business today.
The next major purchase in the Left Bank for the Barton clan took place in 1821. That was the year they bought their next Saint Julien estate, Pontet-Langlois. Shortly after the sale, they renamed it, Chateau Langoa Barton.
Following the purchase of Langoa Barton, they bought a second, St. Julien estate. Culled from the vineyards of Leoville Las Cases, that estate became Chateau Leoville Barton. Interestingly, because no cellar or wine-making facilities came with the purchase, they were forced to make both wines at Langoa Barton.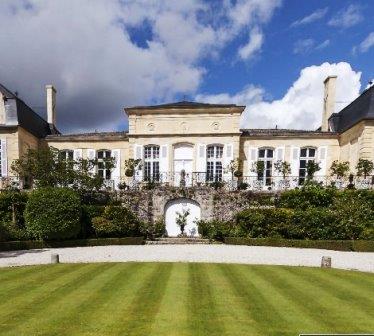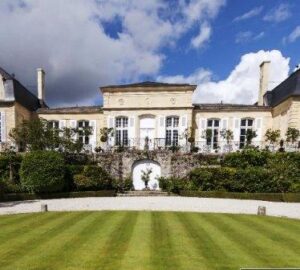 In time, the production of both wines taking place at Langoa Barton became a tradition. In fact, when you look at the label of Leoville Barton, the chateau on the label is actually Langoa Barton.
Chateau Langoa Barton has another unique distinction. Out of all the 1855 Classified Growths, it is one of the few chateaus that is still in the hands of the same family that was an owner at the time of the classification. Chateau Langoa Barton is managed by Lilian Barton Satrorius.
Sadly, at the age of 91, Anthony Barton passed away on January 19, 2022. While Liliam Barton Sartorius is still in charge of the estate, her two children, Damien Sartorius and Melaine Sartorius continue becoming more involved with Leoville Barton and will eventually take over managing the property, keeping Chateau Leoville Barton in the family.
Chateau Langoa Barton Vineyard, Terroir, Grapes, Winemaking
The 18-hectare vineyards of Chateau Langoa Barton are planted to 57% Cabernet Sauvignon, 34% Merlot, and 9% Cabernet Franc. Similar to what has taken place at Leoville Barton, over years, the percentage of Merlot has been increased over the years. Although, it is interesting to note that the Barton family feels there are some Petit Verdot vines scattered in their vineyards as well.
The vineyard of Langoa Barton has a terroir with gravel and clay soils. On average, the vines are 35 years of age. While they do own older vines, generally speaking, they are often replaced by the time they hit 40 years of age. However, they have old vines dating back to 1953. The vineyard is planted to a vine density of 9,100 vines per hectare.
The style of Chateau Langoa Barton is quite different than that of their other estate, Chateau Leoville Barton. A large part of that of course has to do with their vineyards and their location. The vines for Langoa Barton are due south of Leoville Barton, with north by north-west exposure.
This places the majority of their vines close to the center of the Saint Julien appellation. Because of that geographic difference, the Langoa Barton vineyard gets less sun. Thus, Chateau Langoa Barton has cooler terroir.
The vineyards, which are all inland, are placed into 5 main blocks. Those blocks are then divided into more than 15 separate parcels with vines not far from Chateau Leoville Barton, Chateau Leoville Poyferre, Chateau Ducru Beaucaillou, and Chateau Beychevelle. The vineyard parcels are close, but not contiguous. A small portion of the vineyard, just over 10% is farmed organically.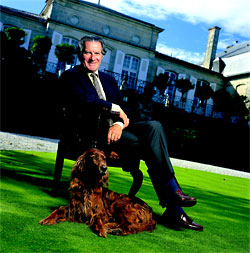 The wines of Chateau Langoa Barton are classic Bordeaux in style and as such, the vinification is traditional as well. The wines are vinified made in large, 200 hectoliter oak vats. Alcoholic fermentation and malolactic fermentation take place in vat.
To be more precise, Langoa Barton seeks to induce co-inoculation which is what takes place when the alcoholic and malolactic fermentation occurs at the same time.
The wine of Chateau Langoa Barton is then aged in an average of 50% new, French oak barrels for about 20 months before bottling. On average, close to 7,500 cases are produced of the traditionally styled Chateau Langoa Barton each year.
There is a second wine, Lady Langoa. The Barton family also own Chateau Mauvesin Barton in the Haut Medoc appellation, and a popular, negociant company, Les Vins Fins Anthony Barton. They are also as the name implies, partners in B & G, Barton, and Guestier Negociants, which has been in business since 1725, making them one of the oldest negociants in Bordeaux.
The best vintages of Chateau Langoa Barton are: 2022, 2021, 2020, 2019, 2018, 2017, 2016, 2015, 2014, 2010, 2009 and 2000. Sadly, I have very little experience with much older vintages of Langoa Barton. But, due to its classic style and often tannic profile, my guess is that truly older vintages are worth taking a chance on in the auction market.
When to Drink Chateau Langoa Barton, Anticipated Maturity, Decanting Time
Chateau Langoa Barton is not a wine to drink on the young side. The wine is usually far too tannic, and austere during its youth. Young vintages can be decanted for an average of 2-4 hours, give or take. This allows the wine to soften and open its perfume. Older vintages might need very little decanting, just enough to remove the sediment.
Chateau Langoa Barton is usually better with at least 10 years of bottle age. Of course, that can vary slightly, depending on the vintage character. Chateau Langoa Barton offers its best drinking and should reach peak maturity between 12-15 and 30 years of age after the vintage.
Serving Chateau Langoa Barton with Wine, Food, Pairing Tips
Langoa Barton is best served at 15.5 degrees Celsius, 60 degrees Fahrenheit. The cool, almost cellar temperature gives the wine more freshness and lift.
Chateau Langoa Barton is best served with all types of classic meat dishes, veal, pork, beef, lamb, duck, game, roast chicken, roasted, braised, and grilled dishes. Chateau Langoa Barton is a perfect match with Asian dishes, hearty fish courses like tuna, mushrooms, and pasta as well as a myriad of hard and soft cheeses.
https://www.leoville-barton.com
Château Langoa Barton Wine Tasting Notes
34 Vintages 224,159 Views Sort by Vintage-Rating
2022
Château Langoa Barton (St. Julien)

Cassis, tobacco, flowers, blackberries, and red currants show easily on the nose, and palate. There is a wealth of fresh, dark red fruits, creamy tannins, and blackberries on the mid-palate, and in the finish. This clearly shows a new face for Langoa Barton with more fruit, and softer tannins, yet the wine holds on to its classic style as well. The wine blends 56.5% Cabernet Sauvignon, 41% Merlot and 2.5% Cabernet Franc. 14.2% ABV. Drink from 2027-2050. 93-95 Pts.

2,651 Views

Tasted

May 8, 2023

2021
Château Langoa Barton (St. Julien)

Peppery spices, herbs, and red currants come through on the nose and palate. This is a solid example of classic, medium/full-bodied, Bordeaux focused on its bright, crisp, red fruits, freshness, and peppery spice in the endnote. The wine blends 61% Cabernet Sauvignon, 36% Merlot, and 3% Cabernet Franc. For Langoa Barton, a wine that normally takes quite a bit of time to be fun to drink, you can enjoy this quite early. Fans of Langoa Barton should take note that the wine will be released with a special, one-off label commemorating 200 years of ownership by the Barton Family! Drink from 2025-2047. 90-92

2,998 Views

Tasted

May 20, 2022

2020
Château Langoa Barton (St. Julien)

Here you find a powerful, fresh blast of ripe, dark currants, blackberries, mint, cedar, tobacco, herbs and spice that meld perfectly with the powerful, ripe, long, waves of red fruits. The chewy finish offers more refinement than usual in its lingering fruits and tannins. Clearly, all the work they have been doing at Langoa Barton has paid off, as this is the best vintage of Langoa I have ever tasted! Drink from 2027-2050.

3,429 Views

Tasted

Mar 21, 2023

Spicy, sweet, fresh, vibrant aromas of currants, cedar, cigar box, herbs and spice meld perfectly with the powerful, ripe, long, waves of red fruits. Here you find, bite, and crispness to the fruit, a full-body with grainy tannins needing time to expand and soften. The finish, with its tobacco, red currant, cranberry and spice keeps on going. Give this a decade and it should really start to shine. 93-95 Pts

4,201 Views

Tasted

May 20, 2021

2019
Château Langoa Barton (St. Julien)

Deep in color, the wine is full-bodied, crisp, fresh, juicy and spicy. Medium-full/bodied, with a core of crunchy, black currants, cranberry, pomegranate and spice. This is not a forward wine, like many 2019s, so give it at least a decade or more for all of its creme de cassis to fill-out, soften and become approachable. Drink from 2033-2060.

4,608 Views

Tasted

Mar 29, 2022

Deep in color, the wine shows of its tobacco leaf, smoke, black currant and blackberry character with little effort. Full-bodied, tannic and showy for this normally reticent wine, this is going to demand at least a decade of aging, but as this is the finest example of Langoa Barton I recall tasting, it will be well-worth the wait. 93-95-Pts

8,446 Views

Tasted

Dec 9, 2020

2018
Château Langoa Barton (St. Julien)

Cassis, chocolate mint, flowers and tobacco leaf aromas is where the wine starts. But it is on the full-bodied palate with all of its chewy, crisp, fresh, vibrant layers of bright, spicy currants that you get the full character here. Youthful and tannic as expected, allow this at least a decade of aging before pulling a cork. The wine blends 63% Cabernet Sauvignon, 28% Merlot and 9% Cabernet Franc.

2,210 Views

Tasted

Mar 9, 2021

Crème de cassis, tobacco leaf, cedar wood and spice notes on the nose and a full-bodied, ripe, firm, fresh blast of zesty, crunchy, red fruits with a whiff of cocoa on the palate. This is very classic in nature with a strict side so you'll need to age this for at least a decade. The blend consists of 63% Cabernet Sauvignon, 28% Merlot and 9% Cabernet Franc, reaching 13.85% ABV. 92-94 Pts

3,292 Views

Tasted

Apr 19, 2019

2017
Château Langoa Barton (St. Julien)

Classic in nature, the fruit here is bright, fresh and crisp. Medium-bodied with a lively, crunch red berry center and finish, this will be better with at least 7-9 years in the cellar.

4,039 Views

Tasted

May 14, 2020

Sizzling and zesty with crunchy cassis, sages, cedar and peppery aromas popping up easily, this full-bodied wine is concentrated, fragrant and dripping with olives in an intricate finish. Give this a decade and it will sing. Produced from Produced from a blend of 54% Cabernet Sauvignon, 38% Merlot and 8% Cabernet Franc, reaching 13% ABV.

3,026 Views

Tasted

Apr 26, 2018

2016
Château Langoa Barton (St. Julien)

Crisp, fresh crunchy, earthy, bright red berries offer a nice pop. The wine is packed with red, zesty, fresh fruits, ripe tannins and a bouquet of forest floor, cedar, tobacco and cassis. Give this a decade and enjoy the classic ride.

7,086 Views

Tasted

Sep 21, 2019

Classic, crisp, tannic and concentrated, the wine is packed with dark red, zesty, fresh fruits. The tannins are soft and the forest floor, cedar, and tobacco scents pair perfectly with the juicy cassis.

4,624 Views

Tasted

Feb 9, 2019

Full bodied, crisp, bright and crunchy, the tobacco leaf and cassis make a great pairing. The tannins are ripe, firm and constant, letting you know this needs age, and it's going to be worth the wait. The finish delivers lift and energy in its classic profile.

5,785 Views

Tasted

May 13, 2018

Bursts of tangy little currants, a cedar wood fire sends out smoke plumes of cassis scented tobacco into a damp forest, leading you to a polished, fresh, bright, crisp and crunchy blast of red berries. The finish offers length and lift in a classic style. From a blend of 55% Cabernet Sauvignon, 37% Merlot and 8% Cabernet Franc, the wine reached 13% ABV. The harvest took place from September 20 to October 13.

5,709 Views

Tasted

Apr 29, 2017

2015
Château Langoa Barton (St. Julien)

Firm, structured, classic and fresh, with a vibrancy to to the sweet cassis, herb, cedar and tobacco notes. The wine is full bodied, concentrated and offers a spicy cassis and cedar character. This should age quite well over the years.

3,544 Views

Tasted

Mar 12, 2018

Fresh, vibrant and crisp, with a cassis, tobacco and spicy character, this is coming along quite well.

2,807 Views

Tasted

Jul 12, 2017

Crisp, dark, red plums and cassis on the nose, this medium/full-bodied, firm wine offers freshness and brisk red berries in the classically styled finish. Produced from a blend of 54% Cabernet Sauvignon, 38% Merlot and 8% Cabernet Franc, the wine reached 13% ABV. 90 - 92 Pts

2,823 Views

Tasted

Apr 20, 2016

2014
Château Langoa Barton (St. Julien)

A supple style of Langoa, with polished tannins, round textures and ripe, dark, blackberries that stick with you from start to finish.

4,635 Views

Tasted

Feb 2, 2017

This medium/full-bodied wine is fresh and bright with red berry charm and ample, crisp tannins to age. Produced from a blend of 54% Cabernet Sauvignon, 34% Merlot and 12% Cabernet Franc, this wine reached 13.5% ABV. 91-93 Pts

4,031 Views

Tasted

Apr 16, 2015

2013
Château Langoa Barton (St. Julien)

With a bright, sweet and tart, spicy, tangy, red berry, medium bodied, accessibile personality, with a shot of espresso in the nose, this will be best in its youth.

1,782 Views

Tasted

Feb 9, 2016

With coffee bean, cassis and peppery cherry aromas, the wine is medium bodied and light on its feet, finishing with bright red berries and spice. From a blend of 65% Cabernet Sauvignon, 30% Merlot and 5% Cabernet Franc, the wine reached 13% ABV and is being aged in 60% new French oak. 87-89 Pts

2,087 Views

Tasted

Apr 20, 2014

2012
Château Langoa Barton (St. Julien)

There is a strictness to this classically styled wine that could soften with age, as the crisp blackberry and tobacco tinged wine develops.

2,779 Views

Tasted

Mar 11, 2015

From 63% Cabernet Sauvignon, 34% Merlot and 3% Cabernet Franc, the Barton family produced a medium-bodied wine that opens with oak, fennel and dark cherries. The tannins feel dusty in the red cherry finish. The wine will be aged in 60% new French oak barrels. 88-90 Pts

3,647 Views

Tasted

Apr 23, 2013

2011
Château Langoa Barton (St. Julien)

Earthy, medium bodied, slightly rustic, with crisp, peppery, cranberry and cassis flavors, the wine is a little tough in the finish.

2,654 Views

Tasted

Feb 16, 2014

Produced from 63% Cabernet Sauvignon, 34% Merlot and 3% Cabernet Franc, the wine will be aged in 60% new oak. Earth, cassis and cranberry notes, medium bodied with fresh, bright, soft cassis and a classic personality. 88-90 Pts

3,471 Views

Tasted

Apr 13, 2012

2010
Château Langoa Barton (St. Julien)

From a blend of 73% Cabernet Sauvignon, 17% Merlot and 10% Cabernet Franc, the wine is packed with lively, spicy red and black fruits, earth, coffee and tobacco. This bright, tannic wine needs time to develop and soften. At least a decade or more is required.

7,333 Views

Tasted

Feb 8, 2013

2009
Château Langoa Barton (St. Julien)

Full bodied, dense, firm and just starting to show is secondary nuances of tobacco, cedar, forest floor, herbs and red it fruits. Still young, but clearly on its way, the wine is concentrated and firm, with a softening tannic edge, so give this beauty 5 more years and enjoy it over the next 20 years of more. The wine is a blend of 54% Cabernet Sauvignon, 34% Merlot and 12% Cabernet Franc.

5,216 Views

Tasted

Sep 20, 2019

Fresh, bright, crisp and juicy, as expected, this is still youthful. The tannins are present, but they are soft and ripe. The fresh has a bite, and the finish leaves you with fresh red fruits, earth and spice. Another few years in the cellar will add more softness and complexity.

5,214 Views

Tasted

Sep 29, 2018

From an assemblage of 60% Cabernet Sauvignon, 30% Merlot and 10% Cabernet Franc, this tannic, fresh, bright, cassis and red berry filled, classic Bordeaux wine needs time to develop.

7,608 Views

Tasted

Feb 5, 2012

2008
Château Langoa Barton (St. Julien)

Full bodied, with some tannins still to be resolved, the wine offers a classic character, with bright, crisp, red berries in the nose and mouth, freshness and a crisp, juicy, earth herbs, and cedar note that adds to the bright cassis.

3,376 Views

Tasted

Sep 17, 2018

This is already starting to display its earthy, cedar wood, tobacco, cocoa and blackberry charm. Much open and accessible that I would have expected. A nice wine, and a good value for a Classified growth.

4,244 Views

Tasted

Aug 13, 2014

2007
Château Langoa Barton (St. Julien)

Ready to go, this medium bodied, bright, crisp, crunchy wine has a definite overtone of greeness, better known pyrazines. You're going to need to like a true classic styled Bordeaux to dig this.

3,729 Views

Tasted

Sep 2, 2017

2006
Château Langoa Barton (St. Julien)

Tobacco, cassis and spicy aromatics are easy to find. The wine remains youthful, tannic and firm demanding either a very long decant, or several more years in the cellar.

6,068 Views

Tasted

May 25, 2016

Cassis, earth and tobacco poked through the wall of tannin with effort. This tannic, masculine, old school style of Bordeaux wine demands at least another decade before opening up.

6,312 Views

Tasted

Nov 16, 2011

2005
Château Langoa Barton (St. Julien)

Approachable with its medium/full bodied, fresh, red berry charm, the wine is fresh, crisp and bright, finishing with ample tannins amidst the buckets of fresh picked cherries in the finish.

6,294 Views

Tasted

Jun 28, 2015

The austere personality and slightly drying, tannic finish did not make it a winner for me.

12,019 Views

Tasted

Jan 20, 2008

2004
Château Langoa Barton (St. Julien)

Leafy, minty, cassis and spicy aromas lead to a crisp, crunchy, cassis finish.

3,406 Views

Tasted

Jan 4, 2015

2003
Château Langoa Barton (St. Julien)

Licorice, earth, tobacco, blackberry and cigar notes open to a soft wine that has developed rapidly. The end note is a bit dry in the otherwise, warm, black cherry finish.

5,303 Views

Tasted

Dec 18, 2013

2002
Château Langoa Barton (St. Julien)

Firm and still tannic, and showing more ripeness than many other Left Bank wines in this vintage, this masculine styled, youthful wine is starting to offer secondary characteristics with its tobacco, smoke, wet earth, cedar and peppery scents. Hold off for a few more years and this should be an even better wine.

3,732 Views

Tasted

Sep 3, 2014

2001
Château Langoa Barton (St. Julien)

Drinking well at this time, there is a freshness, brightness and crisp quality to the dark red fruits, coupled with a medium bodied, slightly tannic palate presence. An hour or 2 of air will add a lot to the wine.

4,604 Views

Tasted

Jul 17, 2017

2000
Château Langoa Barton (St. Julien)

This powerful, masculine, tannic, St. Julien wine offers cigar box, earth, creme de cassis and blackberry scents in the perfume. Solid, chewy and still youthful, this concentrated Bordeaux wine is well suited for fans of traditionally styled wine.

8,104 Views

Tasted

Oct 5, 2011

1999
Château Langoa Barton (St. Julien)

High-pitched, medium-full bodied, bright, crisp and pepper, with a strong, cedar and leaf notes on top to the sweet and tart, peppery cassis.

2,743 Views

Tasted

Oct 5, 2018

1998
Château Langoa Barton (St. Julien)

Firm, structured, strict and bright, with loads of crisp, crunchy red berries and nuances of forest leaf, herbs, tobacco, peppery spice and cigar box. This is quite classic and stoic in nature and will appeal to some tasters more than others.

2,757 Views

Tasted

Aug 20, 2021

1996
Château Langoa Barton (St. Julien)

Masculine, tannic and beefy, this old school styled wine offers a lot of bright cassis, olives, leaf and tobacco along side the slightly gruff, tannic finish. In time, this could be more interesting, but I think it's always to be more apealing to fans of the style produced in Bordeaux a few decades ago.

3,305 Views

Tasted

Jul 24, 2013

1995
Château Langoa Barton (St. Julien)

Medium bodied, firm, lean, crisp wine that is much better on the nose than on the sharp, cranberry and cassis palate. Drink up as this is not getting any better.

4,297 Views

Tasted

Jan 29, 2016

1994
Château Langoa Barton (St. Julien)

Past its prime, lean, foursquare, medium-bodied wine displaying more secondary, earth and herbal notes than fruit, which is on the bright, crunchy, peppery, tart side.

2,389 Views

Tasted

Aug 19, 2021

1990
Château Langoa Barton (St. Julien)

Classic in style, the wine is a bit firm in character. The earthy, tobacco, cedar and cassis nose is a bit more interesting than the bright, crisp, full bodied, slightly hard palate. There is an herbal note in the earthy cassis driven finish. Lovers of more traditional Bordeaux will probably like this even more than I did.

3,219 Views

Tasted

Nov 9, 2015

1989
Château Langoa Barton (St. Julien)

Stern, rough, rustic, austere, old school styled wine with more cranberry than cassis, with a lean to the cedar, herbal, bright, acidic, peppery side as well. Tasters with a strong affinity for how things were, in the early 29th century will like this more than I did.

3,347 Views

Tasted

Mar 17, 2018

1986
Château Langoa Barton (St. Julien)

The wine is full bodied and loaded with dark, red fruits, tannins with some rusticity and a great nose of tobacco, cedar and sharp, red fruits. The finish is long, with a firm edge to the sweet and tart red berries.

2,159 Views

Tasted

Sep 22, 2018

1985
Château Langoa Barton (St. Julien)

Quite the classic charmer, with its cedar, tobacco, spice and sharp red fruit nose. Medium bodied and quite fresh, but not overly acidic on the palate, age has added a lot of nuance to the wine. Perfect with a late summer grilled fare.

3,472 Views

Tasted

Sep 17, 2017

1982
Château Langoa Barton (St. Julien)

Classic old school Bordeaux, but in a good way, There is a firm, slight austerity to the wine, but that does not take away from the earthy, cedar, cherry, tobacco and cassis charms. Fully mature, but well stored bottles could even age for several more years. Frankly, I liked this more than the 1982 Leoville Barton!

3,611 Views

Tasted

Oct 15, 2016

1896
Château Langoa Barton (St. Julien)

Decades past its last breath of life, there was no fruit remaining, just acidity and some spice. Still, it was amazing to find a wine this old in my glass.

2,051 Views

Tasted

Dec 15, 2014