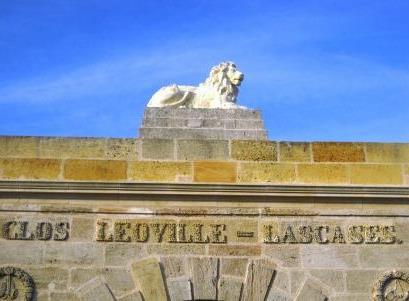 Learn everything about Chateau Leoville Las Cases St. Julien Second Growth with wine tasting notes and wine with food pairing tips. Learn the best vintages, a history of the property, information on the vineyards and winemaking. If you want to read about other important, Bordeaux Chateaux: Links to all Bordeaux Wine Producer Profiles
Chateau Leoville Las Cases History, Overview
Chateau Leoville Las Cases has one of the longest histories in the Medoc. Leoville Las Cases was the property of some of the most notable and wealthiest inhabitants in France. The final royal family to own the estate is where the chateau draws its name from, the Lascases family.
But the history of what we know of as Chateau Leoville Las Cases does not begin there. We need to go back to 1638 when Jean de Moytie, a member of the Bordeaux Parliament owned a vineyard.
Moytie called it "Mont-Moytie. Mont-Moytie was one of the first chateaux in the Medoc to produce wine along with Chateau Margaux and La Tour de Saint-Lambert, which we know of today as Chateau Latour.
The Domaine remained in the same family for almost 100 years. Through marriage, the estate ended up as part of the de Gascq family. Alexandre de Gascq renamed Mont-Moytie Leoville or Lionville.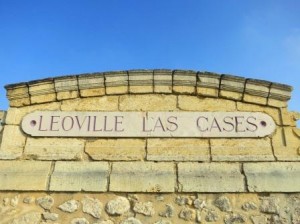 The massive Leoville estate in Saint Julien was at the forefront of vineyard management at the time. Some of their ideas seemed odd at the time, but today they are still widely in use.
They changed the varieties in the vineyards to smaller berries. They trellised the rows with pinewood. They began aging the wine in oak barrels, which they kept clean using a sulfur solution.
While we take this for granted today, in those days, they were wild ideas! By the time Alexandre de Gascq died, with his steady purchasing of Bordeaux vineyard land, Leoville was one of the biggest vineyards in Bordeaux at more than 300 hectares!
Following the French Revolution, a portion of the gigantic Leoville estate was sold. Those Saint Julien vineyards became Leoville Barton. The property was divided in two in 1840. Pierre Jean de Lascases, the oldest son received a share, which became Chateau Leoville Las Cases.
At this point in time, now we have the birth of all three Leoville estates: Chateau Leoville Las Cases, Chateau Leoville Barton, and Chateau Leoville Poyferre. Although the wines of Poyferre were sold under the name of Baron de Poyferre in those days.
While the vineyards and business operations of both Left Bank chateaux, Leoville Las Cases, and Leoville Poyferre were separated, the buildings remained connected, just as they are today.
In fact, the parking lot is a common area used by both chateaux! You park in either one, to visit the other. This is a unique arrangement in Bordeaux, making it very easy to visit both chateaux, one after the other.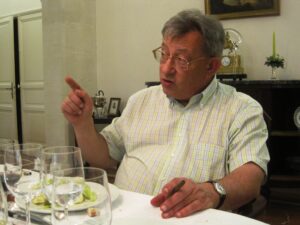 At the end of the 19th century, Theophile Skawinski purchased Leoville Las Cases. At the time, Theophile Skawinski was the managing director of Chateau Leoville Cases. Skawinski passed his shares to Andre Delon, which is the start of the Delon family ownership in Bordeaux.
At about the same time, Leoville Las Cases earns credit for creating one of the first official, "Second" Bordeaux wines with Clos du Marquis, which made its debut in 1902.
Chateau Leoville Las Cases the Modern Age
Chateau Leoville Las Cases has remained a family-owned vineyard. Michel Delon managed the estate from 1976, through 2000. It was under the direction of Michel Delon that Leoville Las Cases rebounded and once again started producing wines worthy of its pedigree.
After the passing of Michel Delon in 2000, his son, Jean Hubert Delon took over managing the property and has continued increasing the quality of the wines here.
The Delon family, headed by Jean Hubert Delon and his sister, Genevieve d'Alton still own and manage Chateau Leoville Las Cases today. The Delon family also owns Chateau Nenin in Pomerol as well as Chateau Potensac located well north of Leoville Las Cases, in the Medoc appellation.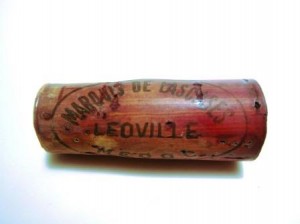 Starting with the 2007 vintage, the Delon's began producing a true second wine, Petit Lion du Marquis de Las Cases. While many consumers refer to Clos du Marquis as the second wine of Leoville las Cases, it is not correct to think of it in those terms.
The reason is, the fruit source comes from different vines and terroir than what is used to produce Chateau Leoville Las Cases.
Because Clos du Marquis comes from the same parcels every vintage, the chateau prefers to think of Clos du Marquis as its own, unique, Saint Julien wine. Starting with the 2015 vintage, Petit Lion du Marquis de Las Cases changed the design of the label which features a lion staring through the gates of Leoville Las Cases.
The source of the fruit for Petit Lion du Marquis de Las Cases comes from grapes from the young vines of the Leoville Las Cases vineyards.
However, both terroirs and all three wines are produced by the same team and receive similar treatment in the vineyards and cellar. In an effort to continue their efforts to make the best wine possible, for the 2015 vintage, Leoville Las Cases introduced a second wine for Clos du Marquis called La Petite Marquis.
Chateau Leoville Las Cases Vineyard, Terroir, Grapes, Wine making
The huge 98-hectare vineyard of Leoville Las Cases is planted to 67% Cabernet Sauvignon, 23% Merlot 10% Cabernet Franc. Though there are a few remaining vines of Petit Verdot. Interestingly, this shows an increase in the Merlot plantings over the past several years. The Leoville Las Cases vineyard underwent major replanting during the 1950s after the legendary frost.
The vineyard has a terroir that is mostly gravel with gravelly sand and gravelly clay in their soils. Today the vines average more than 40 years of age. However, they have old vines. The oldest vines are some of their Cabernet Franc, which are close to 90 years of age. The vineyard is planted to a vine density of 8,600 vines per hectare.
The still, large 98-hectare vineyard of Leoville Las Cases does not have the size it did in its youth. But it remains a very large Bordeaux vineyard. It is the largest vineyard of all three Leoville estates.
The heart of their vineyard is known as the Grand Clos. That walled in parcel of vines is situated in the north of Saint Julien, bordering Pauillac. In fact, it is located next door to Chateau Latour on the north side. Only a very small stream, "The Juillac" separates the 2 vineyards.
The Grand Clos parcel is actually 2, small hills, which are close to the Gironde. These 2 small hills, with close to 50 hectares of vines reach 15 meters at their peak. Here, you find deep gravel soils placed on top of clay and sand with a south eastern exposure. This parcel is farmed close to 100% organically.
On the hills, you find the Cabernet Sauvignon planted, with some Merlot growing at the bottom of the slopes. While the Cabernet vines face southeast, to allow the Merlot to ripen later, those vines have more of a northeast exposure. In total, you can divide the vineyard of Leoville Las Cases into 7 main blocks with 125 separate parcels.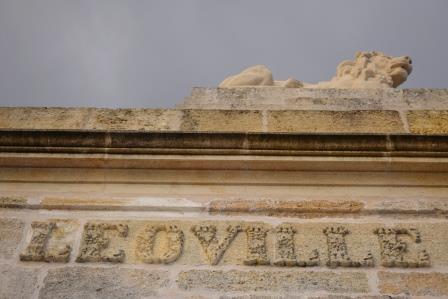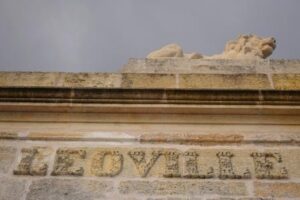 Chateau Leoville Las Cases Winemaking
At Leoville Las Cases, winemaking remains traditional. Grapes are fermented in a combination of temperature-controlled wood, concrete, or stainless steel vats of varying sizes. They have 8, oak vats that also range in size from 176 hectoliters up to 290 hectoliters per vat.
The oak vats also vary in age, with the oldest vats dating back close to 50 years! The oak tanks are always reserved for vinification for Chateau Leoville Las Cases. The cement vats are used to produce all the other wines from the property. Malolactic fermentation takes place in tank.
Blending takes place after malolactic fermentation, but before the barrel aging begins, allowing the blenders to experience the wine before it has been influenced by the oak.
The wine of Chateau Leoville Las Cases is aged in various percentages of new, French oak barrels. The exact percentage of new oak barrels used varies from year to year, depending on the style and character of the vintage.
However, the most recent vintages of Chateau Leoville Las Cases are aged in about 90% new, French oak barrels for an average of 18 months before bottling.
Starting in 1987, Leoville Las Cases began employing a state of the art, reverse osmosis machine to help extract excess water from the grape must. This technique is considered controversial by some people. However today, that technology is used by many of the top Bordea, 2014, 2015, 2016, and other top years.
Those are all great vintages for Leoville Las Cases. Each of those vintages is also better than previous famous years like 1982. According to Jean Hubert Delon, reverse osmosis is only used in select vintages.
Even though Leoville Las Cases is one of the most traditionally styled wines in the region, they have a long history of being among the first to try new technologies.
For an early example, Leoville Las Cases was one of the first Bordeaux producers to begin rinsing their oak barrels with a sulfur solution, thus protecting their wine from spoiling during transport or aging.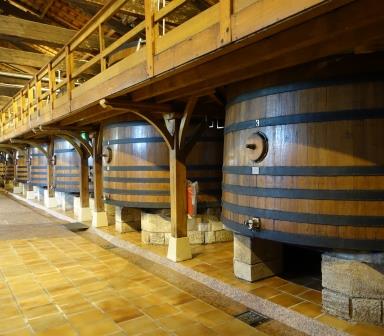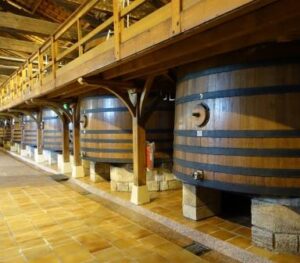 The best vintages of Chateau Leoville Las Cases are: 2022, 2021, 2020, 2019, 2018, 2017, 2016, 2015, 2014, 2012, 2010, 2009, 2006, 2005, 2000, 1996, 1990, 1986, 1985 and 1982. Very old vintages of Leoville Las Cases have not performed as well as I would have liked. Purchasing older vintages is a potentially risky endeavor.
Chateau Leoville Las Cases Character and Style
Leoville Las Cases produces a structured, firm, austere, powerful, classic style of Bordeaux wine. In the top vintages, buyers should be aware that Leoville Las Cases takes 15 to 20 or more years to develop and shed its tannic structure in the top vintages.
At that point in time, Leoville Las Cases will display cedar, cassis, dark berries, truffle and tobacco notes in a style that often resembles a First Growth Pauillac. Yet, it is uniquely Chateau Leoville Las Cases. Leoville Las Cases is a traditional Bordeaux in many ways.
The cellar master, Bruno Rolland is the third generation of his family to work as the cellar master at the chateau. However, while they are extremely traditional in most things, in one instance, Leoville Las Cases did not follow tradition.
In 1988, the chateau withdrew from the Conseil des Grands Crus Classes and does not participate in any of their events or functions. They are the only Classified estate to do so. Because the 1855 Classification of the Medoc is a part of French law, they cannot withdraw from the classification, even if they desired.
Leoville Las Cases produces 3 additional wines. To set the record straight again, Clos du Marquis is not a second wine. Clos du Marquis is viewed as its own brand because the vines used to produce that wine come from specific parcels in the large Leoville Las Cases vineyard. Those vines are further west than for example, their Grand Clos parcel.
Interestingly, Clos du Marquis is perhaps the only wine in Bordeaux to be named Clos, with vineyards that are surrounded by any walls, trees, or plants. Today, it is illegal to name a non-enclosed vineyard Clos.
However, starting with the 2009 vintage, there is an official second wine for Leoville Las Cases, Le Petit Lion du Marquis de Las Cases.
Back to Clos du Marquis. Starting with the 2015 vintage, Clos du Marquis has its own second wine, La Petite Marquise. The production of each of these wines averages between 9,000 to 15,000 cases for Leoville Las Cases, 4,000 to 8,000 cases for Clos du Marquis, and 4,000 to 8,000 cases for Le Petit Lion.
The production of any of those wines can vary widely, depending on the character and quality of the vintage and the yields.
When to Drink Chateau Leoville Las Cases, Anticipated Maturity, Decanting Time
Chateau Leoville Las Cases is not a wine to drink on the young side. The wine is usually far too tannic, powerful, and reserved during its youth. Young vintages can be decanted for an average of 3-6 hours, give or take.
This allows the wine to soften and open its perfume. Older vintages might need very little decanting, just enough to remove the sediment.
Chateau Leoville Las Cases is usually better with at least 15 years of bottle age. Of course, that can vary slightly, depending on the vintage character. Chateau Latour offers its best drinking and should reach peak maturity between 20-50 years of age after the vintage.
Serving Chateau Leoville Las Cases with Wine, Food, Pairing Tips
Leoville Las Cases is best served at 15.5 degrees Celsius, 60 degrees Fahrenheit. The cool, almost cellar temperature gives the wine more freshness and lift.
Chateau Leoville Las Cases is best served with all types of classic meat dishes, veal, pork, beef, lamb, duck, game, roast chicken, roasted, braised, and grilled dishes. Chateau Leoville Las Cases is a perfect match with Asian dishes, hearty fish courses like tuna, mushrooms, and pasta as well as cheeses.
Château Léoville Las Cases Wine Tasting Notes
77 Vintages 1,369,136 Views Sort by Vintage-Rating
2022
Château Léoville Las Cases (St. Julien)

Inky in color, the wine is all about its full-body, intensity, levels of concentration, and sense of purity. The wine starts off with violets, cassis, blackberries, Cuban cigar wrapper, ash, smoke, licorice, and mint. On the palate, the levels of concentration are readily apparent. Yet, even with all its depth of flavor, there is refinement, lift, and complexity that requires time and effort to unfurl. The fruit is uncommonly rich in the mid-palate the tannins are strong, ripe and firm. The seamless finish, with its wall of rich, black and blue fruit hits the 60 second mark with ease. As always, Leoville Las Cases requires bottle aging. But, with 2022, my guess is the wine will start to shine after a decade of age, evolving and improving for 40-50 years with ease. Produced from a blend 83.5% Cabernet Sauvignon, 10.5% Cabernet Franc and 6% Merlot. 14.25% ABV. 3.80 pH. Harvesting took place September 8 - September 30. Yields were 36 hectoliters per hectare. This is only the second time in the history of the estate that you find more Cabernet Franc than Merlot in the blend. Drink from 2030-2065. 98-100 Pts.

4,086 Views

Tasted

May 8, 2023

2022
Clos du Marquis (St. Julien)

Loaded with blackberries, and creme de cassis, the wine offers its layers of mouth-coating dark fruits, ripe, firm, soft tannins, and long, intense, mid-palate with no effort. Classified Growth in quality, the wine finishes with cool spearmint, lush, dark red berries, richness and length. The wine was made from a blend of 45.5% Merlot, 44.5% Cabernet Sauvignon, and 10% Cabernet Franc. 14.25% ABV. Drink from 2026-2042. 93-95 Pts.

1,778 Views

Tasted

May 8, 2023

2022
Le Petit Lion du Marquis de Las Cases (St. Julien)

With a black currant based core of fruit, the wine is medium-bodied, fresh, easy to like, and is ready to displays its layers of cassis, black cherries, smoke, herbs, and cedar. This is a good example of a baby Leoville Las Cases. The wine blends 55.5% Cabernet Sauvignon, 38.5% Merlot and 6% Cabernet Franc. 14.04% ABV. Drink from 2026-2038. 91-93 Pts.

2,403 Views

Tasted

May 8, 2023

2021
Château Léoville Las Cases (St. Julien)

Dark ruby with hints of purple around the edge, the wine exudes smoke, cedar, tobacco leaf, slate, lead pencil, blackberries, espresso and currants. One of the more powerful wines of the vintage, the wine offers loads of black and red fruits, ripe, present, salty tannins, and a juicy, almost creamy, yet classically structured finish. Produced from a blend 80% Cabernet Sauvignon, 15% Cabernet Franc and 5% Merlot. 13.20% ABV. This is the first time you find more Cabernet Franc than Merlot in the blend in the history of the estate. Drink from 2025-2055. 94-96

3,083 Views

Tasted

May 20, 2022

2021
Clos du Marquis (St. Julien)

Cassis, blackberry, cigar box, cedar and spice are found in the nose and on the palate. The wine is fresh, round, forward, sharp and bright, with a cool touch of minty herbs on the backend that adds to the red fruits. The wine was made from a blend of 67% Cabernet Sauvignon, 19% Merlot and 14% Cabernet Franc. 13.46% ABV. Drink from 2025-2039. 91-93

2,077 Views

Tasted

May 20, 2022

2021
Le Petit Lion du Marquis de Las Cases (St. Julien)

Flowers, cedar, cigar box and tobacco leaf add to the bright, cranberries, orange and red currants in the nose. The wine is medium-bodied, crisp and with a fresh, sweet and tart, crunchy finish. The wine is a blend of 57% Cabernet Sauvignon, 47% Merlot and 3% Cabernet Franc, 13.27% ABV. Drink from 2025-2037. 89-91

2,011 Views

Tasted

May 20, 2022

2021
La Petite Marquise (St. Julien)

Savory edged, bright, firm, crunchy, peppery red fruits create this classically styled, chewy, red plum, strawberry and olive-tinged wine. Drink from 2025-2037. 88-90

1,767 Views

Tasted

May 20, 2022

2020
Château Léoville Las Cases (St. Julien)

Dark garnet in color, the wine pops with aromas of tobacco leaf, cigar box, cedar, herbs, black currants, coffee and spice. Refined, fresh, polished and firm, the fruit is vibrant, long and intense. The tannins are ripe almost creamy in texture. The finish is long, regal and compelling, leaving you with layer, of black currants and cassis. Give this at least 12-15 years before popping a cork and enjoy it for the next 3 decades after that. The wine is a blend of 81% Cabernet Sauvignon, 11% Merlot and 8% Cabernet Franc, 13.68% ABV, 3.80 pH. The harvest took place from September 12 - September 27, making this the earliest vintage since 1989. 96-98 Pts

4,449 Views

Tasted

May 20, 2021

2020
Clos du Marquis (St. Julien)

Flowers, cassis, black raspberries, herbs and tobacco leaf on the nose. Medium-bodied, forward, juicy, soft and polished, there is energy, freshness and purity here from start to finish. The wine was made from a blend of 61% Cabernet Sauvignon, 33% Merlot and 6% Cabernet Franc. 93-95 Pts

3,187 Views

Tasted

May 20, 2021

2020
Le Petit Lion du Marquis de Las Cases (St. Julien)

Elegant, refined and fresh, the wine is packed with tobacco leaf, cherry, cedar and spice. Medium-bodied and lifted, with gorgeous notes of kirsch, cassis and smoky cherries on the palate and in the finish, this baby Leoville Las Cases is going to be just great with only a year or two of age. The wine blends 50% Cabernet Sauvignon, 44% Merlot and 6% Cabernet Franc. 91-93 Pts

3,041 Views

Tasted

May 20, 2021

2019
Château Léoville Las Cases (St. Julien)

The new version of classic modern is on display here. While the 2019 lacks the power of the 2018, instead you find one of the few great vintages of Leoville Las Cases that you can enjoy relatively early, which is early for LLC. The wine shows good color with a nose of currants, blackberry, spearmint, tobacco leaf, cigar box, flowers, cedar chest, and espresso. Here you find intensity, ripe, regal, creamy tannins, complexity, and refined textures with length and purity. Give this at least 12 years before popping a cork. The wine is a blend of 79% Cabernet Sauvignon, 11% Merlot, and 10% Cabernet Franc. Drink from 2028-2060.

6,369 Views

Tasted

Mar 29, 2022

Dark, almost opaque garnet in color, the wine loads you up with smoke, spearmint, cigar wrapper, cedar, flowers, deep red pit fruits and blackberries. Perfectly combining intense power, concentration, layers of ripe black fruits and a refined character that create a seamless tasting experience. Give this at least 12-15 years before popping a cork. The wine is a blend of 79% Cabernet Sauvignon, 11% Merlot and 10% Cabernet Franc, reaching 14.02% ABV with a 3.67 pH. The harvest took place from September 18 - October 9. 97-99 Pts

18,534 Views

Tasted

Jun 17, 2020

2019
Clos du Marquis (St. Julien)

Flowers, spice, tobacco leaf and red with black currant aromas crowd into the perfume. There is a gorgeous freshness to the fruit, elegance to the tannins and energy in the finish that makes this all work. The wine leaves you with a long, sweet and vibrant red fruit, spice, earth and tobacco note. Drink From 2024-2037.

3,686 Views

Tasted

Mar 29, 2022

With a dark color, the wine hits you with cassis, flowers, tobacco, forest floor, and herbal notes in the perfume. The wine is medium/full-bodied, with a big, juicy gulp of blackberry, red pit fruit, spice, and herbs. The wine is long, sweet, and vibrant with length and a focus on its purity in the finish. The wine blends 70% Cabernet Sauvignon, 23% Merlot and 7% Cabernet Franc, reaching 14.1% ABV. 92-94 Pts

5,259 Views

Tasted

Jun 17, 2020

2019
Le Petit Lion du Marquis de Las Cases (St. Julien)

Cassis and Boysenberry with a good dose of tobacco leaf create the nose. On the palate, the wine is medium-bodied with a creamy, forward, open currant filled profile that offers a serious, baby version of Leoville Las Cases that delivers an already tasty red and black fruit filled palate and a soft, creamy round finish. Drink from 2023-2034.

2,334 Views

Tasted

Mar 29, 2022

Boysenberry, black pit fruit, tobacco, and earthy nuances create the nose. The medium-bodied wine offers a forward, sweet, juicy, round, black fruit-filled palate experience with a hint of dusty cocoa in the soft, round finish. The wine blends 46% Cabernet Sauvignon, 43% Merlot and 11% Cabernet Franc reaching 14.01% ABV. 91-93 Pts

4,737 Views

Tasted

Jun 17, 2020

2019
La Petite Marquise (St. Julien)

Medium-bodied, forward and fresh with earthy red currants and a touch of tobacco leaf on the nose and palate. The wine is soft, vibrant and leaves you with supple textured, red currants in the polished finish. You can enjoy this St, Julien on release. Drink from 2022-2032.

836 Views

Tasted

Mar 29, 2022

2018
Château Léoville Las Cases (St. Julien)

Stylistically different, but not far off from the level of quality found in the perfect 2016, this is a future legendary vintage of Leoville Las Cases. As you begin to nose the wine you find a boatload of crème de cassis, Cuban cigars, smoke, forest leaf, tobacco, blackberry, coffee bean, flowers and earthy aromas. Full-bodied, rich and dense, the wine meshes power with soft, supple, round, rich layers of fruit that feel just great as they coat your palate. Long and intense, comparing this with the 2016 and 2019 over the decades is going to be a lot of fun. The wine was made from a blend of 80% Cabernet Sauvignon, 11% Merlot and 9% Cabernet Franc,14.5 ABV.

7,537 Views

Tasted

Mar 9, 2021

With all its fresh fruits and leafy notes, this wine reminds me of walking into a forest after a massive rainfall. Add to that a bushel of ripe fruit, tobacco, and a smoky campfire and you get the idea. The wine is powerful, dense, full-bodied, and intensely concentrated. The fruit has so much lift, it\'s hard to believe this is over 14% in ABV! Mouth-filling, fresh and spicy, the peppery Cabernet Sauvignon melds strength with vigor, purity, and length, and the wine settles in for a finish of over 50 seconds. The tasting I cannot wait to experience in a few years pairs the 2018 with 2016 in blind conditions! The wine was made from a blend of 80% Cabernet Sauvignon, 11% Merlot and 9% Cabernet Franc, with 14.49% ABV, pH of 3.65. The harvest took place from September 18 to October 10. 98-100 Pts

6,369 Views

Tasted

Apr 19, 2019

2018
Clos du Marquis (St. Julien)

The smoky nose gets even better with all that ripe crème de cassis, blackberry, forest floor, cigar box and sweet cherry in the perfume. Lush, round and loaded with sweet, ripe, juicy red fruits, the wine delivers length, freshness and vibrancy, along with supple tannins in the finish. With bottle age, this could get even better. The wine was made from blending 64% Cabernet Sauvignon, 30% Merlot and 6% Cabernet Franc, 14.5% ABV.

3,275 Views

Tasted

Mar 9, 2021

Crème de cassis, spice, forest floor and tobacco notes show up with ease. Medium/full-bodied, spicy and fresh, this wine is precociously ripe and vibrant with juicy fruit on the nose and mouth. Even with the 14.5% ABV, there is no heat, jam or over-ripeness. Everything is sweet and lively. Clearly, this is the best vintage for Clos du Marquis and its definitely Classified Growth in quality. The wine was made from blending 64% Cabernet Sauvignon, 30% Merlot and 6% Cabernet Franc. 92-94 Pts

6,184 Views

Tasted

Apr 19, 2019

2018
Le Petit Lion du Marquis de Las Cases (St. Julien)

Here you find a family resemblance to the Grand Vin. Lighter, closer to ready to drink and softer for sure, but this Baby Las Cases is perfect for restaurants and early drinking with its black raspberry and currant profile, coupled with round tannins, a fruit filled, supple textured finish and hints of tobacco. Enjoy this over the next decade or more while waiting for the Grand Vin to develop. The wine is a blend of 42% Cabernet Sauvignon, 45% Merlot and 13% Cabernet Franc, 14.5% ABV.

3,320 Views

Tasted

Mar 9, 2021

The lift and zest is felt right away on the palate. It is hard to believe this is a second wine with this much fruit, tension and crunch in the fruit. The finish is on the bright, crisp, red berry side. Enjoy this over the next decade or more while waiting for the Grand Vin to develop. The wine is a blend of 42% Cabernet Sauvignon, 45% Merlot and 13% Cabernet Franc. 90-92 Pts

3,194 Views

Tasted

Apr 19, 2019

2018
La Petite Marquise (St. Julien)

Medium-bodied, forward, soft, round and fresh with a juicy, cherry, red plum, herb and currant finish. This should be delicious on release.

1,424 Views

Tasted

Mar 9, 2021

2017
Château Léoville Las Cases (St. Julien)

It is not often you can use the word fruity to describe Leoville Las Cases but it is certainly fitting for 2017. Yes, the wine is fruity! And in addition you'll find complexities of licorice, cigar box and lead pencil with tannins so refined it's almost precocious. The fruit is airy and bright with a sweetness that carries through from start to finish. This is the perfect vintage to enjoy while waiting for the bigger, more tannic vintages to come around. The wine was made from a blend of 79% Cabernet Sauvignon, 11% Cabernet Franc and 10% Merlot, reaching 13.28% ABV with a pH of 3.72. The harvest took place from September 15 to October 4 and the wine was made from 60% of the harvest. It is not often you can use the word fruity to describe Leoville Las Cases but it is certainly fitting for 2017. Yes, the wine is fruity! And in addition you'll find complexities of licorice, cigar box and lead pencil with tannins so refined it's almost precocious. The fruit is airy and bright with a sweetness that carries through from start to finish. This is the perfect vintage to enjoy while waiting for the bigger, more tannic vintages to come around. The wine was made from a blend of 79% Cabernet Sauvignon, 11% Cabernet Franc and 10% Merlot, reaching 13.28% ABV with a pH of 3.72. The harvest took place from September 15 to October 4 and the wine was made from 60% of the harvest.

5,892 Views

Tasted

Apr 26, 2018

2017
Clos du Marquis (St. Julien)

Cedar, oak, spice and fresh, red fruits with just a bit of soft tannin in the background, give this wine character and structure. Two or three years will be more than ample to bring out the secondary nuances and notch this up to full potential.

3,783 Views

Tasted

Apr 26, 2018

2017
La Petite Marquise (St. Julien)

Forward in style, this wine is all about the core of sugar dusted, freshly plucked cherries and charmingly glib tannins. Medium bodied, it will drink quite well upon release.

1,751 Views

Tasted

Apr 26, 2018

2016
Château Léoville Las Cases (St. Julien)

This has really expanded since my initial barrel tasting. The nose explodes, literally! The fruit jumps from the glass, it is that concentrated. Blackberry, cassis and tobacco are all over the place. This is so concentrated, you can almost eat it with a spoon! The fruit coats your mouth. But it is the level of density and freshness, coupled with all those sweet, pure fruit sensations that let you know, this wine means business. You can actually feel the fruit expand on your palate! This is what great wine is all about. Produced from a blend 75% Cabernet Sauvignon, 14% Merlot and 6% Cabernet Franc.

12,079 Views

Tasted

Sep 21, 2019

This powerful elixir has peppery cassis, tobacco, cedar, blackberry and forest scents that cannot be avoided. Powerful, concentrated, mouth filling and very tannic, this could be a modern-day version of what the 1986 Bordeaux was supposed to be. The wine is elongated, regal and driven, stern yet refined. With this much tannin and structure, I'm sure at least 20 years in the cellar are needed before this really starts to shine. Produced from a blend 75% Cabernet Sauvignon, 14% Merlot and 6% Cabernet Franc, the wine reached 13.6% ABV with a pH of 3.66. The harvest took place from September 30 to October 16.

16,830 Views

Tasted

Apr 29, 2017

2016
Clos du Marquis (St. Julien)

The wine resembles its big brother without the same level of concentration. Medium/full-bodied and loaded with fresh, chewy, bright cassis, the tannins are ripe, polished and the palate enjoys the splash of all that sweet, vibrant red fruit. Give it a few years in the cellar, if you can wait that long. This completes with several much more expensive classified growths!

6,030 Views

Tasted

Sep 21, 2019

Granddad's tobacco-scented sweater caught in a volcanic eruption of plum and syrupy black currants is the first thing you'll sense before you align with the gentle, ready tannins and the boatloads of thirst-quenching cassis. This wine has excellent character and ample fresh fruit in the finish. From a blend of 73% Cabernet Sauvignon, 24% Merlot and 3% Cabernet Franc, the wine reached 13.55% ABV and will be aged in 50% new French oak barrels.

10,882 Views

Tasted

Apr 29, 2017

2016
Le Petit Lion du Marquis de Las Cases (St. Julien)

Tobacco, cassis, spice and floral characteristics are found in the nose. On the palate, the wine serves up a juicy, sweet, fresh, slightly bright red berry palate with a hint of spice in the end note. Give this a few years and enjoy it over the next 10-15 years after that.

3,996 Views

Tasted

Sep 21, 2019

2016
La Petite Marquise (St. Julien)

A medium bodied, fresh, crisp, classic expression of Cabernet Sauvignon with a fresh finish of berries and cocoa, this wine gives us an entry-level sampling of the wines of Leoville Las Cases. You can drink this on release or age it a year or two. Only the second time this wine has been produced, Jean Hubert Delon considers Clos du Marquis a 'unique' wine, not a second wine, as it comes from its own specific terroir. Regardless of how you look at it, adding a second wine -- or a 'unique' wine -- only improves the top wine, which is the goal.

1,880 Views

Tasted

Apr 29, 2017

2015
Château Léoville Las Cases (St. Julien)

Dark in color and fruit, this is powerful, concentrated, firm, elegant and really packs a punch. The deep black fruits are soft. They fill your palate with gushing fruit. Here you find a massive wall of tannin, but the tannins are so ripe and polished, you almost do not notice them. The finish is long, lingering and expansive. Give this at least a decade or more before popping a cork.

6,005 Views

Tasted

May 21, 2018

Showing a good depth of color, this wine is firm yet elegant, powerful yet polished. Full-bodied and loaded with ripe fruits and a wall of tannins to match, there are multiple waves of cedar, earth, blackberries and cassis. It's hard to say when this will be ready to drink but this is a very high quality, classically built wine for patient consumers, as it's going to take 15-20 years to show its best. Produced from a blend with an unusually high percentage of Cabernet Sauvignon at 85%, followed by 9% Cabernet Franc and 6% Merlot, this wine reached 13.8% ABV with a pH of 3.70 and is now aging in 85% new, French oak barrels. The harvest took place from September 22 to October 9. 95 - 97 Pts

5,784 Views

Tasted

Apr 20, 2016

2015
Clos du Marquis (St. Julien)

Forward, generous, easy to drink charmer that is medium bodied, with a juicy, plum, cassis and olive tapenade character.

5,726 Views

Tasted

May 21, 2018

Plum, cassis, earth and cedar chest notes create the perfume. This wine is tannic but the tannins are well-mannered, leaving a clean, fresh, spicy layer of dark, red fruits, olive tapenade, juicy cassis and a hint of oak. From a blend of 66% Cabernet Sauvignon, 31% Merlot and 3% Cabernet Franc, this wine reached 13.80% ABV and will be aged in 50% new French oak barrels. A part of what helped make this wine so good in 2015 is the introduction of a second wine for the brand, La Petite Marquis. 91 - 93 Pts

3,401 Views

Tasted

Apr 20, 2016

2015
La Petite Marquise (St. Julien)

On the herbaceous, leafy side, you also find tobacco, cedar and a bit of cocoa to round things out. A medium bodied, fresh, crisp, classic expression of Cabernet Sauvignon, with sweet, ripe, bright fruits in the finish.

2,770 Views

Tasted

May 21, 2018

The debut vintage for this new wine from the Delon family shows a true commitment to quality. Jean Hubert Delon has always considered Clos du Marquis to be a unique brand and not a second wine, as it comes from its own specific terroir. Regardless of how you look at it, adding a second wine (or a unique wine) only improves the top wine, which is the goal. La Petite Marquis is produced from a blend of 52% Cabernet Sauvignon and 48% Merlot, a much higher percentage of Merlot than you'll find in Clos du Marquis. Tobacco and black cherry on the nose, fresh but slightly tart on the palate with a splash of dark chocolate and cassis in the finish produced a wine that should drink well with just a year or two of age. 86 - 88 Pts

1,687 Views

Tasted

Apr 20, 2016

2014
Château Léoville Las Cases (St. Julien)

One of the top wines from the 2014 vintage, the color shows a deep ruby hue. Aromatically you find cassis, lead pencil and forest floor notes already. On the palate, the full bodied wine delivers round tannins, fresh red fruits and a nice bite of juicy cassis in the end note. The freshness, with a leafy component is a really nice sensation in the finish. For a good quality vintage of Leoville Las Cases, this will drink well relatively young, meaning that perhaps just a decade or slightly more will be ample time for the wine to open and offer its complexities.

12,196 Views

Tasted

Jul 12, 2017

With a deep, garnet hue, this full-bodied, concentrated, powerful wine starts off with cedar, earth and cassis. The firm, polished tannins leave your palate loitering about with spice and blackberry. This powerful, structured, bright, crunchy wine has a classic, fresh style. It's important to note that its ample tannins and classic demeanor will require over a decade—probably two— before it really begins to drink well. Produced from a blend of 79% Cabernet Sauvignon, 11% Cabernet Franc and 10% Merlot, the wine reached 13.8% ABV with a pH of 3.49 and is now aging in 85% new French oak barrels. 95-96 Pts

10,877 Views

Tasted

Apr 16, 2015

2014
Clos du Marquis (St. Julien)

Tobacco and forest floor notes are out in front. Medium/full bodied, with fresh, sweet, ripe red berries and spice, the acidity gives this the perfect amount of lift on the palate. The fruit is juicy, peppery and fresh, Give this 3-5 years for full maturity, or drink it young for its vibrancy.

4,236 Views

Tasted

Jul 12, 2017

This wine already exhibits cedar, earth and cassis with ripe, firm tannins and a spicy, fresh, clean and crispy finish. Blending 74% Cabernet Sauvignon, 22% Merlot and 4% Cabernet Franc, this wine reached 13.85% ABV and will be aged in 50% new French oak barrels. 90-92 Pts

7,328 Views

Tasted

Apr 16, 2015

2013
Château Léoville Las Cases (St. Julien)

Elegant is used in a variety of ways with tasting notes in either a complimentary sense, or in a pejorative manner. With 2013 Leoville Las Cases, it's a positive trait as Leoville Las Cases is not usually a wine that can be enjoyed before it's 10th birthday. With the 2013, the fruits are ripe, present, elegant and even soft, as are the tannins. The wine is fresh, clean and correct. If you're looking for an LLC to enjoy in its youth, while waiting for the more powerful, tannic years to come around, this is the vintage.

4,724 Views

Tasted

May 25, 2016

Using 74% Cabernet Sauvignon, 14% Cabernet Franc and 12% Merlot, the wine was made from only 35% of the harvest, reaching a pH of 3.69 and 13.10% ABV. Dark ruby in color with pink edges, the wine has a floral nose with forward notes of tobacco, boysenberry, mocha and forest aromas. On the palate, easy tannins accompany bright, fresh black raspberries. This is a very forward style of Leoville Las Cases, which is a wine that normally takes decades to develop. This should drink well early, perhaps with only a few years of age after release. 92-94 Pts

5,796 Views

Tasted

Apr 20, 2014

2013
Clos du Marquis (St. Julien)

There is good freshness and spice to the red fruits and herbs. The wine shows soft tannins and an elegant finish which tastes and feels good on the palate. This is not a wine to lay down. Instead, it is a wine to enjoy in its youth for its forward, youthful qualities.

3,739 Views

Tasted

May 25, 2016

Blending 73% Cabernet Sauvignon, 18% Merlot and 9% Cabernet Franc, the wine will be aged in 50% new French, oak barrels. This forward, medium-bodied wine offers spicy, fresh red plums and cherries. This will drink well on release. 87-89 Pts

10,701 Views

Tasted

Apr 20, 2014

2012
Château Léoville Las Cases (St. Julien)

Tobacco, cedar wood, blackberries and fresh herbs create the nose. On the palate, the wine delivers a classic blast of fresh, concentrated, cassis, salty, mineral driven tannins and a chewy, long, cassis filled finish. This will be better with a decade of age.

8,146 Views

Tasted

Jul 2, 2015

74% Cabernet Sauvignon, 15% Merlot and 11% Cabernet Franc, that was harvested from October 4 to October 18, produced a wine with deep color that reached 13.47% ABV and will be aged in 80% new French oak. With a perfume that wants to get noticed due to its jammy blackberry, cassis, licorice, forest floor, tobacco and vanilla notes that get better with each swirl. On the palate, the wine is big, polished, intense and powerful, yet there is a refined side to the tannins. Made to age, this should develop well. 93-95 Pts

10,358 Views

Tasted

Apr 23, 2013

2012
Clos du Marquis (St. Julien)

Wet earth, cedar and tobacco on the nose, with present, but manageable tannins and fresh cassis in the finish. Give this a few years to develop even more charm.

6,693 Views

Tasted

Jul 2, 2015

With a high percentage of Cabernet Sauvignon at 92%, the rest of the blend comes from 6% Merlot and 2% Cabernet Franc. Aged in 40% new French oak, the wine reached 13.5% ABV. Roasted black raspberries, cedar, spice and cassis notes lead to a rich, refined mouthful of sweet blackberry and cocoa, ripe tannins and a fresh finish. 89-90 Pts

13,955 Views

Tasted

Apr 23, 2013

2011
Château Léoville Las Cases (St. Julien)

Chocolate mint, flowers, currants, cedar and lead guypencil on the nose bring you to a hmouth full of chewy Cabernet, dusty tannins and a finish with tart cherries and bitter cocoa in the endnote. Decanted 60 minutes before serving. Drink from 2023-2040.

3,323 Views

Tasted

Dec 5, 2022

Better than the reputation of the vintage, this is quite nice and almost completely developed. With a few years to go before maturity, the wine offers a scaled-down, forward, Leoville Las Cases experience with ample, peppery, black, and red currants. cigar box, blackberry, cedar, and forest leaf notes in the perfume. On the palate, the wine delivers bright, fresh, lifted red fruits, with energy and length in a classic manner. Give it 1 hour in the decanter, or wait 3-4 years.

4,945 Views

Tasted

Sep 8, 2021

Big, powerful, concentrated and enough of a serious structure to age, the wine is deep, long and clearly, one of the top wines from the Medoc.

6,919 Views

Tasted

May 20, 2014

From 76% Cabernet Sauvignon and equal parts Merlot and Cabernet Franc, the wine reached 13.4% ABV and will be aged in 80% new oak. The pH is 3.63. Inky in color, this is one of the darkest, most concentrated wines of the vintage. Espresso bean, black cherry, truffle, gravel, cedar wood, tobacco and cassis are found in the perfume. Powerful and rich with ample tannins, acidity and structure, this classic wine ends with a long, fresh cassis and ripe blackberry finish. Like all the best vintages of Leoville Las Cases, this needs a lot of time in the cellar before consumption. 93-95 Pts

8,903 Views

Tasted

Apr 13, 2012

2011
Clos du Marquis (St. Julien)

A perfect wine for restaurants. Already displaying a true, Medoc character with its cedar, tobacco, spice, and herb personality, the wine is medium-bodied, soft, energetic, fresh, and leaves you with bright, lifted, clean red currants with a dash of peppery herbs. There is no need to decant, just pop and pour.

3,027 Views

Tasted

Sep 8, 2021

Surprisingly good, this medium bodied wine offers soft tannins, fresh black cherries, tobacco and earthy characteristics. Forward in style, the wine is already approachable.

6,209 Views

Tasted

May 20, 2014

produced from 65% Cabernet Sauvignon, 22% Merlot and 13% Cabernet Franc. From low yields of 27 hectoliters per hectare, the wine reached 13.6% ABV and will be aged in 40% new oak. Ruby in color, black raspberry, floral, coffee bean and dark cherry scents are found on the nose. Sweet, ripe, fresh, juicy cassis rounds out the finish. This is quite charming. 90-91 Pts

9,972 Views

Tasted

Apr 13, 2012

2010
Château Léoville Las Cases (St. Julien)

Closing down, this is going to need extensive cellaring to display its ample character. This wine is concentrated and filled with layers of perfectly ripe, berries. The tannins are polished, the acidity keeps it fresh, the texture is refined, the fruit is regal.

17,869 Views

Tasted

Sep 10, 2015

With a good depth of color, the wine pops with earth, tobacco, blackberries, smoke, cocoa, cigar box, coffee and cedar chest aromas. On the palate, the wine is powerful, rich and concentrated, yet, balanced and harmonious, long and deep. The tannins are ripe, leaving you with a fresh, fruit filled finish that remains for at least 50 seconds. However, patience is going to be required as Leoville Las Cases is one of the longest lived wines in all of Bordeaux and this tannic vintage will demand quite a bit of cellar time before it really comes around.

10,557 Views

Tasted

May 8, 2013

Leoville Las Cases A blend of 82% Cabernet Sauvignon, 10% Merlot and 8% Cabernet Franc represents 36.7% of the harvest. The wine reached 13.7% ABV, which is l0wer than the 13.8% level recorded in 2009. Opaque purple in color, this big, concentrated, thick wine is stuffed with ripe cassis and fresh blackberries. Powerful, tannic, ripe, fresh and dense, this masculine wine requires serious cellar time to become civilized. 95-96 Pts

11,901 Views

Tasted

Apr 20, 2011

2010
Clos du Marquis (St. Julien)

Deep forest aromas, kirsch and blackberry scents open to a medium/full bodied with charm, elegance, balance and a long fruit filled finish. As this still sells for a fair price, it's well worth finding some and laying it down.

8,069 Views

Tasted

May 8, 2013

Clos du Marquis was produced from 75% Cabernet Sauvignon, 17% Merlot and 8% Cabernet Franc. Interestingly, this wine represents the same portion of the harvest as Leoville Las Cases, 36.7%. Chewy, boysenberry and cassis flavors couple with powerful but tannins and a strong, fresh, cassis filled finish. 90-92 Pts

9,606 Views

Tasted

Apr 20, 2011

2009
Château Léoville Las Cases (St. Julien)

If you like great Cuban Cigars, the nose here has your name on it. From there, add forest floor, leaf, red fruits, spice, flowers and a waft of smoke. Full-bodied, powerful, graceful and concentrated, this is a perfect example of classic Bordeaux at its best. The wine is firm, focused, fresh, pure and mouth-filling, Light on its feet, especially when you consider the level of density found here, the fruit is what stands out the most, for its vibrancy, purity and length. If you need to see what this is about now, give it 2-3 hours of air. If you can wait, this will rock your glass in another decade or so!

7,331 Views

Tasted

Sep 20, 2019

Very deep ruby color with cigar box, tobacco, truffle, espresso bean, crème de cassis, spice box and smoke in the nose. This massive, powerful, concentrated, St. Julien wine is filled with fresh ripe, juicy berries, polished, ripe tannins, dark chocolate and blackberries. The finish is long, clean, fresh and pure. Built to age, while this will drink at an earlier age than most vintages of Leoville Las Cases, it will not be as much fun as many 2009 Bordeaux wines to taste young.

9,813 Views

Tasted

May 3, 2012

2009 Leoville Las Cases, from a blend of 76% cabernet sauvignon, 15% merlot, and 9% cabernet franc at 13.8 ABV, is deep ruby with purple accents. The ABV gives no sensation of heat. Scents of boysenberry, tobacco, minerals, earth, cedar, and blackberry jam pop up from the glass. This concentrated wine is the essence of purity. The wine is round, without a single hard edge. The intense finish includes chocolate, boysenberry, blackberry, and blue fruit flavors, which remain on your palate for over a minute. 2009 was the first vintage using the Optical Sorting Machine. Delon said reverse osmosis not utilized every year, but only in select vintages. 97/99 Pts

12,958 Views

Tasted

Aug 26, 2010

2009
Clos du Marquis (St. Julien)

Right off the bat, this is delicious, offering a blast of sweet, ripe, juicy and fresh cassis. Medium-full bodied, there is sweetness, freshness and purity to the bright red fruits on the palate and in the nose. Drink this now with 30-60 minutes of decanting.

3,517 Views

Tasted

Sep 20, 2019

Gravel, forest floor and blackberry scents lead to a rich, soft, round, fresh, cassis and black cherry filled wine. From a blend of 70% Cabernet Sauvignon, 20% Merlot, 8% Cabernet Franc and 2% Petit Verdot, which reached 13.8% ABV, this will give a lot of more expensive classified Bordeaux wines a run for the money in blind tastings.

8,047 Views

Tasted

May 3, 2012

2009
Le Petit Lion du Marquis de Las Cases (St. Julien)

Medium bodied, bright, crisp and lively, the wine delivers a crunchy, fresh blast of clean, pure cassis that is ready for prime time drinking.

4,476 Views

Tasted

Sep 20, 2019

2008
Château Léoville Las Cases (St. Julien)

Already showing secondary nuances of olives, herbs, truffle, cedar chest, lead pencil and barbecue smoke make the nose. The wine is full bodied, firm, tannic, classically styled and still youthful. Another 5-10 years will bring the wine more softness and development.

6,563 Views

Tasted

Sep 17, 2018

08 Château Leoville Las Cases is produced from 78% cabernet sauvignon, 10% merlot, and 12% cabernet franc. The wine has 13.4% ABV content and sees 65% new oak. Almost opaque, it offers your nose a big blast of spicy cassis, toasty oak, and freshly picked berries. Full bodied, concentrated, and structured to age, this powerful wine grows in the mouth with its multiple levels of flavors, ending with a bounty of ripe black fruit and chocolate. 93-96 Pts

11,597 Views

Tasted

Aug 31, 2009

2008
Clos du Marquis (St. Julien)

08 Clos du Marquis is 55% cabernet sauvignon, 41% merlot, 3% cabernet franc, and a dollop of petit verdot. It sees 25% new oak. Its nose is of smoky black fruit and spice. The wine finishes with soft, dark berry flavors. 90-92 Pts

5,947 Views

Tasted

Aug 31, 2009

2007
Château Léoville Las Cases (St. Julien)

If you are looking for a Leoville Las Cases that is developed and ready to go, this is a solid choice. Tobacco leaf, cedar, currants, and forest aromas bring you to a medium-bodied, fresh, bright, juicy, classicly built, red berry focused St. Julien. You can enjoy this now and over the next 5-8 years with ease.

4,043 Views

Tasted

Sep 8, 2021

The blackberries are ripe. There is some weight and richness, though there is a lack of complexity as most of what you find is sweet blackberries. The wine is a bit short in the fruity finish, which is accompanied by a distinctive green olive, herb, and leafy streak. For such a difficult vintage, this is a very strong effort.

5,002 Views

Tasted

Dec 8, 2019

Earthy in nature, it is easy to find the truffle, cigar box, tobacco, ash and wet earth, along with the juicy cassis. One of the deeper wines of the vintage, the wine ends with peppery, fresh cassis and sandy tannins. This could improve for a few years, but it is drinking quite well today. The wine was made blending 82% Cabernet Sauvignon, 10% Cabernet Franc and 8% Petit Verdot.

5,337 Views

Tasted

Jul 12, 2017

2007
Clos du Marquis (St. Julien)

Fully developed, with a strong truffle and tobacco essence, the wines shows its red fruit character nicely. This is drinking at peak today. If you have a bottle, pull a cork, as it is not going to get better. The wine was made blending 58% Cabernet Sauvignon, 35% Merlot, 5% Cabernet Franc and 2% Petit Verdot.

4,019 Views

Tasted

Jul 12, 2017

2006
Château Léoville Las Cases (St. Julien)

Powerful, mouth filling, tannic and concentrated, most of this wine is being held back in reserve, waiting for the day when the tannins are resolved, the secondary notes can jump to the forefront and the wine softens its muscular style. There is no denying its quality, but it's equally hard to deny its drinkability at 10 years of age. There is a good sense of purity of fruit that really stays with you behind the massive wall of creamy tannins. But its going to take at least a decade, and probably longer to breach that wall.

6,200 Views

Tasted

May 25, 2016

The blend of 85% Cabernet Sauvignon, 14.5% Merlot and the rest made from Cabernet Franc creates a deep colored wine. With extended coaxing, cedar, lead pencil, cassis, tobacco and forest floor aromas come alive. Powerful, tannic, concentrated and backwards, this lassic and classy Bordeaux demands another decade or longer before it's civilized. This is best purchased or cellared by very patient Leoville Las Cases fans.

11,858 Views

Tasted

Feb 22, 2012

2006
Clos du Marquis (St. Julien)

Showing secondary notes of olive tapenade, cedar, cigar wrapper and juicy cassis, while firm in character, the wine can be enjoyed today with an hour or two of decanting.

4,850 Views

Tasted

May 25, 2016

2005
Château Léoville Las Cases (St. Julien)

This is a super wine, that in time, should go up in score. But patience is needed here. Decanted 4 hours, that was not enough to tame the strict tannins. Still, it was impossible not to enjoy the perfectly ripe, regal, red and black fruits, intensity, length and concentration found here. This is was the older British writers called good breed. I get their point, even if the term is archaic. All that being said, perhaps, this will be ready between 2025-2030 for the start of its long, 100 year life.

10,364 Views

Tasted

Jan 20, 2018

Deep ruby in color, with just a bit of lightening on the color, the wine is big, powerful and concentrated. Everything is balance. The ample level of tannins are ripe, the fruit is fresh. The fruit really lingers on your palate, leaving you with a finish that remains for 50 seconds or more that sings with fresh, ripe cassis and spicy blackberries. This needs at least another decade, or more in the cellar. But even now, it's easy to see the high level of quality in the wine here.

8,388 Views

Tasted

Jun 28, 2015

At close to 8 years of age, this looks and feels like an infant. And for Leoville Las Cases it is. Tobacco, cassis, forest floor, blackberry, coffee and earthy aromas open to a powerful, full bodied, tannic wine with polished tannins and a long, sweet, fresh, mouth filling finish with a beautiful, purity of fruit essence. Give it at least a decade before popping a bottle. I would think the score should improve with time. Experienced tasters know, Leoville Las Cases demands more time than most wines to come around.

15,201 Views

Tasted

Nov 20, 2012

2005
Clos du Marquis (St. Julien)

Definitely fading, the wine is fine, correct and with bright red fruits, herbs, earth and tobacco essences, but the depth of flavor and length no longer remains. If you are sitting on any, it is time to pop those corks as it is not going to improve from here.

3,991 Views

Tasted

Jun 22, 2020

Forest floor and cedar chest notes are easy to find. On the palate, a generous dose of ripe cassis and black cherries is young, yet approachable, due to the high quality of the tannins.

7,427 Views

Tasted

Jun 28, 2015

Dark in color, tobacco, truffle, blackberry, cassis, oak and black cherry scents lead to a full bodied, concentrated wine that in any blind tasting would crush several famous Classified Bordeaux wines. Powerful, rich and intense, this round textured wine fills your mouth with layers if sweet, ripe, juicy, Cabernet Sauvignon. Give it a few more years (as it's still tight at the moment) and start drinking it in 2015 and over the 10-15 years.

10,067 Views

Tasted

Oct 17, 2011

2004
Château Léoville Las Cases (St. Julien)

A bit stoic, the wine is an old-school, classic, firm Claret with a distinctive green, peppery edge to the bright, crunchy, red currants and cranberry fruits on the nose and palate. Definitely not generous, this is better suited for consumers that are not fans of riper vintages.

4,079 Views

Tasted

Sep 12, 2021

Still showing nice depth of color, with wet earth, ocean, truffle, blackberry and campfire embers are found with only a little effort. The tannins have softened, leaving you with a classically styled, mouthful of black cherry liqueur and fennel that shifts from black fruit to red fruit and back to black again. Drink now, or age it 5-8 years for more softness and complexity. Due to the vintage, this is probably well priced in the marketplace today.

6,143 Views

Tasted

Jan 4, 2015

Classic is good sense, with its structure, tannin and wealth of dark fruit, earth, stone, cedar and cassis. Powerful, fresh and backward, at least 5 more years should add more complexity and soften the wine's texture.

7,282 Views

Tasted

Jul 27, 2013

2004
Clos du Marquis (St. Julien)

Cedar wood, earth, tobacco and some cassis are found in this developed perfume. On the palate, the wine serves up soft and cassis and black cherry notes. This is drinking in the sweet spot today. It might improve, but it's not a wine to age for decades, I'd opt to start drinking it now.

3,581 Views

Tasted

Jan 4, 2015

2003
Château Léoville Las Cases (St. Julien)

Showing no signs of heat or overripeness, the wine offers a spicy dark berry, cigar wrapper, wet earth, forest leaf and mint-packed nose. On the palate the wine is round, full-bodied, ripe, and fleshy, but not at all over the top or overripe. The finish remains on the sweet, but fresh fruit side with ample red and black fruits and dusty tannins in the finish. My instincts are to enjoy this now and over the next 12-15 years. The wine blends 70% Cabernet Sauvignon, 17% Merlot qnd 13% Cabernet Franc, 13.15% ABV. Picking is one of the estates earliest harvest periods, September 11-26.

5,590 Views

Tasted

Apr 8, 2021

This is really quite nice, even charming. With 30 minutes of air, blackberry, cassis, smoke, flowers and thyme were easy to find. The wine has softened, taking on a refined quality, with an easy to like, medium/full-bodied, dark red berry and earthy finish. There is no touch of heat or jam here. The effect here is the early maturing quality and soft tannins. This is one of the best values for LLC in the marketplace today.

6,412 Views

Tasted

Feb 28, 2020

Here, the normally reserved, tannic, long aging wine is open. The wealth of ripe, fresh, and never hot or jammy deep fruits offers volume, length and character. Just starting to pop, you can expect even more secondary development over the next several years.

5,023 Views

Tasted

Oct 24, 2018

Ruby in color with lightening at the edges, a mature nose of smoke, truffle, herbs and roasted blackberries open to a rapidly developing vintage of Leoville Las Cases. There is a roasted, herb quality to the dark, red fruits. Coupled with soft, opulent textures displaying the patina of age, you end up with an enjoyable to drink today, and over the next 5-10 years. However, this is not a wine to lay down for decades.

7,025 Views

Tasted

Dec 18, 2013

Slightly disappointing, there was a rusticity in the tannins that left a dry sensation. The aromatics were enticing with their rich, licorice, cassis, tobacco and earthy profile. Perhaps it's just the stage of development the wine is going through. Another 5 years might help. But I have my doubts. Served blind, I guessed 2000 Left Bank Bordeaux of a much lower Growth level. I was surprised to find this was 2003 Leoville Las Cases.

10,014 Views

Tasted

Sep 5, 2012

From one of the lowest yields ever recorded at Leoville Las Cases, 21.2 hectoliters per hectare, this assemblage of 70.2% Cabernet Sauvignon, 17.2% Merlot, and 12.6% Cabernet Franc produced a St. Julien wine with a complex perfume filled with fresh roasted coffee beans, creme de cassis, black cherries, minerals, spice, floral, cigar box and earthy scents. Fleshy, round and rich, but lacking the power and concentration found in the best vintages. This wine offers a lot of charm, ending with a plush, ripe, black raspberry, spice and mocha finsh.

11,717 Views

Tasted

Oct 17, 2011

2003
Clos du Marquis (St. Julien)

Earth, cigar box, roasted berries, fennel, smoke and mushroom scents create the perfume. The wine is developed and does not require additional aging. Medium/full bodied and polished in texture, the wine ends with sweet cherries.

4,922 Views

Tasted

Dec 18, 2013

2002
Château Léoville Las Cases (St. Julien)

Lean, classic-styled wine with an austere, firm personality. There is ample fruit but the tannins are rustic and the finish, while loaded with cassis is on the stern side. If you are seeking more of an old-school leaning styled Bordeaux, this is a good wine for you.

5,271 Views

Tasted

Aug 19, 2021

From a blend of 66.7% Cabernet Sauvignon, 14.5% Merlot, 13.9% Cabernet Franc and 4.5 Petit Verdot, this still youthful, tannic wine is full bodied, concentrated and powerful. Lots of black fruits, earth, forest floor and tobacco here, with a long, deep, fruit filled finish. Give it a few more years.

6,485 Views

Tasted

Jul 27, 2013

2001
Château Léoville Las Cases (St. Julien)

Moving to the herbal, mint, and spearmint side, with plenty of leafy tobacco and bright red fruits. The fruits and crisp and fresh, but lack the power, and depth found in the better vintages. Drink from 2023-2035.

1,989 Views

Tasted

Aug 4, 2023

I really like this style as it off great LLC character in a forward style. Tobacco, mocha, blackberries, cassis, cigar wrapper and wet forest aromas open the nos. Medium/full-bodied, regal, yet elegant, soft, and structured, the wine is juicy, fresh, vibrant and leaves you with a refined version of classic Bordeaux. This is drinking just great today. There is a beautiful sweetness and lift in the finish. This is a better version of the 1985. The wine blends 69% Cabernet Sauvignon 19% Merlot and 12% Cabernet Franc. 13% ABV,

5,141 Views

Tasted

Apr 8, 2021

From an assemblage of 69% Cabernet Sauvignon, 19.5% Merlot and 9.5 Cabernet Franc, this classic St. Julien wine is already approachable. Fresh earth, black cherry, cassis, smoke, stone, tobacco leaf and lead pencil scents produce a complex perfume. Soft in texture, but not showing the levels of concentration found in more exalted vintages, at ten years of age, the wine is starting to offer pleasure. Give it 3-4 more years and it should deliver additional complexity.

12,857 Views

Tasted

Dec 16, 2011

2000
Château Léoville Las Cases (St. Julien)

Concentrated, deep, full-bodied, regal, and complex, the wine retains its youthful edge, but there is light at the end of the tunnel. Slowly, but surely, the tannins are beginning to subside, and you also find more secondary nuances of tobacco leaf, tar, smoke, wet forest, and spice. The finish is long and expansive. 1 hour in the decanter adds a lot to the wine. Drink from 2025-2065.

5,302 Views

Tasted

Dec 24, 2022

Stubbornly hanging on to its adolescence, the wine is firm, fresh, bright, chewy, and full-bodied. Still tight, yet, there is no denying the potential here, with its layers of spicy red currants, cedar, tobacco, cigar box, and earth. It is probably going to take until 2030 for this to be civilized. At that point, my score could look conservative.

7,775 Views

Tasted

Nov 10, 2021

This could be one of the few great vintages of Leoville Las Cases that drinks well young. It's already starting to offer up blackberry, cassis, earth and tobacco notes. The wine is deep, complex, classy and classic. Tasted blind, it showed great. With a few more years, it will be even better!

14,247 Views

Tasted

Sep 11, 2013

Cedar wood, gravel, cassis, licorice, cocoa, tobacco, blackberry and smoke aromatics lead to a big, dense, masculine, powerful, tannic, pure expression of Cabernet Sauvignon. Still tight, tannic and compacted, it demands at least another decade of sleep.

17,709 Views

Tasted

Mar 13, 2012

This kicks into high gear with a perfume of truffle, smoke, tobacco, cassis, spice and blackberry. This very concentrated, dense, full bodied wine is still tannic and demands another 10-15 years before opening up.

19,573 Views

Tasted

Mar 5, 2010

1999
Château Léoville Las Cases (St. Julien)

One of the few vintages of Leoville Las Cases that drinks well young, this medium bodied, bright, cranberry, cassis, earth and tobacco scented wine is on the lean, tannic side of the style range.

6,163 Views

Tasted

May 3, 2012

1998
Château Léoville Las Cases (St. Julien)

This is developed well over the wines, putting on more weight and complexity. Now, you find a ready-to-go Las Cases delivering a complex set of aromatics; black and red currants, smoke, cigar box, wet earth, cedar, and tobacco. The wine is full, firm, stoic and also fresh. Classic in style, the finish is all about its freshness and lifted characteristics that come along with its chewy, bright, red, spicy fruits. An hour or 2 of air will help. The wine blends 76% Cabernet Sauvignon, 15% Merlot and 9% Cabernet Franc, 12.9% ABV.

4,312 Views

Tasted

Apr 8, 2021

Bright, cranberry and cassis fruits are in abundance. There is a tart quality to the fruit that is exacerbated by a touch of green flavors. The tannins are noticeable. The wine is beefy, fresh and masculine in nature. Clearly, there is a lot of raw material in this wine. But it's not charming and lacks elegance. Perhaps time will be generous with this wine. It cannot hurt. But I would not bet the ranch on it. Fans of what's considered traditional, old school, tannic Bordeaux wine will like this a lot more than I did.

19,570 Views

Tasted

Feb 22, 2013

1996
Château Léoville Las Cases (St. Julien)

If you are seeking a vintage of Leoville Las Cases for current consumption, look no further. Full-bodied, concentrated, long, deep, and intense, the tannins are firm but soft, the fruit is perfectly ripe, and close to seamless finish must last at least 50 seconds or more. An hour in the decanter, or perhaps up to 2 hours kicks this stunner into high gear.

5,293 Views

Tasted

Nov 10, 2021

If you have 4 hours of decanting time available, this is a stunning bottle of LLC. It's rich, concentrated, mouth filling, long, intense and packed with character. The wine is powerful, yet not over overwhelming. The fruit is ripe, and tannins and polished, but firm. This finish must last close to 50 seconds. With another decade, this could easily hit 100 Pts.

18,242 Views

Tasted

Jan 25, 2018

First Growth in quality is the first and most accurate descriptor that comes to mind. Power, precision, finesse, purity of fruit, coupled with a regal quality to the tannins, textures and fruit are what you'll find. Concentrated, but not the least bit heavy, this is a stunner. Perhaps the wine was decanted about 20 minutes before serving. This is just sublime! If you want to experience Leoville Las Cases at its best, this is the vintage to open today.

20,758 Views

Tasted

Jul 17, 2017

God, this is off the hook! Popped and poured, which you would think is a crime against wine, I was shocked at how fabulous this was to taste. Intensity and concentration, with a depth of flavor miles long, the level of tannin is high, but the tannins are refined, ripe, and long. The wine is fresh, balanced and really coats your taste buds. You can pop a cork today and enjoy the ride, 2 hours of air is suggested. or, wait another decade. Either way, you'll enjoy this stunner. A great vintage of Leoville Las Cases that will mature in my lifetime, who would have thunk it? If y want to know what Leoville Las Cases is all about, this could be the vintage to buy.

18,234 Views

Tasted

Apr 30, 2017

Severe, tannic, stoic, masculine, deep, concentated, backward and young, this bottle was tight, even after 3 hours of decanting. Other bottles have given up more of their charms. Clearly, this is a great wine. It has the structure, fruit, balance and depth needed to age and develop. However, it also needs time, perhaps 10-15 more years.

20,796 Views

Tasted

Nov 22, 2014

Served blind, clearly this was a great Bordeaux from the Medoc. On the nose, tobacco, earth, cassis, wood and forest floor, on the palate, the wine was full bodied, concentrated and refined. However, this bottle was more advanced than other recently tasted examples. It was more open, less tannic and showed slightly more red fruits and signs of maturity than it should have. That being said, 1996 is one of the top vintages of Leoville Las Cases. It's a better wine than the much more expensive 1982.

21,946 Views

Tasted

Nov 14, 2013

This massive Leoville Las Cases was so powerful, tannic, structured, and young, served double blind, I was sure it was a 2005 Pauillac. Packed with layers of fruit, there is so much tannin, it was not much fun to drink, even after the wine had been decanted for several hours. This is a stunning wine, but it demands at least 10-15 more years before it comes together and softens.

23,718 Views

Tasted

May 18, 2012

Served double blind, my first introduction to the wine was the strong perfume that was filled with crushed stone, tobacco, cassis, smoke, earth and blackberry. Powerful, intense, full bodied, tannic and deep, this Bordeaux wine combined concentration and finesse for a wine of First Growth quality. While the wine had ample stuffing and structure to age for generations, the tannins were so ripe and round, this was already approachable. Classy and stylish, with a long, pure, cassis filled finish, this is now my favorite vintage of Leoville Las Cases.

26,739 Views

Tasted

Jun 4, 2011

1995
Château Léoville Las Cases (St. Julien)

Showing much better than expected, with time, the wine has fleshed out and softened with layers of ripe, juicy, black, and dark red fruits, spice, cigar wrapper, and black cherries. The wine is full-bodied, deep, long, chewy, and powerful, with layers of dark red fruits and ripe tannins in the dense finish. Drink from 2023-2050.

1,986 Views

Tasted

Aug 4, 2023

A clear winner in this mixed vintage, the wine is concentrated, deep and fresh, with a ripe, blackberry essence. Full bodied and long, the wine is young, yet, with the ripeness in the tannins and the fruit, it's already enjoyable in your glass. In time, another 10 years or so, this will be even better!

7,482 Views

Tasted

Jul 27, 2015

Not the tannic beast i was expecting. There is a nice sense of purity in the cassis core of fruit. Full bodied and concentrated, the tannins leave a refined, but dusty impression. Another 5 years will make this an even better tasting experience.

6,867 Views

Tasted

Nov 29, 2014

More open and softer in texture than expected, the wine offered scents of sweet, ripe black fruit, cassis, cigar tobacco, earth, stone, black raspberry and spice aromatics. Combining power with grace, round tannins, and ripe fruit, while still young, this Bordeaux wine will be approachable early for a young vintage of Leoville Las Cases.

12,922 Views

Tasted

Jul 16, 2011

1994
Château Léoville Las Cases (St. Julien)

Firm, or perhaps austere is a better term for its character, there is fruit, but the wine is better on the nose, with its tobacco, earth, cedar, cassis, herbs and blackberry scents, than on the palate with its drying tannins. This is very classic in style and will appeal more to tasters convinced that Robert Parker ruined the Bordeaux of their youth. Drink now, or age it further, but you should not expect this to get better with more age.

4,527 Views

Tasted

Aug 3, 2014

1990
Château Léoville Las Cases (St. Julien)

The 90 Leoville Las Cases is what great Bordeaux is all about. The wine is full-bodied, rich, deep and intense. Power with elegance, refined and fresh the tannins are perfectly ripe, backing up all the equally perfectly ripe, dark red currants, cigar box, tobacco leaf, cedar, forest leaf and spice. The wine fills your palate and sticks with you in the finish. It took 32 years to get here and will offer fabulous drinking for at least the next two decades with ease.

4,700 Views

Tasted

Jan 12, 2022

At 31 years of age, this is First Growth in quality. This majestic Left Banker offers up tobacco leaf, cigar box, cedar, forest floor, cassis and blackberry aromas. Concentrated, full-bodied and with an incredible sense of richness, depth of flavor and structure, the wine fills your palate with layers of perfectly ripe, earthy red fruits. At the most, 60 minutes in the decanter is all that's needed.

5,215 Views

Tasted

May 30, 2021

What a fabulous, maturing wine this continues to be. Full-bodied, intense, classic in all the best ways, with a boatload of black currants, cigar box, smoke, tobacco ash, rocks, forest floor, cedar and old wood, this smells great. On the palate, the wine really takes off. Layers of ripe, sweet, delicious fruits with present, but ripe tannins, a good backbone and the ability to age for at least another 3 decades or more.

4,559 Views

Tasted

Aug 24, 2020

This is what great, classic Bordeaux is all about! Perfectly balanced between regal and stern, the tannins are refined, the fruit is ripe and pure. Full-bodied, intense, concentrated and complex, every sniff and sip is interesting, making you want to delve deeper to the glass to find out what else is in there. This is just starting to unfurl. Drink it now, and over the next 20-25 years if well-stored.

5,779 Views

Tasted

Feb 15, 2020

Blown away by how good this wine is showing. Bought on release and stored in my nice cold cellar, it's been a few years since popping my last cork. Decanted 3 hours, this is a stunner. Powerful, concentrated and dense, the fruit is ripe, rich and deep. The wine really hits all the right spots and coats your palate, teeth and gums with flavor. There is freshness and layers of cassis, cigar box, tobacco and cedar. The tannins are powerful, but they are round, giving you structure and backbone, energy and length. The wine kept improving for another 3 hours. This is the vintage to buy, if you want to see what LLC offers with age. It's 27 years old, and this will be better in 5, 10 or may 20 more years. But it's a treat today, and well worth the cost for a wine at this level.

7,699 Views

Tasted

Aug 31, 2017

We're talking fabulous aromas of Cuban tobacco interspersed with cassis, chocolate, Allspice and coffee in this Bordeaux. This wine is huge. Stunningly concentrated. Meaty but refined. Powerful, muscular and flawlessly sophisticated. Still tannic, but the tannins are very elegant. This is First Growth in quality! Still young, well stored bottles will easily last for 50 years!

8,533 Views

Tasted

Feb 11, 2013

This is a perplexing wine. Some bottles are tight, holding its obvious charms in reserve. Other bottles are starting to open, becoming expressive. This particular bottle needed more time. Smoke, tobacco, cigar box, grave, cedar chest and cassis scents led to a full bodied, powerful, tannic wine that clearly has more to offer as it develops.

12,820 Views

Tasted

Jun 25, 2012

Decanted for 90 minutes, the wine offered scents of tobacco, cassis, truffle, black cherry, smoke, menthol, stone and leather. Full bodied and concentrated with ripe, pure, refined, Cabernet Sauvignon, this is really starting to open up. The long, pure, velvet in an iron glove finish leaves a lasting impression. Most of the tannin has melted away. While the wine should continue to improve, there is no reason to delay popping a bottle if you have more than a few in your cellar. I've tasted this wine a lot over the years. Some bottles have displayed a longer, deeper finish. This was a good, but probably not a perfect bottle. Such is life. I'm looking forward to the next one.

14,293 Views

Tasted

Nov 19, 2011

1990 Leoville Las Cases makes itself known with aromatics of Asian spice, earth, fresh blackberry, caramel, cigar box, tobacco and cassis. This powerful, full bodied, rich, intense wine is polished, sophisticated and intense. It fills your mouth with strong, ripe tannins and round textures. The long, pure, concentrated finish could be mistaken for a top First Growth from a great year. Still young, this can be enjoyed today, but it's only going to get better with time. This is probably my favorite vintage of Leovlle Las Cases at the moment.

13,627 Views

Tasted

Nov 3, 2010

With its olive, cassis, cedar and black fruit nose, smells young. The fruit is polished, ripe and pure. There is good intensity and purity to the flavor and the finish is polished

8,797 Views

Tasted

Jun 30, 2009

Smoky cassis, cigar ash, truffles, soil, licorice and a mélange of spice are all easy to find. Powerful, yet not demanding, this intense, regal, Cabernet wine is still tannin. But the ripeness of the tannins offers great textures. This structured, full-bodied wine ends with a juicy mouthful of ripe, dark berries, cassis, fennel and earthy flavors. Still young, this has 20-30 more years of life to enjoy.

8,831 Views

Tasted

Jun 28, 2009

Huge, massive wine features complex aromas of cassis, wet earth and black fruit. Huge, dense, plush mouth feel makes a seemingly endless finish. Perfect balance. This remains amazingly youthful.

8,356 Views

Tasted

Jun 15, 2005

1989
Château Léoville Las Cases (St. Julien)

Fully mature, medium bodied wine, blending classic character with elegance and austerity, the wine has a cassis, sweet and tart cherry, cedar, tobacco and hint of green in its character. The tannins are softened making the wine fun to drink, but the short finish and lack of depth stop the score from going higher.

5,995 Views

Tasted

Dec 31, 2016

1989 Leoville Las Cases offers tobacco, truffle, spice, red and black fruits and forest floor notes. Full bodied, and filled with cassis, the wine does not fully come together. The traditional finish ends with cassis and a slight hint of tart cherry. This will not improve.

12,985 Views

Tasted

Nov 3, 2010

This offers a complex nose of tobacco, truffle, spicy cassis, and cedar. Full bodied and mouth filling, this well balanced wine ends with spice filled blackberry and black cherry fruit and hints of chocolate.

7,895 Views

Tasted

Jun 19, 2009

1988
Château Léoville Las Cases (St. Julien)

Firm, classic, old-school styled wine with good concentration and a focus on its bright, crisp, herb and cedar accents. Better on the nose, with its peppery leaf, mint, cedar, tobacco and bright currant aromatics than on the crisp, sharp red berry and cranberry palate. The finish delivers a crunchy blast of red fruits, The wine is a blend of 65% Cabernet Sauvignon, 21% Merlot, 11% Cabernet Franc and 3% Petit Verdot. 12.75% ABV.

4,671 Views

Tasted

Apr 8, 2021

Ready to drink, for people that enjoy a certain firmness and austerity and acidic touch to the juicy cassis, tobacco and cedar filled, Left Bank wine.

3,997 Views

Tasted

Apr 16, 2016

1986
Château Léoville Las Cases (St. Julien)

Full-bodied, structured, burly, yet refined, there is good intensity and weight, along with an ever-present tannic spine that defines the character of the wine. This is quite classic in style. It is also as I mentioned still tannic, so either wait a decade, or allow it 2-3 hours of decanting.

4,862 Views

Tasted

Dec 10, 2021

One of the wines of the vintage, the wine is ready for drinking. That being said, regardless of how long you decant the wine. there is no avoiding the stern, hard nature of the vintage. Full-bodied, concentrated and with soaring aromatics, the wine offers up a chewy, intense, rough and ready blast of ripe cassis.

6,521 Views

Tasted

Feb 15, 2020

The moral of the story is... If you just wait 30 years for some wines to come around, they just might, which is exactly what happened with this beauty. Of course, in today's world, 30 years is an insane amount of time to wait for a wine. But in this case, the earthy, forest floor, tobacco, cedar chest and cassis nose puts your squarely in the Medoc. The tannins are starting to soften and the finish, with its sweet, cherries and spicy cassis is now a treat! This is good now, better in a few years and could be one of those legendary 100 year wines in the future.

7,330 Views

Tasted

Feb 10, 2015

With a blood red, ruby color, the wine looks regal, sitting in the glass. After two hours in the decanter, scents of sweet cassis, tobacco, smoke, caramel, wet earth, cherries and cedar chest emerge. Still tannic, the wine is regal, powerful, structured and masculine. There is a beautiful sense of purity and harmony to the cassis laden finish. After 5 hours, the wine softened and became more pleasurable and interesting to drink. Although, it retained a bit of firmness to its personality. This is one of the few wines that transcend the vintage. To get the most from this wine, if you have the patience, I'd give it more bottle age. It should start singing between 2016 and 2020. I said you'd need more patience! Imagine how original, futures purchasers feel...

7,901 Views

Tasted

Dec 30, 2012

The 86 could be my favorite Las Cases to drink today and that is with some tough competition with the 85, and 90!. At least this bottle was. Filled with cedar, cassis, earth and dark berries, this full bodied, concentrated wine fills palate with ripe fruit. Still tannic, but with round tannins that feel good, this wine will age better than most people reading this note.

11,945 Views

Tasted

Jun 24, 2010

1985
Château Léoville Las Cases (St. Julien)

One of the stars of the vintage, this is drinking perfectly today. Delivering its wealth of ripe, juicy, crisp, fresh red fruits in its stern, regal, refined, full-bodied character, 30 minutes in the decanter is all this beauty needs to start singing.

4,158 Views

Tasted

Feb 2, 2020

This has really come around and is showing all its fabulous charm. Concentrated, deep, fresh and juicy, with freshness, crisp, red fruits, tobacco, cedar and tobacco leaf, the fruit in the finish shows a freshness and purity that makes you want to keep drinking it. It took a while to come around but it was worth the wait. This could be the best LLC for current drinking today.

4,872 Views

Tasted

Mar 17, 2017

Leoville Las Cases that is still young at close to 30 years of age is not all that surprising. But this is from an early drinking vintage! With an hour of air, the wine started singing its song of tobacco, cigar box, cassis and truffle. Concentrated, fresh and long, this traditional wine has another two decades of life, or more. This is the longest lived wine of the vintage.

5,581 Views

Tasted

Jan 23, 2014

This is the best example of this famed chateau for current drinking. Filled with ripe cassis,tobacco, earth and spicy aromatics, coupled with concentration of fruit and elegant tannins, this shows great today. With ample tannin and structure to age, this will only get better. The long, powerful, cassis filled finish lasts close to 40 seconds.

7,530 Views

Tasted

Jun 9, 2012

Earth, truffle, spice, stone, cassis, black cherry, tobacco, mineral, smoke and blackberry scents pop the moment the wine hits your glass. Full bodied and concentrated, the wine combines power with elegance, which is a difficult combination to find. The wine finishes with a long, cassis, spice, smoke and dark cherry sensation. This is probably at, or close to full maturity. There is no reason to hold this Bordeaux wine any longer.

9,335 Views

Tasted

Sep 10, 2011

1983
Château Léoville Las Cases (St. Julien)

Firm, austere, classic style of St. Julien here. The nose is packed with cedar, tobacco, cigar box, ash, wet, forest floor and bright red berries. Medium/full bodied, with a rusticity to the tannins that was common in that era. Still, this is fun to taste, when you're in the mood for the equivalent of an old, black and white, movie style of Bordeaux.

7,383 Views

Tasted

Apr 26, 2017

1982
Château Léoville Las Cases (St. Julien)

It took decades to come around, but today, the wine is a pleasure and a thrill to taste. Elegant, classic, full-bodied, vibrant, and concentrated, the wine displays its black currants, forest floor, cedar wood, lead pencil, and spice nuances with a minimum of coaxing. Long and intense with lift, and fullness on the palate, a bit of air before service helps. Drink from 2022-2040.

4,172 Views

Tasted

Oct 12, 2022

This wine has required a lot of patience from consumers. 36 years to be exact. However, this was worth the wait. The wine has softened, filled out and opened up. With a short decant, the cedar, tobacco and blackberry were accompanied by cigar box aromatics. Full-bodied, concentrated and complex, the wine is regal, a little bit firm and incredibly long and mouth-filling. If you have been waiting for the wine to mature, this is ready for consumption.

6,226 Views

Tasted

Nov 24, 2018

One of the best showings yet for this long, aging wine. It only took 35 years to come around and begin to open. Worth the way? Maybe. It depends on how much you like sweet, fresh, pure, red fruits and cassis blended with tobacco, cedar, forest floor and earthy nuances. Full bodied, crisp, fresh and strict, but also regal in its bearings, this is a stunner.

6,984 Views

Tasted

May 17, 2017

It took more than 30 years, but this wine continues coming around and improving. It can offer great drinking. That is, if you like a powerful, concentrated, masculine and full bodied wine with depth, tannin, crunchy, crisp cassis and an earthy, tobacco and cedar chest nose that can be summed up as a perfect example of what great, classic Bordeaux is all about.

7,904 Views

Tasted

Jan 14, 2016

It took more than 30 years to come around, or should I say to start coming around, as clearly there is a lot still being held in reserve. But there is more tan enough earthy, tobacco, cedar and cassis to get your engines running. Long, regal, structured and crisp, I'm sure this will be even better when it hits 50 years of age. This is old school, classic Bordeaux at its best.

8,234 Views

Tasted

Oct 20, 2014

1982 Leoville Las Cases does not resemble a 30 year old Bordeaux wine in the color, bouquet or maturity level. It's also probably the least consistent wine of the vintage. In the worst cases, the wine remains stubbornly tannic and displays a slight austere character. The best examples offer aromatics packed with earth, cassis, tobacco, cedar and cigar ash. Fortunately, this bottle was one of the better examples! Big, powerful and full bodied, the wine is packed with layers of ripe, earthy blackberries and cassis. Depending on the provenance, this wine has the structure and stuffing to continue to age and develop.

9,573 Views

Tasted

Jun 18, 2013

Tobacco, smoke, cedar, cassis, earth and barnyard aromas signified a wine that should taste more developed than it is. At 30 years of age, 1982 Leoville Las Cases demands several more years for the tannins to become resolved and for the wine to fully open. The structure and raw materials are there, along with ripe fruit, the only thing missing is more patience. I'm willing to give it another 5 more years.

12,142 Views

Tasted

Mar 18, 2012

Dark ruby in color, potent tobacco, forest floor, 5 spice, cassis, smoke and truffle scents open to a full bodied, concentrated, tannic wine that at close to 30 years of age is starting to open up. The wine ends with a long, powerful cassis and blackberry filled finish. Give it another 5 years to develop.

12,687 Views

Tasted

May 15, 2011

1982 Leoville Las Cases needs coaxing to bring out the earthy, cassis, spice, truffle and forest floor aromatics. This full bodied, stern wine demands at least another decade to hit maturity. Masculine and brawny in style, this old school Bordeaux wine ends with sensations of cassis, cranberry and strawberry. 94 Pts

12,190 Views

Tasted

Dec 12, 2010

1982 Leoville Las Cases is all about the aromatics. Underbrush, truffle, forest floor, tobacco, charcoal and cassis. Tannic and powerful, but lacking the finesse and grace, as well as the level of ripeness in the tannins that the 1990 shows. The wine ends in a long, black cherry, spice and cassis filled finish. 95 Pts

12,200 Views

Tasted

Nov 3, 2010

This wine continues to baffle me with its stubborn refusal to open up and Bob's 100 Pt score. Black fruit, cedar, earth, truffle and oak make up the perfume. There is a lot of concentration in this full bodied wine. But everything does not come fully together.

9,872 Views

Tasted

Jun 30, 2009

Deep, dark, dense but with an austere side. This is a serious wine with a lot of complexity, but, it could use a bit more charm. With additional bottle age, this will improve.

7,298 Views

Tasted

Nov 15, 2007

Concentrated with cassis accented, black fruit, truffles, tobacco and earth, this huge wine has a lot to like about it. But it's still young and requires another decade or more before sharing all its charms.

7,337 Views

Tasted

Jul 5, 2006

Sporting dark, purple color and a perfume of cassis, black fruit, coffee and plums. Amazing mouth presence! Thick, dense and extremely concentrated with all the right stuff. The flavors attack every nook and cranny of your palate.

7,451 Views

Tasted

Feb 17, 2005

Cassis, ripe black fruit, anise, smoke and forest aromatics could be found with swirling. Still young, primary and tight. This is aging very slowly. Full bodied, concentrated and tannic, this wine should flesh out and come together someday.

7,463 Views

Tasted

Jan 10, 2005

Very dark purple color. Aromatics include cassis, licorice, black fruits and spices. This wine is very dense and concentrated. But will it ever mature? The 82 Las Cases demands at least another decade in the bottle.

7,485 Views

Tasted

Dec 25, 2003

1979
Château Léoville Las Cases (St. Julien)

Medium-bodied, bright, crisp red fruits are at the core of the wine. On the secondary side, the tobacco, forest leaf, earth, peppery spice and herbs add color the piquant red berry notes. Frim and crisp, with a sharp cherry/cranberry, spice and tobacco note in the finish, the wine reqires drinking.

4,891 Views

Tasted

Nov 22, 2018

1978
Château Léoville Las Cases (St. Julien)

Fully mature, this excellent example of classic Bordeaux is bit on the rustic side. Still, there is more than enough to keep you busy here. The tobacco dusted, red fruit offers additional notes of cigar leaf, forest floor, pepper and green leafy scents. There is a stern side to the tannins, that with air, softens, leaving with a bite of crisp, juicy, Cabernet Sauvignon with just a hint of cranberry in the finish. There is no reason not to be pulling a cork on this wine.

4,915 Views

Tasted

Nov 12, 2018

1976
Château Léoville Las Cases (St. Julien)

Firm, strict and stoic in its character, the wine is medium bodied and shows more cedar, tobacco, smoke, earth and cigar box notes than fruit. The wine is starting to dry out. Drink up.

5,764 Views

Tasted

Apr 16, 2016

1975
Château Léoville Las Cases (St. Julien)

This reminded me why I do not own much 75 Bordeaux. Charmless, austere and lean

5,765 Views

Tasted

Jun 27, 2009

1966
Château Léoville Las Cases (St. Julien)

Best showing of this yet, from wines all from the same case. Rustic, yet charming in an old school way. More tobacco, green leaf, cedar chest, lead pencil, green pepper and wet earth than fruit. But there were elements of cherry able to poke through. Strict on the palate, the wine ended with earthy, red fruits and hints of green olive. Popped and poured, the wine improved in the glass, just a bit. Yes, this was how they made most Bordeaux in those days. Still, it was a nice blast from the past and it was fun to share this birth-year bottle with a friend who had just hit 50, last year.

6,307 Views

Tasted

Jun 2, 2017

Very light in color, this was all about the nose. Smoke, tobacco, gravel, spice, earth, cigar and ash. This was not as good as the bottle. I'd avoid buying this in the marketplace for too much money and will drink up my remaining bottles over the next year or two.

5,322 Views

Tasted

Dec 7, 2012

Ruby with amber in the color, the wine looked even older than its 45 years of age. The nose offered tobacco, earth, forest floor, smoke, cigar box, coffee and hints of cherries. Soft, light and without much backbone, this luncheon styled Claret ended with end a light, cassis and cherry note. This was a fine aged Bordeaux, without fault. It was the perfect lunch wine. This was a correct bottle. It came from the cellars of the original buyer who purchased it on release. This was popped and poured. It did not degrade in the glass for the the first hour, but it never improved. If you have a bottle, do not decant, there is not enough stuffing to handle the air.

5,306 Views

Tasted

Aug 6, 2011

1961
Château Léoville Las Cases (St. Julien)

On the classic, firm, restrained side of the style range, the wine is better on the tobacco, cigar box, cedar, lead pencil and bright-red, spicy nose than on the medium-bodied, cranberry and cherry, earthy, leafy, palate. This is not a wine to hold for more development.

2,641 Views

Tasted

Apr 6, 2022

Slightly rustic with cassis, cherry notes, ash and truffle scents, the short finish displayed some tart red flavors. Better on the nost than palate, this was nothing I'd want to buy, but I was happy to taste it.

4,915 Views

Tasted

Feb 26, 2008

With a brick like color and a beautiful, complex, earthy, spice filled aromatic profile made a nice opening gambit. On the palate the wine displayed a medium body of cherry fruit. Fully mature, this wine will probably drop fruit as it continues to age.

4,459 Views

Tasted

Dec 22, 2005

1957
Château Léoville Las Cases (St. Julien)

Murky tea colored, with little discernable fruit, this bright wine offered orange, spice, smoke and red fruits. This requires drinking.

6,875 Views

Tasted

Nov 6, 2011

Light ruby in color, the wines profile was high in acid, giving the cassis, spice, truffle and cranberry scented wine lift. Medium bodied and not complex, it was interesting drinking this at 50 years of age.

6,421 Views

Tasted

Dec 1, 2007

1949
Château Léoville Las Cases (St. Julien)

When mature Bordeaux gets old, it exchanges most of its fruit for secondary aromas with truffle, forest floor, earth, cigar smoke, cedar chest and often leaves just a hint of red cherries. That is exactly what happened to this, older wine. Medium bodied and marked by high acidity, well stored bottles could last, but it is not going to improve.

3,851 Views

Tasted

May 21, 2013

1926
Château Léoville Las Cases (St. Julien)

With a strict, powerful austere, concentrated character, served double blind, I was shocked to discover this was 90 years old! It tasted decades younger! There was fruit, albeit, the berries was hidden under the tannins, rocks, stones and cigar boxes.

2,143 Views

Tasted

Apr 16, 2016