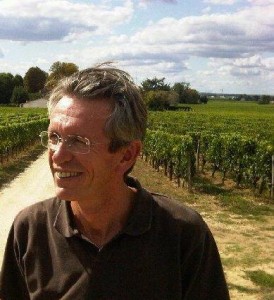 Learn everything about Chateau Fonroque St. Emilion with wine tasting notes, wine, and food pairing tips, best vintages, a history of the property, and information on the vineyards and winemaking. If you want to read about other important, Bordeaux Chateaux: Links to all Bordeaux Wine Producer Profiles
Chateau Fonroque History, Overview
Chateau Fonroque was purchased by the Moueix family in 1931. Jean Moueix liked the Bordeaux wine property so much, he lived at the estate. After his death Fonroque was run by the son Jean-Antoine Moueix. Eventually, the property joined several other Right Bank wineries and came to be managed by Ets. Jean-Pierre Moueix. This happened in 1979.
In 2001, Alain Moueix took charge of the vineyard. Alain Moueix also manages the Pomerol estate, Château Mazeyres. Along with the Pomerol estate, Alain Moueix also used to own Chateau Moulin du Cadet.
Things changed at Chateau Fonroque once Alain Moueix took charge. Alain Moueix shared ownership of the vineyards with Claude Curant and Jeanne-Andre Curat, his aunt and uncle.
More importantly, he was responsible for instigating a new method of farming. In 2002, the Saint Emilion estate began experimenting with biodynamic farming techniques on select parcels in their vineyards. Chateau Fonroque was clearly one of the first estates in the entire Bordeaux region to begin using organic farming methods.
In 2005, Alain Moueix and Chateau Fonroque became early members of the Syndicat de Vignerons en Biodynamie. By 2005, the estate became one of the first vineyards in Bordeaux to embrace using biodynamic farming techniques.
This earned Fonroque their certificate of Biodyvin from Ecocerts. Chateau Fonroque was also awarded the right to state they were certified organic on their labels.
Starting with the 2008 Bordeaux harvest, Chateau Fonroque shifted to 100% biodynamic viticulture practices for their vineyard management techniques. In August 2017, Chateau Fonroque changed hands when it was sold to Hubert Guillard.
Hubert Guillard earned his fortune with an insurance company he founded, CHG Participation. The new owners have plans to update the chateau and the wine cellars with a complete renovation and modernization of the estate. The cellars are now entirely gravity fed into a range of smaller vats sized which allow for a parcel by parcel vinification.
Chateau Fonroque Vineyards, Terroir, Grapes, Winemaking
The 20-hectare vineyard of Fonroque is planted to 80% Merlot and 20% Cabernet Franc. The vineyard is in 1 large block, which is not common with a vineyard of this size in the Right Bank. The vineyard is divided into 30 separate parcels, with the majority of vines being planted close to the chateau. The terroir is clay, limestone, and sand soils. You find more limestone at the peak elevations here, as you might expect.
Prior to the era of Alain Moueix, the estate had a much higher percentage of Cabernet Franc in the vineyards. But over the years, they have added more Merlot vines and reduced the amount of Cabernet Franc in the vineyards. On average the vines are maintained at 30 years of age.
Vinification for Chateau Fonroque takes place in traditional, temperature-controlled, cement vats. The wines are aged in a combination of 40% new French oak and 40% one-year-old, French oak barrels. The other 20% of the wine is aged in vat for 14 to 18 months before bottling.
The best vintages of Chateau Fonroque are: 2022, 2021, 2020, 2019, 2018, 2017, 2016, 2015, 2014, 2010, 2009 and 2005.
On average the production is close to 7,500 cases of Chateau Fonroque per year. There is a second wine, Chateau Cartier.
When to Drink Chateau Fonroque, Anticipated Maturity, Decanting Time
Chateau Fonroque is better with at least 4-5 years of bottle age. Of course, that can vary slightly, depending on the vintage. Chateau Fonroque is best enjoyed in the first 5-18 years of life.
Young vintages can be decanted for about 1 hour or so. This allows the wine to soften and open its perfume. Older vintages might need very little decanting, just enough to remove the sediment.
Serving Chateau Fonroque with Wine and Food Pairings
Chateau Fonroque is best served at 15.5 degrees Celsius, 60 degrees Fahrenheit. The cool, almost cellar temperature gives the wine more freshness and lift.
Chateau Fonroque is best paired with all types of classic meat dishes, veal, pork, beef, lamb, duck, game, roast chicken, roasted, braised, and grilled dishes. Chateau Fonroque is also good when matched with Asian dishes, rich fish courses like tuna, mushrooms, and pasta.
 
www.chateaufonroque.com
Château Fonroque Wine Tasting Notes
16 Vintages 63,461 Views Sort by Vintage-Rating
2022
Château Fonroque (St. Émilion Grand Cru)

Flowers, and spice grab your attention before you find the fresh, finesse styled, crisp red berries on the palate, with their purity, vibrancy and softness in their texture. The only drawback here is its lack of length. Perhaps with a bit of aging, the wine will gain more on the backend. Drink from 2025-2037. 90-92 Pts.

1,400 Views

Tasted

May 8, 2023

2021
Château Fonroque (St. Émilion Grand Cru)

Finesse styled, medium-bodied, bright, crisp red berry oriented wine with sweetness and purity to the red fruits, as well as softness in its texture. The only drawback here is its lack of length. Perhaps with a bit of aging, the wine will gain more on the backend. Drink from 2024-2036. 88-90

1,162 Views

Tasted

May 20, 2022

2020
Château Fonroque (St. Émilion Grand Cru)

Flowers, red pit fruits, licorice and a touch of volatile acidity, not enough to mar the wine, but it seems to be part of its character. On the palate, the wine is a bit better with all of its soft, fresh, sweet, ripe, silky red fruits and refined endnote. Drink from 2023-2038.

629 Views

Tasted

Mar 21, 2023

Dark in color, with a fruit packed nose, the wine is round, lush, supple, silky and fresh, finishing with ripe, sweet, plums, cocoa and a nice touch of minerality that lingers. 91-93 Pts

1,655 Views

Tasted

May 20, 2021

2019
Château Fonroque (St. Émilion Grand Cru)

The nose comes through with its leafy floral, spicy nuances that mesh perfectly with all of its ripe, dark red fruits and hints of cocoa on the nose and on the medium-bodied palate. Fresh, vibrant, elegant and refined, the wine finishes with elegance, energy and lift. Drink from 2023-2034.

1,343 Views

Tasted

Mar 29, 2022

Medium-bodied, forward, ripe, sweet and fruity with softness, lift and round tannins, this is even better than their 2018. 89-91 Pts

3,965 Views

Tasted

Jun 8, 2020

2018
Château Fonroque (St. Émilion Grand Cru)

Finesse styled, this is fresh, soft, sweet, silky and fruity with a medium-bodied, red berry filled core of fruits. This is already disarmingly easy to drink and yet, it should age and evolve quite nicely for at least 12-15 years.

2,319 Views

Tasted

Mar 9, 2021

Flowers, black raspberries and a bit of truffle create the perfume, the wine is medium bodied with fresh cherries and mint on the palate. 88-90 Pts

3,779 Views

Tasted

Apr 19, 2019

2017
Château Fonroque (St. Émilion Grand Cru)

This medium-bodied wine starts out with sweet, ripe, red berries. Forward in style, the wine offers fruit on the palate but regrettably finishes short.

2,530 Views

Tasted

Apr 26, 2018

2016
Château Fonroque (St. Émilion Grand Cru)

Medium bodied, bright, fresh and forward, the cherry core of fruits is fresh, clean and ready to go.

3,693 Views

Tasted

Sep 21, 2019

Clearly, the best wine ever produced at Fonroque. The nose is complicated by hints of marzipan, black raspberry and stone. The wine is silky, fresh and fleshy with length and depth.

5,348 Views

Tasted

Apr 29, 2017

2015
Château Fonroque (St. Émilion Grand Cru)

Fresh, with loads of sweet, ripe, earthy, spicy red berries, earth and herbs, the wine is medium bodied and focused on its thyme and cherry personality. The property was sold to new owners just after the wine was bottled.

4,890 Views

Tasted

Mar 12, 2018

Quite fresh, bright and shiny, with loads of fresh, earthy, spicy red fruits, herbs and earth. Medium bodied and needing just a few years to develop, this is the penultimate vintage for Alain Moueix, who sold the property, just after the wine was bottled.

4,557 Views

Tasted

Nov 22, 2017

2014
Château Fonroque (St. Émilion Grand Cru)

Licorice, herbs and cherries, this medium-bodied wine is elegantly styled with a fresh, light berry finish. 88-90 pts

3,147 Views

Tasted

Apr 27, 2015

2013
Château Fonroque (St. Émilion Grand Cru)

Herbs, cherry and olives are at the center of this light, spicy and bright red berry wine. 84-86 Pts

2,107 Views

Tasted

Apr 28, 2014

2012
Château Fonroque (St. Émilion Grand Cru)

Medium bodied, fresh, bright, crisp, soft red fruits, licorice and earthy sensations are the hallmark of this wine. Give it a few more years to soften and develop more aromatic complexity. The wine was made from a blend of 85% Merlot and 15% Cabernet Franc.

2,616 Views

Tasted

Nov 8, 2015

2011
Château Fonroque (St. Émilion Grand Cru)

Soft, short and sweet, the bright, red fruit filled wine with a core of fresh strawberries will be drinkable on release.

2,103 Views

Tasted

Nov 17, 2013

2010
Château Fonroque (St. Émilion Grand Cru)

One of the first estates to embrace Biodynamic farming in St. Emilion produced wine focused on black raspberry, stone and fennel characteristics. Soft, polished and medium bodied, this can be enjoyed now, but it should be better after a few years in the bottle.

6,501 Views

Tasted

Jul 22, 2013

2009
Château Fonroque (St. Émilion Grand Cru)

2009 Fonroque is filled with spicy dark berries and fennel. Medium to full bodied, with soft textures and a dark cherry filled finish. 90-92 Pts

3,177 Views

Tasted

Jun 28, 2010

2008
Château Fonroque (St. Émilion Grand Cru)

Medium bodied, fresh, bright, red berries are in full play here. There is an earthy, underbrush, thyme and floral character that adds nice complicated notes to the almost, crisp fruits.

2,873 Views

Tasted

Nov 13, 2016

2005
Château Fonroque (St. Émilion Grand Cru)

Already fun to drink, this blend of 88% Merlot and 12% Cabernet Franc produced a medium bodied, earthy, spicy, black cherry and raspberry filled wine that ends with an elegant, red berry finish.

3,667 Views

Tasted

Nov 24, 2012