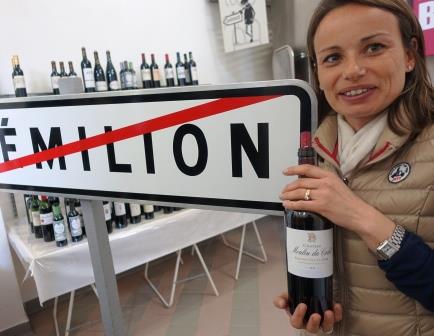 Everything about Chateau Moulin du Cadet St. Emilion with wine tasting notes and wine with food pairing tips. Learn the best vintages, a history of the property, information on the vineyards, and winemaking. If you want to read about other important, Bordeaux Chateaux: Links to all Bordeaux Wine Producer Profiles
Chateau Moulin du Cadet History, Overview
Moulin du Cadet is one of several estates taking its name from the location just north of the Saint Emilion village, the lieu-dit of Cadet. While the vineyards date back to at least the mid-1860s, the story of Moulin du Cadet really begins in 2001 when Alain Moueix took over managing the estate. This was a changing of the guard, as the previous generation had been in charge of the property since 1989.
One of the first, and surely most important decisions made by Alain Moueix was to change their vineyard management techniques. In 1991, the estate underwent a complete renovation of the property and its cellars.
Starting in 2002, Chateau Moulin du Cadet began farming using only 100% organic methods. They were one of the first vineyards in Bordeaux to begin using organic farming methods. Their vineyards earned Agrocert certification, meaning they are 100% completely organic.
In 1996, some of the plots of the Saint Emilion vineyard of Chateau Moulin du Cadet began to be bio-dynamically farmed. Starting with the 2005 vintage, it became the standard practice here to use biodynamic methods for their entire vineyard as well as at the other Alain Moueix owned vineyard, Chateau Fonroque.
In 2015, Chateau Moulin du Cadet was sold to the Lefevere family, the owners of Chateau Sansonnet, Chateau SoutardCadet, and Chateau Harmonie. The property is now managed by Marie-Benedicte Lefevere. Jean Luc Thunevin of Valandraud is their consultant.
Chateau Moulin du Cadet Vineyards, Terroir, Grapes, Winemaking
The small, 2.85-hectare vineyard of Chateau Moulin du Cadet is planted to 100% Merlot. The terroir consists of limestone, clay, and sandy soils.
On average, the vines are maintained at about 35 years of age. Chateau Moulin du Cadet farmed using 100% biodynamic farming methods. In fact, Chateau Moulin du Cadet became one of the first Right Bank vineyards to have also earned the Biodyvin Ecocert certificate.
To produce the wine of Chateau Moulin du Cadet, vinification takes place in traditional, temperature-controlled, square-shaped, cement vats. Malolactic fermentation takes place in French oak barrels. The wine is aged in 50% new, French oak barrels for between 12 to 18 months before bottling.
The best vintages of Chateau Moulin du Cadet are: 2022, 2021, 2020, 2019, 2018, 2017, 2016, 2015, 2014, 2012, 2010 and 2009.
On average, close to 1,200 cases of wine per year are produced at Chateau Moulin du Cadet.
When to Drink Chateau Moulin du Cadet, Anticipated Maturity, Decanting Time
Chateau Moulin du Cadet needs some time before it can be enjoyed. Young vintages can be decanted for an average of 1 hour or more. This allows the wine to soften and open its perfume. Older vintages might need very little decanting, just enough to remove the sediment.
Chateau Moulin du Cadet is usually better with at least 4-6 years of bottle age. Of course, that can vary slightly, depending on the vintage character. Chateau Moulin du Cadet offers its best drinking and should reach peak maturity between 4-22 years of age after the vintage.
Serving Chateau Moulin du Cadet, with Wine and Food Pairings
Chateau Moulin du Cadet is best served at 15.5 degrees Celsius, 60 degrees Fahrenheit. The cool, almost cellar temperature gives the wine more freshness and lift.
Chateau Moulin du Cadet is best paired with all types of classic meat dishes, veal, pork, beef, lamb, duck, game, roast chicken, roasted, braised, and grilled dishes. Chateau Moulin du Cadet is also good when matched with Asian dishes, rich fish courses like tuna, mushrooms, and pasta.
Château Moulin du Cadet Wine Tasting Notes
10 Vintages 33,984 Views Sort by Vintage-Rating
2022
Château Moulin du Cadet (St. Émilion Grand Cru)

Inky dark in color, the wine exudes its espresso, chocolate, plum, flower, and chocolate character without much effort. Lush, plush, and polished, the wine is soft, sweet, supple, and creamy in the black-fruited, chocolately finish. Drink from 2026-2040. 92-94 Pts.

1,486 Views

Tasted

May 8, 2023

2020
Château Moulin du Cadet (St. Émilion Grand Cru)

Flowers, cherries, plums, and espresso beans make up the perfume. The wine is deep, dark, and lushly textured, with a rich, deep, concentrated, polished finish ending with chalky tannins, and layers of sweet, chocolate-enriched plums, with toasty oak. Drink from 2024-2042.

1,043 Views

Tasted

Mar 21, 2023

With a deep, dark, garnet color, this lushly textured, rich, deep, concentrated, polished wine offers silky tannins and layers of sweet, chocolate enriched plums. The finish is long, showy and fruity, with a licorice, espresso and black cherry edge. 92-94 Pts

2,120 Views

Tasted

May 20, 2021

2019
Château Moulin du Cadet (St. Émilion Grand Cru)

Dark chocolate, licorice, smoke, truffle, espresso and red with black pit fruits come alive on the nose and on the sweet, fresh, lusciously textured palate. The wine ends with a cocoa and plum filled, dusty finish. Produced from 100% Merlot, drink from 2023-2034.

1,697 Views

Tasted

Mar 29, 2022

Deep, dark, lush and fruity, with supple, polished tannins and layer after layer of ripe, black cherry, plum and blackberries. Full-bodied, round and filled with ripe, dark, sweet, juicy fruits, this is just gorgeous from start to finish. The wine comes from 100% old vine Merlot reaching 14.5% ABV and trust me, you will never notice, as everything is in balance and harmony. 92-94 Pts

3,481 Views

Tasted

Jun 8, 2020

2018
Château Moulin du Cadet (St. Émilion Grand Cru)

Espresso, smoke, licorice, dark chocolate and plum liqueur jump right from the glass. Opulent, luscious and hedonistic, the wine is concentrated, full-bodied, generous, long and palate filling. This hedonistic gem hits all the right notes. This is ready to go.

2,317 Views

Tasted

Mar 9, 2021

From 100% old vine Merlot, you'll find layers of ripe, lush black cherries and plums along with smoke, dark chocolate, licorice and coffee bean on the nose and palate. Full-bodied, rich and hedonistic, this is going to be great with just a few years of age. 92-94 Pts

2,575 Views

Tasted

Apr 19, 2019

2016
Château Moulin du Cadet (St. Émilion Grand Cru)

Licorice, black cherry, smoke and espresso notes open the nose. On the palate, the wine is full-bodied, lush and fresh. There is sweet fruits galore, luscious textures and good concentration here, with a very, fruity finish.

2,304 Views

Tasted

Sep 21, 2019

For the second year in a row this is a winner! Espresso bean, licorice, black cherry liqueur notes are just the beginning. Lusciously textured, sweet, ripe fruit, supple, sumptuous and plush on the palate, the wine offers spice and freshness in the finish.

1,844 Views

Tasted

Apr 29, 2017

2015
Château Moulin du Cadet (St. Émilion Grand Cru)

The debut vintage gets things off to a good start. The wine is sweet, juicy and lush. The dark red fruits are ripe, with silky, soft textures. The finish is round, with length and the finish is loaded with juicy berries, with licorice and cocoa in the finish.

3,058 Views

Tasted

May 21, 2018

The first vintage for the new owners, the Lefevere family is a big step-up in quality. With a tradewind of lush, ripe, dark berries, licorice, oak, round textures and minerality, this wine delivers sweet, ripe fruits from start to finish.

2,659 Views

Tasted

Apr 29, 2016

2014
Château Moulin du Cadet (St. Émilion Grand Cru)

Medium bodied, firm, bright and with a crisp bite to the juicy red fruit, I liked the earthy aromatics better than the classically styled, red berry palate.

1,913 Views

Tasted

Dec 31, 2017

2012
Château Moulin du Cadet (St. Émilion Grand Cru)

Lighter, early drinking style of wine, with a crisp, bright, red berry character.

1,905 Views

Tasted

Aug 16, 2015

2010
Château Moulin du Cadet (St. Émilion Grand Cru)

Medium bodied with lots of ripe black, red and white cherries, earth and licorice, the wine is bright, fresh and spicy.

2,857 Views

Tasted

Jul 22, 2013

2009
Château Moulin du Cadet (St. Émilion Grand Cru)

Light, bright,fresh and dominated by spicy red berries, this a bit on the lean, traditional side of the style range.

2,725 Views

Tasted

Feb 1, 2013