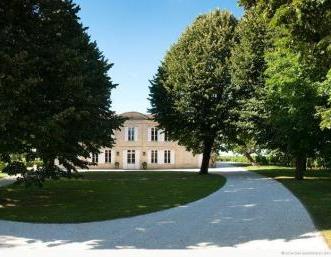 Learn everything about Chateau Sansonnet St. Emilion with wine tasting notes and wine with food pairing tips. Learn the best vintages, a history of the property, information on the vineyards, and winemaking. If you want to read about other important, Bordeaux Chateaux: Links to all Bordeaux Wine Producer Profiles
Chateau Sansonnet History, Overview
Chateau Sansonnet, like many Bordeaux estates, has a connection to royalty. During the 19th century, Chateau Sansonnet at one point belonged to the Duke Decazes, Prime Minister of Louis XVIII.
The Robin family had owned the vineyard since 1892. The d'Aulan family, the former owners of the famous Champagne producer, Piper-Heidsieck Champagne purchased the Right Bank estate of Chateau Sansonnet in 1999. The d'Aulan family upgraded the estate and sold the property a decade later in 2009 to the Lefevere family.
Chateau Sansonnet is a property on the upswing. Michel Rolland and Jean Luc Thunevin of Valandraud are both involved with Chateau Sansonnet. And before them, Jean Michel Arcaute from Chateau Clinet in Pomerol gave the property a hand, as did Stephane Derenoncourt as well.
A lot of effort is spent these days in trying to produce the best wine possible at the estate. One of the first changes the new owners made was to instigate picking by hand, instead of machine harvesting.
Chateau Sansonnet Vineyards, Terroir, Grapes, Winemaking
The 7.3 hectare Saint Emilion vineyard of Sansonnet is planted to 85% Merlot, 8% Cabernet Franc and 7% Cabernet Sauvignon. The Cabernet Sauvignon is a new addition to the vineyard. The terroir is thin, shallow clay and limestone soils on the chalky St. Emilion plateau. The vineyard is planted in one large block of vines.
Situated just a little bit east of the St. Emilion village, they are located next to Chateau Trotte Vieille and not far from Pavie Macquin or Troplong Mondot. The best parcels in the vineyard are on an elevated slope that reaches up to 80 meters at its peak. The vines are planted to 6,000 vines per hectare.
To produce the wine of Chateau Sansonnet, the grapes enjoy a seven-day cold soak at 5 degrees Celsius. The grapes are moved by gravity and fermented in a combination of French oak vats and truncated, dual-walled, temperature-controlled, stainless steel tanks that are punctuated by regular pigeages.
There is a 28-day maceration period on average Malolactic fermentation takes place in 70% new, French oak barrels. The wine is then aged in 70% new, French oak barrels and two 700 liter amphora for about 16 months prior to bottling.
The Best Vintages of Chateau Sansonnet are: 2022, 2021, 2020, 2019, 2018, 2017, 2016, 2015, 2014, 2010 and 2009.
On average, close to 2,800 cases of Chateau Sansonnet are produced each vintage. There is a second wine, Envol de Sansonnet, which was previously sold under the name of Chateau Lasalle.
When to Drink Chateau Sansonnet, Anticipated Maturity, Decanting Time
Chateau Sansonnet is much better with at least 7-9 years of aging in good vintages. Young vintages can be decanted for 1-2 hours or more. This allows the wine to soften and open its perfume.
Older vintages might need very little decanting, just enough to remove the sediment. Chateau Sansonnet offers its best drinking and should reach peak maturity between 8-25 years of age after the vintage.
Serving and Decanting Chateau Sansonnet with Wine and Food Pairing Tips
Chateau Sansonnet is best served at 15.5 degrees Celsius, 60 degrees Fahrenheit. The cool, almost cellar temperature gives the wine more freshness and lift.
Chateau Sansonnet is best served with all types of classic meat dishes, veal, pork, beef, lamb, duck, game, roast chicken, roasted, braised, and grilled dishes. Chateau Sansonnet is a perfect match with Asian dishes, hearty fish courses like tuna, mushrooms, and pasta as well as cheese.
Character and Style of Chateau Sansonnet
The wine is rich, sensuous, supple, full-bodied, ripe, often sweet, and juicy. Sansonnet is packed with character. And the best part is, prices are currently fair, if not a bit low for a wine of this quality. I doubt it will start that way for long.
Chateau Sansonnet is currently managed by Marie-Benedicte Lefevere. With its increasing level of quality and fair prices, Sansonnet is a St. Emilion estate to keep your eye on as 2015 was their best wine produced yet!
The owners of Sansonnet purchased Chateau Moulin du Cadet, Chateau SoutardCadet, and Chateau Harmonie in 2015 followed by Chateau Villemaurine in 2021.
Château Sansonnet Wine Tasting Notes
13 Vintages 93,975 Views Sort by Vintage-Rating
2021
Château Sansonnet (St. Émilion Grand Cru)

Sweet, round, dark cherries, cocoa, smoke, licorice, espresso and cocoa give the wine a nice sweetness on the nose and a lushness to the medium-bodied palate, which finishes with black cherries and chocolate on the backend. Drink from 2023-2038. 91-93

1,594 Views

Tasted

May 20, 2022

2020
Château Sansonnet (St. Émilion Grand Cru)

Dark in hue, the wine opens with espresso, black cherries, dark chocolate and flowers in the perfume. Full-bodied, creamy, concentrated, silky and fresh, the finish strives to coat your palate with its layers of polished, ripe, black and blue fruit, espresso, licorice chocolate and smoke. Drink from 2024-2050.

328 Views

Tasted

Mar 21, 2023

Inky in color, the wine is opaque in your glass. Strong notes of licorice, wet earth, chocolate-covered black raspberries, smoke, espresso and charcoal create the nose. The wine is full-bodied, plush, opulent and sensuous. Even, with all its weight and density, the wine is silky, fresh and vibrant. The voluptuous finish builds and expands with wave after wave of dark, hedonistic fruits. This is a superb wine that should age and develop for at least 2 decades. 95-97 Pts

3,529 Views

Tasted

May 20, 2021

2019
Château Sansonnet (St. Émilion Grand Cru)

Deeply colored, the wine is loaded with an array of black, dark red and blue fruits. Full-bodied, and packed with dark chocolate, toasty oak, opulent, flamboyant-textures that comes in layers, this is going to need a few years in the cellar to soften and fully-integrate. There is a minor touch of heat in the finish, (At 15%) but the wealth of fruit covers most of that up. Drink from 2025-2043.

3,456 Views

Tasted

Mar 29, 2022

Almost opaque in color, the perfume here hits it! The strong essence of licorice, vanilla, black plum and even blacker cherry. Full-bodied, voluptuous, lush and sexy with layer after layer of super-ripe, fresh gorgeous fruits, soft, velvet tannins and length that sticks. The wine blends 90% Merlot, 7% Cabernet Sauvignon and 3% Cabernet Franc reaching 15% alcohol, with no touch of heat. 94-96 Pts

6,171 Views

Tasted

Jun 8, 2020

2018
Château Sansonnet (St. Émilion Grand Cru)

The showy nose, with its licorice, smoke, flowers and wild cherries gets your attention. Dark, almost opaque in color, the wine is opulent, lush and velvety. Full-bodied, ripe, rich and with density, length and purity, this is just great. And it is still priced quite fairly too! The wine blends 90% Merlot, 7% Cabernet Sauvignon and 3% Cabernet Franc.

3,990 Views

Tasted

Mar 9, 2021

What a beauty! The wine is round, fleshy, supple and loaded with licorice, dark red fruits and silky tannins. The finish tastes and feels great with seemingly countless layers of sweet, juicy, black and blue fruits. The wine blends 90% Merlot, 7% Cabernet Sauvignon and 3% Cabernet Franc. 94-96 Pts

6,559 Views

Tasted

Apr 19, 2019

2017
Château Sansonnet (St. Émilion Grand Cru)

Produced from a blend of 90% Merlot, 7% Cabernet Sauvignon and 3% Cabernet Franc, this rocks! It is more than the flowers, layers of ripe, lush fruits, black cherries, espresso and licorice. The wine is fleshy, flashy and already delicious. One of the hottest tickets in St. Emilion these days, this is a great style of wine, that still sells for about a song.

4,328 Views

Tasted

Apr 26, 2018

2016
Château Sansonnet (St. Émilion Grand Cru)

With this much color you know you are in for a mouth filling, rich, opulent wine. There is smoke, licorice, incense, espresso and black cherries. To back all that up, you find soft, silky tannins and a long, rich, concentrated, fruit filled finish.

5,563 Views

Tasted

Sep 21, 2019

Powerful, mouth filling, rich, opulent and fresh, there is intensity and concentration with flavorful bands of fat juiciness, licorice and black plums so ripe you'll want to suck on the stone. You're going to like this wine, its masterful essence will linger in your mind for hours. From a blend of 85% Merlot, 10% Cabernet Sauvignon and 5% Cabernet Franc, this is the best vintage of Sansonnet yet. I know I've said it before, but this time I really mean it!

6,244 Views

Tasted

Apr 29, 2017

2015
Château Sansonnet (St. Émilion Grand Cru)

Deeply colored with purple accents, the wine is loaded with ripe, sweet dark red fruits, licorice, wet earth, espresso and cocoa. The wine is luscious, rich and fat. The fruits are perfectly ripe, sweet and fresh with salty tannins, giving the wine that desired sense of minerality.

3,413 Views

Tasted

May 21, 2018

The new owners are on fire here since taking over the estate. This is a beauty that serves up its deep, dark, ripe, black and red fruits, with licorice, earth and truffle. The wine is rich, pure and sensuous.

4,109 Views

Tasted

Jul 12, 2017

Opulent, fleshy, ripe and sweet, the palate is painted with super sweet, ripe berries, dark chocolate and cherries. From a blend of 80% Merlot, 10% Cabernet Sauvignon and 10% Cabernet Franc, this is the best vintage of Sansonnet yet. I know I've said it before, but this time I really mean it!

2,932 Views

Tasted

Apr 29, 2016

2014
Château Sansonnet (St. Émilion Grand Cru)

Ripe, round, forward and on the luscious side, the wine is medium/full-bodied with a licorice, chocolate, plum, espresso and black cherry character that you find on the nose and palate. The finish is a bit short, but this is quite nice and can be enjoyed today for all its sweet, ripe fruits. Drink this now while waiting for the 2015 and 2016 to come around.

2,990 Views

Tasted

Dec 4, 2020

A rich, dark color with loads of mature, dense, fat, sweet fruit meats and the texture of the rarest silks and velvets, this wine has length and character with a mouth-coating quality that makes you crave more. From a blend of 90% Merlot and 10% Cabernet Franc, this is the best vintage of Sansonnet yet -- an estate to keep your eye on. 92-94 Pts

3,203 Views

Tasted

Apr 27, 2015

2013
Château Sansonnet (St. Émilion Grand Cru)

Forward with licorice and black cherry charms, this round, open, plush wine will be fun to drink on release. From a blend of 97% Merlot and 3% Cabernet Franc, the wine reached 13.5% alcohol and is aging in 70% new, French oak. 89-91 Pts

1,970 Views

Tasted

Apr 29, 2014

2012
Château Sansonnet (St. Émilion Grand Cru)

I am tempted to give this another point. It's just a beauty. Deep in color, lushly textured, with layers of licorice, black and blue fruits, espresso, dark cocoa and earth. It's going to be hard to find a better value in 2012 than this wine.

3,425 Views

Tasted

Jun 18, 2017

Sexy, soft and luscious, with a beautiful purity of fruit and a silky fruit essence, complicated by licorice, fresh, ripe black cherries, oak and cocoa.

4,105 Views

Tasted

May 16, 2015

Deep ruby in color with coffee bean and black cherry notes in the nose, this medium-bodied, round, supple wine ends with fresh, spicy black cherries. 89-91 Pts

3,917 Views

Tasted

Apr 26, 2013

2011
Château Sansonnet (St. Émilion Grand Cru)

Since the new owners took over in 2009, this has been a St. Emilion estate to watch. Blending 80% Merlot with 20% Cabernet Franc, there is minerality, floral and raspberry with soft textures, medium body and a sweet cherry-filled finish. 90-91 Pts

2,915 Views

Tasted

Apr 24, 2012

2010
Château Sansonnet (St. Émilion Grand Cru)

Sansonnet - With new owners and a new consultant, Stephane Derenoncourt, the estate fashioned an 85% Merlot and 15% Cabernet Franc blend from yields of just 19 hectoliters per hectare that's filled with fresh spice, minerals, jammy plums and anise. Plush, and round, this rich wine ends with soft textures and licorice coated, jammy maraschino cherries. 90-92 Pts

7,093 Views

Tasted

Apr 22, 2011

2009
Château Sansonnet (St. Émilion Grand Cru)

If you like young wines for their vibrant, fresh fruits, pop a bottle. The texture is seductive, the fruit is fresh, the nose is primary, offering espresso, licorice, earth, smoke and cherries and the finish is pure lushness. This will definitely get better with age.

5,343 Views

Tasted

Jun 12, 2013

With an inviting nose filled with black licorice, truffle and black cherry, this supple textured St. Emilion ends with round textures and sweet, ripe, spice coated, black raspberries.

3,999 Views

Tasted

Feb 22, 2012

2009 Sansonnet is one of the St. Emilion wineries that was hit hard by the ferocious hail storm earlier that year. The effect was to reduce yields at the estate to an all-time low of 9 hectoliters per hectare. Those low yields, along with the advice from Jean-Luc Thunevin produced an outstanding 2009 Bordeaux wine that's filled with licorice, spicy blackberries, earth and jam aromas. Rich and round, the wine ends with a chocolate, licorice, plum and black cherry filled finish. 91 Pts

2,799 Views

Tasted

Jul 19, 2011