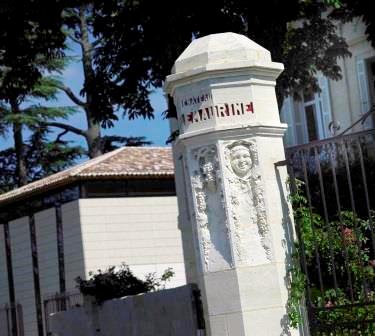 Learn everything about Chateau Villemaurine St. Emilion with wine tasting notes and wine with food pairing tips. Learn the best vintages, a history of the property, information on the vineyards, and winemaking. If you want to read about other important, Bordeaux Chateaux: Links to all Bordeaux Wine Producer Profiles
Chateau Villemaurine History, Overview
Chateau Villemaurine is located not far from the picturesque St. Emilion village. The estate is one for the history books. At least that's where Chateau Villemaurine found the inspiration for their name.
During the 8th century, an army of invaders took up residency and made an encampment on the land where this Right Bank property is located today. The camp was called, Ville Maure, which when translated, means the city of the Moors. 
Chateau Villemaurine was purchased in June 2007 by Justin Onclin. Justin Onclin immediately modernized the estate. He added a new vat room with numerous, temperature-controlled, smaller vats as well as a new tasting area and updated cellars.
The low capacity vats allow for parcels to be vinified one at a time. They made another change at Chateau Villemaurine, they brought in Stephane Derenoncourt to consult. He was replaced in a few years by Hubert de Bouard of Chateau Angelus, which based on the wines being made today was a very savvy move.
In April 2021, the Onclin family sold Chateau Villemaurine to the Lefevere family who already owned several vineyards in St. Emilion including Chateau Sansonnet, Chateau Moulin du Cadet, and Chateau SoutardCadet.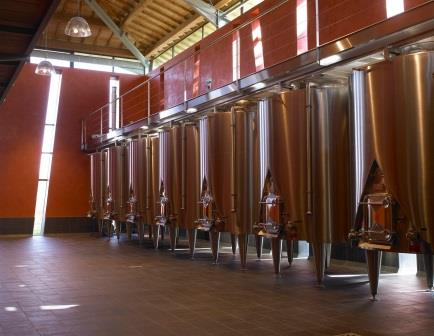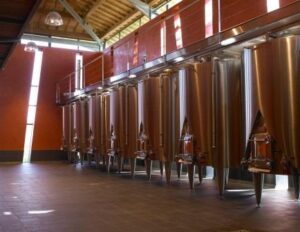 Chateau Villemaurine Vineyards, Terroir, Grapes, Winemaking
The 12-hectare vineyard of Chateau Villemaurine is planted to 75% Merlot and 25% Cabernet Franc. This shows a change in the vineyard which was previously planted to 95% Merlot. The estate plans to increase the amount of Cabernet Franc planted in their vineyards to as much as 30% over time. The terroir is clay and limestone soils. On average, the vines are 30 years of age.
The best part of their vineyards is on the peak of the plateau which reaches up to 87 meters at its peak. When looking at their vineyard it is important to note that only a portion of their vines is classified as Grand Cru Classe'. You can divide the vineyard in 2 with 7.2 hectares classified as Grand Cru Classe', and 4 hectares of vines remain Saint Emilion Grand Cru. The vineyard is planted to a density of 6,500 – 7,700 vines per hectare. The higher levels of density are for the newer plantings.
The wine of Chateau Villemaurine is whole berry fermented in new, dual-walled, 68 hectoliter, stainless steel tanks. Malolactic fermentation takes place in barrels. The wine is aged in 80% new, French oak barrels.
The Best Vintages of Chateau Villemaurine are: 2022, 2021, 2020, 2019, 2018, 2017, 2016, 2015, 2014, 2010 and 2009. Previous vintages should be approached with caution.
Chateau Villemaurine produces on average, slightly less than 5,000 cases of wine per year. Villemaurine also makes a second wine, Les Angelots de Villemaurine.
When to Drink Chateau Villemaurine, Anticipated Maturity, Decanting Time
Chateau Villemaurine is better with at least 4-6 years of bottle age. Of course, that can vary slightly, depending on the vintage. Chateau Villemaurine is best enjoyed in the first 5-20 years of life.
Young vintages can be decanted for about 1 hour to 90 minutes. This allows the wine to soften and open its perfume. Older vintages might need very little decanting, just enough to remove the sediment.
Serving Chateau Villemaurine with Wine and Food Pairings
Chateau Villemaurine is best served at 15.5 degrees Celsius, 60 degrees Fahrenheit. The cool, almost cellar temperature gives the wine more freshness and lift.
Chateau Villemaurine is best paired with all types of classic meat dishes, veal, pork, beef, lamb, duck, game, roast chicken, roasted, braised, and grilled dishes. Chateau Villemaurine is also good when matched with Asian dishes, rich fish courses like tuna, mushrooms, and pasta.
The Onclin family also owns Clos Larcis, which is located not far from Chateau Pavie and as you can guess, Chateau Larcis Ducasse. They also count another Bordeaux vineyard in their holdings, Chateau Branas Grand-Poujeaux, located in the Moulis appellation, which is well-placed in the Haut Medoc.
Château Villemaurine Wine Tasting Notes
14 Vintages 73,964 Views Sort by Vintage-Rating
2022
Château Villemaurine (St. Émilion Grand Cru)

Flowers, red pit fruits, espresso and cocoa notes get the wine going. The wine is elegant, creamy, and fresh, with a strong underpinning sense of minerality that adds a salty touch to the vibrant red and black fruits from the mid-palate, through to the finish. The wine blends 85% Merlot with 15% Cabernet Franc. Drink from 2025-2042. 93-95 Pts.

1,713 Views

Tasted

May 8, 2023

2021
Château Villemaurine (St. Émilion Grand Cru)

Medium-bodied, soft, silky and fresh, with a core of sweet, juicy, plums, chocolate-covered cherries, spice and coffee bean. Drink from 2023-2038. 90-92

1,636 Views

Tasted

May 20, 2022

2020
Château Villemaurine (St. Émilion Grand Cru)

Richly colored, the nose is filled with dark chocolate, licorice, smoke, black cherry, plum and herbs get the wine moving. On the palate the wine is lush, fleshy, sweet, ripe and polished, finishing with opulently textured fruits and freshness. This is the last vintage for Justin Onclin as the owner. The estate was sold earlier this year. 93-95 Pts

2,363 Views

Tasted

May 20, 2021

2019
Château Villemaurine (St. Émilion Grand Cru)

Quite floral in nature with nuances of licorice, espresso, chocolate, black cherries and plum. The wine is rich, lush, polished and fresh, with a sensuous, velvety texture that carries through to the end note. Drink from 2024-2037.

1,881 Views

Tasted

Mar 29, 2022

Bitter chocolate, plums, licorice and espresso lead the way to a supple textured, lush mouthful of ripe black plums, dark cherries, smoke, licorice and cocoa. 91-93 Pts

3,001 Views

Tasted

Jun 8, 2020

2018
Château Villemaurine (St. Émilion Grand Cru)

Espresso, licorice, smoke and toast aromas come along with juicy, earthy, dark red fruits and licorice. Lush, opulent, silky and fresh, the fruit lingers, which is a good thing as the berries are perfectly ripe, showing nice purity and length.

2,058 Views

Tasted

Mar 9, 2021

Lively, fresh, concentrated and filled with a parfait of dark red fruits, licorice and cocoa, the wine is plush, full-bodied, rich, ripe, round and fruity with ample crushed stone notes concurring with the fruit. 93-95 Pts

2,991 Views

Tasted

Apr 19, 2019

2017
Château Villemaurine (St. Émilion Grand Cru)

From a blend of 80% Merlot and 20% Cabernet Franc, the wine is fresh, supple, sweet, and loaded with spicy dark cocoa, licorice and plums. There is a nice complexity in the salty tannins you find in the finish,.

2,454 Views

Tasted

Apr 26, 2018

2016
Château Villemaurine (St. Émilion Grand Cru)

Lush, round, medium bodied and packed with fresh, ripe red fruits, licorice, earth and mocha, the wine is forward, elegant and supple textured in the fruit filled finish.

2,645 Views

Tasted

Sep 21, 2019

With ripe, luscious, dark red fruits, freshness, licorice, black cherry and hints of cocoa and espresso, the nose isn't all that tells the story here. You also find an opulent blast of ripe, juicy, dark red fruits and licorice on the palate and in the finish.

2,760 Views

Tasted

Feb 11, 2019

80% Merlot and 20% Cabernet Franc produced a wine with depth, flowers, licorice, plum and spice. The wine combines sweetness, length and sensual textures. This is a real success for Villemaurine.

2,152 Views

Tasted

Apr 29, 2017

2015
Château Villemaurine (St. Émilion Grand Cru)

Ready to go, this opulent, lush, wine is all about its rich core of salty, chocolate-coated black cherries, smoke, and plums with hints of spice, and licorice in the endnote. No decanting is needed here, just pop, pour, and enjoy. Drink from 2023-2032.

1,877 Views

Tasted

Mar 8, 2023

Just a beauty with its silky, sensuous personality. With little work, the wine delivers its sweet, berries, licorice and cocoa. The smoky essence gives added nuances to the wine. You can enjoy this early, or age it for more complexity.

3,663 Views

Tasted

May 21, 2018

With a polished, sensuous, silky style, the wine easily serves up its ripe, sweet, jammy red and dark red berries, licorice and cocoa. The smoky essence lends a nice, complex touch to the nose and palate.

3,691 Views

Tasted

Mar 12, 2018

Ripe, jammy berries, lush, fat, rich, sweet, opulent fruits and a finish that lingers with the essence of pure black fruits and truffle.

1,936 Views

Tasted

Apr 29, 2016

2014
Château Villemaurine (St. Émilion Grand Cru)

Blending 80% Merlot with 20% Cabernet Franc produced a black raspberry and licorice dominated wine, with freshness, ripe, sweet fruits and lush textures. This should be fun to drink with just a few years of bottle age.

3,965 Views

Tasted

Feb 5, 2017

Earthy minerals, flowers, spice and plums create the perfume. On the palate, this wine is glossy and delicate with an elegant, fresh red fruit finish. 89-91 Pts

2,619 Views

Tasted

Apr 27, 2015

2013
Château Villemaurine (St. Émilion Grand Cru)

With a coffee bean, spicy red berry and stone personality, this wine is light on its feet and will be drinkable on release with its sweet cherry charm. 88-90 Pts

2,718 Views

Tasted

Apr 29, 2014

2012
Château Villemaurine (St. Émilion Grand Cru)

An attention seeking nose, with licorice, thyme, black cherries, smoke, coffee and plum notes. Soft, polished and expressive, the open style make this a wine that will show well young.

3,102 Views

Tasted

Mar 11, 2015

The debut vintage for consultant Hubert de Bouard, the wine is medium-bodied, soft, round and supple with red cherries, licorice, coffee, spice and freshness. 90-92 Pts

3,205 Views

Tasted

Apr 26, 2013

2011
Château Villemaurine (St. Émilion Grand Cru)

The licorice, smoke and black raspberry nose is more interesting than the medium bodied, red fruit and espresso bean in the finish. There is a touch of dryness in the end note. This is an interesting wine for fans of consultants. When the wine was vinified, Stephane Derenoncourt was looking over the winemaking. When the wine was aged and finished, Hubert de Bouard of Chateau Angelus took over as consultant.

4,361 Views

Tasted

Feb 20, 2014

The new owners spent a lot of money to upgrade their winemaking, building all new wine cellars and hired Stephane Derenoncourt for advice. Their investment continues to pay off. Smoky red berries, lush silky texture, medium body and minerality are found in this wine. 90-92 Pts

1,970 Views

Tasted

Apr 24, 2012

2010
Château Villemaurine (St. Émilion Grand Cru)

Packed with oak, licorice, black raspberry, cocoa and plummy scents, the wine is fleshy, ripe, fresh, concentrated, plummy and easy to drink. Give it a few years and it should be even better.

5,607 Views

Tasted

May 8, 2013

Villemaurine is located not far from the village of St. Emilion. Jammy berries, licorice, spice, pepper and plum scents pop from the glass. Lush and round, this concentrated, ripe wine is loaded with sweet, jammy black cherries and fennel. This is the finest wine I've ever tasted from this property. With a new owner, new consultant,( Stephane Derenoncourt) and a new label, they are off to a great start. 90-92 Pts

5,157 Views

Tasted

Apr 22, 2011

2009
Château Villemaurine (St. Émilion Grand Cru)

2009 Villemaurine, its vineyard located not far from the village of St. Emilion, starts with minerals, spicy dark berries, and fennel. With soft textures and a medium body, the wine should offer pleasure early. 87-90 Pts

4,439 Views

Tasted

Jun 29, 2010