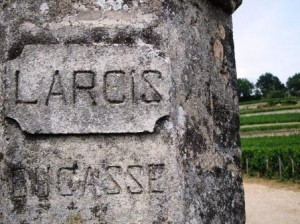 Learn everything about Chateau Larcis Ducasse, St. Emilion Premier Grand Cru Classe B with wine tasting notes and wine with food pairing tips. Learn all the best vintages, a history of the property, information on the vineyards, and winemaking. If you want to read about other important, Bordeaux Chateaux: Links to all Bordeaux Wine Producer Profiles
Chateau Larcis Ducasse History, Overview
Chateau Larcis Ducasse had its birth during the days of the ancient Romans who valued the best hillside vineyards in the area. The early part of the modern era for Larcis Ducasse begins in 1893 when Henri Raba bought the Saint Emilion vineyard.
After Henri Raba passed away in 1925, his wife and son Andre Raba continued managing Larcis Ducasse. His niece, Helene Gratiot Alphandery, inherited the property in 1941. She managed Chateau Larcis Ducasse until 1990. Her son, Jacques-Olivier Gratiot took control of the property after she passed away and he remains in charge today.
Chateau Larcis Ducasse remains the property of the Gratiot Alphandery family today. Prior to 2003, it had been years since the wines of Chateau Larcis Ducasse were prized by Bordeaux wine lovers.
The wine had fallen out of favor, due to a lack of attention and effort. That changed in 2002 shortly after they hired the team of well-known Saint Emilion consultants, Nicolas Thienpont and Stephane Derenoncourt to turn things around and manage the estate.
One of the first improvements at the property suggested by Nicolas Thienpont and Stephane Derenoncourt was to create a new drainage system. The next step was to change harvesting practices.
Before 2002, the grapes were often picked early and over a short duration of 2 to 3 days. Now, the harvest takes place when the fruit is ripe and picking takes as long as 2 to 3 weeks to complete. Starting with the 2005 vintage, all work in the vineyards moved to 100% organic farming methods.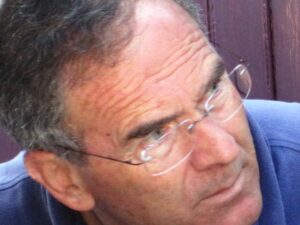 Chateau Larcis Ducasse Vineyards, Terroir, Grapes, Winemaking
The 11.3-hectare vineyard of Larcis Ducasse is planted to 83% Merlot and 17% Cabernet Franc. This shows a slight change in the vineyard, as more Cabernet Franc has been added to the plantings since 2003. The vineyard is located just around the bend in the road from Chateau Pavie. In fact, their vines abut each other.
They have other good neighbors as well. To the south, you find Chateau Canon La Gaffeliere and La Gaffeliere, and as you move north, Chateau Troplong Mondot, Chateau Pavie Macquin is not far away.
The terroir of Chateau Larcis Ducasse is a mixture of soils. The vines on the top of the plateau and the slopes have a south-facing exposure. At the higher elevations on the plateau, which hits 86 meters at their peak, here the terroir is limestone, clay, and chalk soils.
As you travel further down the slopes towards the terraces, the terroir is a blend of chalky limestone, marl, sand, silt, and clay soil. At the base of the slopes, you find sand and clay soils. On average the vines are 35 years of age.
While the older plantings were done at a vine density of 6,600 vines per hectare, as the vineyard continues to be slowly replanted, the vine density is increasing with each subsequent replanting.
The new plantings are being done between 7,500 vines per hectare and 9,000 vines per hectare. They are also using budwood obtained through selection massale. The yields are kept low at Larcis Ducasse. As an example, in 2009, the effective yields were only 25 hectoliters per hectare.
To produce the wine of Chateau Larcis Ducasse, the grapes are whole berry fermented. The fruit is transported by gravity flow into traditional, cement tanks for fermentation. Cuvaison takes between 25-28 days. There are no pump-overs. Pigeages are conducted during fermentation. Malolactic fermentation takes place in barrels.
The wine is then aged in 67% new, French oak barrels, which are mixed in size, between standard barrels and 500 liter French, oak casks. The wine is then aged for an average of 18 to 20 months in barrel before bottling. A small portion of the wine is aged in amphora. The production is on average close to 4,000 cases of wine per vintage.
The best vintages of Chateau Larcis Ducasse are: 2022, 2021, 2020, 2019, 2018, 2017, 2016, 2015, 2012, 2010, 2009, 2008 and 2005. Very old vintages are more than variable. However, I have tasted good bottles of 1959. So, if you are planning to buy any, please do so with some caution.
Since the dynamic duo of Nicolas Thienpont and Stephane Derenoncourt began making the wines, they have continued improving. All one has to do is taste the wines produced at Chateau Larcis Ducasse today and compare the younger wines against the older, pre-2003 vintages to see the difference.
2005 is the best vintage Larcis Ducasse has produced yet. Although 2009, 2010 give it a run for its money and 2015 and 2016 are not far behind.
The wines are rich and opulently textured with ripe dark berries, anise, spice, and minerality. They have the ability to age and improve. Prices remain fair for a Right Bank estate of this high level of quality.
On average, the production is close to 4,000 cases of Larcis Ducasse per year. There is a second wine, Murmure de Larcis Ducasse.
When to Drink Chateau Larcis Ducasse, Anticipated Maturity, Decanting Time
Chateau Larcis Ducasse is much better with at least 10-15 years of aging in good vintages. Young vintages can be decanted for 2-3 hours or more.
This allows the wine to soften and open its perfume. Older vintages might need very little decanting, just enough to remove the sediment. Chateau Larcis Ducasse offers its best drinking and should reach peak maturity between 12-35 years of age after the vintage.
Serving Chateau Larcis Ducasse with Wine, Food, Pairing Tips
Chateau Larcis Ducasse is best served at 15.5 degrees Celsius, 60 degrees Fahrenheit. The cool, almost cellar temperature gives the wine more freshness and lift.
Chateau Larcis Ducasse is best paired with all types of classic meat dishes, veal, pork, beef, lamb, duck, game, roast chicken, roasted, braised, and grilled dishes. Chateau Larcis Ducasse is also good when matched with Asian dishes, hearty fish courses like tuna, salmon, mushrooms, pasta, and of course, a wide variety of hard and soft cheese.
Château Larcis Ducasse Wine Tasting Notes
23 Vintages 346,309 Views Sort by Vintage-Rating
2022
Château Larcis Ducasse (St. Émilion Grand Cru)

The dark, purple hue stands out. Licorice, smoke, oyster shell, espresso, black cherries, and plums are all over the perfume. The wine explodes from the glass with its layers of opulent, black and red fruits, dark chocolate, espresso, smoke and chocolate on the palate. Full-bodied, powerful, and most importantly pure, there is a depth of flavor, and richness on the mid-palate that sticks with you through to the extended, mineral-driven finish. I would not be surprised to see this score even higher once it is in the bottle. The wine blends 86% Merlot with 14% Cabernet Franc, 14.6% ABV, 3.5 pH. The harvest took place September 13-September 23. Yields were 34 hectoliters per hectare. Drink from 2027-2055. 97-99 Pts.

2,575 Views

Tasted

May 8, 2023

2021
Château Larcis Ducasse (St. Émilion Grand Cru)

Oyster shell, crushed rocks, flowers, smoke, licorice, espresso roasted cherries, and plums create the complex aromatic profile. On the palate, this is a finesse-styled vintage, medium-bodied, plummy and with a savory edge to the black cherries on the mid-palate and in the oceanic finish. The wine blends 86% Merlot with 14% Cabernet Franc, 13.5% ABV. The harvest took place September 29-October 9. Drink from 2026-2044. 92-94

1,774 Views

Tasted

May 20, 2022

2020
Château Larcis Ducasse (St. Émilion Grand Cru)

If you are seeking a masterclass in minerality, taste this wine! The nose screams crushed rocks, stones and oceanic influences before moving to its flowers, licorice, black cherries, plums, and espresso nose. Concentrated, full-bodied and intense, with layers of mineral-infused black and red fruits, the wine builds, lingers and expands, finishing with vibrancy, refinement, and elegant, sweet, ripe, luscious red fruits with a touch of salt in the tannins. Drink from 2026-2055.

4,098 Views

Tasted

Mar 21, 2023

Pungent aromas of flowers, licorice, crushed rocks, oak, dark cocoa, black, red and blue fruits focus your attention. The wine offers a mineral-driven, full-bodied blast of silky, flamboyant, luscious red fruits with salty tannins. The fruit coats your palate, lingers and seamlessly expands, finishing with licorice, sensuously textured red and black fruits, espresso and oyster shell. This is on the way to developing into one of the best vintages ever produced by Larcis Ducasse. 98-100 Pts

6,932 Views

Tasted

May 20, 2021

2019
Château Larcis Ducasse (St. Émilion Grand Cru)

A bit of smoke adds to the flowers, cherries, crushed rock, mocha, espresso, and roasted dark, red pit fruits. Concentrated, lush, ripe, silky, and vibrant, the fruit, with its salty tannins glides over your palate leaving you with a gorgeous array of fruits, rocks, and stones that stay with you for about 50 seconds. Made from blending 88% Merlot with 12% Cabernet Franc, this stunning wine will age effortlessly for 30 or more years. Drink from 2025-2050.

6,479 Views

Tasted

Mar 29, 2022

Like walking into a flower market with cherries and plums all over the floor, the wine is fresh, silky, long and stony. The salty tannins are ripe, long and there is a fabulous oceanic note in the finish that carries. Not as powerful as the 2018, but there is perhaps better purity and a more approachable, sensuous style. Made from blending 88% Merlot with 12% Cabernet Franc. The harvest took place September 25 to October 7. 95-97 Pts

8,568 Views

Tasted

Jun 8, 2020

2018
Château Larcis Ducasse (St. Émilion Grand Cru)

With a good depth of color the wine serves up its blend of roasted cherries, licorice, smoke, flowers, plum liqueur, espresso, kirsch and black raspberries with zero effort. The wine is dense, full-bodied and concentrated. Yet with all its weight and richness, everything is in balance. Texturally, all the fruit is drenched in velvet, rocks and stones. The seamless finish sticks with you for at least 50 seconds. The wine blends 89% Merlot with 11% Cabernet Franc.

4,780 Views

Tasted

Mar 9, 2021

The purple hue announces this is a wine to take notice of and 2018 is up to the task. Full-bodied, the wine hits your palate with layers of decadently textured fruit that never quits. It is hard to say what I was digging more, the opulence on the mouth or the cage match between the density and freshness. The match came to a draw. The seamless finish is nearly endless. The wine coats your palate and stains your teeth, remaining perfectly in balance. Made from blending 89% Merlot with 11% Cabernet Franc, it reached 14.5% ABV. The harvest took place September 21 to October 4. 97-99 Pts

10,176 Views

Tasted

Apr 19, 2019

2017
Château Larcis Ducasse (St. Émilion Grand Cru)

Stony, mineral-driven red plums and cherries are all over the place. Concentrated, fresh, complex and fresh, give this a decade or so, allowing everything to come together, gaining complexities, nuances and softness.

3,689 Views

Tasted

May 17, 2020

Flowers, crushed rocks and ripe, deep red fruits are found in abundance here. With silky textures, sweet maroon berries, earth, licorice and salty tannins, the wine offers concentration of flavor with cut and definition. The mineral character is profound in this vintage, therefore give it at least a decade to develop before popping a cork. The wine was made from blending 92% Merlot with 8% Cabernet Franc, reaching 14% ABV. The harvest took place September 18 to October 2.

4,136 Views

Tasted

Apr 26, 2018

2016
Château Larcis Ducasse (St. Émilion Grand Cru)

Full bodied, luxurious, deep, fresh and sweet, the wine has power, purity, minerality and length. There is concentration, complexity and on the finish, it is incredibly polished and silky with layers of fruit and persistence. Made from a blend of 87% Merlot, harvested October 12 to October 20 and 13% Cabernet Franc, picked on October 18 and 19, the wine reached 14.4% ABV with a pH of 3.45.

5,656 Views

Tasted

Sep 21, 2019

Sensuous, concentrated, full bodied and complex, this wine has it all. The ripe, dense, silky, pure fruit has freshness, definition and depth. The tannins are refined and the lavishly textured endnote leaves you with velvety textured, wall of fruit. It's not often you find an intellectual wine that's also hedonistic.

6,455 Views

Tasted

Feb 11, 2019

Perfectly ripe, dark, red fruits drizzled over various rocks and stones, with licorice and flowers all mixed together perfectly, to create the nose. On the palate, there is intensity, weight, character and freshness, that sets up all the sweet, pure fruits quite nicely. Give this at least 12 years of sleep before popping a cork.

6,903 Views

Tasted

May 21, 2018

This is incredibly rich, sensuous, full bodied and deep. Between the tannins and fruit, I cannot decide which is more polished or has more finesse. With lavish textures, waves of fruit and a velvet mouth feel, this is an outstanding wine with tremendous character. Made from a blend of 87% Merlot, harvested October 12 to October 20 and 13% Cabernet Franc, picked on October 18 and 19, the wine reached 14.4% ABV with a pH of 3.45.

6,378 Views

Tasted

Apr 29, 2017

2015
Château Larcis Ducasse (St. Émilion Grand Cru)

Smoke, tobacco, crushed stone, dark red fruits and wet earth are all over the place. The wine is full bodied, intense, concentrated and richly textured. There is a beautiful sensation of minerality and ripe fruits at work here. But at least 10 years are needed for this to get where it needs to be.

7,434 Views

Tasted

May 21, 2018

This is going to need time in the cellar before the essence of the crushed stone, flowers, smoke, wet earth and red fruits fully come alive. Full bodied, concentrated and intense, there is richness and mineral essence that are the hall marks of this stunner. The wine is going to tighten up shortly, so give it at least a 7-10 years in the cellar.

7,017 Views

Tasted

Mar 12, 2018

Developing as you would hope, the minerality and florality continue gaining ground The wine keeps adding weight and density. This will hit the top of my range with ease.

6,727 Views

Tasted

Jul 12, 2017

Flowery with stones, licorice and dark red fruits on the nose, there is concentration combined with power, elegance and grace. Not big, but rich, sensuous and mineral driven. The fruits are ripe, spicy and fresh. The luscious finish really keeps on going. Produced from a blend of 87% Merlot and 13% Cabernet Franc, the wine reached 14.52% ABV with a pH of 3.42. The harvest took place from September 28 to October 12. Usually priced quite fair, this stunner is a wine to look for during the futures campaign.

10,194 Views

Tasted

Apr 29, 2016

2014
Château Larcis Ducasse (St. Émilion Grand Cru)

Flowers, crushed rocks, hints of truffle and red fruits are the first thing you notice, before moving to softer, polished, plums, a medium bodied palate and fresh, red berries in the finish. I am sure 5 years in the cellar will add a lot to this wine.

4,161 Views

Tasted

Mar 24, 2017

Produced from a blend of 85% Merlot and 15% Cabernet Franc, this wine has a distinctive, mineral profile with licorice and fresh blackberries rounding out the exquisite perfume. On the palate the wine is round, supple, long and fresh, flaunting a unique, outstanding blackberry and plum character. 93-94 Pts

5,134 Views

Tasted

Apr 27, 2015

2013
Château Larcis Ducasse (St. Émilion Grand Cru)

With silky textures, forward character and a sweet, fresh, red cherry core of fruits with mineral essences, this is a Larcis Ducasse to enjoy in its youth while you wait for the 2015 to develop.

3,981 Views

Tasted

May 25, 2016

2012
Château Larcis Ducasse (St. Émilion Grand Cru)

Holding a lot in reserve, flowers, chocolate covered cherries, plum and licorice are right there, if you know where to look. Soft, polished tannins and a ripe, pit fruit filled complete the wine.

5,272 Views

Tasted

Mar 12, 2017

Truffle, mocha and fresh plums and thyme scents lead to a rich, concentrated, polished, lushly textured display of fresh black cherries, crushed stone and licorice. This was starting to close down. Give this a few years to come around, soften and wake up as it should be even better.

3,903 Views

Tasted

Jul 6, 2015

83% Merlot and 17% Cabernet Franc created a wine that pops with crushed stone, flowers and dark berries. Round in texture, the wine ends with a sweet licorice and cherry sensation. 91-94 Pts

5,763 Views

Tasted

Apr 26, 2013

2011
Château Larcis Ducasse (St. Émilion Grand Cru)

Medium bodied, soft, forward and ready to deliver its blackberry, cherry, licorice and coffee bean charms. There is some dryness in the finish that stops the wine from getting a higher score.

2,325 Views

Tasted

Feb 20, 2014

Intense minerality, coffee, flowers, licorice, plum, barbecue and black cherry create the complex perfume. From a blend of 85% Merlot and 15% Cabernet Franc, the wine reached 14.4% ABV. Deep in color, the wine ends with opulent layers of sweet black cherry, mineral and black raspberry liqueur flavors. 94-96 Pts

4,313 Views

Tasted

Apr 24, 2012

2010
Château Larcis Ducasse (St. Émilion Grand Cru)

With intense aromatics and concentration of flavor, the wine is deep, powerful and long. It's also filled with mineral essence, cocoa, licorice and ripe plums. The finish really coats your mouth and lasts for more than 40 seconds. But the wine is starting to tighten up. It's going to need time to come around.

15,416 Views

Tasted

May 8, 2013

Inky in color, with licorice, truffle, black cherry, oak and spice aromas. The palate enjoys, layers of sweet, jammy black fruits, spice, licorice and round tannins. It's easy to sense the minerality in this wine in the long fresh, black cherry filled finish. This is showing better than it did in April. 96-97 Pts

8,265 Views

Tasted

Jul 6, 2012

Larcis Ducasse The color of dark, purple ink, pungent aromas of crushed stone, fresh ground spice, licorice, and intense jammy berries lead the wine to a powerful, rich, dense, sexy mouthful of opulent, juicy fruit. This wine coats your palate. Long, pure and incredibly rich, this offers competition to the sublime 2005 Larcis Ducasse. 95-97 Pts

8,278 Views

Tasted

Apr 22, 2011

2009
Château Larcis Ducasse (St. Émilion Grand Cru)

Time has been good to this wine. Over the years it has filled out, while gaining in complexity and richness. With a strong sense, of salty minerality, the wine pops with its floral, licorice, cherry, truffle and earthy essence. That theme continues on the palate, finishing with sweet, ripe, red, smoky fruits. More aging could help soften things, so either give it 1-2 hours in the decanter, or perhaps 3-5 additional years in the cellar.

3,766 Views

Tasted

Sep 20, 2019

Minerality, truffle, fresh plum, earth, round, supple, long, fresh, ripe, sweet, rich, plush in balance. Oh so young, but this is so decadent now, it is hard not to want to pop a cork.

7,340 Views

Tasted

May 3, 2014

From an assemblage of 81% Merlot and 19% Cabernet Franc, the wine offers coffee bean, licorice, plum, jam and mineral scents. Medium/full bodied, with soft textures, the wine ends with fresh, sweet, ripe, black and red fruits.

7,114 Views

Tasted

Feb 10, 2012

Minerality, licorice, plum, black raspberry, caramel, smoke and rose petals make up the delicate perfume. In the mouth, this sexy, fleshy, opulent wine delivers layers of juicy plums and ripe black cherries. The wine was bottled May 15.

6,370 Views

Tasted

Jul 30, 2011

2009 Larcis Ducasse, 81% merlot and 19% cabernet franc, is dark purple. Limestone, black raspberry, smoke, and spice aromatics start the wine off. Soft, rich, and full bodied, but lacking the intense concentration found in the remarkable 2005, this rich, sultry wine offers a spice filled, dark fruit and licorice flavored finish. 93-95 Pts

6,582 Views

Tasted

Jun 29, 2010

2008
Château Larcis Ducasse (St. Émilion Grand Cru)

Earthy, truffle, smoke, licorice and tobacco accompany the red fruits. On the palate, the wine continues with its earth theme. There is concentration, but the tannins are strict creating some austerity in the wine. More aging could help soften things, so either give it 2 hours of air, or wait another 5 years or so before popping a cork.

4,216 Views

Tasted

Sep 17, 2018

The perfume is filled with floral, black raspberry, cherry, spice, licorice and stone aromas. The wine is rich, supple, fresh and filled with minerality. It needs time to develop.

7,748 Views

Tasted

Jan 25, 2011

08 Château Larcis Ducasse, while not at the level of the stellar 05, is still not far behind its distinguished sibling. Deep, inky color. Intense scents of ripe black and blue fruit, fennel, mineral, and flowers. Full bodied and packed with lush, ripe fruit, this opulently styled St. Emilion is stunning. 93-95 Pts

8,268 Views

Tasted

Jul 1, 2009

2007
Château Larcis Ducasse (St. Émilion Grand Cru)

Drinking great today at 10 years of age. Medium bodied and soft, with polished tannins and sweet, earthy, plum, cherry, thyme and espresso notes. You can enjoy this over the next few years while waiting for bigger vintages like 2005, 2009 and 2010 to develop. The wine was produced from blending 78% Merlot and 22% Cabernet Franc.

3,463 Views

Tasted

Nov 18, 2017

2006
Château Larcis Ducasse (St. Émilion Grand Cru)

From almost 90% Merlot and the remainder Cabernet Franc, this delicious St. Emilion wine offers stone, licorice, black cherry, cocoa, coffee, smoke and plum scents. Medium/full bodied and not as lush as the wines made in subsequent vintages, this is still a nice Bordeaux wine that will drink well early.

5,984 Views

Tasted

Aug 2, 2011

2005
Château Larcis Ducasse (St. Émilion Grand Cru)

This is packed with crushed rocks and stones, on the nose and a salty palate, which is perfect for its layers of flowers, licorice, fresh plums, cherries and bitter chocolate. Full-bodied, energetic and with a salty, tannic finish, give it perhaps another year or two in the cellar and enjoy for at least 2 decades after that.

5,543 Views

Tasted

Jun 26, 2021

This stunner keeps getting better and better. I think this is going to hit triple digits with another 2-3 years of age. Opulent, flamboyant and showy, with an incredible sensuality and decadent character that coats your palate with crushed rocks and perfectly ripe, velvet-textured fruits along with cashmere tannins. Deeply concentrated, this is a very textural experience. The finish has taken on an exotic quality that kept improving in the glass. It was impossible to put my glass down, without refilling it for another sniff and sip. And isn't that what great wine is all about?

5,208 Views

Tasted

Jul 16, 2020

The best showing ever or this stunning wine. Luscious fruits are all over the place. The wine is pure silk velvet and cashmere, with a finish that does not want to quit. This is so good now, and you can take this to the bank, it is only going to get better from here. Thrilling is apt descriptor, if you're a hedonist like me.

9,557 Views

Tasted

Feb 4, 2017

Deep ruby in color, with blast of fresh, sweet, vibrant, juicy, mouthful , fleshy, supple berries, silky textures and a lively finish that is just getting started. Drink this now, or give it a few more years for additional layers of softness and complexity.

6,772 Views

Tasted

Jun 28, 2015

An hour of decanting would have helped this bottle. Still, it was hard not to find the licorice, sweet boysenberry, chocoalte, earth and truffle, all wrapped up in a silky, elegant, velvety bow. The wine was produced from a blend of 78% Merlot, 20% Cabernet Franc and 2% Cabernet Sauvignon.

6,397 Views

Tasted

Oct 31, 2014

Liquid sex in a bottle. That says it all. For those that want a bit more detail, this beautiful wine is packed with layer after layer of ripe, deep, luscious, sensuous fruit, ripe, silky tannins and the perfect combination of polish, finesse and power. If you like young wines, pop a cork. If you prefer age and secondary nuances, give it another 5-8 more years.

6,726 Views

Tasted

Nov 15, 2013

The perfume of melted blackberry and plums with hints of fennel and raspberry is seductive. But, the fireworks really start when the rubber meets the road, or should I say, when the wine hits your palate? Multiple layers of decadent, fat, sexy, lush, ripe St. Emilion fruit grace your palate in endless waves of flavor. The best way to describe this Bordeaux wine is... it is akin to pouring liquid heaven over your palate. This is very polished and velvety with insane levels of concentration.

10,036 Views

Tasted

Nov 9, 2010

This Bordeaux wine is so incredibly rich, you could eat it or drink it. Everything is in balance. Very sexy, opulent and exotic. This St. Emilion wine has it all. This takes decadence to new levels.

8,965 Views

Tasted

Jun 24, 2009

This Bordeaux is so plush, dense and concentrated, it's almost scary. This has everything a wine lover desires in a wine. This is packed and stacked with incredible levels of opulent, ripe, sexy fruit. The aromatics start the fireworks off, but the silken fruit bath your palate enjoys is the real fireworks.

10,000 Views

Tasted

Jan 20, 2008

2004
Château Larcis Ducasse (St. Émilion Grand Cru)

As is often how it goes, the last bottle from the case was the best. Still youthful in color, the nose offers chocolate fudge, black cherry, truffle and floral notes. Silky and fresh, with plenty of sweet, dark red fruits in the finish, the only thing holding this back, is a lack of hangtime in the finish. Decanted 30 minutes, this was rocking! On to my case of 2005!

3,119 Views

Tasted

Jan 8, 2018

Spicy red and black berries, stone and licorice add to the mineral driven, easy to drink character. There is no reason not to be popping corks on this wine, as it's drinking great today.

3,756 Views

Tasted

Nov 30, 2014

The second vintage after the estate starting hitting it right is in the sweet spot. Licorice, truffle, black cherry, coffee bean crushed stone notes open to a soft, silky, medium/full bodied ripe, round wine with a lot of character.

3,425 Views

Tasted

Mar 25, 2013

With good color, the nose offers minerality, sweet dark plums, blackberry, earth, licorice and dark cherries. Soft textured, concentrated and round, the minerality of the terroir comes through. Give it another 2-3 more years to allow this St. Emilion to develop additional complexities.

4,992 Views

Tasted

Sep 19, 2012

Smoke, coffee, licorice, jam, cassis, minerality and herbs, full bodied and concentrated, but a bit monolithic. The wine ends with black cherry liqueur and a touch of green olive tapenade.

4,935 Views

Tasted

Aug 20, 2011

This wine remains deeply colored. In the nose, minerality, jammy berries, coco powder, licorice and kirsch. Full bodied and soft textured, this still youthful wine ends with a blast of dark cherry and espresso. There is a slight hint of bitterness or green in the finish. A few more years will add additional flesh and complexity to the wine.

5,774 Views

Tasted

Jun 14, 2010

2003
Château Larcis Ducasse (St. Émilion Grand Cru)

While the textures are soft, the fruit is rapidly fading. Drink up.

3,493 Views

Tasted

Dec 18, 2013

Slightly more interesting on the nose than the palate, the wine offers smoke, licorice, truffle, chocolate covered plums and earthy scents. In the mouth, this sweet, ripe, spicy, black cherry dominated wine feels great on the finish. This is ready to drink.

4,392 Views

Tasted

Aug 20, 2012

1975
Château Larcis Ducasse (St. Émilion Grand Cru)

More on the secondary side, with its earthy and tobacco character, followed by semi tart red fruits in the finish.

1,898 Views

Tasted

Jul 8, 2017

1966
Château Larcis Ducasse (St. Émilion Grand Cru)

Classic and traditional, the wine had this fabulous, tobacco, earth, wet forest floor and cherry nose, but on the palate, the wine had fruit but the rustic tannins and stern finish took away from the overall experience. Still, it was fun too taste.

1,737 Views

Tasted

Apr 14, 2017

1959
Château Larcis Ducasse (St. Émilion Grand Cru)

What a treat! Served double blind, it was easy to enjoy the sweet, cherries, earth, tobacco and spice that led to the medium bodied, supple, soft, earthy wine. No decanting needed, or wanted. If you own a bottle, just pull the cork and enjoy this great piece of history.

1,951 Views

Tasted

Mar 26, 2017