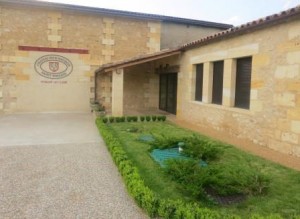 Learn everything about Chateau Pavie Macquin St. Emilion, Premier Grand Cru Classe B with wine tasting notes, and wine with food pairing tips. Learn the best vintages, a history of the property, information on the vineyards, and winemaking. If you want to read about other important, Bordeaux Chateaux: Links to all Bordeaux Wine Producer Profiles
Chateau Pavie Macquin History, Overview
Chateau Pavie Macquin, took its name from Albert Macquin. The name of Macquin is famous today for more than being attached to a Saint Emilion chateau. Albert Macquin was a true pioneer. He deserves much of the credit for solving the phylloxera epidemic.
It was his idea to graft vines needed onto rootstocks. This helped save not only St. Emilion, but much of Bordeaux and the vineyards of Europe from the devastation being caused by the nonstop phylloxera attack.
The current owners of Pavie Macquin are Benoit Corre and Bruno Corre and Marie-Jacques Charpentier. They own Pavie Macquin, along with their children.
Prior to 1998, the estate was not producing wines at the level of its terroir. To know this, all you have to do is taste the wines of Pavie Macquin from before 1998 and compare them with the wines they started making in 1998, up until today to understand how far they have come at Pavie Macquin.
I mentioned 1998 because that is the date of the rebirth of Pavie Macquin for their wine. But the start of everything coming together began several years earlier, in 1990 to be exact. That was the year the young, Stephane Derenoncourt joined the team at Pavie Macquin.
A few years later, in 1994, Nicolas Thienpont was the next member to join the team at Pavie Macquin. It took a few years after that, but starting with the 1998 vintage, things began rapidly turning around for the wines of this St. Emilion chateau. As of today, 2005 Pavie Macquin remains the finest vintage they have produced yet.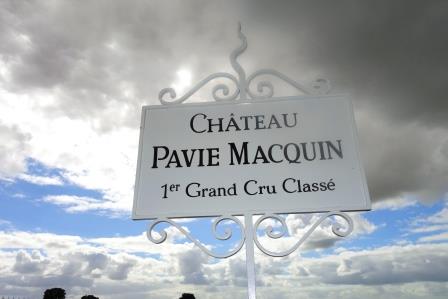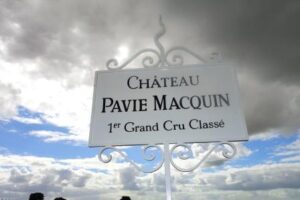 Chateau Pavie Macquin Vineyards, Terroir, Grapes, Winemaking
This 15-hectare vineyard of Pavie Macquin is planted to 80% Merlot, 18% Cabernet Franc and 2% Cabernet Sauvignon. The vineyards of Chateau Pavie Macquin are located next to the hill of Mondot at an altitude of between 77 meters at its high point. Located in a valley, portions of the terroir can be cooler.
If you're standing in the Right Bank vineyards of Pavie Macquin, you get a great view of their well-known neighbors. Troplong Mondot is to the west, Pavie is south, Trotte Vieille is due north and Pavie Decesse is right in front.
Pavie Macquin has a complex terroir that features 9 different types of soil, most of it is clay and limestone soil. You can simplify matters by looking at their northern parcels as being in a slightly cooler, limestone area, and in the south, you find a warmer terroir. It is the blending of the terroirs and grape varieties that makes all the difference here.
The vineyards of Chateau Pavie Macquin are planted at a vine density of 6,600 vines per hectare. However, newer plantings are being done at a very high density for the Right Bank at 8,888 vines per hectare. At Pavie Macquin they have old vines, many are on average, close to 40 years of age. Their oldest vines date back more than 60 years.
At Chateau Pavie Macquin, the vineyard is managed using 100% organic techniques. But they choose not to be certified organic, allowing them to make a wider variety of choices. They are also biodiverse, meaning they are HVE certified. The policy of replanting at Chateau Pavie Macquin is that individual vines are replaced on a vine-by-vine basis.
This is done using the selection massal technique where the budwood is drawn from existing vines from within the Pavie Macquin vineyard. In time for the 2012 harvest, Chateau Pavie Macquin finished a complete renovation of the estate including all their winemaking facilities, the tasting room, and the vat house.
The best vintages of Chateau Pavie Macquin are: 2022, 2021, 2020, 2019, 2018, 2017, 2016, 2015, 2012, 2010, 2009, 2008, 2006, 2005, 2003, 2001 2000 and 1998. There are several great vintages produced here. 2005, 2009, 2010, 2015 are close to the top of what estate has produced. But 2016 is at this point, the finest wine Pavie Macquin has ever produced!
Pavie Macquin Character and Style
The wine of Chateau Pavie Macquin is at its best, rich, lush, concentrated, long, fresh, and packed with minerality, silky tannins, sensuous textures, and the ability to age and develop for years.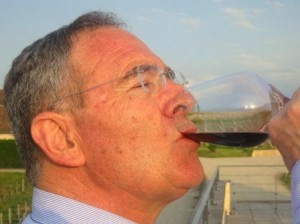 To produce the wine of Pavie Macquin, a lot of work takes place in the cellars and in the vineyards. Starting with the 2009 Bordeaux vintage, the grapes are now optically sorted before vinification. Next, more than half of the whole berries are vinified in large, open-top oak fermenters. The remaining grapes are fermented in cement tanks.
Extraction is obtained through pigeages. On average, the maceration lasts from 30 to 35 days. Malolactic fermentation takes place in barrels.
The wine of Chateau Pavie Macquin is then aged in 70% new, French oak barrels for an average of 18 months before bottling. The first 6 months of the aging have the wine remaining on its post malolactic lees, adding more richness to the wine. Production of Chateau Pavie Macquin is on average, 4,500 cases per vintage. There is a second wine, Les Chenes de Macquin.
When to Drink Chateau Pavie Macquin, Anticipated Maturity, Decanting Time
Chateau Pavie Macquin is much better with at least 10-12 years of aging in good vintages. Young vintages can be decanted for 2-3 hours or more.
This allows the wine to soften and open its perfume. Older vintages might need very little decanting, just enough to remove the sediment. Chateau Pavie Macquin offers its best drinking and should reach peak maturity between 10-30 years of age after the vintage.
Serving Chateau Pavie Macquin with Wine and Food Pairings
Chateau Pavie Macquin is best served at 15.5 degrees Celsius, 60 degrees Fahrenheit. The cool, almost cellar temperature gives the wine more freshness and lift.
Chateau Pavie Macquin is best paired with all types of classic meat dishes, veal, pork, beef, lamb, duck, game, roast chicken, roasted, braised, and grilled dishes. Chateau Pavie Macquin is also good when matched with Asian dishes, rich fish courses like tuna, mushrooms, and pasta.
Château Pavie Macquin Wine Tasting Notes
24 Vintages 473,938 Views Sort by Vintage-Rating
2022
Château Pavie Macquin (St. Émilion Grand Cru)

Dark garnet in color, the wine offers its nose of cherry blossoms, licorice, black fruits, orange rind, olives, and tobacco leaf profile with ease. The perfect blend of power, elegance, and oceans of fruit, there is a beautiful balance, and harmony here. The opulent, silky fruits deliver purity, length, and freshness that is close to seamless. The sensations linger on the backend long after the wine has left the glass. The wine blends 80% Merlot, 19% Cabernet Franc, and 1% Cabernet Sauvignon. 14.7% ABV, 3.4 pH. The harvest took place September 14-September 20. Drink from 2027-2055. 97-99 Pts.

2,842 Views

Tasted

May 8, 2023

2021
Château Pavie Macquin (St. Émilion Grand Cru)

Flowers, plums, espresso, licorice, and dark cherries with a touch of leafy herbs are in the nose. The wine is fresh, bright, crisp, and with a salty, savory, olive-tinted edge on the palate, as well as in the mineral driven finish. Give the wine a few years in the cellar to soften and fill out. The wine was produced from blending 79% Merlot, 19% Cabernet Franc and 2% Cabernet Sauvignon. 13.5% ABV. The harvest took place October 4 - October 19. Drink from 2026-2043. 92-94

2,797 Views

Tasted

May 20, 2022

2020
Château Pavie Macquin (St. Émilion Grand Cru)

Deeply colored with a showy nose packed with smoke, espresso bean, flowers, licorice, black cherries, plums and chocolate. The wine is rich, full-bodied, deep and concentrated with layers of sensuous, flamboyant, silky fruits that express purity, depth and complexity. The lingering finish builds in intensity finishing with intriguing touches of citrus peel, red pit fruit, and dark chocolate. In a few years, this could be even better. Drink from 2025-2055.

4,067 Views

Tasted

Mar 21, 2023

Inky in color, with dark purple accents, the wine explodes with flowers, incense, licorice, black fruit and touches of blueberries. Rich, intense, flamboyant, sensuous and silky, this hits all your pleasure buttons simultaneously. The wine paints your palate with layers of decadently ripe fruit that is simultaneously sweet, fresh and dense. The seamless finish does not quit. Instead it builds and expands, growing in intensity and complexity. This is going to be stunning with a decade or so of aging. 96-98 Pts

4,739 Views

Tasted

May 20, 2021

2019
Château Pavie Macquin (St. Émilion Grand Cru)

Full-bodied, concentrated, and loaded with ripe, very ripe, and perfectly ripe red with black fruits, flowers, spice, mocha, and smoke is intoxicating. Long, lush, rich, and supple, there is density along with lift, length, and complexity which makes for an exciting tasting experience. The finish really holds on and expands as it lingers. Drink from 2025-2047.

6,526 Views

Tasted

Mar 29, 2022

With a dark ruby hue, the wine is filled with fresh flowers, incense, smoke, crushed rock and piquant dark red fruits. On the palate, the wine is fresh, juicy, sweet, lively and long. The finish, with its ripe, stony red fruits has good volume and persistence. 95-97 Pts

12,884 Views

Tasted

Jun 8, 2020

2018
Château Pavie Macquin (St. Émilion Grand Cru)

The knockout nose, with all its sensations of cherry, plum liqueur, smoke, licorice, kirsch, flowers and boysenberry is all you need to know this is great wine. On the palate, the wine meshes silk and velvet textured fruits with minerality seamlessly. Long, intense, expansive, stony and character driven, this is going to offer sublime tasting experiences if you can wait for at least 7 years before pulling a cork. The wine blends 78% Merlot, 20% Cabernet Franc and 2% Cabernet Sauvignon.

7,518 Views

Tasted

Mar 9, 2021

The licorice, smoke, plum liqueur, boysenberry and floral aromas are breathtaking. And then you get to your palate, which feels like velvet and tastes like pure essence off the vine while offering a melange of berries ranging from black to blue to red. Produced from 78% Merlot, 20% Cabernet Franc and 2% Cabernet Sauvignon, the wine reached 14.5% ABV. The harvest took place September 20 to October 12. 97-99 Pts

10,734 Views

Tasted

Apr 19, 2019

2017
Château Pavie Macquin (St. Émilion Grand Cru)

With a strong sense of minerality, flowers, smoke, red pit fruits and licorice, the wine lets you know it's going to be good. After sensing the concentration, freshness and sweetness in the berries, you get the same idea. But the wine will take 7-8 years to soften and come around.

7,497 Views

Tasted

May 17, 2020

Delicate, soft, skillfully shaped tannins and mature, dark fruit proffer sweetness and lift at the core of this year's presentation. Full bodied, lush and polished with juicy fruit characteristics, length and complexity, the vintage is about stylish refinement, vibrancy and purity of fruit. Produced from 80% Merlot, 18% Cabernet Franc and 2% Cabernet Sauvignon, the wine reached 14% ABV. The harvest took place September 20 to October 9.

6,511 Views

Tasted

Apr 26, 2018

2016
Château Pavie Macquin (St. Émilion Grand Cru)

Just fabulous, the wine fills your glass with palate staining fruits, rocks, stones, flowers, licorice, smoke and juicy, perfectly ripe, fresh cherries and plums. Full-bodied, pure, fresh and vibrant, the energy in the wine and purity in the silky, sensuous fruits is just great! This is gorgeous and if it is your style of wine, (I am sure you can tell it's mine) you should have this wine in your cellar.

9,431 Views

Tasted

Sep 21, 2019

This palate staining gem serves up its blend of crushed rocks, flowers, ripe, sweet, plums, cherries, licorice, smoke and dark cocoa with little effort. Long, concentrated, full bodied and opulent, there are layers of fruit here to caress your palate from start to finish. This is a compelling wine that continues to sell for a very friendly price, especially when you consider the extraordinary quality tasted here in this vintage. Give it a decade in the cellar and enjoy for the next 20 years after that.

8,617 Views

Tasted

Feb 11, 2019

Clearly, the best wine ever produced at Pavie Macquin, this is just super! With mouth-coating levels of intensity that stain your palate, there is also freshness, purity of fruit and complexity that is already mind-blowing! For a wine at this level of quality, it still sells for a song.

11,258 Views

Tasted

May 21, 2018

You have to like your grapes poured over a rock quarry to get this wine, but I love it. The color of Homer's wine dark sea with levels of extract that coat your palate, teeth and gums. There is something special here you can easily sense, with crushed velvet textures and the perfect combination of decadence and refined elegance. Even though this is incredibly powerful, everything is in harmony. The pure fruits linger, build and expand; this is a unique textural experience. The wine was produced from blending 82% Merlot, 16% Cabernet Franc and 2% Cabernet Sauvignon. The Merlot was harvested October 7 to October 21, the Cabernet Franc, October 17 to October 20 and the Cabernet Sauvignon on October 20. The wine reached 14.4% ABV with a pH of 3.35.

12,276 Views

Tasted

Apr 29, 2017

2015
Château Pavie Macquin (St. Émilion Grand Cru)

Lush, sexy, plush and polished, the wine has all the glycerine needed to coat the glass and your palate. There is purity in the fruits and silky tannins in the finish that make this just as exciting to feel as it does to taste. One of the best vintage produced here, this should age for at least 20-25 years or longer!

6,344 Views

Tasted

May 21, 2018

Loads of secondary notes of smoke, wet earth and forest floor compliment the sweet, dark red, earthy, plum and cherry fruits. Concentrated, full bodied, fresh, long and intense, there is length, sweetness of fruit and complexity. The finish offers a touch of jam, dark red berries, espresso and stone, with soft, lushly textured tannins that really linger.

5,851 Views

Tasted

Mar 12, 2018

A gem in the making, this has so much going on, where do you start? Opulence and freshness, with depth of flavor, length and intensity, this is heading in the right direction.

5,269 Views

Tasted

Jul 12, 2017

Dark ruby in color with a floral, boysenberry nose, this wine is complicated by licorice, espresso bean and cherry blossoms. Pure silk and minerality on the palate, the velvety fruits are fresh and clean.. This wine was made from a blend of 84% Merlot, 14% Cabernet Franc and 2% Cabernet, reaching 14.5% ABV with a pH of 3.38. The harvest took place from September 29 to October 17.

5,305 Views

Tasted

Apr 29, 2016

2014
Château Pavie Macquin (St. Émilion Grand Cru)

Already showing some maturity in the color, the wine is medium/full bodied, fresh, sweet, and refined, with sweet,, spicy, black raspberry, plum pure cherries, and crushed rocks in the finish. A few years of cellaring, with definitely make this more interesting. Although, this is going to be fun to drink early.

5,005 Views

Tasted

Mar 24, 2017

Floral, black raspberry and licorice notes open as soon as the liquid hits the glass. The wine feels soft, smooth and supple and there is tension and polish in the finish that tastes as good as it feels. 93-94 Pts

7,252 Views

Tasted

Apr 27, 2015

2013
Château Pavie Macquin (St. Émilion Grand Cru)

Soft, easy to drink and charming, there is freshness and sweetness to the medium bodied, mineral driven fruits, licorice, spice and smoke in the finish.

3,722 Views

Tasted

May 25, 2016

Smoke, mineral and stone complement the long, sweet boysenberry and dark chocolate finish. Blending 85% Merlot, 13% Cabernet Franc and 2% Cabernet Sauvignon, the wine produced low yields of 25 hectoliters per hectare. The Grand Vin represents 80% of the harvest. 91-93 Pts

5,948 Views

Tasted

Apr 29, 2014

2012
Château Pavie Macquin (St. Émilion Grand Cru)

Truffle, minerals, espresso bean, ripe plums and licorice create the perfume. On the palate, the wine is suave, and polished, with a sensuous display of fresh, sweet, mineral driven cherries.

4,856 Views

Tasted

Jul 6, 2015

85% Merlot, 14% Cabernet Franc and a dab of Cabernet Sauvignon produced the blend. Licorice, flowers, coffee bean and juicy ripe plums, with silky tannins and a sweet, fresh, black cherry finish are found in this wine. 93-95 Pts

8,901 Views

Tasted

Apr 26, 2013

2011
Château Pavie Macquin (St. Émilion Grand Cru)

Licorice, coconut, black cherries and espresso bean scents create the aromatics. The wine has a soft touch, but the follow through of red and dark berries is marred by some dryness in the finish. This will probably best in its youth and should drink well on release. This is a very nice wine and a success for the vintage.

4,486 Views

Tasted

Feb 20, 2014

From clay and limestone soils, strong stone, espresso, ripe black cherry and minerality scents pop from the glass. Ripe, long and packed with fresh, sweet kirsch, this blend of 84% Merlot, 14% Cabernet Franc and 2% Cabernet Sauvignon managed to reach 14% ABV. 91-93 Pts.

6,220 Views

Tasted

Apr 24, 2012

2010
Château Pavie Macquin (St. Émilion Grand Cru)

The strong nose, with its flowers, mint, licorice, cocoa, plum, wet earth and cherries is a treat. Still youthful, the wine is rich, concentrated, opulent, luscious and intense. But it does need more time before it really begins to show its all. Wait 5 more years and enjoy it for 2-3 decades after that.

3,732 Views

Tasted

Mar 6, 2022

Silky tannins, powerful, concentrated and long, the wine is filled with deep, dark berries, licorice, earth, jam, tannin and spice. This has the stuffing and structure to age and develop for decades.

7,991 Views

Tasted

May 8, 2013

Oak, licorice, stone, flowers and plums. Full bodied, concentrated, filled with minerality, density of flavor and length. This St. Emilion wine combines freshness and purity. This is another 2010 St. Emilion wine that was showing better than last tasted in April. 96-97 Pts

7,375 Views

Tasted

Jul 6, 2011

2010 Pavie Macquin from clay and lime stone soils, this dark colored wine offers, sweet jammy berries and minerality in the nose. 85% Merlot, 14% Cabernet Franc and a smidgeon of Cabernet Sauvignon make up the assemblage. With soft, plush round textures, minerality, purity and freshness, the wine ends with a long wave of sweet, jammy black plums, minerality, coca and licorice. 95-97 Pts

6,718 Views

Tasted

Apr 22, 2011

2009
Château Pavie Macquin (St. Émilion Grand Cru)

A really nice showing for this wine. It is just coming out of its deep sleep. Lush, silky, polished and long. The waves of licorice, espresso, black cherry, dark plum, smoke and background notes of flowers gets the wine off to a good start. Long and lingering, with a nice touch f crushed stone in the finish, even though this is still young, with air, you can pop a cork, else 3-5 years will add a lot here..

3,622 Views

Tasted

Sep 20, 2019

Earth, stone, black raspberry and cherry, medium/full bodied with more acidity and freshness in the plummy personality than previous tastings showed. I'd let it sleep for 7-10 years.

8,967 Views

Tasted

May 7, 2012

With 85% Merlot, 11% Cabernet Franc and 4% Cabernet Sauvignon, Nicolas Thienpont and Stephane Derenoncourt crafted a delicious St. Emilion filled with licorice, fresh boysenberries, crushed stone and jam. Powerful, full bodied, concentrated, opulent and polished, this delicious St. Emilion has the structure to age. There is no sensation of heat in this 14.5% ABV wine.

9,023 Views

Tasted

Feb 10, 2012

Floral, licorice, stone, blackberry, truffle and mineral scents are easy to find. Once past the perfume, your palate discovers a concentrated, full bodied, juicy, ripe, opulent, exotic, mouthful of spicy blackberry, anise and black plums.

8,333 Views

Tasted

Jul 30, 2011

2009 Pavie Macquin, from clay and limestone soils, blends 85% merlot with 11% cabernet franc and 1% cabernet sauvignon. The moment the wine hits your nose, scents of crushed stone, blackberries, black plums, licorice, and chocolate are everywhere. Full bodied and intense, with silk and satin textures, this exciting wine has a supple, long, black cherry filled finish. 94-97 Pts

9,017 Views

Tasted

Jun 29, 2010

2008
Château Pavie Macquin (St. Émilion Grand Cru)

Along with lightening in the color, you find flowers, cigar box, tobacco leaf, red fruits, oyster shell and herbs in the nose. On the palate, the wine is long, juicy and fresh, There is minerality that is easily sensed, but there is also more than enough sweet fruits to keep everything in balance.

4,513 Views

Tasted

Sep 17, 2018

A beautiful perfume filled with licorice, minerality, black raspberries, jam, truffles. coffee and fresh herbs leads to a suave, rich, supple, concentrated St. Emilion wine that ends with fennel, plums and blackberries.

9,022 Views

Tasted

Aug 14, 2011

2007
Château Pavie Macquin (St. Émilion Grand Cru)

Medium/full bodied, with a bright, red and dark red plum focus, the wine has a stony, mineral quality, coupled with red fruits and leafy, forest characteristics with a bit of campfire smoke. This blend of 85% Merlot, 14% Cabernet Franc and 1% Cabernet Sauvignon is ready to drink.

4,053 Views

Tasted

Nov 18, 2017

2006
Château Pavie Macquin (St. Émilion Grand Cru)

Showing just a bit of age in its color, the wine has silky tannins, a stony, licorice and fresh cherry personality with a rich, mineral and plum filled finish. Still young, this wine has a lot of room to improve.

3,674 Views

Tasted

May 25, 2016

2006 was supposed to be the first vintage Nicolas Thienpoint was able to declare Pavie Macquin's much deserved upgrade in classification to Premier Cru status. But court developments forced the owners to use the 1996 classification for the time being. The 06, with its deep color and mineral, plum, black raspberry nose accompanied by concentrated layers of young, black dense fruit will take some time in the cellar before releasing its charms.

7,646 Views

Tasted

Jul 2, 2008

2005
Château Pavie Macquin (St. Émilion Grand Cru)

It took 1 hour of air before the layers of floral accented, luscious, silky plums, licorice, cocoa, and blue fruits were in full force and hitting their stride. The wine is powerful, elegant, fresh, opulent and silky. This is fabulous now, but either wait a bit, or give it an hour of air, and it is really going to sing. Drink from 2023-2045.

556 Views

Tasted

Sep 4, 2023

Flowers, cherries, chocolate, mint, licorice, smoke, and spice blend together to create the nose. Equally concentrated and fresh, with lift, salty, crushed stones, red plums, cherries, cocoa, and a touch of herbs, there is length, purity, and a solid oceanic influence on the palate that you find carries through to the energetic, creamy, cherry, chocolate and creme de cassis loaded finish. This is really showing well today. Drink from 2023-2035.

2,971 Views

Tasted

Feb 11, 2023

The nose explodes with truffle, smoke, licorice, blackberry, plum and wet earth. Full bodied, silky and intense, this silky, smooth wine lingers and expands on your palate making a really nice impression on all your senses. Still young, there is so much fruit and lush textures going on, this is a treat to taste today. If you have patience, it's only going to get better and better from here!

7,606 Views

Tasted

Jun 28, 2015

This wine has it all... Inky, black, opaque in color with aromatic fireworks, surreal concentration and so many levels of flavor, I could not count them all. This is the real deal!

12,712 Views

Tasted

Jan 20, 2008

Oak, red and black fruits, coffee and exotic spices offer your palate an orgasam of flavor. The seamless finish lasts close to :60

12,244 Views

Tasted

Nov 9, 2007

Inky, black in color. Licorice, truffles, minerals and gobs of ripe, opulent, rich black fruit make the perfume. Ample structure, concentration and ripe tannins will allow this to age and evolve for decades.

12,081 Views

Tasted

Jun 24, 2007

2004
Château Pavie Macquin (St. Émilion Grand Cru)

Flowers, licorice, espresso, spicy blackberry and plum notes start the wine, which is further improved with its mineral, fennel and black cherry palate. This could still soften and develop with a few more years.

4,938 Views

Tasted

Nov 30, 2014

Deep in color with scents of crushed stone, fennel, spice, smoke and black cherry jam, this concentrated supple textured St. Emilion with layers of fresh black raspberries, spice coffee and herbs. This is never going to hit the same level of quality as 2000, 2005 or 2010, but give it another 2-5 years and this will develop more nuances and layers of complexity.

6,894 Views

Tasted

Aug 29, 2011

2003
Château Pavie Macquin (St. Émilion Grand Cru)

Clearly, drinking in its sweet spot, this medium-bodied wine is all about its silky, supple, rich textures that deliver its layers of opulent, ripe plums, tobacco leaf, spicy cherries, and a touch of dark chocolate and sea salt that comes in right at the perfect moment in the finish. There is no need to decant, just pop, pour and enjoy this beauty.

3,774 Views

Tasted

Jul 10, 2022

Rich, round, luscious, opulent, ripe, deep red plums and cherries with smoke, espresso, licorice and crushed rock accents are showing at their peak today. No decanting needed. Just pop, pour and enjoy over the next decade.

4,764 Views

Tasted

Jun 21, 2021

Roasted cherries, plums, licorice, herbs, smoke and hints of espresso bean fill the nose. On the palate, the wine is soft, silky and lush. With no decanting, this is showing great. There is not much to gain with further aging. So if you have been waiting for the right time, pop a cork.

3,566 Views

Tasted

Aug 11, 2019

What a beauty! That is, if you like luscious, ripe, opulent, sensuously textured fruits backed up by flowers, plums, truffles, chocolate, smoke, figs, espresso and stone. The texture is just beautiful. You can age this for longer, if you prefer more secondary nuances, but I am really digging how this is tasting today. Popped and poured from a decanted, this continued improving in the glass.

4,172 Views

Tasted

Dec 14, 2017

Fresh flowers, licorice, barbecue smoke, crushed rocks and black cherry liqueur aromatics do not take long to reveal their essence. Luscious textured, fresh, juicy, dark red, sweet, juicy dark chocolate covered plums feel great on your palate. This is drinking great now. An hour in the decanter seems to be all this beauty needed. That being said, this is showing even better in the glass. This is an outstanding hedonistic treat!

4,760 Views

Tasted

Aug 22, 2016

In the right place, at the right time, this winner focuses you on its earthy, floral, licorice and sweet fruits in the nose with no trouble. However, it really gets going on the palate, with its opulent, silky textures and lushly textured fruits.

4,234 Views

Tasted

Jul 3, 2015

Fresh, silky, soft and packed with a mineral driven core of sweet, ripe cherries, plum, earth, licorice and smoke. Popped and poured, the continued betting better in the glass. This charmer is very easy to drink the minute the you pop the cork. It could get better, but it's so good now, why wait?

4,352 Views

Tasted

Feb 14, 2015

Fresh, sweet, sexy and silky, the wine is filled with ripe, fresh, velvety fruit. There is no reason to wait to pop cork. This is one of the better 2003 St. Emilion wines.

4,465 Views

Tasted

Dec 18, 2013

Smoke, black raspberry, jam, charcoal, licorice, coffee, caramel, stone and fresh herbs with a hint of mint create the aromatics. The wine is rich, concentrated, and opulent, ending with a thick wave of sweet, velvety, chocolate covered boysenberries. This is a hedonistic style of St. Emilion that hits all the right spots for pleasure seekers

5,538 Views

Tasted

Dec 31, 2012

Intense minerality followed by ripe, juicy black fruit, kirsch, black raspberry jam, currants and tobacco. Lush, opulent and exotic in the mouth, the wine finishes with plum, licorice and chocolate sensations. Give this wine another year or two.

8,659 Views

Tasted

Jun 25, 2010

2001
Château Pavie Macquin (St. Émilion Grand Cru)

From a blend of 90% Merlot and 10% Cabernet Franc, this inky, dark wine opens with black licorice, coffee bean, jammy, black cherry liqueur, blueberry, earth and floral aromas. Powerful, packed and concentrated, the long, opulent, fleshy, jammy dark berry, filled finish is complicated by stone, licorice, chocolate and spice.

8,663 Views

Tasted

Feb 21, 2012

2000
Château Pavie Macquin (St. Émilion Grand Cru)

Showing just great, no decanting needed before getting to all the juicy, sweet, dark plums, blackberries, 80% cacao chocolate, and oceanic notes. There is a distinctive crushed rock and salty essence on the palate that adds loads of nuances to the lush textures. Drink from 2022-2030.

3,343 Views

Tasted

Sep 24, 2022

Definitely ready to go, all the flowers, licorice, crushed rock, cherries, plums, smoke, earth and tobacco make the right impression on the nose. On the palate, the wine is soft, round, slightly polished and loaded with sweet, deep red fruits with a touch of salty cocoa in the end note. Decanted about 45 minutes, this is a nice time to be drinking it.

4,154 Views

Tasted

Oct 29, 2021

Surprisingly reticent, an hour in the decanter would help. Concentrated, deep and fleshy, the fruit shows its minerality essence with ease. The berries are ripe, sweet and offer good flesh, but the wine seems to be stubbornly holding on to its youth.

3,833 Views

Tasted

Nov 19, 2018

With a nose that smells like you walked into a flower shop, with fresh dirt all over the floor, the smoky, caramel notes and sweet plums add on to the bouquet. Fresh, young, ripe and full bodied, there is good intensity and length in the finish. This is great now, and it's only going to get better.

5,507 Views

Tasted

Dec 15, 2015

Not fully mature, but in a very nice place with its nose of flowers, boysenberry,black cherry, bitter chocolate, licorice, truffle and a sprig of mint. Even better, the silky, soft, mineral driven wine finished with sweet and tart, stony, dark, red fruits. The wine improved in the glass after an hour of air. This is drinking quite well today. It's going to develop more complexities, but at close to 16 years of age, you should start drinking it. I am.

5,613 Views

Tasted

Jul 15, 2015

With its blackberry, dark cherry, fennel and mineral filled perfume was rich, round and full bodied. The wine needs at least another 5 years to develop and express all its character.

11,219 Views

Tasted

Mar 5, 2012

Thiis has morphed into a decadent, sultry wine. The complex perfume is intoxicating. Deep, full bodied and concentrated. Pure silk, velvet and lush, ripe fruit coat your palate. This Bordeaux wine is packed with polished, ripe dark berries, licorice, spice and minerals. Still young, over the last year, this has really started to come around.

12,636 Views

Tasted

May 1, 2010

Caramel, licorice, fresh herbs, jammy blackberry and plum liqueur with hints of mint. Rich, sexy, concentrated, but in a more classic style of sex appeal. Dense layers of ripe, spicy black fruit with hints of Persian Mullberries and cherry fill your palate. The long finish builds and continues for over forty seconds.

7,825 Views

Tasted

Jul 1, 2008

1999
Château Pavie Macquin (St. Émilion Grand Cru)

Medium bodied, round, mature and offering ripe cherries, underbrush and licorice in the finish. I'd drink this sooner than later to maintain the remainder of the fruit.

3,706 Views

Tasted

May 19, 2013

1998
Château Pavie Macquin (St. Émilion Grand Cru)

1998 Pavie Macquin is at its peak, balancing fruits with secondary notes, freshness and the patina of age. No decanting needed, pop and pour all the sweet, ripe, salty plums, cherries, licorice, chocolate, sprigs of mint and touch of fig. Lush, round and mildly polished, at a few weeks before its 24th birthday, this is just great!

3,711 Views

Tasted

Nov 10, 2021

Popped and poured, 30 minutes of air helped the licorice, stone, black raspberry, floral and dark cherry aromatics appear. The wine is supple, soft and elegant, finishing with fresh plums, the essence of dark chocoalte and dark red berries. Drink now, or age it 3-5 years, this is a very nice wine.

6,028 Views

Tasted

Mar 13, 2014

I've been tasting this wine at least once a year for the past decade and it's really coming around to showing its true potential. Flowers, crushed stone, spice box, black cherry and earthy scents keep you busy. On the palate, pure silk and velvet textures and long, clean, pure finish is what you'll find in this wine. This is the perfect time to pop a bottle, but my bet is, it's only going to get better with more time. While not cheap, for a wine of this quality entering maturity, it's worth buying to get a good idea on how strong 1998 Right Bank wines can be. This was popped and poured and continued developing in the glass.

6,333 Views

Tasted

Jun 25, 2013

Slightly more powerful and a little less opulent than the tremendous 00 Pavie Macquin, this stunning, still opaque colored wine has it all. Great concentration, fat silky fruit and strong aromatics. Still young, this lusty wine will improve. But if anyone feels like popping a bottle now, who could blame them?

4,779 Views

Tasted

Oct 11, 2012

Deeply colored, this young wine offers a treat for the senses aromatically and on the palate. The long, intense, mineral and ripe fruit finish is a pleasure to experience. While it lacks the size of Pavie, it offers more compleixty and nuances.

4,194 Views

Tasted

May 29, 2009

Opaque in color, concentrated, big, rich, dense. This is packed and stacked with dark ripe berries, licorice, minerals and spice as well as ample, round tannin, allowing this baby to evolve.

3,566 Views

Tasted

Aug 31, 2007