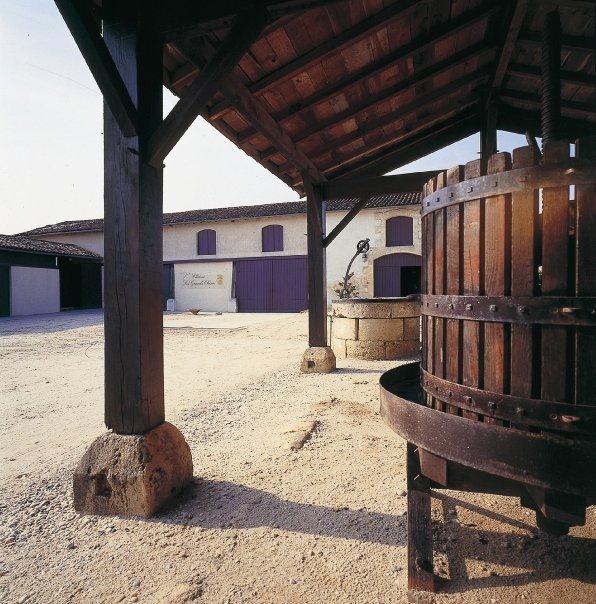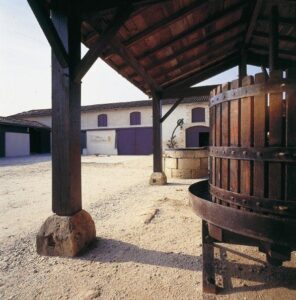 Learn everything about Chateau Les Grands Chenes Medoc with wine tasting notes and wine with food pairing tips. Learn the best vintages, the history of the property, and information on the vineyards and winemaking. If you want to read about other important, Bordeaux Chateaux: Links to all Bordeaux Wine Producer Profiles
Chateau Les Grands Chenes History, Overview
Chateau Les Grands Chenes, located in the Medoc appellation of Bordeaux has been producing wine since 1880. Prior to its use as a vineyard, Les Grands Chenes was originally used as a fort during the 16th century.
The estate was purchased in 1981 by Jacqueline Gauzy Darricade. Jacqueline Darricade was a dedicated owner who spent much of her time and a lot of money on improving the property before it was sold to Bernard Magrez in 1998.
After purchasing the estate, Bernard Magrez also invested heavily in the property. It is interesting to note that from 1998 until 2002, the estate produced a high-end Cuvee. But that special wine was discontinued in 2002. Those vines were placed back into the Grand Vin, to improve the quality of the main wine.
Chateau Les Grands Chenes Vineyards, Terroir, Grapes, Winemaking
The 38 hectare Les Grands Chenes Left Bank vineyard is planted to 60% Merlot and 40% Cabernet Sauvignon. The Cabernet Franc has been removed from the vineyard. Situated in the northern part of the Bordeaux appellation, the vineyard has a terroir of gravel, clay, and limestone in the soil.
This is one of the better terroirs located this far north in the Haut Medoc, as they have elevations and a view of the Gironde, which creates a micro-climate. On average, the vines are kept at 30 years of age. The vineyard is planted to a vine density of 8,000 vines per hectare.
To produce the wine of Chateau Les Grands Chenes, the grapes are whole berry fermented. Vinification takes place in a combination of large wood vats and stainless steel tanks. Malolactic fermentation takes place in vat. The wine of Les Grands Chenes is aged in 50% new, French oak barrels for 18 months before bottling.
The best vintages of Chateau Les Grands Chenes are: 2022, 2021, 2020, 2019, 2018, 2017, 2016, 2015, 2010, 2009 and 2005.
On average, 15,000 cases of Les Grands Chenes wine are produced every year. There is a second wine, which was known as Le Chenes Noir. That recently changed names to Temperance de Grands Chenes.
Like all of his properties, Bernard Magrez spared no expense in turning this into one of the top Cru Bourgeois vineyards in the Medoc. The wine is ripe, rich, and modern in style. However, the oak can remain part of its personality.
When to Drink Chateau Les Grands Chenes, Anticipated Maturity, Decanting Time
Chateau Les Grands Chenes needs some time before it can be enjoyed. Young vintages can be decanted for an average of 1 to 2 hours, give or take. This allows the wine to soften and open its perfume. Older vintages might need very little decanting, just enough to remove the sediment.
Chateau Les Grands Chenes is usually better with at least 3-5 years of bottle age. Of course that can vary slightly, depending on the vintage character. Chateau Les Grands Chenes offers its best drinking and should reach peak maturity between 4-15 years of age after the vintage.
Serving Chateau Les Grands Chenes with Wine, Food, Pairing Tips
Chateau Les Grands Chenes is best served at 15.5 degrees Celsius, 60 degrees Fahrenheit. The cool, almost cellar temperature gives the wine more freshness and lift. The wine of Chateau Les Grands Chenes is best served with all types of classic meat dishes, veal, pork, beef, lamb, duck, game, roast chicken, roasted, braised, and grilled dishes.
Chateau Les Grands Chenes is a perfect match with Asian dishes, hearty fish courses like tuna, mushrooms, and pasta as well as cheese.
Château Les Grands Chênes Wine Tasting Notes
16 Vintages 55,912 Views Sort by Vintage-Rating
2022
Château Les Grands Chênes (Médoc)

Black and red fruits with nuances of tobacco leaf, and espresso beans open the wine. On the palate, the wine is ripe, sweet, round, and forward, finishing with sweet, cherries, toasty oak, and chalky tannins on the backend. The wine blends 60% Merlot with 40% Cabernet Sauvignon. Drink from 2025-2038. 90-92 Pts.

747 Views

Tasted

May 8, 2023

2021
Château Les Grands Chênes (Médoc)

Espresso, licorice, coffee bean and currants come through easily, making this soft, round, fruity, forward and already quite charming to drink, for all its round-textures, sweet fruits and chocolate on release. Drink from 2023-2035. 89-91

1,347 Views

Tasted

May 20, 2022

2020
Château Les Grands Chênes (Médoc)

Deeply colored, the wine opens with dark, red and black fruit, licorice, espresso bean, smoke, flower and herb scents. Lush, round, sweet, and supple on the palate, the wine is packed with sweet, ripe, dark red fruits leaving you with a supple-textured finish. This is one of the finest vintages of Les Grands Chenes. Drink from 2023-2040.

712 Views

Tasted

Mar 21, 2023

2019
Château Les Grands Chênes (Médoc)

Smoky, with a touch of chocolate, licorice, espresso, spice and black cherries on the nose and palate come through quickly. Round, lush and polished with a richly textured, fleshy, dark plum, coffee, dark chocolate covered cherry finish, give it a few years of age to start to show its best. Drink from 2024-2037.

1,369 Views

Tasted

Mar 29, 2022

Full-bodied, rich and a bit oaky, the wine has a lot of smoke, fruit, wood and volume. One can find round textures and a big, sweet, fruity finish along with espresso bean, thyme and cocoa. Give it at least 5 years in the cellar. 89-91 Pts

2,308 Views

Tasted

Jun 8, 2020

2018
Château Les Grands Chênes (Médoc)

Round, lush, juicy, sweet and fresh, the ripe cherries come through loud and clear. The oak is close to fully integrated, now, you find smoke, flowers, earth and licorice with a touch of espresso to accompany all the ripe, sweet fruits. This is one of the finest vintages of Les Grands Chenes. The wine was made from 60% Merlot and 40% Cabernet Sauvignon.

1,490 Views

Tasted

Mar 9, 2021

Deep in color, the wine resonates with dark black cherries in the nose and mouth. Full-bodied, round, forward and richly textured, the finishes with dark, red fruits, licorice, espresso and bitter chocolate in the end note. The wine was made from 60% Merlot and 40% Cabernet Sauvignon. 90-92 Pts

2,149 Views

Tasted

Apr 19, 2019

2017
Château Les Grands Chênes (Médoc)

Smoke and black cherries deliver on the nose as this full-bodied, energetic and vibrant wine unfolds with dusky red fruits on the palette. Come for the sensation and stay for the dark chocolate edge which extends through the fruit and espresso tinged finish. The wine was made with a blend of 70% Merlot and 30% Cabernet Sauvignon.

3,063 Views

Tasted

Apr 26, 2018

2016
Château Les Grands Chênes (Médoc)

Round and polished with loads of espresso, smoke, ripe fruits and a fleshy finish.

4,275 Views

Tasted

Apr 29, 2017

2015
Château Les Grands Chênes (Médoc)

Utilizing 74% Merlot and 26% Cabernet Sauvignon, the wine is fleshy, round and has an earthy, red fruit profile. The open and oaky finish combines espresso bean and cherry characteristics. 86 - 88 Pts

4,406 Views

Tasted

Apr 26, 2016

2014
Château Les Grands Chênes (Médoc)

Lush, soft and polished, this wine is loaded with sweet fruits and a hint of jam with a big slash of espresso and vanilla in the fleshy finish. 87-89 Pts

2,832 Views

Tasted

Apr 21, 2015

2013
Château Les Grands Chênes (Médoc)

With a nose full of oak, licorice, black cherry and tobacco, this forward wine serves up a user-friendly, oaky blast of licorice and plum. 87-89 Pts

2,790 Views

Tasted

Apr 23, 2014

2012
Château Les Grands Chênes (Médoc)

Forward and ripe, with sweet red cherries, soft textures and a lot of oak in the finish.

3,551 Views

Tasted

May 15, 2015

Oaky with dark red berries and a coffee bean and red berry finish. 87-89 Pts

3,871 Views

Tasted

Apr 23, 2013

2011
Château Les Grands Chênes (Médoc)

Fleshy, fun and easy to like with coffee, black cherry and round textures. 87-90 Pts

3,265 Views

Tasted

Apr 8, 2012

2010
Château Les Grands Chênes (Médoc)

Medium/full bodied with licorice, coffee bean, vanilla and dark cherry sensations in the nose. Forward and accessible, this blend of 63% Merlot, 35% Cabernet Sauvignon and 2% Cabernet Franc is already open for business.

2,876 Views

Tasted

Sep 14, 2013

2009
Château Les Grands Chênes (Médoc)

Blending 51% Merlot, 43% Cabernet Sauvignon 6% Cabernet Franc, this medium bodied, modern styled, forward wine is filled with coffee, licorice, black cherry, earth and cocoa. Plush, soft and round, this is already delivering pleasure.

3,812 Views

Tasted

Jul 1, 2012

2005
Château Les Grands Chênes (Médoc)

Easy to drink and like, with its sweet, red cherry and black raspberry and cigar box nose, coupled with its soft textured, red berry character.

4,146 Views

Tasted

Jun 28, 2015

This structured, powerful wine Merlot based wine offers chocolate, ripe, black raspberries, earth and oak. Well made, but not exciting.

4,251 Views

Tasted

Aug 5, 2011

2004
Château Les Grands Chênes (Médoc)

This blend of 50% Merlot, 45% Cabernet Sauvignon and 5% Cabernet Franc is showing its tobacco, oak, licorice, cocoa and cherry personality. Ready for drinking, I'd consume this over the next few years.

2,652 Views

Tasted

Jan 4, 2015