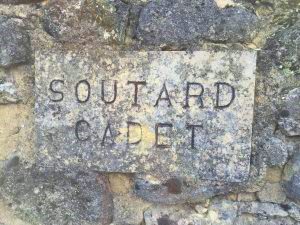 Learn everything about Chateau Soutard-Cadet St. Emilion with wine tasting notes and wine with food pairing tips. Learn the best vintages, a history of the property, information on the vineyards, and winemaking. If you want to read about other important, Bordeaux Chateaux: Links to all Bordeaux Wine Producer Profiles
Chateau Soutard-Cadet History, Overview
While Chateau Soutard Cadet has been around for years, the birth of Chateau Soutard-Cadet, (note the newly added hyphen in the official brand name) was born in 2015, when the estate was purchased by the Lefevere family.
The vineyard takes its name from two sources, the first being that it was once part of the Soutard vineyard, and the second part of the name is the location of the vines which are planted in the Cadet lieu-dit, which gives you Chateau Soutard-Cadet.
By the time the Lefevere family purchased the property, they were already experienced and popular growers in the Saint Emilion appellation as they already owned the neighboring Chateau Sansonnet and they had also recently purchased Chateau Moulin du Cadet along with Chateau Harmonie, followed by Chateau Villemaurine.
Chateau Soutard-Cadet Vineyards, Terroir, Grapes, Winemaking
The small 2 hectare Right Bank vineyard of Chateau Soutard-Cadet is planted to 90% Merlot and 10% Cabernet Franc. The vineyard is located as the name suggests adjacent to Chateau Soutard.
The vineyard of Chateau Soutard-Cadet has a terroir of clay and limestone soils. The vineyard is in one single block, which is not always common in St. Emilion.
The vines are old, with an average age of 40 years. The vineyard is planted to a vine density of 5,500 vines per hectare. All vineyard management is done using only self-sustaining farming techniques.
Chateau Soutard-Cadet is currently managed by Marie-Benedicte Lefevere, who is in charge of all the Lefevere estates. They brought in Jean-Philippe Fort as their consultant. They also changed the label and added a second wine.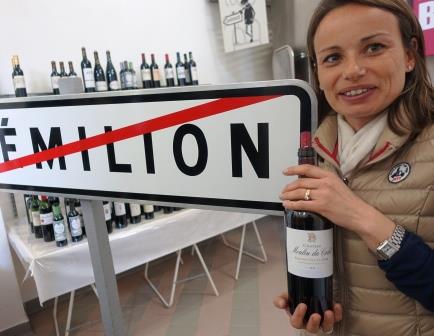 To produce the wine of Chateau Soutard-Cadet, vinification takes place in a combination of temperature-controlled, stainless steel tanks and 500-liter, French oak barrels. Malolactic fermentation takes place in new, French oak barrels. The wine is then aged in 100% new, French oak barrels for between 12 to 18 months before bottling.
The aging time naturally varies depending on the character and quality of the vintage. At Chateau Soutard-Cadet, they use only one type of oak barrel from Sylvain.
The Best Vintages of Chateau Soutard-Cadet are: 2022, 2021, 2020, 2019, 2018, 2017, 2016 and 2015.
Not much wine is made here, as the vineyard is so small. On average, the production is close to 750 cases of Chateau Soutard-Cadet per year.
When to Drink Chateau Soutard-Cadet, Anticipated Maturity, Decanting Time
Chateau Soutard-Cadet is better with at least 4-6 years of bottle age. Of course, that can vary slightly, depending on the vintage.
Chateau Soutard-Cadet is best enjoyed in the first 5-20 years of life. Young vintages can be decanted for about 1 hour to 90 minutes. This allows the wine to soften and open its perfume. Older vintages might need very little decanting, just enough to remove the sediment.
Serving Chateau Soutard-Cadet with Wine, and Food Pairing Tips
Chateau Soutard-Cadet is best served at 15.5 degrees Celsius, 60 degrees Fahrenheit. The cool, almost cellar temperature gives the wine more freshness and lift.
Chateau Soutard-Cadet is best served with all types of classic meat dishes, veal, pork, beef, lamb, duck, game, roast chicken, roasted, braised, and grilled dishes. Chateau Soutard-Cadet is a perfect match with Asian dishes, hearty fish courses like tuna, mushrooms, and pasta as well as cheese.
Château Soutard Cadet Wine Tasting Notes
6 Vintages 29,171 Views Sort by Vintage-Rating
2020
Château Soutard Cadet (St. Émilion Grand Cru)

Dark in color, the wine is round, lush, deep and rich, with blackberry and plum liqueur notes in its core. Sensuous, velvety and palate coating, the wine is dense, concentrated and full-bodied, yet light on its feet. 94-96 Pts

2,848 Views

Tasted

May 20, 2021

2019
Château Soutard Cadet (St. Émilion Grand Cru)

Dark in color, and with fruit that is even darker, this voluptuous beauty resonates with its layers of lush, ripe, deep, sweet, fresh fruits, polished tannins and long, fruit-filled finish. The wine is a blend of 90% Merlot and 10% Cabernet Franc. 93-95 Pts

4,153 Views

Tasted

Jun 8, 2020

2018
Château Soutard Cadet (St. Émilion Grand Cru)

Deep and dark in color, the lusciously textured fruit is equally dark as well. Here you find richness, opulent textures, ripe, sweet fruits, licorice and chocolate galore, with a finish that really sticks with you. The wine was made from 90% Merlot and 10% Cabernet Franc.

3,230 Views

Tasted

Mar 9, 2021

Deep, dark, fresh and with a stony essence, the wine is fresh, fleshy, concentrated, round and most-importantly -- delicious! The wine was made from 90% Merlot and 10% Cabernet Franc. 93-95 Pts

3,700 Views

Tasted

Apr 19, 2019

2017
Château Soutard Cadet (St. Émilion Grand Cru)

Inky dark in color, this is lush, fat, rich and supple. The fruit is ripe, deep, fleshy and there is length in the fruity finish. The wine was made from 90% Merlot and 10% Cabernet Franc.

1,915 Views

Tasted

Apr 26, 2018

2016
Château Soutard Cadet (St. Émilion Grand Cru)

Inky in color, the wine packs a punch, in all the right ways. The nose pops with vanilla, red and black plums, flowers, licorice, espresso and smoke. Full bodied, rich and dense, the layers of fresh, pure black cherries in the finish build in intensity as they coat your palate.

3,418 Views

Tasted

Sep 21, 2019

Opulent, lush, dense and pure with fleshy textures, length and fat juicy fruits, this is long, powerful, fresh and refreshing, with a blast of licorice, sweet cherry liqueur and dark chocolate.

2,875 Views

Tasted

Apr 29, 2017

2015
Château Soutard Cadet (St. Émilion Grand Cru)

Vanilla bean, plum, licorice and smoky black cherries kick this off to a good start. On the palate, the fruit is opulent, richly textured, opulent and long There is weight and intensity, with flesh and flavor.

3,699 Views

Tasted

May 21, 2018

From a blend of 90% Merlot and 10% Cabernet Franc, the debut vintage for this wine pops with fresh flowers, licorice, dark, juicy plums and cocoa. The wine ends with dusty tannins and sweet, ripe berries. The Merlot was harvested on October 9th and the Cabernet Franc on October 10th.

3,333 Views

Tasted

Apr 29, 2016