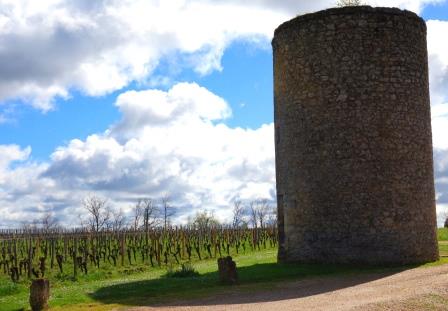 Learn everything about Chateau Poesia St. Emilion with wine tasting notes and wine with food pairing tips. Learn the best vintages, a history of the property, information on the vineyards, and winemaking. If you want to read about other important, Bordeaux Chateaux: Links to all Bordeaux Wine Producer Profiles
Chateau Poesia History, Overview
Chateau Poesia was purchased by Helene Garcin and Patrice Leveque in early 2014. The estate was formerly known as Chateau Haut Villet. The name, Chateau Poesia, which is translated into Poet, comes from the family's property in Mendoza Argentina where they produce wine from 13 hectares of old vine, un-grafted Malbec, and Cabernet Sauvignon, planted in 1935.
Helene Garcin continues to expand her vineyards. She also owns several other Right Bank estates including Chateau Barde Haut in Saint Emilion and Clos LEglise in Pomerol. Helene Garcin was previously in charge of the family's 2 properties in the Pessac Leognan appellation, Chateau Haut Bergey and Chateau Branon. Her brother oversees those estates today.
While Patrice Leveque manages the vineyards, Helene Garcin is in charge of the winemaking and marketing for their properties.
Chateau Poesia is located in the eastern portion of Saint Emilion on a well elevated, limestone plateau. The vineyards have good neighbors with Valandraud, Chateau Peby Faugeres, and Chateau Fleur Cardinale close by.
Chateau Poesia Vineyards, Terroir, Grapes, Winemaking
The 9.7 hectare Right Bank vineyard of Chateau Poesia is planted to 70% Merlot, 20% Cabernet Franc and 10% Cabernet Sauvignon. The vineyard is well situated on a high plateau. Their terroir is clay and limestone soils.
While their Right Bank estate has a total of 13.2 cultivated hectares. There are 9.7 hectares of vines located in St. Emilion and 4.5 hectares situated in Cotes de Castillon. The vines are average close to 30 years of age. However, there are old vines. In fact, some of the vines are more than 70 years of age!
The vineyard of Chateau Poesia is planted to a vine density of 6,500 vines per hectare. Future plantings are being done at about 7,200 vines per hectare. One of the first things Helene Garcin did after buying the estate was to remove more than 7 hectares of vines.
The land will remain fallow for at least 5 years before being replanted. All vineyard work is done using only sustainable vineyard farming techniques.
Chateau Poesia made its debut with the difficult 2013 vintage. The yields for the first vintage were incredibly low at close to 8 hectoliters per hectare. After the purchase a complete renovation of the property took place, first in the vineyard, followed by the cellars and chateau.
To produce the wine of Chateau Poesia the wine is vinified in stainless steel, temperature-controlled tanks. The initial vintage was also partially vinified in wood tanks.
Starting with the 2014 vintage, that is no longer the case as all vintages of Chateau Poesia are now only fermented in small, stainless steel tanks that range in size from 25 hectoliters to 55 hectoliters.
The Best Vintages of Chateau Poesia are: 2022, 2021, 2020, 2019, 2018, 2017, 2016, 2015 and 2014.
While the debut vintage for Poesia was quite small with close to 650 cases of wine, future vintages for the next several years will be range from 800 to 900 cases per year. Alain Raynaud was the wine-making and vineyard consultant through the 2014 vintage. He was replaced by Thomas Duclos starting with the 2015 vintage. Duclos is no longer consulting at the property.
When to Drink Chateau Poesia, Anticipated Maturity, Decanting Time
Chateau Poesia is better with at least 4-6 years of bottle age. Of course, that can vary slightly, depending on the vintage.
Chateau Poesia is best enjoyed in the first 5-22 years of life. Young vintages can be decanted for about 1 hour to 90 minutes. This allows the wine to soften and open its perfume. Older vintages might need very little decanting, just enough to remove the sediment.
Serving Chateau Poesia with Wine and Food Pairings
Chateau Poesia is best served at 15.5 degrees Celsius, 60 degrees Fahrenheit. The cool, almost cellar temperature gives the wine more freshness and lift.
Chateau Poesia is best paired with all types of classic meat dishes, veal, pork, beef, lamb, duck, game, roast chicken, roasted, braised, and grilled dishes. Chateau Poesia is also good when matched with Asian dishes, rich fish courses like tuna, mushrooms, and pasta.
The 4.5 hectares of vines located in the Cotes de Castillon appellation are used to produce wine sold under the name of Chateau d'Arche.
Château Poesia Wine Tasting Notes
10 Vintages 59,379 Views Sort by Vintage-Rating
2022
Château Poesia (St. Émilion Grand Cru)

Black raspberries, flowers, orange peel, licorice, mint, smoke, and cocoa fill the perfume. On the palate, the wine is packed with minerality, cocoa, plums, and black raspberries. with a lot of cut, refinement and salty tannins in the lifted, berry-filled finish. The wine blends 70% Merlot with 30% Cabernet Franc. Drink from 2026-2047. 93-95 Pts.

1,859 Views

Tasted

May 8, 2023

2021
Château Poesia (St. Émilion Grand Cru)

With good richness in color, you find chocolate, black cherry, mint leaf, crushed rock and flowers in the nose. Earthy, soft, lush and polished, there is a nice finesse along with fruit and freshness in the finish. The wine is made from a blend of 70% Merlot and 30% Cabernet Franc. Harvesting took place October 6-October 9. Drink from 2024-2039. 92-94

1,646 Views

Tasted

May 20, 2022

2020
Château Poesia (St. Émilion Grand Cru)

Black plums, chocolate, licorice, flowers and espresso create the nose. From there you find a rich, fresh, vibrant, creamy-textured, concentrated and mineral driven wine with a long, intensive, refined finish with layers of mineral-driven, dark red fruits, spices, cocoa and savory herbs in the chalky endnote. Drink from 2023-2050.

2,149 Views

Tasted

Mar 21, 2023

Deeply colored the wine is packed with nuances of flowers, licorice, wet earth, crushed rocks, plum, blackberry and dark cherries. On the palate the wine is lively, silky, rich, creamy, concentrated and mineral driven, with a beautiful salty character in the finish. The wine blends 70% Merlot with 30% Cabernet Franc, 14.5% ABV. 93-95 Pts

4,053 Views

Tasted

May 20, 2021

2019
Château Poesia (St. Émilion Grand Cru)

The perfume here reminds me of a freshly picked bouquet of flowers. Soft, silky, fresh and vibrant, the fruits show a gorgeous sense of purity in the sweet, ripe, kirsch and plums, with lift and chalky tannins in the finish. Long, refined and complex, this is already a joy to taste. But its best days are in the future, if you can hold off from opening a bottle. Drink from 2024-2038.

4,357 Views

Tasted

Apr 9, 2022

Crushed rocks, stones, smoked red fruits, herbs and flowers round out the perfume. On the palate the wine is medium-bodied, silky, fresh and vibrant, showing lift, energy, length and purity in the red pit fruit, cocoa and licorice filled finish. The wine was made from blending 70% Merlot with 30% Cabernet Franc, reaching 14.5% ABV. 93-95 Pts

6,446 Views

Tasted

Jun 8, 2020

2018
Château Poesia (St. Émilion Grand Cru)

Inky in color, the wine is deep, rich, lusciously textured and packs ample amounts of silky, opulent, fresh, ripe, red fruits, anise, coffee bean, smoke and cocoa. Long and with great intensity, this is hitting all the right notes. Give it a few years in the cellar and it promises to be even better.

4,676 Views

Tasted

Mar 9, 2021

Inky in color, the wine is loaded with dark, sweet, plush, rich, fruits, licorice, smoke and chocolate. There is depth and harmony here. The fruit shows purity, freshness, length and volume with velvety textures. 94-96 Pts

5,334 Views

Tasted

Apr 19, 2019

2017
Château Poesia (St. Émilion Grand Cru)

Licorice, espresso, plum and dark chocolate open on the nose. There is a cleanness with soft tannins, thirst-quenching red plums and cassis in the finish. The wine is smooth, polished, elongated and quite fresh. Made from blending 70% Merlot and 30% Cabernet Franc.

1,866 Views

Tasted

Apr 26, 2018

2016
Château Poesia (St. Émilion Grand Cru)

Medium/full bodied, silky textures, layers of sweet, ripe, black raspberries and cocoa with a fruity, polished, fresh, sensuous finish

4,971 Views

Tasted

Sep 21, 2019

Excuse me, your truffle is showing. Blend in some espresso, licorice and vanilla and you've got the aromatics. Plump, plush fruits with dark chocolate and boysenberry finish things off nicely. Produced from a blend of 70% Merlot and 30% Cabernet Franc, the wine reached 13.8% ABV with a pH of 3.5.

4,064 Views

Tasted

Apr 29, 2017

2015
Château Poesia (St. Émilion Grand Cru)

Silky, sexy, lush, polished, dark chocolate covered plums, with nuances of cherry, licorice and espresso. Here you find ripe tannins and good purity of fruit in the finish. The wine is structured to age and develop and will need some time in the bottle before it's fun to drink.

4,600 Views

Tasted

May 21, 2018

Mineral driven on the nose and on the palate, this wine blends sweet, elegant, silky fruits with ripe tannins and good purity of fruit in the finish. The wine is structured to age and develop and will need some time in the bottle before it's fun to drink. From a blend of 30% Cabernet Franc and 70% Merlot, the wine is aging in 80% new, French oak barrels.

3,825 Views

Tasted

Apr 29, 2016

2014
Château Poesia (St. Émilion Grand Cru)

Earthy, licorice, plums, smoke and espresso leads you to a medium bodied, silky effort with freshness with a hint of herbs and olives that only add to the red pit fruits in the finish.

2,938 Views

Tasted

Mar 18, 2017

Floral, black cherry and earthy aromas entice you to stay for the soft, fresh, sweet, juicy dark berries in the charming finish. 90-92 Pts

3,058 Views

Tasted

Apr 27, 2015

2013
Château Poesia (St. Émilion Grand Cru)

Finesse in style, medium bodied, elegant and approachable, the wine delivers a fresh, plum and cherry spicy sensation that is already drinking well.

1,715 Views

Tasted

May 25, 2016

The debut vintage for this wine is rich, fat, lush and luxurious, this sexy wine has a serious level of density and tannins. Produced from a blend of 70% Merlot, 20% Cabernet Franc and 10% Cabernet Sauvignon. The wine reached 13.5% ABV, with a pH of 3.50. The yields were only 8 hectoliters per hectare. This wine from Helene Garcin Leveque is going to be something you will want to keep track of on a going forward basis. 91-93 Pts

1,822 Views

Tasted

Apr 29, 2014