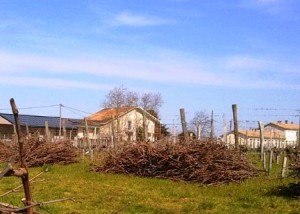 Learn everything about Chateau Gombaude Guillot Pomerol with wine tasting notes, wine and food pairing tips, wine ratings, a history of the property, information on the vineyards, and winemaking. If you want to read about other important, Bordeaux Chateaux: Links to all Bordeaux Wine Producer Profiles
Chateau Gombaude Guillot History, Overview
Chateau Gombaude Guillot dates back to 1868 when the vineyard was given as part of a dowry by the Belevier family to celebrate the wedding of Marie Belevier and Pierre Darbeau. In the estate's formative years, the property was probably known as Lalande et Belevier.
The name of the estate was changed at some point in the late 1800s to Chateau Gombaude Guillot. The small chateau on the property was built in 1922. At the time, it also served as a meeting place and cafe for the local residents, who often met there to share wines.
Interestingly, during the 1940s, the estate produced wine under two names, Les Grandes Clinet, and Chateau Gombaude Guillot. Today, the property was most recently managed by a direct descendant of the Belivier family, Claire Laval and Dominique Techer.
Olivier Techer is now fully in charge of the vineyard. If you did not know, Olivier is also a professionally trained, classic, French chef as well as a vigneron. Since the family brought in Thomas Duclos to consult, the wines have started showing some real improvement.
Chateau Gombaude Guillot Vineyards, Terroir, Grapes, Winemaking
The 6.9-hectare, Right Bank vineyard of Chateau Gombaude Guillot is planted to 65% Merlot, 30% Cabernet Franc and 5% old vine Malbec, which is more than 80 years of age. This is a significant change in the vineyard with less Merlot and more Cabernet Franc. However, the Malbec is not used in the Grand Vin. It is reserved for their Pom' N' Roll wine.
The terroir is gravel, sand, and clay soil. They have good neighbors as they are situated not far from Chateau Trotanoy, Chateau Clinet, and Chateau LEglise Clinet. The vineyard is easily divided into two sections with 4 hectares planted close to the chateau and the remainder of their vines lay close to Chateau Bourgneuf and Chateau Trotanoy.
The vineyard is planted to a vine density of 6,500 vines per hectare. The vines are old, with an average age of 40 years. However, they have parcels with vines that are more than 60 years of age.
Chateau Gombaude Guillot was one of the first chateaux in Pomerol to embrace organic, self-sustainable farming. This began to take place with the 1992 vintage, under the direction of Claire Laval. By the 2000 vintage, they moved to 100% organic farming earning their certification from Ecocert. Starting with the 2005 vintage, the chateau had transitioned to 100% biodynamic farming techniques.
To produce the wine of Chateau Gombaude Guillot the wine is vinified in a combination of temperature-controlled, stainless steel vats and traditional, cement tanks.
Beginning with the 2012 vintage, half of the wine is aged in 50% new, French oak barrels, along with barrels from Austria.
The remaining wine is aged in cement vats for between 12 to 14 months before bottling. They are also currently experimenting with using clay amphorae in the aging process to soften the wine and add more minerality.
There is a second wine, Cadet de Gombaude. On average, close to 2,500 cases of wine are produced each vintage at Gombaude Guillot.
A few vintages of Chateau Gombaude Guillot Cuvee Speciale were produced starting with the 1985 vintage. The wine is the same as the Grand Vin, except that the Cuvee Speciale was aged in up to 100% new French oak barrels, which was not the case for the regular Grand Vin. 1989 was the final vintage for the Gombaude Guillot Cuvee Speciale.
Gombaude Guillot also owns other small, vineyards in Pomerol that they purchased in 1996 where they produce, Clos Plince, from 1.15 hectares of old vines, and the interestingly named, Pom n' Roll. Pom' N'Rol is an inexpensive, ready to Pomerol almost completely vinified in stainless steel, only 5% of the wine is aged in oak.
The best vintages of Chateau Gombaude Guillot are: 2022, 2021, 2020, 2019, 2018, 2017, 2016, 2015, 2012, 2010, 2009 and 2005.
When to Drink Chateau Gombaude Guillot, Anticipated Maturity, Decanting Time
Chateau Gombaude Guillot is much better with at least 4-7 years of aging in good vintages when it is ready to be enjoyed. Young vintages can be decanted for 1-2 hours.
This allows the wine to soften and open its perfume. Older vintages might need very little decanting, just enough to remove the sediment. Chateau Gombaude Guillot offers its best drinking and should reach peak maturity between 7-15.
Serving Chateau Gombaude Guillot with Wine, Food, Pairing Tips
Chateau Gombaude Guillot is best served at 15.5 degrees Celsius, 60 degrees Fahrenheit. The cool, almost cellar temperature gives the wine more freshness and lift.
Chateau Gombaude Guillot is best paired with all types of classic meat dishes, veal, pork, beef, lamb, duck, game, roast chicken, roasted, braised, and grilled dishes. The wine is also good with Asian dishes, hearty fish courses like tuna, mushrooms, and pasta.
www.chateau-gombaude-guillot.fr
Château Gombaude-Guillot Wine Tasting Notes
6 Vintages 17,205 Views Sort by Vintage-Rating
2018
Château Gombaude-Guillot (Pomerol)
Medium bodied, ripe, round and forward with dark chocolate covered red berries, this wine is fresh and easy to drink. 88-90 Pts
1,954 Views
Tasted

Apr 19, 2019
2017
Château Gombaude-Guillot (Pomerol)
Medium bodied, fruity and offering a plum and chocolate center, the tannins are soft and the wine is fresh with a straightforward character.
2,091 Views
Tasted

Apr 26, 2018
2016
Château Gombaude-Guillot (Pomerol)
Medium bodied, bright and dark plums along with hints of flowers, cherry and cocoa, the tannins are round, there is good freshness but beware a bitter note in the finish that takes away from the wine. That being said, this is the best wine I recall tasting here and much of that credit is due to their new consultant, Thomas Duclos.
2,736 Views
Tasted

Apr 29, 2017
2009
Château Gombaude-Guillot (Pomerol)
Medium bodied, bright red fruits, thyme, earth and a hint of coffee bean in the nose. This lighter, early drinking Pomerol, shows a rustic, bright, cherry finish.
3,743 Views
Tasted

Dec 15, 2014
2000
Château Gombaude-Guillot (Pomerol)
Well past its prime, tart, lean and with a distinctive olive and herb character to the overly crisp, peppery cranberry and strawberry on the nose and palate.
3,007 Views
Tasted

Sep 7, 2021
1998
Château Gombaude-Guillot (Pomerol)
Medium bodied, simple, earthy, red fruits with a touch of roughness in the finish. This is fully mature and requires drinking to grab the rest of its fruit, before it fades.
3,674 Views
Tasted

Aug 22, 2015