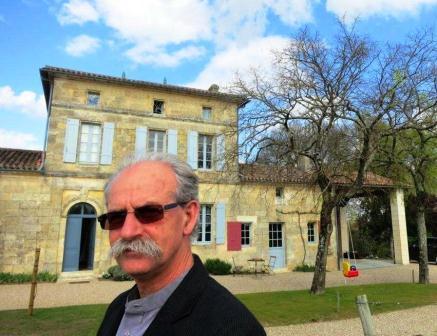 Learn everything about Chateau Lafleur Pomerol with wine tasting notes, and wine with food pairing tips. Learn all the best vintages, a history of the property and information on the vineyards and winemaking. If you want to read about other important, Bordeaux Chateaux: Links to all Bordeaux Wine Producer Profiles
Chateau Lafleur History, Overview
If you ask 100 people to name the best wines of Pomerol, the top two names that will come up first are Petrus and Chateau Lafleur. While wealthy wine lovers will spend hours debating which wine is best, very few people will not agree that both estates occupy the top spot in the Pomerol pyramid.
The wines being made at Lafleur today are better than what was produced in previous years. This includes legendary vintages like 1945, 1947, 1950, 1961 and 1982! Keep in mind, those wines are as good as wine gets. Those wines were produced with no selection and probably little or no new oak during the barrel aging.
Most recently, in a huge tasting of all the top 2000 Bordeaux, Chateau Lafleur was for me, the wine of the tasting! In fact, Chateau Lafleur is also the wine of the legendary 2000 vintage! That incredible string of early successes for Lafleur continues to this day with great wines being made in 2001, 2005, 2008, 2009, 2010, 2015 and 2016.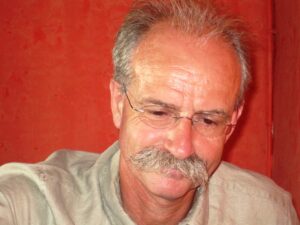 However, Chateau Lafleur did not get its start in the 20th century. The history of Chateau Lafleur dates back to 1872. At that time, Henri Greloud, the owner of Chateau Le Gay, purchased the Pomerol vineyards of what was to eventually become Chateau Lafleur.
Henri Greloud was definitely experienced in the Bordeaux wine world, he was also a negociant and he had interests in St. Emilion as well, at Chateau La Dominique and Chateau Daugay.
Shortly after the formation of Chateau Lafleur, the extraordinary quality of wines quickly gains notice. By 1893, it was considered the third best wine of the Pomerol appellation, following only Vieux Chateau Certan and Petrus!
While the majority of great Bordeaux chateau have changed hands over the past several generations, Chateau Lafleur remains in the same family hands to this day.
In 1900, Charles Greloud, Henri's son, inherited Chateau Lafleur. In 1915, the Pomerol property was purchased by Andre Robin who also obtained Chateau Le Gay in the same transaction. The Robin family was familiar with the quality of Bordeaux wine produced at Chateau Lafleur.
Andre Robin was married to Gabrielle Greloud, Henri's granddaughter. Therese and Marie Robin took over management of the Right Bank estate in 1946 from their father.
The sisters devoted their entire lives to keeping the Chateau Lafleur vineyard intact and producing one of the great Bordeaux wines of all time. One of the early changes the Robin family made at Chateau Lafleur was in the vineyards. At some point in time, perhaps by the early 1920's, they removed the Malbec that was planted in the vineyards.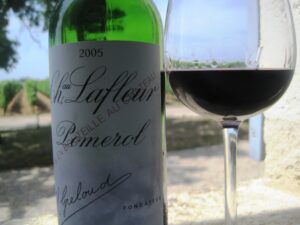 Chateau Lafleur is another Pomerol wine tied to the success and continuous praise heaped on the wine by Robert Parker. Prior to Robert Parker, the quality of Lafleur was not widely known outside the Right Bank, Belgium and a few buyers in London. Robert Parker made his first visit to the estate in 1975 and never stopped writing about the wine.
At the time of Robert Parker's first visit, Chateau Lafleur was selling for about the same price as Chateau Grand Puy Lacoste. Once the career of Robert Parker took off, his comments on Chateau Lafleur excited consumers all over the world. By the 1980's, Chateau Lafleur was on its way to becoming one of the world's most in demand wines selling for more than the First Growths. Only Petrus and Le Pin sell for more money today.
Chateau Lafleur The Modern Age
In 1984, after Therese Robin died, Jacques and Sylvie Guinaudeau, the great, great grandchildren of Henri Greloud made arrangements to lease Chateau Lafleur from Marie Robin, the surviving sister. They began restoring Chateau Lafleur to its former glory starting with replacing missing vines.
Over the next decade and a half, they enhanced the image of Chateau Lafleur as a Pomerol property that offered balance, restraint and a truly unique expression of Pomerol.
Jacques Guinaudeau maintained the unique planting at Chateau Lafleur of 50% Cabernet Franc and 50% Merlot. The next step for new owners was to create another wine, that would not be a second wine.
This gave birth to Pensees de Lafleur. Pensees de Lafleur has always been considered a different expression of the Lafleur vineyards and not a second wine. The reason for that is, the wine is always from different sections of the vineyard than what they use for Lafleur.
Starting with the 2018 vintage, the wine was rebranded to Les Pensees to further enhance the idea that Les Pensees is its own wine, separate and distinct from Chateau Lafleur.
The wine is not made from declassified lots or solely from young vines. The grapes for Les Pensees always come from the same, 0.8 hectares of vines in a parcel that is shaped like a diagonal line that runs across the majority of the Lafleur vineyards.
Interestingly, the Guinedeau family considers this a perfect, true example of Pomerol, due to its more typical soils and blend, that is shared by most of the Pomerol producers.
Marie Robin passed away in 2001. The Guinaudeau's succeeded in acquiring the remaining shares of Chateau Lafleur. Later that year, their son Baptiste Guinaudeau and his wife Julie Guinaudeau joined them at Chateau Lafleur. Since that time, the wines of Lafleur have continued getting better and better!
They completed the first modernization in ages at Chateau Lafleur in 2018. The renovation created a new, grape reception area, 1st and second year, barrel aging cellars and more room for additional vinification tanks. However, the classic, French farmhouse remained untouched.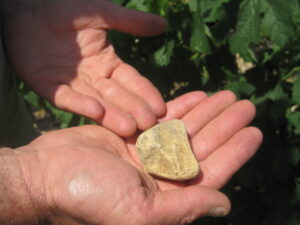 Chateau Lafleur, Vineyards, Terroir, Grapes, Winemaking
The 4.58 hectare Pomerol vineyard of Chateau Lafleur is planted in a shape that is unique to Pomerol as it is close to a perfect square. Chateau Lafleur is located in the heart of the Pomerol plateau.
Their closest neighbors are La Fleur Petrus, Petrus, Vieux Chateau Certan and Hosanna. No sign exists announcing you are at Lafleur. It remains a humble, understated property. Four different soil types complement each other in a unique way to make their terroir. 
To the north-west, they have a gravel hillock with a brown gravelly soil.
To the south, brown sandy-gravelly soil over a gravelly-clay sub-soil.
To the east, brown sandy-gravelly soil over a sandy-clay sub-soil.
Located exactly dead center in the middle of the Chateau Lafleur Pomerol vineyard is a crescent-shaped area with deeper soils ranging from sandy-silt to brown sand. This small .8 hectare parcel is where the grapes used to produce Les Pensees come from.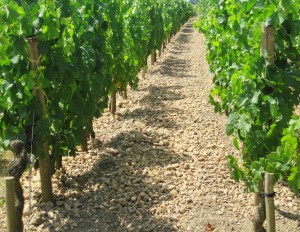 The combination of these different, complementary soils gives the wines of Chateau Lafleur their uniqueness, balance, complexity and most importantly, character. According to the owner, Jacques Guinaudeau, those soils are poor, which makes them perfectly suited to grape vine growing.
He added, "It is our job, as vine growers, to do everything to enable each vine plant to find its best expression. We have to monitor and follow the vines throughout their natural growing season, taking into account the character of each vintage and without excessive intervention".
The soils at Lafleur are never turned. They are simply raked. This allows the large gravel stones to remain at the top of surface where the stones can capture and radiate the heat from the sun to the vines. At Chateau Lafleur, they installed a new drainage system that helps to remove excess rainwater during periods of wet weather.
They have also developed soil maintenance techniques (hoeing, spiking and deep ploughing) that avoid turning over the soil and result in improved aeration in the soil, while avoiding excessive transpiration in the spring. Finally, they never work in the soil in July to favor the slight vine water deficit in the summer. This aids in the ripening process.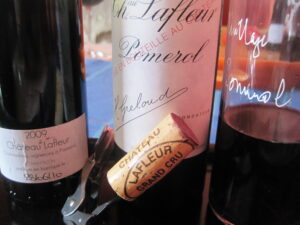 At Chateau Lafleur, they manually prune and work with each vine, one at a time. Jacques says, "Lafleur's vineyard is tended like a large garden where each plant is given its own particular attention". This work is necessary at Chateau Lafleur, due to how the vineyard is organized. The organization takes into consideration both the terroir and number of vines.
For example, in the gravel with clay soils, there are 7,500 vines planted. In the gravel with sand, that is in the middle of the vineyard, you find 5,250 vines. The largest section of the vineyard, with more clay and gravel soil, you find 8,250 vines. In total, there are close to 21,000 vines planted at Chateau Lafleur. Trust me on this, at Lafleur, they know each and every vine.
At Chateau Lafleur, Merlot and Cabernet Franc are often located next to each other in the same parcel or row of vines. The vines have been marked and color coded allowing the workers to know which vine is which. The vineyard is divided into 24 separate parcels. The vineyard is planted to a vine density that ranges from 6,000 vines per hectare to 7,500 vines per hectare.
The vines are old, which gives the wine of Chateau Lafleur much of it's character. The average age of the vines is close to 40 years of age, but the estate also has much older vines as well, because many of their vines were not replanted after the frost of 1956.
The unique quality and character of Lafleur comes from their blend of equal parts Cabernet Franc and Merlot, a blend more often seen in St. Emilion that Pomerol.
At Chateau Lafleur, they use the highest percentage of Cabernet Franc in the entire Pomerol appellation. Once the fruit changes color for both varietals, Merlot and Cabernet Franc, they begin visiting each plot on a daily basis, checking on the progress of the grapes.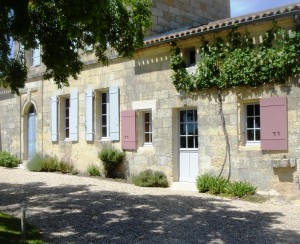 It is important for Jacques to walk in the vineyards tasting fruit from different blocks to determine the level of ripeness on a daily basis. At Lafleur, they are truly seeking full phenolic ripeness, when it is possible, which of course depends on the character and quality of the vintage. The plots and sub plots are picked one at a time, to ensure they are all harvested at the maximum level of ripeness.
To produce the wine of Chateau Lafleur, after sorting, the grapes arrive at the vat cellar where they are vinified in small, traditional cement vats for grapes destined for Chateau Lafleur. They have 12 tanks that range in size from 30 hectoliters up to 80 hectoliters. Malolactic fermentation takes place in barrel, a practice that started in 1991.
Following a maceration period of three weeks, the wine is run off the skins into French, oak barrels where it stays for several months before they decide on the blends. The amount of new French oak varies, depending on the quality and character of the vintage.
In general, Chateau Lafleur is aged in an average of 25% New, French oak barrels. This is down from previous years, when the estate was using as much as 50% new, French oak. The remaining 75% of the used barrels come from their sister estate, Grand Village, where the wine aged in those barrels for about 12 months. At Chateau Lafleur, the wines remain in barrel for about 15 months, prior to bottling.
At Chateau Lafleur, they do not consider Les Pensees a second wine. They feel that as it comes from a specific section of their Pomerol vineyards, and it's blend is quite different from that of Lafleur, Les Pensees is its own unique wine. The fruit used to produce Les Pensees is vinified in temperature controlled, small, stainless steel tanks and aged in the exact same manner as the Grand Vin.
Jacques Guinaudeau and Sylvie Guinaudeau also produce two red wines and 2 white Bordeaux wines at their home estate just outside of Fronsac, Grand Village and from another vineyard placed slightly closer to Pomerol, Les Perriers
The best vintages of Chateau Lafleur are: 2020, 2019, 2018, 2017, 2016, 2015, 2014, 2012, 2010, 2009, 2008, 2006, 2005, 2004, 2001, 2000, 1998, 1995, 1990, 1989, 1988, 1986, 1985, 1983, 1982, 1975, 1964, 1961, 1959, 1955, 1950, 1948, 1947 and 1945.
The Character and Style of Chateau Lafleur
Chateau Lafleur is a unique expression of Pomerol. In the best vintages, it combines power, elegance, opulence and an exotic, kinky, over ripe, dark cherry and minerality character, that delivers one of the finest and most unique sensations found in any wine.
It is also among the longest lived wines from Pomerol as well as in all of Bordeaux. The best vintages take 2 to 3 decades to develop their incredible character. It is impossible to pick a favorite vintage of Chateau Lafleur In the modern era, if you have the funds, look for 2000, 2005, 2009, 2010 and 2015.
1982 Chateau Lafleur is a contender for the wine of the vintage. Having tasted it on multiple occasions, that is certainly my view.
The 1982 Lafleur was made by Christian Moueix and Jean-Claude Berrouet. I bring this up because it's interesting to note that even though this is one of the great wines of the 20th century, the wine was made with almost no selection and perhaps at most, 10% new, French oak barrels.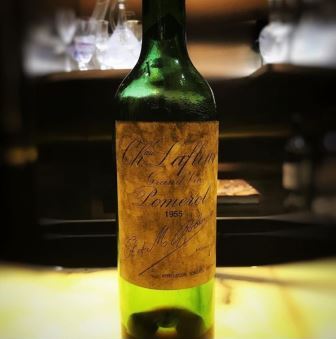 Not that long ago, Lafleur was not an expensive wine. Catalogs from the 70's show Lafleur selling for about the same price as Grand Puy Lacoste. Petrus at the time was selling for the same price as a First Growth. This changed during the 80's, when people began tasting this remarkable wine.
Today, only millionaires can afford it. But for people that can find the wine and afford it, Chateau Lafleur offers one of the world's most compelling wine tasting experiences. This is the one wine in Pomerol that not only rivals Petrus, it can even be better in certain vintages!
When to Drink Chateau Lafleur, Anticipated Maturity, Decanting Time
Chateau Lafleur is not a wine to drink young. It needs time to develop its nuances. Depending on the vintage, 15-20 or 30 years of bottle age will add dramatically to the wines complexities and unique textural characteristics. Young vintages can be decanted for 2-4 hours, or more.
This allows the wine to soften and open its perfume. Older vintages might need very little decanting, just enough to remove the sediment. Chateau Lafleur offers its best drinking and should reach peak maturity between 15-50 years of age after the vintage.
Serving Chateau Lafleur with Wine, Food, Pairing Tips
Chateau Lafleur is best served at 15.5 degrees Celsius, 60 degrees Fahrenheit. The cool, almost cellar temperature gives the wine more freshness and lift.
Chateau Lafleur is best paired with all types of classic meat dishes, veal, pork, beef, lamb, duck, game, roast chicken, roasted, braised and grilled dishes. Chateau Lafleur is also good when matched with Asian dishes, hearty fish courses like rare tuna, mushrooms and pasta.
Château Lafleur Wine Tasting Notes
48 Vintages 453,238 Views Sort by Vintage-Rating
2018
Château Lafleur (Pomerol)

This could be the wine of the vintage! Profound in every sense, the wine smells like you walked into a flower shop carrying a bushel of just picked red and black pit fruits and berries and your pockets were filled with an array of spices, herbs, cocoa, spearmint and thyme. If that didn't seal the deal, the breathtaking purity in the fruit along with the non-stop layers of sweet, vivacious red fruits with their silky, sexy, erotic textures will. The seamless finish does not seem to quit. The wine blends 54% Cabernet Franc with 46% Merlot. 100 Points

1,559 Views

Tasted

Mar 9, 2021

Let's get this out of the way from the start: No risk, no fun. Right? This is the wine of the vintage! There, I said it. Now, let me explain why... On the palate, you encounter serious levels of weight and density. However, before you get there you're greeted with scintillating truffle, licorice, plum, cherry liqueur, smoke and earthy aromatics. Clearly the wine is powerful, fresh and exotic with its mélange of incredibly ripe, red and black cherry fruits. Voluptuous and mouth-filling, the wine covers your palate with fleshy plums that remain a presence for close to 60 seconds. The purity in the fruit is crazy good. There is no doubt this is one of the great vintages of Lafleur. Could it be the best ever? Time will tell -- lots of time as it will take at least 15 years before you should even consider popping a cork. Lafleur is never a wine to drink young; it takes time to show its essence. This very special wine was produced from a blend of 54% Cabernet Franc, 46% Merlot, reaching 14.5% with a pH of 3.65. The Merlot was harvested From September 12 to October 4. 98-100 Pts

3,907 Views

Tasted

Apr 19, 2019

2018
Château Lafleur Les Pensées (Pomerol)

Flowers, herbs, cherries, plums and kirsch with a dash of cocoa comes through on the nose. But it on the supple, silky, fresh, elegantly textured palate that wine really shines. The purity in the red fruits, along with its poise and grace is just great. Medium-bodied with lift and length, this is clearly the finest Pensees ever produced. Give this few years to age allowing the wine to expand and soften and enjoy it for 10-12 years after that. The wine blends 54% Merlot with 46% Cabernet Franc. 94 Points

1,408 Views

Tasted

Mar 9, 2021

2018
Pensées de Lafleur (Pomerol)

The strikingly pure kirsch stands out here. It's sweet, ripe and earthy with a hit of dark cocoa on top. In texture, the wine is fresh, sumptuous and polished. Give this few years to age allowing the wine to expand and soften and enjoy it for 10-12 years after that. Made from a blend of 54% Merlot picked September 21 and 46% Cabernet Franc harvested October 4. 92-94 Pts

2,578 Views

Tasted

Apr 19, 2019

2018
Château Lafleur Les Perrières (Bordeaux Supérieur)

Les Perrieres replaces the wine formerly known Acte from the Guinaudeau family. Bright, fresh, stony, pure red berry focused, medium-bodied wine with notes of herbs, underbrush, spice, tobacco leaf and kirsch. The zesty finish shows a nice salty touch to the sweet fruit. This little wine can age quite well. 91 Points

1,547 Views

Tasted

Mar 9, 2021

2017
Château Lafleur (Pomerol)

This is a majestic blend of sensuous textures, rocks, stones, ripe, sweet, dark red fruits, intensity, depth, length and purity. This is an intellectual vintage of Lafleur. The wine will need time to express its true intricacies and essences. The fruit is there, you'll find the depth and layers of velvet tannins, but it is easy to see that most of the future magic is still held in reserve. The wine was produced from a blend of 53% Cabernet Franc and 47% Merlot. The Merlot was harvested September 8 and September 12. The Cabernet Franc was picked September 28 and 29. The wine reached 14.5% alcohol with a pH of 3.78. 98 Points

3,714 Views

Tasted

Apr 26, 2018

2017
Pensées de Lafleur (Pomerol)

Floral in nature, maraschino cherries, silky tannins, wet earth and juicy plums come to front promptly. Soft, seductive, sweet and fresh, give this a few years to age so the wine can expand and soften. Made from a blend of 52% Merlot and 48% Cabernet Franc. The harvest took place for the Merlot on September 16 and the Cabernet Franc on September 29. 92 Points

2,004 Views

Tasted

Apr 26, 2018

2016
Château Lafleur (Pomerol)

If you're seeking a wine that lease you speechless, look no further. Combining power with richness, creamy tannins, waves of ripe, decadent, black and red plums and cherry sensations, this is off the hook. What makes 2016 Lafleur so good is its uniqueness of character. The wine is sensuous, but not overtly so. The wine is powerful, but not heavy. It is the countless layers of red fruits that keeps on coming making you take that second glass, to decide if this is really that good. The knock out punch comes from the unique exotic character with its kinky red fruits. You will need the funds of a multi-millionaire to buy this wine. But if you have the disposable income, or have friends that do, this is a legend in making. 100 Points

3,092 Views

Tasted

Sep 21, 2019

Deeply colored with a purple tint that shines at the edge, chocolate mint, flowers, black raspberry and plum liqueur notes are immediately dancing in your face. On the palate, there is serious weight and density yet the wine feels light on its feet. Fresh and refined with length and purity, the finish remains with you for more than 60 seconds. During that time, the wine moves from red fruit to black fruit taking on truffle and spice. It's an intellectual vintage for Lafleur with a unique profile. The wine was produced from a blend of 55% Cabernet Franc, 45% Merlot and reached 14% with a pH of 3.65. The Merlot was harvested From September 24 to September 30, which is the second longest harvest in the history of the estate. 98 Points

6,121 Views

Tasted

Apr 29, 2017

2016
Pensées de Lafleur (Pomerol)

Soft, silky, lush and loaded with ripe plum, cherry, flower and earthy nuances open the nose. The wine is soft, round and filled with black plums, thyme, earth and an herbal note on the back-end. 92 Points

2,453 Views

Tasted

Sep 21, 2019

Showing a bit more depth of color than usual, the wine pops with flowers, mint and black plums. This wine is buxom, fresh with seductive, dark red fruits tucked into its cleavage and an earthy presence that sticks with you from start to cherry finish. The wine was made from a blend of 55% Merlot and 45% Cabernet Franc. The Merlot was harvested September 30 and the Cabernet Franc, October 12. 91 Points

2,016 Views

Tasted

Apr 29, 2017

2015
Château Lafleur (Pomerol)

Truffles and a garden of herbs, roasted plums, cherries, espresso and a background note of cocoa are only the first things you find. Once the wine leaves the glass, there is a wealth of concentrated, ripe fruits. Opulent, bordering on decadence, there is a balance between wild fruits and elegance. The complexities here allow you to continue exploring the wine with each sniff and sip. The finish remains with you for close to 50 seconds. This is a wine for aging, so be prepared to wait at least 15 or more years. I discovered that "Bad Ass" is a term only used by Americans as the phrase was not understood by the family during the tasting. But I can assure you, this is one bad ass wine. 100 Points

4,939 Views

Tasted

May 21, 2018

With come-hither textures and a beautiful purity of fruit, this wine achieves a racy sensuality that leaves you wanting more. In a display of mastery, this wine is opulent with velvety tannins and a dazzle of sweetness on the palate. This was so good, I wanted, no make that needed to take another taste. And when the coast was clear, I grabbed another! The wine is a deep, long kiss that is concentrated, clean, precise and fresh, with an impressive textural component. Produced from a blend of 51% Cabernet Franc that was picked on two separate dates, October 1 and 2 and 49% Merlot that was picked September 11 and September 15, the wine reached 14.1% alcohol with a pH of 3.75. 98 - 100 Pts

7,091 Views

Tasted

Apr 27, 2016

2015
Pensées de Lafleur (Pomerol)

Mint with a handful of earth is the first thing you notice. From there the cherry and plum notes pop up. Medium bodied, silky, polished, soft and sweet, the wine offers cherry pipe tobacco, plums and earthy notes, The soft tannins and layers of fruits keep on going on the palate. The wine was produced from a blend of 54% Merlot and 36% Cabernet Franc. 92 Points

2,947 Views

Tasted

May 21, 2018

Medium/full-bodied with fresh, juicy, dark plums and earthy scents, this wine quickly shifts to the palate with fruit that is fresh, sweet, bright and spicy, along with a soft, plush blanket of tannins. The wine was produced from a blend of 54% Merlot that was harvested on September 21 and 36% Cabernet Franc that was picked October 2. 90 - 92 Pts

2,014 Views

Tasted

Apr 27, 2016

2014
Château Lafleur (Pomerol)

Dark garnet in color, the earthy, smoky cherries, flowers and exotic spices shine through. Medium/full bodied, with an elegance and refined quality, it will be easy to enjoy the charm offered here, relatively early in life. This is more about purity, complexity and refinement in the fruit, the texture and finish, than power and aging. 96 Points

2,883 Views

Tasted

Jul 2, 2017

There is beauty and symmetry to the fruit in this vintage. The opening bouquet bursts with fresh flowers, black raspberries, fertile soil, cherry-scented pipe tobacco and juicy plums. Tannic, structured for aging, medium/full bodied with an ever-present layer of plum, pure, sweet cherries and silky textures, the wine was produced from a blend of 56% Cabernet Franc and 44% Merlot. 95-97 Pts

4,252 Views

Tasted

Apr 24, 2015

2014
Pensées de Lafleur (Pomerol)

Medium/full bodied, the wine is eager to show its fresh, earthy, red plum and cherry charms. 89 Points

1,752 Views

Tasted

Jun 16, 2017

A blend of 69% Merlot and 31% Cabernet Franc produced a smoky, truffle-scented wine with smooth textures and a fresh, sweet core of ripe cherries. 89-91 Pts

1,932 Views

Tasted

Apr 24, 2015

2013
Château Lafleur (Pomerol)

Meeting this wine is like walking into a florist shop that cannot be swept, because there was so much earth on the floor. Add to that, a touch of licorice, espresso and sweet, fresh cherries, black raspberries and plums and you're close to what the wine is all about. Soft, bright, charming and fresh, but as you would expect with 2013, the wine lacks the depth found in the best years and instead offers you, early drinking charms. 92 Points

2,685 Views

Tasted

May 25, 2016

Truffle, stone, spice box, violet, licorice, plum and fresh red fruit notes create a complex set of aromatics. Spicy black raspberries are on the attack with cherry and kirsch that leave an impression of freshness on the palate. With 55% Cabernet Franc and 45% Merlot, the wine was made from yields of about 25 hectoliters per hectare. In this challenging vintage, the property produced the same proportion of Lafleur and Pensees de Lafleur, as usual. 93-94 Pts

3,195 Views

Tasted

Apr 25, 2014

2013
Pensées de Lafleur (Pomerol)

Medium/full bodied, the wine is the personification of elegance and restraint. Light, but sweet, fresh, softly textured and fragrant, you get a nice sensation of sweet, bright, fresh, spicy red cherries in the endnote. 88 Points

1,808 Views

Tasted

May 25, 2016

From a blend of 59% Merlot and 41% Cabernet Franc, this medium-bodied, fresh and open wine is best on the attack with soft red fruit and spice. 87-89 Pts

1,525 Views

Tasted

Apr 25, 2014

2012
Château Lafleur (Pomerol)

Over the past few months, the wine has added structure and fleshed out following the initial April tastings. Pure sensations of wild, ripe and overripe cherries, boysenberry, plum, espresso and stone. Full bodied, sweet, concentrated, long and fresh, the wine moves from blackberries to plum and back again with spice, licorice and earth. 96-97 Pts

5,917 Views

Tasted

Jul 22, 2013

From 54% Cabernet Franc, picked October 6, and 46% Merlot, harvested September 23, the wine is deeply colored. Earth, mint, spice box, fennel and plum notes create the perfume. On the palate, the wine is medium/full-bodied with luscious black raspberries, plum liqueur, spice and fresh thyme, ending in a long, fresh and opulent finish. 94-96 Pts

4,391 Views

Tasted

Apr 26, 2013

2012
Pensées de Lafleur (Pomerol)

Produced from 54% Merlot and 46% Cabernet Franc, the wine is filled with sweet, ripe, soft and round black raspberries, cherries, spice and herbs. 88-90 Pts

2,438 Views

Tasted

Apr 26, 2013

2011
Château Lafleur (Pomerol)

A contender for wine of the vintage, the wine offered layers of ripe, richly textured, plums, truffle, mocha and black cherry. For Lafleur, a wine that often needs 2 decades before it's fun to drink, this will start drinking well by the time it's 10 years of age. 95 Points

3,272 Views

Tasted

Jul 18, 2018

The wine was produced from a blend of 53% Cabernet Franc and 47% Merlot. Violets, truffle, cherry, forest, earth and spicy aromas couple with concentrated, sensuous layers of ripe, fresh and pure clean plum, cherry and blackberry. On the palate, the wine moves between red to dark berries while building and expanding in depth and intensity. 96-98 Pts

4,356 Views

Tasted

Apr 21, 2012

2011
Pensées de Lafleur (Pomerol)

Produced from a blend of 54% Merlot and 46% Cabernet Franc. This wine with truffle, black raspberry, jam and earthy scents offers fresh, sweet black cherry and opulent textures. 90-91 Pts

2,764 Views

Tasted

Apr 21, 2012

2010
Château Lafleur (Pomerol)

Camphor, white truffle, flowers, licorice, black raspberry liqueur, vanilla bean, camp fire embers and sweet cherry blossoms are part of the complex array of scents. This full bodied, rich, intense, this coats your mouth with layer after layer of thick, powerful, perfectly polished silk and velvet drenched fruit. Everything is in place. The wine glides over your palate seamlessly with a finish that remains for over sixty seconds. If I could afford this stunning Pomerol, I'd buy every bottle on the planet! 99 Points

8,857 Views

Tasted

Jul 30, 2013

Lafleur set a record for this legendary Pomerol Bordeaux wine when they blended 62% Cabernet Franc 38% Merlot, 14% alcohol, same as 2009 this is the highest concentration of Cabernet Franc ever used at Lafleur. For those that like to compare, in 2009, the wine was produced from 53% Cabernet Franc and 47% Merlot. The owner, Jacques Guinaudeau said, "They used more Cabernet Franc at Chateau Lafleur in 2010 to remain a Bordeaux wine, as it offers better balance." He added, "At Lafleur, we focus on ripeness and the textures of tannins, We strive to achieve elegance, balance and purity." That's three good things in my book. . 2010 Lafleur A cornucopia of fragrances pop from the glass, cherry blossoms, sweet black raspberry, earth, truffle, forest floor, leaves and plum liqueur are found in abundance. Intense and concentrated, the wine pairs power and purity ending with a long, fresh, ripe sweet red and black fruit finish. With its unique texture, this is the essence of Pomerol. 97-99 Pts

6,825 Views

Tasted

Apr 21, 2011

2010
Pensées de Lafleur (Pomerol)

Truffle, oak, earth and cocoa scents open to a medium/full bodied, round, silky, fresh, dark plum and chocolate covered cherry flavored wine. 90-92 Pts

4,129 Views

Tasted

Jul 30, 2011

Pensees de Lafleur is produced from 65% Merlot and 35% Cabernet Franc. Pensees de Lafleur comes from a selection of terroir, not young vines. Aside from a shorter maceration time, the wine is produced with the same care that is received by Lafleur. The wine shows truffle, black cherry liqueur and minerality that couples with soft textures ending with black cherries 90-92 Pts

3,740 Views

Tasted

Apr 21, 2011

2009
Château Lafleur (Pomerol)

Dark garnet in color, to understand the perfume it's easy. Take a shot of chocolate, sprig of mint, handful of truffles with a bushel of plums and cherries blending it all together you get the idea. As good as that is, the fireworks is on the palate where the wall of fruit coats your palate with layer after of ripe, black plums, kirsch, wild cherries and powdered dark chocolate. Intense, but not over the top, the wine is hangs with you, builds and expands for over 60 seconds! 99 Points

2,612 Views

Tasted

Sep 20, 2019

Wine like this, leave you speechless! Where do you start? The nose, with its earthy, floral, truffle scents paired with a melange of plum, cherry and black raspberry is only the starter course. The entree is incredibly concentrated, refined, powerful, and elegant, all at the same time. The finish never seems to quit. Quite young and primary, this only offers a glimpse into the wines greatness, which will happen in the years to come. 99 Points

4,465 Views

Tasted

Mar 19, 2017

Not quite as expressive as it was a year ago, (Which is to be expected) this is pure, hedonistic pleasure with perfectly ripe fruits, exotic, velvet textures and a long finish that does not want to quit. 98 Points

4,622 Views

Tasted

Oct 5, 2014

Holy Cow! Silky, velvet drenched decadence. The wine starts in the middle of your palate with sweet, ripe berries. Before you know it, your entire palate with decadent, sweet, opulent, sensuous, intense layers of fresh, ripe, and over ripe, fruits that remain in your mouth for close to one minute!!! I hope some of my friends bought this stunning wine because I'd really like to taste this in 5, 10, 15 and 20 years. If you have the funds to lay down one of the best wines you will ever experience, this is the wine to buy. 100 Points

5,665 Views

Tasted

Jul 22, 2013

From a blend of 57% Cabernet Franc and 43% Merlot, this Pomerol wine opens with caramel, flowers, truffle, black cherry, plum, licorice and earthy scents. This wine offers the unique combination of concentration, power, silk and velvet. On the palate, this is a pure, sensuous, flamboyant expression of wild cherry, Vahlrona chocolate, melted licorice and plum liqueur. This sublime expression of Bordeaux wine remains on your palate for close to 60 sixty seconds in a seamless finish. This was one of the few samples that was far too good to spit. Now, what did I do with that winning Lottery ticket? 98-99 Pts

5,338 Views

Tasted

Jul 30, 2011

2009 Lafleur was produced from 47% merlot and 53% cabernet franc. Its 14% alcohol could be the highest level recorded by the property, yet there is no sensation of heat. This opaque wine blasts from your glass with blackberry, blueberry, and kirsch aromas, made complex by notes of spice, soil, clay, flowers, and minerals, with a little truffle thrown in. This concentrated, velvet textured wine fills every nook and cranny of your palate with the flavors of dark berries. Like all great vintages of Lafleur, the 2009 will require at least two decades before opening up. 96-98 Pts

4,441 Views

Tasted

Jul 27, 2010

2009
Pensées de Lafleur (Pomerol)

Showing its secondary side with truffle, smoke, chocolate mint and plums creating the perfume. Medium-bodied, fresh and ready to go, the sweet earthy cherries and earthy nuance leave a you with a solid impression.. 92 Points

2,286 Views

Tasted

Sep 20, 2019

Truffle, espresso bean, earth and plum aromas lead to a medium/full bodied, Pomerol wine that finishes with fresh, deep, ripe black cherries and licorice. 90 Points

2,836 Views

Tasted

Jul 30, 2011

2008
Château Lafleur (Pomerol)

Wow! Erotic cherries, truffle, chocolate, incense and spice grab your attention. On the palate, the wine is rich, concentrated, long, tannic, fresh and structured. Still young, the finish is fresh, with lingering sensations of spicy, fresh, cherries and plum. If you like wines young, feel free to pop a cork. I'm giving mine at least 10 more years. 95 Points

7,547 Views

Tasted

Jul 22, 2013

51% Cabernet Franc and 49% Merlot make up the blend. The perfume is all about smoke, plum, earth, truffle, licorice, flowers and spice box. In the mouth, this is full bodied, round, rich and concentrated. The wine ends with a big, fresh, black cherry, chocolate and coffee infused sensation. 95 Points

8,203 Views

Tasted

Aug 3, 2011

2008 Lafleur has added considerable aromatic complexity and depth over the past several months. Fresh blackberry, Asian spice, plum, oak, truffle and licorice scents are easy to find. This full bodied, intense, tannic, fresh wine expresses a lot of purity and flavor. The wine ends with a long, ripe, rich finish. 97 Pts

7,826 Views

Tasted

Jul 18, 2010

08 Château Lafleur is dark ruby. Essence of earth and black fruit, with a hint of oak and plum, make the perfume for this concentrated wine. The tannins and fruit feel polished in the mouth. The wine finishes with deep, dark, pure ripe black fruit. 95-97 Pts

7,638 Views

Tasted

Jul 30, 2009

2008
Pensées de Lafleur (Pomerol)

Licorice, plum, blackberry and truffle aromas open the wine. From an assemblage of 60% Merlot and 40% Cabernet Franc, this medium bodied, round textured wine ends with a plum, chocolate and black raspberry finish. 90 Points

3,744 Views

Tasted

Aug 2, 2011

2007
Château Lafleur (Pomerol)

From a blend of 53% Merlot and 47% Cabernet Franc, with a nose of truffle, stone, smoke, firewood, charcoal and smoke, this medium/full bodied Pomerol is supple, round and drinking perfectly today. The wine ends with a soft, pure, black cherry and chocolate finish. 91 Points

5,481 Views

Tasted

Aug 1, 2011

2006
Château Lafleur (Pomerol)

Flowers, fresh churned earth, cherry pipe tobacco, cocoa and cigar box aromas are making their presence known. Still young, the wine is fresh, supple and tannic. While the wine demands time and the tannins are clearly present, they are ripe tannins that give structure to the wine. The sweet, ripe, spicy, almost exotic fruits in the finish feel great on your palate. The wine is long, with a good sense of purity. But patience will be rewarded here. Give this at least 7-10 more years of sleep. 96 Points

5,226 Views

Tasted

May 25, 2016

Firm, serious, structured, tannic, powerful and fresh, the nose offers a gorgeous perfume of earthy, tobacco, plum, black cherry and floral notes. But this is not a wine to enjoy in its youth. Give it at least another decade before pulling a cork. The wine was made from a blend of 61% Merlot and 39% Cabernet Franc. 96 Points

5,435 Views

Tasted

Jul 4, 2015

2006
Pensées de Lafleur (Pomerol)

Mature and ready to go, with its plummy, earth, cocoa, cherry and thyme characteristics showing all their stuff today. 90 Points

2,552 Views

Tasted

May 25, 2016

2005
Château Lafleur (Pomerol)

The wine was made from a blend of 61% Merlot and 39% Cabernet Franc, making this one of the highest percentages of Merlot in the decade. The complex nose shows cherry pipe tobacco, stone, flowers and cherry liqueur in abundance. Full bodied, silky, smooth, supple, and fresh, there is a beautiful sense of purity in the exotic, plum and cherries in the long finish. The wine remains in your mouth for close to 50 seconds. 99 Points

6,046 Views

Tasted

Jun 28, 2015

Deep, dense ruby colored, the wine offered aromatics of earth, Christmas spice, plums, tobacco, and minerality. In the mouth, the regal, velvet textured wine was loaded with black fruit, licorice, cherries and tastes of clay. Powerful and concentrated, the wine finishes with the essence of ripe, dark stone fruit and earth. 97 Points

6,732 Views

Tasted

Jul 10, 2010

This Pomerol was deeply colored with an opalescent hue. Earth, plums, olives, spice, minerals and ripe, exotic black fruit made up the perfume. Very rich, concentrated and intense. The wine finishes with polished, licorice infused, chocolate plums and truffle. 97 Points

5,249 Views

Tasted

Jun 14, 2009

2005
Pensées de Lafleur (Pomerol)

Showing some age in the color, earth, confiture, smoke, cherry and thyme create the perfume. This medium bodied, round, soft wine is drinking at the right place today. The wine was produced from a blend of 53% Merlot and 47% Cabernet Franc. 90 Points

4,244 Views

Tasted

Jun 28, 2015

2004
Château Lafleur (Pomerol)

There is a sense of sweetness in the fruit and silky quality in the texture that leaves you wanting more of the fresh, ripe, juicy, plums, truffle, kirsch, wet earth, dark chocolate and floral character. This has really improved since it was last tasted. From a blend of 60% Merlot and 40% Cabernet Franc, this is probably the wine of the vintage! 95 Points

3,994 Views

Tasted

Nov 30, 2014

Black fruit, plums, herbs and minerals make up the perfume. Very tannic and slightly green on the palate. The underripe sensation never completely faded away. There is ample fruit, but the sensation of underripeness is a bit of a problem. It will be interesting to see how this develops over the next decade. 93 Points

6,058 Views

Tasted

Dec 31, 2009

2002
Château Lafleur (Pomerol)

Violets, bitter chocolate, plums and black raspberry notes make up the perfume. This structured, sturdy style of Lafleur is austere and the tannins are not quite ripe. The plummy finish shows hints of green flavors. For the money this costs today, it's an easy pass. 90 Points

6,393 Views

Tasted

Aug 10, 2010

2001
Château Lafleur (Pomerol)

Every bottle ages on a different curve. This example was more closed, tannic and less expressive than other bottles recently tasted. The potentail was there, but time and air were needed to allow more of the plum, chocolate and earthy character to emerge. 93 Points

3,799 Views

Tasted

Dec 17, 2013

Young, fresh, vibrant and just coming out of its shell, the wine opens with truffle, spice, black cherry, earth, fresh herbs and a hint of mint. The wine is rich, full bodied, concentrated, masculine and exotically textured. This is a good time to start drinking this beauty. Enjoy it now over the next 15-25 years. 94 Points

5,528 Views

Tasted

Jan 2, 2012

A complex nose filled with charcoal, truffle, smoke, baked cherry pie and Asian spices requires no effort to find. Sensuous, rich and deep layers of molten black cherries, licorice, spice and blueberry fill your mouth and palate. This wine combines exotic textures and fragrances for a unique expression of Pomerol. 94 Points

5,018 Views

Tasted

Aug 4, 2011

Minerals, fresh herbs, blackberries and spicy plums with hints of floral aromatics open up this wine. Soft textures, freshness and a long, dark, chocolate plum and black cherry finish are the signature of this outstanding Pomerol. 94 Points

4,961 Views

Tasted

Feb 3, 2010

Ripe and exotic with ample fruit, character, complexity and charm, this is an outstanding example of Lafleur that will age for years. 94 Points

4,720 Views

Tasted

Jun 12, 2009

2000
Château Lafleur (Pomerol)

This tastes and feels as if a magnum of wine was somehow placed inside a regular, 750 ml bottle! Intensity, concentration, density, and purity, with an erotic, textural component and a finish that goes well beyond the 60-second mark. This is one of the great wines of the generation. I am sure it will easily evolve and deliver the goods for at least another 40-50 years! 100 Points

4,405 Views

Tasted

Nov 20, 2018

Spellbinding in every sense of the word. Don't get me wrong, this is still primary, but it is impossible not to be blown away by the insane level of concentration, the depth of flavor, the sensation of having your palate, teeth and gums coated with the essence of perfectly ripe fruit. Everything is going on here, in all the right ways and places. The finish must remain with you for over 60 seconds. This is what mind boggling wine is all about! 100 Points

4,700 Views

Tasted

Jul 30, 2017

I'm thinking this is the wine of the vintage, and that says a lot, when you consider how many great wines were born in 2000. But I have had this enough times to feel quite comfortable saying that. the wine is opulence on steroids. It has unbelievable levels of concentration. a mouth feel that words cannot do justice to and a finish that breaks the one minute mark and keeps on going. 100 Points

6,412 Views

Tasted

Nov 14, 2016

This flamboyant, show stopping wine is off the charts! Thick, rich, concentrated and compelling from start to finish, words cannot express the opulent, sensuous, decadent character and pleasures the wine offers. With a finish of more than 60 seconds, this is the type of wine that leaves you weak in the knees, begging for another sip. 100 Points

7,419 Views

Tasted

May 29, 2015

A stunning nose packed with truffle, smoke, black cherry, chocoalate, forest floor, plum and earth let you know something special was in the house and in your glass. Powerful, full bodied, rich, packed and concentrated with a wealth of tannin and perfectly ripe, plummy, pure, fresh, fruit, this was still tight and holding back its best for future development. Give it at least another 10-15 more years of bottle age and watch the fireworks explode. 99 Points

6,308 Views

Tasted

Mar 14, 2012

Powerful, intense, opulent and filled with countless layers of decadent, perfectly ripe fruit, this Bordeaux was too good to spit! The complex perfume filled with truffle, chocolate covered fudge, minerals, earth and a cornucopia of ripe fruit was almost impossible to put down. The wine finishes with a kinky, exotic, (or is that erotic?) sensation that feels like your mouth is being bathed in waves of perfectly ripe and almost over ripe, dark cherries, plums and blackberries. 100 Points

9,041 Views

Tasted

Mar 5, 2010

Deep jammy black fruit, minerals, crushed stone, plums, flowers, coco and black raspberries make up the perfume. Huge, massive, concentrated and filled with juicy, perfectly ripe plums and fresh berries. This intense wine offers freshness, purity and a long sensation of decadent, palate staining fruit. 99 Points

5,897 Views

Tasted

Apr 3, 2008

1999
Château Lafleur (Pomerol)

Quite a nice surprise for the vintage. Without decanting, the initial sip was a but dry, but with 30 minutes of air, plums, earth, oak, spice and olive notes began to emerge. With an hour of air, the medium bodied wine softened, taking on a fresh, plum, soft textured and cherry personality. 93 Points

6,728 Views

Tasted

Jan 31, 2013

1998
Château Lafleur (Pomerol)

Still young, this deep, rich, concentrated, full bodied wine has a lot going on. With its showy, plum chocolate and earthy nose and opulent, fleshy, flashy textures coupled with the structure to age and expand for decades, give it another 3-5 years and it will be even better. 95 Points

6,585 Views

Tasted

May 29, 2014

1995
Château Lafleur (Pomerol)

This remains stubbornly backwards and tightly wound. The color is deep, dark, purple with no signs on lightening. It looks like a 3 year old wine. For Lafleur, a wine stylistically on the bigger side of Pomerol, this bottle showed a hard personality. The fruit which poked through with air and coaxing was ripe and pure, but with a tannic, stern personality. This wine demands at least another decade in the cellar. 92 Points

3,864 Views

Tasted

Feb 26, 2008

1994
Château Lafleur (Pomerol)

Austere, tannic and masculine are not qualities normally associated with Chateau Lafleur. But that is what you'll find the in the 1994. It's not a bad wine, but it's a strong example of Lafleur. Probably fully mature, the plum and cherry fruit are starting to fade. I'd drink this sooner than later. 90 Points

4,327 Views

Tasted

Dec 12, 2012

Oak, spicy plums, black fruit and toffee notes can be found with effort. Very concentrated. Still backward and tannic. The very long, tannic finish includes a melange of red and black fruits, but this is not worth opening for at least another 5-10 years. For a 94, this wine has very good character, albeit slightly austere. This wine did not oxidize after being opened for 8 hours. 92 Points

4,901 Views

Tasted

Sep 6, 2006

1990
Château Lafleur (Pomerol)

Sublime. The levels of ripe roasted, luscious, powerful fruits with all their earthy, truffle, thyme, tobacco and cocoa infused character is almost too much to believe. Length, power, complexity and concentrated, kinky, exotic, ripe, cherry and plum notes are the name of the game here. If you own this gem, you are indeed lucky. Give it another 5-7 years and I imagine it will be at peak. 98 Points

3,208 Views

Tasted

Nov 20, 2018

WOW! Port like in texture, with an intensity of fruit and fragrance that does not quit. The wine has depth, kinky, exotic fruit and an erotic, silky texture that goes on and on. If can afford this stunning wine, buy it. If like most people it's out of your price range, find a friend with a bottle as this is almost off the charts! 98 Points

5,938 Views

Tasted

May 29, 2014

Exotic, kinky notes of kirsch, coffee and cherry explodes in your face. Tannic, but with mountains of fruit behind it. Massive levels of concentration. This is the iron fist in the velvet glove. 98 Points

3,593 Views

Tasted

Mar 17, 2010

1989
Château Lafleur (Pomerol)

Just a beautiful wine drinking in the sweet spot today. The ripe, opulent, lusty red cherries and plums paired with earth, truffle and herbs is there from the start to the finish. Full-bodied, concentrated and exotic, the finish holds your attention for close to 60 seconds! 99 Points

3,246 Views

Tasted

Nov 22, 2018

Both the wine and I have matured well over the years. Although, I think the wine has done slightly better than I did, as this really rocked me to my core. With an hour of air, the kinky, exotic, erotic cherries, smoked truffle, thyme and the perfect hint of cocoa at the end took the perfume to a new level. On the palate. the wine is intense, full bodied, rich and long. There is an incredible depth of flavor, with sultry textures that seems endless. This is true Pomerol decadence! Better than Petrus and Le Pin and it sells for a lot less money too! 99 Points

2,839 Views

Tasted

May 5, 2016

Truffle, mint, kirsch, earthy and an array of spice box scents charge your motor. Full bodied, concentrated and rich, with layers of sweet black cherry, black raspberry, plum and cocoa, there is a hint of fine chalk in the tannins in the end note. Drink or hold, either way you will be happy. 96 Points

3,149 Views

Tasted

May 29, 2014

This explodes from the glass with kinky kirsch, truffle, spice, plum, dried flower and bitter chocolate scents! Rich, concentrated and filled with fruit, this decadent Pomerol coats your mouth with mocha, black raspberry and dark cherry flavors 97 Points

3,156 Views

Tasted

Aug 12, 2012

Spicy plums, orange rind, blackberries, chocolate, dark cherry, plums, truffle and earthy aromas explode from the glass. Deep, powerful and very concentrated. Silky, sexy, sensuous textures coat your mouth with multiple layers of rich, ripe, exotic spicy fruit in this unique expression of Bordeaux and Pomerol. 98 Points

3,536 Views

Tasted

Apr 1, 2007

1988
Château Lafleur (Pomerol)

Minerality, black raspberries, earth, truffle, flowers and fresh cherry notes make up the perfume. Full bodied, concentrated, masculine but refined, the wine ends with a long, exotic blast of sweet kirsch sensations. Air really helped the wine develop. It got better with 2 hours in the decanter. 1988 Lafleur could be the wine of the vintage! 95 Points

3,550 Views

Tasted

Dec 9, 2013

Cassis, blackberry, floral, dark cherry, forest floor, herbs, 5 spice and mocha scents were easy to find in this Bordeaux wine. Full bodied and powerful, this soft, supple and round wine ends with sweet plum and chocolate flavors 95 Points

4,031 Views

Tasted

Aug 12, 2010

1985
Château Lafleur (Pomerol)

Fully mature, this medium bodied wine offfers truffle, cherry, spice and forest floor on the nose. Soft, but not exactly delicate, the sweet, earthy, spice filled plum, herb and kirsch finish is a pleasure to taste. If you have a bottle, drink it as it's only going to fade from here. 94 Points

3,328 Views

Tasted

May 29, 2014

This Pomerol opens with a blast of truffle, smoke, earth, plum, cherry pipe tobacco and spice aromas. Concentrated and deep, as good as it is, this powerful wine is slightly marred by some green flavors that intrude in the otherwise rich, black raspberry and plum filled finish 93 Points

2,608 Views

Tasted

Aug 12, 2012

Big powerfull and plummy with a great ripe, cherry core topped with herbs. Lush and concentrated on the palate. Lots of structure and tannins noted in the finish. 95 Points

2,495 Views

Tasted

Oct 20, 2009

On the nose, elements of tobacco, plums, overripe black cherries, spices, mint and floral aromas fill the glass and awaken your senses. The wine is dense, almost port-like, but believe it or not, it's slightly less concentrated than the 85 Eglise Clinet. This thick, full-bodied wine is still not fully mature. The wine coats your mouth and throat with a silken essence. This wine is seamless. Exotic and racy only begins to describe this wine. Most of the tannin has melted away but the wine has a long life ahead. The 85 Lafleur should evolve for at least 20 more years 94 Points

2,442 Views

Tasted

Mar 15, 2007

1983
Château Lafleur (Pomerol)

Medium/full bodied, with a sweet, cherry, earth, spice, truffle and plummy essence. There is a nice floral note that adds to the complexity. Fully mature, the wine skates down the middle lanes between rustic and elegance. 94 Points

8,970 Views

Tasted

May 12, 2015

Over the top aromatics of jammy plum, kinky black cherry, exotic spice, blackberry and white truffle. Powerful, rich and packed with fruit so ripe, it's bursting from the seams, it fills every inch of your mouth with exotic flavors and sensual textures. This Pomerol is not for the timid. 97 Points

6,390 Views

Tasted

Jul 10, 2009

1982
Château Lafleur (Pomerol)

Certainly a contender for the most consistent 100 Pt older Bordeaux I have tasted, words cannot properly express the levels of opulence, decadence, power, length and complexity found here. Palate coating, but not heavy, this majestic elixir remains youthful, even as it works its way to its 40th birthday. 100 Points

3,921 Views

Tasted

Nov 20, 2018

This remains one of the great wines of the 20th century! Stunning in every sense and meaning of the word. The floral, truffle, cherry, black and red plum, spicy perfume is off the hook. The intensity of flavor, concentration, richness and length is worth an easy 101 Pts! 100 Points

3,610 Views

Tasted

Jun 7, 2016

This great wine can be summed up with one word, "Exotic!" With a kinky nose packed with hints of blueberry, wild strawberry, red, black and white cherries, truffle, stone, spice and wet earth, it's difficult to pull your nose out of the glass. Thick, powerful, rich and intense, the wine fills your mouth and coats your palate with seemingly endless layers of ripe and over ripe fruit. It's amazing to think this wine was produced at a time when not much, if any selection was used, and no new, oak was used as well. Clearly, this is the Right Bank wine of the 1982 vintage! 99 Points

5,464 Views

Tasted

Nov 12, 2012

Power and elegance with kinky, sexy aromatic, exotic over ripe kirshc, plum, blackberry, spice and minerality. Powerful, deep, concentrated and complex. The finish lasts well over a minute. 97 Points

9,157 Views

Tasted

Dec 1, 2010

Simply awesome. Jaw dropping levels of concentration and extract. Off the hook kinky plums, cherry, fudge and spice aromatics, coupled with intensity of pure ripe fruit, a perfect, seamless finish that seems like it the Bordeaux will never end as the flavors remain for close to two minutes! 100 Points

11,085 Views

Tasted

Mar 15, 2009

1975
Château Lafleur (Pomerol)

The wine opens with dark chocolate, strawberry, plum, thyme, truffle, orange peel, spice and earthy scents. Full bodied, masculine in temperament, the wine is clearly complex, concentrated and long. But it lacks the sensuous qualities normally associated with Pomerol, ending with a melange of cherries and spice. 94 Points

2,961 Views

Tasted

May 29, 2014

1970
Château Lafleur (Pomerol)

This was oaky with a cedary nose and light fruit. The wine was hard with a drying, tart cherry finish. Unfortunately it was past its prime. 82 Points

3,139 Views

Tasted

Feb 12, 2009

1966
Château Lafleur (Pomerol)

This was absolutely decadent. It was like tasting a ripe black plum and leaving fruit in your mouth with the juices dripping all over your face. This is not only one of the finest Pomerol's I've ever tasted, it's close to the top of the list for all Bordeaux wines! 97 Points

4,631 Views

Tasted

Mar 15, 2012

Explosive aromatics and rich, levels of concentrated fresh fruit allowed this 41 year old wine seem much younger than it was. The earthy, black fruit and exotic spiciness of the wine were fun to sniff. The palate enjoyed a massive dose of plums and black cherries. This is a very masculine style of Pomerol that softened and improved in the bottle with time. 96 Points

4,223 Views

Tasted

Dec 10, 2009

Explosive aromatics. Insanely complex with more layers of perfume than any onion I've ever encountered. Lush powerful fruit that remained on your palate and in your mind. Drinking this wine is best described as biting into a ripe, black plum and letting the fruit remain in your mouth for a minute to experience all its delights. Just stunning! 98 Points

4,464 Views

Tasted

Nov 7, 2007

1964
Château Lafleur (Pomerol)

This mature Pomerol wine exlpoded with kinky, overripe, black cherry liqueur, earth, truffle, mineral, spice and forest floor scents. Powerful and stuffed with concentratred ripe, black raspberry, plum, black cherry and kirsch sensations, this wine coats your mouth and palate. The finish lasted close to :50. 96 Points

3,267 Views

Tasted

Mar 28, 2010

1955
Château Lafleur (Pomerol)

Intense, still tannic, not exactly refined, more full bodied, powerful, rich and exotic. On the palate, the wine exploded with a blast of wild, untamed, sweet, dark cherries and plums. Earthy, with a fabulous mix of flowers and truffles and an iron note that paired perfectly with all the red fruits. The long finish moved from sweet to tart and back to sweet. The finish kept on going long after the wine left my glass! What a treat. This was one of those dream wines that stay in your memory, which is a good thing as it's unlikely I am going to see another bottle. But I can promise you, it is not a wine I am going to forget tasting. 97 Points

1,480 Views

Tasted

Jul 5, 2017