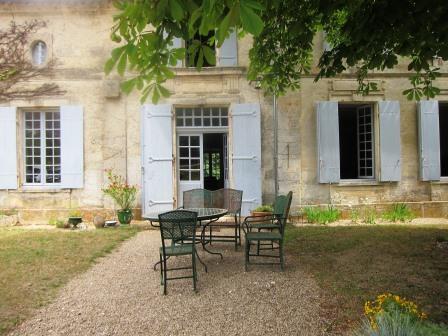 Learn everything about Chateau Grand Village Bordeaux Superieur with wine tasting notes and wine with food pairing tips. Learn all the best vintages, a history of the property, information on the vineyards and winemaking. If you want to read about other important, Bordeaux Chateaux: Links to all Bordeaux Wine Producer Profiles
Chateau Grand Village History, Overview
Grand Village is located just north of the Fronsac appellation, in the small commune of Mouillac. Trust me, it can be a bit hard to find on your first visit. Grand Village is used as the home base for Jacques and Sylvie Guinaudeau and their family.
The vineyards of Chateau Grand Village have remained in the hands of the same family since the 17th century. Previously, the vineyards for Chateau Grand Village were worked in a classic Bordeaux wine, vine-growing manner.
That all changed in 2000 when the Guinaudeau family, who have been in charge of Chateau Lafleur in Pomerol since 1985 began producing the wines of Grand Village. They switched to managing the vineyards of Chateau Grand Village in the same manner as they do at Chateau Lafleur in Pomerol.
The vinification techniques began to mirror what they were doing in Pomerol as well, which really improved the quality of wines being produced at Grand Village.
Chateau Grand Village Vineyards, Terroir, Grapes, Winemaking
The 17 hectare Right Bank vineyard of Grand Village is planted to red and white wine grape varietals. For the red wines, 14 hectares of vines were replanted to 80% Merlot and 20% Cabernet Franc. The Cabernet Franc comes from clones planted at Chateau Lafleur.
For the white Bordeaux wines, 3 hectares of vines are planted to 75% Sauvignon Blanc and 25% Semillon. The vineyard is planted to a vine density of 5,500 vines per hectare. The terroir is similar to what you can find in St. Emilion with its mix of clay, limestone, and gravel.
The clay in the soil goes down a foot or so, to a bedrock that is mostly made up of Asteria limestone soils. Asteria is one of the hardest types of limestone and is often used as a building material, due to its strength and density. You find it all over Bordeaux, especially in the Right Bank.
Chateau Grand Village uses many of the same vineyard farming techniques employed at their more famous estate, Chateau Lafleur in Pomerol. They practice pruning and de-budding adapted to each vine plant, crop thinning in summer, and de-leafing. The grapes are picked by hand.
This is followed by very careful sorting and selection. Chateau Grand Village is vinified in traditional cement vats and is aged 30% new, French oak barrels for an average of 12 months before bottling.
From there, the just used, new oak barrels are sent to Chateau Lafleur, where they are used for the aging of the Grand Vin and Pensees de Lafleur. On average, the production of Chateau Grand Village is close to 5,500 cases of wine per year.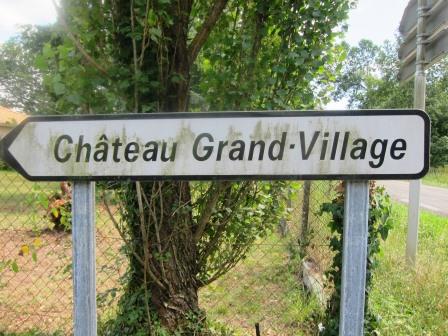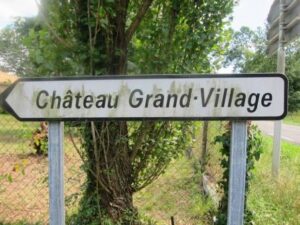 Grand Village White Wine
Grand Village also produces 2 white wines from close to 3 hectares of vines. Grand Village Blanc is made from about 2.2 hectares of vines and Les Champs Libres comes from a small .8 hectare parcel of vines.
Grand Village Blanc has actually been produced since the 19th century, though it was not until recently that the family began focusing on the wine. In 2013, the Guinaudeau family introduced a new, white Bordeaux wine, Les Champs Libre which is made using 100% Sauvignon Blanc.
The best vintages of Chateau Grand Village are: 2022, 2021, 2020, 2019, 2018, 2017, 2016, 2015, 2014, 2012, 2010 and 2009.
When to Drink Chateau Grand Village, Anticipated Maturity, Decanting Time
Chateau Grand Village is much better with at least 3-5 years of aging in good vintages. Young vintages can be decanted for 1 hour or so.
This allows the wine to soften and open its perfume. Older vintages might need very little decanting, just enough to remove the sediment. Chateau Grand Village offers its best drinking and should reach peak maturity between 4-15 years of age after the vintage.
Serving Chateau Grand Village with Wine, Food, Pairing Tips
Chateau Grand Village is best served at 15.5 degrees Celsius, 60 degrees Fahrenheit. The cool, almost cellar temperature gives the wine more freshness and lift.
Chateau Grand Village is best paired with all types of classic meat dishes, veal, pork, beef, lamb, duck, game, roast chicken, roasted, braised, and grilled dishes. Chateau Grand Village is also good when matched with Asian dishes, rich fish courses like tuna, mushrooms, and pasta.
The white wine of Chateau Grand Village is perfect when paired with fresh seafood, shellfish, chicken, veal, and pork dishes, as well as sushi and sashimi.
Here's a little secret for you, the Guinaudeau family refers to Grand Village, which is classified as a Bordeaux Superieur, as Lafleur's second vineyard.
Château Grand Village Wine Tasting Notes
32 Vintages 100,898 Views Sort by Vintage-Rating
2022
Château Grand Village (Bordeaux Supérieur)

Nutty, spicy, floral, and fruity in the nose, the wine is ripe, round, lush, rich and fragrant in the mouth. The finish is long, lifted, and spicy, with layers of dark pit fruits, cocoa and a touch of salt on the back end of the finish. This is one of the great Bordeaux value wines you can purchase by the case, if you can find it. And it is ready to be enjoyed on release! The wine blends 80% Merlot with 20% Cabernet Franc. Harvesting took place September 9 - September 23. Drink from 2025-2037. 92-94 Pts.

534 Views

Tasted

May 8, 2023

2022
Château Grand Village Blanc (Bordeaux)

The sweet, pink grapefruits, flowers and white peaches are balanced between their creamy textures and freshness on the palate. The wine lingers long after the wine has left your glass. This blend of 70% Sauvignon Blanc and 30% Semillon is ready to go. Drink from 2025-2030. 92-92 Pts.

496 Views

Tasted

May 8, 2023

2021
Château Grand Village Blanc (Bordeaux)

Waxy lemons, white peach, and pear, with a touch of orange blossom hit the spot on the nose and on the juicy, sweet, crisp, palate with all of its mango, orange rind, lemon meringue, green apple, and yellow plums. The wine truly lingers, with its sweet yellow citrus long after the wine has left your glass. This blend of 73% Sauvignon Blanc and 27% Semillon is ready to go. Drink from 2022-2030. 92-92

1,298 Views

Tasted

May 20, 2022

2021
Château Grand Village (Bordeaux Supérieur)

Flowers, spice, tobacco leaf, herbs, and red fruits are on the nose. Medium-bodied, soft, elegant. refined, silky and fresh, there is a nice purity and sweetness to the fruits on the mid-palate and in the finish. You can enjoy this with pleasure on release. The high proportion of Cab Franc in the blend really works in this vintage, adding depth of flavor and salinity. The wine blends 75% Merlot and 25% Cabernet Franc. Drink from 2023-2033. 90-92

1,728 Views

Tasted

May 20, 2022

2019
Château Grand Village (Bordeaux Supérieur)

Fresh, soft, silky, medium-bodied and on the elegant side of the style range, the wine is loaded with sweet, dark plums, cherries, licorice, flowers and a hint of chocolate in the end note. This is one of the great Bordeaux value wines you can purchase by the case, if you can find it. And it is ready to be enjoyed on release! Drink from 2022-2034.

1,692 Views

Tasted

Mar 29, 2022

2019
Château Grand Village Blanc (Bordeaux)

Mango, flowers, lemons, guava and tangerine peel aromas hit the spot. On the palate, the wine is fresh, juicy, lifted and packed with green apples, waxy lemons and citrus rind. This blend of 75% Sauvignon Blanc and 25% Semillon is ready to go. Drink from 2022-2029.

1,241 Views

Tasted

Mar 29, 2022

2018
Château Grand Village Les Champs Libres (Bordeaux)

Pink grapefruit, guava, lemon curd, waxy lemon, flowers and limes on the nose really wakes you up. On the palate, all the fresh, lively, crisp, lemon centric fruits paired with green apples and creamy textures leave you feeling equally refreshed. The wine is always produced from 100% Sauvignon Blanc.

1,277 Views

Tasted

Mar 9, 2021

Always produced from 100% Sauvignon Blanc, the wine shows off its green apple, pomelo, flowers and lime essence with ease. Fresh and fruity, with lift and the bite of a Meyer lemon in the finish, this is quite nice this vintage.

2,396 Views

Tasted

Apr 19, 2019

2018
Château Grand Village (Bordeaux Supérieur)

Lush, silky, sweet, supple-textured, fresh cherries, tobacco leaf and floral notes come alive in the nose. On the palate the wine is elegant, lifted and soft, with layers of sweet red fruits that hit all the right notes. Produced from blending 78% Merlot and 22% Cabernet Franc, this is one of the great value wines you can purchase by the case, if you can find it..

2,139 Views

Tasted

Mar 9, 2021

Flowery in nature, you find an earthy, leafy, tobacco, spice and cherry profile. The wine is medium bodied, silky, soft and fresh, with loads of ripe, dusty black raspberries in the finish. It was produced from a blend of 78% Merlot and 22% Cabernet Franc, setting a record for the highest amount of Cabernet Franc in the blend. 91-93 Pts

2,637 Views

Tasted

Apr 19, 2019

2018
Château Grand Village Blanc (Bordeaux)

Grape fruit, lemon peel, guava, green apple and banana aromas are a lot of fun to work with in the perfume. But it is the fresh, vibrant palate, with its crisp bite of yellow citrus accompanied by fresh topical accents that really makes this work. The wine was made from 75% Sauvignon Blanc and 25% Semillon.

1,670 Views

Tasted

Mar 9, 2021

Hints of tropical fruit and yellow citrus fruits come to you with a tint of honey. On the palate, the wine is round, fresh and refreshing. The wine was made from 75% Sauvignon Blanc and 25% Semillon.

2,407 Views

Tasted

Apr 19, 2019

2017
Château Grand Village Les Champs Libres (Bordeaux)

Relax on a freshly mown lawn near a stone path lined with lemon trees at the pinnacle of summer, this wine is a snappy, crisp confection with juicy energy and a long-lasting, vivacious, yellow citrus note in the finish.

1,515 Views

Tasted

Apr 26, 2018

2017
Château Grand Village (Bordeaux Supérieur)

Dark cherries, licorice and cocoa will have you convinced this wine is a Pomerol. On the palate, this medium-bodied charmer is silky, sweet and round. It was produced from a blend of 97% Merlot and 3% Cabernet Franc, setting a record for the highest amount of Merlot ever placed in the blend. The elevated proportion of Merlot on the limestone and the added sensation of minerality mixed with lush fruits makes this an instant enchantress. I marvel at this production because half of the vineyard was destroyed by frost, generating only 9% of the 2016 release.

1,686 Views

Tasted

Apr 26, 2018

2017
Château Grand Village Blanc (Bordeaux)

Lemon, lime, pomelo, tangerine and just a bit of honey create a personality that is juicy, fresh, sweet and vibrant. The wine was produced from 70% Sauvignon Blanc and 30% Semillon, picked September 12. Due to the frost, the production was only 100 cases instead of the usual 1,000 cases!

1,272 Views

Tasted

Apr 26, 2018

2016
Château Grand Village (Bordeaux Supérieur)

Deep garnet in color, the wine blends hints of licorice, espresso and black raspberry. Fresh, soft and polished, this medium bodied, delicious expression of sweet, spicy, red and white cherries is the best wine yet, from Grand Village. The wine was produced from a blend of 86% Merlot and 14% Cabernet Franc.

4,065 Views

Tasted

Apr 29, 2017

2016
Château Grand Village Les Champs Libres (Bordeaux)

Crisp, fresh and juicy, the wine pops with its just squeezed yellow citrus, orange rind and floral characteristics. Bright and juicy, this is ready to go.

1,896 Views

Tasted

Sep 21, 2019

Back to using 100% Sauvignon Blanc, the wine delivers its fresh, lemon, lime and floral character with no effort. Fresh, fun and easy to drink, this is a really nice summer wine to have with fresh shellfish on a hot day.

1,302 Views

Tasted

Apr 29, 2017

2016
Château Grand Village Blanc (Bordeaux)

Just squeezed grapefruit with green apples on the nose, open you to an oily, nutty, pomelo finish.

1,986 Views

Tasted

Apr 29, 2017

2015
Château Grand Village Les Champs Libres (Bordeaux)

Squeeze lemons, limes and add flowers into a glass filled with rocks you get the idea here. Bright, crisp and easy to drink, you can enjoy this over the next few years, or even longer.

2,124 Views

Tasted

May 21, 2018

Using 87% Semillon and 13% Sauvignon Blanc, the wine is packed with fresh lemons, minerality, lime, green apple and vanilla bean, there is the right balance between freshness, sugar and richly textured, sweet fruits.

1,751 Views

Tasted

Apr 29, 2016

2015
Château Grand Village (Bordeaux Supérieur)

Silky and lush, the fruits are ripe, sweet and pure. The wine is round, medium bodied and displays sweet red cherries and licorice at its core. You can drink this with pleasure now, or age it for a few years.

2,652 Views

Tasted

May 21, 2018

Blending 85% Merlot and 15% Cabernet Franc, the wine delivers a sweet, black raspberry character coupled with thyme and fresh cherries, a soft, medium bodied palate feel and a sweet, cherry and plum finish that will drink well early.

3,171 Views

Tasted

Apr 29, 2016

2015
Château Grand Village Blanc (Bordeaux)

Pomelo, lemons, orange peel and green apples with a touch of honeysuckle on the nose. Juicy and fresh, drink this over th next few years.

1,487 Views

Tasted

May 21, 2018

Just squeezed pomelo, honeysuckle, lime and green apple scents are all over the place. The wine is fresh, sweet, lively and easy to drink.

1,443 Views

Tasted

Apr 29, 2016

2014
Château Grand Village Les Champs Libres (Bordeaux)

Fully mature, and taking on more color, the wine provides fresh cut grass, lemon grass and a hint of honeysuckle. Sweet, fresh, yellow, citrus fruits are all over the finish.

1,718 Views

Tasted

Jun 16, 2017

With a citrus and fresh cut grass nose, the wine ends with a sweet, lemon rind and freshness on the mouth. The wine was made from 100% Sauvignon Blanc. 2013 was the first vintage for Les Champs Libre from a parcel of vines located in the vineyards of Grand Village. 89 Pts

2,055 Views

Tasted

May 1, 2015

2014
Château Grand Village (Bordeaux Supérieur)

Medium bodied, fresh, wine that delivers its bright, red and black raspberry essence with ease. This tasty wine is probably going to best in its vibrant youth.

2,475 Views

Tasted

Jul 2, 2017

Medium bodied, fresh, but straight ahead vintage that delivers its bright, red and black raspberry essence with ease. This is probably going to best in its youth.

2,234 Views

Tasted

Mar 16, 2017

Blending 86% Merlot and 14% Cabernet Franc offers black raspberries and earthy notes, coupled with fresh, sweet, kirsch in its fresh, forward, early drinking character. 88-90 Pts

2,201 Views

Tasted

May 1, 2015

2014
Château Grand Village Blanc (Bordeaux)

Grapefruit and honeysuckle offer a fun to explore nose. Fully mature and ready to go, there is a sweet, honeyed, bright citrus finish here.

1,549 Views

Tasted

Jul 2, 2017

Grapefruit and honeysuckle offer a fun to explore nose. Fully mature and ready to go, there is a sweet, honeyed, bright citrus finish here.

1,473 Views

Tasted

Mar 16, 2017

Fresh squeezed grapefruit and honeydew melon show freshness in the fruit, finishing with zesty, sweet, citrus rind notes. The wine was made from a blend of 50% Sauvignon Blanc and 50% Semillon. 88 Pts

1,726 Views

Tasted

May 1, 2015

2013
Château Grand Village Blanc (Bordeaux)

54% Semillon and 46% Sauvignon Blanc created a wine grapefruit, honeydew melon and orange character with fresh grapefruit and citrus finish. 89 Pts

2,242 Views

Tasted

May 1, 2014

2013
Château Grand Village (Bordeaux Supérieur)

Elegant in style, light in color, with bright, crisp, red berries from start to finish, this is going to be best enjoyed in its youth, to preserve its freshness and fruits.

1,575 Views

Tasted

May 25, 2016

Herbs and kirsch scents, fresh, light red berries on the palate create a soft, forward wine that will drink well on release. 87-89 Pts

1,914 Views

Tasted

May 1, 2014

2012
Château Grand Village Blanc 'A Louima' (Bordeaux)

A new wine from the Guinaudeau family. Produced from 100% Sauvignon Blanc, the wine was harvested from 3-year-old vines from Sancerre clones. Lemon, honeysuckle, vanilla, orange and melon scents open to a sweet, fleshy, fresh, fun white wine. 88-90 Pts

1,648 Views

Tasted

Apr 27, 2013

2012
Château Grand Village (Bordeaux Supérieur)

Blending 93% Merlot, harvested From September 24 through October 9, with 7% Cabernet Franc, picked October 12, the wine offers licorice, dark cherry and earthy scents. On the palate, this medium-bodied wine is filled with ripe cherries. 87-89 Pts

2,837 Views

Tasted

Apr 26, 2013

2012
Château Grand Village Blanc (Bordeaux)

64% Sauvignon Blanc and 36% Semillon produced a white wine packed with honeydew, lemon, lime and orange. This is an easy-to-drink, accessible Bordeaux Blanc. 86-88 Pts.

2,144 Views

Tasted

Apr 26, 2013

2011
Château Grand Village (Bordeaux Supérieur)

Blending 83% Merlot with 17% Cabernet Franc produced a medium-bodied wine with fresh, sweet cherry, round textures and early drinking charm. 89-90 Pts

1,880 Views

Tasted

Apr 20, 2012

2010
Château Grand Village (Bordeaux Supérieur)

Jammy berries, forest floor, fresh black cherries and plum scents introduce you to a likeable, charming wine that will offer a lot of pleasure young. The wine was produced from a blend of 75% Merlot and 25% Cabernet Franc. 90-91 Pts

4,403 Views

Tasted

Jul 30, 2011

Grand Village 75% Merlot 25% Cabernet Franc create an earth, candied plum and sweet cherry scented wine with a medium body that ends with a fresh, black cherry finish. This should drink well on release. 89-91

3,530 Views

Tasted

Apr 22, 2011

2009
Château Grand Village (Bordeaux Supérieur)

Chocolate, mocha, plums and earth open a soft textured, medium bodied wine that ends with a round, licorice, plum and black cherry filled finish. The wine was produced from a blend of 75% Merlot and 25% Cabernet Franc.

2,863 Views

Tasted

Jul 30, 2011

2009 Grand Village is a blend of 75% merlot and 25% Cabernet Franc. Fresh blackberry and licorice aromatics lead into a medium/full bodied winewith soft textures and a suave, easy to drink black cherry and licorice flavored finish. The wine is aged in oak barrels that were used previously by Chateau Lafleur. 89-91 Pts

3,043 Views

Tasted

Jul 6, 2010

2008
Château Grand Village (Bordeaux Supérieur)

Black cherry, leafy, coffee bean and kirsch scents blend well with this medium bodied, soft textured wine. The finish offers cocoa dusted black cherries and black raspberry.

2,199 Views

Tasted

Aug 1, 2011

2007
Château Grand Village (Bordeaux Supérieur)

With a light cherry, earth and leafy aroma, this soft, medium bodied wine ends with a kirsch finish. This is drinking well today.

4,061 Views

Tasted

Aug 2, 2011

2006
Château Grand Village (Bordeaux Supérieur)

Light in color with light cherry and truffle aromas. This medium bodied wine ends with short, kirsch filled finish. This is fully mature. Drink up

5,263 Views

Tasted

Aug 2, 2011