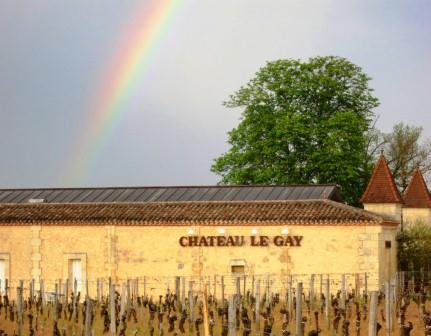 Learn everything about Chateau Le Gay Pomerol wine with wine tasting notes and wine with food pairing tips. Learn all the best vintages, the history of the property, and information on the vineyards and winemaking. If you want to read about other important, Bordeaux Chateaux: Links to all Bordeaux Wine Producer Profiles
Chateau Le Gay History, Overview
Chateau Le Gay has a long history in the Pomerol appellation that dates all the way back to at least 1845. At the time, in their formative years, the estate was known as Domaine du Gay.
The property takes its name from its location as the lieu-dit is called Le Gay. In 1872, the owners sold a part of the vineyard to the Greloud family which helped to give birth to Chateau Lafleur.
At one point in time, starting slightly after the conclusion of World War 1, Chateau Le Gay became the property of the Robin family, eventually passing to the famous Robin sisters in 1946 who also owned the legendary estate of Chateau Lafleur!
Therese Robin and Marie Robin owned and managed Chateau Le Gay for six decades! For much of that time, the estate was managed by Jean Pierre Moueix, who produced and sold the wine.
Jean Pierre Moueix also purchased portions of the vineyard from the Robin family. Those parcels were used to increase the size of Chateau La Fleur Petrus. This took place during the 1950s and again in 1994. Following the death of Therese Robin in 1984, Christian Moueix began managing the estate.
Marie Robin passed away in 2001. With no direct descendants to pass the estate to and with massive inheritance taxes due that needed to be paid by Jacques Guinaudeau, he was forced to sell the vineyard. It was widely assumed that the natural buyer would be Ets. Moueix, but that was not the case.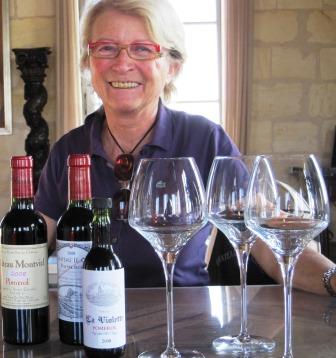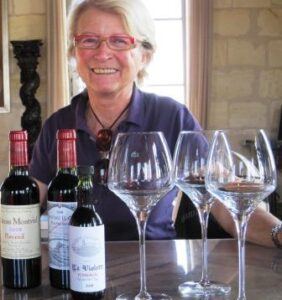 Chateau Le Gay was purchased by Catherine Pere-Verge in late 2002 for 25 million dollars. One of the first decisions made by the new owner was to increase the size of their vineyards. She did this by planting an additional 3.4 hectares of vines on lands that were not being used.
Those vines were included in the Grand Vin for the first time in 2006. This is important to note, because as the age of the vines increases, so will the quality of the wine. They also brought in Michel Rolland as their consultant. It was the idea of Michel Rolland to bring in and hire Marcelo Pelleriti as the winemaker.
Michel Rolland and Marcelo Pelleriti were well acquainted with each other from working together in Argentina for Pere Verge. The Pere Verge family own Monteviejo in Mendoza Argentina. In addition, they own La Graviere in Lalande de Pomerol.
Catherine Pere-Verge, owned other several Right Bank Pomerol estates including; Chateau La Violette, Chateau Montviel, Chateau Feytit-Lagrave, and Chateau Tristan. Catherine Pere-Verge was the daughter of the late French industrialist, Jacques Durand.
Jacques Durand earned his fortune as the owner of one of the world's largest glass and crystal companies, Verrerie Cristallerie d'Argues. Sadly, Catherine Pere Verge, the grand woman of Pomerol passed away from cancer the day before she was going to present her wines at a dinner for friends and members of the press, April 2013.
She will always be missed. Her son, Henri Parent took over managing Chateau Le Gay as well as all the other family-owned vineyards.
In 2014, the wine-making facilities at Chateau Le Gay were completely renovated, allowing for more parcel by parcel vinification and space for more barrels allowing the property to use micro vinification techniques for Chateau Le Gay and La Violette.
One of the keys to this was the installation of 5 new, temperature-controlled tanks to aid in the parcel by parcel vinification process. Micro-vinification means that the wines are vinified entirely in barrels.
Chateau Le Gay Vineyards, Terroir, Grapes, Winemaking
The 10.5-hectare vineyard of Chateau Le Gay is planted to 90% Merlot and 10% Cabernet Franc. The vineyard has a terroir of clay and gravel soil on the Pomerol plateau. However, all their vines are not on the plateau. While their best terroir is situated next to La Fleur Petrus, and close to their chateau, they also have vines not that far from Chateau Rouget.
The vines are planted to a density of 5,500 vines per hectare for the old vines. The young vines are planted at a much higher density of 9,900 vines per hectare.
When vines are replaced here, they are now planted at the new level of vine density. Chateau Le Gay has old vines. In fact, their vines are on average close to 50 years of age! But they also have vines that date back to before the frost of 1956.
The vineyard is farmed using sustainable farming techniques. The yields are kept low. For example, in 2009, they were only 25 hectoliters per hectare. Starting with the 2012 vintage, a percentage of the wine of Chateau Le Gay was produced using the same micro vinification techniques as they employ with Chateau La Violette.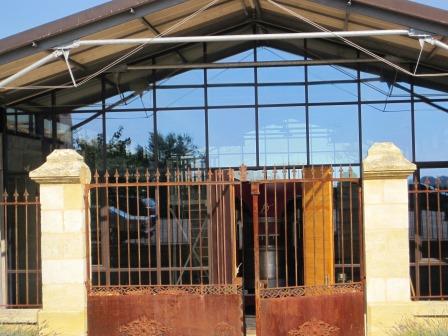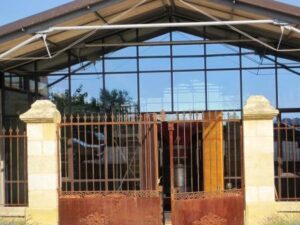 To produce the wine of Chateau Le Gay, the grapes undergo a cold soak for 5 to 7 days at 10 to 12 degrees Celsius. The wine is vinified in small, oak barrels using micro vinification techniques. This means that the wine is vinified entirely in 100% new, French oak barrels from Darnajou.
The wine spends its first three months on its post malolactic lees The wine ages for close to 18 months in 100% new, French oak barrels. On average, the production of Chateau Le Gay is close to 1,500 cases per year. There is a second wine, Manoir de Gay, which is produced from the estate's youngest vines.
The best vintages of Chateau Le Gay are: 2022, 2021, 2020, 2019, 2018, 2017, 2016, 2015, 2012, 2010, 2009, 2008, 2006, 2005, 1982, 1975, 1961, 1959, 1955, 1950, 1947 and 1945.
Character and Style of Chateau Le Gay
The Pomerol wine produced by Chateau Le Gay in the 1940s and 1950s remains legendary. By the late 1970s and 1980s, (with the exception of 1982) the wines had become a hard, tannic, austere, beefy style of Pomerol. Starting with 2005, the quality and style from this great terroir took a giant leap forward.
The wines of Chateau Le Gay today are concentrated, deeply flavored and provide opulent, sensuous textures. This is one of the top Pomerol estates to watch and purchase as the wines of Chateau Le Gay offer quality, character, ageability, and at a fair price.
When to Drink Chateau Le Gay, Anticipated Maturity, Decanting Time
Chateau Le Gay is much better with at least 10-12 years of aging in good vintages. Young vintages can be decanted for 2-3 hours or more. This allows the wine to soften and open its perfume.
Older vintages might need very little decanting, just enough to remove the sediment. Chateau Le Gay offers its best drinking and should reach peak maturity between 10-40 years of age after the vintage.
Serving Chateau Le Gay with Wine, Food, Pairing Tips
Chateau Le Gay is best served at 15.5 degrees Celsius, 60 degrees Fahrenheit. The cool, almost cellar temperature gives the wine more freshness and lift.
Chateau Le Gay is best served with all types of classic meat dishes, veal, pork, beef, lamb, duck, game, roast chicken, roasted, braised, and grilled dishes. Chateau Le Gay is also good with Asian dishes, hearty fish courses like tuna, mushrooms, and pasta.
Château Le Gay Wine Tasting Notes
33 Vintages 278,884 Views Sort by Vintage-Rating
2022
Château Le Gay (Pomerol)

With a solid depth of color, initially you find flowers, espresso, licorice, black cherries, chocolate fudge and plum aromatics crowd into the nose. The sensations on the mid-palate, and finish mirror the aromatics as they flow over your palate. The ending is packed with waves of perfectly, ripe, elegant, black, red, and blue fruits that linger. The wine will require at least a few years of aging before it begins to really start to show its best. But, if you have patience, this is going to age for 2 - 3 decades. The wine blends 90% Merlot with 10% Cabernet Franc. 14.5% AB, 3.7 pH. Drink from 2027-2055. 96-98 Pts.

1,886 Views

Tasted

May 8, 2023

2022
Manoir de Gay (Pomerol)

Medium-bodied, forward, and packed with fresh, sweet, dark red fruits, the wine is vibrant, and polished, ending with plums, and powdered cocoa on the backend. The wine is produced from 90% Merlot with 20% Cabernet Franc. Drink from 2025-2032. 90-92 Pts.

2,518 Views

Tasted

May 8, 2023

2021
Château Le Gay (Pomerol)

Licorice, espresso, spice, vanilla, plums and red pit fruits crowd into the nose. On the palate, the wine is medium/full-bodied, round, lifted, sweet and polished with ample dark red, ripe, sweet, vibrant fruits in the finish. Drink from 2024-2045. 92-94

2,335 Views

Tasted

May 20, 2022

2021
Manoir de Gay (Pomerol)

Earthy, plummy red fruits with bright, red, zesty berries on the nose and on the medium-bodied, fresh palate. This will be best in its youth. Drink from 2023-2028. 87-89

1,901 Views

Tasted

May 20, 2022

2020
Château Le Gay (Pomerol)

Full-bodied, concentrated, powerful, and rich, this beauty pops with licorice, smoke, flowers, roses, espresso, plums and chocolate in the nose. The wine is bold, intense and at the moment, slightly reticent, so give it a few years before popping a cork and you will be amply rewarded with layers of ripe, sweet, earthy, plums, blackberries, black cherries, truffle and chocolate. Drink from 2027-2055.

1,326 Views

Tasted

Mar 21, 2023

2020
Manoir de Gay (Pomerol)

Savory red fruits with peppery herbs, and flowers show in the nose. Medium-bodied, with freshness, soft, sweetness, plums, and a touch of cocoa in the finish, this is perfect to enjoy while waiting for the Grand Vin to develop. Drink from 2023-2031.

1,582 Views

Tasted

Mar 21, 2023

2019
Château Le Gay (Pomerol)

The wine opens with nuances of flowers, truffles, chocolate, espresso and black cherries and wet earth. The deeply colored wine is intense, full-bodied, powerful, mouth-filling and long, finishing with layers of chocolate covered black cherries, plums, and hints of boysenberry. Give it a few years in the cellar and it will offer at least 2 decades of fabulous tasting experiences. Drink from 2027-2055.

2,250 Views

Tasted

Mar 29, 2022

Dark in color, this is stunning, due to its multiple layers of chocolate-covered plums, cherries, truffle and silky, gently dusted tannins. Full-bodied, rich, sensuous and concentrated, this is a beautiful example of what Le Gay does best! Aging will add even more to this wine. Made from blending 90% Merlot with 10% Cabernet Franc. 95-97 Pts

6,663 Views

Tasted

Jun 8, 2020

2019
Manoir de Gay (Pomerol)

The wine opens with a strong floral character before moving on to its core of sweet, red fruits, wet earth, smoke, and spice-filled character. Medium-bodied, soft, silky and fresh, the fruit simply feels great as it crosses your palate. You can enjoy this on release while waiting for the Grand Vin to develop. Drink from 2022-2030.

863 Views

Tasted

Mar 29, 2022

2018
Château Le Gay (Pomerol)

Wow could be the perfect descriptor here. If only brevity sufficed. This stunner is rich, concentrated, full-bodied and packed end to end with countless layers of perfectly ripe, velvet drenched, fruits, licorice, smoke, chocolate and truffles. Dark, brooding, long, complex and intense, as well as sensuous and palate coating, this is just beautiful. Time is your friend here. If you can wait for 8-10 years, this is going to be a cellar treasure. The wine is made from blending 90% Merlot with 10% Cabernet Franc and is 100% entirely vinified in new, French oak barrels. Less than 1,500 cases are produced so if you want the wine you need to buy it early.

2,510 Views

Tasted

Mar 9, 2021

Full-bodied, concentrated and abundant in depth, this wine balances its power, grace, elegance with ribbons of ripe, dark, red pit fruits from start to finish. The fruit comes in gradations, building and expanding on your palate -- and it just doesn't quit. The plummy finish rocks! Give this 7-9 years, allowing the wine to soften, flesh out and encourage the truffles, flowers and chocolate to unfold. The wine is made from blending 90% Merlot with 10% Cabernet Franc and is 100% vinified in barrels. The harvest took place September 19-October 3. Less than 1,500 cases are produced so if you want the wine you need to buy it early. 96-98 Pts

4,479 Views

Tasted

Apr 19, 2019

2018
Manoir de Gay (Pomerol)

Dark in color and in its fruit, the wine is forward, soft, juicy, sweet, fresh and earthy with chewy plums, licorice and dark cocoa accents on the nose and finish. Drink this young while waiting for its big brother to evolve.

2,342 Views

Tasted

Mar 9, 2021

Forward, medium-bodied, earthy, this wine swings to the licorice/black cherry side of the style range with just a hint of cocoa. Drink this young while waiting for its big brother to evolve. 89-91 Pts

2,970 Views

Tasted

Apr 19, 2019

2017
Château Le Gay (Pomerol)

Opaque in hue, lusciously textured, the wine is rich, supple and fresh with a strong, dark chocolate, plum liqueur and licorice character that stays in the mouth throughout the finish. Aging will add even more to this wine. Made from blending 90% Merlot

3,625 Views

Tasted

Apr 26, 2018

2016
Château Le Gay (Pomerol)

Earthy, spicy fresh and juicy, with layers of ripe, fleshy cherries, espresso, and truffle. The wine is concentrated, complex and fresh, you can feel the fleshy and freshness as well as the silkiness in the tannins, but it is starting to tighten up. So you should definitely hold your bottles for at least 7-8 years allowing the wine to develop before everything really comes together The wine was made from a blend of 90% old vine Merlot and 10% Cabernet Franc.

3,540 Views

Tasted

Sep 21, 2019

This will need time to develop before the deeply-colored wine comes together and you can enjoy the layers of concentrated boysenberry, plum, black cherry, earth, truffle and flowers it has to offer. Structured to age with purity of fruit and ripe, firm tannins, this is going to reward cellaring. The wine was made from a blend of 90% old vine Merlot and 10% Cabernet Franc, reaching 14% ABV. The harvest took place from September 29 to October 14.

4,715 Views

Tasted

Apr 29, 2017

2015
Château Le Gay (Pomerol)

A deep, jewel of a color, this wine is filled with black plum liqueur, flowers, black cherry and fig aromatics. Opulent, sexy and with depth of character, like the ultimate first date, it's ripe with tremendous potential for a long-term pleasure. With tannins as velvety as the thighs of a virgin bride, there is an expressive, sensual, hedonistic texture awash with dense, ripe plums, chocolate, truffle and caramel covered nuts in the finish. The wine was made from a blend of 90% old vine Merlot and 10% Cabernet Franc, reaching 14.5% ABV with a pH of 3.7. The harvest took place from September 27 to October 8. The Grand Vin was made from a whopping 50% of the harvest, so it's going to be hard to find this wine -- only 16,000 bottles were produced! I have a tendency to under estimate this wine in barrel, as there is so much going on, so I would not be surprised to see this get even better in the bottle. 96 - 98 Pts

9,453 Views

Tasted

Apr 27, 2016

2015
Manoir de Gay (Pomerol)

From 100% Merlot, this wine, which is the second wine of Chateau Le Gay, is medium bodied, soft, polished, fresh and displays a gentle, plummy character. 87 - 89 Pts

2,577 Views

Tasted

Apr 27, 2016

2014
Château Le Gay (Pomerol)

Medium bodied, silky textured, elegant, soft, fresh and reasonably forward, requiring maybe 5 years or so, for the all the exotic textured, plums, cherries, wet earth, truffles and flowers to develop.

4,740 Views

Tasted

May 6, 2017

Sweet plum, fig and black cherry prepare you for sultry, round textures and a soft, polished mid-palate. A distinctive medium-bodied, classic Pomerol wine, that leaves you with a fresh, crisp, black cherry essence. 92-94 Pts

5,323 Views

Tasted

Apr 24, 2015

2013
Château Le Gay (Pomerol)

Medium bodied and finesse in style, the fruits are fresh, spicy and vibrant, but the wine clearly lacks the depth to age for years. You are best off drinking this earthy, red plum filled charmer in its youth.

2,987 Views

Tasted

May 25, 2016

Blending 90% Merlot and 10% Cabernet Franc, the wine reached 13% ABV and will be aged in 100% new French oak. Not much wine was produced, as the yields were only 18 hectoliters per hectare. Black raspberry, spice, coffee bean and licorice create the floral perfume. There is good sweetness in the fruit, transitioning from black to red cherries. 92-94 Pts

3,423 Views

Tasted

Apr 25, 2014

2013
Manoir de Gay (Pomerol)

Light in fruit with bright red berries, the wine has an easygoing style with spice and cranberries in the finish. 83-85 Pts

2,490 Views

Tasted

Apr 25, 2014

2012
Château Le Gay (Pomerol)

2 hours of air is all that's needed to bring out the truffle, chocolate covered plum, boysenberry, mint, coconut and violet aromatics. Soft, polished, tannins, with a slight dusty texture in the long plummy finish wrap everything up nicely. Still young, but it's already delicious. Good now, but this will really be rocking with another 5 years or so of age.

5,218 Views

Tasted

Feb 17, 2017

Concentrated, deep, soft, fresh, polished ripe fruits, smooth, silky tannins and a long rich, character driven finish. Give it at least 5 -7 more more years and you'll have a stunning, decadent treat. For a Pomerol of this quality, this still sells for a song.

4,626 Views

Tasted

May 10, 2016

Full bodied, rich, concentrated and showing good intensity, the nose pops with smoke, licorice, cocoa and ripe black and blue fruits. There is a vibrant, fresh, polished center of juicy, sweet, black and dark red fruits that really shines. This has really improved since bottling and is one of the top Pomerol's of the vintage. For a wine of this quality from Pomerol, it's a steal in the marketplace!

5,750 Views

Tasted

Jul 25, 2015

For the 2012 vintage, the wine of Chateau Le Gay was produced using the same methods as they employ at La Violette. 90% of the fruit was vinified in barrel. From a blend that is the same as the plantings at 90% Merlot at 10% Cabernet Franc, the wine reached 13.5% ABV. Deep ruby in color, the wine offers licorice, oak, earth, jammy black raspberry, chocolate and floral notes. On the palate, the wine is rich, round, supple and lush. Each sip is packed with ripe and overripe black cherries, licorice and dark chocolate. The tannins are ripe while the finish expands, moving from cherry to black raspberry and spice. Sadly, Catherine Pere Verge, the grand woman of Pomerol passed away the day before she was going to present her wines at a dinner for friends and members of the press. She will be missed. 93-95 Pts

5,090 Views

Tasted

Apr 26, 2013

2012
Manoir de Gay (Pomerol)

Produced from 100% Merlot, this black raspberry-dominated wine has a medium body, soft textures and a forward personality. 87-89 Pts

1,775 Views

Tasted

Apr 26, 2013

2011
Château Le Gay (Pomerol)

Not showing quite as well as in previous tastings, the wine displayed ample, sweet, juicy, plum, black cherry and earthy characteristics, but the finish also showed drying tannic qualities.

4,739 Views

Tasted

May 10, 2016

Dark ruby in color, the wine is packed with fresh, earthy, sweet red berries, plums, cocoa, soft textures and a medium bodied, spicy, plush red berry finish.

6,226 Views

Tasted

May 20, 2014

90% Merlot with the remainder coming from Cabernet Franc produced a deep-colored wine with intense floral, chocolate, truffle and black cherry liqueur notes. This full-bodied, rich, sweet and concentrated Pomerol is packed with ripe, opulent chocolate-covered cherries and minerality. 92-94 Pts

4,720 Views

Tasted

Apr 21, 2012

2010
Château Le Gay (Pomerol)

Le Gay - In 2010, with the help of the new managing director, Jerome Ducasse, (who replaced Jean-Christophe Meyrou,) the estate produced a wine from blend of 80% Merlot and 20% Cabernet Franc. The wine reached 13.5 ABV. Scents of oak, flowers, jammy black raspberries and chocolate are coupled with a concentrated, juicy, plush and polished, black and red plum finish. 93-95 Pts

7,761 Views

Tasted

Apr 21, 2011

2009
Château Le Gay (Pomerol)

Just starting to develop its dark red fruits, truffle, roasted berry profile, the wine is powerful, concentrated, tannic and deep. The fruit is perfectly ripe, there is sweetness, spice, earthiness and vibrancy. But it is going to need at least 5 more years before you should pop a cork. It is a beauty and worth the wait!

4,501 Views

Tasted

Sep 20, 2019

Deep ruby in color, truffle, earth, floral, ripe plum, cocoa and spicy scents lead the way to a full bodied, deep, long, fresh, spicy, blackberry and cherry filled Pomerol with the structure to age and evolve. Give it 5-10 years to develop as this opulent wine needs to time.

6,551 Views

Tasted

May 2, 2012

2009 Le Gay is deep ruby, with a nose of tobacco, truffle, forest floor, blackberry, boysenberry and oak. Full bodied and concentrated, silky and round, this ripe dark berry flavored wine is outstanding, although for me the reference point of the modern era remains the 2005. 93-95

5,645 Views

Tasted

Jul 27, 2010

2008
Château Le Gay (Pomerol)

Still young, and with the reserved character of the 2008 vintage, the wine offers more on the earthy, truffle and black cherry nose than on the full-bodied, tannic, structured palate. With 2 hours of air, the wine filled out, but it retained its sense of old-school, classic and reserved character. Drink from 2028-2040.

2,495 Views

Tasted

Jun 19, 2023

A bit reserved, this can use another 2-3 years in the cellar before all its richly textured, full-bodied, multi-layered black plum, espresso, truffle, violet, and cocoa charms are fully ready to imbibe. This is going to be worth the wait.

4,277 Views

Tasted

Sep 18, 2021

Just starting to develop its secondary aromatic profile you find truffle, licorice, smoke, wet earth and sweet red fruits. On the palate, the wine is concentrated, lush, round and tannic. The wine needs at least 5 more years in the cellar to allow for more softening and secondary development.

4,615 Views

Tasted

Sep 17, 2018

2008 Le Gay is filled with truffles, Asian spice fresh plums and oak in the nose. On the palate the wine is rich and intense with layers of ripe black cherries, chocolate, licorice and blackberry. 96 Pts

7,539 Views

Tasted

Jul 18, 2010

08 Château Le Gay comes from iron enriched clay soils. Intense floral scents with dark berries, chocolate, oak, and vanilla abound. Full bodied and intensely concentrated with layers of sexy flavors, this decadent wine fills your palate with ripe plums and black fruit. 94-97

7,088 Views

Tasted

Jul 30, 2009

2006
Château Le Gay (Pomerol)

Fresh spring flowers, truffle, smoke, black and red plums with forest scents are the first thing you notice. On the palate, the wine is fresh, silky, with a firmness to the tannins that will require more time to soften as the wine continues to fill out. The finish leaves you with fresh, spicy, dark red fruits.

4,527 Views

Tasted

May 25, 2016

Still tight, the wine need air and coaxing to reveal its chocolate, plum, coffee, smoke, black truffle and floral personality. Concentrated, powerful, tannic and slightly brawny, this Pomerol demands another 5-8 years before its ready to drink.

7,815 Views

Tasted

Sep 10, 2011

2005
Château Le Gay (Pomerol)

Just starting to become civilized, the wine is powerful, full-bodied, concentrated and loaded with dark, black cherries, ripe, juicy plums, dark cocoa, smoke, licorice, flowers, espresso and wet earth. After 16 years, the wine is starting to deliver the goods in its unique, robust style. That being said, another 3-5 years in the cellar and this promises to be even better.

5,847 Views

Tasted

Jun 25, 2021

Full-bodied, concentrated, robust Pomerol with a nose of roses, espresso, truffle, dark chocolate, smoky plum and black cherries. The wine is rich, deep, powerful and earthy, with a dark cocoa and ripe, black cherry, smoky finish. 90 minutes to 2 hours in the decanter helps the wine. This should be quite long-lived.

6,516 Views

Tasted

Apr 18, 2020

Starting to soften, but this is still a muscular, full-bodied, powerful Pomerol with layers of ripe, juicy plums, truffle and dark cocoa. Another few years will add more nuance and softness to the wine.

4,242 Views

Tasted

Feb 3, 2019

Stubbornly holding on to its youth, the wine is concentrated, full bodied, powerful, masculine and tannic. With 2 hours of air, you find truffle, cherry and floral notes, but perhaps 3-5 years are still needed to add more softness and nuance to the wine.

5,543 Views

Tasted

Aug 22, 2018

Powerful, youthful, fresh, vibrant, tannic and packed with all the plums, cherries, super dark chocolate, black licorice and truffles you can eat. The first top vintage for the new owners needs at least another 5 years of rest to soften and flesh out.

6,811 Views

Tasted

May 10, 2016

Luscious, sumptuous, sensuous and sexy, this is what you want to find in Pomerol. Rich, fresh, sweet and velvety, drink this now, or age it. You cannot go wrong either way, although I'll be aging mine for at another 3-5 years.

5,404 Views

Tasted

Jun 28, 2015

Oh my God! This is my first time tasting 2005 Le Gay and I cannot believe how good the wine is. It is incredibly thick, rich, pure and luxurious. Liquorious aromas of blackberries, spice, plum, anise and coffee are easily found in the nose. The palate is flooded with waves of decadent, chocolate covered black fruit. Lots of tannins are present in the wine. But the tannins are elegant, fine and polished. 2005 Le Gay is definitely a sexed up bottle of Bordeaux wine and belongs in any Pomerol lovers cellar.

7,720 Views

Tasted

May 10, 2009

2004
Château Le Gay (Pomerol)

At 12 years of age, this medium/full bodied wine is starting come around and offer its secondary, truffle, cocoa and black cherry profile. The wine is fleshy and starts to get going on the palate, but the tannins are just a bit too dry in the finish, else this would earn a higher score.

3,823 Views

Tasted

May 10, 2016

1989
Château Le Gay (Pomerol)

Clearly, age has been good to this wine. And my instincts suggest, the wine can continue to evolve with additional cellaring. A classic styled Pomerol, with cherry, plum and earthy notes in the perfume. On the palate, the wine starts off charming, but finishes with some dryness and a hint of green. That was with 1 hour if air. With a little over 2 hours of air, the wine truly improved, softened somewhat, and became more fun to drink. Lovers of old school Pomerol, that are convinced the world has gone to hell in a hand basket after Parker are going to go bonkers for this wine. I like it, but I am more than happy this is my last bottle.

4,821 Views

Tasted

Oct 12, 2016

Truffle, earth, chocolate, tobacco and plums dominate this full bodied and concentrated, masculine styled Pomerol. The wine has softened a bit over the past few years.

4,844 Views

Tasted

Sep 8, 2011

Black fruit and plum aromas with dense, dark fruit on the palate. A traditionally styled Pomerol lacking the charm and elegance usually found in the region. The wine is austere in texture and still tannic.

6,169 Views

Tasted

Jun 17, 2009

Black fruit aromas. Dense, dark fruit on the palate. Simple, one-dimensional, concentrated, but asutere and tannic.

5,317 Views

Tasted

Oct 5, 2004

1982
Château Le Gay (Pomerol)

Burly, concentrated, masculine-styled Pomerol with loads of dark, ripe, plums, black cherries, truffle and cocoa. Full bodied, deep and long, this is drinking in the sweet spot today.

4,946 Views

Tasted

Jun 10, 2018

This was a very nice bottle of this wine. It was youthful, full bodied, concentrated and also with a polish to its refined, slightly masculine side. Plums, flowers, tobacco and wet earth were all over the place from start to finish. There is no hurry to drink this, but I doubt there is any reason to hold it any longer either.

2,982 Views

Tasted

Dec 15, 2015

Truffle, chocolate, earth, spice box and plum notes develop with little effort. Big, masculine and brawny in style, this structured Pomerol wine should continue to age and evolve for several more years. But it's not going to develop into a decadent Pomerol experience.

4,495 Views

Tasted

Nov 28, 2011

Big, dense, powerful and concentrated, this full bodied and large scaled style of Pomerol is filled with black fruit, spice, earth and floral notes. This structured, plummy wine still has some tannin to resolve.

3,914 Views

Tasted

Feb 12, 2010

Still young, this concentrated, old school styled Pomerol has a lot of deep, dark, plumy fruit in its essences. Made in a bigger, masculine style with tannin to age for decades, this wine requires at least another decade before it becomes civilized.

4,139 Views

Tasted

Jul 5, 2006

1975
Château Le Gay (Pomerol)

Smoke, minerality, raspberry, griotte, spice, floral and forest floor scents come alive after 20-30 minutes of air. On the palate, the wine is powerful, dense and shows the patina of age with its thick textures. The wine ends with a griotte filled finish. 1975 Le Gay is masculine, but in a refined manner. The wine stopped improving after the first hour, but it stayed at that level for at least 3 hours.

4,207 Views

Tasted

Oct 17, 2010

1964
Château Le Gay (Pomerol)

Concentrated, firm and almost muscular, with a mouthful of mineral driven, dark cocoa, cherry and truffle, the wine leaves a long impression on the palate.

2,704 Views

Tasted

May 8, 2014

1961
Château Le Gay (Pomerol)

Offering loads of earthy, dark herbs, wet earth, tobacco and plums, the wine starts out firm before becoming softer on the palate with its burnt cocoa, earth and dark cherry toned finish. This classic Pomerol is fully developed. Drink it if you have any left in your cellar.

1,685 Views

Tasted

Apr 6, 2022

Firm style of Pomerol, slightly better on the nose with its port-like aromatics that come along with smoky plums, herbs, truffle and cigar box scents. Concentrated, long and dense, without much sensuous elegance. However, the power, depth and length kept you interested.

1,972 Views

Tasted

Mar 25, 2021

1955
Château Le Gay (Pomerol)

Just beautiful, that is, if your thing is old Pomerol. Here, you find all the truffle, wet forest, woodsy notes and plums you can handle. The wine retains concentration and ripe, sweet, earthy fruits. Good luck finding any, but if you do, and it is well stored, grab some!

1,788 Views

Tasted

Sep 21, 2018

1947
Château Le Gay (Pomerol)

This is the best example of port like in an older, dry wine I have ever experienced. The decadent, lush texture is pure exotic pleasure. The nose, redolent of fig, dark cherry, truffle and wet earth is off the hook. But it is on the palate, with all its decadence, that is the true shine of this wine. Perhaps, it was a bit much for many tasters in its youth, but now, this is almost obscene in its nature. Long in the finish, this is a wine you are not going to forget if you ever get the chance to taste it. I know I won't!

1,539 Views

Tasted

Feb 3, 2019