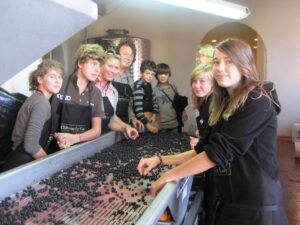 Learn everything about Chateau Montviel Pomerol with wine tasting notes and wine with food pairing tips. Learn the best vintages, a history of the property, information on vineyards and winemaking. If you want to read about other important, Bordeaux Chateaux: Links to all Bordeaux Wine Producer Profiles
Chateau Montviel History, Overview
Chateau Montviel was the first Pomerol estate purchased by Catherine Pere-Verge. She bought Chateau Montviel in 1985. Chateau Montviel was created from vineyards belonging to three little-known properties including; Bellevue-Montviel and La Croix des Templiers, as well as Montviel.
Following her purchase and creation of the new vineyard for Chateau Montviel, Catherine Pere Verge continued adding to her holdings in Pomerol when she subsequently obtained Chateau Le Gay, located on the famous plateau of Pomerol.
Her next two purchases were Chateau Tristan, Chateau Feytit-Lagrave, and later, Chateau La Violette. La Violette is also located on the prized terroir of the Pomerol plateau. The same technical team that produces Chateau Le Gay and Chateau La Violette also works with Chateau Montviel as well.
In fact, because there is no winery for Chateau Tristan, the wine is produced at Montviel. Starting with the 1988 vintage, Pere Verge brought in Michel Rolland as her consultant.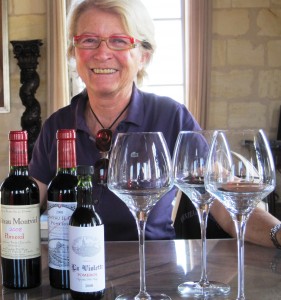 Chateau Montviel Vineyards, Terroir, Grapes, Winemaking
The 10.1-hectare vineyard of Chateau Montviel is planted to 80% Merlot and 20% Cabernet Franc. However, it is important to note that while the estate has 10.1 hectares of vines, only the 5 best hectares are used to produce Chateau Montviel. The vines for Chateau Montviel are placed in various parcels in the Pomerol appellation giving the estate two distinctly, different soil types.
The majority of their parcels are in terroir with fine, sand, and gravel soil. Their best parcels have terroirs with clay and gravel soil, which are located not far from Chateau Clinet. The vines are planted at a density of 5,500 vines per hectare. On average, the vines are close to 30 years of age.
To produce the wine of Chateau Montviel, the property started using micro vinification techniques starting with the 2013 vintage. The results were so good that starting with the 2014 vintage, they increased the amount of their production vinified in barrels.
Malolactic fermentation is conducted in the barrel with the first two months spent on the lees. Chateau Montviel is aged 100% new, French oak barrels. There is a second wine, La Rose Montviel. Production averages close to 1,800 cases of Chateau Montviel, wine per year.
The best vintages of Chateau Montviel are: 2022, 2021, 2020, 2019, 2018, 2017, 2016, 2015, 2014, 2012, 2010, 2009, 2005 and 2000.
When to Drink Chateau Taillefer, Anticipated Maturity, Decanting Time
Chateau Taillefer can be enjoyed on the young side with an hour of decanting. This allows the wine to soften and open its perfume. Older vintages might need very little decanting, just enough to remove the sediment.
However, I find the wine is usually better with 3-6 years of bottle age. Of course, that can vary slightly, depending on the vintage character. In the best years, the wine will best between 4 to 12 years of age after the vintage.
Serving Chateau Montviel with Wine, Food, Pairing Tips
Chateau Montviel is best served at 15.5 degrees Celsius, 60 degrees Fahrenheit. The cool, almost cellar temperature gives the wine more freshness and lift.
Chateau Montviel is best paired with all types of classic meat dishes, veal, pork, beef, lamb, duck, game, roast chicken, roasted, braised, and grilled dishes. Chateau Montviel is also good when matched with Asian dishes, hearty fish courses like tuna, mushrooms, and pasta.
Aside from their Right Bank properties, the Pere Verge family also owns Chateau La Graviere in Lalande de Pomerol which produces about 4,000 cases of wine per year. Not content with only making wine in Bordeaux, they also own the well-known property, Monteviejo in Mendoza Argentina. The vineyards are located in Clos de Los Siete, in the Mendoza appellation.
Sadly, Catherine Pere Verge, the grand woman of Pomerol passed away from cancer the day before she was going to present her wines at a dinner for friends and members of the press, April 2013. She will be missed. Today, Chateau Montviel, and all the family-owned estates are owned and ably managed by her son Henri Parent.
Château Montviel Wine Tasting Notes
16 Vintages 65,749 Views Sort by Vintage-Rating
2022
Château Montviel (Pomerol)

Plummy fruits, flowers, cherries, and cocoa aromatics line the nose. The wine is medium-bodied, soft, silky, and fruity, with a sweet, red pit fruit finish. The wine blends 80% Merlot with 20% Cabernet Franc. 14.5% ABV. Drink from 2025-2037. 90-92 Pts.

819 Views

Tasted

May 8, 2023

2021
Château Montviel (Pomerol)

Fresh, forward, floral and vibrant, with bright red plums and cherries, freshness, lift and a touch of spicy chocolate to round things out in the finish of this medium-bodied wine. Drink from 2023-2032. 89-91

1,400 Views

Tasted

May 20, 2022

2020
Château Montviel (Pomerol)

Milk-chocolate-covered plums, espresso and flowers are all over the place here on the nose and silky, fresh, supple-textured palate, finishing with sensuously-textured black cherries, cocoa, and just a hint of peppery espresso that comes in at the back of the finish. This has really jumped in quality after its barrel aging. Drink from 2023-2038.

741 Views

Tasted

Mar 21, 2023

2019
Château Montviel (Pomerol)

Loaded with chocolate covered plums, spice, smoke. earth and truffle, the wine is soft, polished, fresh, medium-bodied, elegant and rich. The earthy, fruit-packed, dark chocolate accented finish seals the deal. Give it a year or two in the bottle and it should be even better. This is the best vintage of Montviel I have ever tasted. Drink from 2023-2032.

1,412 Views

Tasted

Mar 29, 2022

Truffle is the first note in the perfume, followed by flowers, coffee bean and ripe cherries. Medium-bodied, elegant and fresh, the fruity, soft, silky finish delivers a lot of charm. It is hard to find a better Pomerol for the money these days. 89-91 Pts

2,440 Views

Tasted

Jun 8, 2020

2018
Château Montviel (Pomerol)

Dark chocolate, mint, licorice, espresso and black with red plums come along on the nose. The wine is medium-bodied, soft, silky and savory, with a sweet, juicy, red pit fruit and herb filled finish. This is a serious value for the Pomerol region in 2018. Savvy shoppers should be all over this.

1,922 Views

Tasted

Mar 9, 2021

Plummy and floral, the wine is sophistication and freshness. Medium-bodied and jam-packed with sweet black raspberries and licorice accents, the ripe, earthy plum and cherry fruits transport silkiness to the palate and into the finish. The wine is a blend of 80% Merlot and 20% Cabernet Franc. This is a serious value for the Pomerol region in 2018. Savvy shoppers should be all over this. 90-92 Pts

2,545 Views

Tasted

Apr 19, 2019

2016
Château Montviel (Pomerol)

Espresso, licorice and dark cherries complete for your attention. The wine is forward, requiring very little aging time before you start enjoying its silky, kirsch character. The wine was made from blending 80% Merlot and 20% Cabernet Franc.

2,940 Views

Tasted

Sep 21, 2019

Flowers and black raspberry create the perfume, medium bodied, soft and forward, the wine offers elegant, polished, sweet black raspberries and spice on the palate and in the finish. You can drink this in just a year or two or age for pleasure. The wine was made from blending 80% Merlot and 20% Cabernet Franc.

3,400 Views

Tasted

Apr 29, 2017

2015
Château Montviel (Pomerol)

The best vintage ever for Montviel, the wine is floral, earthy, soft, elegant and fruity. The cherry essence and silky tannins, with its forward approach, along with the length, persistence and freshness is really fine in this vintage.

2,789 Views

Tasted

May 21, 2018

Blending 80% Merlot and 20% Cabernet Franc produced an elegant, silky, medium-bodied, soft and sweet Pomerol with an appealing character that sells for a song. 89 - 91 Pts

2,631 Views

Tasted

Apr 27, 2016

2014
Château Montviel (Pomerol)

With a blend of 80% Merlot and 20% Cabernet Franc, this wine is ruby hued and medium bodied with fresh, brilliant red fruits. 88-89 Pts

1,592 Views

Tasted

Apr 24, 2015

2013
Château Montviel (Pomerol)

Light red cherry and plum fruits, soft, medium bodied and focused on its red berry character, this is definitely vinified for early drinking pleasure.

1,824 Views

Tasted

May 25, 2016

From a blend of 80% Merlot and 20% Cabernet Franc, the wine showcases soft plum, espresso, licorice and earthy notes. With medium body and an open, earthy character highlighting red berries, this soft textured wine will be best consumed on the young side. 87-89 Pts

2,553 Views

Tasted

Apr 26, 2014

2012
Château Montviel (Pomerol)

Sweet cherries, plum spicy, black raspberries and earthy scents open this medium bodied, soft textured wine. This was made for early drinking pleasure at a very consumer friendly, price point.

2,563 Views

Tasted

May 10, 2016

Sweet cherry and licorice scents, with an open, forward soft character that is already revealing its sweet plummy charms.

2,550 Views

Tasted

May 15, 2015

From a 4 hectare parcel, the wine was produced from a blend of 80% Merlot and 20% Cabernet Franc. The wine reached 13.5% ABV and will be aged in 30% new French oak barrels. Earthy cherries, licorice and truffle scents open to a lighter, charming, early-drinking style of Pomerol. 87-90 Pts

2,553 Views

Tasted

Apr 26, 2013

2011
Château Montviel (Pomerol)

Soft, forward, medium bodied and polished, the wine is soft, short and sweet, with nice cherry and plum note in the finish.

2,367 Views

Tasted

May 21, 2014

From 80% Merlot with 20% Cabernet Franc, the wine offers floral and black cherry aromatics. In the mouth, there is a sensation of ripe, sweet and round black cherries with cocoa. 88-90 Pts

2,584 Views

Tasted

Apr 21, 2012

2010
Château Montviel (Pomerol)

Medium bodied with plum, black raspberry and cherry notes, this Bordeaux wine should drink well shortly after release. 88-89 Pts

3,197 Views

Tasted

Apr 21, 2011

2009
Château Montviel (Pomerol)

This blend of 80% Merlot and 20% Cabernet Franc has really improved since my last taste. Packed with aromas of licorice, flowers, plum and chocolate, the wine is supple, already open and delivers an elegant, supple finish. Drinking it, I found myself thinking of Catherine Pere Verge who passed away earlier this year. The grand dame of Pomerol is definitely missed.

3,694 Views

Tasted

May 4, 2013

Smoke, earth, truffle and cherry, medium bodied with a soft, forward cherry personality.

3,305 Views

Tasted

May 4, 2012

2009 Montviel is this property's second vintage using micro-vinification. The wine kicks off with aromas of jammy berries, licorice, and espresso. The wine has round textures, but some dryness intrudes in the finish. 87/89 Pts

1,722 Views

Tasted

Jul 27, 2010

2008
Château Montviel (Pomerol)

Fully developed. medium bodied with a focus on its light, fresh earthy red cherry and plum fruits. Drink this over the next few years..

2,078 Views

Tasted

Sep 17, 2018

2008 Montviel is a medium bodied, lighter style of Pomerol that is best enjoyed in its youth for its soft textures, chocolate, black raspberry and spice character. 89 Pts

2,907 Views

Tasted

Jul 18, 2010

2006
Château Montviel (Pomerol)

Fully developed with a tobacco, earth, herb and olive nose, the wine needs consumption sooner than later, so you can enjoy the rest of the earthy, plummy fruits.

3,444 Views

Tasted

May 25, 2016

2005
Château Montviel (Pomerol)

Fully mature, medium bodied, soft textured, earthy wine that ends with plums and licorice in the finish. This requires consumption over the next few years 3-5 years.

3,777 Views

Tasted

Nov 24, 2014