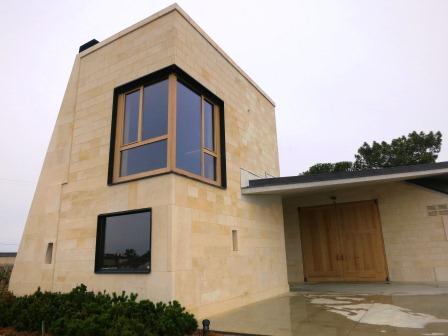 Learn everything about Le Pin Pomerol with wine tasting notes and wine with food pairing tips. Learn the best vintages, the history of the property, and information on the vineyards and winemaking. If you want to read about other important, Bordeaux Chateaux: Links to all Bordeaux Wine Producer Profiles
Le Pin History, Overview
Le Pin is one of the most expensive wines not only in all of Bordeaux but in the world! Yet, it's unclassified and its first vintage was only a few decades ago. In fact, Le Pin made its debut with the 1979 vintage. With that in mind, when you look at the history of Le Pin, it's still truly a young Pomerol wine.
Since 1924, what we know of as Chateau Le Pin had been the property of the Loubie family. The grapes were sold or blended to produce other fine, but undistinguished Pomerol wines until 1978.
That changed in 1979. At first, it was thought that the vines of Chateau Le Pin would become part of Vieux Chateau Certan. But that idea quickly faded away. The price for the land was too much money in those days to add it to Vieux Chateau Certan.
Leon Thienpont, the father of Alexandre Thienpont talked Jacques Thienpont into buying the 2-hectare property for one million French Francs. In those days, that was a lot of money. With that purchase, Le Pin was born.
At the time of the sale, the cellars Le Pin were in poor condition. The chai was nothing more than a shed that had been used to store gardening tools. The dilapidated house on the property needed work. Alexandre Thienpont took up residence at the estate in the small house at Le Pin for a period of time.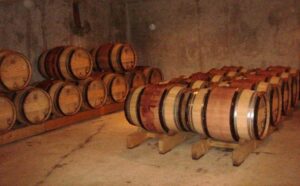 The next investment at Le Pin was made by Jacques Thienpont. It was his idea to add a single, 50 hectoliter, stainless steel vat. In the early days at Le Pin, things were really managed for very little money.
For example, the debut vintage of Le Pin was aged in used, French oak barrels that were passed down from Vieux Chateau Certan. The cellar was a simple, small, cool, cement room with the ability to hold only a few rows of barrels. But that was all they needed as the production was tiny.
The first vintage of Le Pin sold for a whopping 100 French Francs per bottle! The price was a lot lower than Vieux Chateau Certan was selling for at that time. It's funny to think about it now, but even at that low price, buyers for 1979 Le Pin were hard to find.
Those early vintages were however equally difficult to purchase as the production was small. The minuscule amount of Le Pin being made was because close to half the vineyard had just been replanted, and the vines were too young to use.
However, things quickly changed for Jacques Thienpont and Le Pin after Robert Parker heaped effusive praise on their 1982 vintage. From that point forward, Le Pin became the first wine of Bordeaux selling for as much, if not more than the First Growth Bordeaux wines.
Following his initial purchase of Le Pin, Jacques Thienpont continued adding to holdings in the heart of the Pomerol plateau with additional purchases of vineyard land, even if it was only a few choice rows of vines.
In 1984, Le Pin grew by a whopping .6 hectares, when Jacques Thienpont was able to buy land that was being used as, believe it or not, a vegetable garden! He obtained more land in 1985 and 1986 as well.
Additional vines were purchased later in the first decade of the 21st century. This is when Le Pin acquired the famous "7 rows of vines" that were located next to their vineyard. However, in 2012, they were not as lucky. A neighboring Pomerol vineyard with a similar terroir came up for sale and it was quickly bought by Christian Moueix.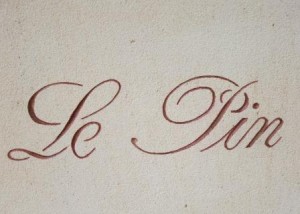 The vineyard of Le Pin is looked over by Alexandre Thienpont, who also manages Vieux Chateau Certan. Jacques Thienpont makes and sells the wine.
Le Pin took its name from the lone pine tree situated near the winery. The winery and chateau were until recently, rather humble for a property befitting the stature of Le Pin, a wine that sells for several thousand dollars per bottle!
However, starting in 2010, Jacques Thienpont began construction of a new chateau and wine-making facility. The new winery was completed in 2012, just in time to work on the 2011 vintage at Le Pin. The much more modern winery for Le Pin was designed by the noted Belgian architects, Robbrecht & Daem.
In December 2021, Diana Berrouet-Garcia was placed in charge of winemaking at Le Pin. Prior to joining Le Pin, Diana Berrouet-Garcia held the same position at Chateau Petit Village.
Robert Parker and Le Pin. Le Pin as you know does not have a long history, In fact, prior to the 1982 vintage, Le Pin was an obscure new Pomerol trying to sell their wine like everyone else in the appellation. In those early days, consumers were not familiar with the property, so some of the wines went unsold.
Robert Parker is perhaps as responsible as anyone for making the Pomerol wine of Le Pin so famous, coveted, and expensive. Prior to the 1982 vintage, not many people outside of Pomerol had yet heard of the wine. Robert Parker's initial review of Le Pin was lukewarm at best.
By the time 1982 Le Pin began to develop, Robert Parker changed his tune. Quickly, his enthusiastic, descriptive, praise for the 1982 Le Pin vintage caused collectors to seek it out. With only a few hundred cases per year being made, it was only a matter of time until Le Pin became priced as a luxury item selling for almost as much, if not more than Petrus and Lafleur!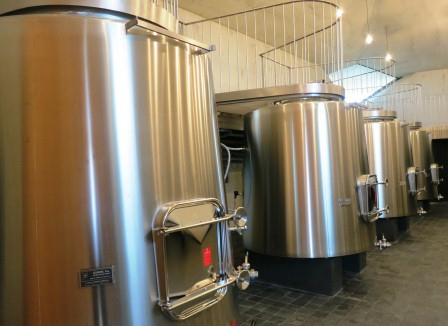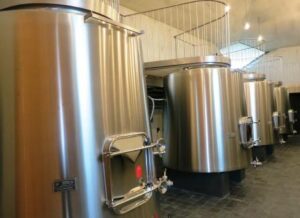 Le Pin Vineyards, Terroir, Grapes, Winemaking
The minuscule 2.7-hectare vineyard of Le Pin is planted to almost 100% Merlot. In truth, it is 100% Merlot, but there are a few Cabernet Franc vines co-planted in the vineyard. While some parcels contain Cabernet Franc, that grape variety is not blended into Le Pin.
The terroir of Le Pin is clay with gravel and sand with deposits of iron oxide in the soil. The gravel is deep. In some parts of the vineyard, the gravel is close to 3 meters thick. The vineyard is ideally placed with good elevation on the Pomerol plateau.
Situated near the Catusseau village, the vines average close to 35 years of age. However, they have old vines as well that date to the 1950s. The vineyard of Le Pin is planted to a vine density of 6,000 vines per hectare.
Le Pin was probably the first chateau in all of Bordeaux to conduct malolactic fermentation in barrels. Interestingly, this was by accident and not by design.
In their formative years, they did not have enough tanks to hold all the wine for fermentation. So, out of necessity, following alcoholic fermentation, they moved the wine to barrel as an experiment for malolactic fermentation and it worked!
Le Pin produces between 400 and 600 cases per year. The wine of Le Pin is vinified in 7 small, stainless steel tanks that range in size from 15 hectoliters up to 42 hectoliters. In the cellars, all wine is moved by gravity. Malolactic fermentation takes place in new oak.
In fact, Le Pin was one of the first producers to perform malolactic fermentation in barrels in the Right Bank. The wine is aged in 100% new, French oak. Blending takes place prior to bottling.
The Character and Style of Le Pin
Le Pin is an exotic style of Bordeaux wine. At its best, the wine is concentrated with ripe fruit, the opulent, almost overripe kirsch, black cherry, plum, coconut, and citrus scents are unique to the property.
The decadent, glycerin-filled mouthfeel is a treat that in the best vintages, must be tasted to be believed. Le Pin is not always consistently at its best. Hot, dry vintages can be a problem, from time to time.
However, the owner Jacques Thienpont is quite picky when it comes to the wine and what is released. This can be in the selection, as lots not deemed worthy of Le Pin are declassified, or even an entire vintage can be declassified when in 2003, the entire production was declassified!
There is no second wine at Le Pin. However, they do produce a tiny amount of Trilogie, which is a multi-vintage blend of 3 different years, made from various declassified lots.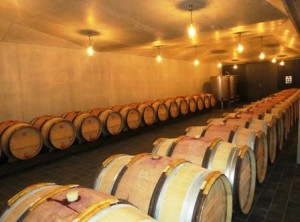 Here's a tip for you. If you're lucky enough to manage a reservation to taste at the property, don't spit. Make sure you swallow the wine. Rumor has it, visitors that spit are never invited back. After all, you are at Le Pin! That works for me. Knowing it's Le Pin in my glass means, there is no way I'm not going to savor every last drop!
Just in time for the 2011 Bordeaux harvest, Le Pin finished their new winery. The understated, small winery of Le Pin includes 7, temperature-controlled, stainless steel vats. The new building also includes an underground cellar to accommodate the 30 to 40 barrels needed to age two different vintages at a time.
The best vintages of Le Pin are: 2022, 2021, 2020, 2019, 2018, 2017, 2016, 2015, 2012, 2010, 2009, 2008, 2006, 2005, 2001, 2000, 1998, 1990, 1989, 1985 and 1982. It is interesting to note that over the years since Le Pin was founded, even as release prices continue climbing from the estate, Le Pin has proven time and time again to be among the best, if not the best investment for collectors. And more importantly, the wines are stunning too!
When to Drink Le Pin, Anticipated Maturity, Decanting Time
Le Pin is much better with at least 10-15 years of aging in good vintages. Young vintages can be decanted for 2-3 hours or more. This allows the wine to soften and open its perfume.
Older vintages might need very little decanting, just enough to remove the sediment. Le Pin offers its best drinking and should reach peak maturity between 10-35 years of age after the vintage.
Serving Le Pin with Wine, Food, Pairing Tips
Le Pin is best served at 15.5 degrees Celsius, 60 degrees Fahrenheit. The cool, almost cellar temperature gives the wine more freshness and lift.
Chateau Le Pin is best served with all types of classic meat dishes, veal, pork, beef, lamb, duck, game, roast chicken, roasted, braised, and grilled dishes. Chateau Le Pin is also good with Asian dishes, hearty fish courses like tuna, salmon, mushrooms, and pasta.
In April 2010, Jacques Thienpont added to his holdings with the purchase of 5 hectares in St. Emilion. The wine is being sold under the name LIF.
Château Le Pin Wine Tasting Notes
24 Vintages 190,454 Views Sort by Vintage-Rating
2022
Château Le Pin (Pomerol)

Quite floral in nature, it is the vivacious nature, sensuality, and freshness in the fruits that stand out. Picture, velvety-textured, black plums with dark chocolate, saffron, orange peel, cumin and black raspberries that caress and paint your palate with layers of fruit. There is a sublime sense of purity, paired with elegance and vivacity that sticks with you in the precise finish for close to 60 seconds. Produced from 100% Merlot, 14.4% ABV, 3.77 pH, the harvest took place September 6 - September 17. Yields were only 29 hectoliters per hectare. Drink from 2026-2055. 98-100 Pts.

2,049 Views

Tasted

May 8, 2023

2021
Château Le Pin (Pomerol)

Cinnamon, flowers, licorice, roses, plums, and cherries with espresso, black raspberries, and fresh, leafy herbs create the array of notes in the perfume. On the palate, the wine is fresh, bright, soft, polished, elegant, and refined. The tannins are silky, and the fruits are pure and vibrant, with a crisp, almost crunchy quality to the sweet cherries, cocoa, and orange rind in the finish. The wine was produced from 100% Merlot, 13.4% ABV. The harvest took place September 25 - October 4. Yields were 35 hectoliters per hectare. Drink from 2025 - 2045. 94-96

1,926 Views

Tasted

May 20, 2022

2018
Château Le Pin (Pomerol)

Flowers, dried, red pit fruit and a touch of citrus open the nose. The wine is sensuous, even exotic in its texture. Medium-full bodied, there is a touch of chocolate making a cameo and the finish brings in tints of spice and citrus to the opulent red fruits. The wine was produced from 100% Merlot reaching 14.5% ABV. Due to the higher level of ABV, this year cultivated yeasts were used in the fermentation process for the very first time. 96-98 Pts

5,149 Views

Tasted

Apr 19, 2019

2017
Château Le Pin (Pomerol)

Produced from 100% Merlot, this wine evokes licorice, flowers, truffle, plum, rainforest and cherries in the bouquet. From there you'll discover the exotic, silken feel and perfectly sweet deep red fruits, which lead to the decadent, sensuously textured finish.

3,081 Views

Tasted

Apr 26, 2018

2016
Château Le Pin (Pomerol)

Produced from 100% Merlot, the wine offers citrus, roses, plum, cocoa and wild cherries as soon as your nose draws close to the glass. Silky, sweet, polished, this is not a wine of density. It is a wine of purity, refinement, complexity, elegance, opulence and with time, it may border on decadence. The harvest took place from October 4 to October 8. The wine reached 14.5% ABV with a pH of 3.72.

5,496 Views

Tasted

Apr 29, 2017

2015
Château Le Pin (Pomerol)

Good things come to those that wait. Due to the higher than normal sugar levels in the wine, 2015 Le Pin was not able to be tasted during the premiers. This stunner was certainly worth waiting for. Deep ruby in color, with truffle, floral, black and blue fruit and a touch of kirsch in the nose, the wine shows a lush, silky, decadent, mouth feel. The opulent finish does not quit, as the spicy cherry griotte, kirsch, marzipan and clay tinged finish lasts close to 60 seconds! The wine reached 14.2% ABV with a pH of 3.72, produced from 100% Merlot, the wine is aging in 100% new, French oak barrels. If you cannot afford a bottle, and not many people can, try and find a rich friend that is lucky enough to buy the wine. It is going to be hard to find as only 500 cases were made this year.

5,879 Views

Tasted

Jul 11, 2016

2014
Château Le Pin (Pomerol)

This wine opens with citrus, floral, dark chocolate, plum and dark cherry notes in the nose, creating a complex set of aromatics. Plush, rich, clean and pure, what the wine lacks in opulence, it makes up for with its concentrated, fresh, long, pure, sweet, velvet-driven character. 94-96 Pts

3,878 Views

Tasted

Apr 24, 2015

2012
Château Le Pin (Pomerol)

Tobacco, floral, smoke, earth and ripe, juicy plum scents, the wine is concentrated rich and lush, with an exotic character that blends Mandarin orange dipped in chocolate with earthy and black cherries. The wine is sweet, lush, powerful, sexy and structured to age.

5,178 Views

Tasted

May 15, 2015

Very floral in character with licorice and black raspberries, silky textures and fresh, ripe berries, this velvety wine is expressive, but lacks the length found in the top vintages. 94-96 Pts

5,384 Views

Tasted

Apr 26, 2013

2011
Château Le Pin (Pomerol)

Boysenberry, chocolate, earth and plum scents open to a fresh, spicy, supple-textured, flashy style of Pomerol ending with a silky, opulent red and black plum finish. 94-95 Pts

5,788 Views

Tasted

Apr 21, 2012

2010
Château Le Pin (Pomerol)

With a bit more backbone than the 2009, this stunning tasting experience is almost off the charts. Still, in its youth, the multiple layers of black plums, and even blacker cherries, chocolate, licorice, truffle, and orange rind on the nose and palate make you sit up and take notice. With time, my score could rise, though I question if I will ever get the chance to taste it again. Drink from 2022-2060.

2,144 Views

Tasted

Nov 2, 2022

It's not often I am able to taste Le Pin from bottle. I know, not many others are able to taste it at all. My point is, I know it's a special treat. Le Pin is not the most consistent Pomerol producer. But when it's on, it produces an expression of Merlot that is without equal. Sporting a deep color, the wine popped from the bottle with fresh plum liqueur, chocolate, citrus, coconut, smoke, truffle and boysenberry aromatics. As good as that sounded, the experience was even better on the palate! Thick, rich, intense, pure, fresh, opulent and silky, this was pure decadence with every sniff, swallow and sip. I hope I get to see this beauty again. What a treat!

10,231 Views

Tasted

Jul 20, 2013

Le Pin fills the room with pungent scents of oak, spice, exotic citrus oils, smoke, plums, fennel and fresh flowers. The wine drenches your palate with silky, velvet laced textures and waves of rich, ripe, sweet, pure extract of plum liqueur, Maraschino cherries and orange rind. The long, seamless, intense finish is pure decadence. Le Pin is one of the most interesting Pomerol wines to taste. Aside from amazing high prices, its main problem is, the wine lacks consistency. It doesn't always perform as one would expect. Yet, when it is on, Le Pin is a Pomerol without peer. 97-99 Pts

10,269 Views

Tasted

Apr 21, 2011

2009
Château Le Pin (Pomerol)

Sensuous, silky, opulent, velvety, and rich, the layers of exotically-textured cherries seem endless here. The floral, red pit fruit, citrus, and cocoa perfume get the party started, but it is on the palate where this wine really shines. Drink from 2022-2054.

2,073 Views

Tasted

Nov 2, 2022

2009 Le Pin has a perfume of coconut, dark berries, black cherries, and hints of citrus flowers accompanied by spice notes. Velvety textured, and richly concentrated, this exotic wine finishes with a blast of plums. 95-97 Pts

9,359 Views

Tasted

Jul 27, 2010

2008
Château Le Pin (Pomerol)

Exotically textured, with a melange of red fruits, licorice, flowers and citrus, the wine has body, length, purity of fruit and complexity. But it is the lush texture that steals the show! This beauty will age for at least 2 decades.

3,368 Views

Tasted

Jul 19, 2018

Medium/full bodied, sensuous, soft and silky, the fresh, sensually, textured sweet, ripe cherries really show through from start to finish. The wine is definitely on the riper, red fruit side of the style range.

3,507 Views

Tasted

Jun 24, 2015

08 Château Le Pin has great color. The nose experiences plum, coffee, spice box, fennel, orange peel, and coffee. Ripe, rich, round fruit with silky tannins. The wine finishes with long blast of chocolate covered cherries. A suave, silky, opulent wine. 93-96 Pts

4,299 Views

Tasted

Jul 30, 2009

2006
Château Le Pin (Pomerol)

This kicks off with an exotic melange of black and tropical fruit. Very dense. Much darker and richer than their 05. The wine finished with ripe plums, spice, floral notes and orange rinds. This exotic and silky textured wine is one of the few Pomerols that performed better in 06 than 05.

6,529 Views

Tasted

Jun 27, 2009

2005
Château Le Pin (Pomerol)

Walk into a truffle store, light up a Cuban cigar, pick up a basket of fresh blackberries and plums, take the fruit and remove all the water so you're left with only the simple, pure essence of the berries, drizzle fresh tangerine juice, add velvet textures and soak your palate in it and you are tasting 2005 Le Pin. If this wine is this good now, I can only imagine what it will be like in 10 years.

6,125 Views

Tasted

Jun 28, 2015

Exotic, coconut tinged, black, red and plum flavors caress your palate. This concentrated wine slips, slides and dances across your pleasure meter. Le Pin offers a unique texture found in no other wine. Now, if only I could talk myself into trading a perfectly nice car for a case of wine.

7,139 Views

Tasted

Jun 23, 2007

2004
Château Le Pin (Pomerol)

This is exotic in style with its combination of licorice, black fruits and tropical accents. The palate enjoys a rich, lush, opulent, silky feel with flavors of plums, and mangos. Very tropical. Le Pin is truly the kinkiest wine in Bordeaux!

5,813 Views

Tasted

Jun 27, 2009

2001
Château Le Pin (Pomerol)

Wow! What a wine. It is impossible not to be seduced here by its sultry, sensuous, silky, exotic texture. The perfectly ripe fruit comes in layers, each wine seeking your attention. The opulent, velvet-drenched finish is pure, bottled sex. I will never be able to afford this. But for those that can, this is one of the wines of your life. Drink this now and over the next decade.

2,635 Views

Tasted

Apr 6, 2022

There is an incredible depth of flavor here that just keeps on coming. Lively, fresh and ostentatious, the wine is the poster child for decadence. Polished velvet tannins and layers of incredibly ripe, sweet, lush fruits with a hint of citrus peel and dark chocolate is not something you can find in any other wine.

3,822 Views

Tasted

Feb 3, 2020

Intriguing notes of citrus, flowers, chocolate, plums, spice, truffle, fennel and black cherry. Lush, decadent and supple in texture, this rich, deep, full bodied, opulent wine offers a long, sexy, plum, black cherry and chocolate finish. Le Pin is not the most consistent Pomerol. But when it's on, it's a stunning wine that features unique aromatic and textural qualities that no other wine offers.

10,614 Views

Tasted

May 16, 2011

2000
Château Le Pin (Pomerol)

The attention-seeking perfume, with its flowers, mocha, truffle, cherry and kirsch charms you right off the bat. Medium-bodied, vibrant, soft and juicy, with a core of melted cherries and chocolate, there is a firmness to the tannins in the finish.

2,309 Views

Tasted

Apr 6, 2022

I love tasting wines blind that I think I am never going to see. Especially when they preform as well as you envision. Rich, port like fruit, velvet tannins, a nose any perfume make would be proud of and a finish that hits all the right notes. Frighteningly expensive, but a thrill to sip and taste.

5,558 Views

Tasted

Nov 10, 2016

1999
Château Le Pin (Pomerol)

Medium bodied, with a distinctive citrus note on top of the flowers, plums, cherry and truffle. Elegant, refined, supple, and with a hint of the exotic textures offered in the top vintages of this unicorn wine, this is probably slightly past its peak and should be consumed, if you are lucky enough to have a bottle.

3,167 Views

Tasted

Apr 16, 2017

1993
Château Le Pin (Pomerol)

Faded, with just enough red fruits and cocoa to keep it from being completely over the hill. I am sure it was much better in its youth. But the extended aging for this vintage has not been kind to the wine.

2,043 Views

Tasted

Sep 18, 2020

1990
Château Le Pin (Pomerol)

Even more opulent and sensuous since I last tasted it, the wine is clearly flashy, flamboyant, and showy with its textures and profile of mocha, orange peel, slice box, cocoa, black cherry and plum. The finish holds on for over 60 seconds which is a good thing, as you want as much of this supple, sexy wine as possible.

3,036 Views

Tasted

Dec 10, 2021

The incredibly, sensuous, flamboyant, sexy, opulent nature of this wine is off the hook. Yet, even with its decadent nature, there is a refined, elegant quality that shines through the violet, plum, cherry, smoke, licorice and dark chocolate extravaganza. When this was released, it sold for a song. Today, not so much. But if you have a friend with a bottle or two that invites you to dinner, take this from me, make sure you go as this is an unequaled experience.

4,518 Views

Tasted

Feb 3, 2020

Perfectly ripe, overripe, and slightly al dente cherries, plums, figs, licorice, flowers and truffles make an appearance. Concentrated, silky, long, fresh and filled with layers of sweet fruits, the finish really sticks in your mouth for ages. Fully mature, this is a stunner.

4,257 Views

Tasted

Nov 10, 2016

This is a silky, sexy slut of a wine that puts the kink back into kinky! The mouth feel is pure decadence. The wine slips and slides over every nook and cranny of your palate. The exotic coconut, over ripe dark cherry, black pit fruit, chocolate and plum tinged perfume holds your attention and does not let go. The sultry, sensuous finish remains close to sixty seconds. If I was rich, I'd buy it.

7,568 Views

Tasted

Mar 17, 2008

1989
Château Le Pin (Pomerol)

Not quite as good as the last bottle, but it still offered a lot of pleasure. Voluptuous, silky, elegant and chocolately, you also found truffle, wet earth and a wide variety of plum notes on the nose and palate. This is fully developed. So if you are one of the lucky few to have a bottle, you should drink this sooner than later.

3,026 Views

Tasted

Sep 18, 2020

Much better than I recall, though my last tasting was in 2008, time has clearly added a lot to this wine. Now, you find fresh cut flowers, cocoa, citrus, bitter chocolate, truffle, ripe plums and very ripe black cherries. Opulent, polished, silky and rich, the exotic textures set this apart from other Pomerol wines. If you are one of the lucky few to have a bottle, I think there is not much to be gained by waiting any longer.

3,565 Views

Tasted

Feb 3, 2020

This sports an earthy nose with accents of red and black fruits, nuts, plums, espresso and flowers. Perfectly balanced with great texture, this is a stunning and unique style of wine.

3,098 Views

Tasted

Mar 17, 2008

1987
Château Le Pin (Pomerol)

This looked at least a decade or more older in color. The black plum, earth, soy and truffle nose was a treat. In the mouth, the fully mature wine offered pleasure without excitement. I was shocked to learn it was Le Pin. I was even more surprised to find it was as good as it was for the vintage

2,771 Views

Tasted

Jun 30, 2009

1985
Château Le Pin (Pomerol)

Fully mature, the wine is packed with truffles, dark chocolate, red plums, cherries, earth and leafy herbs. Medium-bodied, with a crisp edge to the tannins that I wish was just a bit more fleshy and silky. This is not a wine to hold for more development.

2,136 Views

Tasted

Apr 6, 2022

Le Pin is about delicacy and aromatics, instead of power. The wine posses layers of kinky dark cherry, plums, coconut, orange, flower and vanilla that makes it truly unique. The decadent wine feels great in your mouth.

5,492 Views

Tasted

Nov 7, 2010

1982
Château Le Pin (Pomerol)

A wine I never thought I'd be able to taste, and I was certainly glad I did. The nose, with its cherry pipe tobacco, floral, mint, oyster shell, wet earth, cherry and mocha was an easy hook. But the sexy, silky, exotic textures, purity of fruit, and velvet finish brought it all the way home. Fully mature, if you have extremely wealthy friends with a bottle or two, have them pull a cork, as there is no reason to age this any longer.

6,175 Views

Tasted

Jun 7, 2016