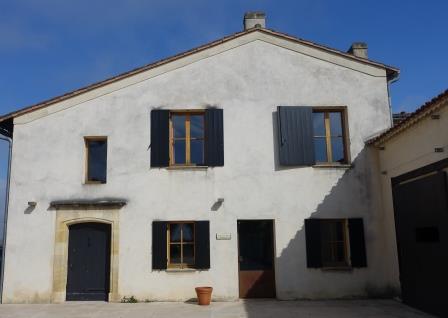 Learn everything about Chateau Petit Village Pomerol with wine tasting notes and wine with food pairing tips. Learn the best vintages, the history of the property, and information on the vineyards and winemaking. If you want to read about other important, Bordeaux Chateaux: Links to all Bordeaux Wine Producer Profiles
Chateau Petit Village History, Overview
Chateau Petit Village has a long history in the Pomerol appellation that dates back to at least 1785. The wines of Petit Village first began gaining acclaim in 1831, when the estate was owned by the Dufresne family. At one point in time, the estate was owned by the De Seguin family who also owned Clos Fourtet in St. Emilion.
In 1919, Petit Village once again changed hands when it was sold to the Ginestet family. At the time the Ginestet family were well-known Bordeaux negociants with other holdings in the Medoc. In fact, just 2 years earlier, they bought Chateau Cos d'Estournel. Following the frost of 1956, the vineyards of Petit Village were replanted.
Perhaps, due to their experience in the Left Bank, having owned Chateau Margaux, they planted an excessive amount of Cabernet Sauvignon in the Pomerol vineyards.
The amount of Cabernet Sauvignon was over 50%, which was the highest amount of Cabernet Sauvignon in the entire Right Bank! That replanting with that massive amount of Cabernet Sauvignon was a huge mistake for the wines of Chateau Petit Village.
The vineyard and the wines did not begin to truly recover until late in the first decade in the 20th century.
When Bruno Prats began to take control of Chateau Petit Village in 1971, one of his earliest decisions was to rip out the Cabernet Sauvignon and replace it with Merlot. His next move was to renovate the cellars in 1977. This led to an increase in the quality of the wine at Chateau Petit Village.
The involvement of Bruno Prats ceased when he sold Chateau Petit Village to the large AXA Insurance group in 1989. At that point in time, Jean Michel Cazes of Chateau Lynch Bages, who had a relationship with AXA, due to his work with them at Pichon Baron took over the property.
At the time, AXA, also owned Pichon Baron in Pauillac, as well as Chateau Suduiraut in Sauternes, and numerous other wineries in a myriad of countries including Portugal and Hungary.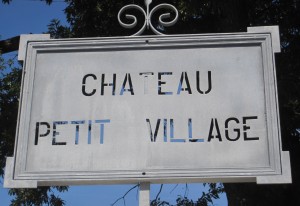 While under the AXA brand, improvements at Chateau Petit Village took place including new vats and a new barrel cellar. These renovations created what is still possibly the most architecturally modern-looking estate in the Pomerol appellation. They also brought in Stephane Derenoncourt to consult in 2005.
Marielle Cazaux, the previous technical director of Petit Village left in 2015 to join Chateau La Conseillante. She was replaced by Diana Garcia Berrouet, who is the sister-in-law of Olivier Berrouet of Petrus.
In June 2020, Chateau Petit Village was sold to the Moulin family, the owners of the neighboring Pomerol estate, Chateau Beauregard. Augustin Belloy, a member of the family is in charge of the estate today.
Chateau Petit Village Vineyards, Terroir, Grapes, Winemaking
The 10.5-hectare vineyard of Petit Village is planted with 75% Merlot, 18% Cabernet Franc and 7% Cabernet Sauvignon. Petit Village continues to maintain one of the highest portions of Cabernet Sauvignon plantings in the Pomerol appellation. However, this still shows a change in the vineyard with a tilt to more Merlot.
The vineyard of Chateau Petit Village is a single triangular-shaped parcel of vines. The terroir is composed of deep gravel with sand, chalk, and clay soil. That soil sits on top of an important bed of red iron, which helps give the wine character.
They have good neighbors as Vieux Chateau Certan and Certan de May are just a bit north, La Conseillante is due south and Beauregard is located to its eastern flank. On average, the vines are 35 years of age. However, they have old vines.
The oldest parcel of vines at Petit Village is a single plot of Merlot planted in 1947. On average the vines are planted to a density of 5,600 vines per hectare. Today, over have the vineyard is farmed using only organic methods. The estate was certified as organic in 2023.
To produce the wine of Chateau Petit Village, vinification takes place in 18 thermoregulated concrete vats for an average of 21 days. The vats range in size from 35 hectoliters up to 80 hectoliters. Malolactic fermentation takes place in barrels.
Chateau Petit Village is aged in 70% new, French oak barrels for about 15 months. However, a small portion of the wine is aged in neutral vessels, as the estate also uses clay amphora and glass wine globes.
The best vintages of Chateau Petit Village are: 2022, 2021, 2020, 2019, 2018, 2017, 2016, 2015, 2012, 2010 and 2009. I have not had much luck with older vintages, but I admit, I seldom see them. My feeling is that the best wines from Petit Village are being made today. In fact, 2020 is the best vintage ever produced at the property!
The Character and Style of Petit Village
Chateau Petit Village has been a medium/full-bodied Pomerol, without the same level of ripeness, elegance, and concentration the better wines from the region often display.
With Stephane Derenoncourt replacing Michel Rolland in 2005, things are starting to turn around for this popular, Right Bank, Bordeaux wine. However, 2015 Petit Village was a step up from the other, previously produced vintages. It is really a classy wine and clearly, that vintage was a harbinger of things to come from this well-known, but under-performing estate as 2020 is the best vintage of Petit Village ever produced.
Chateau Petit Village produces close to 2,500 cases of wine per year at its peak. There is a second wine, Le Jardin de Petit Village. However, it should be noted that starting with the 2021 vintage, the production was cut almost in half, as a major replanting of the vineyard is taking place.
When to Drink Chateau Petit Village, Anticipated Maturity, Decanting Time
Chateau Petit Village is much better with at least 7-10 years of aging in good vintages. Young vintages can be decanted for 1-2 hours or more. This allows the wine to soften and open its perfume. Older vintages might need very little decanting, just enough to remove the sediment. Chateau Petit Village offers its best drinking and should reach peak maturity between 9-20 years of age after the vintage.
Serving Chateau Petit Village with Wine, Food, Pairing Tips
Chateau Petit Village is best served at 15.5 degrees Celsius, 60 degrees Fahrenheit. The cool, almost cellar temperature gives the wine more freshness and lift. Chateau Petit Village is best paired with all types of classic meat dishes, veal, pork, beef, lamb, duck, game, roast chicken, roasted, braised, and grilled dishes. Chateau Petit Village is also good when matched with Asian dishes, and hearty fish courses like tuna, mushrooms, and pasta.
 
www.petit-village.com
Château Petit Village Wine Tasting Notes
26 Vintages 94,317 Views Sort by Vintage-Rating
2022
Château Petit Village (Pomerol)

Dark in color, the wine pops with its display of flowers, spearmint, blackberries, plums, and black cherries. Opulent, silky, fresh, vibrant, and long, the fruit expresses its ripe, black, blue, and red berries with purity, elegance, and a touch of peppery, spice , espresso, and dark cocoa in the energetic finish. The wine blends 65% Merlot, 28% Cabernet Franc and 7% Cabernet Sauvignon.14% ABV, 3.85 pH. Yields were 30 hectoliters per hectare. Picking took place September 2, September 22.. Drink from 2026-2055. 95-97 Pts.

907 Views

Tasted

May 8, 2023

2022
Château Petit Village Le Petit Petit Village (Pomerol)

Chocolate, plums, figs and blueberries open the round, lush, concentrated, wine. Ripe, sweet, and chocolately, there is a touch of heat in the dark, fruity finish. Drink from 2025-2035. 89-91 Pts.

707 Views

Tasted

May 8, 2023

2020
Château Petit Village (Pomerol)

Silky, lush, and opulent, the wine kicks off with a strong floral note before moving on to its waves of chocolate covered, plums, cherries, wet earth and spices. The wine is supple-textured, with velvety tannins and fabulous energy all the way through, from start to finish. 2020 is the first vintage to show off its new, stylish label and wax capsule as well as the debut vintage kicking off a new era of high-quality wine here. Drink from 2024-2050.

1,073 Views

Tasted

Mar 21, 2023

Dark in color, the wine quickly focuses on its floral, plum, spice, licorice and earthy character. The wine is medium-bodied, silky and fresh with a sensuous, supple textured, sexy finish. This is the best vintage of Petit Village I have tasted in ages. The wine is a blend of 60% Merlot, 32 Cabernet Franc and 8% Cabernet Sauvignon. This is the first vintage to show off its new, stylish label and wax capsule. 93-95 Pts

2,099 Views

Tasted

May 20, 2021

2019
Château Petit Village (Pomerol)

Medium-bodied, fresh, bright, soft and silky with a focus on its red cherries and plums, with accents of flowers, truffle, licorice and spice. The finish continues with its core of earthy, soft, fresh, silky fruits and hints of cocoa, spice and earth in the finish. Drink from 2023-2041.

1,306 Views

Tasted

Mar 29, 2022

2018
Château Petit Village (Pomerol)

Better in the bottle than in barrel, the wine now shows more of a floral character. Fresh, soft and silky, with a luscious texture and layers of sweet, ripe, vibrant, elegant fruits. The finish, with its minty-fresh wave of cherries really clings to your palate. This is the finest vintage of Petit Village I recall tasting. The wine blends 72% Merlot, 20% Cabernet Franc and 8% Cabernet Franc. Give it 4-5 years of age and it will be a much better wine.

1,349 Views

Tasted

Mar 9, 2021

Wild cherries, cocoa and licorice with wet, earthy nuances come to the surface with ease. Soft, round, and silky in the finish, the blend of 72% Merlot, 20% Cabernet Franc and 8% Cabernet Franc leaves with a bright, fresh, spicy red berry, thyme and floral endnote. Give it 4-5 years of age and it will be a much better wine. 91-93 Pts

3,675 Views

Tasted

Apr 19, 2019

2017
Château Petit Village (Pomerol)

One of the top vintages of Petit Village in recent years, the wine offers ripe plums and floral aromatics. Medium/full bodied, round and soft in texture, the finish carries the ripe, juicy fruits quite well despite falling a tad short in the endnote.

2,111 Views

Tasted

Apr 26, 2018

2016
Château Petit Village (Pomerol)

Silky, fresh, sweet and plummy, the medium-bodied wine shows polish, elegance and refinement. The finish is what really brings it all the way home with all that ripe, sweet, fresh. red pit fruit. The wine was made from a blend of 77% Merlot and 14% Cabernet Franc and 0.9% Cabernet Sauvignon.

3,219 Views

Tasted

Sep 21, 2019

Here you'll find a little bit of truffle, licorice, dark cherry and earth, medium bodied with ready, sugar-glazed cherry and plum in the finish. The wine was made from a blend of 77% Merlot and 14% Cabernet Franc and 9% Cabernet Sauvignon.

1,595 Views

Tasted

Apr 29, 2017

2015
Château Petit Village (Pomerol)

Black truffle aromas are starting to come out, along with bitter chocolate and black cherries. Medium bodied, soft and polished, the wine is almost ready to drink, perhaps just a few years in the cellar is all you need to add even more softness to the texture.

2,808 Views

Tasted

May 21, 2018

Perhaps the best vintage of Petit Village I've ever tasted! This wine offers real density for the first time. There is a richness and a fleshiness to the sweet, corpulent, ripe, black cherries and cocoa that make it impossible not to like. The wine was made from a blend of 71% Merlot and 20% Cabernet Franc and 9% Cabernet Sauvignon. 91-93 Pts

3,751 Views

Tasted

Apr 27, 2016

2014
Château Petit Village (Pomerol)

Medium bodied, floral, wood, spice red fruits are there from start to finish. Drink this young as I suspect the wine is not going to get any better.

2,533 Views

Tasted

Mar 30, 2017

Flowers, spice and raspberries, this medium-bodied wine has a light, soft, fresh, red fruit filled finish. 88-90 Pts

1,343 Views

Tasted

Apr 24, 2015

2013
Château Petit Village (Pomerol)

From 70% Merlot, 20% Cabernet Franc and 10% Cabernet Sauvignon, the wine represents 50% of the crop. Black raspberry with hints of fennel on the nose, the wine is light in style and delicate in structure with a polite cherry finish. Drink this young, as it will be best in its first 5-7 years. 88-90 Pts

3,121 Views

Tasted

Apr 26, 2014

2012
Château Petit Village (Pomerol)

Blending 80% Merlot, 14% Cabernet Franc and 6% Cabernet Sauvignon, the wine will be aged in 80% new French oak, reaching 13.8% ABV. Whole berry fermented, the wine opens with licorice, black cherry liqueur, coffee, cocoa and earthy notes, offering silky textures, soft tannins and a sweet, ripe, red and black cherry finish. 90-92 Pts

3,977 Views

Tasted

Apr 26, 2013

2011
Château Petit Village (Pomerol)

Medium bodied, with fresh, soft, round, black raspberres and cherries, there is a touch of licorice, cocoa and espresso to complicate the perfume. This is forward, open and made for early drinking pleasure.

2,259 Views

Tasted

May 21, 2014

Utilizing 72% Merlot, 19% Cabernet Franc and 9% Cabernet Sauvignon, the wine will be aged in 65% new oak. Consulted by Stephane Derenoncourt, the wine is packed with floral, earth and cherry blossom scents. On the palate, this Pomerol wine is supple, fresh and sensuous with silky textures. 90-92 Pts

2,883 Views

Tasted

Apr 21, 2012

2010
Château Petit Village (Pomerol)

Petit Village Produced from 73% Merlot, 18% Cabernet Sauvignon and 9% Cabernet Franc, this medium bodied, soft textured Pomerol offers light cherry, plum, coca powder and licorice. 89-91 Pts

3,181 Views

Tasted

Apr 21, 2011

2009
Château Petit Village (Pomerol)

A bit meaty and firm for a Pomerol, the wine is medium-bodied, bright and fresh with a core of sweet, ripe cherries, earth and herbs and a red plum finish. This classically styled wine is ready to go.

3,293 Views

Tasted

Sep 20, 2019

From a blend with one of the highest percentages of Cabernet Sauvignon in Pomerol, 75% Merlot, 17% Cabernet Sauvignon and 8% Cabernet Franc, this medium bodied Bordeaux wine offers aromas of fresh red and black plums, wet earth, spice and cherries. The wine should should drink well young.

4,810 Views

Tasted

Jan 31, 2012

2009 Petit Village opens with scents of plums and herbs mingled with a touch of oak. This round textured, medium bodied wine needs a bit more stuffing. 87-89 Pts

3,277 Views

Tasted

Aug 27, 2010

2008
Château Petit Village (Pomerol)

08 Château Petit Village is a simple, medium bodied wine that sports a spice, oak, and black fruit nose and a soft texture in the mouth. A light, early drinking Pomerol. 87-89 Pts

3,221 Views

Tasted

Jul 30, 2009

2007
Château Petit Village (Pomerol)

The color shows its age, and then some. The wine is fully mature, medium bodied, with more secondary notes on the nose than fruit. In the finish, the wine shows ripe strawberries with an herbaceous quality in the end note. This requires drinking sooner than later.

2,264 Views

Tasted

Mar 30, 2017

2006
Château Petit Village (Pomerol)

Medium-bodied, bright, earthy, fresh and focused more on its secondary notes than the receding plums and cherries. The finish is on the austere, firm side. This is not a wine to hold for development.

1,851 Views

Tasted

Aug 25, 2021

2005
Château Petit Village (Pomerol)

Shockingly light for the vintage. There is no reason to buy wines like this for the type of money being charged. The good news is, starting with 2006, Stephen Derenoncourt is in charge of the winemaking so things should start improving rapidly

4,904 Views

Tasted

Jan 20, 2008

2004
Château Petit Village (Pomerol)

Secondary aromas are in full force with their woodsy, earthy character. Light in fruit, the wine needs to be drunk sooner than later.

4,298 Views

Tasted

Nov 30, 2014

Medium bodied, with an earthy, red plum, cherry and strawberry nose, the wine is soft on the palate, but it's on the lighter side with its red berry finish.

3,689 Views

Tasted

Aug 12, 2013

2001
Château Petit Village (Pomerol)

Disappointing for the vintage, the wine is light in color and fruit, with a bright, overly fresh, red berry component that is there in the wine from start to finish. On the bright side, the wines being produced here today are much better. I would not be holding this wine for further evolution, as there is not just not enough stuffing to make it more interesting as the years go on.

2,876 Views

Tasted

Oct 26, 2016

2000
Château Petit Village (Pomerol)

Fully mature, the crisp, dark cherry, tobacco and earthy aromatics is not enough to take away the rustic tannins that mar this medium bodied wine in the finish.

3,422 Views

Tasted

Aug 9, 2016

1998
Château Petit Village (Pomerol)

If you own a bottle, pop a cork as this is the right time to be enjoying the truffle, cocoa and cherry infused wine. Medium bodied, with soft textures, the wine delivers a nice, cherry filled finish. This is not going to make old bones. It's probably best enjoyed over the next 3-5 years.

3,545 Views

Tasted

Jul 9, 2013

1964
Château Petit Village (Pomerol)

For its age, the wine still showed good color. The wine offered a surprising amount of heft, earthy, tobacco laden plums and a touch of forest leaf. The fruit was ripe, and still served up a nice sweetness. The wine was not very complex, but it was fun tasting the property before they pulled out all their old-vine Merlots, replacing them with Cabernet Sauvignon.

2,440 Views

Tasted

Jan 19, 2020

1961
Château Petit Village (Pomerol)

This is traditionally styled, slightly austere Pomerol that is on the downside. Drink up.

2,484 Views

Tasted

Jun 27, 2009

1955
Château Petit Village (Pomerol)

Spicy, tobacco notes were easy to find. The first few sips offered a lot of pleasure, but with air, the wine slowly faded in the glass.

2,494 Views

Tasted

Nov 14, 2007

1952
Château Petit Village (Pomerol)

Older is not always better, as is evidenced with this bottle. Bright, tart, red berries, medium bodied and tart in finish, the nose was more interesting than the palate.

1,552 Views

Tasted

May 7, 2014