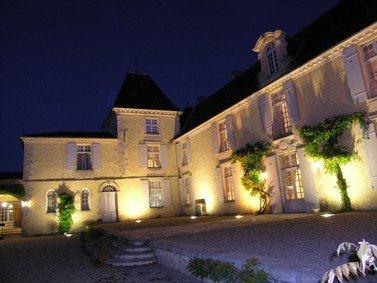 Learn everything about Chateau Suduiraut Sauternes, Premiers Crus with wine tasting notes, and wine with food pairing tips. Learn all the best vintages, the history of the property, and information on the vineyards. If you want to read about other important, Bordeaux Chateaux: Links to all Bordeaux Wine Producer Profiles
Chateau Suduiraut History, Overview
Chateau Suduiraut has a long history in Sauternes that dates all the way back to 1580 when Leonard de Suduiraut married Nicole d'Allard. The land that became Suduiraut was a dowry. Once the magnificent chateau was constructed, the property needed a garden and grounds of equal splendor.
The estate and vineyards were completely renovated at the end of the 17th century by Count Blaise de Suduiraut. The Count, who was the grandson of the founder, hired the designer of the gardens at Versailles to create something truly special at Suduiraut. With its stunning park-like grounds, lakes, and greenery, there are few Bordeaux estates that are as beautiful as Chateau Suduiraut.
The next big step for Suduiraut came in 1831 when the property was passed to Nicolas Guillot who increased the size of the already vast estate.
Like many Bordeaux estates, Suduiraut passed through numerous hands for the next two centuries. During the 1940s, 1950's and 1960's, the property went through a bad patch. At a time, the wines were aged entirely in vats, instead of traditional French oak barrels, which did not help with the quality of the wine.
That practice was fortunately discontinued. The wines had lost interest for many lovers of Sauternes. This changed in 1992 when Suduiraut was sold to AXA, the large French insurance group that counts several other Bordeaux wine properties in their holdings. Those estates include Chateau Pichon Baron and Chateau Pibran in Pauillac.
Chateau Suduiraut Vineyards, Terroir, Grapes, Winemaking
The large 90-hectare vineyard of Chateau Suduiraut is planted to 88% Semillon and 12% Sauvignon Blanc. Although, there is a small amount of Sauvignon Gris planted in the vineyard as well.
Located close to Chateau dYquem, the massive 200 hectare Sauternes vineyard of Chateau Suduiraut has 90 hectares under vine and in production. The terroir is mostly gravel, sand, limestone, and clay soils that are on sloping hillsides.
However, to look at the vineyard, you can easily divide it into two parts. The larger section is close to the chateau with peak elevations of 50 meters where you find more sand, deep clay, and gravel. They also have 10 hectares of vines planted adjacent to Chateau d'Yquem with a terroir of deep clay and gravel that rises to 60 meters at its peak.
The best parcels are located close to the chateau. The vines average 30 years of age and are planted to a vine density of 7,000 vines per hectare. They have old vines. Their oldest vines were planted in 1959.
To produce the wine of Chateau Suduiraut, vinification takes place in French oak barrels. The wine is aged on its lees in 50% new, French oak barrels for 18-24 months, depending on the character of the vintage. On rare occasions, Chateau Suduiraut has also produced a special wine from time to time, Cuvee Madame, which usually has much higher sugar levels.
The best vintages of Chateau Suduiraut are: 2022, 2021, 2020, 2019, 2018, 2017, 2016, 2015, 2014, 2013, 2011, 2010, 2009, 2007, 2005, 2003, 2001, 1997, 1990, 1989, 1988, 1986, 1983, 1976, 1959 and 1949.
Older vintages of Suduiraut are well worth seeking out as they have the ability to age for decades and are fabulous wines. Plus they often sell for a song at auctions!
In 1982 and 1989, the property released a special wine made from their best vines, Suduiraut Creme de Tete. The property makes a second wine, Castelnau de Suduiraut, which made its debut in 1992. They also produce dry white Bordeaux wines. Their first dry white wine, S de Suduiraut, was produced with the 2004 vintage.
In 2015, they added a second dry white Bordeaux wine, meant to attract, younger consumers, as the wine is being marketed as an entry-level wine, Le Blanc Sec. Le Blanc Sec is the property's second effort making entry levels wines. The estate launched the third wine in 2011, designed to reach younger customers, Lions de Suduiraut, which is produced from almost 100% Semillon and a small, touch of Sauvignon Blanc to create the blend.
Starting with the 2021 vintage, Chateau Suduiraut reinvigorated its lineup of dry white wines. Today, they produce Chateau Suduiraut Vieilles Vignes, which come from their oldest vines. Chateau Suduiraut Pur Semillon which is made from 100% Semillon and Lions de Suduiraut BLanc Sec, which is their entry level Bordeaux Blanc.
When to Drink Chateau Suduiraut, Anticipated Maturity, Decanting Time
Chateau Suduiraut can be enjoyed on the young side with no decanting. In fact, it is delicious and quite a treat young, even on release! However, like all great wines, Chateau Suduiraut is much better with age and does not reach full maturity until it's between 15-40 years of age, or in some years, perhaps even longer in the best vintages! That is when the magic happens!
But that is unrealistic for 99% of the world's wine drinkers. So, enjoy it on any special occasion that calls for it.
Of course, the wine is sweet, but there is so much, incredible, racy acidity, the wine always feels fresh, and never cloying, which makes it quite fun to enjoy young. With Chateau Suduiraut and frankly, all Sauternes, the temperature is more important than decanting.
Serving Chateau Suduiraut with Wine and Food Pairings
Chateau Suduiraut is best served at 14 degrees Celsius, 57 degrees Fahrenheit. The cool, almost cellar temperature gives the wine more freshness and lift. The wine will naturally warm in the glass, while it develops more aromatic complexities and fleshes out.
Chateau Suduiraut can be served with seafood dishes, especially shellfish, lobster, crab, and oysters on the half shell. Foie gras is a perfect pairing with its natural sweet, salty and savory characteristics. Chateau Suduiraut can also be paired with roasted chicken, veal, and pork dishes that are either spicy or prepared with a touch of sweetness.
Spicy Asian cuisine, raw fish, like sushi or sashimi, and cheese, both hard and soft also make great pairings with Chateau Suduiraut.
Château Suduiraut Wine Tasting Notes
52 Vintages 294,726 Views Sort by Vintage-Rating
2022
Château Suduiraut (Sauternes)

The roasted nut profile and strong sense of botrytis is all over the place here. With another sniff and swirl, you discover roasted apricots, pineapples, tangerine, vanilla, and a plethora of spices all soaked in honey. Concentrated, fresh, spicy, chalky, and long, the orange, mango, and pineapple finish delivers its pleasures with racy assurance. The wine was made from 100% Semillon for only the third time in the history of the estate. Drink from 2025-2060. 97-99 Pts.

1,356 Views

Tasted

May 8, 2023

2022
Château Suduiraut Pur Sémillon (Bordeaux)

The complex nose offers citrus, smoke, hazel nuts, green apples, pears, flowers, pineapple, and honeysuckle in its perfume. The wine is elegant, energetic, and creamy, with sweetness, and lift in the lemon, grapefruit, and pear oriented finish. The wine is only made in special vintages and is as the name implies, produced from 100% Semillon. The wine is not easy to find as only 3 barrels 75 cases are produced. Drink from 2024-2034. 94-94 Pts.

1,786 Views

Tasted

May 10, 2023

2022
Château Suduiraut Vieilles Vignes Grand Vin Blanc Sec (Bordeaux)

Sweet juicy lemons, white peach, spice, mango, and honeysuckle on the nose get this started. But it is on the palate, with its sweet citrus, orange pith, and touch of honey where the wine shows its best. The wine blends 55% Semillon and 45% Sauvignon Blanc. Drink from 2023-2029. 92-92 Pts.

1,485 Views

Tasted

May 8, 2023

2022
Château Suduiraut Lions de Suduiraut Blanc Sec (Bordeaux)

White peach, grapefruit, Granny Smith apples, lemon and ginger produce a showy perfume. The wine is sweet, fruity, fresh and forward, so you can enjoy it in its youth for all of its sweet, creamy, yellow and white fruits. The wine blends 54% Semillon, and 46% Sauvignon Blanc. Drink from 2024-2029. 91-91 Pts.

1,322 Views

Tasted

May 8, 2023

2021
Château Suduiraut (Sauternes)

When I discovered that the yields were only 1 hectoliter per hectare, it dawned on me that I was drinking a percentage of the production! While there was almost no wine, what there was hit all the right notes. Unctuous, rich, sweet and most importantly, vibrant with its racy acidity, the ripe and overripe, spicy apricots, vanilla, honey and roasted nut aromas with their candied orange rind nuances were just what the doctor ordered on the nose and palate. Drink from 2023-2050. 95-97

2,881 Views

Tasted

May 20, 2022

2021
Château Suduiraut Lions de Suduiraut Blanc Sec (Bordeaux)

A fresh, crisp, lively shot of lemon, grapefruit, flowers, spice, and white peach that is delivered in a creamy, zesty style, making this perfect for early drinking pleasure. Sadly, this is going to be quite difficult to find as the yields were only 3 hectoliters per hectare. Formerly known as Le Blanc Sec de Suduiraut, this is the same wine, but with a new name. Drink from 2023-2030. 91-91

2,516 Views

Tasted

May 20, 2022

2020
Château Suduiraut (Sauternes)

Intensely concentrated, the wine coats your palate with its multiple layers of honey-slathered pineapples, apricots, candied tangerine rind, spice, marzipan, and vanilla bean. The palate-coating richness is balanced with zesty acidity that offers, cut, raciness, and vibrancy from start to finish. Made from 100% Semillon for only the second time in the history of the estate, this is a seriously sweet treat that is going to be close to impossible to find as the yields were a scant 8 hectoliters per hectare, reducing the production by more than 70%. Drink from 2024-2060.

1,967 Views

Tasted

Mar 21, 2023

With yields of only 8 hectoliters per hectare, the wine shows off its honey, roasted nut, candied orange rind, pineapple, stone, butter and overripe yellow tropical fruit profile with ease. On the palate the wine is rich, opulent, sweet and fresh with layers of candied yellow fruits, tangerine and nuts all coated with honey. Made from 100% Semillon for only the second time in the history of the estate, this is a serious sweet treat. 95-94 Pts

3,460 Views

Tasted

May 20, 2021

2020
Château Suduiraut Le Blanc Sec de Suduiraut (Bordeaux)

A fresh, crisp, lively shot of lemon, grapefruit, flowers, spice and white peach that is delivered in a creamy, zesty style, making this perfect for early drinking pleasure. 91 Pts

2,092 Views

Tasted

May 20, 2021

2019
Château Suduiraut (Sauternes)

Rich, lush, opulent, concentrated and most importantly, vibrant and fresh. From start to finish the wine serves up its elixir of overripe pineapple, apricot, white peach, flowers, spice and marmalade honey. It is effortless to drink and will deliver pleasure for decades. Drink from 2022-2060.

3,674 Views

Tasted

Apr 10, 2022

On the bright, yellow, tropical side of the fruit range with lemon curd, caramelized corn, butter, candied orange rind and honeyed citrus accents. Medium-bodied, and sweet, but not overly so, this can also be used to pair with spicy and savory courses as a meal accompaniment. This is a good thing because people need to open more bottles of these sweet treats. 92-94 Pts

5,116 Views

Tasted

Jun 8, 2020

2019
Château Suduiraut "S" de Suduiraut (Bordeaux)

Right off the bat you find green apples, flowers, vanilla and lemon/lime notes on the nose. Rich, juicy and fresh, with a bite of just squeezed yellow citrus and pineapple, the wine is fresh and refreshing on the palate and in the finish. The wine is a blend of 63% Semillon and 37% Sauvignon Blanc. 92 Pts

3,895 Views

Tasted

Jun 9, 2020

2019
Château Suduiraut Le Blanc Sec de Suduiraut (Sauternes)

Made from a blend of 52% Semillon and 48% Sauvignon Blanc, instantly you find crisp grapefruit, white peach and orange blossoms on the nose. The wine is fresh, crisp and fresh, with along, lemon, lime and green apple tinged finish. 91 Pts

3,592 Views

Tasted

Jun 8, 2020

2018
Château Suduiraut (Sauternes)

From incredibly low yields of only 5 hectoliters per hectare, the wine offers a mélange of ripe, tropical fruits, mango, pineapple, apricot, licorice and orange rind along with vanilla, honey and floral aromas. The wine is medium-bodied, fresh and sweet, with tones of orange tropical fruits, nuts, vanilla and honey on the palate and in the sweet, albeit subtle finish. This is the only vintage of Suduiraut produced from 100% Semillon.

2,819 Views

Tasted

Mar 9, 2021

Pineapple, apricot, cashews, vanilla, honey, almond butter and butterscotch create the sublime perfume. On the palate, which is where this wine needs to be, the wine is sweet, fat, ripe, palate filling and racy, with the right amount of acidity and honeyed fruit keeping everything in balance. This is the only vintage in the history of the estate made from 100% Semillon.

3,978 Views

Tasted

Apr 19, 2019

2018
Château Suduiraut Lions de Suduiraut (Sauternes)

Sweet, honeyed pineapple, white peach, spice, ginger, and orange notes. This can be enjoyed as a chilled aperitif, or with savory dishes and salty cheese quite easily. Drink from 2023-2029.

1,637 Views

Tasted

Jul 8, 2022

Early drinking, lighter styled sweet wine focusing on sweet, honeyed pineapple, white peach, spice and orange notes. This can be enjoyed as a chilled aperitif, or with savory dishes and salty cheese quite easily.

1,615 Views

Tasted

Mar 9, 2021

2018
Château Suduiraut "S" de Suduiraut Vieilles Vignes (Bordeaux)

White peach, pears, pineapple and flowers hit your nose before discovering the combination of bitter and sweet, yellow citrus, green apple and pineapple in the finish. Medium-bodied, early drinking and with fruit and freshness, this is ready to go on release. This is best consumed on the young side.

1,118 Views

Tasted

Mar 9, 2021

2018
Château Suduiraut "S" de Suduiraut (Bordeaux)

White peach, pears, apple and flowers take a bit of effort to find. The wine is fresh, just a little sweet and will offer early drinking, easy going pleasure.

1,699 Views

Tasted

Apr 19, 2019

2018
Château Suduiraut Le Blanc Sec de Suduiraut (Sauternes)

Made from a blend of 53% Semillon and 47% Sauvignon Blanc, the wine displays ripe tangerine, orange, white peach and citrus in the nose and mouth. On the palate it's round, fresh, just a bit sweet and ready to drink on release.

2,844 Views

Tasted

Apr 19, 2019

2017
Château Suduiraut (Sauternes)

Luscious, rich, fat, sweet and juicy, with multiple layers of ripe and overripe pineapple with apricots all drenched in honey and vanilla beans. The addition of orange candied fruits and caramel comes in at the end. Racy, sweet, well-defined and fresh, with gorgeous textures and roasted nuts are in the equally sweet, long, honey-filled finish.

4,890 Views

Tasted

May 17, 2020

Toasted hazelnuts and egg custard flood the nose along with honey-drenched pineapple and apricots, foreshadowing a luscious, full-bodied, decadently textured finish. This wine really hangs in there with layers of sweetness and smoldering nutmeats.

3,201 Views

Tasted

Apr 26, 2018

2017
Château Suduiraut "S" de Suduiraut (Bordeaux)

White peach, lemon zest, apple and flowers on the nose combine well with the revitalizing citrus. A dab of honey and smidge of dried pineapple in the finish make this wine unique.

2,021 Views

Tasted

Apr 26, 2018

2017
Château Suduiraut Le Blanc Sec de Suduiraut (Sauternes)

Citrus, honeysuckle and lemons with green apples create the core of this refreshing, crisp, summer wine.

2,117 Views

Tasted

Apr 26, 2018

2016
Château Suduiraut (Sauternes)

Quite floral in nature, the wine balances freshness, honeyed peaches, pineapple, apricots and vanilla with luscious, honeyed, tropical fruits.

4,831 Views

Tasted

Sep 21, 2019

Sweet and with balancing freshness, the wine is loaded with rich, opulent, honeyed pineapple, orange, apricot, vanilla bean and nut aromas.

4,343 Views

Tasted

Feb 11, 2019

With a deep yellow color, the wine is perfumed with honeyed pineapple, orange, apricot and nut aromas. The full bodied wine is sweet, rich, lusciously textured and loaded with honey and nuts. The wine was produced from blending 94% Semillon and 6% Sauvignon Blanc.

3,502 Views

Tasted

Apr 29, 2017

2016
Château Suduiraut "S" de Suduiraut (Bordeaux)

Pomelo, lemon peel, green apple and flowery in character. The wine is richly textured, with sweetness to the yellow citrus, and white peach in the finish.

2,485 Views

Tasted

Apr 29, 2017

2016
Château Suduiraut Le Blanc Sec de Suduiraut (Sauternes)

This is the second vintage for this dry white wine from Suduiraut. Made from a blend of 51% Semillon and 49% Sauvignon, the wine offers orange, honeydew, white peach and citrus in the nose, and in the mouth. The wine is round and shows sweetness in the fruit that comes from ripeness.

1,981 Views

Tasted

Apr 29, 2017

2015
Château Suduiraut (Sauternes)

If you are a fan of sweet wines, grab a bottle or two. This is incredibly rich, sweet and intense. But there is more than ample acidity to keep the wine taut. The vanilla custard, coconut, pineapple and over-ripe apricots all coated with a massive spoonful of honey is an intense, sweet treat.

5,944 Views

Tasted

May 21, 2018

Coconut, vanilla custard, honey coated pineapple and other, assorted incredibly ripe, tropical fruits create quite the blend. Full bodied, intensely sweet, yet with all its richness, there is the right amount of lift and pep, keeping everything fresh and exciting. .

5,307 Views

Tasted

Mar 12, 2018

Made from 94% Semillon and 6% Sauvignon Blanc, the wine serves up a nose of honey, apricot, vanilla bean, roasted nut, flowers, papaya and orange. The wine is luscious, sweet, fat and fresh, with a long, intense, mouth filling finish. 95 - 97 Pts

5,072 Views

Tasted

May 3, 2016

2014
Château Suduiraut (Sauternes)

Knockout wine here, with intensity of flavor, purity of fruit, concentration and freshness. A myriad of apricots, tropical fruits, vanilla and pineapple that has been slathered in honey greet your nose and palate. The finish really leaves a great impression, with all that sweet, fruit and honey, buttressed with blazing acidity. The wine was made from a blend of 95% Semillon and 5% Sauvignon Blanc.

4,339 Views

Tasted

Feb 4, 2017

Luscious textures with even more sweetness and sugar than in d'Yquem, the nose is packed with honeyed tropical fruits, citrus, apricot and vanilla, the palate is drenched in honeyed sweetness and all that sweetness is balanced by a refreshing acidity. What's not too like?

3,682 Views

Tasted

May 1, 2015

2013
Château Suduiraut (Sauternes)

A superb wine! Luscious textures, fat, rich, honeyed tropical fruits and vanilla, and candied lemon peel on the nose. Sweet and spicy on the palate, with a beautiful, fresh, honyed tropical fruit, vanilla and candied citrus rind finish.

3,180 Views

Tasted

Feb 1, 2016

With brioche, nuts, vanilla, candied lemon, pineapple and apricot, the wine is rich, fat, concentrated with sweet, fresh and bright flavors. The sweet, honeyed pineapple finish really makes an impression. 94-96 Pts

3,616 Views

Tasted

Apr 22, 2014

2013
Château Suduiraut "S" de Suduiraut (Bordeaux)

Honeydew melon, grapefruit and citrus in the character, the wine is fresh and crisp, filled with sweet, fresh citrus and nuts in the end notes. 89 Pts

1,448 Views

Tasted

Apr 22, 2014

2013
Château Suduiraut Lions de Suduiraut (Sauternes)

Honey nut and peach liqueur aromas pair with sweet, spicy pineapple and peach notes to create a forward wine that would make a perfect aperitif. 87 Pts

3,016 Views

Tasted

Apr 22, 2014

2011
Château Suduiraut (Sauternes)

This is a rockstar Sauternes! If you love sweet wine, as prices are reasonable, run, do not walk and buy a case of this stellar wine. The layers of sweet, perfectly ripe, tropical fruits slathered with honey grab you. The velvety, soft, elegant, honeyed sweetness coats your mouth and the finish reminds you again and again how good this wine is.

4,652 Views

Tasted

Feb 12, 2014

2010
Château Suduiraut (Sauternes)

So young, and oh so good. With all its layers of fat, sweet, ripe and over ripe tropical fruit, apricot, nectarine, flowers, vanilla, nuts and spice, it's impossible not want a second glass. Especially after tasting its rich, concentrated layers of honey drenched fruits. There is ample freshness in the fruit that keeps this up on its feet and on your palate. Drink now, enjoy it a decade or lay it down for your kids. This is another outstanding vintage for Suduiraut that is not quite as good as the 2011, but it's close.

4,609 Views

Tasted

Aug 13, 2014

2009
Château Suduiraut (Sauternes)

Just starting to show caramel, crème brulee, flowers, pineapple, apricot, honey and butterscotch aromas. On the palate, which is where this beauty really shines, the wine never quits, and that is a good thing because all that honey drenched tropical fruit tastes and feels great. Drink this sweet treat now, or age it for 20 years, it is delicious!

5,491 Views

Tasted

Sep 20, 2019

With an intense perfume that is equally matched with power and concentration of fat, sweet, ripe, pure, honey drenched fruit, this beautiful sweet Bordeaux wine has it all. Your palate is coated with layers of sweet yellow and orange fruits, spice, vanilla and honey. With length, purity and freshness, this blend of 93% Semillon and 7% Sauvignon Blanc is a delicious Sauternes that is worth finding and laying down. It should age and evolve for decades!

8,875 Views

Tasted

Jan 25, 2012

2008
Château Suduiraut (Sauternes)

Medium bodied, lighter styled effort, with a focus on the white peach, and honeyed, tropical fruits over concentration. There is good energy here, with a soft, sweet, luscious, tropical fruit finish. But it lacks the strength and power found in the top vintages.

5,544 Views

Tasted

Nov 22, 2017

2007
Château Suduiraut (Sauternes)

The nose shows off its honeysuckle, candied apricot, orange rind, pineapple, and melted caramel scents with ease. Rich, opulent, sweet, and fleshy, but the right amount of vibrance and freshness allows you to savor all the honey-coated, tropical fruits, apricots, and brown sugar on the palate. This is a truly sweet treat that is already delivering the goods. Drink from 2022-2037.

4,720 Views

Tasted

Sep 25, 2022

The color is slowly starting to deepen. If you love the smell of apricots and pineapple drenched in honey, you came to the right place. The wine is sweet, fresh, lively and long, leaving with you the sensation of pineapple squeezed over rocks with honey coated, apricots tossed in for good measure.

5,730 Views

Tasted

Mar 30, 2017

Tropical fruit, candied orange, honey, vanilla and citrus peel slathered in honey grab your attention. The rich, sweet waves fresh, pineapples, honey, nuts and apricots keep you focused on what's on your palate and what's in your glass, as you know each taste hits the right, sweet spot. There is ample acidity keeping the wine fresh.

4,954 Views

Tasted

Feb 20, 2013

2006
Château Suduiraut (Sauternes)

Luscious, rich, textures, sweet, ripe over ripe tropical fruits with an orange rind, tangerine and yellow peach accent all coated with vanilla bean honey. Not the most powerful or concentrated vintage, yet the elegance works with the balance of sweetness and acidity.

4,270 Views

Tasted

May 25, 2016

Really nice wine here, but lacking the concentration and lush character found in the best vintages. Still, there is ample layers of honey coated apricots, orange, pineapple, vanilla bean and floral scents to get you going. The sweet, fresh, luscious, spicy, honeyed finish is a treat. This will only get better with time.

3,195 Views

Tasted

Feb 27, 2015

2005
Château Suduiraut (Sauternes)

Still quite young, decanted 4 hours in advance, this is still young, fresh and lively. Loads of pineapple, apricot, vanilla and honey in the perfume. The wine is unctuous in texture and long in the finish.

4,959 Views

Tasted

Jun 28, 2015

2004
Château Suduiraut (Sauternes)

The first vintage with the new wine maker Pierre Montegut was a the product of a difficult harvest, the yields were only 5 hectoliters per hectare. Of that production, only 50% was used for the Grand Vin. Pineapple, honey, saffron, curry and burnt match notes make up the aromatics. The wine has a lemon meringue personality and a medium body that makes it a good sweet wine to pair with savory dishes.

4,966 Views

Tasted

May 17, 2014

2003
Château Suduiraut (Sauternes)

Ripe spicy, tropical fruit, apricot, peach, floral and honey notes open to a concentrated, rich, sweet wine that has the density of the 2003 sauternes vintage along with the acidity to keep it fresh.

6,634 Views

Tasted

May 9, 2012

2001
Château Suduiraut (Sauternes)

Lush, opulent, rich, and racy, the wine hits all the right notes combining layers of ripe and overripe pineapples, honey-coated apricots, caramel, butterscotch, and hints of candied orange rind. While not fully mature, at 20, it is clearly delivering the goods with ease. Enjoy it now, and for over the next 2 decades with ease.

7,221 Views

Tasted

Aug 31, 2021

Just a beauty, with a line of racy acidity that cuts through the fresh, ripe, incredibly sweet, pineapple, lemon curd and apricots all covered with vanilla bean and honey. There is weight and richness, but the acidity gives more than enough lift to keep everything balanced between sweet, fresh, ripe and juicy.

7,219 Views

Tasted

Feb 11, 2018

Intense, ripe, pure, sweet, fat, juicy, rich and fresh, with the perfect level of acidity to give the right amount of lift to the multiple layers of ripe and over ripe apricots, orange, pineapple, vanilla and nuts coated with honey. This is even better than it was a year ago. I love young Sauternes and this special wine is just getting going. It's going to be much better in the years to come.

8,190 Views

Tasted

Mar 17, 2013

Thick, rich, sensuous layers of honey coated, tropical fruit grab your attention. Flowers, citrus oil, honey, vanilla custard, orange, apricot and honey coated, spicy, tropical fruit are the hall marks of this wine. This delicious, fresh, sweet Bordeaux wine is already drinking well and should continue to develop and improve for decades.

11,496 Views

Tasted

Jan 1, 2012

1998
Château Suduiraut (Sauternes)

Medium bodied, with a candied orange, apricot, honey, floral and pineapple character, the wine offers freshness, honeyed citrus and flowery notes, but it lacks the depth and richness found in the top years. The wine is quite tasty now but on the other side of the coin, it's not a vintage I'd want to age for a long time.

2,614 Views

Tasted

Jan 22, 2016

1997
Château Suduiraut (Sauternes)

Looking older than its true age, and lacking the weight and depth found in the best vintages here, the wine leans to the orange, tangerine, mango and apricot side. There is a lot of freshness, as well as already present secondary notes of butterscotch, orange rind, nuts and honey.

3,972 Views

Tasted

Mar 18, 2018

1990
Château Suduiraut (Sauternes)

Much darker in color than it should be, for a wine of 25 years of age, with its copper, amber hue, you'd think it was at least 20 years older. The fruit is clearly on the downhill slide. While there is some sweetness remaining, and hints of candied orange peel, but you'll find more toffee, creme brulee and butterscotch flavors than sweet, honeyed fruits. The wine requires consumption.

6,455 Views

Tasted

Aug 13, 2015

1989
Château Suduiraut Cuvée Madame (Sauternes)

Now, here's a wine you never see, especially as this was the last vintage produced by the property. Leaning to the orange, apricot, white peach, spice and honey side, the wine is rich, fresh, sweet, long and complex. It looks and tastes older than its true age, so if you have a bottle, you should open and enjoy it.

2,099 Views

Tasted

Jul 15, 2016

This was my first experience with this special cuvee. I hope it will not be my last as this wine is a stunning example of Sauternes. Deep in color, the aromatics are intense with their honey drenched apricot, pineapple, caramel, custard and spicy notes. Thick, rich and intense, yet perfectly in balance with ample sweetness and acidity. Drink it now or age, this is a stellar juice!

2,801 Views

Tasted

Jul 9, 2013

1989
Château Suduiraut (Sauternes)

Honey coated, orange, apricot, peach and vanilla nose. Medium/full bodied, short, honey and citrus finish.

5,932 Views

Tasted

Nov 27, 2011

1988
Château Suduiraut (Sauternes)

Fading, but with just enough gas in the tank to capture the remaining candied orange rind, marmalade, caramel, molasses, burnt sugar, and spice notes. More on the crisp, bright side, than the honeyed apricot side, this requires drinking in the near future before losing more of its honeyed fruit. Drink from 2022-2025.

2,499 Views

Tasted

Oct 9, 2022

1982
Château Suduiraut Cuvée Madame (Sauternes)

Quite orange in nature, with more burnt caramel, butterscotch and creme brulee, than sweet, honeyed tropical fruit, this tasted and felt like its best days were perhaps at least 10 years ago.

2,718 Views

Tasted

Aug 17, 2017

1979
Château Suduiraut (Sauternes)

On the orange and marmalade side of the fruit range with mango, tangerine, spice, orange blossom honey, and lemon curd notes. A bit more freshness than sweetness, this is fully developed and should be enjoyed sooner than later.

2,596 Views

Tasted

Apr 10, 2022

1976
Château Suduiraut (Sauternes)

Nice wine here. Orange, copper in hue, the wine was on the sweet, ripe orange, yellow peach, apricot, caramel and butterscotch side of the style range. You find a bit more lift than sweetness, with heft and complexity, the finish is a bit short, but not too short to be fun to drink. This is fully mature and requires drinking before more of the sweetness fades away.

3,375 Views

Tasted

Aug 15, 2017

Starting to get tired. Running out of steam and fruit, the wine felt thinner than in previous tastings. The acidity was out in front, instead of the fruit. Drink up if you have any.

3,001 Views

Tasted

Dec 21, 2013

With its copper, golden hue was fully mature. Scents of caramel with honeyed, ripe apricots and oranges were accompanied by a beautiful sweetness in the mouth. The only minor drawback was the short finish

2,723 Views

Tasted

Feb 23, 2006

1970
Château Suduiraut (Sauternes)

Orange, apricot, honey, nut and creme brulee scents made the perfume. Medium bodied, this fully mature Sauternes was better in the nose than on the palate which was short and foursquare.

3,873 Views

Tasted

Feb 2, 2011

1967
Château Suduiraut (Sauternes)

From a 375, the color was deep gold with a bit of copper. Light in fruit and sweetness, most of the experience was focused on the secondary elements of caramel, butterscotch, orange rind, molasses and burnt sugar. Very bright and almost too fresh, as well as light in weight, this wine has slipped past its prime and requires drinking much sooner than later.

3,810 Views

Tasted

Feb 10, 2020

1959
Château Suduiraut (Sauternes)

Copper hued, the wine offers its honeyed pineapple, apricot, caramel, creme brulee, molasses and marzipan charms as soon as the wine hits your glass. Sweet and racy, with a beautiful apricot, caramel and butterscotch palate presence, the wine miraculously holds on to its sweetness and vibrant lift. For a wine of this quality, I think it still sells for a song at auction markets.

4,361 Views

Tasted

Dec 6, 2019

Copper, orange and honey in color, the wine is all about the sweet ripe, apricot, tangerine, vanilla custard, flowers, roasted nuts and pineapple, all coated with honey. There is a spicy, fresh quality to the fruit. The wine is sweet, but some of the original sweetness in the honeyed fruit has been replaced the complexities of marmalade, butterscotch and caramel.

2,867 Views

Tasted

Jan 28, 2018

Another sublime tasting of this gem. Honeyed, spicy apricots, orange marmalade, tangerine and pineapple all made even better with the butterscotch and creme brulee notes. Silky, sweet, fresh and vibrant, this is a great, fully mature Sauternes.

4,308 Views

Tasted

Feb 3, 2015

Stunning in every way! Fresh, vibrant, honeyed aromatics and silky sweet fruits are made even better by the long, honey coating, spicy, ripe and over ripe tropical fruit and orange honeyed finish that kept going and going. This bottle was in perfect shape and it showed.

4,304 Views

Tasted

May 27, 2014

1959 Suduiraut was a revelation. I was shocked when I learned the age of this wine. I pegged it as a 76! The wine offered orange, honey, grilled nut, caramel, coffee and crème brulee notes that were a pleasure to sniff, swirl and sip. There was ample acidity to give it lift. This Bordeaux wine ended with intertwined orange and vanilla flavors with honey that reminded me of an orangesicle. 94 Pts

4,092 Views

Tasted

Oct 18, 2010

1957
Château Suduiraut (Sauternes)

At 60 years of age, the wine is not quite at its apogee any longer. Hoping you see the humor here. But other than its golden, amber hue, and the fabulous gesture of sharing a bottle, this is not a wine to seek out for birthday's or anniversaries unless you're a masochist.

1,709 Views

Tasted

Apr 22, 2017

1949
Château Suduiraut (Sauternes)

Damn, I love old Sauternes! When they retain their fruit, honey and freshness, there is nothing like it. This wine had it all in spades. Copper and bronze in color, the honey, caramel, molasses, candied orange peel, pineapple and apricot nose already sealed the deal. But the sweet, honeyed, tropical fruit and marmalade finish made it even better. Blind, I would have guessed this was decades younger.

3,356 Views

Tasted

Jan 7, 2015

1928
Château Suduiraut (Sauternes)

Just a super wine and a perfect end to a sublime tasting, the wine is loaded with cinnamon, brown sugar, apple pie, white peach, flowers, orange, pineapple upside down cake, orange rind and apricots. Full bodied, bright and showing more acidity than sweetness, the wine is long, complex, concentrated, sweet and savory.

2,709 Views

Tasted

Jun 4, 2018