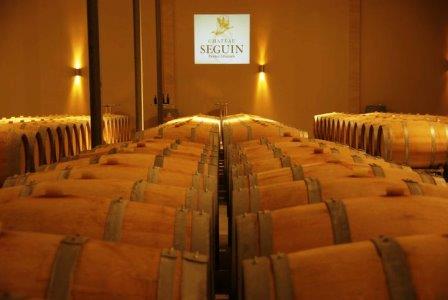 Learn everything about Chateau Seguin Pessac Leognan with wine tasting notes and wine with food pairing tips. Learn the best vintages, the history of the property, and information on the vineyards and winemaking. If you want to read about other important, Bordeaux Chateaux: Links to all Bordeaux Wine Producer Profiles
Chateau Seguin History, Overview
The modern age for Chateau Seguin begins in 1987 when it was bought by Denis Darriet. While wine was being produced at Chateau Seguin for most of the first half of the 20th century, by 1950, the property had fallen into extremely poor condition.
At the time of the purchase in 1987, the vineyard, vat rooms, and cellars, as well as the chateau were in terrible shape. A vast replanting program began the following year in 1988. Running short of ample funding, in 1999, the owners took on a partner, Fonciere Loticis, who was able to help them bring Chateau Seguin back into shape.
Fonciere Loticis was known for their investments in real estate, but at the time, they were not quite yet familiar with the Bordeaux wine trade and what it took to manage a vineyard. The new owners invested additional funds for replanting, renovations, and modernizations of the chateau and wine-making facilities.
The new owners also brought in the noted consultant Dr. Alain Raynaud to help with the winemaking and with their vineyard management.
Chateau Seguin Vineyards, Terroir, Grapes, Winemaking
The 31-hectare vineyard of Chateau Seguin is planted to an even split of 50% Cabernet Sauvignon and 50% Merlot. The terroir is gravel, clay, and sandy soils. The vineyard is one of the few in the region that is in one large parcel. The vines are in the far west of the appellation.
You can divide the vineyard of Chateau Seguin into two separate sections due to the changes in the terroir. The better parcel is placed close to the chateau and has more gravel in the soils. Vinification takes place in temperature-controlled, stainless steel tanks. The wine is aged in 50% new, French oak barrels for an average of 12 months before bottling.
The estate also produces a high-end wine, Confidence du Chateau Seguin. Confidence du Chateau Seguin is a parcel selection that embodies their oldest vines. The production is quite small at close to 100 cases, give or take.
There is a second wine, L'Angelot de Seguin. On average, close to 12,500 cases of wine are produced each vintage at Chateau Seguin.
The Best Vintages of Chateau Seguin are: 2022, 2021, 2020, 2019, 2018, 2017, 2016, 2015, 2012, 2010, 2009, 2008, 2006 and 2005.
Chateau Seguin is a great example of a value Bordeaux wine from Pessac Leognan that bargain hunters should take a good look at.
When to Drink Chateau Seguin, Anticipated Maturity, Decanting Time
Chateau Seguin can be enjoyed on the young side with decanting. Young vintages can be decanted for an average of 1 hour or so. This allows the wine to soften and open its perfume. Older vintages might need very little decanting, just enough to remove the sediment.
Chateau Seguin is usually better with at least 4-6 years of bottle age. Of course, that can vary slightly, depending on the vintage character. Chateau Seguin offers its best drinking and should reach peak maturity between 6-16 years of age after the vintage.
Serving Chateau Seguin, with Wine, Food, Pairing Tips
Chateau Seguin is best served at 15.5 degrees Celsius, 60 degrees Fahrenheit. The cool, almost cellar temperature gives the wine more freshness and lift.
The red wine of Chateau Seguin is best served with all types of classic meat dishes, veal, pork, beef, lamb, duck, game, roast chicken, roasted, braised, and grilled dishes. Chateau Seguin is a perfect match with Asian dishes, hearty fish courses like tuna, mushrooms, and pasta as well as cheese.
Château Seguin Wine Tasting Notes
14 Vintages 49,978 Views Sort by Vintage-Rating
2022
Château Seguin (Pessac-Léognan)

Medium-bodied, elegant, fresh, fruity and creamy on the palate, the wine is loaded with sweet, dark currants, blackberries, smoke and coffee beans on the nose and palate. This finish is soft, vibrant, and fresh, with more of those sweet, ripe currants in the finish. Drink from 2025-2042. 91-93 Pts.

1,673 Views

Tasted

May 8, 2023

2021
Château Seguin (Pessac-Léognan)

Medium-bodied, earthy, and spicy, with a touch of hickory smoke along with its dark currants, coffee bean, mocha and chewy red fruits on the palate. Drink from 2024-2036. 89-90

1,588 Views

Tasted

May 20, 2022

2020
Château Seguin (Pessac-Léognan)

Smoke, herbs, tobacco leaves, spice, red currants and a hint of cocoa create the bouquet. On the palate, the wine is vibrant, lifted, spicy, smoky and fresh, with a round edge to the savory fruits and their dusty, chocolate finish. Drink from 2025-2042.

1,337 Views

Tasted

Mar 21, 2023

Smoke, cocoa, currants and a touch of chocolate mint on the nose opens this soft, easy drinking, fresh, earthy wine. The palate is quite savory with a touch of herbs in the finish. Give this a few years of bottle age before pulling a cork. 89-91 Pts

2,497 Views

Tasted

May 20, 2021

2018
Château Seguin (Pessac-Léognan)

The blend of smoke, tobacco and ripe, red fruits with a kiss of oak is perfect for this medium-bodied, soft, fresh styled, elegant Pessac Leognan. Give this 3-4 years in the cellar and it should be quite nice to drink for 15 or more years. 90-92 Pts

3,572 Views

Tasted

Apr 19, 2019

2016
Château Seguin (Pessac-Léognan)

Earthy, ripe, round, medium-bodied, soft, open and ready to show its cigar box, fresh dark red fruit, smoke and tobacco character with just a few years of age. This is a solid Bordeaux value wine.

5,337 Views

Tasted

Sep 23, 2019

Medium-bodied with smoke, tobacco and cassis, the wine has soft textures, a forward style, and a spicy, tobacco and dark, red berry finish. This represents good value from Pessac Leognan. The wine was made from a blend of 55% Merlot and 45% Cabernet Sauvignon.

5,570 Views

Tasted

Apr 29, 2017

2015
Château Seguin (Pessac-Léognan)

Medium-bodied with a tobacco, smoke, licorice and plum profile, this is a forward, fresh and finesse styled wine with nice, sweet, spicy, red fruits, cocoa and tobacco in the endnote. 88 - 90 Pts

3,646 Views

Tasted

Apr 23, 2016

2014
Château Seguin (Pessac-Léognan)

With a nose of oak, herbs, smoke and dark red plums, the medium bodied, forward, fresh wine serves up a light, but pleasant cherry finish. 86-88 Pts

4,480 Views

Tasted

Apr 24, 2015

2012
Château Seguin (Pessac-Léognan)

This is a great example of a value Bordeaux wine. The wine has an elegant, medium bodied, smoky, fresh, red berry character, with a complicating caramel accent. Drink this before it hits 10 years of age.

1,591 Views

Tasted

May 7, 2015

2011
Château Seguin (Pessac-Léognan)

Medium bodied and at full maturity, the wine is soft in texture, slightly more robust than elegant in nature. The red fruits have a tobacco leaf, espresso and thyme characteristic that is quite nice. This easy going wine is perfect for near term, uncomplicated consumption.

1,952 Views

Tasted

Dec 11, 2017

2010
Château Seguin (Pessac-Léognan)

A nice discovery of a value priced Pessac Leognan, with a true, tobacco, smoke, dark cherry, licorice and cocoa, soft, round textured, medium bodied, charm that will drink well young, and age for a few years. The wine was made from a blend of 55% Cabernet Sauvignon and 45% Merlot.

4,999 Views

Tasted

Jan 2, 2015

2009
Château Seguin (Pessac-Léognan)

From a blend of 53% Cabernet Sauvignon and 47% Merlot, the wine opens with scents of earth, black cherry and tobacco. Medium bodied and charming, the wine ends with fresh, dark cherries and earthy flavors. This will deliver its charms at a young age.

3,284 Views

Tasted

Feb 21, 2012

2008
Château Seguin (Pessac-Léognan)

Not overly complex, this is an easy drinking, earth and tobacco oriented wine, with a medium bodied, red berry and cigar box finish for current consumption.

3,343 Views

Tasted

Aug 26, 2017

2006
Château Seguin (Pessac-Léognan)

Fully mature, medium-bodied and showing its secondary qualities, with its tobacco, smoke, tobacco and earthy red fruit character. There is no reason not to pop a cork on this wine as it's not going to improve from here.

1,361 Views

Tasted

Jun 23, 2017

Fully mature, medium-bodied and showing its secondary qualities, with its tobacco, smoke, tobacco and earthy red fruit character. There is no reason not to pop a cork on this wine as it's not going to improve from here.

2,039 Views

Tasted

Apr 1, 2017

2005
Château Seguin (Pessac-Léognan)

Ready drink, soft, smooth, refined textures, a smoky, cherry pipe tobacco, truffle and earthy nose and fresh, plum and cherry finish. And it sells for a fair price too.

1,709 Views

Tasted

Oct 22, 2016