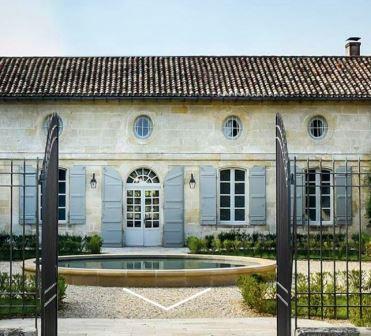 Learn everything about Chateau Beauregard Pomerol with wine tasting notes and wine with food pairing tips. Learn about the best vintages, wine ratings, the history of the property, the vineyards, and winemaking. If you want to read about other important, Bordeaux Chateaux: Links to all Bordeaux Wine Producer Profiles
Chateau Beauregard History, Overview
Chateau Beauregard takes its name from the founder of the estate, Bernard Beauregard. The property was created in 1677, making it one of the older estates in the Pomerol appellation.
However, it was likely that most of the estate was not used for producing any wine in those early days. In fact, almost one hundred years later, less than one hectare of vines was planted for the purpose of making wine.
The original chateau, which is one of the few true chateaux in the Pomerol appellation, was seriously damaged in a fire and needed to be rebuilt. That took place in 1745. At the time it was rebuilt, the new chateau was just as grand as many estates in the Left Bank, in size and beauty.
The architect in charge, Victor Leon, was well-known in Bordeaux as he was the designer of the beautiful Grand Theater in Bordeaux. The estate is replete with parkland-type landscaping and in the backyard.
Behind the chateau, it resembles a moat and drawbridge. Chateau Beauregard is clearly one of the most picturesque estates in the Pomerol appellation. It was not only the Bordelaise that was enthralled by the design of Chateau Beauregard, the wealthy, American socialite, Florence Guggenheim constructed a replica of it at her estate in Long Island, New York.
By 1854, Chateau Beauregard was a thriving vineyard with close to 14 hectares under vine. In 1935, Chateau Beauregard sold 5 hectares of vines to Antoine Moueix.
In 1991, Chateau Beauregard passed from family ownership when it was sold to Credit Foncier Bank. In July 2014, Chateau Beauregard was sold to a partnership between the Moulin Family, the owners of the large French chain of Galerie Lafayette stores, and the Cathiard Family, the owners of Chateau Smith Haut Lafitte in Pessac Leognan.
In 2020, the owners of Chateau Beauregard announced their purchase of the neighboring vineyard, Chateau Petit Village from the AXA Insurance group.
Chateau Beauregard Vineyards, Terroir, Grapes, Winemaking
The 17.5-hectare, Right Bank vineyard of Chateau Beauregard is planted to 66% Merlot, 30% Cabernet Franc and 4% Cabernet Sauvignon. This represents a minor change in the vineyard. Previously, 8% of the vineyard was planted to Cabernet Sauvignon. There was also a portion of Malbec vines planted that has been removed as well. It is the long-term goal of Chateau Beauregard to plant up to 40% Cabernet Franc.
Located not far from Clos du Clocher and Chateau Petit Village, just east of Catusseau, the terroir is a mix of sand, gravel, and clay soils. Their best terroir is located in the parcels to the north, where you find more gravel and clay, with less sand. This is where you find much of their Merlot. The further south you go in the vineyards, you encounter more sand.
You can divide the vineyards into 2 main parts. From there, the vineyard is planted in 34 separate parcels. They have 9 hectares of vines devoted to the first wine, as those vines are on their plateau. The remaining 8 hectares are on flatter soil and are used for the second wine.
The vineyard is planted to a very high density of vines for Pomerol, with 9,250 vines per hectare. On average, the vines are close to 35 years of age. All the work in the vineyards is done using only 100%, organic farming techniques.
To produce the wine of Chateau Beauregard, vinification takes place in 20, temperature-controlled, violin-shaped, cement vats that vary in size. These cement vats replaced their previous line of stainless steel tanks.
This number of different sized vats allows for a parcel by parcel vinification. Interestingly, some parcels with both grape varieties are co-fermented, while other parcels are blended at a later date.
Malolactic fermentation takes place in French oak barrels. The wine is aged in an average of 65% new, French oak barrels for between 18 to 24 months. There is a second wine, Le Benjamin de Beauregard. The production of Chateau Beauregard is close to 5,000 cases of wine per year.
There is another wine produced by the estate which comes from 12 hectares of vines planted in the Lalande de Pomerol appellation, Pavillon Beauregard.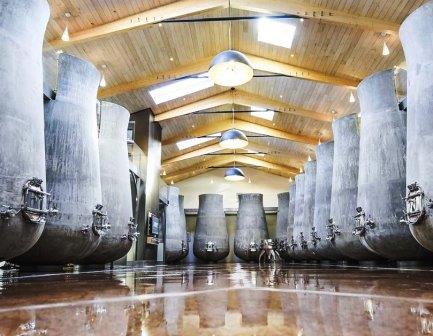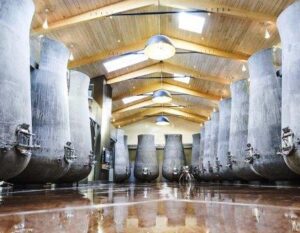 The best vintages of Chateau Beauregard are: 2022, 2021, 2020, 2019, 2018, 2017, 2016, 2015, 2014, 2012, 2010, 2009, 2006, 2005, 2001 and 2000. It should be noted that starting with the 2016 vintage, the wines at Chateau Beauregard have really improved. In fact, 2018 is the best vintage I have tasted yet!
When to Drink Chateau Beauregard, Anticipated Maturity, Decanting Time
Chateau Beauregard can be enjoyed on the young side with an hour or two of decanting. This allows the wine to soften and open its perfume. Older vintages might need very little decanting, just enough to remove the sediment.
However, I find the wine is usually better with 4-6 years of bottle age. Of course, that can vary slightly, depending on the vintage character. In the best years, the wine will best between 7 to 15 years of age after the vintage.
Serving Chateau Beauregard with Wine, Food, Pairing Tips
Chateau Beauregard is best served at 15.5 degrees Celsius, 60 degrees Fahrenheit. The cool, almost cellar temperature gives the wine more freshness and lift. Chateau Beauregard is best served with all types of classic meat dishes, veal, pork, beef, lamb, duck, game, roast chicken, roasted, braised, and grilled dishes.
Chateau Beauregard is also good with Asian dishes, hearty fish courses like tuna, mushrooms, pasta, and a diverse array of hard and soft cheeses..
Chateau Beauregard is a lighter, traditional style of Pomerol that focuses on red fruits and is best enjoyed in its youth. However, this could change under the direction of the new ownership.
Château Beauregard Wine Tasting Notes
19 Vintages 70,082 Views Sort by Vintage-Rating
2022
Château Beauregard (Pomerol)

Black cherries, flowers, citrus, and cocoa create the nose. On the palate, the wine is silky, elegant, fresh, and lusciously-textured. The finish, with its layers of chocolate-infused plums, and black cherries, with just a hint of spice, and espresso at the end really hit the spot. Beauregard is clearly on a roll, and this is their best vintage yet! Drink from 2025-2042. 93-95 Pts.

466 Views

Tasted

May 8, 2023

2021
Château Beauregard (Pomerol)

Licorice, flowers, spice and plums already show in the nose. The wine is medium-bodied, soft, forward, fresh and already charming, with its core of chocolate covered black raspberries and spice. The wine blends 75% Merlot with 25% Cabernet Franc, 13% ABV. Drink from 2023-2039. 90-92

999 Views

Tasted

May 20, 2022

2020
Château Beauregard (Pomerol)

The opening notes of violets, coupled with all those sweet, ripe, cherries, spice, plums, and licorice gets you excited to know more., and you do once the wine crosses your palate with all of its layers of fresh, silky, elegant red fruits that express a beautiful sense of purity, chocolate, and spice on the palate. Beauregard has really been upping their game over the last couple of years. Drink from 2024-2047.

400 Views

Tasted

Mar 21, 2023

Deep garnet in color, the wine quickly shows off its floral aromatics along with spice, licorice and black plums. Soft and silky, polished, fresh and elegant, the chocolate centric finish with all its ripe, dark red pit fruits tastes as good as it feels. Beauregard has really been upping their game the last couple of years. 92-94 Pts

1,137 Views

Tasted

May 20, 2021

2019
Château Beauregard (Pomerol)

Elegant, silky, fresh and pure, with layers of lusciously-textured, soft, vibrant cherries. The wine is earthy, refined and forward, with hints of flowers, truffle, dark chocolate and plums that come through nicely on the slightly, chalky, refined, lifted finish. This could be my favorite vintage of Beauregard ever produced. Drink from 2024-2040.

1,031 Views

Tasted

Mar 29, 2022

Kicking off with licorice, plums, espresso and spice box. The wine is soft, medium-bodied, forward and plummy. Give it a few years for the fruit to better integrate. The wine is blend of 70% Merlot with 30% Cabernet Franc. 89-91 Pts

2,767 Views

Tasted

Jun 8, 2020

2018
Château Beauregard (Pomerol)

Showing much better in bottle than in barrel, the plummy wine serves up additional nuances of truffle, flower, black cherry and smoke on the nose. Lush and richly textured on the palate, the wine exudes layers of earthy, silky, sweet, fresh plum and cherry tones along with leaf, licorice and coffee bean in the finish. The wine blends 75% Merlot with 25% Cabernet Franc.

1,331 Views

Tasted

Mar 9, 2021

Deep, dark fruit with licorice, coffee bean and a touch of fig along with black plums on the nose and palate produce the juice -- a wine that is round, plump and fruity. You will be able to drink this on the young side. 89-91 Pts

1,595 Views

Tasted

Apr 19, 2019

2017
Château Beauregard (Pomerol)

With plums and chocolate on the nose, this medium-bodied wine is headfirst, lithe, smooth and fresh. Medium-bodied and open, the focus is on its sweet red fruits, soft tannins and forward nature.

2,076 Views

Tasted

Apr 26, 2018

2016
Château Beauregard (Pomerol)

Floral in character, you can just start to see the truffle, tobacco, plum and cocoa. Soft, silky and fresh, there is plenty of fresh, sweet cherries in the finish to keep you busy. Give it a few years to soften and develop.

2,957 Views

Tasted

Sep 21, 2019

Floral in character, elements of tobacco leaf and plum with a hint of cocoa add to the fun. Soft, silky and fresh, there is plenty of fresh, sweet cherries in the finish to keep you busy.

3,317 Views

Tasted

Feb 9, 2019

With a nose that offers a field of spring flowers, gently ripened plums and wet earth, the wine is fresh with round tannins, medium/full body and a black cherry core of fruits on the palate and in the finish.

1,770 Views

Tasted

Apr 29, 2017

2015
Château Beauregard (Pomerol)

Medium-bodied, with a nose that offers earthy plums right off the bat. On the palate wine is soft, fresh and serves up its plummy fruits with ease.

2,943 Views

Tasted

May 21, 2018

Medium-bodied, with sweet, plums and wet earth at its core, the wine is soft, forward and offers a cherry and herb filled finish on the back end.

2,143 Views

Tasted

Mar 12, 2018

Blending 75% Merlot and 25% Cabernet Franc, this wine releases the sweet perfume of plum and cocoa on the nose. Medium-bodied, seducing you with a fresh, plum character and soft tannins, but the herbal streak in the finish stands out. Clearly, the wine has improved under the new owners direction and I expect it to continue getting better over the next several vintages. But it has further to go. 88-90 Pts

2,234 Views

Tasted

Apr 27, 2016

2014
Château Beauregard (Pomerol)

Medium bodied, easy drinking, fresh, bright, red berry oriented wine, which is more interesting on the earthy, floral, red plum nose than on the palate The wine provides an open, light, crisp, piquant, cherry and herb finish.

2,672 Views

Tasted

Feb 4, 2017

Medium-bodied with fresh black raspberries and a hint of oak, this wine finishes with an open cherry softness. This is the first vintage produced by Fabienne Teitgen from Smith Haut Lafitte. It will be interesting to see what Teitgen can produce in a more cooperative year. 87-89 Pts

1,383 Views

Tasted

Apr 24, 2015

2013
Château Beauregard (Pomerol)

Light, crisp red fruits with a bit of earth and herbs in an early drinking style.

2,243 Views

Tasted

Feb 9, 2016

With bright, spicy, sweet and tart notes, this wine is light and filled with red cherry character—perfect for drinking within its first few years. 83-85 Pts

1,036 Views

Tasted

Apr 25, 2014

2012
Château Beauregard (Pomerol)

Easy drinking, uncomplicated Pomerol with a focus on red and black plum, earth and cocoa notes, that finishes with fresh, red cherries.

4,825 Views

Tasted

Mar 11, 2015

2011
Château Beauregard (Pomerol)

No faults, no chills, but no thrills are found in this bright, cherry dominated, simple and soft wine. Drink this on the young side as it will not improve with age.

1,974 Views

Tasted

Feb 16, 2014

2010
Château Beauregard (Pomerol)

Surprisingly good, with soft, round textures and plenty of fresh, ripe plums, black cherry, dark chocolate and espresso. Drink this medium bodied, plush wine now, or age it a few years for more complexity. For Pomerol, where everything is expensive, this offers good value.

4,590 Views

Tasted

Mar 19, 2014

2009
Château Beauregard (Pomerol)

Easy to drink, forward, medium bodied and built to consumed in its first decade of life, (give or take,) the wine offers licorice, earth, black raspberry and coffee bean characteristics. This was produced from a blend of 80% Merlot and 20% Cabernet Franc.

3,871 Views

Tasted

Feb 10, 2014

2008
Château Beauregard (Pomerol)

Plummy, fresh and spicy, the wine is medium bodied, with softening tannins, vibrancy and, juicy, red plums with hints of wet earth and cocoa in the finish.

4,185 Views

Tasted

Dec 10, 2017

2006
Château Beauregard (Pomerol)

On the bright, red plum side, with firm, sandy tannins and earthy nuances, the medium-bodied finish shows dried cherry notes.

2,137 Views

Tasted

Feb 10, 2019

2005
Château Beauregard (Pomerol)

Medium bodied, with a spicy, red berry and earthy profile, that is a bit on the firm, austere side of the style range for Pomerol.

4,950 Views

Tasted

Mar 14, 2014

2001
Château Beauregard (Pomerol)

Pleasant, easy drinking, fully mature, earthy, plummy Pomerol with round textures and soft, red fruit in the medium-bodied finish. This is not a wine to hold for further development.

3,777 Views

Tasted

Dec 10, 2018

2000
Château Beauregard (Pomerol)

Fully mature, with a ruby hue, the wine offers plums, wet earth and thyme on the nose. The tannins are a bit firm, with some rustic textures that take away from the otherwise, charming, spiced plum finish.

5,273 Views

Tasted

Nov 28, 2016