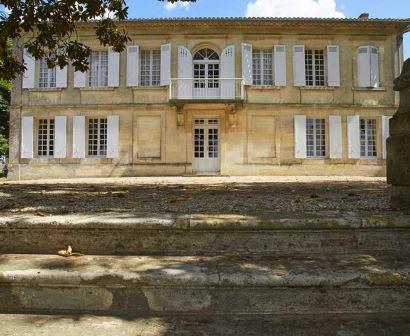 Learn everything about Chateau Daugay St. Emilion with wine tasting notes and wine with food pairing tips. Learn the best vintages, a history of the property, information on the vineyards, and winemaking. If you want to read about other important, Bordeaux Chateaux: Links to all Bordeaux Wine Producer Profiles
Chateau Daugay History, Overview
While this area of Saint Emilion was under vine in the 1700s, the estate of Chateau Daugay was created in 1807. The chateau was constructed not long after that in 1816.
However, the modern era for Chateau Daugay begins in 1920 when the vineyard was passed by inheritance to Henriette de Bouard family. If the de Bouard name seems familiar, it should.
They are also the owner of Chateau Angelus and Chateau La Fleur de Bouard in Lalande de Pomerol. In fact, the property is quite close to Chateau Angelus, as it's only 800 meters away.
Interestingly, for a period of time following World War 2, no wine was produced at Chateau Daugay. Instead, the grapes were placed into the wine of Chateau Angelus.
This practice lasted from 1946 until 1984. By 1985, the two vineyards were again separated. To enable the production of Chateau Daugay, the winemaking facilities cellars, and vat rooms were completely renovated in 1985 as well. Once the new cellars were ready to go, Chateau Daugay once again began producing wine. Chateau Daugay was again renovated in 2008.
Today, Chateau Daugay is owned and managed by Jean-Bernard Grenie. The winemaking and vineyard management is consulted by Hubert de Bouard.
Chateau Daugay Vineyards, Terroir, Grapes, Winemaking
The 5.5-hectare, Right Bank vineyard of Chateau Daugay is planted to 50% Merlot, 40% Cabernet Franc and 10% Cabernet Sauvignon. The vineyard has a terroir that is a mix of clay and limestone soils, similar to what you find at its neighbors, Chateau Quintus, Chateau Fonplegade, and of course, Chateau Angelus.
The vines are on average, 35 years of age, but the vineyard has older vines too, that date back to the 1950s. The vineyard is planted to a vine density of 6,600 vines per hectare. The estate uses only organic farming techniques.
To produce the wine of Chateau Daugay, vinification takes place in temperature-controlled, stainless steel vats. The wine is aged in 35% new, French oak barrels for 18 to 20 months before bottling. Although some of the wine could be aged in tanks.
The best vintages of Chateau Daugay are: 2022, 2021, 2020, 2019, 2018, 2017, 2016, 2015, 2010, 2009 and 2005.
There is a second wine. On average the production is 2,500 cases of wine per year.
When to Drink Chateau Daugay, Anticipated Maturity, Decanting Time
Chateau Daugay is better with at least 3-5 years of bottle age. Of course, that can vary slightly, depending on the vintage. Chateau Daugay is best enjoyed in the first 4-12 years of life.
Young vintages can be decanted for up to 1 hour or so. This allows the wine to soften and open its perfume. Older vintages might need very little decanting, just enough to remove the sediment.
Serving Chateau Daugay with Wine, and Food Pairing Tips
Chateau Daugay is best served at 15.5 degrees Celsius, 60 degrees Fahrenheit. The cool, almost cellar temperature gives the wine more freshness and lift.
Chateau Daugay is best served with all types of classic meat dishes, veal, pork, beef, lamb, duck, game, roast chicken, roasted, braised, and grilled dishes. Chateau Daugay is a perfect match with Asian dishes, hearty fish courses like tuna, mushrooms, and pasta as well as cheese.
Château Daugay Wine Tasting Notes
11 Vintages 28,777 Views Sort by Vintage-Rating
2021
Château Daugay (St. Émilion Grand Cru)

Medium bodied, fresh, bright, savory, leafy, red berry filled, forward, early-drinking wine with a touch of spice in its leafy-tinted, red fruit oriented finish. Drink from 2023-2032. 86-88

1,085 Views

Tasted

May 20, 2022

2020
Château Daugay (St. Émilion Grand Cru)

Medium-bodied, fresh and fruity with a floral, licorice and deep, red fruit core. On the palate the wine is ripe, flamboyant and silky, with a sweet, red berry, licorice and spicy finish. The endnote carries a lot of oak at the moment, so give it a few years to better integrate. 90-92 Pts

1,154 Views

Tasted

May 20, 2021

2018
Château Daugay (St. Émilion Grand Cru)

Licorice, spice and ripe dark fruits are all over the place here. The wine is sweet, juicy and fresh with a nice touch of crushed rocks, oyster shell and ripe red fruits from start to finish.

778 Views

Tasted

Mar 9, 2021

Medium-bodied, elegant, soft and forward, the ripe, sweet red fruits are already showing their gentle character. This is a wine to enjoy young for its plum, thyme and cherry charm. 89-91 Pts

1,389 Views

Tasted

Apr 19, 2019

2017
Château Daugay (St. Émilion Grand Cru)

A soft, silky, fresh, easy drinking, medium-bodied charmer with a core of red fruits and a precise touch of minerality. Give it a year or two and it will be even better.

1,368 Views

Tasted

Apr 26, 2018

2016
Château Daugay (St. Émilion Grand Cru)

Medium bodied, soft and polished, there is a sweetness to the fruit here that couples perfectly with the elegant styling. You can drink this on the young side.

2,089 Views

Tasted

Apr 29, 2017

2015
Château Daugay (St. Émilion Grand Cru)

This wine begins with fresh, vibrant, sweet, dark red fruits dusted with cocoa and fennel and finishing with crisp, ripe, red and black plums.

3,202 Views

Tasted

Apr 29, 2016

2014
Château Daugay (St. Émilion Grand Cru)

Medium bodied, forward, open, easy to like and easy to drink, with its soft, open, spicy, plum and olive character.

2,120 Views

Tasted

Jul 2, 2017

This fresh, sweet, spicy, dark cherry and cocoa-filled wine should offer pleasure on release. 87-89 Pts

2,250 Views

Tasted

Apr 27, 2015

2013
Château Daugay (St. Émilion Grand Cru)

From a blend of 65% Merlot, 26% Cabernet Franc and 9% Cabernet Sauvignon, the wine is light, fresh, soft, open and focused on its bright red fruit character. 83-85 Pts

1,727 Views

Tasted

Apr 28, 2014

2012
Château Daugay (St. Émilion Grand Cru)

Light cherry tones, medium body and a soft, ready-to-drink red berry finish. 86-88 Pts

3,785 Views

Tasted

Apr 26, 2013

2010
Château Daugay (St. Émilion Grand Cru)

Daugay 68% Merlot, 24% Cabernet Franc and 8% Cabernet Sauvignon make a licorice infused, jammy red and black fruit filled wine that will make for easy drinking 86-88 Pts

3,131 Views

Tasted

Apr 22, 2011

2009
Château Daugay (St. Émilion Grand Cru)

From a blend of 50% Merlot and 50% Cabernet Franc, the wine offers floral, black raspberry, oak, fennel and earthy scents. Medium bodied, soft, round and open, this is a wine to drink young, for its easy to like charms. Daugay offers good value for St. Emilion.

4,699 Views

Tasted

Mar 16, 2014