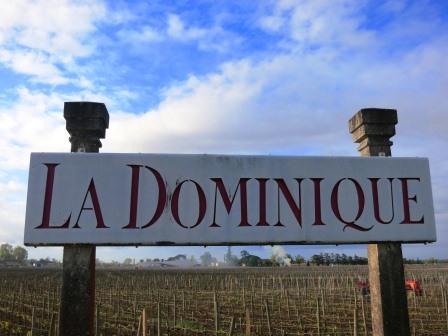 Learn everything about Chateau La Dominique St. Emilion with wine tasting notes and wine with food pairing tips. Learn the best vintages, a history of the property, and information on their vineyards and winemaking. If you want to read about other important, Bordeaux Chateaux: Links to all Bordeaux Wine Producer Profiles
Chateau La Dominique History, Overview
Chateau La Dominique has a long history in the region that dates back to the 1700s. The estate takes its name from an island in the Caribbean that was where the original owner of the property earned his fortune, Dominique.
Owned by the Fayat family since 1969, when they purchased the estate from the de Bailliencourt family, who had owned the vineyard since 1933. The de Bailliencourt family still owns Chateau Gazin in Pomerol. Chateau La Dominique has experienced numerous changes over the previous two decades since it was obtained by Clement Fayat.
Clement Fayat is an interesting character who started out as a bricklayer before founding one of the largest construction companies in the world.
It took a few years until Clement Fayat began to invest in the vineyards and winemaking at the property. Initially, new drainage systems were placed in the vineyards, and a new wine cellar was built. The estate also purchased additional land, increasing the size of the vineyards.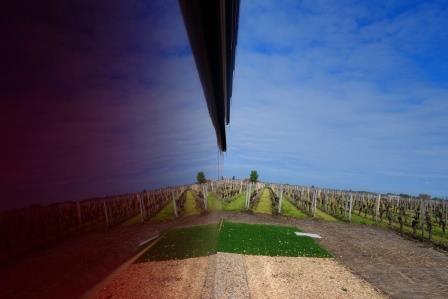 Things appear to be getting better and better at La Dominique, especially since Jean-Luc Thunevin came aboard in 2007 to consult. Clement Fayat, the owner of La Dominique also counts among his holdings, Chateau Fayat in Pomerol and Clement Pichon in the Haut Medoc appellation.
The Fayat family also recently purchased Vieux Fortin in St. Emilion. The 5-hectare vineyard was incorporated into La Dominique.
Chateau La Dominique Vineyards, Terroir, Grapes, Winemaking
The 29-hectare vineyard of Chateau La Dominique is planted to 81% Merlot, 13% Cabernet Franc and 6% Cabernet Sauvignon. It is the goal of the estate to increase the portion of Cabernet Franc in the vineyards until they reach 20% of their total plantings.
In 2019, they planted a small .5 hectare parcel of Malbec. In all, the vineyard consists of 23 planted hectares that are classified as Grand Cru Classe. The terroir is deep gravel over clay with some sand in the soil. The vineyard is planted on gentle, sloping hillsides, which rise to 44 meters at their peak.
This is similar in some parts as to what you find at their neighbor, Chateau Cheval Blanc, which in part, accounts for the refined style of wine at both properties. In fact, as you might expect, the best parcels in the La Dominique vineyard are located next to Cheval Blanc.
However, there are also patches of deep clay soil at La Dominique. The vine density ranges between 7,000 and 9,000 vines per hectare. The higher levels of density are found in the new plantings. As I mentioned, La Dominique has good neighbors.
Chateau La Dominique is situated not far from Chateau Cheval Blanc and Chateau Figeac in Saint Emilion. As you head north to Pomerol they are also bordering Chateau Conseillante and LEvangile in Pomerol.
As you can see from just looking at their neighbors, it is easy to note that Chateau La Dominique is located close to the border of Pomerol and Saint Emilion, which explains in part, the natural elegance and freshness in their wine.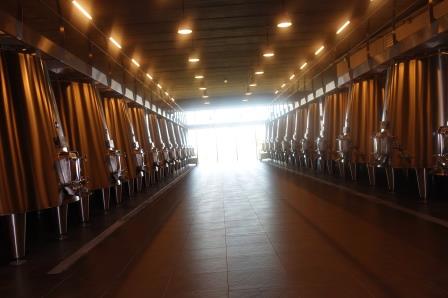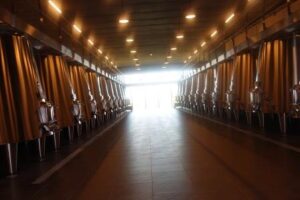 The oldest part of the vineyard was planted in 1967. Starting in 2006, the estate began a massal selection program for the planting of their Cabernet Franc.
The estate is experimenting with biodynamic farming. 5 hectares of the vineyard are now farmed using biodynamic farming techniques.
The number of hectares biodynamically farmed is expected to increase in time. It is the goal of the estate to increase the percentage of Cabernet Franc in the vineyards over time.
In 2013, Chateau La Dominique finished their two-year, complete renovation of the entire estate including the chateau, cellars, winemaking facilities, grape reception area, and a larger vat house designed by the noted architect, Jean Nouvel.
The building was designed to resemble an inverted mirror making it in some ways, look like a futuristic ship, at least according to the chateau.
The bright red, wine-colored walls double as a work of art that reflects the vineyard and terror of Chateau La Dominique. The bright, wine-colored building can be seen from quite a distance, which has caused some issues with some of their neighbors.
Everything at La Dominique is intended to be the most up-to-date, modern technology available. This includes isolated, stainless steel tanks with double thermo-controlled skins and variable levels of capacity.
This will allow for very precise vinification on a parcel by parcel basis. The wine travels only by gravity. They have a new cold room and La Dominique will continue using optical sorters as well, but as of now, they are still in an experimental capacity.
At Chateau La Dominique, fermentation takes place in 22, 73-hectoliter, thermo-regulated, stainless steel vats with a 25-35 day maceration.
Malolactic fermentation takes place in a combination of new oak barrels and vat. The wine is aged on its lees for five to six months with the lees stirred during the first month.
Chateau La Dominique is aged in 50% to 70% new oak barrels for about 16 months. The estate is experimenting with aging up to 10% of their wine in clay amphora and egg-shaped vats.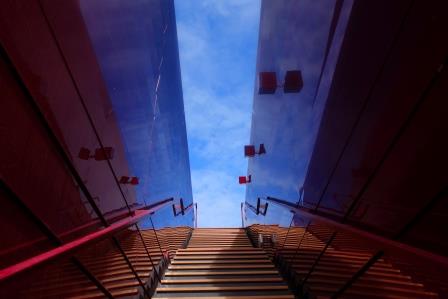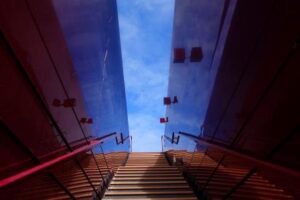 Interestingly, the wine was almost 100% Merlot for the 2009 Bordeaux vintage. The estate produces a second wine, Saint-Paul-de-Dominique. Production averages are slightly more than 7,000 cases per year.
The best vintages of Chateau La Dominique are: 2022, 2021, 2020, 2019, 2018, 2017, 2016, 2015, 2012, 2010, 2009, 2005, 2000, 1990, 1989 and 1982. I have not tasted very old wines from the estate, but it's possible that with proper storage, they could be quite good.
As you can see, Chateau La Dominique is spending the money needed to ramp up the quality of their wines to the highest level possible. Chateau La Dominique is also increasing their wine tourism activities.
In 2014, they opened a restaurant on the property, La Terrasse Rouge, that is managed by Brasserie Bordelais, located in the city of Bordeaux. The stairway to the rooftop restaurant is a stunning work of art, with its reflecting red walls and open sky motif.
Character and Style of Chateau La Dominique
Chateau La Dominique is not a powerful, concentrated wine. It's an elegantly styled Saint Emilion with medium/full body, silky tannins, and offers a complex aromatic profile that ages well. For close to 20 years, this Right Bank property seemed to languish. Starting with the 2009 vintage, it's easy to see and taste their resurgence in quality.
When to Drink Chateau La Dominique, Anticipated Maturity, Decanting Time
Chateau La Dominique is much better with at least 9-12 years of aging in good vintages. Young vintages can be decanted for 1-2 hours or more.
This allows the wine to soften and open its perfume. Older vintages might need very little decanting, just enough to remove the sediment. Chateau La Dominique offers its best drinking and should reach peak maturity between 10-28 years of age after the vintage.
Serving Chateau La Dominique with Wine and Food Pairings
Chateau La Dominique is best served at 15.5 degrees Celsius, 60 degrees Fahrenheit. The cool, almost cellar temperature gives the wine more freshness and lift.
Chateau La Dominique is best paired with all types of classic meat dishes, veal, pork, beef, lamb, duck, game, roast chicken, roasted, braised, and grilled dishes. Chateau La Dominique is also good when matched with Asian dishes, rich fish courses like tuna, salmon, mushrooms, and pasta.
Château La Dominique Wine Tasting Notes
25 Vintages 172,956 Views Sort by Vintage-Rating
2022
Château La Dominique (St. Émilion Grand Cru)

Flowers, black cherries, black raspberries, wet earth, forest herbs, and a touch of crushed stone opens the aromatics. On the palate, the wine is medium-bodied, silky, fresh, and more importantly, the fruits express purity. The wine has lift, vivacity, spices and dark chocolate that accents the fruits. Not the most concentrated wine of the vintage, instead you find elegance, length and precision. The wine blends 88% Merlot, 11% Cabernet Franc, and 1% Cabernet Sauvignon. 15% ABV, 3.7 pH. The wine is aged in 50% new, French oak, and 10% amphora. Drink from 2026-2045. 94-96 Pts.

659 Views

Tasted

May 8, 2023

2021
Château La Dominique (St. Émilion Grand Cru)

Flowers and red fruits show nicely in the perfume. On the palate, the medium-bodied wine is soft, elegant, polished, silky and sweet, with accents of espresso, peppery spice, herbs and cocoa in the dusty, earthy, and refined endnote. The wine blends 85% Merlot, 13% Cabernet Franc and 2% Cabernet Franc. 13.5% ABV. The wine is aged in 50% new, French oak, and 10% amphora. You can enjoy this on release. Drink from 2023-2038. 91-93

1,354 Views

Tasted

May 20, 2022

2020
Château La Dominique (St. Émilion Grand Cru)

The perfume, with its white and red flowers, cherries, licorice, smoke, espresso and smoke is gorgeous. Medium-bodied, soft, silky and fresh, the wine provides layers of vibrant, sweet, clean, pure, red pit fruits, black plums, earth, roasted coffee, smoke and chocolate on the palate, which is perfect for its elegant stylings. This is clearly a top vintage for La Dominique. Drink from 2025-2050.

703 Views

Tasted

Mar 21, 2023

The nose pops with its black raspberry, floral, licorice, espresso, earth and crushed rock aromas. On the palate, the wine is medium-bodied, soft, silky, fresh, clean and pure. The tannins are silky, with endnotes leaving you with a trail of sweet, refined red fruits. Give it 3-5 years in the cellar, allowing it to fill out and it will be easy to taste over the next 2 decades after that. 93-95 Pts

3,758 Views

Tasted

Jun 3, 2021

2020
Relais de La Dominique (St. Émilion Grand Cru)

Forward, soft, elegant and floral, the wine is medium-bodied, refined and offers its sweet, fresh, ripe, red pit fruit with a hint of spice in the endnote with ease. Drink from 2023-2030.

1,579 Views

Tasted

Mar 21, 2023

2019
Château La Dominique (St. Émilion Grand Cru)

Texturally, this is just great with all of its soft, silky, polished nuances. Medium-bodied, fresh and vibrant, you find layers of black and red fruits, savory herbs, tobacco leaf, crushed stone and flowers all over the place. Elegant and refined, this is going to be even better with a few years of bottle age. Drink from 2023-2041.

2,221 Views

Tasted

Mar 29, 2022

Celebrating 50 years under the ownership of the Fayat family, the first thing you notice is the dark color. Roses, dark chocolate, espresso, herbs, plums and black cherry scents. With more density than you find in previous vintages, you also find a supple, soft, sensuous, finesse oriented wine with silky, chalky tannins and layers of deep, dark, ripe fruits that express their purity in the long finish. The wine was made from a blend of 85% Merlot, 13% Cabernet Franc and 2% Cabernet Sauvignon. The wine reached 15% ABV, which is impossible to notice and a 3.7 pH. The Grand Vin comes from 60% of the harvest. 94-96 Pts

4,870 Views

Tasted

Jun 8, 2020

2019
Relais de La Dominique (St. Émilion Grand Cru)

Medium-bodied with smoky, espresso-tinged red fruits on the nose and on the soft-textured palate make this perfect for current and near-term drinking. Drink from 2022-2028.

643 Views

Tasted

Mar 29, 2022

2018
Château La Dominique (St. Émilion Grand Cru)

Soft, silky and elegant, with no effort it is easy to get hooked on the fresh, sweet, ripe, refined red fruits with their beautiful purity. Medium-bodied, with a noticeable savory complexity on the nose and palate, this should age quite nicely. The wine is made from blending 85% Merlot, 12% Cabernet Franc and 3% Cabernet Sauvignon.

1,846 Views

Tasted

Mar 9, 2021

Rich, round and silky, here you'll find ripe, dark plum, black cherry, licorice and smoke in its core. Sensuous and even a little showy but still holding on to its elegantly balanced nature, the wine is perfectly ripe but not over ripe. You do find more concentration than usual here but everything remains composed and fresh with length. Is this the best vintage for Chateau La Dominique? Perhaps it is. Made from blending 85% Merlot, 12% Cabernet Franc and 3% Cabernet Sauvignon, the harvest took place September 20- October 4, reaching 14% ABV. 93-95 Pts

3,626 Views

Tasted

Apr 19, 2019

2018
Relais de La Dominique (St. Émilion Grand Cru)

Smoke, espresso, thyme, flowers with red plums on the nose and palate create a soft, smooth, forward, easy to like, medium-bodied, sweet, fruity charmer with herbal accents that you can enjoy while waiting for the Grand Vin to develop.

1,381 Views

Tasted

Mar 9, 2021

2017
Château La Dominique (St. Émilion Grand Cru)

Flowers, cherries, licorice, incense and soft, silky textures define the wine. On the palate, the wine is medium bodied, silky, charming and ending with fresh dark cherry and licorice in the finish. Made from blending 70% Merlot, 20% Cabernet Franc and 10% Cabernet Sauvignon. The harvest took place September 15-September 29. The wine reached 13% ABV. Due to the frost, 70% of the harvest was lost.

2,787 Views

Tasted

Apr 26, 2018

2016
Château La Dominique (St. Émilion Grand Cru)

The debut vintage for the new label here, the updated, feminine design fits the approach of the wine. Licorice, black cherry, flowers and sweet cherries are all over the place. The wine is refined, pure and fresh, allowing its sweet, ripe, fresh, pure, red fruit essence to show with ease, from start to finish. This should age quite nicely.

3,489 Views

Tasted

Sep 21, 2019

Floral, elegant, refined and with complete focus on its sweet, ripe, fresh, pure, red fruit essence, the wine is silky, polished and complex. The finish offers luscious textures and the essence of flowers, and pure, cherry and plum sensations that feel as good as they taste. This should age quite nicely.

3,100 Views

Tasted

Feb 14, 2019

The nose, with its floral, licorice and sweet, deep red fruit qualities, gets everything off to a good start. Medium/full bodied, elegant, silky and fresh, there is a purity to the fruit that marks the wine.

2,702 Views

Tasted

May 21, 2018

With a floral nose that is complicated by incense, black raspberry and vanilla, this wine shows a nice, deep color. On the palate, the wine bursts with fertile, sweet, luscious, dark red fruits, ripe, opulent tannins and a fruit filled, spicy finish. The wine was made from a blend of 80% Merlot, 12% Cabernet Franc and 8% Cabernet Sauvignon, representing the highest percentage of Cabernet Sauvignon in the blend in the history of the estate. The wine reached 14% ABV with a pH of 3.7

2,512 Views

Tasted

Apr 29, 2017

2015
Château La Dominique (St. Émilion Grand Cru)

Flowers, bitter chocolate, smoke, espresso, black raspberries, plums and cinnamon provide the opening stanza for the elegant, silky-textured, ripe, sweet, fresh black cherry filled palate. Refined, soft and vibrant, while not fully-developed yet, it's drinking beautifully today. Drink from 2023-2040.

460 Views

Tasted

May 19, 2023

Elegant, fresh and silky creates the perfect combination this vintage, The fruit is generous, ripe, soft and polished. The long sensuous finish offers layers of sweet, red fruits, spice, licorice, spearmint and wild cherries. If you can wait and give this 5-10 years in the cellar, this will be stellar!

4,978 Views

Tasted

May 21, 2018

Soft, silky, polished and elegant, the wine focuses on its ripe, sweet, black raspberries, wild cherries, floral and earthy character. Medium/full bodied, forward and needing just a few years to really kick things up into high gear, this is a beauty.

4,506 Views

Tasted

Mar 12, 2018

Combining smoke, tobacco, flowers, black raspberries, wild cherries and earthy notes in the nose, this wine is concentrated with lush, sweet, fat, juicy fruits with an extremely pleasant sense of purity of fruit that feels delightful on your palate. There is a strong depth of flavor with black cherries, licorice and chocolate in the finish. This is the best vintage produced from La Dominique yet. From a blend of 85% Merlot, 13% Cabernet Franc and 2% Cabernet Sauvignon, the wine reached 14% ABV. The harvest took place from September 18 to October 7.

2,664 Views

Tasted

Apr 29, 2016

2014
Château La Dominique (St. Émilion Grand Cru)

Floral, spicy, earthy and loaded with fresh, ripe , sweet, red berries, smoke and spice, the wine is medium bodied, elegant, refined and will drink well young. The wine was produced from a blend of 85% Merlot, 15% Cabernet Franc.

2,909 Views

Tasted

Feb 5, 2017

Floral, black raspberry and coffee bean notes on the nose, open to a lavish, forward wine that ends with black cherries, licorice and chocolate in the finish. From a blend of 85% Merlot and 15% Cabernet Franc, the wine reached 13.5% ABV with a pH of 3.7 and will be aging in 60% new, French oak barrels for approximately 16 months. 90-92 Pts

2,900 Views

Tasted

Apr 27, 2015

2013
Château La Dominique (St. Émilion Grand Cru)

Grab some flowers, cherries, espresso beans and green leaves with thyme, mix it together, and you get the perfume. The wine is medium bodied on the palate, with a light, soft texture, and an herbal, cherry finish. This is just not a wine to age. Pop and pour on the young side is what is needed here.

2,549 Views

Tasted

Nov 23, 2016

Floral in character, with earth, licorice, black raspberries added to the mix, the wine is medium bodied, fresh and forward, with a sweet, red cherry filled finish.

2,178 Views

Tasted

Feb 18, 2016

Freshly picked strawberries, chocolate and black cherry jam aromas spring forth. Coupled with silky, soft textures, the deeply colored wine leaves a smooth, fresh, cherry-filled impression. Blended from 95% Merlot and 5% Cabernet Franc, the wine reached 13% ABV. 89-91 Pts

1,722 Views

Tasted

Apr 28, 2014

2012
Château La Dominique (St. Émilion Grand Cru)

Silky smooth textures, elegant stylings, medium bodied and showing a sweet, fresh, cherry core of fruit, with floral and earthy accents. This will drink well young, and it should age and improve too.

5,257 Views

Tasted

Nov 8, 2015

Silky smooth, with good freshness to the sweet, ripe fruits, ending in a polished, soft, supple, sweet, finish.

3,992 Views

Tasted

Mar 11, 2015

Licorice, jammy cherries, espresso, spice box and floral notes open to medium bodied, spicy, red berry filled wine. 89-91 Pts

3,581 Views

Tasted

Apr 26, 2013

2011
Château La Dominique (St. Émilion Grand Cru)

There is a lot of classy, charming, red and dark red berries for the vintage. Complicated by its smoky personality, the wine ends with a sweet, light plum note. This will drink well on release.

4,221 Views

Tasted

Feb 20, 2014

Soft textured, forward, medium bodied and offering spicy red berries, earth, tobacco and red plums, this wine is already drinking well.

2,778 Views

Tasted

Nov 17, 2013

Blending 85% Merlot with 15% Cabernet Franc produced a wine with truffle, smoke, coffee and black raspberry scents. Silky textures and a sweet, black cherry and stone sensation are found in the wine. 90-92 Pts

3,528 Views

Tasted

Apr 24, 2012

2010
Château La Dominique (St. Émilion Grand Cru)

Fresh, lively and filled with ripe and very ripe, cherries, black raspberry and plums, complicated by licorice, smoke and earthy tones, the wine is elegant, smooth and young, with a promising future.

5,795 Views

Tasted

Jul 4, 2015

With ripe black raspberries, licorice, stone, smoke, flowers and oak, the wine is polished, soft, ripe and offers layers of sweet, juicy, ripe, fresh polished berries. The wine was produced from a blend of 77% Merlot and 23% Cabernet Franc.

6,492 Views

Tasted

May 7, 2013

La Dominique sports an earthy, mineral, plum, licorice and blackberry nose. The soft, medium bodied wine finishes with a cassis and cherry finish. 88-90 Pts

5,089 Views

Tasted

Apr 22, 2011

2009
Château La Dominique (St. Émilion Grand Cru)

Secondary nuances of truffle, roses, licorice, cocoa and plums are impossible to avoid. And why would you want to? On the palate, the wine is silky, elegant, medium-bodied, soft, polished and refined. The sensuous finish feels great. You can definitely open this today. But if want to wait another 5 years for more truffle, that's also a good idea.

2,653 Views

Tasted

Sep 20, 2019

This wine has really improved over the past few years in bottle. Elegant, silky and refined, with a floral, cherry blossom, licorice and earthy nose and lush, soft tannins, this should continue getting better for years.

5,992 Views

Tasted

Jul 4, 2015

100% Merlot was used to produce the 2009. Black licorice, fresh herbs and sweet, juicy plum aromas work perfectly with this medium bodied, elegant style of St. Emilion. The refined, Bordeaux wine ends with a melange of soft, spicy, red and black fruits.

5,626 Views

Tasted

Feb 10, 2012

2008
Château La Dominique (St. Émilion Grand Cru)

This wine had already started to shutdown. With effort, some cherry and bitter chocolate flavors could be found. Elegant in style, this medium bodied wine ends with red fruit notes. This will drink well young.

4,322 Views

Tasted

Jan 25, 2011

08 Château La Dominique. La Dominique was never the most concentrated of wines in the past. In 2008, the château stepped up its game by hiring Jean-Luc Thunevin to consult. The full bodied wine shows a lot of color, with licorice, black fruit, and vanilla on the nose. The silky texture and lush mouth feel end with plenty of fresh black fruit. 91-93 Pts

4,230 Views

Tasted

Jul 1, 2009

2006
Château La Dominique (St. Émilion Grand Cru)

With an advanced color, the wine looks older than its true age. Opening with earth, truffle, red cherries and tobacco in the nose, the wine is medium bodied, crisp, fresh, and fully mature.

3,840 Views

Tasted

May 25, 2016

Medium bodied, finesse styled charmer that is soft, silky, smooth and easy to drink. The nose, with its licorice, earth, black cherry and kirsch profile is perhaps more complex than the fresh, sweet, earthy, cherry palate.

3,399 Views

Tasted

Aug 16, 2014

2005
Château La Dominique (St. Émilion Grand Cru)

The color is light ruby with some bricking. With a mature nose filled with secondary notes of truffle, tobacco, plum and earth. Medium bodied, soft and silky, smooth in texture, the earthy, red berry finish shows just a bit too much much oak in the end note at this time.

5,567 Views

Tasted

Jun 28, 2015

The fruit was ripe, the texture was soft, but the herbal quality did not thrill me. I could not get excited about this wine.

4,741 Views

Tasted

Jan 20, 2008

2001
Château La Dominique (St. Émilion Grand Cru)

Fully developed, soft and refined, this elegantly styled charmer offers sweet, kirsch, licorice, flowers and earthy notes, but it could use a little more heft. There is no reason to delay popping a cork on this if you have a bottle in the cellar.

1,873 Views

Tasted

Feb 9, 2019

2000
Château La Dominique (St. Émilion Grand Cru)

This is ready to go, no decanting is required before you can dip into all the flowers, sweet red cherries and plums, licorice, spice and espresso. Elegant, refined, medium-bodied, soft and polished, this is a definite charmer.

3,301 Views

Tasted

Sep 30, 2021

Fully mature, the medium bodied wine focuses on its elegant, silky, sweet fruit, and soft textures over power. The fruit, which is on the red berry side, is pure, clean and fresh, with an earthy, floral and thyme accent.

3,682 Views

Tasted

Nov 18, 2017

1990
Château La Dominique (St. Émilion Grand Cru)

Light ruby in color. Scents of tobacco, roses, chocolate fudge, earth, minerals, plums, a hint of cinnamon and forest smell's waft from the glass. Medium to full bodied and filled with juicy black plums with black cherries that end with opulent, elegant, smooth sensations in the finish. Fully mature, this might not improve, but it's going to deliver ample pleasure for at least another decade. This wine remains a bargain for an almost 20 year old St. Emilion from a great vintage.

4,644 Views

Tasted

Nov 20, 2009

1989
Château La Dominique (St. Émilion Grand Cru)

This offered a great nose from the start. Purchased for the princely sum of $15, it's definitely paid dividends. Black fruit, plums, and fresh herbs. Medium bodied, but mouth filling. Plush, elegant mouth feel. Now fully mature.

6,657 Views

Tasted

Jun 16, 2009

Black fruit, plums and the herbal qualities of Cabernet Franc. Medium bodied, but mouth filling. Plush, elegant mouth feel ends with fresh, black raspberry flavors.

3,192 Views

Tasted

Oct 5, 2004

1982
Château La Dominique (St. Émilion Grand Cru)

Medium-bodied, though it is almost closer to light, the wine retains its freshness, silky, soft, polished tannins, and sweet, ripe, red fruits. There is not a lot of weight, instead, you find vibrant, red berries, purity, and refinement. Do not decant, just pop, pour and enjoy if you have a bottle. Drink from 2023-2027.

2,195 Views

Tasted

Dec 24, 2022

A fragrant nose of licorice, flowers, stone, plums and orange rind works well with the soft, round, elegant textures. Fuly mature, the wine ends with a refined, spicy, red fruit note.

4,213 Views

Tasted

Dec 7, 2011