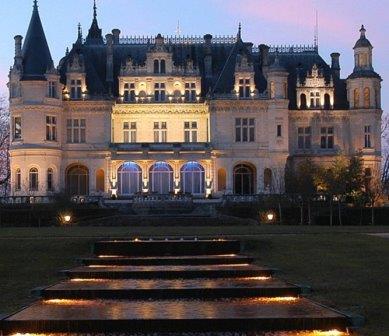 Learn Chateau Clement Pichon, Haut Medoc with wine tasting notes, and wine with food pairing tips. Learn the best vintages, the history of the property, and information on the vineyards and winemaking. If you want to read about other important, Bordeaux Chateaux: Links to all Bordeaux Wine Producer Profiles
Chateau Clement Pichon History, Overview
The history of what we know of as Chateau Clement Pichon makes it one of the older estates in Bordeaux as it dates all the way back to the 1300s. At the time, it was known as La Motte Caupene. Over the centuries, the estate has been owned by a myriad of families including the Alesme family, who attached their name to Marquis dAlesme in Margaux and the Pichon family.
I'm quite sure the Pichon family name sounds familiar to most readers, as they were the original founders of what later became two of the more famous, Second Growth estates of similar names in Pauillac, Chateau Pichon Baron, and Chateau Pichon Comtesse de Lalande.
Chateau Clement Pichon is owned by the Fayat family that also count among their holdings, Chateau La Dominique in St. Emilion as well as another estate in the Right Bank, Chateau Fayat in Pomerol. At the time of the purchase by the Fayat family in 1976, the estate was known as Chateau de Parempuyre. Chateau de Parempuyre was named after its location, a small, suburb in Bordeaux.
After the purchase, the property was renamed to include the name of its new owner, Clement Fayat. However, that was not the initial name that was chosen. Clement Fayat wanted to name the estate Chateau Pichon.
A lawsuit was filed by the owner of Chateau Pichon Lalande, due to the potential confusion in the marketplace as both wines would be similar in name and they were both from the Medoc. An agreement was reached and the property took on the new name of Chateau Clement Fayat.
The chateau, created in 1881, was designed by the same architect that built Chateau Lanessan. The showy, almost Gothic-looking chateau only dates back to 1881 because the previous building was completely destroyed by a fire. Interestingly, 100 years after the chateau was built, in 1981, the estate was purchased by the Fayat family.
As soon as the purchase was finalized, the Fayat family began doing extensive renovations starting with the vineyard, which was completely replanted. The next step was to bring in Michel Rolland as their consultant.
In 2021, they added to their holdings with the purchase of Chateau Aney, which is also located in the Haut-Medoc appellation.
Chateau Clement Pichon Vineyard, Terroir, Grapes, Winemaking
The 40 hectare Left Bank vineyard of Chateau Clement Pichon is planted to 85% Merlot, 9% Cabernet Sauvignon and 6% Cabernet Franc. This shows a marked increase in the amount of Merlot planted in the vineyard and a decrease in both the Cabernet Sauvignon and Cabernet Franc. The vines are close to 30 years of age.
On average, the vines are planted to a density of 6,900 vines per hectare. However, newer plants show an increase in the vine density, as they are between 7,000 and 8,000 vines per hectare. The vineyard has a terroir of gravel, sand, and clay-based soils. Picking is done by a combination of machine harvesting and by hand.
To produce the wine of Chateau Clement Pichon, the wine is vinified in temperature-controlled, stainless steel vats. Malolactic fermentation takes place in tanks. On average, the wine is aged in 50% new, French oak barrels, used oak, and cement vats for between 12 to 16 months before bottling.
The best vintages of Chateau Clement Pichon are: 2022, 2021, 2020, 2019, 2018, 2017, 2016, 2015, 2010 and 2009 and 2005.
Chateau Clement Pichon makes a second wine, La Motte de Clement Pichon. Chateau Clement Pichon produces close to 15,000 cases of Bordeaux wine per year.
When to Drink Chateau Clement Pichon, Anticipated Maturity, Decanting Time
Chateau Clement Pichon needs some time before it can be enjoyed. Young vintages can be decanted for an average of 1 hour or so. This allows the wine to soften and open its perfume. Older vintages might need very little decanting, just enough to remove the sediment.
Chateau Clement Pichon is usually better with at least 6-9 years of bottle age. Of course that can vary slightly, depending on the vintage character. Chateau Clement Pichon offers its best drinking and should reach peak maturity between 6-14 years of age after the vintage.
Serving and Decanting Chateau Clement Pichon with Wine, Food, Pairing Tips
Chateau Clement Pichon is best served at 15 degrees Celsius, 60 degrees Fahrenheit. The cool, almost cellar temperature gives the wine more freshness and lift. The wine of Chateau Clement Pichon is best served with all types of classic meat dishes, veal, pork, beef, lamb, duck, game, roast chicken, roasted, braised, and grilled dishes.
Chateau Clement Pichon is a perfect match with Asian dishes, hearty fish courses like tuna, mushrooms, and pasta as well as cheese.
Château Clement-Pichon Wine Tasting Notes
12 Vintages 34,179 Views Sort by Vintage-Rating
2022
Château Clement-Pichon (Haut-Médoc)
Tobacco, mint, currants, smoke, and licorice open the nose. On the palate, the wine is fresh, sweet, bright, and crisp, with lift and fresh flavors in the finish. The wine blends 70% Merlot, 25% Cabernet Sauvignon, and 5% Cabernet Franc. Drink from 2025-2038. 90-92 Pts.
1,239 Views
Tasted

May 8, 2023
2021
Château Clement-Pichon (Haut-Médoc)
Round, fruity, forward and fresh, with a savory edge to the round-textured, dark plums, with touches of espresso, coco and plums on the mid-palate and in the earthy, herbal, olive-tinted finish. Drink from 2023-2032 88-90
899 Views
Tasted

May 20, 2022
2020
Château Clement-Pichon (Haut-Médoc)
Tobacco leaf, dark cherries, espresso and wet earth nuances create the core of this wine. On the palate, the wine opens with ease, allowing you to discover its soft, polished, charming black cherry, mocha and blackberry finish. Drink from 2023-2035.
553 Views
Tasted

Mar 21, 2023
Dark in color, the wine is soft, round, medium-bodied and fruity with a nice core of red and black fruits with hints of savory herbs, cocoa and espresso. You can enjoy this almost on release. 88-90 Pts
2,409 Views
Tasted

Jun 3, 2021
2019
Château Clement-Pichon (Haut-Médoc)
Tobacco leaf, cedar, earth, herbs and savory red fruits with a hint of smoke and cocoa are on the nose and palate. A bit reserved at the moment, it will take a year or two to open. Drink from 2023-2033.
572 Views
Tasted

Mar 29, 2022
Medium-bodied, with dark earthy red fruits, cedar and tobacco leaf on the front end. Forward, and easy to like due to its soft tannins and ripe fruits, give this a few years in the cellar before pulling a cork. 88-90 Pts
1,777 Views
Tasted

Jun 8, 2020
2018
Château Clement-Pichon (Haut-Médoc)
Here you find herbs, tobacco, smoke and cocoa along with red and black currants. Medium bodied, with a touch of salty olives to accompany the ripe fruits and herbs in the finish. Give it a year or two of rest before opening a bottle.
1,020 Views
Tasted

Mar 9, 2021
Medium bodied, ripe, earthy dark red red fruits with tobacco leaf are easy to find. The wine focuses on its freshness in an open, forward style. 87-89 Pts
1,814 Views
Tasted

Apr 19, 2019
2017
Château Clement-Pichon (Haut-Médoc)
Prime cherries, cedar and tobacco frame the wine. On the palate, the wine is medium bodied, bright, offering red cherry and a sharp, rudimentary, cranberry finish. The wine was made from blending 85% Merlot, 12% Cabernet Sauvignon and 3% Cabernet Franc.
1,584 Views
Tasted

Apr 26, 2018
2016
Château Clement-Pichon (Haut-Médoc)
Leafy, tobacco and cedar, along with thyme and red fruit are found here from start to finish. The wine is forward, easy to like, and delivers a nice, earthy, tobacco laden finish.
2,218 Views
Tasted

Sep 21, 2019
Smoky black cherries lead you to a medium-bodied wine with a shot of oak that is in front of the fruit. On the palate, the wine is short but charming with good sweetness.
2,934 Views
Tasted

Apr 29, 2017
2015
Château Clement-Pichon (Haut-Médoc)
Medium bodied, soft, early drinking charmer with a core of red fruits, tobacco and a fruity, ready to drink finish.
2,651 Views
Tasted

May 21, 2018
Simple, easy drinking, correct, fruity, earthy wine for early drinking pleasure. 85 - 87 Pts
2,729 Views
Tasted

Apr 26, 2016
2014
Château Clement-Pichon (Haut-Médoc)
Produced from a blend of 85% Merlot, 10% Cabernet Sauvignon and 5% Cabernet Franc, this wine has notes medium body, an early-drinking personality and notes of coffee bean, earth and black raspberry. 84-86 Pts
2,481 Views
Tasted

Apr 21, 2015
2013
Château Clement-Pichon (Haut-Médoc)
From 70% Merlot and 30% Cabernet Sauvignon, the wine is deep in color with an oaky, tobacco presence in the black cherry finish. 84-86 Pts
1,787 Views
Tasted

Apr 23, 2014
2010
Château Clement-Pichon (Haut-Médoc)
Approachable, with sweet black fruits, licorice, cocoa and hints of jam, you can drink this round, deep colored, tasty wine now, or age it for a few more years.
3,347 Views
Tasted

May 7, 2014
2009
Château Clement-Pichon (Haut-Médoc)
Seductive black cherries, jam, smoke, licorice and chocoalte in a forward style, delivers a lot of bang for the buck. I'd drink this by the time it hits its 10th birthday as it's not built for long term aging.
4,165 Views
Tasted

May 7, 2014