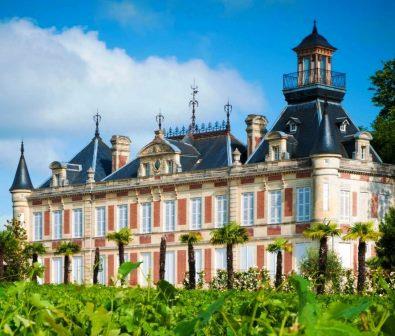 Learn everything about Chateau Marquis d'Alesme Becker Margaux Third Growth with wine tasting notes and wine with food pairing tips. Learn the best vintages, a history of the property, information on the vineyards, and winemaking. If you want to read about other important, Bordeaux Chateaux: Links to all Bordeaux Wine Producer Profiles
Chateau Marquis d'Alesme, History, Overview
Chateau Marquis d'Alesme can trace its roots all the way back to 1585. 31 years after the estate was created, they began planting vines and cultivating their vineyard. The name of the property, Marquis d'Alesme, comes from one of the early aristocratic families that previously owned the estate.
Chateau Marquis d'Alesme changed hands during the French revolution. In 1809. the Medoc chateau was sold to a Dutch wine merchant, Jean Bekker Terrlink, who changed the name of the property to include his middle name, and Chateau Marquis d'Alesme Becker was born.
Comte Jean-Jules Theophile Chaix-d'Est-Ange bought Chateau Marquis d'Alesme Becker in the early 18th century. At the time, he was already the owner of Chateau Lascombes, which he obtained from his father. He wanted to combine both Margaux vineyards to create one large Medoc property.
He passed away in 1923 before he was able to create the single vineyard. The original Marquis d'Alesme chateau became the office for Chateau Lascombes, with the chateau of Desmirail taking its place.
A succession of owners followed until 1938 when the property was sold to Edmond Ritz from the Alsace region. His grandson, Jean Claude Zuger inherited the estate. If the Zuger name sounds familiar, it is because they are the owners of another Margaux property, Chateau Malescot St. Exupery.
Chateau Marquis d'Alesme The Modern Age
In 2006, Chateau Marquis d'Alesme Becker was sold by the Zuger family to the Perrodo family for 25 Million Euros. This was a logical estate to buy for the new owner, Hubert Perrodo, as he already owned another Margaux vineyard, Chateau Labegorce, which he obtained in 1989.
Sadly, Hubert Perrodo was killed in a skiing accident shortly after buying the property. The estate is currently managed by the daughter, Nathalie Perrodo.
Chateau Marquis d'Aleseme underwent a massive renovation to the estate that was completed in time for the 2015 harvest. The design, created by the architect Fabien Pedelaborde,(who recently finished a renovation and redesign at Chateau Soutard in St. Emilion) is a blending of Asian and classic French influences that came from the owner, Nathalie Perrodo, who is half Chinese and half French.
The exteriors of the building retained the classic French stylings of the chateau. Inside, however, the design showcased distinctive influences from China. Above the fermentation vats, a large, bronze dragon with 22,000 scales has been designed to hang from the wood ceilings with patterns that take into account water, earth and heaven impressed into the cement.
It is really a unique design to Bordeaux and is well worth the visit. One other important change came about under the direction of Nathalie Perrodo. The estate now uses the shorter version of the wineries name, Chateau Marquis d'Alesme. They dropped the word Becker, helping to make the wine easier to market.
Here's a hot tip for you. The new renovations include the addition of Le Hameau, a cool, wine bar that also serves snacks. It's a great, secret spot in the Margaux appellation to visit when you need a break.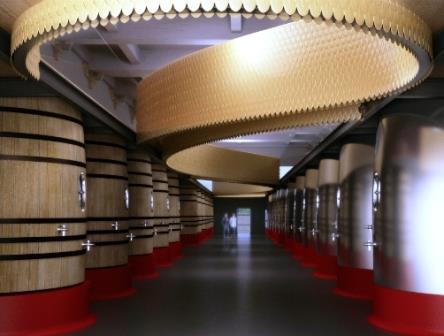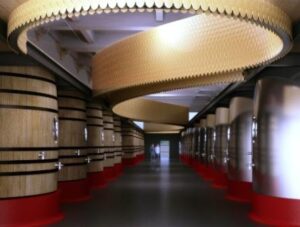 Chateau Marquis d'Alesme Vineyards, Terroir, Grapes, Winemaking
The 15 hectare Left Bank vineyard of Chateau Marquis d'Alesme is divided into 3 unique terroirs and soils. They have a section of the vineyard with silica and gravel soils situated close to the D2 road is planted to 63% Cabernet Sauvignon, 30% Merlot, 5% Petit Verdot, and 2% Cabernet Franc.
This shows a marked increase in the amount of Cabernet Sauvignon and new plantings of Cabernet Franc. There is a parcel located next to the chateau that consists of silica and gravel soil and some clay in the terroir that is planted to 100% Merlot.
The third section of the vineyard is mostly young vines, which is the source for their second wine, Marquise d'Alesme.
On average, the vines are kept at 40 years of age. The plantings are at a vine density of 10,000 vines per hectare. Today, Chateau Marquis d'Alesme focuses on utilizing, self-sustaining, vineyard management techniques. Starting with the 2016 vintage, only organic farming methods have been used in their vineyards.
Chateau Marquis d'Alesme Winemaking
To produce the wine of Chateau Marquis d'Alesme, vinification takes place in a combination of temperature-controlled, traditional oak vats and cement tanks that are 80 hectoliters in size. Malolactic fermentation takes place in barrels.
The wine of Chateau Marquis d'Alesme is aged in 60% new, French oak barrels for an average of 18 months. For the first three months of the aging process, the wine is aged on its fine lees.
There is a second wine, Marquise d'Alesme, which was created in 1988. On average, the annual production of Chateau Marquis d'Alesme is close to 7,000 cases per year.
The best vintages of Chateau Marquis d'Alesme are: 2020, 2019, 2018, 2017, 2016, 2015, 2014, 2012 and 2010.
Prior to 2010, the wines from Chateau Marquis d'Alesme were not that exciting. But things turned around for the estate with the 2010 Bordeaux vintage. With a spare no expense attitude, which included building a new fermentation cellar equipped with a combination of state-of-the-art stainless steel vats and new French oak tanks.
The selection process both in the vineyards and cellars is also much more severe. The estate has also hired Michel Rolland as their consultant. All of this adds up to the fact that this is now a Margaux property to watch that offers quality wine, with character for a fair price, especially from a Classified Growth.
When to Drink Chateau Marquis d'Alesme, Anticipated Maturity, Decanting Time
Chateau Marquis d'Alesme can be enjoyed young with decanting. Young vintages can be decanted for an average of 1-3 hours, give or take. This allows the wine to soften and open its perfume. Older vintages might need very little decanting, just enough to remove the sediment.
Chateau Marquis d'Alesme is usually better with at least 7-9 years of bottle age. Of course, that can vary slightly, depending on the vintage character. Chateau Marquis d'Alesme offers its best drinking and should reach peak maturity between 10-20 years of age after the vintage.
Serving Chateau Marquis d'Alesme, with Wine, Food, Pairing Tips
Chateau Marquis d'Alesme is best served at 15.5 degrees Celsius, 60 degrees Fahrenheit. The cool, almost cellar temperature gives the wine more freshness and lift.
Chateau Marquis d'Alesme is best served with all types of classic meat dishes, veal, pork, beef, lamb, duck, game, roast chicken, roasted, braised, and grilled dishes. Chateau Marquis d'Alesme is a perfect match with Asian dishes, hearty fish courses like tuna, mushrooms, and pasta as well as a wide variety of hard and soft cheeses.
Château Marquis d'Alesme Wine Tasting Notes
13 Vintages 89,642 Views Sort by Vintage-Rating
2020
Château Marquis d'Alesme (Margaux)

Violets, lilacs, cherry pipe tobacco, plums, currants, spice and blackberry aromatics fill the perfume. On the palate the wine is full-bodied, round, juicy, fresh and rich, with layers of perfectly ripe, silky, plums, cherries, currants, espresso and spice. The luxurious, rich finish hits all the right notes as it lingers on your palate. 94-96 Pts

2,432 Views

Tasted

May 20, 2021

2019
Château Marquis d'Alesme (Margaux)

Elegant, soft, silky, and sensuous, the wine is rich, ripe and almost over-flowing with waves of polished, sweet, fresh, plums, dark cherries, licorice, 5 spice, espresso bean, and dark chocolate on the backend. Over the past few years, they have really picked up the volume here at Chateau Marquis d'Alesme. For a wine from the Margaux appellation at this level of quality and price, my tip of the day is, buy it! Drink from 2026-2050. 96 Points

1,194 Views

Tasted

Mar 29, 2022

Flowers, tobacco leaf, smoke, licorice, wet earth and fresh red fruits. The wine blends 57% Cabernet Sauvignon, 37% Merlot and 6% Petit Verdot reaching 14% alcohol and is aging in 50% new French oak barrels. 93-95 Pts

5,883 Views

Tasted

Jun 8, 2020

2018
Château Marquis d'Alesme (Margaux)

Voluptuous, silky, fresh, concentrated, full-bodied, rich and packed with layers of perfectly ripe, sweet, silky textured, red and black fruits. The weight, depth of flavor, complexity, length and opulent finish is just great. This has a long future with at least 2-3 decades of positive evolution ahead. The wine blends 55% Cabernet Sauvignon, 35% Merlot, 5% Petit Verdot and 5% Cabernet Franc. 95 Points

4,796 Views

Tasted

Mar 9, 2021

With a touch of smoke, earth, red fruits, violets and espresso, this wine is rich, polished and loaded with ripe, juicy, sweet vibrant fruits. The wine was made from blending 55% Cabernet Sauvignon, 35% Merlot, 5% Petit Verdot and 5% Cabernet Franc, reaching 14.5% alcohol. Talk about a home run, this is one of the most improved estates in the Margaux appellation and it still sells for a song! 94-96 Pts

8,525 Views

Tasted

Apr 19, 2019

2017
Château Marquis d'Alesme (Margaux)

Blending 61% Cabernet Sauvignon, 33% Merlot and 6%, Petit Verdot, the wine quickly shows off its floral essence with black cherry and spice box notes. Sweet and fresh, the wine is full bodied, soft, refined and displays its freshness and ripe cherries with a bit of cocoa just as you approach the endnote. The wine reached 13.5% alcohol. The harvest took place between September 25 and October 6. 93 Points

3,751 Views

Tasted

Apr 26, 2018

2016
Château Marquis d'Alesme (Margaux)

Elegant, refined, deep and pure, the wine is silky, fresh, deep and concentrated. The dark fruits easily fill your palate with soft, silky tannins, juicy ripe ripes and a lush, polished, sexy finish. This is a Margaux to keep an eye on. 94 Points

5,772 Views

Tasted

Sep 21, 2019

Blending 62% Cabernet Sauvignon, 30% Merlot, 5% Petit Verdot and 3% Cabernet Franc produced a deeply colored wine. The bouquet evokes wet earth, truffle, licorice, dark red fruits and flowers. Sweet boysenberry and cherry fruits, full body and a long, vibrant finish with polished, ripe tannins are what you'll find here. The wine reached 14% alcohol with a pH of 3.75 and is aging in 60% new, French oak barrels. 93 Points

6,655 Views

Tasted

Apr 29, 2017

2015
Château Marquis d'Alesme (Margaux)

In the middle or at the top of my score is where this beauty is going to end up. The fruit is ripe, the nose offers fresh picked flowers, cherries and earth, and the finish follows through on everything. 93 Points

5,854 Views

Tasted

Jul 12, 2017

Deep in color with florals, black cherry liqueur, boysenberry and dark cocoa in the nose, this wine is rich, plump, full-bodied and voluptuous in texture with a wealth of ripe, sweet, fresh fruits and lush tannins in the mouth that really linger. The first vintage produced in their new cellars has elevated the estate to another level. Produced from 60% Cabernet Sauvignon, 30% Merlot, 7% Cabernet Franc and 3% Petit Verdot, the wine reached 13% alcohol with a pH of 3.6 and is aging in 65% new, French oak barrels. With a new showcase cellar and a commitment to quality with a spare-no-expense attitude, this is a wine to watch. 92 - 94 Pts

4,318 Views

Tasted

Apr 21, 2016

2014
Château Marquis d'Alesme (Margaux)

A catchy nose of cassis and flowers, this wine has the structure to age coupled with a luxuriously fresh, ripe, fruit-filled charm. The wine was produced from 57% Cabernet Sauvignon, 31% Merlot, 7% Cabernet Franc and 5% Petit Verdot, and is aging in 60% new, French oak barrels. With a new showcase cellar just completed, and a commitment to quality at a spare no expense attitude, this is a wine to watch out for. 89-91 Pts

3,763 Views

Tasted

Apr 22, 2015

2013
Château Marquis d'Alesme (Margaux)

Flowers and cherry pipe tobacco aromas create the nose. On the palate, the wine is elegant, medium bodied, soft and fresh, ending with black raspberries and spice in the finish. Give this 2-3 years to develop more complexity. 90 Points

2,490 Views

Tasted

May 25, 2016

With oak, fennel, black cherry and earthy accents, the wine is soft, polished, fresh and medium bodied with a sweet dark cherry finish. This should drink well on release. The wine reached 13% alcohol and will be aged in 60% new French oak. From a blend of 45% Cabernet Sauvignon, 30% Merlot, 15% Cabernet Franc and 10% Petit Verdot, the wine reached 13% alcohol and is aging in 60% new, oak. The wine was produced from yields of 30 hectoliters per hectare. 89-90 Pts

2,808 Views

Tasted

Apr 20, 2014

2012
Château Marquis d'Alesme (Margaux)

Medium-bodied with good freshness and a floral, earthy, licorice and cassis nose, the wine is a success for the vintage. 89-91 Pts

3,245 Views

Tasted

Apr 25, 2013

2011
Château Marquis d'Alesme (Margaux)

Tannic, medium bodied and with the right amount of raw materials needed to age and develop, the wine will take a few years to soften and show its dark cherry fruits. 89 Points

2,690 Views

Tasted

May 21, 2014

From an assemblage of 58% Cabernet Sauvignon, 30% Merlot and 12% Petit Verdot, the wine will be aged in 80% new oak for between 18 and 20 months. Yields were 32 hectoliters per hectare. Ruby in color with coffee, licorice and blackberry. Round and plush in texture, the wine finishes with sweet, ripe cassis and dark chocolate. 90-91 Pts

3,490 Views

Tasted

Apr 19, 2012

2010
Château Marquis d'Alesme (Margaux)

Deep purple in color, licorice, earth, espresso and blackberry, the wine is concentrated, round and polished, ending with sweet blackberry, chocolate and a kiss of oak. 91 Points

4,781 Views

Tasted

May 4, 2012

Marquis d'Alesme From an assemblage of 70% Cabernet Sauvignon, 15% Merlot, 10% Cabernet Franc and 5% Petit Verdot, the wine reached 14% alcohol, but there is no sensation of heat in the beautiful Margaux wine. Deep purple in color, with a perfume of licorice, flowers, earth and sweet dark berries, the full bodied, round textured wine ends with a long, fresh, chocolate covered blackberry finish. With the efforts of Marjolaine Maurice De Coninck, Delphine Kolasa, new cellars and the hiring of Michel Rolland, this property is experiencing a much needed renaissance. If prices remain fair, this could be one of the top wines to seek out for a combination of quality and value in the Medoc. 92-94 Pts

4,918 Views

Tasted

Apr 20, 2011

2009
Château Marquis d'Alesme (Margaux)

Blending 60% Cabernet Sauvignon, 17% Cabernet Franc, 15% Merlot and 8% Petit Verdot, this ruby colored wine offers light aromas of chocolate covered cherry, pepper, licorice, earth and mint. On the palate, this medium bodied, soft textured wine features bright, tart cherry and green olive flavors. I'd drink this on the young side. Things took a big step in the right direction with the 2010 wine, which is one of the better value plays from Margaux. 88 Points

8,027 Views

Tasted

Feb 9, 2012

2005
Château Marquis d'Alesme (Margaux)

Fully mature, light in color, light in fruit and delivering more secondary, earth, tobacco, green, leafy notes than its red fruits. Soft texture, without the stuffing for much aging, this is a wine to open over the next few years. Current vintages from the new owner show marked improvements. 85 Points

4,250 Views

Tasted

Oct 18, 2016