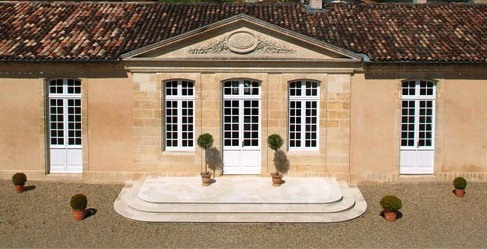 Learn everything about Chateau Desmirail Margaux Third Growth with wine tasting notes and wine with food pairing tips. Learn the best vintages, a history of the property, information on the vineyards and winemaking. If you want to read about other important, Bordeaux Chateaux: Links to all Bordeaux Wine Producer Profiles
Chateau Desmirail History, Overview
Chateau Desmirail is not well known today. In fact, it's one of the more obscure, 1855 classified growths in the entire Medoc. But it was not always that way. In the 17th century, the wines of Chateau Dauzac were quite popular.
Chateau Desmirail was founded in 1661 by Jean Desmirail, who obtained the vineyard as many people did in that day, as a dowry through marriage to one of the daughters from the Rauzan family.
Jean Desmirail renamed the chateau, taking his own name and using it for the moniker. At the time, Chateau Desmirail was still a part of the massive array of Rauzan family-owned Bordeaux properties.
Skipping ahead to the next century, when it became time to organize the 1855 Classification, the massive Rauzan estate was broken into three completely unique vineyards.
The new properties were Chateau Rauzan Segla, Chateau Rauzan Gassies and Chateau Desmirail. And don't forget Chateau Marquis de Terme was also a part of the Rauzan Segla estate as well! In 1891, a large parcel of vines was sold to form another Margaux vineyard, Chateau Tayac.
Chateau Desmirail The Modern Era
At one point in time, Chateau Desmirail was owned by the Zuger family, that owns Chateau Malescot Saint Exupery. The Zuger family purchased the chateau while the vineyard and brand name were sold to the owners of Chateau Palmer.
In fact, in 1963, Chateau Palmer declassified their entire harvest and placed the entire crop into Chateau Desmirail, which explains why no bottles of 1963 Palmer exist.
Today, Chateau Desmirail is owned and managed by the well-known Lurton family who owns a myriad of other vineyards that are located in almost every Left Bank appellation. In 1997, the cellars of Chateau Desmirail were modernized when they added stainless steel tanks.
In 2010, they added new oak tanks. Those improvements in the cellars, along with increased efforts in the vineyards really started paying off with the 2015 vintage, which is probably the finest wine ever produced at Chateau Desmirail.
Chateau Desmirail Vineyards, Terroir, Grapes, Winemaking
The 37-hectare vineyard of Chateau Desmirail is planted to 70% Cabernet Sauvignon, 29% Merlot, and 1% Petit Verdot. This represents an increase in their Cabernet Sauvignon vines. On average, the vines are more than 25 years of age. The vineyard is planted to a vine density ranging from 6,666 vines per hectare to 9,000 vines per hectare. The higher levels of density are for the newer plantings. The terroir consists of deep gravel, sand, and clay soils.
The vineyard of Chateau Desmirail is much larger today than it was at the time of the 1855 Classification. In those days, they had parcels in communes of Cantenac and Soussans. Today, they also have vines in the commune of Arsac, not too far from Chateau du Tertre.
To produce the wine of Chateau Desmirail, fermentation takes place in a combination of large wood tanks and stainless steel vats in one of three different vat rooms. The older vines are vinified in the large, oak vats.
The remaining grapes are vinified in the stainless steel tanks. Unique to Chateau Desmirail, they have three vat rooms specially designed to recall various time periods in the history of Desmirail, making them interesting to visit.
Malolactic fermentation takes place in vat. The wine of Chateau Desmirail is aged in an average of 40% new, French oak barrels for between 12 to 18 months.
There is a second wine, which is sold under two different names. When sold in France, the second wine is sold as Chateau Fontarney, while export markets are offered the same wine under the name of Initial de Desmirail.
The best vintages of Chateau Desmirail are: 2022, 2021, 2020, 2019, 2018, 2016, 2015, 2014, 2012, 2010, 2009 and 2005. 2019 and 2020 are perhaps the best wines produced in the history of the estate making this a property to keep your eye on.
The estate also owns vines in the Haut Medoc appellation which are used to produce Desmirail Haut-Medoc de Desmirail.
When to Drink Chateau Desmirail, Anticipated Maturity, Decanting Time
Chateau Desmirail can be enjoyed on the young side with decanting. Young vintages can be decanted for an average of 1-2 hours, give or take. This allows the wine to soften and open its perfume. Older vintages might need very little decanting, just enough to remove the sediment.
Chateau Desmirail is usually better with at least 7-9 years of bottle age. Of course, that can vary slightly, depending on the vintage character. Chateau Pibran offers its best drinking and should reach peak maturity between 10-20 years of age after the vintage.
Serving Chateau Desmirail, with Wine, Food, Pairing Tips
Chateau Desmirail is best served at 15.5 degrees Celsius, 60 degrees Fahrenheit. The cool, almost cellar temperature gives the wine more freshness and lift.
Chateau Desmirail is best served with all types of classic meat dishes, veal, pork, beef, lamb, duck, game, roast chicken, roasted, braised, and grilled dishes. Chateau Desmirail is a perfect match with Asian dishes, hearty fish courses like tuna, mushrooms, and pasta as well as cheese.
Château Desmirail Wine Tasting Notes
18 Vintages 59,044 Views Sort by Vintage-Rating
2022
Château Desmirail (Margaux)

Medium-bodied, silky, soft, and fresh, with layers of sweet, and savory fruits, refined textures, and elegance in the discreet finish. Drink from 2024-2040. 91-93 Pts.

1,177 Views

Tasted

May 8, 2023

2021
Château Desmirail (Margaux)

Medium-bodied, savory red fruit edged, forward, with a crisp, bright, red berry core of fruits on the palate and in the classic-leaning finish. Drink from 2023-2033. 87-89

1,095 Views

Tasted

May 20, 2022

2020
Château Desmirail (Margaux)

Earthy, silky, fresh and floral, this has really stepped up its game after aging in barrel. Now, you find a soft, supple-textured, round, fresh and refined wine that could be even better in the years to come. Drink from 2025-2050.

602 Views

Tasted

Mar 21, 2023

Smoke, tobacco, cigar box, earth, leaf and currant scents bring you to a savory, fresh, bright, chewy core of red fruits and dusty tannins. Give this a few years of aging and it could show better. 89-91 Pts

1,219 Views

Tasted

May 20, 2021

2019
Château Desmirail (Margaux)

Floral, earth, cedar and forest leaf notes work well with the sweet, red fruits in the nose. The wine is soft-textured, medium-bodied, elegant and fresh, with a nice sweetness to the fruits that are on display in the silky, refined finish. The endnote offers additional complexities with its cool, minty edge. Drink from 2024-2040.

1,585 Views

Tasted

Mar 29, 2022

Medium-bodied, with a floral edge, the wine, with its ripe black and red fruits, coupled with their citrus accent on the palate, is soft, bright, elegant and fresh. 89-91

2,904 Views

Tasted

Jun 16, 2020

2018
Château Desmirail (Margaux)

Medium-bodied, with a lean edge to its slightly firm red fruits, here, you find a blend of various, bright red fruits ranging from red plums to cranberry and dried pit fruit on the nose and palate. Consumers longing for the days of classic Bordeaux will appreciate this more than I did.

982 Views

Tasted

Mar 9, 2021

Medium-bodied, strict, firm, lean, this old-school-styled wine provides bright, red cranberry and dried pit fruit notes. Consumers that long for the days of 70's styled, classic Bordeaux will appreciate this much more than I did. 85-87 Pts

1,880 Views

Tasted

Apr 19, 2019

2017
Château Desmirail (Margaux)

Medium bodied, floral and on the bright, crisp side of the red fruit range, the tannins are soft, giving you a Margaux for early drinking enjoyment.

1,980 Views

Tasted

Apr 26, 2018

2016
Château Desmirail (Margaux)

The wine is medium-bodied, with an herbal edge to the red fruits, in a forward style.

2,220 Views

Tasted

Sep 21, 2019

Medium-bodied and fresh with a plummy quality, this wine is focused on red fruits and sweet-smelling earth. Bright and a little strict, give this a few years to come around and soften.

1,997 Views

Tasted

Apr 29, 2017

2015
Château Desmirail (Margaux)

Finesse in style with freshness in the finish, earth, caramel and black cherries create the nose of this soft, medium-bodied wine. 88 - 90 Pts

1,720 Views

Tasted

Apr 21, 2016

2014
Château Desmirail (Margaux)

Medium bodied, forward and serving up a simple, red cherry and earthy note, the finish is bright with its cranberry and cherry blend of fruits.

3,154 Views

Tasted

Feb 4, 2017

With a focus on just-picked red berries, this medium-bodied wine is bright and fresh and will drink well in its youth. 87-89 Pts

1,659 Views

Tasted

Apr 22, 2015

2013
Château Desmirail (Margaux)

Opening with light, bright strawberries, this wine has a fresh palate presence and a quick cherry finish. There is not much wine in this bottle. 82-84 Pts

2,566 Views

Tasted

Apr 20, 2014

2012
Château Desmirail (Margaux)

Medium bodied, and on the bright, lifted, red fruit side of the style range, the wine lacks the depth and intensity to be more than an OK Bordeaux. The finish has a cedar, espresso, leafy quality to the crisp red fruits.

2,624 Views

Tasted

Feb 2, 2018

2011
Château Desmirail (Margaux)

Dry, peppery red fruits and a tart red berry finish are found in this medium bodied wine.

4,079 Views

Tasted

Feb 17, 2014

Cedar wood, cassis, red plum and coffee, tannic, medium bodied and a gentle, bright, red berry finish. 87-88 Pts

3,749 Views

Tasted

Apr 19, 2012

2010
Château Desmirail (Margaux)

Medium bodied, soft, subtle and silky, with freshness in the sweet, ripe, dark red fruits and a hint of floral characteristics on the nose. Nice now, but this will be better with just a few more years of bottle age.

5,836 Views

Tasted

Sep 3, 2017

2009
Château Desmirail (Margaux)

With an earthy, coffee, licorice, red and black fruit nose, this medium bodied wine, produced from a blend of 70% Cabernet Sauvignon and 30% Merlot felt light on the palate. The wine ends with a bright, red and black plum finish.

6,028 Views

Tasted

Jan 29, 2012

2008
Château Desmirail (Margaux)

Medium-bodied, fresh, bright, developed, classic styled wine with cedar, tobacco and earthy notes on top of the red currants and red plums. The wine is correct, but not exciting.

2,049 Views

Tasted

Sep 1, 2020

2006
Château Desmirail (Margaux)

Medium-bodied, bright, crisp red berries with an oaky edge and a touch of florality are found here. A bit stoic on the palate, this is a reserved, classic styled wine.

1,710 Views

Tasted

Aug 20, 2020

2005
Château Desmirail (Margaux)

On a fast pace to full maturity, the wine lacks the structure and depth found in the best wine in this year. Medium bodied, softly textured, with a bright, fresh, red berry approach, this is already close to fully mature.

3,784 Views

Tasted

Dec 9, 2018

1928
Château Desmirail (Margaux)

Bordering on dead, in the respirator, hanging on to its last few breaths of life, the bricky color and secondary notes were all about earth, tobacco and forest scents. There was little fruit to be found. On the other hand, at close to 85 years old, there is something to be said for that. We should all still be walking around.

2,445 Views

Tasted

Aug 14, 2013