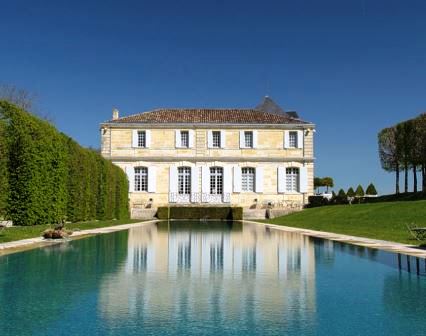 Learn everything about Chateau du Tertre, Margaux Fifth Growth with wine tasting notes and wine with food pairing tips. Learn all the best vintages, a history of the property, information on the vineyards and winemaking. If you want to read about other important, Bordeaux Chateaux: Links to all Bordeaux Wine Producer Profiles
Chateau du Tertre History, Overview
This Bordeaux property found the inspiration for its name from its location. Du Tertre is situated on the tertre. Tertre in French means hillk or rising ground, which is where the vineyards are located. With a history dating back to 1143, du Tertre is one of the oldest properties in the Left Bank of Bordeaux.
At one point in time, the estate was known as Tertre d'Arsac, due to the number of vines located in the commune of Arsac. Le Tertre passed through several different owners over the centuries.
In fact during the 1700s, what we know of as Chateau du Tertre today was owned for a period of time by Pierre Mitchell, a noted Bordeaux glassblower. This is a good bit of trivia for you. Pierre Mitchell is known to have created the Jeroboam bottle. It is thought that some of the production of Chateau du Tertre was estate bottled in the 1700s, due to the glass blowing ability of the owner, Pierre Mitchell.
Le Tertre, as the estate was known in those days was a popular wine in the Dutch market. Because of its renown in Holland, the estate was eventually sold to Henri de Koenigswarter of the Netherlands. It was during his tenure as the owner that the name was changed from Chateau Le Tertre to Chateau du Tertre. The vineyard was later owned by the Cruse family in the early 1900s.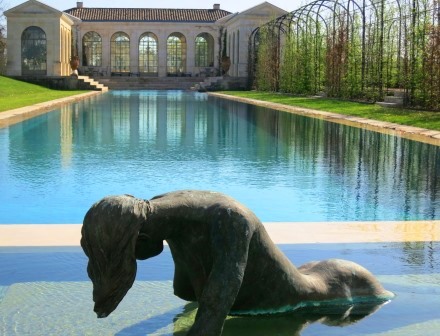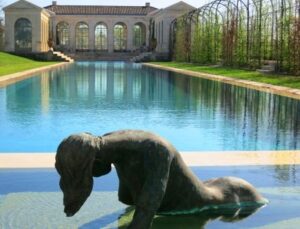 By World War II, the reputation and production of Chateau du Tertre had declined. In 1961 Chateau du Tertre was acquired by Philippe Gasqueton. If the Gasqueton name sounds familiar to you, it should. Philippe Gasqueton was quite well-known and experienced as an owner because he owned Chateau Calon Segur in St. Estephe as well.
Philippe Gasqueton replanted the vineyards of du Tertre as well as renovated the original chateau and modernized the entire winemaking making facilities.
Chateau du Tertre The Modern Age
Following the death of Philippe Gasqueton in 1995, his widow sold the property to Eric Albada Jelgersma and Louise Albada Jelgersma. The Jelgersma family was already quite established in Bordeaux, as they were the owners of another Margaux property at the time, Chateau Giscours.
Alexander van Beek was brought in to manage Chateau du Tertre. It was under the direction of Alexander van Beek that things began turning around for du Tertre. One of the first big decisions made by van Beek was to discontinue machine harvesting and move to pick by hand. Portions of the vineyards were replanted as well.
In January 2021, Chateau du Tertre was sold to the Helfrich family. The Helfrich family is well-known in the wine trade for owning vineyards in Alsace, and in other French wine regions. They are also the founders of Grands Chais de France, which owns a myriad of vineyards in France as well as negociant companies in Bordeaux. Their holdings include Chateau du Cartillon Haut Medoc and Chateau Cantin in St. Emilion as well as Chateau Cantelys in Pessac LeognN.
Chateau du Tertre Vineyards, Terroir, Grapes, Winemaking
The 54-hectare Chateau du Tertre vineyard is planted to 43% Cabernet Sauvignon, 33% Merlot, 19% Cabernet Franc and 5% Petit Verdot. This marks a major change in the vineyard with less Cabernet Sauvignon and more Merlot.
The du Tertre vineyard is planted in one large single block of vines. This is one of the largest single blocks of vines in Margaux, as well as in all of the Medoc.
It is important to note that their vineyard is also one of the few estates that is the same size today, as it was at the time of the 1855 Classification of the Medoc.
The terroir is mostly gravel, with some sand soils on two, gentle, sloping hills. The elevation close to the chateau graduates up to 27 meters, making it one of the highest peaks in the Margaux appellation. The location for much of the vineyard is situated close to a forest, which produces a slightly cooler, micro-climate.
The cooler ambient temperature adds more freshness to the wines. Geographically, they are next to their sister property, Chateau Giscours. In fact, only a small stream separates the two vineyards. Their best parcels are located just behind the chateau, and as well as on the peaks of their gravel hills.
They have 52.5 hectares under vine. The remainder of du Tertre is devoted to verdant gardens, forests, and one of the most beautiful swimming pools I have ever seen. There is sculpted art scattered throughout the gardens, making this one of the more picturesque landscapes in the appellation.
The vineyard density is planted to 9,200 vines per hectare. On average, the vines are close to 40 years of age. The estate also has older vines that are almost 70 years old. The oldest vines are their Cabernet Franc, which they are using for their own Massal selection.
At Chateau du Tertre, experiments started taking place in 2008 with biodynamic farming techniques with an eye to eventually becoming 100% biodynamic in the future. By 2017, 55% of the vineyard is being farmed using only biodynamic farming techniques.
The estate is in the process of converting to the exclusive use of biodynamic farming techniques. This is being done on a parcel-by-parcel basis. Each time a parcel is replanted, the vines are replanted at the current higher levels of vine density.
Chateau du Tertre Winemaking
For the vinification of Chateau du Tertre, the wines are vinified in a combination of 24 wood tanks, 10 concrete vats, 4 small cement eggs, and 16 stainless steel tanks that range in size from 10 hectoliters up to 180 hectoliters, which allows for true, parcel by parcel vinification.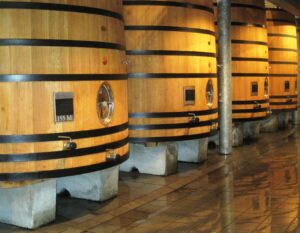 The thermoregulated vats are filled by gravity. Chateau du Tertre vinifies on a parcel-by-parcel basis at temperatures ranging from 25 degrees to 30 degrees Celsius. Chateau du Tertre was one of the first Bordeaux wine producers to begin using the cement Nomblot egg-shaped, cement vats. The estate uses 4 egg-shaped vats in total. These vats add more minerality to the wine.
Malolactic fermentation takes place in a combination of French oak barrels and vats with 40% of the Malolactic fermentation taking place in barrels and 60% taking place in concrete vats. Chateau du Tertre spends on average 18 months in 50% new, French oak barrels and is lightly fined with egg whites.
The property produces a second wine, Les Hauts de Tertre. Production of Chateau du Tertre is on average close to 16,500 cases of wine per year.
The best vintages of Chateau du Tertre are: 2022, 2021, 2020, 2019, 2018, 2017, 2016, 2015, 2014, 2012, 2010, 2009, 2008, 2005, 2001, and 2000. Since 2000, the team at Chateau du Tertre, headed by Alexander van Beek, has truly been making all the right moves to improve the quality, texture, and character of the wines, vintage after vintage.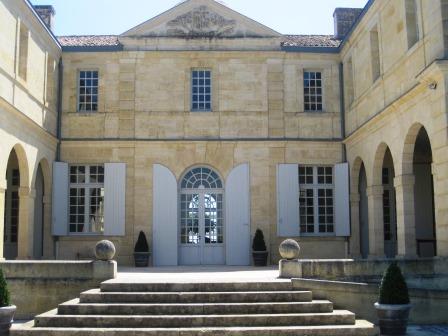 When to Drink Chateau du Tertre, Anticipated Maturity, Decanting Time
Chateau du Tertre can be enjoyed on the young side with decanting, but it is much better with age. Young vintages can be decanted for an average of 1-2 hours, give or take. This allows the wine to soften and open its perfume. Older vintages might need very little decanting, just enough to remove the sediment.
Chateau du Tertre is usually better with at least 10 years of bottle age. Of course, that can vary slightly, depending on the vintage character. Chateau du Tertre offers its best drinking and should reach peak maturity between 10-25 years of age after the vintage.
Serving Chateau du Tertre, with Wine, Food, Pairing Tips
Chateau du Tertre is best served at 15.5 degrees Celsius, 60 degrees Fahrenheit. The cool, almost cellar temperature gives the wine more freshness and lift.
Chateau du Tertre is best served with all types of classic meat dishes, veal, pork, beef, lamb, duck, game, roast chicken, roasted, braised, and grilled dishes. Chateau du Tertre is a perfect match with Asian dishes, hearty fish courses like tuna, mushrooms, and pasta as well as cheese.
Starting with the 2014 vintage, Chateau du Tertre began producing a dry white Bordeaux wine, "Tertre Blanc". The wine is produced from a unique blend of Sauvignon Blanc, Chardonnay, Viognier, and Gros Manseng. The wine is sold as a Vin de France because most of those grapes are not approved for planting in Bordeaux.
The production is tiny, so good luck finding any as only 500 cases are produced each vintage. The white wine of du Tertre can be paired with all types of fresh seafood, shellfish, sushi, sashimi, and of course cheese.
Château du Tertre Wine Tasting Notes
34 Vintages 282,823 Views Sort by Vintage-Rating
2021
Château du Tertre (Margaux)

Leafy black raspberries, mint, flowers and spice are what you initially notice. On the palate, the wine is fresh, crisp, juicy, sweet and bright, with a core of chewy red currants, touches of cocoa and spice on the palate and in the, dusty, earthy, yet, elegant finish. From a blend of 64% Cabernet Sauvignon, 20% Cabernet Franc, 10% Merlot and 6% Petit Verdot, 13% ABV. Give this just a bit of time to soften and flesh out. Drink from 2024-2039. 90-92

1,315 Views

Tasted

May 20, 2022

2021
Tertre Blanc (Vin de France)

White peach, vanilla, flowers, melon, vanilla, lemons and spice create the complex nose. Fresh, sweet, juicy and creamy, with peach and lemon rind in the finish. You can enjoy this on release. The unique blend is made from 38% Gros Manseng, 25% Viognier, 25% Sauvignon Blanc and 12% Chardonnay. The wine was vinified in stainless steel and barrel and aged in 100% new, French oak barrels. Drink from 2023-2027. 90-90

947 Views

Tasted

May 20, 2022

2020
Château du Tertre (Margaux)

Cedar, spice, forest leaf and dark red fruits appear on the nose. From there you find sweet, ripe, chewy, red fruits that meld into an herb, olive and crisp, red berry finish. Drink from 2025-2045.

631 Views

Tasted

Mar 21, 2023

Following the initial shot of espresso you find flowers, wet earth, forest floor and dark red fruits. Medium/full-bodied, fresh and juicy, with a spicy edge to the creamy soft, sweet fruits in the finish. 90-92 Pts

1,752 Views

Tasted

May 20, 2021

2019
Château du Tertre (Margaux)

Medium-bodied, earthy, savory, spicy and loaded with, fresh red fruits that range from sweet to tart. The wine finishes with dusty tannins and a savory, spicy quality. This will be best with a few years of age. Drink from 2024-2039.

1,834 Views

Tasted

Mar 29, 2022

Fresh, elegant, medium-bodied, graceful style of Margaux here. The fruit is silky and sweet, with round, lush tannins and a finish of ripe, juicy red fruits, blackberry and a hint of blueberry. This gem is going to be delicious in its youth, and it will age well too! From a blend of 54% Cabernet Sauvignon, 27% Merlot Franc, 13% Cabernet Franc and 6% Petit Verdot, reaching 13.4%. The harvest took place September 27 until October 12. 91-93 Pts

2,840 Views

Tasted

Jun 8, 2020

2019
Tertre Blanc (Vin de France)

Flower and honeysuckle aromatics with pomelo, mango, white peach and banana notes are just great here. On the palate ,the wine is juicy, creamy and lifted. It is the combination of ripe fruits, cracked pepper, sweetness and blazing acidity that make everything work here. The unique blend is made from 30% Gros Manseng, 28% Chardonnay, 27% Sauvignon Blanc and 15% Viognier. The wine was vinified in stainless steel and barrel and aged in 100% new, French oak barrels. 92 Pts

2,233 Views

Tasted

Jun 8, 2020

2018
Château du Tertre (Margaux)

Earthy, with leafy tobacco, mint, flowers and red currants with spice on the nose, the wine is energetic, sweet and soft, with a polish to the tannins and lift to the fruit. This is the finest vintage du Tertre has ever produced. The wine blends 40% Cabernet Sauvignon, 30% Merlot, 16% Cabernet Franc and 14% Petit Verdot and is the product of very low yields.

1,674 Views

Tasted

Mar 9, 2021

The wine is bright, focused and fresh. The fruits are succulent, polished and vibrant. The finish is all about the juiciness in the red fruits and silk in the tannins. From a blend of 40% Cabernet Sauvignon, 30% Merlot, 16% Cabernet Franc and 14% Petit Verdot, the wine reached 13.8% ABV. Due to issues with excessive rains and mildew du Tertre lost close to 40% of their crop. The harvest took place September 17 to October 12. 91-93 Pts

2,383 Views

Tasted

Apr 19, 2019

2018
Tertre Blanc (Vin de France)

The nose is all about the white peach, flowers, cantaloupe, vanilla and citrus peel. The wine is unctuous and lively, with a blast of yellow citrus and peach in the finish. The unique blend is made from 30% Viognier, 20% Sauvignon Blanc, 20% Chardonnay and 20% Gros Manseng. The wine was vinified in stainless steel and barrel and aged in 100% new, French oak barrels.

1,997 Views

Tasted

Apr 19, 2019

2017
Château du Tertre (Margaux)

Medium-bodied, with fresh, ripe, crisp red fruits, touches of herbs, forest leaf and peppery spices on the nose. Fresh and bright on the palate, with lifted red berries in the finish, give this at least 5 or more years before pulling a cork.

3,163 Views

Tasted

May 14, 2020

Walk into a flower store with a basket of cherries and you get the idea, especially if you add peppery spice, tobacco leaf and wet earth. Soft, polished, refined and sweet, the tannins are silky, the fruits are juicy and there is length. This is going to be delicious in its youth, and it will age well too! From a blend of 75% Cabernet Sauvignon, 10% Merlot, 10% Cabernet Franc and 5% Petit Verdot, the wine reached 13.5% ABV with a pH of 3.9. The harvest took place from September 14 until October 2. Due to the frost, they lost 35% of the crop.

1,687 Views

Tasted

Apr 26, 2018

2017
Tertre Blanc (Vin de France)

The combination of pomelo and flowers is perfect this year. From there you find lemon grass, tangerine and citrus peel. Bright, crisp and refreshing, there is body and vibrant citrus in the finish. The unique blend is made from 50% Chardonnay and 50% Viognier. The wine was vinified in stainless steel and barrel and aged in 100% new, French oak barrels.

2,074 Views

Tasted

Apr 26, 2018

2016
Château du Tertre (Margaux)

Flowers, spicy red berries and forest notes are in your glass as soon as the wine hits the glass. Medium bodied, elegant, fresh and dynamic, the wine is silky, sweet, juicy and pure from start to finish.

4,760 Views

Tasted

Sep 21, 2019

Fresh, spicy, peppery, ripe red fruits with right amount of earth, flowers, and leafy herbs open the soft textured, medium/full bodied, silky wine. Give it a few years for its seductive qualities to shine.

3,602 Views

Tasted

Feb 10, 2019

Earthy, spicy, fresh, vibrant, sweet and loaded with crisp, ripe, red fruits, earth, tobacco and floral nuances, gives this a decade to develop its secondary flavors so it will show what it's really made of.

3,799 Views

Tasted

May 20, 2018

Flowers, cherries, smoke, thyme, cassis and silky fruits all over the place in this medium-bodied, fresh, sophisticated wine. From a blend of 75% Cabernet Sauvignon, 10% Merlot Franc, 10% Cabernet Franc and 5% Petit Verdot, the wine reached 13.2% ABV with a pH of 3.7. The Merlot was harvested from September 27 until October 10, the Cabernet Sauvignon from October 15 to October 19 and the Cabernet Franc from October 10 to October 13. The Petit Verdot was harvested in one day, October 15.

3,070 Views

Tasted

Apr 29, 2017

2016
Tertre Blanc (Vin de France)

Juicy, citrus, honeydew, flowers, vanilla and spice with tropical fruit accents get the wine going. Round, sweet and with some flesh, the fresh, citrus in the end, keeps it refreshing. The wine is vinified in stainless steel tanks and barrel aged in 100% new, French oak. The wine comes from a unique blend of 25% Chardonnay 25% Gros Manseng, 25% Viognier and 25% Sauvignon Blanc.

1,352 Views

Tasted

Apr 29, 2017

2015
Château du Tertre (Margaux)

Juicy, sweet, and most important, round and silky, the wine feels as good as it tastes. With its satin characteristics, here, there is a charm, and even sexiness you have no trouble spotting all the way through to the spicy red fruits in the finish.

4,523 Views

Tasted

May 21, 2018

Now we are talking. The red fruits are bright, sweet, soft and silky. The floral notes, coupled with earth, forest and kirsch a treat. The pure cherries in the soft finish offer polish and refinement.

4,775 Views

Tasted

Mar 12, 2018

Showing better than ever, this has a lot going on here. The wine is conceentrated, sweet, fresh, vibrant, silky and complex. This will age and evolve quite well too.

4,668 Views

Tasted

Jul 12, 2017

With a kiss of dark cocoa, earth, plum and blackberry to get things started, this wine is supple, silky, long and fresh. The sweet, dark, red fruits, drizzles of chocolate, spice and freshness feel lovely on the palate. From a blend of 70% Cabernet Sauvignon, 10% Cabernet Franc, 10% Petit Verdot and 10% Merlot, this wine reached 13.5% ABV with a pH of 3.8. The picking took place September 9 to October 9 and the wine will be aged in 47% new, French oak barrels. 91 - 93 Pts

4,986 Views

Tasted

Apr 21, 2016

2015
Tertre Blanc (Vin de France)

Honeyed grapefruit, nuts, flowers, lemon peel and orange marmalade aromatics present a unique profile. Polished, sweet, yet fresh and vibrant, with a dominant citrus character, this is a fun, early drinker that will stump everyone in a blend tasting. From a unique blend of 42% Chardonnay, 31% Gros Manseng, 16% Viognier and 11% Sauvignon Blanc, the wine is vinified in stainless steel and barrel and aged in 100% new, French oak barrels.

1,842 Views

Tasted

Apr 29, 2016

2014
Château du Tertre (Margaux)

Forward in style, this will offers its charms young. The fruit has a softness, sweet and fresh character that is quit successful for the vintage, and will drink well young. The wine was made from a blend of 58% Cabernet Sauvignon, 20% Cabernet Franc, 12% Petit Verdot and 10% Merlot.

3,187 Views

Tasted

Jul 12, 2017

Bright, fresh, vibrant, energetic and spicy, with loads of tobacco, earth and herbs on top of sweet, fresh cherries are all right there, in this medium bodied, charmer.

3,581 Views

Tasted

Feb 4, 2017

It's not difficult to sense the flowers, blackberry and a bit of chocolate on the nose and easy to enjoy the smooth, softness coupled with the sensation of freshness on the palate. The sweet cherry finish makes this vintage already easy to drink. From a blend of 58% Cabernet Sauvignon, 20% Cabernet Franc, 12% Petit Verdot and 10% Merlot, the wine reached 13.2% ABV. 89-91 Pts

3,618 Views

Tasted

Apr 22, 2015

2013
Château du Tertre (Margaux)

Light in color and fruit, the wine is already starting to show some secondary characteristics. Light, but fresh and sweet, drink this now for its fresh, sweet, red berry and peppery character. The wine was made from blending 80% Cabernet Sauvignon, 10% Merlot, 5% Cabernet Franc and 5% Petit Verdot. The amount of Cabernet Sauvignon in the blend for this vintage is a record for the property.

3,502 Views

Tasted

Jul 12, 2017

Light in color, medium bodied and forward, there is good freshness to the bright, red cherries and strawberry tones that carry through from start to finish.

2,450 Views

Tasted

Feb 11, 2016

With fennel, spearmint, cocoa powder and spicy, crisp cassis, the wine is soft, polished and fresh. It makes up for its lack of depth with fresh red fruit and easy accessibility. The vintage uses the highest percentage of Cabernet Sauvignon in the history of the estate at 80% of the blend, along with 10% Merlot, 5% Cabernet Franc and 5% Petit Verdot. The wine reached 13.2% ABV and has a pH of 3.63 with yields of 36 hectoliters per hectare. The Grand Vin was made from 50% of the harvest. 89-91 Pts

1,907 Views

Tasted

Apr 20, 2014

2012
Château du Tertre (Margaux)

Here you find smoke, cherries, tobacco and earth. Medium bodied, fresh and with polished fruits in the finish, give this another 5 years to develop. The wine was made from 55% Cabernet Sauvignon, 27% Merlot, 11% Cabernet Franc and 7% Petit Verdot.

3,601 Views

Tasted

Jul 12, 2017

Fresh, medium bodied lively, crisp fruits, flowers and spice are found in this soft wine.

2,363 Views

Tasted

Mar 11, 2015

From a blend of 55% Cabernet Sauvignon, 27% Merlot and 11% Petit Verdot, the wine reached 13% ABV and will be aged in 45% new French oak for close to 16 months. Ruby in color, this medium-bodied wine opens with tobacco, licorice, flowers and cherry notes. Soft and easygoing, the fresh, elegant, red berry-dominated, spicy wine should drink well close to release. 88-91 Pts

2,758 Views

Tasted

Apr 25, 2013

2011
Château du Tertre (Margaux)

Developing rapidly, the wine already shows secondary characteristics. Medium bodied, fresh but light on the palate, there is an herbal note that is quite strong in the otherwise, fresh, silky finish. The wine was made from 60% Cabernet Sauvignon, 20% Cabernet Franc, 10% Merlot and 10% Petit Verdot.

2,400 Views

Tasted

Jul 12, 2017

Medium bodied, soft, easy going, lighter style of wine. The earthy, truffle and dark cherry nose is more complex than the red and black plum finish.

2,489 Views

Tasted

Feb 17, 2014

From an assemblage of 60% Cabernet Sauvignon, 20% Cabernet Franc, 10% Merlot and 10% Petit Verdot, the wine reached 13% ABV. Coffee bean, fennel, flowers, cassis and earth lead to a medium-bodied, round, sweet, fresh, cherry and cassis-filled wine. 89-91 Pts

2,972 Views

Tasted

Apr 19, 2012

2010
Château du Tertre (Margaux)

Earthy, spicy, blackberries and black cherries create the aromatics. Fresh, clean, zippy fruits are found in the long finish. The final blend turned out to be 70% Cabernet Sauvignon, 20% Merlot and a healthy 10% Petit Verdot.

4,726 Views

Tasted

Feb 13, 2013

Chocolate, mint, blackberry, cassis, stone and spice scents, structured, polished, fresh, ripe and pure, this has improved since tasting it last year.

4,672 Views

Tasted

May 11, 2012

From an assemblage of 70% Cabernet Sauvignon, 20% Merlot and 10% Petit Verdot, the wine offers round textures and scents of fresh herbs, blackberries, cassis and tobacco. There is structure and freshness to allow this wine to age well. 90-91 Pts

5,050 Views

Tasted

Aug 2, 2011

du Tertre is the product of a blend from 70% Cabernet Sauvignon, 20% Merlot and 10% Petit Verdot. This is unique for the property as they usually include between 10% and 20% Cabernet Franc. This assemblage created a perfume of tobacco leaf, fresh herbs and blackberries. This elegant, medium/full bodied wine is filled with sweet cassis, ripe tannin and floral sensations ending with soft textures and ample freshness in the finish. 90-92 Pts

4,976 Views

Tasted

Apr 21, 2011

2009
Château du Tertre (Margaux)

Ruby in color, you find the floral, pepper and wild cherry easily. Bright, spicy, crisp and clean, the medium-bodied wine is classic, fruity and supple, with an energetic edge to the freshness.

3,544 Views

Tasted

Sep 20, 2019

Lush, supple, elegant and fresh, the wine tastes, smells and feels great, with all its sweet, lush, fresh fruit and plummy, chocolate touches. You can drink this now, but it's going to better in 3-5 years. The wine was produced from blending 55% Cabernet Sauvignon, 22% Merlot, 15% Cabernet Franc and 8% Petit Verdot.

5,086 Views

Tasted

Jul 12, 2017

Truffle, stone, espresso, blackberry, chocolate and menthol in the nose. Sweet, supple and filled with plush ripe, blackberry and plums, this is showing better than when it was tasted earlier this year with the UGC.

8,779 Views

Tasted

May 11, 2012

This is another 2009 Bordeaux that has fleshed out and improved since it was first tasted back in April, 2010. Licorice, coffee blackberry and plum aromas lead to a fresh, ripe, sensuous, well priced Margaux wine that was produced from a blend of 55% Cabernet Sauvignon, 22% Merlot, 15% Cabernet Franc and 8% Petit Verdot.

8,922 Views

Tasted

Feb 1, 2012

This has developed well since it was tasted in barrel. Truffle, licorice, cassis, black plum and spicy scents lead to an elegant, soft textured Margaux that ends with sweet plums and black cherries.

9,002 Views

Tasted

Aug 2, 2011

2009 du Tertre opens with cassis, leaves, vanilla, herbs, and pepper notes. Medium to full bodied, the wine has a blackberry and cherry finish showing a lot of fresh cracked pepper notes. 88/90 Pts

9,957 Views

Tasted

Aug 26, 2010

2008
Château du Tertre (Margaux)

A blend of dark and deep red cherries is at the wines core. The tannins, are soft, the fruit is bright, crisp, fresh and peppery. Give it a few more years and this beauty will be even better.

3,138 Views

Tasted

Sep 17, 2018

Still on the young, fruity side of the style range with loads of black cherries in the mouth and nose, you find more maturity in the finish, with its soft, silky, elegant tannins and freshness. Give it a few more years and will be even better. The wine was produced using 52% Cabernet Sauvignon, 33% Merlot, 15% Cabernet Franc.

4,100 Views

Tasted

Jul 12, 2017

With perhaps the highest percentage of Cabernet Franc in the Medoc, (20% Cabernet Franc was used in 2008) Du Tertre produces a unique style of Bordeaux wine. The wine expresses tobacco, spice, herbs and cassis. Soft in texture, the wine ends with a red and black fruit filled finish.

5,315 Views

Tasted

Jan 28, 2011

2007
Château du Tertre (Margaux)

Showing its age in the ruby, tea colored hue, the wine shows flowers, light red fruits, tobacco and earth. Light in fruit, but elegant in character, with a light, red fruit, herb and English breakfast tea finish. The wine requires drinking up, sooner than later. This is the penultimate vintage produced in the old cellar in large vats without temperature control. The wine was made from a blend of 50% Cabernet Sauvignon, 35% Merlot and 20% Cabernet Franc.

3,996 Views

Tasted

Jul 12, 2017

2006
Château du Tertre (Margaux)

With the tell-tale strictness of the vintage, the finish is still tannic. There is fruit, the fruit is ripe, and fresh, but the wine requires several more years before it softens and gains enough secondary nuances. The wine was produced from 50% Cabernet Sauvignon, 30% Merlot and 20% Cabernet Franc.

3,539 Views

Tasted

Jul 12, 2017

Medium bodied, with a lot of development in the color, the wine offers a truffle and red berry nose, soft textures and earthy, fresh red plums in the finish. This is a ready to drink charmer.

2,856 Views

Tasted

May 25, 2016

2005
Château du Tertre (Margaux)

Medium/full bodied, richly textured with a lush character to the fruit and tannins. Silky, sensuous and charming, the fruit feels great, the finish offers freshness and length along with tension. You can drink this now, or age it for further development. The wine was made blending 45% Cabernet Sauvignon, 30% Merlot, 20% Cabernet Franc and 5% Petit Verdot.

5,356 Views

Tasted

Jul 12, 2017

Already open and serving up its tobacco, earth, cherry and wild strawberry charms, the wine has a softness to the tannins on the palate. ,The end is focused on its fresh, bright and almost, crisp, cassis and cranberry finish.

5,704 Views

Tasted

Jun 28, 2015

Smoke, oak, licorice and ripe, black cherries lead to a still youthful, tannic Margaux that wants a bit more time before it's red berry finish softens and gains more complexity. The wine is showing much better than it did in my last tasting few years ago.

6,114 Views

Tasted

Jan 29, 2013

Earthy, black pepper, smoke and cassis aromatics are found in this wine. Full bodied and concentrated with cassis and spice flavors, the dark berry finish was a little short.

11,065 Views

Tasted

Jul 2, 2010

2004
Château du Tertre (Margaux)

Leafy tobacco, smoke, earth and cherries define the perfume. Ready to drink, the fruit is fresh, herbal and with a peppery complexity. There is a dryness in the otherwise charming finish. The wine was produced from blending 42% Cabernet Sauvignon,38% Merlot and 20% Cabernet Franc.

3,539 Views

Tasted

Jul 12, 2017

Cedar wood, leaf, forest floor, herb and cassis, medium bodied, the tannins are resolved, the ready to drink wine ends with light, clean strawberry notes.

3,809 Views

Tasted

Jan 4, 2015

2003
Château du Tertre (Margaux)

Medium bodied, slightly rustic in the end note and showing older than its true age in the color, nose and palate, the wine has a sweetness of fruit on the palate with a soft texture, which is nice, but the tannins are a bit harsh. This is not a wine for further aging.

3,294 Views

Tasted

Mar 19, 2019

With a mature edge to its color, on the nose, the wine is all about its truffle, thyme, red fruit and smoke character. On the palate, you find soft, round textures, sweet, dark cherries and earth, There is no sensation of heat of jam. Tasting older than its true age, you find dusty tannins and polished, spicy red berries. Quite nice for a difficult vintage. The wine was made from blending 45% Cabernet Sauvignon, 35% Merlot and 20% Cabernet Franc.

4,396 Views

Tasted

Jul 12, 2017

Developed in color, tobacco, cigar box, strawberry, cherry and leafy notes lead to a sweet, soft, supple, round and drinking at what is close to peak, I'd opt for drinking this over the next 5-8 years.

4,396 Views

Tasted

Dec 18, 2013

Smoke, tobacco, cassis and peppery spice scents open to a medium/full bodied, finesse styled wine that is developing rapidly.

7,511 Views

Tasted

May 15, 2011

2002
Château du Tertre (Margaux)

Fully developed, the wine is medium bodied, with a soft entry and a distinctive herbal character on the palate and in the finish, especially in the end notes. . Classic in style is a good way to define the vintage here. The wine was made from a blend of 40% Cabernet Sauvignon, 35% Merlot and 25% Cabernet Franc, which is the highest percentage used in the blend.

4,235 Views

Tasted

Jul 12, 2017

2001
Château du Tertre (Margaux)

Cigar wrapper, wet earth and sweet cherries work together to create a medium bodied wine with freshness, and sweet, ripe, spicy fruits. The wine is polished, peppery, elegant and with the complexity of sandy tannins in the finish..

4,176 Views

Tasted

Jul 12, 2017

This is really coming on strong. The floral, spicy, fresh, red and dark berries with just a hint of cigar box is shining on the nose. Soft textured, fresh, spicy, earthy, sweet cherries deliver the goods in the finish.

3,209 Views

Tasted

Dec 4, 2016

2000
Château du Tertre (Margaux)

With smoky cocoa, dark cherries and truffle essences, the wine is soft, elegant and refined. Medium bodied, with a spicy edge, the fruit has freshness and vibrancy, with just a hint of leafy, herbs in the finish. From a blend of 45% Cabernet Sauvignon, 30% Merlot, 20% Cabernet Franc and 5% Petit Verdot, this is the first vintage in a few years to add any Petit Verdot.

4,291 Views

Tasted

Jul 12, 2017

Forest floor, pepper, earth, cassis, truffle and tobacco notes lead to a wine that is on the austere side of the style range. Tannic and firm, the wine ends with crisp, fresh, cassis and cranberry flavors. Time might help soften the wine.

6,979 Views

Tasted

Feb 4, 2012

1999
Château du Tertre (Margaux)

With a mature color showing ruby with tea accents, the wine is medium bodied, with an earthy, spicy, truffle and red berry character. Light, silky, bright and spicy, with a light, fresh, peppery, red berry character in its finish. This is fully mature and requires drinking. From a blend of 60% Cabernet Sauvignon, 30% Merlot and 10% Cabernet Franc, this is the debut vintage produced in the new, modern cellars.

3,522 Views

Tasted

Jul 12, 2017

1998
Château du Tertre (Margaux)

Cigar wrapper, earthy, truffle cocoa and red fruits on the nose, the wine is medium bodied, soft in texture, with a short finish that offers cherries, spice, herbs and some tartness. If you are sitting on any bottles, this is a wine to drink sooner than later, before losing the remainder of its fruit. The final vintage produced in the original cellars with large vats and without temperature control. The wine was made from blending 45% Cabernet Sauvignon, 35% Merlot and 20% Cabernet Franc.

3,054 Views

Tasted

Jul 12, 2017

1990
Château du Tertre (Margaux)

Cassis, smoke, cedar, tobacco, spice and truffle aromas lead to a wine that has reached maturity. This needs to be drunk sooner than later.

3,505 Views

Tasted

Aug 2, 2011

1988
Château du Tertre (Margaux)

Medium bodied with tobacco, spice and cassis, this fully mature wine is starting to drop its fruit and requires consumption.

4,550 Views

Tasted

Aug 2, 2011

1982
Château du Tertre (Margaux)

Light ruby with tea colors, the wine offers truffle, tobacco, cedar, cassis and cherry scents. Medium bodied, this is fully mature and needs to be drunk up.

3,963 Views

Tasted

Aug 1, 2011

1970
Château du Tertre (Margaux)

Past its prime but not completely out of gas, the wine is medium-bodied and mostly on the secondary side with tobacco leaf, wet forest floor, cigar box, herbs, green leaf and spicy, tart red berries. The finish is soft, peppery, green and bright with a cranberry endnote.

1,762 Views

Tasted

Dec 13, 2021