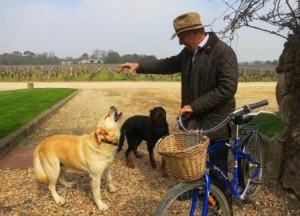 Learn everything about Chateau Cantelys, Pessac Leognan with wine tasting notes, and wine with food pairing tips. Learn the best vintages, the history of the property, and information on the vineyards and winemaking. If you want to read about other important, Bordeaux Chateaux: Links to all Bordeaux Wine Producer Profiles
In 1994, Florence and Daniel Cathiard, the owners of Chateau Smith Haut Lafitte purchased the little-known gem of Chateau Cantelys, located in the Pessac Leognan appellation from Dominique Lurton. After taking over the estate, they began an intensive renovation program of the chateau and replanting of the vineyard.
Due to the terroir being susceptible to frost damage, they had to invest a lot of money there. As they were situated close to so many trees, they uprooted much of the surrounding forest land, removed trees, and installed numerous wind machines, to help add more ventilation to the vineyards.
If that was not enough, they also replanted much of the vineyard. The entire estate of Chateau Cantelys is 40 hectares, but much of the property is not cultivated with vines. In fact, half of the estate is devoted to forest land and greenery.
The Cathiard family sold Chateau Cantelys to the Helfrich family. The Helfrich family is well-known in the wine trade for owning vineyards in Alsace, and in other French wine regions. They are also the founders of Grands Chais de France, which owns a myriad of vineyards in France as well as negociant companies in Bordeaux. Their holdings include Chateau du Cartillon Haut Medoc and Chateau Cantin in St. Emilion as well as Chateau du Tertre in the Margaux appellation.
Chateau Cantelys Vineyards, Terroir, Grapes, Winemaking
The 40-hectare Cantelys vineyard has 20 hectares planted with vines. 15 hectares used for red wine grapes which are planted to 70% Cabernet Sauvignon and 30% Merlot. This is a marked change in the vineyard with more Cabernet Sauvignon and the removal of the Cabernet Franc.
For Canteleys Blanc, 5 hectares of vines are planted to white wine grape varieties, 50% Sauvignon Blanc and 50% Semillon. Though there might be a few Sauvignon Gris vines lingering in the vineyard.
For the red wine grapes, on average, the vines are 21 years of age. The terroir is mostly gravel with some clay in the soil. To produce the red wine of Chateau Cantelys, the grapes are whole berries fermented in large, oak vats and aged in 25% new, French oak barrels. On average, the production is close to 6,000 cases produced here each year of Chateau Cantelys rouge.
For the white Bordeaux wine grapes, the terroir is gravel-based with more clay, which is better for white wine varietals. The wine is produced by the same team that manages the production at Chateau Smith Haut Lafitte.
In fact, the wine is made at Chateau Smith Haut Lafitte. To make the white Bordeaux wine of Chateau Cantelys, vinification takes place in 50% new, French oak barrels. There is no skin contact or malolactic fermentation.
The wine is aged on its lees with stirring in the same 50% new, French oak barrels before bottling 10 months later. On average, close to 2,000 cases of wine are produced in each vintage of Chateau Cantelys Blanc.
The best vintages of Chateau Cantelys are: 2022, 2021, 2020, 2019, 2018, 2017, 2016, 2015, 2014, 2012, 2010 and 2009. However, it is important to note that there are years when the red wine is better than the white wine and vintages when the white wine is better than the red.
When to Drink Chateau Cantelys, Anticipated Maturity, Decanting Time
Chateau Cantelys can be enjoyed on the young side with decanting. Young vintages can be decanted for an average of 1 hour or so, give or take. This allows the wine to soften and open its perfume. Older vintages might need very little decanting, just enough to remove the sediment.
Chateau Cantelys is usually better with at least 2-4 years of bottle age. Of course, that can vary slightly, depending on the vintage character. Chateau Cantelys offers its best drinking and should reach peak maturity between 4-9 years of age after the vintage.
Serving Chateau Cantelys with Wine, Food, Pairing Tips
Chateau Cantelys is best served at 15.5 degrees Celsius, 60 degrees Fahrenheit. The cool, almost cellar temperature gives the wine more freshness and lift. The wine will also warm up in the glass as the aromatics develop. Chateau Cantelys is best served with all types of classic meat dishes, veal, pork, beef, lamb, duck, game, roast chicken, roasted, braised, and grilled dishes.
Chateau Cantelys is a perfect match with Asian dishes, hearty fish courses like tuna, mushrooms, and pasta as well as cheese.
Chateau Cantelys Blanc, the estate's white wine is the perfect wine to serve with shellfish, sashimi, sushi, all types of seafood, chicken, veal, and cheese.
Chateau Cantelys is a solid example of a great Bordeaux value-priced wine that offers that rare combination of a nice, easy-drinking style, with character and fair prices.
In July 2014, the Cathiard family continued expanding their holdings in Bordeaux with the purchase of Chateau Beauregard in Pomerol and Chateau Bastor Lamontagne in Sauternes. The Pomerol and Sauternes properties were purchased in a partnership between the Moulin Family, the owners of the large, French chain of Galerie Lafayette stores, and the Cathiard Family. They have since sold their interests in Bastor Lamontagne.
Château Cantelys Wine Tasting Notes
21 Vintages 39,456 Views Sort by Vintage-Rating
2022
Château Cantelys Blanc (Pessac-Léognan)

Creamy fresh, green apples, honeysuckle, and yellow citrus with floral notes are all over the place on the nose and palate. This is a well-priced, white Bordeaux that really hits the spot. The wine blends 50% Sauvignon Blanc with 50% Semillon. Drink from 2024-2028. 91-91 Pts.

864 Views

Tasted

May 8, 2023

2022
Château Cantelys (Pessac-Léognan)

Medium-bodied, soft, forward, early-drinking, plummy, charmer with hints of spice, coffee bean, and cocoa on the backend. You can enjoy this with pleasure on release. Drink from 2025-2032. 89-91 Pts.

850 Views

Tasted

May 8, 2023

2021
Château Cantelys Blanc (Pessac-Léognan)

Crisp, vibrant, juicy, fresh, lemons and just squeezed grapefruit notes are all over the place here in the nose and in the lively, racy palate. This is a well-priced, white Bordeaux that really hits the spot. The wine blends 50% Sauvignon Blanc with 50% Semillon. Drink from 2023-2029. 91-91

819 Views

Tasted

May 20, 2022

2020
Château Cantelys (Pessac-Léognan)

Smoke, scorched earth, olives, currants and tobacco create the nose. Medium-bodied, forward, soft, round, and loaded with tobacco-tinted red fruits, the chewy finish has a lot to offer. This is going to offer fabulous, early-drinking pleasure. Plus, it should age and evolve for at least 12 or more years after that. The wine blends 70% Cabernet Sauvignon with 30% Merlot. Drink from 2024-2035.

401 Views

Tasted

Mar 21, 2023

Medium-bodied, forward, soft, round, refined and polished, with a nice dose of fresh, blackberry, spice and savory, tobacco tinged fruits on the nose and palate. This is going to offer fabulous, early-drinking pleasure. Plus, it should age and evolve for at least 12 or more years after that. The wine blends 70% Cabernet Sauvignon with 30% Merlot. 90-92 Pts

1,018 Views

Tasted

May 20, 2021

2020
Château Cantelys Blanc (Pessac-Léognan)

Grapefruit and flower aromas are front and center of this lush creamy, ripe, fresh charmer. There is a sweet touch of white peach along with juicy yellow citrus in the finish. The wine blends 50% Sauvignon Blanc with 50% Semillon. 91 Pts

1,078 Views

Tasted

May 20, 2021

2019
Château Cantelys (Pessac-Léognan)

Cedar, tobacco leaf, singed herbs and currants fill the perfume. The palate is medium-bodied, soft, fresh, bright and crisp, leaving you with a sweet, juicy, crisp red currant finish with a hint of spice, coffee bean and cocoa on the backend. You can drink this just about on release. Drink from 2023-2032.

482 Views

Tasted

Mar 29, 2022

A touch of smoke, espresso, plums and earth get this going. Medium-bodied, soft and forward, the fruit is ripe, sweet, juicy and fresh, with a hint of chocolate and peppery plums and spice in the finish. Give this a year or two in the cellar and enjoy it over the following decade. 90-92 Pts

1,583 Views

Tasted

Jun 8, 2020

2019
Château Cantelys Blanc (Pessac-Léognan)

Flowers, spice, orange tropical fruit and lemon rind on the nose and on the fresh, sweet, ripe, lifted, energetic palate has everything working in harmony. Drink from 2022-2028.

639 Views

Tasted

Mar 29, 2022

Honeydew, orange, white peach and a hint of citrus smell and feel great here. Drink this young for its bright, fresh, clean, crisp citrus. 90-92 Pts

2,495 Views

Tasted

Jun 8, 2020

2018
Château Cantelys (Pessac-Léognan)

Flowers, chocolate, plum and sweet cherries, smoke and a bit of pepper too on the nose. The wine is round, sweet, soft and filled with ripe fruits, finishing with a touch of chocolate on top of all those fruits. You can drink this in its youth for all its fruit, or age it a few years and enjoy more earthy notes.

570 Views

Tasted

Mar 9, 2021

The wine is ripe and fruity. On the mid palate, the black cherries, licorice and creamy, dark chocolate sensations are singing. You can enjoy this wine on release for its showy, sweet fruits or age it a few years for more pleasure. 90-92 Pts

1,074 Views

Tasted

Apr 19, 2019

2018
Château Cantelys Blanc (Pessac-Léognan)

Fruity, sweet, fresh and showing off its white peach, vanilla and citrus with little effort, you can pop and pour this well-priced white Bordeaux at your leisure. Enjoy it over the next 3-5 years.

613 Views

Tasted

Mar 9, 2021

With a sweet, fresh, lemon and white peach character and enough pep to get the wine going, this will be ready for prime time drinking on release.

1,284 Views

Tasted

Apr 19, 2019

2017
Château Cantelys (Pessac-Léognan)

Medium bodied, elegant, forward, refined and offering up easily its plums and cherry fruits with just the right hint of smoke in the background. Softly textured and easy to enjoy, this will be delicious on release.

1,223 Views

Tasted

Apr 26, 2018

2017
Château Cantelys Blanc (Pessac-Léognan)

Grapefruit, honeydew and white peach on the nose, opulent and juicy in the mouth, an enjoyable spray of lemon and key lime in the finish. You can enjoy this white Bordeaux on release.

1,319 Views

Tasted

Apr 26, 2018

2016
Château Cantelys (Pessac-Léognan)

Medium bodied with smoky, black raspberries and plum create the character of the wine. Forward in style, easy to drink and should offer pleasure on release.

1,458 Views

Tasted

Apr 29, 2017

2016
Château Cantelys Blanc (Pessac-Léognan)

Using 50% Semillon and 50% Sauvignon Blanc, you find, pomelo, vanilla, honeysuckle and citrus aromatics. Forward, his forward styled, you get the feeling of flesh, yellow citrus fruits in the finish

1,315 Views

Tasted

Apr 29, 2017

2015
Château Cantelys Blanc (Pessac-Léognan)

Forward, early drinking charmer with honeysuckle, and citrus on the nose and in the soft, sweet, fruity, yellow citrus palate.

1,558 Views

Tasted

May 21, 2018

From equal parts Semillon and Sauvignon Blanc, this forward styled, white Bordeaux wine is replete with sweet, fresh, yellow and orange citrus with grapefruit both on the nose and in the mouth.

1,247 Views

Tasted

Apr 23, 2016

2015
Château Cantelys (Pessac-Léognan)

From a blend of 70% Cabernet Sauvignon and 30% Merlot, the wine is already open, forward and easily delivers its medium bodied, soft, plum and cherry notes. This is a wine of pleasure to drink early in life.

3,133 Views

Tasted

May 21, 2018

70% Cabernet Sauvignon and 30% Merlot created a forward styled wine with round textures, fresh, black cherries, plums and pop of dark cherry and cocoa in the finish. 89-91 Pts

3,120 Views

Tasted

Apr 23, 2016

2014
Château Cantelys (Pessac-Léognan)

Smoky black raspberries are the core of this wine. It's a medium-bodied, forward-thinking and easy drinking, ending with a soft cherry finish. 87-89 Pts

1,586 Views

Tasted

Apr 24, 2015

2014
Château Cantelys Blanc (Pessac-Léognan)

This wine is zesty, bright and clean with yellow citrus fruits and stone, refreshing with vivacious style and ready to drink. 88 Pts

1,314 Views

Tasted

Apr 24, 2015

2012
Château Cantelys Blanc (Pessac-Léognan)

Half the blend is devoted to Sauvignon Blanc, the remainder is split between 45% Semillon and 5% Sauvignon Gris. Medium-bodied with fresh lemon and orange notes, the wine ends with a grassy, citrus finish. 87-89 Pts

1,621 Views

Tasted

Apr 25, 2013

2012
Château Cantelys (Pessac-Léognan)

65% Cabernet Sauvignon and 35% Merlot, planted in deep gravel soils, made a medium-bodied wine with sweet cherries and a forward personality, 85-87 Pts

1,639 Views

Tasted

Apr 25, 2013

2010
Château Cantelys (Pessac-Léognan)

This small wine delivers a lot of bang for the buck. Medium bodied, soft, and focused on its ripe, dark red, smoky fruits, earthy accents and gentle textures, this charmer is ready to go.

2,455 Views

Tasted

Dec 11, 2017

2009
Château Cantelys (Pessac-Léognan)

Soft, easy going, easy drinking, medium bodied, crowd pleasing style of wine that will be best on the young side of life. This is a good example of a Bordeaux value wine with character.

2,698 Views

Tasted

Aug 31, 2014