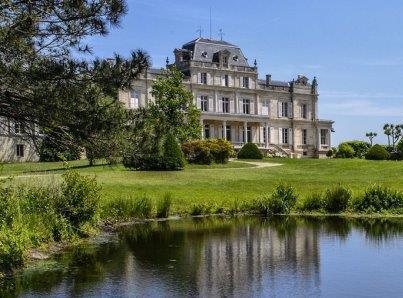 Learn everything about Chateau Giscours Margaux Third Growth with wine tasting notes and wine with food pairing tips. Learn the best vintages, the history of the property, information on the vineyards and winemaking. If you want to read about other important, Bordeaux Chateaux: Links to all Bordeaux Wine Producer Profiles
Chateau Giscours History, Overview
Chateau Giscours was first written about in 1330. At the time, it was listed on historical records as a fortified property. The first reference to Giscours for making Bordeaux wine dates back to 1552. Skipping ahead to slightly more modern times, before the start of the French Revolution, Chateau Giscours belonged to the Saint-Simon family.
Giscours was confiscated during the revolution and resold in 1793 to two Americans from Boston, John Gray, and Jonathan Davis. After that, a myriad of owners took over Chateau Giscours until it was bought in 1845 by Count de Pescatore. Two years later, he hired a new manager, Pierre Skawinski.
de Pescatore got lucky with Skawinski who later became one of the most respected agriculturalists of the time in Margaux, as well as in all of Bordeaux. Some of Skawinski contributions include the invention of a type of plow in 1860 which still bears his name.
He was one of the most important figures in the fight against mildew. Pierre Skawinski managed Chateau Giscours for 50 years. During his tenure, Pierre Skawinski came up with the then-novel idea that everything in the cellar should be moved by gravity.
While most of the top Bordeaux chateaux use gravity in their cellars today, this was a revolutionary development at the time. Pierre Skawinski remained with Chateau Giscours even after it changed hands and became the property of the Cruse family. The Cruse family sold Giscours in 1913.
After the sale, Chateau Giscours went through a long, rough patch. By the time the vineyards were purchased by the Tari family, the vineyards were in such poor condition, less than 10 hectares of vines were bearing grapes.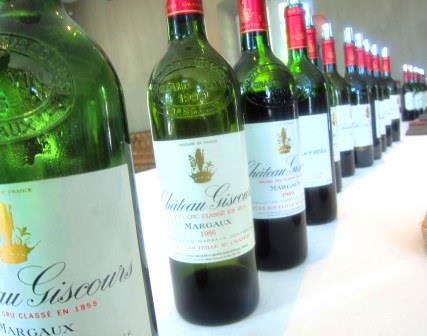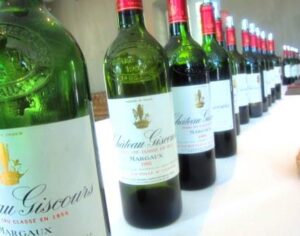 Chateau Giscours The Modern Age
In 1954 Chateau Giscours was purchased by Nicolas Tari. Nicolas Tari learned about wine from his time as a winemaker in Algeria. Nicolas Tari helped rebuild and enlarge the property.
In 1976, the then-owner of the chateau, Tari, who was also the Secretary-General of the Association des Grandes Crus Classes, was selected as one of 11 judges to take part in the historic "Judgment of Paris" wine competition when the results of a blind tasting had many California wines beating much more famous wines from Bordeaux.
In 1995, Chateau Giscours was sold to Eric Albada Jelgersma. The darkest moment for Chateau Giscours took place in 1998 when Chateau Giscours was accused of breaking the AOC laws of the Margaux appellation.
They were accused of blending fruit from the Haut Medoc appellation with some of their vines to produce 16,000 cases of the 1995 La Sirene de Giscours. Further allegations stated the blend was doctored with milk, water, and fruit acids.
Admitting to the charges, former director Jean Michel Ferrandez said he knew his actions were illegal, but that "lots of people do it". The accusations were brought as a result of a former employee. Since that time, things have turned around at the estate.
A large part of that credit goes to the managing director, Alexander van Beek who was also in charge of their other Margaux estate, Chateau du Tertre until 2021 when they sold the vineyard. Alexander van Beek began his career as a young man, just a few years out of college in 1995, he was only 24 years old at the time.
More than making wine takes place at the Left Bank estate of Chateau Giscours. The Bordeaux Giscours Cricket Club in the Aquitaine Division of the French National League uses the fields at Giscours as their home base.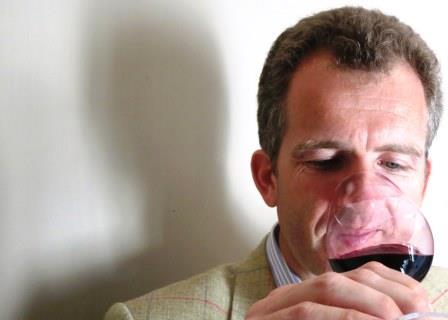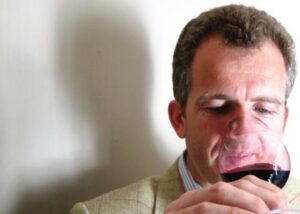 Alexander van Beek arrived at Giscours in 1995. Alexander van Beek started out at the estate with plans to spend 2 weeks during the harvest. He was later promoted to managing director.
One of the first things that took place with the young Alexander van Beek at the helm was further replanting of their vineyards with the marked increase of Cabernet Sauvignon.
The vine density was also increased. The replanting was vast with more than 30,000 vines replanted in one year. To better illustrate how much needed to be done, by the time they were finished planting the vineyards, over 130,000 vines were replanted!
This was needed because the vineyards had been allowed to lapse into poor conditions with some parcels missing close to 50% of their vines. The efforts began to pay off in a few short years.
Another much-needed change took place under the direction of Van Beek when Giscours switched from machine harvesting to manual harvesting.
Starting with the 2000 vintage, Alexander van Beek truly turned the fortunes of Chateau Giscours around. Each vintage after that shows signs of slow, but steady improvement.
The estate's 2009, with its rich, silky textures and ripe cassis-filled personality was the finest vintage Giscours I had ever tasted.
However, 2015 brought Giscours up to an entirely new level of quality! And if you talk with Alexander Van Beek, the best is yet to come! To help with this, they brought in Thomas Duclos as their consultant starting with the 2019 vintage.
The best vintages of Chateau Giscours are: 2022, 2021, 2020, 2019, 2018, 2017, 2016, 2015, 2014, 2012, 2010, 2009, 2008, 2005, 2001, 2000 and 1961.
Chateau Giscours Vineyards, Terroir, Grapes, Winemaking
The large 102-hectare vineyard of Chateau Giscours is planted to 65% Cabernet Sauvignon, 30% Merlot, 3% Petit Verdot, and 2% Cabernet Franc. The current plantings show a marked increase in Cabernet Sauvignon. Previously, more than 50% of their vineyards were planted to Merlot in the mid-1990s.
As you can see, that is no longer the case as the percentage of Cabernet Sauvignon has been dramatically increased. This is one of the key decisions made by Alexander van Beek, who started replanting the vineyard in 1995.
Chateau Giscours is the first 1855 Classified Growth you see in the Margaux appellation as you drive up the famous, D2 Route de Medoc, heading north.
Giscours is a large estate with 165 hectares that can be divided as follows: 102 hectares of vines are planted in the Margaux appellation. The vineyard of Chateau Giscours consists of 43 separate plots in Margaux. Those vines are used to produce Chateau Giscours.
They also own 63 hectares of vines in the Haut Medoc appellation which are used to produce Le Haut Medoc de Giscours.
However, even the casual observer cannot help but notice there are also 50 hectares of perfectly landscaped, verdant park surroundings and lush gardens that are part of the Chateau Giscours estate.
The terroir is mostly gravel with sand and some limestone in the soil. The vineyard has 3 peaks, with the highest level of elevation reaching 32 meters. On average the vines are close to 45 years of age.
However, the estate has old vines that range from 70 years of age to almost 100 years! Their oldest vines were planted in 1926. Interestingly, Giscours is one fo the few estates with both old vine Cabernet Sauvignon and Merlot. The vine density is on average 10,000 vines per hectare. The higher levels of density represent the new plantings.
Today, 20% of their vineyards are farmed using biodynamic techniques. That is expected to continue increasing over the next few years. The best terroir is located directly in front of the chateau, which is also where you find their oldest vines.
Chateau Giscours Winemaking
To produce the wine of Chateau Giscours, vinification takes place in a combination of stainless steel vats and concrete tanks. There are 26 stainless steel tanks and 42 concrete vats that range in size from 20 hectoliters all the way up to 250 hectoliters.
80% of the Malolactic fermentation takes place in tank and 20% occurs in the barrel. The wine of Chateau Giscours is aged in 50% new, French oak barrels for an average of 18 months.
While Chateau Giscours is a traditional Bordeaux estate, they were one of the first properties in the Medoc to embrace optical sorting technology.
In fact, they were also one of the first estates to employ gravity to filling the vats in the late 1800s as you read earlier. The production of Chateau Giscours is close to 25,000 cases per year. There is a second wine, La Sirene de Giscours.
When to Drink Chateau Giscours, Anticipated Maturity, Decanting Time
Chateau Giscours needs time before it can be enjoyed. Young vintages can be decanted for an average of 2-3 hours, give or take. This allows the wine to soften and open its perfume. Older vintages might need very little decanting, just enough to remove the sediment.
Chateau Giscours is usually better with at least 10-12 years of bottle age. Of course, that can vary slightly, depending on the vintage character. Chateau Giscours offers its best drinking and should reach peak maturity between 12-30 years of age after the vintage.
Serving Chateau Giscours, with Wine, Food, Pairing Tips
Chateau Giscours is best served at 15.5 degrees Celsius, 60 degrees Fahrenheit. The cool, almost cellar temperature gives the wine more freshness and lift.
Chateau Giscours is best served with all types of classic meat dishes, veal, pork, beef, lamb, duck, game, roast chicken, roasted, braised, and grilled dishes. Chateau Giscours is a perfect match with Asian dishes, hearty fish courses like tuna, mushrooms, and pasta as well as cheese.
A 63-hectare plot of vines adjacent to Chateau Giscours, but just outside the boundaries of the Margaux appellation, is the grape source for their wine produced and bottled as Le Haut Medoc de Giscours.
Other Bordeaux wines produced by the owners of Giscours include Chateau Duthil and Chateau Houringe. Chateau Duthil is their high-end Haut Medoc wine made from a selection of their best parcels.
Both those estates are classified as Cru Bourgeois wines from the Haut Medoc appellation. The same technical team that produces Chateau Giscours is in charge of making their Haut Medoc wines as well.
Château Giscours Wine Tasting Notes
46 Vintages 560,282 Views Sort by Vintage-Rating
2022
Château Giscours (Margaux)

Violets, roses and lilies merge with its array of spices, black cherries, black plums and black raspberries on the nose. Silky, fresh, and focused on its tannins. The wine focuses on its structure, balance, and refinement. Supple, and creamy, the finish displays its richness, ripe, deep fruits and energy in every lingering sip. The wine is a blend of 64% Cabernet Sauvignon, 30% Merlot, 3% Cabernet Franc and 3% Petit Verdot, 13.6% ABV, pH 3.75. Harvesting took place September 1 to September 29. Yields were 27 hectoliters per hectare. Drink from 2027-2055. 95-97 Pts.

2,177 Views

Tasted

May 8, 2023

2021
Château Giscours (Margaux)

Violets, spice-tinged cherries and currants create the nose. On the palate, the wine exudes a sweetness to its core of red berries, along with elegance and refinement. Balance and freshness are the hallmarks of this wine, which finishes with layers of sweet, finesse styled red fruits and tannins. The wine is a blend of 65% Cabernet Sauvignon, 32% Merlot and 3% Petit Verdot, 13.5% ABV, pH 3.8, the harvest took place September 27 - October 13. Yields were 38 hectoliters per hectare. Drink from 2026-2045. 92-94

2,340 Views

Tasted

May 20, 2022

2021
La Sirène de Giscours (Margaux)

Savory, olive and green leafy edged, fresh, medium-bodied red fruits come through with soft, textures in a forward elegant, fresh style that is perfect for early drinking pleasure. Drink from 2023-2034. 87-89

2,227 Views

Tasted

May 20, 2022

2020
Château Giscours (Margaux)

Richly colored, the wine kicks off with an intense display of flowers, with additional nuances of tobacco leaf, earth, currants, black cherries, spice and cigar box. The wine is silky, vibrant, sensuous and long with layers of ripe, sweet, vibrant red and black fruits that build in intensity. There is a beautiful purity to the fruit and symmetry on the palate, with a sexy endnote. Drink from 2026-2055.

3,184 Views

Tasted

Mar 21, 2023

Deeply colored, the nose kicks off with an intensive display of flowers, truffle, cigar box, cedar, red and black currants, lead pencil and savory herbs. Full-bodied, silky, sensuous, rich and vibrant, the layers of black, red and blue velvety, spicy fruits hit everything just right. There is a beautiful purity to the fruit and symmetry on the palate. The sexy finish goes on and on as it lingers and expands. The wine blends 56% Cabernet Sauvignon with 44% Merlot, 13.5% ABV. Picking took place September 8, October 2. Yields were only 36 hectoliters per hectare. 95-97 Pts

3,480 Views

Tasted

May 20, 2021

2020
La Sirène de Giscours (Margaux)

Cedar, black cherries, spice and floral aromatics show in the perfume. On the palate, the wine is bright, fresh, soft and silky. Already open and accessible, this medium-bodied, lively wine is ready-to-go with its elegant, red berry and cocoa oriented finish, Enjoy this in its youth while waiting for the Grand Vin to develop. Drink from 2023-2032.

1,434 Views

Tasted

Mar 21, 2023

Medium-bodied, fresh, vibrant and floral, with sweetness, length and an elegant, lifted, spicy, sweet, cherry filled finish. Enjoy this beauty while waiting for the Grand Vin to develop. The wine blends 70% Cabernet Sauvignon, 15% Cabernet Franc, 10% Merlot and 5% Petit Verdot. 90-92 Pts

2,685 Views

Tasted

May 20, 2021

2019
Château Giscours (Margaux)

Freshness and purity is the hallmark of this wine. The intensity of the perfume, with all of its violets, lilacs, and roses, along with tobacco leaf, black and red fruits, wet earth, spice, and smoke are attention-grabbing. But I love the silky palate textures with all of its depth and richness, purity of fruity, vibrancy, and length. This is the best vintage produced in the long history of Chateau Giscours. It will age effortlessly for 2 -3 decades. Drink from 2026-2055.

5,932 Views

Tasted

Mar 29, 2022

Flowers, black, red and blue fruits, wet earth, spice and smoke produce the attention-grabbing perfume. Pure silk and velvet in texture, the wine has richness and depth, while focusing on its purity and freshness. The long finish, with its fabulous lift and sweetness in the fruit keeps on going, long after the wine has left the glass. The wine blends 65% Cabernet Sauvignon with 35% Merlot, 13.9% ABV. Picking took place September 11 - October 12, making this the longest harvest in the history of Giscours. This is the best vintage produced in the long history of Chateau Giscours. 95-97 Pts

8,379 Views

Tasted

Jun 8, 2020

2019
La Sirène de Giscours (Margaux)

Medium-bodied, fresh and floral, with a core of bright, sweet, fresh red fruits along with a gentle touch of dark chocolate and spice in the endnote. Drink from 2022-2029.

1,394 Views

Tasted

Mar 29, 2022

2018
Château Giscours (Margaux)

Floral in nature, you find a sweetness and purity in the deep red fruits along with the violet bouquet that quickly grabs your interest. The wine is rich, sensuous, silky, sexy and lively. Concentrated with width, length and energy, the elegant, lushly textured finish feels just great on your palate. This should age for at least 3 decades, though it will start to shine in 8-10 years. The wine was produced blending 55% Cabernet Sauvignon, 39% Merlot and 6% Petit Verdot.

5,250 Views

Tasted

Mar 9, 2021

Floral in nature, this wine shows a bouquet of ripe, dark red fruits with background notes of cocoa, mint and wet earth. On the palate, which is where this really shines, the wine is rich, full-bodied, elegant, fruity, luscious and lively. I like the spicy, fresh cherry ending with its sprig of mint. The wine was produced blending 55% Cabernet Sauvignon, 39% Merlot and 6% Petit Verdot, reaching 13.9% ABV with a pH of 3.79. The picking took place from September 12 to October 12. Due to issues with mildew, the production was down close to 30%. 94-96 Pts

6,163 Views

Tasted

Apr 19, 2019

2018
La Sirène de Giscours (Margaux)

Elegant and forward in style, the wine is ripe, sweet and even a bit spicy in its medium-bodied, red berry character. This is going to be quite nice on release. 88-90 Pts

2,782 Views

Tasted

Apr 19, 2019

2017
Château Giscours (Margaux)

Beautiful, elegant, fresh, refined and silky, this medium-bodied effort shows off its floral character, energetic, ripe, red fruit character with ease. This will age quite nicely.

5,233 Views

Tasted

May 14, 2020

Flowers, thyme, red fruits and just a hint of espresso arise but most of what will transpire is being held in reserve. On the palate, the energetic, red berries offer sweetness, purity and silky tannins. The finish is fruity, bright and long. The wine was produced blending 71% Cabernet Sauvignon, 24% Merlot and 5% Petit Verdot, reaching 13.2% ABV with a pH of 3.65. The picking took place from September 15 to October 5.

3,525 Views

Tasted

Apr 26, 2018

2017
La Sirène de Giscours (Margaux)

Focusing on its freshness, silky tannins, medium body and forward attitude, you can enjoy the sweet cherries and floral nuances on release, while waiting for its big sister to mature.

1,998 Views

Tasted

Apr 26, 2018

2016
Château Giscours (Margaux)

Ruby gem in color, the wine is floral, with hints of licorice, cocoa, crème de cassis and tobacco in the perfume. Vibrant, silky, sensuous and energetic, the fruit offers its sweet, juicy sensations with ease. The finish, with its length, purity and poise makes you want to take another sip, just for the pleasure.

7,024 Views

Tasted

Sep 21, 2019

The combination of vibrant, fresh, fruits, lavender notes, sensuous, silky textures and a finish that offers pure, red, soft, elegant, polished , bright, red berries really works here.

5,731 Views

Tasted

Feb 10, 2019

Fresh, lively and vibrant, the sweet, red fruits pop with floral and earthy accents. Silky and fresh, with purity in the fruits, gives this a decade and it will start to shine.

6,703 Views

Tasted

May 20, 2018

Flowers garnished with truffles, tobacco, spicy cassis and dark red fruits pop on the nose. In the mouth, this is all silk and purity with freshness and length. This wine was produced from a blend of 81% Cabernet Sauvignon and 19% Merlot. This is the highest percentage of Cabernet used in the blend in the history of the estate. The wine reached 13.5% ABV with a 3.6 pH. The picking took place from September 26 to October 5, while the Cabernet Sauvignon was harvested from October 5 to October 20.

5,388 Views

Tasted

Apr 29, 2017

2016
La Sirène de Giscours (Margaux)

Give this beauty 5 years in the cellar and you will be amply rewarded with loads of sweet, ripe, fresh red fruits, a bushel of fresh-picked flowers, cedar and tobacco notes in the nose, and the fresh, lifted sensation of sweet dark cherries on the palate. This is a very strong second wine that will age for at least another 10-15 years with ease.

5,144 Views

Tasted

Oct 1, 2019

2015
Château Giscours (Margaux)

Vibrant, floral, elegant, youthful, and fresh, the red fruits are silky, pure, expressive, long, and refined. There is a nice depth to the finish. Drink from 2025-2050.

1,915 Views

Tasted

Sep 19, 2023

Packed with notes of flowers, sweet, red fruits, tobacco leaf, cherries, and plums, this gorgeous wine is rich, lush, fresh, round, and complex. Yes, it is still a baby. But there is so much going on here, that it is impossible not to finish the bottle with dinner, even at this early stage of development. Drink from 2025-2050.

8,732 Views

Tasted

Jul 8, 2022

The best Giscours ever! The depth of color is there, and so is the depth of flavor in the fruit. On the palate, the wine is full bodied, lushly textured and loaded with sweet, dark fruits, hints of truffle, tobacco and black plums. On the palate the wine is soft, elegant, soft and fresh. There is a lot of juice in the fruits that you can feel as well as taste. This will age for 2-3 decades with little effort.

11,152 Views

Tasted

May 21, 2018

This is just great wine. Everything is in balance here. Full bodied, and loaded with sweet, fresh, ripe, masterfully, pure, cherry, plum and blackberry notes, the wine is elegant, long and complex. The complex notes of cedar, tobacco leaf, forest floor, and spring flowers add to the ripe, juicy, deep red fruits. The finish lingers and expands. This should provide at least 3 decades or longer of pure pleasure. This is clearly the best wine ever produced at Giscours!

11,592 Views

Tasted

Mar 12, 2018

Firing on all cylinders today. There is a lot going on here, with all its floral, truffle and pure fruits, this is already sublime. Add the silky polished textures and you have a real winner. This is probably going to be at, or better than the 2009 and 2010, this is a beauty that will easily hit the top of my score range.

11,646 Views

Tasted

Jul 12, 2017

With a dark, ruby color, the violet aromas really get you going, that is until you get hit with the sweet, black, juicy plums, cocoa, black cherry and thyme. Full-bodied, plush and polished with more concentration, structure and opulence than you normally find at Giscours. The finish is all about the freshness and focused vibrant, spicy, sweet, ripe, dark, red berries. This wine was produced from a blend of 70% Cabernet Sauvignon, 25% Merlot and 5% Petit Verdot, reaching 13.7% ABV and a 3.6 pH. The picking ranged from September 10 to October 9 and the Grand Vin represents 68% of the harvest. 94 - 96 Pts

10,851 Views

Tasted

Apr 21, 2016

2015
La Sirène de Giscours (Margaux)

Much better from bottle than from barrel, the wine is forward, and ready to offer all its sweet, fresh, soft, red fruits and light floral notes with ease. Drink this while waiting for its big brother to develop.

3,921 Views

Tasted

May 21, 2018

2014
Château Giscours (Margaux)

Polished tannins, pure, ripe, fresh, sweet, dark, red fruits, and a silky textured, fresh finish are really already showing well, with little effort. As this ages, it could score higher.

5,078 Views

Tasted

Feb 4, 2017

A complex nose of earth, tobacco, mint, black cherry and raspberries, this wine is soft and polished and there is a fresh, unadulterated plum and fresh, black raspberry sensation in the silky finish. The wine was produced from a blend of 70% Cabernet Sauvignon, 20% Merlot and 10% Petit Verdot. 91-92 Pts

6,147 Views

Tasted

Apr 22, 2015

2013
Château Giscours (Margaux)

Medium bodied with soft textures, the wine has an open, fresh, bright, red berry, earthy and floral character. This is already providing early drinking pleasure.

3,292 Views

Tasted

Feb 11, 2016

Shy aromas of vanilla, flowers, dark strawberry and earth get stronger with coaxing. The wine is medium bodied, bright and fresh with cassis and crisp, soft strawberries in a finish that leaves a good impression. This is a very strong wine for the vintage. From a blend of 75% Cabernet Sauvignon, 20% Merlot and 5% Petit Verdot, the wine reached 13.3% ABV with a pH of 3.64. With yields of 40 hectoliters per hectare, the Grand Vin represents 50% of the harvest. The wine is aged in 47% new, French oak. 89-91 Pts

2,369 Views

Tasted

Apr 20, 2014

2012
Château Giscours (Margaux)

Truffle, fresh herbs, blackberries and black cherry scents create the perfume. A few years in the cellar will help add more layers of complexity and softness to this charming wine.

3,428 Views

Tasted

Mar 11, 2015

Blending 69% Cabernet Sauvignon, 27% Merlot and 4% Cabernet Franc. Dark ruby in color, licorice, flowers, cocoa, cherry and cassis notes open to soft, refined, medium-bodied dark cherry- and cassis-filled wine with good freshness, supple textures and a red berry-dominated finish. 90-92 Pts

4,367 Views

Tasted

Apr 25, 2013

2011
Château Giscours (Margaux)

Spicy berries, forest scents, black plum and wet earth notes greet your nose with little effort. This early drinking vintage of Giscours offers fresh, peppy dark red cherries and spice in the finish.

3,319 Views

Tasted

Feb 17, 2014

Blending 75% Cabernet Sauvignon, 20% Merlot and 5% Petit Verdot, the wine reached 13.2% ABV. With flowers, spice, black cherry, cassis and coffee, this medium-bodied wine is round and fresh with ripe black cherry. 90-92 Pts

3,931 Views

Tasted

Apr 19, 2012

2011
La Sirène de Giscours (Margaux)

With cassis and spice, this is an open, light and easygoing cherry-filled wine. 85-86 Pts

3,270 Views

Tasted

Apr 19, 2012

2010
Château Giscours (Margaux)

Vibrant, fresh, floral, full-bodied, elegant, and young, the wine needs more time in the cellar to allow the tannins to melt away and for the wine to deliver all of its elegant, silky character. Drink from 2025-2045.

6,644 Views

Tasted

Jul 10, 2022

Loads of crisp, fresh, bright, dark red fruits that show grace, definition and purity. Classic in the right way, with great aromatics, body and length, this is a long distance runner that demands another decade of age before it really shows its stuff. In tonight's head to head match up with the 2009, the 2010 came in second place. But that could have to do with the wine being much tighter today. In time, the order of these 2 beauties could be easily reversed. The wine was made from 71% Cabernet Sauvignon and 29% Merlot.

7,607 Views

Tasted

Oct 17, 2017

Still young and tight as expected, yet it is impossible not to see the potential here. Fresh, ripe, fragrant and energetic, give this another 5-8 years and it should be showing great!

10,359 Views

Tasted

Apr 16, 2016

Licorice, espresso bean, black cherries, truffle and forest notes open to a rich textured, full bodied, plush, potent Margaux, filled with fresh, pure, clean, ripe, black and red fruits. The final blend of 71% Cabernet Sauvignon and 29% Merlot is going to develop into a very special wine with a decade or so of bottle age. This is probably the best vintage I've ever tasted of Chateau Giscours!

7,866 Views

Tasted

Feb 13, 2013

Spice, blackberry, jam, flowers and toasty oak scents open to a full bodied, rich, structured, fresh, concentrated and classy Margaux wine. The long, ripe, dark, fruit filled, long, polished finish is fresh and pure. This should age well.

7,664 Views

Tasted

May 2, 2012

Deep in color, the intense perfume is packed with crème de cassis, blueberries, spice, flowers, tobacco, earth and spice box aromas. Rich, opulent and plush, this deep, ripe wine ends with a supple, fresh, elegant, dark berry filled finish. This is clearly the best vintage of Giscours I've ever tasted! It improved a lot since tasted in April. Bravo. 93-95 Pts

8,610 Views

Tasted

Aug 3, 2011

Giscours Produced from a blend of 71% Cabernet Sauvignon and 29% Merlot, this is the highest concentration of Cabernet Sauvignon in the history of the chateau! The harvest produced yields that were slightly lower than they produced in 2009. That combination created a deep ruby colored wine offering floral, cassis, boysenberry and smoky aromas. Round tannins, supple textures and more muscle than usual led the way for a long, fresh, pure, ripe, cassis. According to Alexandre Van Beek, he's happy with the masculine edge to the wines style in this vintage. He graciously stated, "Credit goes to their consultant Denis Dubordieu, who began working with Giscours and du Tertre starting with the vintage." 91-93 Pts

8,418 Views

Tasted

Apr 21, 2011

2010
La Sirène de Giscours (Margaux)

Le Sirene de Giscours opens with cassis aromas, coupled with a medium body and easy to drink textures, this will be fun to drink on release. 85-87 Pts

3,557 Views

Tasted

Apr 22, 2011

2009
Château Giscours (Margaux)

Currants, cedar, tobacco leaves, smoke, flowers, and spice aromatics open up the wine. On the palate. the wine is fresh, vibrant, silky, and displays a nice spicy touch to the ripe plums and currants that sticks all the way through to the finish. This is a pleasure to taste now, and will only get better with a few more years of age. Drink from 2022-2040.

4,886 Views

Tasted

Sep 28, 2022

Showing some maturity in color and in the nose, which offers flowers, dark red fruits, wet earth, tobacco and cedar, on the palate you find a depth of flavor, juiciness in the fruit and silky textures in the finish.

5,026 Views

Tasted

Sep 20, 2019

Dark in color, with loads of concentrated, perfectly, dark red and black fruits. The wine is supple, round and even a bit ostentatious, with silky tannins and a velvet textured finish. This has filled out adding more complexities and nuances than the last time I tasted it. But it is still quite young and warrants at least another 7 years or so of aging. The wine was made from blending 53% Cabernet Sauvignon, 40% Merlot and 7% Petit Verdot.

7,818 Views

Tasted

Oct 17, 2017

Vanilla, earth, blackberry, cocoa, stone, truffle and espresso bean notes create the complex perfume. In texture, the wine is rich, opulent and packed with layers of sweet, juicy, silky dark plums with fresh, spicy, black cherries. The wine was made from a blend of 53% Cabernet Sauvignon, 40% Merlot and 7% Petit Verdot.

10,375 Views

Tasted

May 2, 2014

Truffle, tobacco, cassis, black raspberry and forest floor notes produce the complex perfume. The blend of 55% Cabernet Sauvignon, 40% Merlot and 5% Cabernet Franc creates layers of deep, long waves of voluptuously textured, dark chocolate covered, fresh black cherries.

10,738 Views

Tasted

Feb 2, 2012

Spicy blackberry, tobacco, crème de cassis, blueberry, earth and toasty oak aromas are the perfect introduction to this suave, rich, ripe Margaux. Fresh, round and soft, this ends with layers of sweet blackberry and cassis. As this wine develops, it could increase in score.

10,449 Views

Tasted

Aug 3, 2011

2009 Giscours shows cassis, cocoa, espresso, citrus, and black raspberry in the nose. Full bodied with ripe tannins, the wine finishes with sweet black raspberry and chocolate notes. The finest Giscours I have tasted. The wine was made from a blend of 53% Cabernet Sauvignon, 40% Merlot and 7% Petit Verdot. 91/93 Pts

11,336 Views

Tasted

Aug 26, 2010

2008
Château Giscours (Margaux)

Showing some maturity in color and in the nose, you can find truffle, tobacco, cedar and spicy, bright red fruits. The wine is fresh and sweet on the attack. The finish is crisp with some herbs along with the fruits in the finish.

3,633 Views

Tasted

Sep 17, 2018

Medium bodied with a nice mix of freshness, charm and elegance. The blend of 65% Cabernet Sauvignon, 30% Merlot and 5% Petit Verdot created a nice, red berry, tobacco, spice and floral focused wine that is just starting to come around. Give it another 4-5 more years.

5,043 Views

Tasted

Oct 17, 2017

Earth, truffle, tobacco leaf, cassis and notes of bitter chocolate are easy to find. The smooth textured, refined, charming wine finishes with chocolate covered cassis sensations. The wine was made from a blend of 65% Cabernet Sauvignon, 30% Merlot and 5% Petit Verdot.

6,433 Views

Tasted

Jan 28, 2011

2006
Château Giscours (Margaux)

Firm, strict, classically styled wine, with high levels of acidity that offers more pleasure in the aromatics, with their tobacco, leaf, red berry, spice and earthy nuances, than on the palate. Time could soften things here, but I am not positive on that one. The wine was produced from a blend of 60% Cabernet Sauvignon and 40% Merlot.

4,810 Views

Tasted

Oct 17, 2017

Better on the nose with its earthy, spicy, forest floor, tobacco and cherry personality than on the firm, medium bodied, tannic, fresh, red berry centered palate. Perhaps, time will help soften the wine. The wine was made from a blend of 60% Cabernet Sauvignon and 40% Merlot. The Petit Verdot was not ripe enough to add to the blend this year.

4,597 Views

Tasted

May 25, 2016

Medium bodied with more of a focus on red than black fruits, this is on a rapid march to maturity. I'd probably drink this on the young side.

4,694 Views

Tasted

May 2, 2012

2005
Château Giscours (Margaux)

Fresh, vibrant, energetic, a bit reserved but, still packing a boatload of red berries, flowers, spice, and a background note of mint. Elegant, reserved, and working its way to soft, the wine finishes with sweet, red currants and cherries. Drink from 2023-2037.

706 Views

Tasted

Sep 4, 2023

Not mature, but approachable, with a core of soft, sweet fruit and a polished, smooth finish. Air will help if you're going to drink it young. The wine was produced using a blend of 62% Cabernet Sauvignon and 38% Merlot.

5,433 Views

Tasted

Jun 19, 2016

Medium to full bodied, with elegant, silky textures, refined tannins and core of fresh, softly polished cassis and blackberries that carry through from start to finish. This is starting to wake up and promises to be even better with more time in the cellar. This is still quite young. Give it a few more years and it should be even better.

6,029 Views

Tasted

Jun 28, 2015

Lush, silky, red and black fruits with earthy, truffle notes welcome you to a soft, elegant, sensuous expression of Margaux that is already starting to drink well and will only get better with age.

8,426 Views

Tasted

Jan 30, 2013

Blackberry, cassis, truffle, woodsy aromas with hints of flowers prepare you for this medium/full boded, refined Margaux wine. With its plush, silky textures, ripe dark berries, structure and balance, this will only get better with another 5-10 years of bottle age.

11,309 Views

Tasted

Aug 3, 2011

Cassis, earth, blackberry and spice aromatics are held together in this ripe, fresh, and round Margaux which ends in a tannic, cassis and blackberry filled finish. This wine needs time, at least another 5-7 years.

13,111 Views

Tasted

Jul 2, 2010

2004
Château Giscours (Margaux)

Fresh earth, cassis, wild berries and tobacco scents open to a soft, polished, ready to drink, elegant, classic Bordeaux wine. The wine was made from a blend of 58% Cabernet Sauvignon and 42% Merlot.

3,811 Views

Tasted

Jan 4, 2015

2003
Château Giscours (Margaux)

Fully developed, served blind, I thought the wine was from 1990. While it is not a wine I would keep for a long-term hold, there was a lot to like here. Medium-bodied, lush, soft and silky, the fruit was ripe, sweet and juicy. There was no sensation of jam. The wine was clean and aromatically interesting. However, I would not hope for further development.

4,163 Views

Tasted

Mar 19, 2019

Light ruby in color, smoke, truffle, earth, cigar box, fennel and jammy black cherry scents create the complex aromatics. Medium bodied, silky, sexy and filled with black raspberry and spice. This is not a wine that requires more age. I'd drink this over the next 6 to 9 years. The wine was made using a blend of 60% Cabernet Sauvignon and 40% Merlot.

4,399 Views

Tasted

Dec 18, 2013

With black licorice, back cherries, truffle and cassis aromas, this silky textured, ripe, medium/full bodied, elegant wine is developing nicely. The wine, which is on a fast track to maturity, ends with a refined, spicy, cassis and kirsch filled finish.

8,751 Views

Tasted

Aug 3, 2011

2002
Château Giscours (Margaux)

Showing quite nicely today with the floral edge to the black cherry, tobacco, earth and spicy profile. Soft, almost silky, medium bodied and refined, the wine avoids the curse of under ripeness and cool weather flavors that mar many wines from the vintage. The wine was made from a blend of 60% Cabernet Sauvignon and 40% Merlot.

4,976 Views

Tasted

Aug 13, 2016

2001
Château Giscours (Margaux)

With a perfume filled with blackberries, earth, tobacco, smoke and cedar scents, this silky, medium bodied Margaux wine ends with an elegant, cassis filled finish. Another 2-3 years will more complexity to the wine. The wine was made using a blend of 60% Cabernet Sauvignon and 40% Merlot.

5,210 Views

Tasted

Aug 3, 2011

2000
Château Giscours (Margaux)

Elegant, refined, medium bodied and silky, with a nose of flowers, cherries, truffle and leaf. This is a very pretty wine, that is just about fully developed. The wine should remain at this level for at least 15 years, or even longer.

6,054 Views

Tasted

Oct 17, 2017

On the nose, the floral, tobacco, blackberry, cedar and cherry aromatics are in full force. The texture is soft and polished with a blast of freshness and sweet fruits in the finish. You can drink this now, or age it for more secondary development. But I really like how it is showing today. The wine was made using a blend of 55% Cabernet Sauvignon, 40% Merlot and 5% Cabernet Franc.

6,668 Views

Tasted

Jun 1, 2016

Drinking great today, the wine is filled with sweet black and red fruits, tobacco, earth, spice, smoke, spice, plum and truffle, Supple textures, ripe fruit and soft tannins are found in the round finish.

10,687 Views

Tasted

Mar 31, 2014

This expressive nose displays tobacco, smoke, forest floor, cassis and earthy notes. The wine has really fleshed out, ending with soft textured, fleshy, dark berries, cherry and spice.

11,261 Views

Tasted

Feb 5, 2012

Still young in appearance, this wine is filled with floral, crème de cassis, spice, tobacco and truffle scents. Soft textures and good concentration of flavors are found in the supple, fresh, ripe, dark plum finish. Still young, this Bordeaux wine will only get better with age.

12,202 Views

Tasted

Aug 3, 2011

Dark purple color. Blackberries, cassis, blueberries cranberries and oak on the nose. Hints of tobacco develop after an hour in the glass. This smooth palate offers ripe, chocolate covered blackberries in the finish.

6,239 Views

Tasted

Jul 18, 2004

1999
Château Giscours (Margaux)

Full mature, fresh, bright red fruits, with a tobacco, cedar, cassis and leafy characteristic. Medium bodied and classic in nature, this is drinking really nicely today.

5,223 Views

Tasted

Mar 21, 2017

Fully mature, with a floral, tobacco and red cherry nose, the wine is medium bodied, soft and fresh, with a sweet and spicy, almost red berry finish. There is no reason the age this any longer. The wine was made from a blend of 55% Cabernet Sauvignon and 45% Merlot. This is the first vintage that showed all the improvements that young, Alexander van Beek had been working on, since he joined the estate in 1995.

3,335 Views

Tasted

Aug 13, 2016

1998
Château Giscours (Margaux)

Cassis, forest floor, tobacco, earth and blackberry aromas lead to a medium bodied wine that ends with a red and black fruit filled finish. The wine was made from a blend of 55% Cabernet Sauvignon, 40% Merlot and 5% Cabernet Franc.

4,476 Views

Tasted

Aug 3, 2011

1996
Château Giscours (Margaux)

Fully developed, the wine is medium-bodied and loaded with tobacco, wet earth, forest floor and red pit fruits. On the palate, the wine is a bit old school rustic with a bright red plum and cranberry edge along with a touch of herbs and earth in the finish. There is no reason to hbold this any longer.

4,197 Views

Tasted

Aug 20, 2020

1995
Château Giscours (Margaux)

Crème de cassis, tobacco, earth and cherry aromas, medium bodied with some tannin to resolve, this lighter style of Margaux ends with a cassis and strawberry finish. This is the first vintage for Alexander van Beek at the chateau. The wine was made from a blend of 60% Merlot and 40% Cabernet Sauvignon. The wine is fully mature and will not improve with further aging.

5,261 Views

Tasted

Aug 3, 2011

1990
Château Giscours (Margaux)

Cedar chest, tobacco, forest floor, menthol, and cassis aromas show a wine that is fully mature. This medium bodied wine ends with a short kirsch finish. Drink up as this is already starting to gently decline.

8,684 Views

Tasted

Aug 3, 2014

Earthy. forest floor, tobacco, cassis and green olive tapenade scents are easy to find. Medium bodied, with cassis and hints of green flavors, this is fully mature and should be drunk up.

7,336 Views

Tasted

May 15, 2011

1989
Château Giscours (Margaux)

Light crimson and tea in color, the wine offers earth, tobacco, cassis, barnyard and cherry flavors. With a short, red fruit finish, this is beginning to dry out. Consumers should drink this sooner than later.

5,302 Views

Tasted

Aug 3, 2011

Tobacco, barnyard aromas, and stewed fruit make up the perfume. Austere on the palate and well past its prime. Drink up.

3,431 Views

Tasted

Jun 15, 2009

1986
Château Giscours (Margaux)

Severe bricking in color, with stewed prunes and wet earth sensations, this wine is in serious decline.

8,446 Views

Tasted

Aug 3, 2011

1985
Château Giscours (Margaux)

Smoke, cassis, cedar wood, damp earth and spice aromas open to a medium bodied wine that ends with a cranberry, cassis and green olive finish. The fruit is fading from this wine. It requires immediate consumption.

6,852 Views

Tasted

Aug 3, 2011

1982
Château Giscours (Margaux)

Ruby, tea in color, with an earthy, tobacco cherry blossom, cedar, cigar box nose. Fully mature, the medium bodied wine is soft, silky and showing the patina of age, finishing with spicy, sweet, red plum notes. Popped and poured, there is no reason to hold this any longer.

5,110 Views

Tasted

Nov 2, 2016

1975
Château Giscours (Margaux)

Tobacco, earth, cassis, forest floor and tea aromas lead to a medium bodied, lean wine that ends with a slightly tart, strawberry finish. Drink up.

4,419 Views

Tasted

Aug 3, 2011

Tobacco, truffle and earthy, forest scents are the best of this wine. The austere, lean and unripe style is not pleasing to the palate. Drink up.

5,392 Views

Tasted

Jun 30, 2009

1970
Château Giscours (Margaux)

From magnum, light ruby with tea accents in the color, the wine offers earth, truffle, tobacco, stone and hints of cassis. Medium bodied and already in decline, this needs to be drunk up sooner than later.

4,583 Views

Tasted

Aug 3, 2011

1961
Château Giscours (Margaux)

A complex perfume filled with earth, forest floor, truffle, smoke, blackberry, cigar box, spice and ash. Full bodied and concentrated, but the black cherry flavor was marred by the tart cranberry sensation in the short, but soft, polished finish. I imagine this wine was even better about 10-15 years ago.

6,525 Views

Tasted

May 18, 2011

1957
Château Giscours (Margaux)

Coffee colored, with earthy, spice notes, this light wine finished with a sweet and sour berry note.

3,430 Views

Tasted

Jul 3, 2010

1920
Château Giscours (Margaux)

With a ruby and rust color that was dark for its advanced age, tobacco, ash, cigar box, truffle, forest floor, earth and hints of strawberry opened to a rustic, medium bodied, tart finish that in reality, was not bad considering the vintage. However, this bottle has been in cold storage in Bordeaux since the day it was bottled. At close to 100 years of age, from a weak vintage, it was a nice showing.

3,719 Views

Tasted

May 2, 2012

1919
Château Giscours (Margaux)

Light, bright and packed with more VA than the Veterans Administration. I found it impossible to drink. Others liked it, though I am not sure why. This is a birth year wine, if you don't want another birthday.

1,380 Views

Tasted

Aug 22, 2019