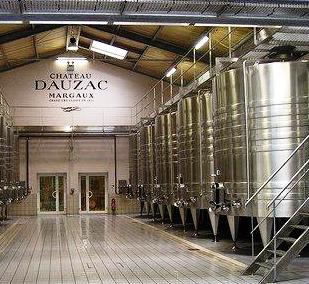 Learn everything about Chateau Dauzac Margaux Fifth Growth with wine tasting notes and wine with food pairing tips. Learn the best vintages, a history of the property, information on vineyards and winemaking. If you want to read about other important, Bordeaux Chateaux: Links to all Bordeaux Wine Producer Profiles
Chateau Dauzac History, Overview
The long history of this semi-obscure, classified chateau dates all the way back to 1622 when the farm of Dauzac was owned by Jean Cousseau. His heirs sold the estate in 1671 to an order of Carmelite nuns.
Fifteen years later, a new owner, Pierre Drouillard purchased the estate. It was the Drouillard family, who after forming a partnership with the well-known Lynch family turned the former farm into a vineyard.
The Drouillard and Lynch families were already active in the Bordeaux wine trade as negociants. Together, they founded Chateau Dauzac. Pierre Drouillard died in 1708. In 1783, Chateau Dauzac was passed on to Jean-Baptiste Lynch.
If the Lynch family name sounds familiar, that's because they were the founders of Chateau Lynch Bages in Pauillac. In 1863, Chateau Dauzac was sold to Nathaniel Johnston III, the owner of a negociant still in business today.
The Johnston family also owned Chateau Ducru Beaucaillou in St. Julien as well as Chateau Phelan Segur in St. Estephe. The Johnston family focused on selling the wines and delegated the wine-making chores to Ernest David.
By the end of the 19th century, Dauzac had become a laboratory for wine growing experiments and research that was headed by Ernest David.
In 1914, with the death of Nathaniel Johnston IV, the Johnston family suffered heavy losses. In the 1930s, unable to overcome the economic hardships brought on by the great depression, they were forced to sell Chateau Dauzac. In 1939, Dauzac was sold at auction.
The new owner, a total newcomer to the wine world, Jean-Jacques Bernat was a well-known Bordeaux ice-cream manufacturer.
Jean-Jacques Bernat brought new ideas to Bordeaux winemaking from his expertise in the production of ice cream. Notably temperature control of the vats using blocks of ice.
Chateau Dauzac The Modern Age
In September 1978, Chateau Dauzac was purchased by Felix Chatellier, who renovated the Medoc estate, restructuring the vineyard and wine-making facilities. Stainless steel vats replaced the old concrete tanks while the 19th-century buildings gave way to air-conditioned cellars.
The winemaking was carried out under the supervision of Professor Emile Peynaud. In 1988, an insurance company, MAIF, acquired the estate from the Chatellier family. In 2002, the wine-making facilities of Chateau Dauzac were modernized and a gravity-based system was installed.
Unfortunately, on acquiring Dauzac, the MAIF company did not also acquire the staff who knew how to make the wine and properly manage the estate. They quickly turned to Andre Lurton who agreed to take over and manage the Chateau Dauzac. In turn, Lurton also purchased 42% of the property.
After twelve years, Andre Lurton stepped down in favor of his daughter, Christine Lurton de Caix, who took over running Chateau Dauzac. This branch of the Lurton family owns several other Bordeaux chateaux including Chateau Couhins Lurton and Chateau La Louviere in the Pessac Leognan appellation.
That arrangement remained in place until 2014 when MAIF decided to take over managing Chateau Dauzac and purchased all the shares owned by the Lurton family. Today, Chateau Dauzac was owned by MAIF and Credit Agricole Grands Crus until 2018.
In late December, Chateau Dauzc was sold to Christian Roulleau, the founder of SAMSIC, for 130 Million Euros. Samsic is a massive business services company, created in 1986. This was their first investment in wine.
Here's a fun fact for you. For the 2016 harvest, Chateau Dauzac invited anyone that was friends with the chateau on their Facebook page to join the harvest! Yes, Chateau Dauzac has certainly embraced the modern era.
Chateau Dauzac Vineyards, Terroir, Grapes, Winemaking
The 42-hectare Chateau Dauzac vineyard is planted to 69% Cabernet Sauvignon, 29% Merlot, and 2% Petit Verdot. This is a change in the vineyard. Previously up to 5% of Cabernet Franc was found in the plantings. But those vines have since been removed.
The vineyard is planted in one large, single block, which is quite rare, especially for the Margaux appellation. While Chateau Dauzac has 42 hectares under vine, they also own an additional 120 hectares of farmland, greenery, and forest land at their estate. The estate also owns 4 hectares of vines in the Haut Medoc appellation.
The age of vines is between 35-40 years of age. However, they also have old vines, some of which are close to 80 years of age. But their old vines are not planted on their best parcels. Or with the correct rootstock, so slowly but surely, those vines will all eventually be replanted. The vineyard is planted to a vine density of 10,000 vines per hectare.
Experiments began taking place on a tiny, .6-hectare parcel of Cabernet Sauvignon that is planted on its own, ungrafted rootstock. These vines are farmed using 100% biodynamic techniques. 2021 marks the first vintage when those vines were used to produce a wine from 100% Cabernet Sauvignon. That is quite a rarity as very few Bordeaux producers make 100% Cabernet, let alone from ungrafted vines.
Other experiments are taking place at Chateau Dauzac including a search for alternatives to copper treatments created from algae coming from the local bay of Arcachon created by ImmunRise.
The Left Bank vineyard of Chateau Dauzac has a terroir of gravel-based soils in the southern end of the Margaux appellation. Part of what makes the terroir of Chateau Dauzac special is its access to the Gironde.
The proximity to the water and its southern position on the appellation, and gives Dauzac a slightly warmer microclimate, so they often are one of the first 1855 Classified Growths to harvest in the appellation.
Their best terroir is on the peak of the gravel slopes known as the plateau de Laborde. This 25-hectare section of vines are the source of their Grand Vin
Not all of the estate is planted with vines. Chateau Dauzac is a beautiful estate to visit, for its parkland, lakes, and greenery surrounding the chateau.
To make the wine of Chateau Dauzac, the wine is vinified in temperature-controlled, stainless steel vats. Malolactic fermentation takes place in tank. The wine is aged in 50% new, French oak barrels for an average of 12 months. It is interesting to note that similar to what takes place at Chateau Palmer, very little sulfur is added at every step from harvest to bottling.
The wines are fined without egg whites as the estate uses plant-based fining agents instead, making Chateau Dauzac a vegan wine since 2016
There is a second wine, actually, they now have two second wines. La Bastide Dauzac, which comes from vines planted in clay and gravel. Starting with the 2013 vintage Chateau Dauzac added another second wine, Aurore de Dauzac, which is produced from vines located in the eastern portion of the estates' vineyard where you find more sandy soils. On average, the annual production of Chateau Dauzac is close to 16,500 cases of wine per vintage.
In addition, with the 2021 vintage, Chateau Dauzac introduced a new wine, Cuvee Franc de Pied which is the first wine produced from ungrafted vines by an 1855 Classified Growth since phylloxera! The wine is produced from 100% Cabernet Sauvignon planted in 2015. Not much wine is made as only 1,000 bottles are produced each vintage.
The following year Dauzac introduced another innovative wine, Cuvee Neutre Carbone from a 1-hectare parcel of Cabernet Sauvignon vines. As the name states, the wine is carbon neutral. To achieve this, at every step of the process, everything is carbon neutral, from the farming, which utilizes only natural treatments, to the work in the cellars, and even the bottles, which are all made from 100% recycled glass. The bottles are sealed with vegetable wax. Sales of Cuvee Neutre Carbone are only available locally to avoid releasing unnecessary carbons into the atmosphere.
In addition, they also produce about 1,250 cases of Le Haut-Medoc de Dauzac from vines located in the Haut Medoc appellation.
The best vintages of Chateau Dauzac are: 2022, 2021, 2020, 2019, 2018, 2017, 2016, 2015, 2014, 2012, 2010, 2009, 2008, 2005, and 2000. It is important to note that there has been a complete renaissance in quality at Chateau Dauzac starting with the 2015 vintage. Today, they are making the best wines in the history of the estate!
Dauzac also owns a small, 5-hectare parcel of vines located just outside the Margaux region in the Haut Medoc appellation. The wine is sold under the name of Chateau Labarde.
When to Drink Chateau Dauzac, Anticipated Maturity, Decanting Time
Chateau Dauzac can be enjoyed on the young side with decanting. Young vintages can be decanted for an average of 1-2 hours, give or take. This allows the wine to soften and open its perfume. Older vintages might need very little decanting, just enough to remove the sediment.
Chateau Dauzac is usually better with at least 7-9 years of bottle age. Of course, that can vary slightly, depending on the vintage character. Dauzac offers its best drinking and should reach peak maturity between 10-18 years of age after the vintage.
Serving Chateau Dauzac, with Wine, Food, Pairing Tips
Chateau Dauzac is best served at 15.5 degrees Celsius, 60 degrees Fahrenheit. The cool, almost cellar temperature gives the wine more freshness and lift.
Chateau Dauzac is best served with all types of classic meat dishes, veal, pork, beef, lamb, duck, game, roast chicken, roasted, braised, and grilled dishes. is a perfect match with Asian dishes, hearty fish courses like tuna, mushrooms, and pasta as well as cheese.
Château Dauzac Wine Tasting Notes
19 Vintages 87,725 Views Sort by Vintage-Rating
2022
Château Dauzac (Margaux)
Black and red currants, blackberries, and blue fruit, with a touch of espresso and a floral edge create the perfume. The wine is rich, soft, fresh, elegant and medium-bodied, finish with layers of creamy fruits with a cocoa edge to the endnote in the finish. Drink from 2027-2050. 92-94 Pts.
1,279 Views
Tasted

May 8, 2023
2021
Château Dauzac (Margaux)
Forward, medium-bodied, currant oriented with freshness and floral characteristics, the wine is soft, and easy to drink, with a red fruit and espresso tinted finish. You can enjoy this early for all of its soft, ripe, red fruits. Drink from 2023-2033. 89-91
1,144 Views
Tasted

May 20, 2022
2020
Château Dauzac (Margaux)
Lush, plush, polished and creamy, this gem is packed with black cherries, chocolate, espresso, blackberries, smoke and violets. Full-bodied, long and rich, the fruit really lingers from the mid-palate through to the finish. Drink from 2025-2050.
1,386 Views
Tasted

Mar 21, 2023
Dark in color, the wine is filled with flowers, blackberries, smoke, violets, licorice and earthy aromas. Lush, elegant, polished, sweet fruit fills your palate and leaves you with hints of bitter cocoa and supple textured, dark cherries in the finish. 92-94 Pts
1,665 Views
Tasted

May 20, 2021
2019
Château Dauzac (Margaux)
I liked this a lot in barrel and I am liking it a lot in the bottle! Roses, violets, licorice, cherries and espresso come through easily in the perfume. The wine is soft, silky, fresh and refined on the palate with loads of sweet, perfectly ripe, black plums in the sensuous, refined, lengthy finish. Drink from 2024-2045.
1,929 Views
Tasted

Mar 29, 2022
Deep in color, the wine is medium-bodied, silky and finesse driven. The ripe fruit struts all over the place with its energetic presence. More than fruit, you also enjoy its flowery charm before arriving at the spicy, sensuous, refined, lengthy finish. The wine is a blend of 73% Cabernet Sauvignon and 27% Merlot aging in 67% new, French oak barrels. 93-95 Pts
3,967 Views
Tasted

Jun 8, 2020
2018
Château Dauzac (Margaux)
Medium/full-bodied, soft, round, lush, ripe and fruity with loads of sweet black cherry, plum, tobacco, flowers and hints of spice on the nose and palate. There is good freshness to the fruity and softness to the tannins. Give this another 7-8 years and it should be showing quite well.
3,377 Views
Tasted

Aug 20, 2021
2017
Château Dauzac (Margaux)
There is a roundness to the tannins, that comes from a healthy dose of Merlot in the blend. The ripe, dark cherries are sweet, fresh and smoky, with earthy, leafy and floral nuances attached. This is already quite nice and should age well, for at least another 2 decades or longer.
3,278 Views
Tasted

May 14, 2020
Medium bodied and pashmina soft, there is a smooth sweetness emanating from the fruit. This is not complex, instead it offers a straightforward, laid-back moment of pleasure. The wine was produced from blending 69% Cabernet Sauvignon and 31% Merlot.
2,597 Views
Tasted

Apr 26, 2018
2016
Château Dauzac (Margaux)
Medium-bodied, fresh, bright, crisp, vibrant, cassis, violets and earthy nuances combine for a classic take on Margaux,
2,545 Views
Tasted

Sep 21, 2019
Medium-bodied, fresh, soft-textured wine with nectarous fruits, earth and spice. Give this a few years to soften before you enjoy the juicy fruit finish.
3,576 Views
Tasted

Apr 29, 2017
2015
Château Dauzac (Margaux)
Medium/full bodied, the wine is fresh, lively, silky and infused with all the sweet, ripe, red and black fruits, flowers and tobacco you need, before the perfectly, soft, round, fruit filled finish kicks in.
2,630 Views
Tasted

Mar 12, 2018
Sweet, black cherries, spring flowers, licorice, earth and tobacco scents work perfectly with soft, round, dark, ripe fruits and silky tannins. 91 - 93 Pts
2,730 Views
Tasted

Apr 21, 2016
2014
Château Dauzac (Margaux)
With a roundness to the tannins, and freshness to the red red fruits, this should drink well early, yet, develop more complexities as this medium bodied wine ages.
4,402 Views
Tasted

Feb 4, 2017
This is not a wine I taste often but I was truly impressed with this vintage, as the recent change in ownership/management has clearly made a difference. Round textures, ripeness in the fruit and a kiss of oak, this elegant wine finishes on a note of dewy, lusciously ripe berries. 88-90 Pts
3,574 Views
Tasted

Apr 22, 2015
2013
Château Dauzac (Margaux)
Light, bright, and offering, simple, red fruits ranging from cherries to cranberry paired with floral notes, the finish is crisp and short.
4,380 Views
Tasted

Feb 11, 2016
2012
Château Dauzac (Margaux)
Medium bodied, soft textured cherries and earthy notes are found in this correctly made wine. Perhaps a few years of bottle age will add to the wines complexity. 85-87
5,325 Views
Tasted

Apr 26, 2013
2011
Château Dauzac (Margaux)
Short, medium bodied with bright red fruits, spice and earth in the dry finish. Definitely more interesting on the nose than the palate. The wine wa produced from a blend of 52% Cabernet Sauvignon and 48% Merlot, making it one of the largest percentages of Merlot in the Medoc.
3,722 Views
Tasted

Feb 17, 2014
2010
Château Dauzac (Margaux)
Medium bodied, with more red fruits than black, the wine has freshness, but the blend of 66% Cabernet Sauvignon and 34% Merlot lacks ample ripeness and concentration.
5,037 Views
Tasted

Feb 13, 2013
2009
Château Dauzac (Margaux)
From an assemblage of 64% Cabernet Sauvignon and 36% Merlot, the wine opens with coffee bean, fresh blackberries, plums and floral aromas. Round, soft and concentrated, this fun to taste, reasonably priced Margaux wine was a surprise, as I do not see it often.
6,715 Views
Tasted

Feb 1, 2012
2008
Château Dauzac (Margaux)
Young, masculine, firm, tannic, slightly more interesting on nose, with its floral, cedar wood, tobacco and blackberry notes, than on the palate, which leans to the austere side. This could improve if it softens with more age.
3,676 Views
Tasted

Jul 15, 2015
2006
Château Dauzac (Margaux)
Better on the earthy, tobacco, floral and red berry nose than on the austere, tannic palate with its bright, crisp, strict finish.
2,647 Views
Tasted

Jun 26, 2020
2005
Château Dauzac (Margaux)
Attention grabbing aromatics of flowers, black and red plums, cassis, smoke and licorice. Still tannic, this concentrated, round Margaux wine needs at least another 5-7 more years before it begins to express its personality.
6,840 Views
Tasted

Aug 28, 2011
2001
Château Dauzac (Margaux)
Medium bodied, and on the fresh, bright, red fruit style range, the texture is soft, marking this as mature and quite easy to drink. However, it is not a wine to hold, so if you have some, pop it over the next few years.
4,258 Views
Tasted

Dec 3, 2018
2000
Château Dauzac (Margaux)
This classic, old school, traditionally styled Margaux wine is medium bodied, slightly firm, fresh and lets you in on its cassis, tobacco, wet earth and red berry character. Ready to drink, there is a fresh, crisp tart edge to the red fruits in the earthy finish. Fans of this style of wine might enjoy it even more.
5,046 Views
Tasted

Oct 4, 2016