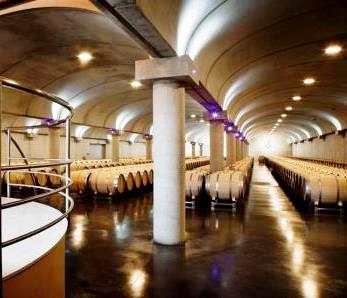 Learn everything about Chateau La Louviere, Pessac Leognan with wine tasting notes, and wine with food pairing tips. Learn the best vintages, a history of the property, information on the vineyards, and winemaking. If you want to read about other important, Bordeaux Chateaux: Links to all Bordeaux Wine Producer Profiles
Chateau La Louviere History, Overview
Chateau La Louviere, like many Pessac Leognan estates enjoys a long history. In fact, Chateau La Louviere dates back to the late 1300s as an estate., passing from owner to owner, which included an order of monks in the early 1600s.
The vineyard was confiscated during the French Revolution and eventually sold to the Mareilhac family, who also owned Chateau Rieussec in Sauternes at one point in time.
Chateau La Louviere, the Modern Era
The modern age for Chateau La Louviere begins in 1965 when the well-known Lurton family purchased Chateau La Louviere from the Taquet family. The Taquet family had been the owners of Chateau La Louviere since the early part of the 20th century.
The purchase price could not have been much, as the estate had fallen into a serious state of dilapidation. Extensive renovations were required in the cellars, the vineyards, and the chateau of La Louviere which is now classified as a national architectural treasure by the French government.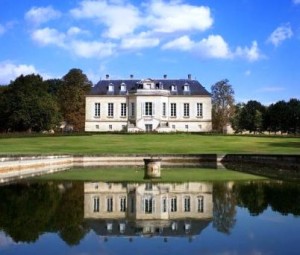 2003 marked an interesting experiment when Chateau La Louviere became one of the first, well-known Bordeaux estates to bottle their wine using the Stelvin screw cap enclosure.
The estate was once again modernized in 2008. Today, the estate is managed by Andre Lurton. This branch of the Lurton family owns several other Bordeaux chateaux including Chateau Couhins-Lurton and Chateau Dauzac in Margaux.
Chateau La Louviere Vineyards, Terroir, Grapes, Winemaking
The 61.5-hectare vineyard of Chateau La Louviere is planted to 60% Cabernet Sauvignon and 40% Merlot, although there are some Petit Verdot vines remaining in the vineyard. The Cabernet Franc has been completely removed.
13.5 hectares are devoted to white wine grape varieties which are planted to 85% Sauvignon Blanc and 15% Semillon, with a similar planting density and vine age as the red wine varieties.
The terroir is gravel with limestone deposits in the soil. On average, the vines are close to 25 years of age. The vines are planted to a density that ranges from 6,500 vines per hectare up to 8,500 vines per hectare. The higher levels of density are for the newer plantings.
Chateau La Louviere has good neighbors. They are located in Cadaujac, which is not far from Chateau Haut Bailly and across the way from Chateau Smith Haut Lafitte. Even with their new wine-making facilities, cellars and good terroir, the wines have not always been consistent. Since 2015, they have been on a roll and the wines have never been better.
In 2013, Chateau La Louviere hired Michel Rolland as their consultant in an effort to improve their red wines and to bring more attention to the estate. Denis Dubourdieu continued to consult for the white wines until his demise.
Chateau La Louviere Winemaking
To produce the red wine of Chateau La Louviere, vinification takes place in a combination of temperature-controlled, traditional, cement vats and stainless steel tanks. Malolactic fermentation takes place in vat. The wine is aged in 50% new, French oak barrels for about 15 months.
To produce the white wine of Chateau La Louviere, the grapes are whole-cluster pressed. There is no contact between the juice and the skin. There is no malolactic fermentation. Alcoholic fermentation starts in tanks and continues in a combination of new and used French oak barrels. The wine is and aged on its lees in an average of 45% new, French oak barrels for close to 9 to months before bottling, depending on the vintage.
For the red wine of Chateau La Louviere, the average production is 20,000 cases per vintage. For the white wine, the production is close to 4,000 cases per year. There is a second wine for both the red and white wine, L de La Louviere.
The Best Vintages of Chateau La Louviere are: 2022, 2021, 2020, 2019, 2018, 2017, 2016, 2015, 2012, 2010, 2009, 2008, 2006, 2005 and 2000. Although it is important to note that vintages can vary as to their quality between the white wine and the reds as in some years, the reds are markedly better and in other vintages the whites are superior.
When to Drink Chateau La Louviere, Anticipated Maturity, Decanting Time
Chateau La Louviere can be enjoyed on the young side with decanting. Young vintages can be decanted for an average of about 1 hour or so. This allows the wine to soften and open its perfume. Older vintages might need very little decanting, just enough to remove the sediment.
Chateau La Louviere is usually better with at least 4-7 years of bottle age. Of course, that can vary slightly, depending on the vintage character. Chateau La Louviere offers its best drinking and should reach peak maturity between 6-15 years of age after the vintage.
Serving Chateau La Louviere, with Wine, Food, Pairing Tips
Chateau La Louviere is best served at 15.5 degrees Celsius, 60 degrees Fahrenheit. The cool, almost cellar temperature gives the wine more freshness and lift. The red wine of Chateau La Louviere is best served with all types of classic meat dishes, veal, pork, beef, lamb, duck, game, roast chicken, roasted, braised, and grilled dishes.
Chateau La Louviere is a perfect match with Asian dishes, hearty fish courses like tuna, mushrooms, and pasta as well as cheese. The white wine of Chateau La Louviere is a perfect wine to serve with shellfish, sashimi, sushi, all types of seafood, chicken, veal, and cheese.
Château La Louvière Wine Tasting Notes
34 Vintages 123,054 Views Sort by Vintage-Rating
2022
Château La Louvière (Pessac-Léognan)

Deeply colored, the wine is loaded with flowers, cherries, herbs, and forest leaves. Medium-bodied, creamy, soft, and polished, the fruits are silky, fresh, and long, with layers of dark cherries, black plums, licorice, herbs, and chalk in the finish. Drink from 2025-2042 . 92-94 Pts.

1,432 Views

Tasted

May 8, 2023

2022
Château La Louvière Blanc (Pessac-Léognan)

Flowers, and lemons in a sweet, creamy style with a nice honeysuckle, and orange accent in the waxy lemon finish Drink from 2024-2030. 92-92 Pts.

1,267 Views

Tasted

May 8, 2023

2021
Château La Louvière Blanc (Pessac-Léognan)

Honeysuckle, orange tropical fruit, waxy lemons, grapefruit, green apples, and blazing acidity make this an instant treat to taste due to its racy quality and purity in its fruits. Drink from 2023-2033. 93-93 Pts

982 Views

Tasted

May 20, 2022

2021
Château La Louvière (Pessac-Léognan)

Floral in nature with accents of tobacco leaf, spice, dark currants and smoke. The wine is round, polished, soft, and sweet, with plenty of ripe, dark red berries and polished tannins in the medium-bodied finish. Drink from 2024-2039. 90-92

1,217 Views

Tasted

May 20, 2022

2020
Château La Louvière (Pessac-Léognan)

Black cherries, blackberries, plums, licorice, flowers, and spearmint resonate in the nose. From there you find a wealth of fresh, silky, vibrant, dark red fruits on the palate, buttressed with dark chocolate, espresso, elegant, supple-textures and vibrancy which stick with you from start to finish. Drink from 2025-2045.

675 Views

Tasted

Mar 21, 2023

Flowers, blackberry, currants and blueberry aromatics blend together perfectly in the perfume. On the palate the wine is medium-bodied, elegant, soft and lively, with a polished touch to the tannins in the finish. This should age for at least 2 decades with little trouble. 91-93 Pts

1,625 Views

Tasted

May 20, 2021

2020
Château La Louvière Blanc (Pessac-Léognan)

Crushed rocks, lemons, grapefruit, green apples, spice and white flowers create an intense perfume. Rich, fresh, fruit-filled and juicy with a yellow and orange citrus, white peach and green pear, packed finish, with a touch of ginger in the endnote, this is already fabulous in your glass. Drink from 2023-2034.

732 Views

Tasted

Mar 21, 2023

Barely ripe pears, green apples, grapefruit, waxy lemon and lime with ginger and honeysuckle create an intense perfume. On the palate the wine is fresh, juicy, energetic and sweet, with a crispness and purity to the array of citrus that stands out in the crowd, carrying through to the finish. 92 Pts

1,378 Views

Tasted

May 20, 2021

2019
Château La Louvière (Pessac-Léognan)

Dark red fruits pop easily on the nose and palate. All of that is made even better with overtones of cigar box, flowers, and a hint of spice on the back end. Fresh, vibrant, elegant, long and refined, with a smoked cherry and black raspberry not on the backend. Let it rest a few years and it will be an even better wine. Drink from 2024-2037.

1,760 Views

Tasted

Mar 29, 2022

Lush, round, sweet, fresh, juicy red fruits with chocolate and smoky accents show up easily. The fruit expands on the palate with more of that sweet, chocolate overtone and silky tannins. Give this 5-7 years for more complexity and softness. 91-93 Pts

3,097 Views

Tasted

Jun 8, 2020

2019
Château La Louvière Blanc (Pessac-Léognan)

Pomelo honeysuckle and green apple with a nice minty accent let you know this is going to be good. On the palate the wine is crisp fresh, vibrant and lifted with a nice touch of minerality in the mid-palate and in the finish. Drink from 2022-2029.

1,224 Views

Tasted

Mar 29, 2022

Crisp green apples, lemon, lime, flowers and orange peel smell just great. On the palate, the wine pops with freshness, vibrant yellow citrus, creamy, lush textures and hints of honey with tangerine in the finish. 92 Pts

2,692 Views

Tasted

Jul 7, 2020

2018
Château La Louvière (Pessac-Léognan)

Tobacco leaf, cedar, spearmint, red fruits and herbs are all over the place. On the palate the wine is elegant, fresh, soft and silky, with layers of fruit and tobacco in every swirl, sniff and sip. The volume, depth and length here is something I have never seen here before. The wine was great in barrel and in bottle I'm loving it!

1,754 Views

Tasted

Mar 9, 2021

Cigar lovers are going to like this wine with all its tobacco essence but so are wine lovers! The darkest vintage ever from La Louviere, the wine is gorgeous. Rich, opulent, soft and vibrant, the fruit is ripe, sweet and spicy. The volume, depth and length here is something I have never seen here before. I'm loving it! 92-94 Pts

2,362 Views

Tasted

Apr 19, 2019

2018
Château La Louvière Blanc (Pessac-Léognan)

Much better in bottle, than in barrel, now you find loads of ripe, sweet, round, creamy yellow citrus, flowers, a touch of honey, crisp green apple and grapefruit.

963 Views

Tasted

Mar 12, 2021

Light in color and fruit, the ripe, sweet, yellow citrus is quite juicy but it lacks the length and freshness found in the best vintages.

1,634 Views

Tasted

Apr 19, 2019

2018
Château La Louvière "L" de la Louviere (Pessac-Léognan)

Simple, forward, easy to like lemony wine for uncomplicated drinking pleasure.

1,198 Views

Tasted

Mar 9, 2021

2017
Château La Louvière Blanc (Pessac-Léognan)

Pomelo, green apples, vanilla, yellow citrus and flowers pop right up. Lively acidity gives the sweet, lemon-edged fruits lift and length.

2,350 Views

Tasted

Apr 26, 2018

2017
Château La Louvière (Pessac-Léognan)

Medium bodied with a tobacco overtones amidst the bright red fruits, this wine is everything you need plus a smoky edge. You should give this a few years in the cellar to soften and develop.

2,373 Views

Tasted

Apr 26, 2018

2016
Château La Louvière (Pessac-Léognan)

Medium-bodied, soft, fresh and vibrant, the wine is elegant, smoky and filled with all the earthy, ripe red cherries and tobacco leaf you need.

2,381 Views

Tasted

Sep 21, 2019

Medium-bodied, elegant, soft and already displaying its nose of cigar wrapper and ripe, fresh, red fruits, the wine offers lift energy and an earthy, cherry filled finish.

2,444 Views

Tasted

Feb 10, 2019

Medium-bodied with a cigar box and smoke note that really adds to the sweet, ripe, cherries. Elegant, fresh and bright, you can age this a few years for more nuance.

3,377 Views

Tasted

Apr 29, 2017

2016
Château La Louvière Blanc (Pessac-Léognan)

Ready to go, with its slightly honeyed citrus and floral character, the wine is round, and just a bit lush, leaving you with sweet, citrus and hint of white peach in the finish.

1,324 Views

Tasted

Sep 26, 2019

Forward, fun and fresh, with a lively lemon, grapefruit and floral character that finishes with hints of tart green apple and tangerine.

2,132 Views

Tasted

Feb 14, 2019

An early drinker here, with the right amount of just squeezed lemons, grape fruit, tart green apple and tangerine make this an appealing, summer, white Bordeaux wine.

1,750 Views

Tasted

Apr 29, 2017

2015
Château La Louvière Blanc (Pessac-Léognan)

Here, you find accent of white peach, which add to the grapefruit, lemon zest and orange marmalade. There is a nice, zippy quality to the fruit that is equally fresh and refreshing. This is a nice, finesse styled white Bordeaux wine.

1,853 Views

Tasted

Mar 12, 2018

White peach, orange marmalade and pomelo get your attention rather quickly, but its the zippy, fresh lemon peel notes in the finish that stay with you.

1,666 Views

Tasted

Apr 23, 2016

2015
Château La Louvière (Pessac-Léognan)

Medium-bodied, elegant, fresh and forward, the distinctive, cherry, earth, incense and smoked, cherry pipe tobacco is out in front. The tannins are soft, the wine is polished and finish is refined. This wine is going to be easy to drink on the early side of its life.

3,653 Views

Tasted

Mar 12, 2018

Medium-bodied and fresh, tobacco and cherry fruits on the nose quickly move to an elegant, cherry, fennel and cigar box character on the palate. This wine is going to be easy to drink on the early side of its life. 88 - 90 Pts

1,910 Views

Tasted

Apr 23, 2016

2014
Château La Louvière Blanc (Pessac-Léognan)

Much better than the red this year. There is freshness and length, coupled with sweet, ripe, citrus, floral and green melon notes.

2,240 Views

Tasted

Feb 6, 2017

2014
Château La Louvière (Pessac-Léognan)

Light in color, medium bodied and with a distinctive herbal note that marred the otherwise, fresh, crisp, bright, red berry flavors.

3,340 Views

Tasted

Feb 6, 2017

2013
Château La Louvière Blanc (Pessac-Léognan)

Fresh, lighter style of dry, white Bordeaux focused on the crisp, yellow fruits and limestone character.

1,185 Views

Tasted

Feb 1, 2016

Medium bodied with orange marmalade and lemon notes, this light style of white Bordeaux wine should be consumed young. 87-88 Pts

877 Views

Tasted

Apr 21, 2014

2013
Château La Louvière (Pessac-Léognan)

Light in style with a bright, tart, red berry character that is made for early drinking. The wine was produced from a blend of 70% Cabernet Sauvignon and 30% Merlot.

2,827 Views

Tasted

Feb 3, 2016

Light in style with an earthy, red cherry-filled personality, the wine feels rustic on the palate with sweet, tart flavors in the finish. 83-85 Pts

2,315 Views

Tasted

Apr 21, 2014

2012
Château La Louvière Blanc (Pessac-Léognan)

At maturity, or close to it, this delicious white is showing honeysuckle, white peach, grapefruit and lemon rind notes on the nose and palate. Fresh, round and citrusy this is in the perfect spot today.

2,155 Views

Tasted

Aug 10, 2020

2012
Château La Louvière (Pessac-Léognan)

Medium-bodied with fresh, smoky cherries on the nose and a fresh, cherry finish produced a wine that should be drinkable on release. 88-90 Pts

3,822 Views

Tasted

Apr 25, 2013

2011
Château La Louvière Blanc (Pessac-Léognan)

This is the right moment to pop a cork on this gem so you can savor all the delicious ripe, freshly squeezed grapefruit, Meyer lemon, and honeysuckle that comes alive thanks to the jolt of acidity. Fresh, sweet. bright and crisp, enjoy this for up to another decade.

2,894 Views

Tasted

Apr 27, 2020

2011
Château La Louvière (Pessac-Léognan)

Light, rusitic and lacking depth of flavor, the wine focuses on tart, red berries and herbs. Fans of this style of wine will like it a lot more than I did.

3,769 Views

Tasted

Feb 19, 2014

This elegant, medium-bodied Pessac Leognan with smoke, cassis, plums and fresh cherries will drink well early. 87-89 Pts

4,070 Views

Tasted

Apr 25, 2012

2010
Château La Louvière (Pessac-Léognan)

Red berries, earth, tobacco open the nose. Medium bodied, fresh, lively and soft, the wine ends with refined, spicy red fruits.

4,643 Views

Tasted

Feb 15, 2013

2010 La Louviere – Smoke, blackberry and fresh herb aromas pair with round textures that conclude with a licorice, black cherry and earthy wine that should drink well early and offer a lot of bang for the buck. 90-92 Pts

2,662 Views

Tasted

Apr 21, 2011

2010
Château La Louvière Blanc (Pessac-Léognan)

Seemingly past its prime and already starting to lose its freshness and crisp, yellow citrus character. If you are sitting on any it is time to drink up.

3,589 Views

Tasted

Mar 29, 2021

2009
Château La Louvière (Pessac-Léognan)

Soft, elegant, medium-bodied and fully ready to go, the wine provides ample, smoky, red, tobacco drenched red fruits with earthy nuances from start to finish. Drink this over the next decade for maximum pleasure.

3,268 Views

Tasted

Sep 20, 2019

A wine of finesse, and not concentration, the nose grabs you with its smoky, cherry, pipe tobacco and wet earth aromas. Soft, refined and elegant, the finish delivers fresh black cherries. Already drinking well, you can age it, or pop a bottle if you prefer young, fresh fruits.

6,580 Views

Tasted

Jan 16, 2014

2008
Château La Louvière Blanc (Pessac-Léognan)

Fresh squeezed lemons strained over rocks is the name of the game here, with this vibrant, energetic, Sauvignon Blanc based wine.

2,589 Views

Tasted

Dec 11, 2017

2006
Château La Louvière (Pessac-Léognan)

This medium bodied, smokey, Pessac Leognan wine offers a red fruit and spice characteristics. This light style of wine is probably best enjoyed in its youth.

5,668 Views

Tasted

Jan 2, 2012

2005
Château La Louvière (Pessac-Léognan)

Light in style, better on the nose with its tobacco, dark red berry, earth and herb notes , than on the medium bodied, uncomplicated, red berry dominated palate.

3,807 Views

Tasted

Feb 12, 2013

2004
Château La Louvière (Pessac-Léognan)

Better on the nose, with its smoky, red fruits, earth and spicy aromas, than on the soft, medium bodied, almost light, red berry finish.

3,350 Views

Tasted

Jan 4, 2015

2000
Château La Louvière (Pessac-Léognan)

Fully mature, and more interesting on the nose, with its cigar box, smoke, tobacco and fresh, plum, with cherry aromas. Medium bodied and almost light on the palate, there is no reason to age this for further evolution. Popped and poured.

2,887 Views

Tasted

Oct 20, 2016

1975
Château La Louvière Blanc (Pessac-Léognan)

The oldest wine I've ever tasted from this estate continues to offer interest, with its slightly honeyed citrus, and stony components. The fruit is taking on a sight petrol character, so I would not continue pressing your luck holding on this, if you have a bottle or two hanging around.

1,312 Views

Tasted

Jul 8, 2017