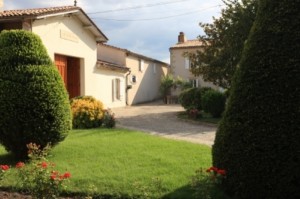 Learn everything about Chateau Doisy Daene Sauternes, Deuxiemes Crus with wine tasting notes and wine with food pairing tips. Learn the best vintages, a history of the property, information on the vineyards and winemaking. If you want to read about other important, Bordeaux Chateaux: Links to all Bordeaux Wine Producer Profiles
Chateau Doisy Daene History, Overview
The name Doisy-Daene was inspired by an owner in the late 1800s, Jacques Emmanuel Daëne. Daene took the vineyard's name of Doisy and used his name to come up with what we know of today as Chateau, Doisy Daene.
In 1875, J.J.E. Daene's three sons inherited their estate. Later that same year, they sold a portion of Doisy Daene to the Dubroca Brothers. Starting in 1878, Doisy Daene was sold again, again and again.
Finally, in 1924, Georges Dubourdieu purchased Doisy Daene from Deban's heirs. At the time, the property had only 4 hectares under vine. Slowly but surely, the family continued acquiring more land and increasing the size of the vineyard.
Pierre Dubourdieu took over management of the estate in 1949. One of his initial decisions was introducing the first dry white wine in the appellation, Cuvée Saint Martin. At the time, their new dry white Bordeaux wine was a massive 70% of the estates total production!
Professor Denis Dubourdieu
In 2000, the noted wine consultant, Denis Dubourdieu took over managing all of the family estates from his father, Pierre Dubourdieu who was now retired. Denis Dubourdieu was perfect for the job. He was a respected professor at Bordeaux University and was already consulting numerous Bordeaux estates in the Medoc, the Right Bank, and of course Sauternes on the production of their red, dry white, and sweet wines.
In 2014, Denis Dubourdieu added to his holdings in Sauternes when he purchased the estate of Chateau Doisy Dubroca from the Lurton family. From that point forward, no more vintages of Doisy Dubroca were produced. The vines were re-incorporated back into the vineyard of Chateau Doisy Daene.
This is not the first time the Dubourdieu family purchased vines from Doisy Dubroca. In 1968, the estate sold 6 hectares of vines to the Dubourdieu family that were added to the vineyards of Chateau Doisy Daene. However, it took until 2020 or a bit longer before any of those vines will be used in Doisy Daene.
That is because, in 2012, the entire vineyard of Doisy Dubroca was ripped up. It was not expected that replanting will take place before 2016, to allow the soils to recover. In 2017, Chateau Doisy Daene completed the construction of its new, modernized, tasting room.
Aside from being the owner of several vineyards, Denis Dubourdieu was even better known for being a Professor of Oenology, tireless researcher, scientist, and a consultant for red and white Bordeaux at a myriad of Chateaux.
Denis Dubourdieu worked with numerous estates including: Haut Bailly, Giscours, du Tertre, Carbonnieux, Batailley, Pichon Lalande, La Lagune, and Chateau Margaux for Pavillon Blanc. In fact, Denis Dubourdieu consulted close to 85 different estates at his peak!
And course Denis Dubourdieu was also involved in consulting several estates in Sauternes and Barsac including Chateau dYquem and Lafaurie-Peyraguey. Denis Dubourdieu is also a small minority owner in Lafaurie-Peyraguey, along with Silvio Denz.
While Bordeaux is of course better known for red wine, it was white Bordeaux wine that really captured his focus. In fact, consumers of dry and sweet white Bordeaux wines have much to be thankful for, due to the numerous contributions of Denis Dubourdieu.
Dubourdieu was responsible for many of the changes in the vineyards and the cellars that have led to an explosion in quality for white Bordeaux wine, including using less new oak, during the vinification and aging process as well as harvesting dates and soil studies.
For the red wines, Denis Dubourdieu was not a big fan of picking grapes that some growers and other consultants considered fully ripe, or overripe. Denis Dubourdieu was more interested in producing wines with more freshness and vibrancy. He did not favor the trend to produce darker, more extracted wines that have become more popular in Bordeaux today.
2016 was a year of honors and sadness for the Dubourdieu family. In 2016, Denis Dubourdieu was awarded the distinguished Legion d'Honneur from the French government.
He was also given the award for the Man of the Year from Decanter magazine. Denis Dubourdieu passed away July 25 after a long bout with cancer at the age of 67. His passing left a large hole in Bordeaux. His two sons, Jean Jacques Dubourdieu and Fabrice Dubourdieu have taken over managing all of the Dubourdieu family estates.
Chateau Doisy Daene Vineyards, Terroir, Grapes, Winemaking
The 18.2 hectare Chateau Doisy Daene is planted to 86% Semillon and 14% Sauvignon Blanc. Although there is a small section of vines planted to Muscadelle as well. This marks a change in the vineyard, as today, you find a higher percentage of Semillon planted.
Situated quite close to Chateau Climens, in Barsac, the vineyard has a terroir that consists of red sand, clay and limestone soils. The vines are planted to a density of 7,000 vines per hectare. On average, the vines are maintained at 35 years of age.
Aside from their sweet, white Bordeaux wine, which is their mainstay, Chateau Doisy Daene produces two additional wines. They make a dry white wine from 100% Sauvignon Blanc, which is sold as a Bordeaux blanc. This is denoted by the term Grand Vin Sec, which appears on the label for Doisy Daene Grand Vin Sec.
To produce the wine of Chateau Doisy Daene, the wine is vinified in French oak barrels where it remains for an average of 10 months in 65% new, French oak barrels. From that point, the wine is aged in tank for 8 months before bottling. On average, close to 2,500 cases of wine are produced of Chateau Doisy Daene each year.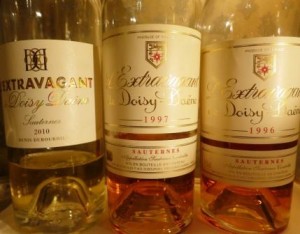 The best vintages of Chateau Doisy Daene are: 2022, 2021, 2020, 2019, 2018, 2017, 2016, 2015, 2014, 2013, 2011, 2010, 2009, 2007 and 2005.
In select years, Chateau Doisy Daene also produces a special wine, l'Extravagance de Doisy Daene. 1990 marked the debut vintage for l'Extravagance de Doisy Daene. The wine is produced from a vineyard selection of their best grapes and aged in a minimum of 75% new French oak barrels for between 18 and 24 months.
What separates this wine from their regular Cuvee, and frankly all other Sauternes wines are the extremely high sugar levels. l'Extravagance de Doisy Daene can be close to twice as high in sugar levels as their regular wine. It can also be lower in alcohol.
Interestingly the blends change from vintage to vintage. In some vintages, the wine is produced from 100% Sauvignon Blanc. In other years, for example, 1996 and 2010, the wine was produced from 50% Semillon and 50% Sauvignon Blanc. In 2007, the blend was about 70% Sauvignon Blanc and 30% Semillon.
To make things even more confusing, or fun, depending on your point of view, in 1997, the wine was made from 100% Semillon! Not much of this special wine is produced. On average, about 100 cases are made, when it is produced. The wine has only been made in 1990, 1996, 1997, 2001, 2002, 2003, 2004, 2005, 2006, 2007, 2009, 2010 and 2011.
l'Extravagance de Doisy Daene is priced to compete with Chateau d'Yquem. Not much is made, making it one of the most difficult Sauternes to find, as well as one of the most expensive. The wine is only sold in half bottles. Each 375 ml bottle of this wine is packaged in its own wooden case and the capsules are topped with wax.
When to Drink Chateau Doisy Daene, Anticipated Maturity, Decanting Time
Chateau Doisy Daene can be enjoyed on the young side with no decanting. In fact, it is delicious and quite a treat young, even on release! However, like all great wines, Chateau Doisy Daene is much better with age and does not reach full maturity until it's between 12-30 of age, or in some years, perhaps even longer in the best vintages!
That is when the magic happens! But that is unrealistic for 99% of the world's wine drinkers. So, enjoy it on any special occasion that calls for it.
Of course, the wine is sweet, but there is so much, incredible, racy acidity, the wine always feels fresh, and never cloying, which makes it quite fun to enjoy young. With Chateau Doisy Daene and frankly, all Sauternes, the temperature is more important than decanting.
Serving Chateau Doisy Daene with Wine and Food Pairings
Chateau Doisy Daene is best served at 14 degrees Celsius, 57 degrees Fahrenheit. The cool, almost cellar temperature gives the wine more freshness and lift.
The wine will naturally warm in the glass, while it develops more aromatic complexities and fleshes out. Chateau Doisy Daene can be served with seafood dishes, especially shellfish, lobster, crab, and oysters on the half shell. Foie gras is a perfect pairing with its natural sweet, salty and savory characteristics.
Chateau Doisy Daene can also be paired with roasted chicken, veal, and pork dishes that are either spicy or prepared with a touch of sweetness. Spicy Asian cuisine, raw fish, like sushi or sashimi, and cheese, both hard and soft also make great pairings with Chateau Doisy Daene.
Denis Dubourdieu also owns Clos Floridene in the Graves appellation, not far from Pessac Leognan and Chateau Reynon, which is a Premieres Cotes de Bordeaux.
Aside from his work in Bordeaux, Denis Dubourdieu is involved with several projects in different regions all over the world. One of his most interesting ventures is in the Stellenbosch region of South Africa with 4 G Wines in a partnership with Girogio Dalla Cia.
Château Doisy-Daëne Wine Tasting Notes
27 Vintages 117,888 Views Sort by Vintage-Rating
2022
Château Doisy-Daëne (Barsac)

Vibrant, sweet, mineral-accented, pineapples, vanilla, lemon curd, yellow plum, and honey are on fire here! Perfectly balanced between its sweet and fresh side, this is a serious, sweet treat! Drink from 2025-2050. 94-96 Pts.

1,732 Views

Tasted

May 8, 2023

2021
Château Doisy-Daëne (Sauternes)

Honey coated apricots, pineapple, vanilla, flowers and candied lemon curd notes are already on display in the nose and on the racy, fresh, vibrant palate, finishing with a gorgeous, honey-drenched display of tropical fruits. Drink from 2023-2050. 94-96

2,651 Views

Tasted

May 20, 2022

2020
Château Doisy-Daëne (Barsac)

The perfume with its array of ripe and overripe tropical fruits, yellow plums, white peach and candied orange rind with an array of spices hits the spot. The palate, with all of its layers of zesty, sweet, honey-coated, and yellow fruits is even better. The jolt of racy acidity, giving the white peach, yellow tropical fruit and candied orange rind in the endnote seals the deal! Drink from 2023-2055.

1,292 Views

Tasted

Mar 21, 2023

Grilled orange rind, lemon curd, overripe pineapple and spearmint, all coated with honey, create the perfume. The wine is sweet, lush and honeyed, but with a jolt of racy acidity, giving the white peach, yellow tropical fruit and candied orange rind length and vibrancy in the finish. 93-95 Pts

2,538 Views

Tasted

May 20, 2021

2019
Château Doisy-Daëne (Sauternes)

Everything is subtle and balanced here. The wine is spicy, fresh, vivacious, and packed with white peach, spicy roasted pineapples, vanilla, honey, mango and a touch of mint on the nose and palate. Fresh, sweet, and racy on the palate with a complex note of caramelized orange and pineapple that lingers due to the jolt of freshness that kicks in when you need it the most. Drink from 2023-2047.

2,270 Views

Tasted

Mar 29, 2022

White peach, spicy roasted pineapples, vanilla, honey and mango on the nose and palate. The finish is a rich, blast of honeyed tropical fruits, candied yellow and citrus and a jolt of freshness that kicks in when you need it the most. 92-94 Pts

4,629 Views

Tasted

Jun 9, 2020

2018
Château Doisy-Daëne L'Extravagant (Sauternes)

Incredibly rich, sweet, lush and opulent, the wine is loaded candied lemon peel, pineapple, apricots, vanilla and orange rind all slathered in honey. This is the most intense, powerful sweet wine of the vintage. The finish really lingers.

846 Views

Tasted

Mar 9, 2021

2018
Château Doisy-Daëne (Sauternes)

On the orange range of the fruit side, with tropical nuances, there is ample honey and vanilla as well as mango and papaya. Sweet, with a jolt of overripe pineapple and marmalade in the finish, you can enjoy this young, or age it for more nuances.

2,440 Views

Tasted

Mar 9, 2021

On the orange range of the fruit side, with tropical nuances, there is ample honey and vanilla as well.

3,183 Views

Tasted

Apr 19, 2019

2018
Château Doisy-Daëne Grand Vin Sec (Bordeaux)

Slightly honeyed yellow citrus with green apples and mango in a round, forward, early drinking style.

1,045 Views

Tasted

Mar 9, 2021

2017
Château Doisy-Daëne (Sauternes)

Fresh, sweet, bright, lifted, honey-coated pineapples and vanilla bean in your glass, nose and on your palate.

3,455 Views

Tasted

May 17, 2020

Luscious, juicy, white peach, pineapple and apricots with a generous serving of vanilla, honey and nuts, this wine maintains the right amount of boost to keep all the sweetness up and on its feet.

3,266 Views

Tasted

Apr 26, 2018

2016
Château Doisy-Daëne (Sauternes)

Flowers, white peach, apricot and honeyed pineapple are all over the place. Rich, sweet, juicy, fruits, roasted nuts, tropical fruits and apricot are enjoyed in the finish.

4,119 Views

Tasted

Apr 29, 2017

2015
Château Doisy-Daëne (Sauternes)

White peach, tropical fruits, vanilla, pineapple, apricot, nut and honey aromas are all over the place here. The wine has concentration, sweetness and ripe fruit, but what makes everything work is the racy acidity giving this wine lift and energy. It is effortless to drink. It's quite primary at the moment. If you wait about a decade, this should be a gem.

4,771 Views

Tasted

Nov 1, 2020

All the ripe, and overripe pineapple you can handle, with the added pleasures of sweet, apricot, orange and vanilla bean all coated with honey. Vibrancy counts here, which keeps the wine uplifted on your palate.

3,955 Views

Tasted

Mar 12, 2018

The distinctive notes of honeysuckle, ripe and over ripe, juicy pineapple, apricot and white peach slathered in honey start things off. But its all that racy acidity that keeps this fresh, lively and vibrant, and allows you to go to more of this sweet, unctuous treat. 94-96 Pts

5,939 Views

Tasted

May 3, 2016

2014
Château Doisy-Daëne (Sauternes)

The penultimate vintage from Denis Dubourdieu is just great! Honeysuckle, pineapple and apricot, with seemingly and entire jar of honey meshes with all that acidity, leaving you a satisfied customer. The wine was made from a blend of 87% Semillon, 13% Sauvignon.

4,328 Views

Tasted

Feb 4, 2017

2013
Château Doisy-Daëne L'Extravagant (Sauternes)

Powerful, lush, opulent, sweet, ripe, and dense, the overripe tropical fruits and unctuous, with a strong focus on its core of honey-coated, tropical fruits, pineapple, apricot, mango, and vanilla. The wine coats your palate with its essence of honey, ripe and over-ripe fruits. Drink from 2030-2060.

1,335 Views

Tasted

Sep 26, 2022

2013
Château Doisy-Daëne (Sauternes)

The distinctive notes of honeysuckle, ripe and over ripe, juicy pineapple, apricot and white peach slathered in honey start things off. But its all that racy acidity that keeps this fresh, lively and vibrant, and allows you to go to more of this sweet, unctuous treat.

3,001 Views

Tasted

May 25, 2016

Subdued and needed effort before its candied lemon rind, honey coated pineapple and vanilla bean nose began to shine. The wine is fresh, sweet and easy to drink.

2,878 Views

Tasted

Feb 1, 2016

Honeysuckle, flowers, tropical fruits and vanilla bean get your motor running. The overripe, juicy, sweet, pineapple and apricot palate lingers and expands in intensity. 94-96 Pts

3,927 Views

Tasted

Apr 22, 2014

2011
Château Doisy-Daëne (Sauternes)

Luscious, tropical fruit, apricot, candied orange, vanilla and honey scents take no effort to find. On the palate, the wine is sweet, long and rich, with good levels of acidity to keep its honeyed personality fresh and interesting.

5,669 Views

Tasted

Jul 6, 2015

2010
Château Doisy-Daëne L'Extravagant (Sauternes)

This has really stepped up its game. The wine feels like an entire pineapple, slathered with honey and vanilla has been placed into a single glass of wine. Intensely concentrated, lush, fresh and sweet, this is really mouth coating, but in a good way.

2,026 Views

Tasted

Jun 25, 2017

Interestingly, while some vintages of this wine are produced from 100% Sauvignon Blanc, the 2010 was made from an even blend of 50% Sauvignon Blanc and 50% Semillon giving the wine a lighter mouth feeling than many previous vintages. That being said, this is still incredibly rich, dense and honeyed, but with more freshness in the fruit.

2,468 Views

Tasted

Dec 1, 2013

2010
Château Doisy-Daëne (Sauternes)

Fresh, sweet, bright and crisp tropical fruits with loads of honeyed apricots are in your glass as soon as the bottle is popped. Lush, sweet vibrant and already delicious.

4,080 Views

Tasted

Dec 31, 2015

2009
Château Doisy-Daëne (Sauternes)

Citrus, lemon, lime, honey and floral notes make up the perfume. Medium/full bodied, ending with a bright, honey, apple and yellow fruit finish.

5,523 Views

Tasted

Jan 25, 2012

2007
Château Doisy-Daëne L'Extravagant (Sauternes)

Fat, dense, powerful and thick, this massive sweet, white Bordeaux wine paints your palate with layer after layer of over ripe tropical fruits slathered in honey. This is no delicate wallflower of a wine. It demands your full attention.

2,887 Views

Tasted

Dec 1, 2013

2003
Château Doisy-Daëne (Sauternes)

Rich, lush, powerful and packed with concentrated layers of sweet, ripe, honeyed apricots, pineapple, vanilla, flowers, candied orange rind and nuts. There is a good balance between sugar and acidity and a long finish that lingers with apricots and honey.

3,054 Views

Tasted

Mar 15, 2013

2002
Château Doisy-Daëne L'Extravagant (Sauternes)

Dark gold in color, the wine is incredibly sweet, concentrated and rich. You can feel the levels of sugar and intensity. The wine is massive, packed with layers of ripe, tropical, honeyed fruits. But with this much sugar, it needed more acidity to balance the wine and give it lift as the wine was close to the corner of cloying and syrupy. Note, I said almost, there is a lot to like enjoy and taste in this intense, rich wine.

4,035 Views

Tasted

Mar 31, 2013

2001
Château Doisy-Daëne L'Extravagant (Sauternes)

This is so rich and concentrated, it is difficult to resist the urge to taste the wine with a spoon! The incredible power and length, matched with intensity is something to experience. The melange of tropical fruits seem to be drenched in honey. Still, I wish there was a tad more acidity to further enhance the vibrancy in the finish.

4,444 Views

Tasted

May 25, 2016

2001
Château Doisy-Daëne (Sauternes)

Ripe and over ripe tropical fruits, apricot, orange, vanilla and honey with the right blast of acidity keeps this alive, fresh and interesting. This will get better, but it's already showing very nice today.

4,089 Views

Tasted

Jun 2, 2014

1997
Château Doisy-Daëne L'Extravagant (Sauternes)

Palate staining layers of honey drenched tropical fruits, apricot, nuts and vanilla coat your mouth, teeth and gums with sweetness. Incredibly intense, long and attention grabbing, this still young wine is dessert.

3,715 Views

Tasted

Dec 1, 2013

1996
Château Doisy-Daëne L'Extravagant (Sauternes)

Thick, intense, dense and incredibly rich, this sweet wine is almost too much of a good thing. Edible layers of honeyed apricot, pineapple, orange, tropical and vanilla are found in every sip. Low acid in feeling, fans of seriously sweet wines are going to love this.

3,426 Views

Tasted

Dec 1, 2013

1953
Château Doisy-Daëne (Sauternes)

Barely alive and hanging on by a thread. Almost no fruit. Drink it or sell it, but unless you need a 53 for an occasion, don't buy it

2,740 Views

Tasted

Aug 6, 2003

1949
Château Doisy-Daëne (Sauternes)

The best part of this wine was the nose. Spice, apricots, orange rind, flowers, citrus, nuts and honey. The fruit is drying out, there is very little sweetness remaining on the palate. Drink up.

3,103 Views

Tasted

Nov 27, 2011

1942
Château Doisy-Daëne (Sauternes)

The wine was deep copper with orange in color. The nose offered caramel, coffee, orange, floral, cocoa and apricot scents. Better in the nose than on the palate, the wine was light, short and acidic in the mouth. Still, it is always fascinating to taste war year wines. It allows time for reflection knowing World War 2 was taking place and the people not able to serve were left behind and forced to produce the wine.

3,029 Views

Tasted

Aug 14, 2012