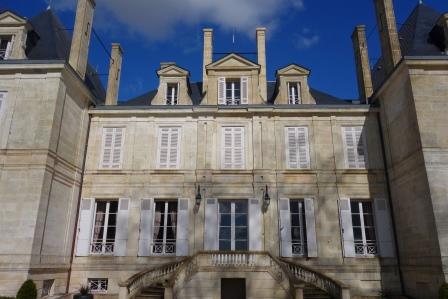 Learn everything about Chateau Pichon Comtesse de Lalande, Pauillac Second Growth, with wine tasting notes and wine with food pairing tips. Learn the best vintages, a history of the property, and information on the vineyards and winemaking. If you want to read about other important, Bordeaux Chateaux: Links to all Bordeaux Wine Producer Profiles
Chateau Pichon Comtesse de Lalande History, Overview
For many wine lovers, at its best, Chateau Pichon Lalande is one of the best examples of Bordeaux wine from Pauillac. Sensuous textures, deep concentrated layers of ripe fruit and a perfume filled with earth, tobacco and cassis are what you'll find in Pichon Lalande.
The first mention of what is now called Chateau Pichon Comtesse de Lalande discusses the creation of the vineyard by Pierre de Mazure de Rauzan. Pierre de Mazure de Rauzan is responsible for forming many of what are now widely considered the top Bordeaux estates today!
Pichon Lalande earned its name years later when Therse, the daughter of the founder received the estate as a dowry when she married Jacques de Pichon Longueville. Jacques de Pichon Longueville was not only famous for his efforts as a chateau owner, he was also elected as the first President of the Bordeaux Parliament.
Baron Joseph de Pichon Longueville succeeded his mother taking over Pichon Lalande when he was only 19. He was 90 years old when he died. What happened next changed the landscape of the Medoc forever.
On the eve of his death in 1850, Baron Joseph de Pichon Longueville divided the property between his five children. Wanting to be fair to everyone, his two sons received two fifths of the vineyard and the cellars, his three daughters, took the other three fifths.
During the 18th century the wine-growing influence at Pichon Lalande was definitely feminine. Perhaps that explains the wines sensuous qualities. Pichon Lalande was managed by three women: Therese de Rauzan, Germaine de Lajus and Marie Branda de Terrefort.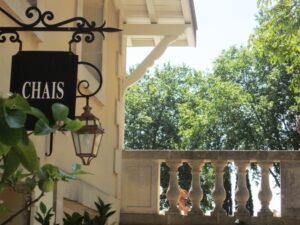 After a few years, the estate was officially broken up. From then on, the Pichon Longueville properties had two separate identities and ended up making two very different styles of Bordeaux wine from Pauillac. That is still the case today at the Left Bank estates.
What happened next was, Virginie, the wife of the Count of Lalande took over the management of the estate under the name of Comtesse de Lalande.
In 1850 she commissioned the popular, architect Duphot to build a residence inspired by the Hotel de Lalande, located in Bordeaux. Like many of the women before and after her, she made a lasting impact on the estate, which still bears her name.
Without heirs, Pichon Lalande passed down from aunts to nieces. Following World War 1, the Miailhe brothers, bought Pichon Lalande in 1925. It was the Miailhe brothers who planted more Merlot in the vineyards.
Chateau Pichon Lalande The Modern Age
May-Eliane de Lencquesaing, the daughter of Edouard Miailhe became the new owner and general manager of Chateau Pichon Comtesse de Lalande in 1978. She made numerous investments and improvements at Pichon Lalande.
She tirelessly traveled the globe becoming one of Bordeaux's most enthusiastic ambassadors. Under her management, the quality of this estate's wines quickly increased, gaining recognition and higher prices all over the world. In 1997 she acquired Chateau Bernadotte, an estate in the Haut Medoc appellation.
Aside from being the perfect, tireless ambassador of Bordeaux, perhaps her greatest achievement was expanding the size of Chateau Pichon Lalande from 40 hectares to its current 89 hectares of vines! That was quite an accomplishment to grow a major property in the Left Bank by more than 50%.
By this time, Chateau Pichon Lalande had remained in the hands the same family for more than 250 years! In fact, over three centuries, only two families have owned Pichon Lalande.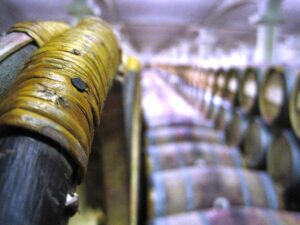 May-Eliane de Lencquesaing sold Pichon Lalande to the owners of Roederer Champagne in January 2007. This family-run company is managed by Frederic Rouzaud and owns several other wine estates in Bordeaux: Chateau Bernadotte, Chateau de Pez, Haut Beausejour and Chateau Reaut la Graviere. Chateau Bernadotte was sold in December 2012.
With the new owners, other changes took place in management. However, the feminine touch was still in place. In February, 2011, Sylvie Cazes was named the director of Chateau Pichon Lalande. She replaced Gildas d'Ollone. Sylvie Cazes was replaced in 2012 by Nicolas Glumineau, who was previously employed at Chateau Montrose in St. Estephe.
Once the purchase for Chateau Pichon Lalande was concluded, in 2008, a complete renovation of the estate took place. The wine making facilities were rebuilt and modernized. The new construction of course included work in the cellars, vat rooms and chais.
The reception area, glass museum and chateau was remodeled. A targeted, replanting program for select, vineyard parcels was started. The replanting focused on making sure the best root stocks with the most potential were planted in the correct, specific soil types for each grape varietal.
In 2012, Chateau Pichon Comtesse de Lalande once again renovated the estate with a budget estimated to be in excess of 15 Million Euros. Designed by the noted Architects Philippe Ducos and Alexandre Rougier. This renovation provided numerous improvements in their wine making and vineyard management techniques.
Most importantly, to help in the vinification, they created a new, triple tiered, cellar where everything moves by gravity. They also added numerous new, stainless steel, temperature controlled, double skinned vats. These new vats allow Pichon Lalande to vinify on a parcel by parcel basis as well as help with softer, more gentle extractions for the most sensuous wine of Pauillac.
The new facilities included the building of a new, underground barrel aging cellar and several new buildings.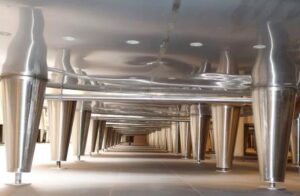 The improvements at the property were also completed with goal of being as green and environmentally conscious as possible. In addition, they added the Bucher destemmer and Oscillys machine for sorting along with the Vistalys Optical Sorting technology.
All of this draconian sorting has paid off. While there is less of their Grand Vin being made today, all you need to do is taste a bottle to note the improvements in the wine. The renovations were finished in time for the 2013 Bordeaux harvest.
A major replanting of the vineyard began in 2012. 3 hectares of vines were pulled out every year and allowed to go go fallow for 3 years before being replanted. The end result being that right grapes will be planted in the best terroirs for each varietal. This also means that for a period of years, the production of the estate will be smaller than usual until the vineyard is finished being replanted and the vines have aged enough to be placed into the Grand Vin.
It is important to note that under the direction of Nicolas Glumineau, starting with the 2016 vintage, Pichon Lalande has never produced better wines in the history of the estate!
Chateau Pichon Lalande Vineyards, Terroir, Grapes, Winemaking
The large, 100 hectare vineyard of Chateau Pichon Lalande has set the goal for the vineyard to be planted to 65% Cabernet Sauvignon, 25% Merlot, 7% Cabernet Franc and 3% Petit Verdot. This shows a marked, continued increase in Cabernet Sauvignon, which was kept at 45% for decades and a decrease in Cabernet Franc, as well as in the Petit Verdot and obviously Merlot in the vineyard, which was previously planted to 45% Cabernet Sauvignon, 35% Merlot, 12% Cabernet Franc and 8% Petit Verdot.
In part, the increase in Cabernet Sauvignon recognizes the value of having more of the varietal planted in their gravel soils as for decades, a good amount of Merlot was planted in the gravel, instead of the Cabernet Sauvignon and some of the Cabernet Sauvignon was planted in the clay soils. The changes, while adding more backbone and structure to the wine, will also rectify that situation.
The terroir of Chateau Pichon Lalande is deep gravel with clay and limestone soil. You also find more clay in the sub soils. Below that is a layer of sandstone, marl and limestone. They have good neighbors. The vineyard is located only a vine from Chateau Latour, with perfect access to the Gironde river. They are only across the road from Pichon Baron as well.
However, it is interesting to note that while the chateau for Pichon Lalande is almost inside the vineyard of Latour, with the exception of a 1 hectare parcel, their vines are not inside the Latour vineyard, only their chateau!
Most of the Pichon Lalande vineyards are located just to the other side of the D2 road, close and next to Chateau Pichon Baron. They own vines to the far east of Pauillac which are interestingly next to parcels owned by Chateau Latour, Chateau Pichon Baron and Chateau Lynch Bages.
The heart of the Pichon Lalande vineyard is a solid 65 hectare parcel of vines situated southwest of Pichon Baron and close to the chateau. Perhaps, their best parcels of vines surround the chateau and overlook the river. On average, the vines are 40 years of age. However, they have old vines, which are now close to 90 years of age having been planted in the early 1930's.
They also have other vines placed next to parcels owned by Latour, that are close to Chateau Batailley, in the Ste. Anne commune. That section of vines is used predominantly in Reserve de la Comtesse.
While the estate owns 100 hectares of vines in the Medoc, of those vines, only 80 hectares are in production. Here, it is important to note the increase in size of the vineyard over the years. During the 1960's, the property had only 40 hectares under vine.
Due to additional purchases, the vineyard has doubled in size! You should also keep in mind that these additions to the vineyards have been responsible for directly improving the quality of the wines at Pichon Lalande.
You can divide the vineyards of Pichon Lalande into 6 large blocks that are almost contiguous. You can further subdivide those blocks into a range parcels that are close to 65 in number. There are gentle slopes that lead to river, at their peak, they are 16 meters in elevation.
The vineyard is planted to a vine density of 9,100 vines per hectare. The vineyard of Chateau Pichon Comtesse de Lalande also includes 1 hectare of vines in the St. Julien appellation that the estate is allowed to vinify as Pauillac. The grapes can be used for the Grand Vin, the second wine, or bottled as a Saint Julien. That hectare of vines are used to produce wines that are given to the vineyard workers.
However, the majority of the time, those vines are used in both the Grand Vin and in the second wine. Their vines in Saint Julien touch the vineyards of Chateau Leoville Las Cases and Chateau Leoville Poyferre.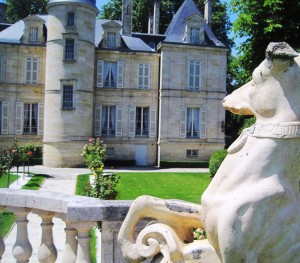 While Pichon Lalande practices as much sustainable farming, vineyard management as possible, today, at least 11 hectares of vines are farmed using 100% organic methods.
Chateau Pichon Lalande is also experimenting with biodynamic farming techniques in a portion of their vineyard. As of 2014, 6 hectares were set aside for experiments with various farming techniques. 3 hectares are being biodynamically farmed and 3 hectares are being farmed using organic techniques. By 2020, more than 21 hectares were being farmed biodynamically.
Pichon Lalande expects to increase the use of organic and biodynamic farming in future vintages.
There is something else unique about the vineyards of Chateau Pichon Lalande. They own 11 hectares (27 acres) of vines in the commune of St. Julien. From time to time, the wine has been sold and bottled by Negociants as St. Julien, with a mention of the vines owners, Pichon Lalande on the label.
Although, several decades ago, it was not unusual to see the wine bottled as both AOC St. Julien and as AOC Pauillac, depending on the negociant. That practice stopped by the 1960's.
1 hectare of those vines in St. Julien are used to produce wine that is offered to employees of Chateau Pichon Lalande. The remaining hectare of vines can be used in the blend for their Grand Vin or second wine, depending on the vintage.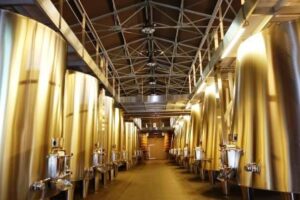 Chateau Pichon Lalande Winemaking
To produce the wine of Chateau Pichon Lalande, the vinification takes place in 70, temperature controlled, stainless steel vats that vary in size that range from as small as 50 hectoliters and increase in size to 50, 70, 80, 120 and even 150 hectoliter vats. This allows for very precise fermentation work. Malolactic fermentation takes place in tank.
The wine of Chateau Pichon Comtesse de Lalande is aged in 50% new, French oak barrels for an average of 18 months. On average up to 15,000 cases of Chateau Pichon Lalande are produced each year.
There is a second wine, Reserve de la Comtesse, which made its permanent debut in 1973. Although a second wine has been produced at the estate from time to time as far back as 1874, making Chateau Pichon Lalande one of the first Bordeaux estates to make a true second wine. Starting with the 2019 vintage, the estate renamed their second wine Pichon Comtesse Reserve.
The estate also releases a small amount of a third wine, Les Gartieux de Pichon Lalande.
The best vintages of Chateau Pichon Lalande are: 2020, 2019, 2018, 2017, 2016, 2015, 2014, 2012, 2010, 2009, 2008, 2006, 2005, 2004, 2003, 2002, 2000, 1996, 1995, 1989, 1986, 1985, 1983, 1978 and 1982. Older vintages can be quite good, but they can be hit or a miss as well. It is going to depend on the vintage and the provenance of the wine.
When to Drink Chateau Pichon Lalande, Anticipated Maturity, Decanting Time
Chateau Pichon Longueville Comtesse de Lalande is not a wine to drink on the young side in most vintages. The wine is soft enough, but you miss out on the sublime secondary characteristics that come with age. Young vintages can be decanted for an average of 2-4 hours, give or take. This allows the wine to soften and open its perfume.
Older vintages might need very little decanting, just enough to remove the sediment. Chateau Pichon Lalande is usually better with at least 10-12 years of bottle age. Of course that can vary slightly, depending on the vintage character. Chateau Pichon lalande offers its best drinking and should reach peak maturity between 15 and 40 years of age after the vintage.
Chateau Pichon Comtesse de Lalande is the most voluptuous Bordeaux wine produced in the Medoc. Much of the wines sensuous qualities come from the large portion of Merlot included in the blend. Pichon Lalande offers dark berry flavors, truffle, cassis and cedar notes. The wine is pure silk and velvet textures.
Due to the wines softness, Pichon Lalande is often approachable earlier than other Medoc properties. But don't let that fool you into thinking the wine will not improve with age. It does! Ass it closes in on 40 years of age, the sublime 1982 Pichon Lalande is still going strong.
Serving Chateau Pichon Lalande with Wine and Food Pairings
Chateau Pichon Lalande is best served at 15.5 degrees Celsius, 60 degrees Fahrenheit. The cool, almost cellar temperature gives the wine more freshness and lift.
Chateau Pichon Lalande is best paired with all types of classic meat dishes, veal, pork, beef, lamb, duck, game, roast chicken, roasted, braised and grilled dishes. Chateau Pichon Lalande is also good when matched with Asian dishes, rich fish courses like tuna, mushrooms and pasta.
Château Pichon Longueville Comtesse de Lalande Wine Tasting Notes
54 Vintages 1,254,989 Views Sort by Vintage-Rating
2019
Château Pichon Longueville Comtesse de Lalande (Pauillac)

With a complex nose of mint, tobacco leaf, roses, spice, crème de cassis, blackberry, cigar box and spice box, everything is off to a good start. On the palate, the wine is pure silk and velvet. Rich, full-bodied and concentrated, the decadently textured finish, with all its multiple layers of sweet fruits, spice and tobacco stay with you for close to 50 seconds. Comparing the 2016, 2018 and 2019 side by side is going to be an incredible experience over the next several decades. The wine combines 71% Cabernet Sauvignon, 23% Merlot, 6% Cabernet Franc reaching 14.1% alcohol with a pH of 3.7. Picking took place September 16-October 8 with yields of 42 hectoliters per hectare. The Grand Vin was made from 50% of the harvest. 98-100 Pts

8,833 Views

Tasted

Jun 8, 2020

2019
Pichon Comtesse Réserve (Pauillac)

Elegant, refined, fresh and floral, the medium-bodied wine is silky in texture with a gorgeous sense of purity in the fruit. This was made from blending 51% Cabernet Sauvignon, 41% Merlot and 3% Cabernet Franc, reaching 14.3% alcohol. This is a nice, forward, scaled-down version of the Grand Vin that you can enjoy while waiting for Pichon Lalande to mature. 91-93 Pts

2,927 Views

Tasted

Jun 8, 2020

2018
Château Pichon Longueville Comtesse de Lalande (Pauillac)

With a remarkable depth of color, the wine opens from the glass with touches of espresso, smoke, tobacco, flowers, spice and an array of red and black fruits. Full-bodied, richly textured, opulent, velvety and silken, the wine is off the charts with its decadent sex-appeal. This is a modern day version of the legendary 1982 that will easily age for 3-4 decades without fear. Give it at least 10 years in the cellar before pulling a cork. Bravo to the team of Nicolas Glumineau for producing this incredible wine!

2,695 Views

Tasted

Mar 9, 2021

Full-bodied, rich, powerful, dense, opulent and frankly, incredibly sexy, as well as structured, stylistically it feels like a blend of 2009 and 2016 with the best attributes of each vintage. This wine is sensual with firm tannins, vitality, length, complexity and vibrancy in the finish. Yes, the wine is high in alcohol. But there is no heat, jam or lack of freshness. Everything here is in balance. Lay this down for a decade and pour sensuality right into your glass. The wine will age effortlessly for decades. Is it better than the perfect 100 Pt. 2016? Maybe, maybe not. But I cannot wait to taste those two vintages side by side in a blind tasting. The wine combines 71% Cabernet Sauvignon, 23% Merlot, 5% Cabernet Franc and 1% Petit Verdot reaching 14% alcohol with a pH of 3.85. The picking took place September 13-October 11 and 50% of the crop was placed into the Grand Vin. The yields were low here this year at only 35 hectoliters per hectare. 98-100 Pts

6,485 Views

Tasted

Apr 19, 2019

2018
Pichon Comtesse Réserve (Pauillac)

Medium-bodied, elegant, refined, soft and silky, the wine shows off its sleek red fruits the moment it leaves the glass and graces your palate. Purity and elegance, in a forward style, this is a gorgeous, well-priced Pauillac that can be enjoyed for at least a decade or more, while waiting for the Grand Vin to develop.

1,923 Views

Tasted

Mar 9, 2021

2018
Réserve de la Comtesse (Pauillac)

Classified Growth in quality with layers of ripe, sweet, lush fruits, Pauillac character, espresso, spice and green olives along with the backbone to age. Buy this beauty and drink it while waiting for the Grand Vin to mature. 90-92 Pts

3,287 Views

Tasted

Apr 19, 2019

2017
Château Pichon Longueville Comtesse de Lalande (Pauillac)

Showing a virtuous depth of color, the wine opens with notes of lead pencil, truffle, smoke, tobacco leaf, vanilla and dark red fruits. The tannins are silky, polished, salty and creamy. The wine is full bodied, velvety and long, delivering complexity, sweetness and length. This a very sensuous wine that comes from blending 70% Cabernet Sauvignon, 23% Merlot, 6% Cabernet Franc and 1% Petit Verdot. The wine reached 13.1% alcohol with a pH of 3.78. The harvest took place from September 7, ending October 1.

4,189 Views

Tasted

Apr 26, 2018

2017
Réserve de la Comtesse (Pauillac)

Cherries, raspberries, cedar and spice open this wine. The tannins are soft and the wine creamy with sweetness and freshness in character. You can drink this young.

2,139 Views

Tasted

Apr 26, 2018

2016
Château Pichon Longueville Comtesse de Lalande (Pauillac)

It takes only a single sniff and sip to know this is one the wines of the vintage. With its velvet drenched textures, silky, elegant tannins, and perfectly ripe red and black fruits, the wine offers a course in sensuality. Opulent, and rich, balanced and long, refined and deep, even at barely 3 years of age, this is stunning. But if you wait at least a decade, you will experience a wine of singular pleasure, guaranteed to evolve into one of the legendary wines of Bordeaux. Bravo to the team of Nicolas Glumineau for producing this incredible wine!

9,052 Views

Tasted

Sep 21, 2019

Considering how many great wines have been produced at Pichon Lalande over the years, saying this is the finest wine ever made here says a lot. But this wine is off the charts! Perfect in every way, from start to finish, the wine is mind-blowing! Full bodied, sensuous, silky, sweet, and fresh with an incredible purity to the fruit that must be tasted to be believed. The more than 60 second, opulent, in fact, decadent finish keeps you going back for another sip. And all this is taking place in its youth. When this reaches maturity.... Hello Wine Nirvana! Bravo to Nicolas Glumineau and his team for making such an incredible wine!

9,900 Views

Tasted

Feb 10, 2019

Incredibly sensuous, sexy silky and polished, the fruits just feel great as they fill and coat your palate. The dark red fruits offer a sense of purity, freshness and perfume that is surreal for a wine this young. If you are a fan of Pichon Lalande at its decadent best, this is a wine for you!

9,268 Views

Tasted

May 13, 2018

Rich in color, you find that the espresso, cigar box, tobacco, spice, forest floor, blackberry, cassis, lead pencil and dark red fruits make an incredible perfume. Pure silk and velvet, this is so sexy, it's off the charts. Opulent, in fact, decadent, this wine tastes and feels so majestic I drank it all! This is the best vintage since the stunning 1982 and that is really saying something. Made from a blend of 75% Cabernet Sauvignon, 21% Merlot and 4% Cabernet Franc, it reached 13.32% alcohol with a pH of 3.76. The harvest took place September 20 to October 20. 98-100 Pts

9,159 Views

Tasted

Apr 29, 2017

2016
Réserve de la Comtesse (Pauillac)

Medium bodied, forward, polished and fruity, the wine is silky, fresh and inviting. This is a new challenger in the quality race for the top second wine in Bordeaux. This year's blend is unique with all the Petit Verdot from the vineyard and more Cabernet Franc than usual.

4,769 Views

Tasted

Apr 29, 2017

2015
Château Pichon Longueville Comtesse de Lalande (Pauillac)

It is the overtly sensual character that rocks this wine. The nose, with its truffle, olive, cigar wrapper, smoke, espresso, and dark red berries is attention seeking. But it is on the palate, with its velvety textures and layers of fruit that grabs all the attention.

5,382 Views

Tasted

May 21, 2018

The overly sensual character here is a real charmer. With tannins and silk and velvet, the sweet, ripe, sexy fruits flow over your palate with grace and elegance, few other wines offer. There is length, purity of fruit and complexity that is impossible not to be wowed by!

5,439 Views

Tasted

Mar 12, 2018

Elegance and sensuous is all one really needs to say here. The wine is fresh and concentrated, with refined fruits, polished tannins, length and purity. The wine will hit the middle or top of my range with no effort as its aging quite nicely. Made from blending 68% Cabernet Sauvignon, 29% Merlot, 2% Cabernet Franc and 1% Petit Verdot, the harvest took place from September 10 to October 8.

5,420 Views

Tasted

Jul 12, 2017

This beauty is hard to resist. Deep, dark ruby in color, this wine opens with licorice, tobacco and cassis dusted with cocoa, herbs, spice and blackberries -- and that's just the beginning. Pure silk and velvet in texture, this wine feels delightful on your palate and the sensuous experience carries all the way through. With a smattering of dusty tannins, the dark ripe fruits in the finish combine freshness and purity. A blend of 69% Cabernet Sauvignon, 28% Merlot, 2% Cabernet Franc and 1% Petit Verdot, this wine reached 13.6% alcohol with a pH of 3.68 and was produced from about 50% of the harvest. 2015 could turn out to be the best vintage of Pichon Lalande in 20 years! Nicolas Glumineau is really starting to get things right at Pichon Lalande. It is going to be great seeing both Pichon's go "Mano a Mano" as to which estate produces the best wine. However, the consumer is the real winner because each property is going to continue upping their game. 96 - 97 Pts

4,748 Views

Tasted

Apr 18, 2016

2015
Réserve de la Comtesse (Pauillac)

With an earth and herb profile, this wine is medium-bodied, forward and soft-textured, leaving you with fresh, polished blackberries, cocoa and a bit of cassis. Normally, this wine can be a bit rustic but that is not the case this year, as it's quite elegant and charming. Made from a blend of 53% Cabernet Sauvignon, 40% Merlot, 4% Cabernet Franc and 3% Petit Verdot. 89 - 91 Pts

5,004 Views

Tasted

Apr 18, 2016

2014
Château Pichon Longueville Comtesse de Lalande (Pauillac)

Classic, yet lushly textured, with silky tannins, ripe, polished dark red fruits and a finish that tastes as good as it feels. Even though it's forward in style and will drink well on the young side, this has the stuffing to age and evolve for decades. Made from blending 65% Cabernet Sauvignon, 22% Merlot, 7% Cabernet Franc and 6% Petit Verdot, the harvest took place, September 16 to October 17.

8,849 Views

Tasted

Jul 11, 2017

Classic and sensuous, with loads of polished, silky fruits, dark berries, soft tannins and cigar wrappers. This will keep any taster happy for at least 2 decades, give or take a few years on either side of the equation.

7,726 Views

Tasted

Jun 25, 2017

This is precisely what I'm looking for in a Pichon Lalande, silken and velvety tannins with a concentration and richness of ripe dark berries, chocolate and black cherries. This wine has length, polish, freshness and sensuous textures. A blend of 65% Cabernet Sauvignon, 22% Merlot, 7% Cabernet Franc and 6% Petit Verdot, the wine reached 13.2% alcohol, with a pH of 3.7 and was produced with 50% of the harvest. 93-95 Pts

10,760 Views

Tasted

Apr 14, 2015

2014
Réserve de la Comtesse (Pauillac)

An approachable, medium-bodied, soft, polished wine with the taste of sweet plums and cherries and a forward drinking charm. 87-89 Pts

4,570 Views

Tasted

Apr 14, 2015

2013
Château Pichon Longueville Comtesse de Lalande (Pauillac)

Medium bodied, soft textured and floral, with an element of spice and tobacco on top of the bright, fresh, red fruits. This is not a long term aging wine, my guess is, the wine will be best before it hits 10 years of age. The harvest took place from September 30 to October 9.

5,032 Views

Tasted

Jul 11, 2017

With smoke, spicy cassis and pepper in the nose, the wine feels soft, delicate and forward. Its lack of weight renders it light/medium bodied, while the open, fresh, finish showcases black raspberry, herbs and black olive. Drinkable on release, this vintage was produced from 100% Cabernet Sauvignon for the first time in the estate's history. The wine reached 12.8% alcohol from 13 hectoliters per hectare, and the Grand Vin represents 33% of the crop. Another record was set with 2013 Pichon Lalande, this is the smallest level of production in the estate's history. 89-91 Pts

3,937 Views

Tasted

Apr 20, 2014

2013
Réserve de la Comtesse (Pauillac)

Filled with floral and cherry personality, the wine is light and soft, registering on the cranberry and sour cherry side of the style range. 84-86 Pts

1,618 Views

Tasted

Apr 20, 2014

2012
Château Pichon Longueville Comtesse de Lalande (Pauillac)

Earthy in character, there is a freshness to fruit, touch of citrus and espresso and truffle. Soft, polished, youthful and bright, there is a freshness and bright quality on the palate. Give this 7-10 more years before popping a cork. Produced from a blend of 59% Cabernet Sauvignon, 28% Merlot, 8% Cabernet Franc and 5% Petit Verdot, picking took place starting October 1.

4,199 Views

Tasted

Jul 12, 2017

Medium bodied, soft, finesse style, with fresh black cherries, flowers and earthy notes, ends with a dusty, earthy, spicy note in the finish.

2,866 Views

Tasted

Mar 11, 2015

Deep ruby in color, with cocoa, blackberry, dark cherry, herbs and tobacco. Fresh, tannic, medium bodied and soft, this will be better with a few more years of age.

2,979 Views

Tasted

May 17, 2014

Produced from a blend of 59% Cabernet Sauvignon, 28% Merlot, 8% Cabernet Franc and 5% Petit Verdot, the wine reached 13% alcohol, with a pH of 3.8. Sporting a deep color, the wine offers dark chocolate, black raspberry, mint and caramel scents. Soft, medium-bodied and silky, the wine ends with black and red berries, cocoa, and fresh herbs in the cherry-dominated finish. 91-93 Pts

4,678 Views

Tasted

Apr 23, 2013

2011
Château Pichon Longueville Comtesse de Lalande (Pauillac)

Drink this now, while waiting for the 2009 and 2010 to come around. Medium/full bodied, fresh, lively, soft and silky, with an hour in the decanter, the wine really hits the spot.

4,001 Views

Tasted

Nov 12, 2018

Slightly herbaceous on the first sniff, from there you find the tobacco, cedar chest and fresh red berries. Medium bodied, forward and already easy to drink, the wine finishes with soft textures, followed by cherries and earth in the end notes. Made from blending 78% Cabernet Sauvignon, 12% Cabernet Franc, 8% Merlot and 2% Petit Verdot, the picking was quite fast, taking place from September 13 to September 28.

6,150 Views

Tasted

Jul 12, 2017

Smoke, tobacco and green pepper and cocoa scents open to a medium bodied, soft, polished easy to like, early drinking style of Pichon Lalande.

4,711 Views

Tasted

May 21, 2015

With a nose consisting of truffle, blackberry, vanilla bean and cassis, the wine is forward, soft, open and shows freshness in the cassis and dark red berry profile. The wine ends with a sweet, black cherry and chocolate finish.

4,618 Views

Tasted

Feb 16, 2014

A record-setting amount of Cabernet Sauvignon was used in 2011 with 78%. The remainder was taken up with 12% Cabernet Franc, 8% Merlot and 2% Petit Verdot. The wine will be aged in 60% new oak and reached 13% alcohol. Deep ruby in color with floral, cocoa, cassis, tobacco, olive and hints of mocha scents make up the perfume. The wine has medium body with fresh and bright cassis and boysenberry in the round finish. 92-94 Pts

4,148 Views

Tasted

Apr 10, 2012

2011
Réserve de la Comtesse (Pauillac)

Light ruby in color, this soft, medium-bodied wine shows notes of earth, cassis and olive with a fresh cherry and tapenade finish. 84-87

3,085 Views

Tasted

Apr 10, 2012

2010
Château Pichon Longueville Comtesse de Lalande (Pauillac)

This is not holding on tight, as it nears the end of its first decade of life. The fruit is vibrant, with added touches of tobacco, flowers, spice, smoke, thyme and red berries, the silky, sexy textures and long, fruit-filled finish clearly announce that as this wine ages, it is only going to get better and better.

6,049 Views

Tasted

Nov 12, 2018

Smoke, ash, tobacco, mint, thyme, flowers and red fruits come alive in the nose. On the palate, the wine is fresh, juicy, young and needs time to develop even more softness and additional nuances. Complex and interesting, as well as sensual, this is quite nice. The wine was made from blending 66% Cabernet Sauvignon, 24% Merlot, 7% Cabernet Franc and 3% Petit Verdot. The harvest took place from September 22, to October 13.

7,789 Views

Tasted

Jul 12, 2017

What a great style of wine, with its soft, silky, polished, sensuous fruits, expressive aromatics and long, character driven finish. Give it a decade in the cellar before popping a bottle.

12,112 Views

Tasted

May 28, 2015

Deep in color, the nose opens with blackberry, licorice, earth, coffee, black cherry and herbs. With soft tannins, silky textures and a chocolate, cherry, fennel,, soft round, finish, this should really start showing well with 5-8 years of bottle age.

8,140 Views

Tasted

May 8, 2013

From a blend of 66% Cabernet Sauvignon, 24% Merlot, 7% Cabernet Franc and 3% Petit Verdot, the wine opens to a bouquet of oak, coconut, cassis, tobacco, earth and coca. With freshness, the medium/full body wine finishes with cassis, black raspberry jam, vanilla and spice.

4,292 Views

Tasted

Dec 7, 2012

2010 Chateau Pichon Lalande sports a deep ruby color. With scents of fresh black pepper, cassis, olives and truffle, this is a tannic vintage for the chateau. The wine is fresh, but the tannins while round, do not feel perfectly ripe. The wine finishes with a cassis, black cherry and green peppercorn sensation with hints of cranberry. Released at 138 Euros, the wine show a marked increase in price from their 2009 vintage. 93-95 Pts

6,032 Views

Tasted

Jul 24, 2011

Pichon Comtesse de Lalande - Produced from 41 hectoliters per hectare, which is low for the estate, the wine is an assemblage of 66% Cabernet Sauvignon, 24% Merlot, 7% Cabernet Franc and 3% Petit Verdot. Flowers, 5 spice, cassis, truffle, coca and tobacco scents open the aromatics. This rich, tannic vintage of Pichon Lalande offers a full bodied, fresh, concentrated wine brimming with ripe, juicy cassis, black raspberry jam, vanilla and spice. The wine ends with a long, clean, supple finish. 94-96 Pts

5,823 Views

Tasted

Apr 20, 2011

2010
Réserve de la Comtesse (Pauillac)

Easy to drink, this plummy, soft, round, forward wine is already drinking well.

5,661 Views

Tasted

May 8, 2013

2009
Château Pichon Longueville Comtesse de Lalande (Pauillac)

With a decade, now you find the secondary aromatics staring to poke through. The tannins have moved to the softer side as well. The wine is medium-bodied, rich and concentrated with layers of sun drenched, luscious, sensual, ripe, opulent fruits. The finish has a bit of dust to the tannins, which does not take away from the silkiness found here. Another 5 years will add even more refinement and secondary nuances.

3,195 Views

Tasted

Sep 20, 2019

With 30 minutes in the decanter, this was pure silk. The dark red fruits were supple, the finish felt as good as it tasted. This was incredibly easy to drink. While you can enjoy it today, we did, the wine will only get better with another 5-7 years in the cellar. I'm waiting on my bottles.

3,935 Views

Tasted

Apr 1, 2018

The nose is ripe, with its licorice, truffle, earth, red cherry, spice box and floral notes. On the palate, the wine is silky, fresh, supple, and sweet. The fruit is developing a better sense of purity on the mid palate and in the finish. This is definitely showing much better than it did just a few short years ago. A bit more time should add more complexity, softness and could merit an even higher score. The wine was made blending 75% Cabernet Sauvignon, 20% Merlot and 5% Petit Verdot. The harvest took place September 22 to October 7.

6,240 Views

Tasted

Jul 12, 2017

Produced from a blend with a high percentage of Cabernet Sauvignon at 75%, the remainder of the blend comes from 20% Merlot and 5% Petit Verdot. The nose is filled with coffee, caramel, ripe cassis, truffle and smoky scents. In the mouth, this opulently styled Pichon Lalande possesses layers of silky, black cherry, spice, cassis and creamy black raspberry. Elegant, polished and velvety, this is a beautiful style of Pauillac. This wine might never close down and could offer uninterrupted pleasure for decades.

8,704 Views

Tasted

Dec 7, 2014

This beautiful vintage of Pichon Lalande is loaded with floral, cassis, boysenberry, earth, olive and tobacco notes. With a high percentage of Cabernet Sauvignon, 75%, blended with 20% Merlot and 5% Petit Verdot, this powerful, graceful, sensuous, rich, fresh Bordeaux wine is pure, refined and offers silky, velvet textures.

7,640 Views

Tasted

Feb 8, 2012

This Bordeaux wine offers an attention seeking espresso bean, ash, cassis, blackberry, olive, tobacco and floral scented perfume that is easy to find. With soft, silky tannins and an opulent, exotic, expressive profile, this outstanding Pauillac ends with a rich ripe, black cherry filled finish. This is my favorite vintage of this chateau since the delicious 2000. This wine merits attention because it's better than the 2010, and it sells for less money.

7,168 Views

Tasted

Jul 24, 2011

2009 Pichon Lalande offers blackberry, cassis, chocolate, plum, mocha and coffee scents. The wine is a suave, sexy style of Pichon, which at its best combines elegance with freshness and silky fruit. 96-98 Pts

8,580 Views

Tasted

Aug 26, 2010

2009
Réserve de la Comtesse (Pauillac)

No waiting required here. This medium-bodied, soft, round, lush, fruity, ripe, floral, hearth, tobacco and leaf accents wine delivers a liberal dose of ripe blackberry and cherries in a charming style. Popped and poured, no decanting is required here.

3,073 Views

Tasted

Aug 27, 2020

2008
Château Pichon Longueville Comtesse de Lalande (Pauillac)

OK, a few more years will add softness and more complexity here, but if you were going to pop a cork tonight, it is not going to hurt anyone. This beauty is silky, luscious, polished, soft and hard to resist. Secondary notes of tobacco, truffle, burnt wood and leather are already easy to discern. Drink it now, or age it for another 5-7 years.

4,732 Views

Tasted

Sep 17, 2018

Truffle, cigar box, black cherry and smoked meat aromatics are available right out of the box. The wine is polished, sensuous, rich, fresh and juicy. There is plenty of fruit on the back end, with lots of crisp freshness that just keeps on going, finishing with a hint to the red berry and spicy side of the style range.

6,495 Views

Tasted

Jul 12, 2017

From an assemblage of 63% Cabernet Sauvignon, 29% Merlot, 5% Petit Verdot and 3% Cabernet Franc, the wine opens with coffee bean, cassis, earth, truffle, chocolate, tobacco and cedar wood. Round in texture, with ample fresh, spice, cocoa and crème de cassis, herbs and tapenade in the finish, the wine is closing down and needs time.

10,745 Views

Tasted

Dec 7, 2013

Vanilla, plum, cassis, earth, blackberry and tobacco leaf aromas create the perfume.Medium/full bodied with soft textures, the wine ends with a fresh, tapenade and cassis finish. This is much tighter than it was a year ago. It's starting to close up and go to sleep.

12,303 Views

Tasted

Feb 17, 2012

This was an outstanding wine in barrel and it's even better in bottle. From a blend of 63% Cabernet Sauvignon, 29% Merlot, 5% Petit Verdot, 3% Cabernet Franc, the aromatics are filled with cassis, bitter chocolate, flowers and boysenberries. Suave, polished and with ample depth and freshness, this outstanding Bordeaux wine hits all the right spots with its sexy style. For fans of Pichon Lalande, this is the wine to buy. It pairs great style with quality and the ability to age.

12,229 Views

Tasted

Jan 28, 2011

08 Château Pichon Lalande is a great success for the vintage. It is quite deeply colored for a young Pichon Lalande. The complex nose of ripe berries, cherries, cassis, oak, earth, spice, and herbs is a treat. The wine has good levels of concentrated, round, soft fruit. The tannins are polished, giving the wine great texture. The long, rich, ripe, black fruit finish is a pleasure. 92-95 Pts

7,637 Views

Tasted

Aug 31, 2009

2007
Château Pichon Longueville Comtesse de Lalande (Pauillac)

Leafy, herbal, cedar and tobacco leaf are more prevalent than the fruits here. Medium bodied, soft, fully mature, this requires consumption sooner than later. The wine was made from a blend of 58% Cabernet Sauvignon, 36% Merlot, 4% Petit Verdot and 2% Cabernet Franc. Picking took place from September 21, finishing October 9.

5,567 Views

Tasted

Jul 12, 2017

Cedar wood, tobacco, lead pencil, red and black currant create the perfume. Medium/full bodied, the wine is drinking great today. There is freshness, sweet, light, red fruits and softness in the finish. OK, the finish is a bit short, but the fruit is clean, lively and pure. There is no need to age this any longer.

5,073 Views

Tasted

Jun 23, 2017

Made from a blend of 58% Cabernet Sauvignon, 36% Merlot, 4% Petit Verdot and 2% Cabernet Franc, the nose offers herbs, mint, green leaf, black plums, coffee, olives and green pepper. This medium bodied, soft textured, rapidly maturing wine ends with chocolate and cassis. While this could improve, it's drinking well today and will not make old bones.

6,359 Views

Tasted

Dec 7, 2012

2006
Château Pichon Longueville Comtesse de Lalande (Pauillac)

Still young, fresh, vibrant and holding on to much of its youth, the nose gets you off and running with its floral, tobacco, cedar, wet earth and dark red berry character. Concentrated, lushly textured, with firm, but softening tannins, the wine leaves you with soft, polished, ripe fruits that make you thirsty for another sip. Structured to long aging, you can drink this young, but it's going to be so much better with another 5-8 years of age, due to its strong tannins. The wine was made from blending Cabernet Sauvignon at 64% and 36% Merlot. The harvest took place from September 20 to October 1.

5,695 Views

Tasted

Jul 12, 2017

Espresso, tobacco, spice, forest floor, lead pencil and dark red fruits create nose. The wine is still young and requires coaxing to get its essence out. The refined, silky finish has ample fresh fruits, dark chocolate and juicy ripe cassis to keep you interested. Drink it on the young side with a few hours of air, or age it another 5-10 years.

5,538 Views

Tasted

May 25, 2016

Concentrated, ripe, sweet, fresh cassis, blackberry, smoke, tobacco and espresso bean on the nose, with soft tannins, supple textures and a refined, elegenat, plush finish. Still young, this will improve with anothe 4-5 years of bottle age.

6,659 Views

Tasted

May 28, 2014

From an unusual blend for the property, as it includes only two varieties, Cabernet Sauvignon at 64% and 36% Merlot, the wine is still sporting deep color. On the nose, tobacco, truffle, crème de cassis, flowers, smoke and earthy scents. Pure, rich, silk and velvet in texture, there is depth, concentration and freshness. Packed with lush, ripe, dark berries and black cherry, this beautifully textured, structured, fresh, pure Pauillac is made to age and improve.

9,919 Views

Tasted

Dec 7, 2013

Powerful aromatics with crème de cassis, truffle, tobacco, cedar wood, smoke and earth lead the way to a young, fresh, crisp, bright, spicy, cassis filled finish. This delicious vintage of Pichon Lalande requires at least another 5 years in the cellar before it starts being ready for prime time drinking.

10,415 Views

Tasted

May 7, 2012

2006 Pichon Lalande is a huge step up from the much lighter and simpler 2005. The last vintage produced with the help of Hubert de Bouard of Chateau Angelus as a consultant, the wine is a blend of 64% Cabernet Sauvignon and 36% Merlot. Deep ruby in color, the wine explodes with juicy, ripe, blackberries, plums, coffee, chocolate, earth, flowers, truffles, tobacco and crème de cassis. Opulent in texture, with a silk and velvet palate feel, this sexy style of Pichon Lalande ends with a rich, concentrated mouthful of fresh boysenberries and spice. This is going to be a great wine to enjoy tasting over the next 30 years. This is stll a young wine. But the tannins are ripe and round, so while it is not a mature wine, it's fun to drink with a few hours of decanting.

13,897 Views

Tasted

Aug 14, 2011

2005
Château Pichon Longueville Comtesse de Lalande (Pauillac)

The past 5 years have been good for this wine. Much better than previous bottles, now you find more of everything expected from Pichon Lalande. The wine is medium-bodied, lush, round, soft and loaded with ripe, fresh, sweet, dark red fruits, plums, tobacco, spice and earth. The plummy, red berry finish offers alternating notes of sweet red fruits and bright, crisp cranberries coupled with sensual textures. Give this a few more years, or 90 minutes in the decanter.

3,865 Views

Tasted

May 10, 2020

Cedar, tobacco, flowers, blackberry and wet earth on the nose, with a medium body and a lightness in the fruit, the wine lacks the concentration found in the better wines from the vintage. The finish has dusty tannins and plums in the end note.

6,474 Views

Tasted

Jun 28, 2015

64% Cabernet Sauvignon, 29% Merlot, 6% Cabernet Sauvignon and a drop of Petit Verdot make up the blend. Floral, earth, cedar and cassis in the nose lead to a medium bodied, fresh, clean wine that lacks the concentration of the top vintages. Round in texture, but lacking the concentration and depth found in the great vintages, the wine end with a black cherry, chocolate and green olive finish. Give this a few more years. I doubt this is going to be one of the longer lived vintages of Pichon Lalande.

8,551 Views

Tasted

Dec 7, 2012

Pichon Lalande seemed to me to be better than Parker rated it. But, it is light in color and depth and does not have all the qualities needed to make this one of the best Pichons. It is not a wine I would buy at current prices because there are much better vintages of Pichon Lalande available for the money in the market today.

5,622 Views

Tasted

Nov 14, 2007

2004
Château Pichon Longueville Comtesse de Lalande (Pauillac)

Open, with a soft textured, silky, medium bodied palate that says it's ready to go. But the secondary aromatics are not showing themselves yet.

4,569 Views

Tasted

Feb 28, 2016

Showing secondary characteristics of truffle, tobacco, cigar box, black cherry and floral notes, the wine is soft, silky and smooth, classic in style, with a minor hint of dryness in the finish.

5,324 Views

Tasted

Jan 4, 2015

From an assemblage of 53% Cabernet Sauvignon, 36% Merlot, 7% Petit Verdot and 4% Cabernet Franc, the wine opened with coffee bean, earth, truffle tobacco and black cherry. Medium bodied with some dryness in the black cherry finish, this already starting to drink well and is not a wine to lay down for decades.

7,708 Views

Tasted

Dec 7, 2012

2003
Château Pichon Longueville Comtesse de Lalande (Pauillac)

This is drinking just great. The wine is soft, silky, lush and filled with ripe red fruits, tobacco, earth, smoke and spice. Richly textured, with no hard edges and zero sensation of overripe notes or heat, 30 minutes of air was al this needed to come around.

4,414 Views

Tasted

Sep 30, 2019

This is a beauty. The smoke, tobacco, truffle, cedar, cherry liqueur, mint, thyme and light cocoa dust in the nose if a winner. But the silky, lush, sexy texture, and the sweet, cassis, cherry and bitter chocolate in the end, seals the deal. Decanted about 20 minutes and enjoyed over the subsequent 90 minutes was working tonight.

6,462 Views

Tasted

Dec 11, 2016

Tobacco, licorice, earth, cedar, roasted dark berries, herbs, black cherry and spice, open to a lush, sexy, plush, opulently textured wine of pleasure, finishing with sensuous, sweet, ripe, milk chocolate covered cherries.

6,393 Views

Tasted

Nov 18, 2015

Cedar wood, tobacco, oak, blackberries and truffle scents pop with no effort. Silk and velvet textures and a rich, open, lush, fruit filled finish make this a pleasure to drink, now and in the future. This is a very sexy example of Pauillac.

7,549 Views

Tasted

Feb 22, 2014

Blending 65% Cabernet Sauvignon, 31% Merlot and 4% Petit Verdot created a ruby colored wine that is showing lightening at the edge. Truffle, blackberry, cassis, cocoa, plum, spice, black cherry, tobacco and smoke produce a complex perfume. Plush, rich, sexy and sensuous, this opulent, pure, velvet textured wine is a treat for the senses. Maturing at a rapid pace, you can enjoy a bottle now, or over the next 15-20 years. If this wasn't tasted in a vertical with numerous other vintages to write about, I would have put this delicious elixir where it belonged instead of the bucket.

8,047 Views

Tasted

Dec 7, 2013

Very expressive nose packed with smoke, tobacco, earth, blackberry, spice and truffle scents. In the mouth, this is plush, soft and round. At 9 years of age, this is already a pleasure to enjoy, but it has room to age and develop as its not yet fully mature. The rich finish ends with black cherry, cocoa, earth, olive and spicy sensations.

8,778 Views

Tasted

Sep 24, 2012

With an expressive nose packed with mocha, cassis, vanilla, forest floor, earth, red and black plum and cigar box aromas, this sensuous, lush, rich, Pichon Lalande is drinking great today. It should age effortlessly for at least another 15-20 years.

10,097 Views

Tasted

May 8, 2012

Earth, tobacco leaf, cassis, blackberry, smoke, forest floor and olive notes open up the nose. Full bodied, with lush, round, silky ripe dark berries, cassis and spice, the wine continues developing well. At 9 years of age, it's already drinking well. Even though it's showing surprisingly well, I expect the wine to continue improving for several more years.

11,644 Views

Tasted

Mar 19, 2012

This wine opens with dark berries, mushroom, earth, pepper and tobacco notes. Soft, elegant, silky tannins, coupled with velvety dark fruit ends with fresh, ripe blackberries, pepper and hints of green olive tapenade. This sexy wine will only get better with age.

16,850 Views

Tasted

Jun 29, 2011

Spice, cinnamon, black fruit, coffee and oak make up the aromatics. Lots of exotic, black fruit on the palate with plummy accents. The wine clearly shows its trademark richness and soft, elegant style of Bordeaux. Give it 5 more years and let it strut its stuff.

9,965 Views

Tasted

Jul 2, 2010

This offers an exotic, spicy nose combining ripe, spicy, red and black fruits. The wine hits the palate with a very sexy feel and maintains a lot of complexity through the finish.

5,985 Views

Tasted

Nov 14, 2009

2002
Château Pichon Longueville Comtesse de Lalande (Pauillac)

51% Cabernet Sauvignon, 34% Merlot, 9% Cabernet Franc and 6% Petit Verdot produced a wine with olive, wet earth, tobacco and cassis. Medium bodied, with an olive, black cherry and slight herbal quality, the wine feels slightly dry in the finish. I'd opt for drinking this sooner than later.

7,675 Views

Tasted

Dec 7, 2012

This remains an undiscovered treasure. Good color, jammy black fruit, chocolate, olives, tobacco and spice in the perfume. Already showing well, this Bordeaux wine offers a beautiful palate feel. It is an elegant style of wine that ends with ample, soft, sweet black fruit and elegant textures in the mouth. Give it 2 or 3 more years.

12,011 Views

Tasted

Jul 2, 2009

2001
Château Pichon Longueville Comtesse de Lalande (Pauillac)

Blending 50% Cabernet Sauvignon, 36% Merlot and a whopping 14% Petit Verdot, this medium/full bodied wine offers earth, wood, forest floor, floral, blackberry, cassis and tobacco in the nose. Silk and velvet in texture, this supple, elegant, Pauillac is delicious today. There is no reason to wait to pop a cork. Drink now or over the next 15 years.

6,822 Views

Tasted

Dec 7, 2012

Spicy plums and cassis with earth, tobacco and caramel scents. Soft, supple and round, this elegant, graceful wine finishes with plush dark berries and mocha flavors.

13,749 Views

Tasted

Jul 1, 2010

2000
Château Pichon Longueville Comtesse de Lalande (Pauillac)

I like how this is showing today. The soft, silky textures and sweet, ripe red fruits with their fresh attitude stand out in the crowd. Elegance and refinement, with complexity, length, a touch of spice and a distinctive note of greeness on the backend are what you will find here. This is in a good place. The wine is already 20 years old. So, if you have been waiting, there is no reason to hesitate.

5,230 Views

Tasted

Dec 9, 2019

In the right place, at the right time.... With 2 hours of decanting, this really came alive. A complex earthy, tobacco and fruit filled nose, silky textures and a long, lush finish really hits the spot.

6,479 Views

Tasted

May 9, 2016

At 15 years of age, this is at, or close to the sweet spot. With 20 minutes of air, the wine softened, filled out and served up a delicious array of tobacco, earth, truffle and plum scents, sensuous textures and an elegant finish. It could get a little bit better, but why wait?

5,282 Views

Tasted

Apr 13, 2015

Secondary notes of tobacco, truffle, spice and blackberry are easy to find. Soft and round, with only a hint of sand in the tannins, the wine leaves you after it completes its lush, soft, cassis, cocoa and dark cherry finish. This will improve, but it's drinking a good palce if you have a bottle and want to pop a cork.

6,512 Views

Tasted

Aug 28, 2014

Olives, cassis, tobacco, cedar, truffle, cigar box, coffee and earthy scents make up the perfume. Spicy, fresh, soft and supple in texture, this medium/full bodied classic and classy Pauillac ends with a fresh, lively cassis filled finish. Give it a few more years.

12,183 Views

Tasted

Feb 21, 2013

From a blend 50% Cabernet Sauvignon, 34% Merlot,10% Cabernet Franc and 6% Petit Verdot, the wine starts off with scents of truffle, tobacco, cigar box, plum, blackberry, smoke, vanilla, wet earth. On the palate, the concentrated, fresh, lush, structured, blackberry and cassis filled wine has some tannin that remains to be resolved. Fresh, clean and supple, give this another few years to soften and develop additional complexity.

9,090 Views

Tasted

Dec 7, 2012

Ripe dark berries, tobacco, mushroom, black pepper, cassis and tobacco aromatics are easy to find. Soft, elegant, ripe and refined, this concentrated wine is filled with juicy ripe plums. The wine ends with freshness, silk and velvet textures, ripe dark berries and hints of olive tapenade.

17,785 Views

Tasted

Jul 1, 2010

With its red and black fruit filled nose was further complicated with earth, wood, spice, olive and tobacco notes. The wine has good concentration and depth, along with silky textures, but there was a minor hint of green in the finish.

11,506 Views

Tasted

Mar 5, 2010

The perfume was the best part of the wine experience. Scents of cassis, blackberry, truffle, tapenade and tobacco delivered the goods. But in the mouth, the wine seemed light and filled with bright red fruits. I did not sense the concentration or body I had experienced on previous occasions.

7,025 Views

Tasted

Jan 15, 2009

The aromatics pop from the glass shortly after the deep colored wine exits the bottle. Coffee, cassis, herbs and dark chocolate say hello. But the wine really gets going once it slides from your glass, across your lips, over your gums and on to your palate.

6,128 Views

Tasted

Oct 1, 2008

1999
Château Pichon Longueville Comtesse de Lalande (Pauillac)

Unripe and lean. Not a lot of pleasure or complexity in this medium/light bodied wine. Owners should drink it sooner than later.

6,753 Views

Tasted

Oct 1, 2008

1998
Château Pichon Longueville Comtesse de Lalande (Pauillac)

Better on the nose, with its smoky, tobacco, earthy, blackberry, forest floor and cigar box character, than on the medium bodied, crisp, bright, sharp, cassis and olive tapanade palate. The wine was produced from a blend of 55% Cabernet Sauvignon, 30% Merlot, and 15% Cabernet Franc.

3,890 Views

Tasted

May 13, 2015

1996
Château Pichon Longueville Comtesse de Lalande (Pauillac)

Everything you could want from a mature Pichon Lalande or great Bordeaux is here. Splash decanted, which is all you need, this beauty offers flowers, spice, cigar box and roasted, dark red fruits. On the richly textured palate, the wine is generous, soft, silky, elegant and fresh, with a hint of spice and leafy nuances in the deep, red fruit-filled finish. This is at, or close to its peak. Unless you are a necrophiliac, it is time to start popping your corks on this beauty.

3,093 Views

Tasted

Aug 22, 2020

I added another Pt here, as this just keeps hitting all the sweet spots. Sensuous, silky and fresh, with layers of ripe, pure, elegant, polished fruits, the wine tastes, feels, smells and performs just great. This is a stunner now, and there is room for improvement too!

3,334 Views

Tasted

Feb 9, 2019

Consistently stunning, this is a beauty. The textures are pure silk, the fruits are ripe, sweet and complex, the tannins, sugar and freshness are in balance and the finish is sexy. Plus it is showing great today!

4,451 Views

Tasted

Apr 16, 2017

If you're looking to catch an elegant, text book Pauillac in the perfect place, pop a cork on this beauty if you have a bottle or two stashed away and be prepared for a beautiful nose of tobacco, forest floor, cassis, green olive tapenade, (but in a good way) and spicy cherries. Plush, polished and sensuous, the silky, fresh, sweet fruits and black cherry liqueur in the end notes feel great while they linger on your palate. Decanted 30 minutes before serving brought it right where it needed to be. Additional time in the glass did not add much.

5,272 Views

Tasted

Jan 24, 2016

This is the right time to be popping corks on this beauty. With a short decant, tobacco, cassis, forest floor and cedar chest notes were all over the place. The texture is silky, slinky and the finish, leaves you with flavor, freshness and silk. The wine was produced from a blend of 75% Cabernet Sauvignon, 15% Merlot, 5% Cabernet Franc, and 5% Petit Verdot.

5,839 Views

Tasted

Jan 19, 2015

1996 Pichon Lalande is one of those rare wines that has never shut down. It's been delicious since it was bottled and it has improved with age. Rich, sensuous textures, complex aromatics and a fresh, pure, long, expansive finish are all found in this beautiful Pauillac. Drink it now, or hold it for another decade or two!

10,161 Views

Tasted

May 18, 2012

Truffles, cigar smoke, dark berries, cassis, cedar wood, spice, tapenade, anise and damp forest scents open to a suave, rich, full bodied, silky, fresh, polished, sensuous wine with multiple layers of ripe, black fruits. The long, clean, black cherry finish with sensations of velvety tannins remains in your mouth for close to 50 seconds. At 15 years of age, this is starting to its true character. It seems to get better with every tasting. Drink this delicious Bordeaux wine now and over the next 20 years.

11,555 Views

Tasted

Jul 25, 2011

A fragrance factory seems to have exploded in the glass when this Bordeaux is poured. Black fruit, olive tapenade, cedar, cassis, licorice, chocolate and spicy tobacco make this a wine difficult to stop smelling. But the intoxicating perfume are only a prelude to the joy your palate senses as the wine flows over your sense receptors. Dense, concentrated and rich with a seemingly endless array of ripe, black fruit fills your palate. The texture is pure velvety, opulence.

5,752 Views

Tasted

Oct 1, 2008

Already open and offering much of its future charms, this beautiful wine is filled with rich, ripe, sexy fruit and coats your palate with pleasure. It has aromatics and a finish that is a joy to feel on your palate. I hope and believe the 00 might be at the same level in a few years, but the 96 is stunning!

5,799 Views

Tasted

Nov 14, 2007

1995
Château Pichon Longueville Comtesse de Lalande (Pauillac)

This needs some patience, as at least 2-3 hours of air are needed to help it soften and fill out. Roses, tobacco, scorched earth, cassis, cranberry and peppery herbs open the nose. There is weight and depth, a touch of herbs and crisp, crunchy red berries on the palate. The finish comes with a hint of green olives and a bit of dryness. Classic in style, this is firm, stern version of Pichon, but it manages to avoid some of severity found in most wines from the vintage. It is ready to go, although it could improve with more time.

4,175 Views

Tasted

Apr 17, 2020

With 1 hour in the decanter, the wine offers a full-bodied, concentrated experience filled with tobacco leaf, blackberry, herbs, cigar box and red fruits. The wine is less strict than many 95 wines, but there is some austerity to the wine that you definitely feel. Time is not going to add much more softness.

5,336 Views

Tasted

Aug 11, 2018

Clearly, one of the top wines from this often austere vintage. Here, you find softness to the tannins, sensuality to the textures, vibrancy and just a bit of austerity in the finish. At 22, this is perfect to open today, and for the next 15-20 years.

5,323 Views

Tasted

Sep 25, 2017

One of the best wines of the vintage as it shows none of the often, harshness to the tannins. The wine is soft, round and silky, with complex aromatics and ripe, sweet, dark fruits, finishing with a voluptuous mouth feel.

6,198 Views

Tasted

Jul 27, 2015

Crème de cassis, flowers, black cherry, tobacco leaf, olive, cocoa and fresh herbs create the perfume. Soft tannins, with only a hint of rusticity, the wine is starting to show well. This is one of the few wines that transcends the high tannic, structured style of the vintage.

10,564 Views

Tasted

May 7, 2012

1995 is a difficult year in Bordeaux. Many of the wines are hard, tannic and lack charm. That is not the case with Pichon Lalande. Floral, cassis, tobacco, truffle, smoke, earth, olive and spicy blackberry aromas crop up with little effort. Silk and velvet in texture, this supple Pauillac ends with a delicious, chocolate, black cherry, herb and plum finish. This is drinking great today. It should continue to improve for at least another 15-20 years.

13,090 Views

Tasted

Nov 27, 2011

Fresh aromas of cassis, blackberry, spice, olives, herbs, truffle, coco and cigar box fill the air. This concentrated wine is still tannic. But unlike most 95's, the tannins feel ripe and round. The wine offers ample freshness and structure, as well as silk and elegant textures, ending in a wave ripe, spicy dark fruits and hints of olives. This is one of my favorite wines from this ever increasing, difficult year.

9,326 Views

Tasted

Feb 4, 2010

1994
Château Pichon Longueville Comtesse de Lalande (Pauillac)

Medium bodied, firm and showing some greeness in the fruit, as one would expect, the wine is more interesting on the nose than the palate with its tobacco, cigar boax, cassis, blackberry and earthy aromatics. There is a slight gruffness to the tannins in the spicy cassis and cranberry finish.

5,847 Views

Tasted

Jul 19, 2013

1993
Château Pichon Longueville Comtesse de Lalande (Pauillac)

Light in fruit and weight, but quite charming, with its freshness in the red berries. There is a definite note of green pepper and herbs that some tasters will like more than others. The finish was soft and easy to like. This is not a wine for further aging.

5,920 Views

Tasted

Dec 14, 2015

1990
Château Pichon Longueville Comtesse de Lalande (Pauillac)

Light, this seemed older than its true age with its mostly secondary nose, medium body and light, short, red fruit and spicy finish. Drink up.

5,150 Views

Tasted

Feb 18, 2015

Ruby with light tea coloring at the edges, the perfume offersd, cassis, spice, olive and herbal aromas. Medium bodied, this lighter style of Pichon ends with soft, cherry and strawberry flavors.

10,894 Views

Tasted

Jul 1, 2010

1989
Château Pichon Longueville Comtesse de Lalande (Pauillac)

Perhaps fading a bit more than expected, the wine is slowly losing its sweetness. Medium-bodied, elegantly textured with a nose red berry, earth, tobacco leaf, cedar and cigar box, the finish, while retaining most of its refined character is more tart than previous bottles, letting me know the fruit is starting to drop. This was a pristine bottle from an original case purchased on release, so I would not expect more from other bottles. The wine needs to be drunk up before it continues fading from here. Popped and poured, decanting is not your friend here, as air will only take away from the remaining fruit.

2,967 Views

Tasted

Jun 7, 2020

Definitely at peak, while lacking the weight found in some vintages, this is a beautiful style of Pichon Lalande. Silky, elegant, fresh, and yes, sensuous, the wine feels great on your palate. The tannins are polished, the fruit is ripe and if you are lucky enough to have a bottle, or more in your cellar, you should be popping a cork.

4,389 Views

Tasted

Nov 24, 2018

Cocoa, mint, tobacco, truffle, roasted cassis, blackberry and fresh herbs create the beguiling aromatics. Silky, soft and sexy, with a fresh, cassis and olive tapenade finish. Fully mature, there is no reason to to hold your bottles any longer.

5,839 Views

Tasted

Jun 19, 2016

Probably not a perfect bottle of this normally outstanding wine. The silky texture and sweet fruits, coupled with their cassis, earth, tobacco, thyme and spicy personality was there, but the weight and density seems to have faded. I really like the style of this wine, but this bottle was more advanced than I was expecting. My guess is, if you are waiting on a lot more development, pop a cork instead.

5,485 Views

Tasted

Dec 14, 2015

Better on the nose than the palate as the wine is slowly losing its intensity and lush textures. The complex, truffle, tobacco, dark berry, cigar box and earthy aromas are a treat. But the bloom is off the rose on the palate. This is not falling apart. But it does require consumption over the next 2-5 years before dropping more of its fruit.

6,843 Views

Tasted

Feb 10, 2014

Tobacco, check. Truffles, check. Spice, earth and cassis check. Soft, silky textures too. But this bottle did not seem as fresh, lively or deep as the last bottle. I think this is fully mature and while it has not run out of steam, there is probably nothing to be gained by holding it further.

6,640 Views

Tasted

Nov 7, 2013

A beautiful mature nose, packed with earthy, forest notes, truffle, blackberry, tobacco and cassis is the first thing you notice. Plush, soft, round and elegant in texture,the wine finishes with fresh, ripe berries, olives and cassis. If you're not familiar with Bordeaux, this is the wine to get you going. If you are a Bordeaux lover, you already know, this is really good juice.

8,731 Views

Tasted

Sep 20, 2012

Tobacco leaf, forest floor, truffle, smoke, cassis, olive, floral, coffee and spice box aromatics lead to a sensuous, luscious wine filled with ripe, juicy cassis and fresh Maraschino cherries. This is fully mature. There is no hurry to drink it, it's probably not going to improve much either.

10,156 Views

Tasted

May 7, 2012

Tobacco, bitter chocolate, blackberries, cigar box, earth and cassis. Polished silky and velvet textures with a cassis, cranberry and cocoa filled finish. This is fully mature and if this bottle is a correct example, it does not seem like it has the stuffing to age and improve from this point on.

10,940 Views

Tasted

Aug 28, 2011

It's always a nice surprise when a bottle performs better than you expected. Tobacco, cassis, truffle, earth, spice, cedar, green olive tapenade and roses make up the complex perfume. On the palate, this Bordeaux wine feels like pure silk and velvet. The long, ripe dark berry finish lasts at least 40 seconds. Note to self, drink more Pichon Lalande.

11,875 Views

Tasted

Mar 12, 2011

Earth, truffle, tobacco, cassis, spice, smoke and chocolate covered plums make up the complex perfume. Elegant, soft, refined and sexy, this mature Pauillac ends with layers of polished, silky dark berries.

10,200 Views

Tasted

Jan 5, 2011

89 Pichon Lalande is llight ruby in color. The wine offers a perfume of tobacco, cassis, plums, green olive tapenade, earth and truffle. In the mouth, 89 Pichon Lalande is soft and round in texture. The finish is filled with bitter chocolate, cassis, hints of cranberry and some green flavors that take away from the overall experience of the wine. It's possible the wine has started to fade. This bottle seems to have lost some of its freshness. I plan on opening another bottle in the near future to see if it's the wine or the bottle that's started to fade.

10,316 Views

Tasted

Oct 23, 2010

This elegant, suave Bordeaux elixir is close to fully mature. Black fruit, earth, herbs, spices, tobacco, and chocolate kick the perfume off. The palate is treated to lush, opulent, ripe waves of flavor. Everything is in balance. The clean, rich, fruit filled finish is a treat to experience. I plan on finishing most of my bottles over the next decade.

6,146 Views

Tasted

Jun 19, 2009

This elegant, suave elixir is what the 83 used to be. Close to fully mature, black fruit, earth, herbs, spices and chocolate kick the perfume off. Everything is in balance. The palate is treated to very, lush, ripe waves of flavor. The clean finish is a treat to experience. Still going strong, I plan on finishing most of my bottles over the next decade.

6,119 Views

Tasted

Oct 1, 2008

Unlike most Pauillac's, the heavy percentage of Merlot makes this a very sophisticated, yet elegant wine. Gobs of cassis, black fruit and spices are easy to find. But for me, the real pleasure in Lalande is in the mouth feel. Close to fully mature, this wonderful Pauillac is all silk, velvet and satin in your mouth.

6,172 Views

Tasted

Feb 10, 2008

With a cassis laden perfume accented by notes of black fruit, truffle, wet earth and coffee, this is fun to taste. For me the personality of Lalande is best experienced in the mouth for its lush, rich style which is evident in the 89.

6,104 Views

Tasted

Feb 1, 2007

This was as sexy as any Left Bank wine I've ever tasted. This supple, velvety wine personifies elegance. It might be a matter of style, but more often than not, Lalande's unique quality always wins me over.

6,133 Views

Tasted

Feb 27, 2006

The 89 continues improving each time I taste it. It seems to put on weight, density and become more complex every year. Cassis, wood and spices on the nose. This full bodied, lush, sensuous Bordeaux is very plummy with sweet, silky, black fruits and a sexy, opulent, finish.

6,206 Views

Tasted

Nov 22, 2005

Cassis, black fruit, plums, coffee and anise aromatics tease and please your nose while your palate looks forward to a full bodied, plush, lush experience completed by a long elegant finish.

6,147 Views

Tasted

Oct 5, 2004

1988
Château Pichon Longueville Comtesse de Lalande (Pauillac)

My sole bottle donated in the name of science delivered a stern, austere, traditional wine that was more interesting due to its cigar box, tobacco, truffle, earth, blackberry, olive and herbal nose, than its medium bodied, cassis, cranberry and herb palate. There is no reason to age this wine any longer. Drink up.

4,910 Views

Tasted

Feb 10, 2014

1986
Château Pichon Longueville Comtesse de Lalande (Pauillac)

Tobacco, cassis, cigar box, truffle, 5 Spice, olives and earthy scents introduce this brawny, old school, masculine styled wine. Robust and powerful, this brawny Pauillac will age for decades, but it's never go to become charming or offer the elegance found in other 80's vintages of Pichon Lalande like 82, 83, 85 or 89.

10,316 Views

Tasted

May 15, 2011

Stylistically, the wine remains brawny displaying an austere personality. Dark in color with aromas of currants, black fruit, wood and damp forests, this wine offers a huge palate presence. This is a very big wine. But, as a matter of style, I prefer vintages like 82, 83, 85 & 89. 86 is a very good wine. However, it will never deliver the elegance I love in most vintages of Pichon Lalande

6,544 Views

Tasted

Dec 18, 2009

Big, beefy, brawny, steely and austere, this lacks Lalande's usual richness and charm The wine is hard in style. That being said, it has ample concentration, the fruit is ripe and the aromatics are there in force. The wine will continue improving, but at close to 23 years of age, this leopard is not changing its spots. 20 more years in the bottle is going to add to the aromatics, but it's always going to be in this style. Lovers of this style will undoubtedly find more to like in it than I did. Still young, it will continue aging for decades. Happily, I only have 2 bottles left. Again, this is not a bad wine. It is just not what I want in my Lalande.

6,565 Views

Tasted

Oct 1, 2008

Branwny, steely and austere in style. This full bodied, tannic wine will always be on the hard side. This old school wine might appeal to others more than it did to me.

6,517 Views

Tasted

Apr 18, 2005

1985
Château Pichon Longueville Comtesse de Lalande (Pauillac)

From a pristine bottle opened at the chateau, this has definitely lost some of its charm. The sensuous textures are there, but the fruit has started its fade. Drink up if have this in your cellar as it is not going to get better from here.

3,548 Views

Tasted

Apr 16, 2016

Ruby with lightening of color at the edge, smoke, truffle, tobacco, wet earth, ripe blackberry and plum scents lead to a fully mature, delicate, refined, silky style of Pichon Lalande. With a plush, velvet textured, elegant, black cherry finish, there is no reason to hold this any longer.

5,233 Views

Tasted

May 7, 2012

1985 Pichon Lalande should be listed in the dictionary next to "pretty wine". It is not the most concentrated. Nor is it the most aromatic. But everything is just right. Soft, smooth, elegant and silky with tobacco, truffle, cassis, spice and earthy notes. The is fully mature. It will not improve and might slowly lose its fruit. But it drinks great today and that's what counts!

7,875 Views

Tasted

Oct 6, 2010

1983
Château Pichon Longueville Comtesse de Lalande (Pauillac)

There was a time when this was one of my favorite go to Bordeaux wines. But over the years, the fruit has slowly started fading away. It's still nice, soft, elegant and supple, but it lacks the depth it showed a few years ago. Moral of the story, drink sooner than later.

4,186 Views

Tasted

May 8, 2014

With a color made the wine look 10-20 years older than its true age, the nose popped with tobacco, cigar box, earth, cherries, cedar and truffle notes. Silk and velvet on the palate, this medium bodied, sensuous Pauillac was showing great. But it looked, smelled and tasted much older than it was, which makes me think it requires consumption.

4,775 Views

Tasted

Jul 24, 2013

Over the past few years, the once, lush qualities have slowly faded. Still a pleasure, the wine is on the downward spiral and needs to be drunk up as it is only going to get worse from here.

3,694 Views

Tasted

Oct 1, 2010

Ruby colored, with some lightening at the edges, this serves a nose of cassis, spice, herbs, tobacco and forest floor aromas. The palate is soothed in an opulent bath of ripe, black fruit. But the wine seems to be lightening up and dropping fruit in the finish. I'd drink this sooner than later to get the most from it.

3,710 Views

Tasted

Aug 26, 2009

1982
Château Pichon Longueville Comtesse de Lalande (Pauillac)

If you have the disposable income or are lucky enough to have friends sitting on a bottle or two of this elixir, pop a cork. This is what mature Bordeaux at its best is all about. Elegant sensuous, balanced, complex, refined, regal, full, rich and deep, the fruit keeps on coming, building, expanding and pushing you to take another sip. But take your time as wine does not get much better than this.

3,817 Views

Tasted

Feb 2, 2020

Polished silk is what this stunner feels like on your palate. There is depth, vibrancy, weight and length, finishing with a boatload of cassis, black cherry, tobacco, cigar box, cedar and olives that keep on going. Fully mature, it's hard to believe that according to oldtimers, this wine has been that good since it was released!

5,468 Views

Tasted

May 17, 2017

Pure silky fruits, supple, opulent, sensuous textures and tobacco, wet earth, cassis, cigar box, dark cherry character that tasted, smelt and felt great on your palate. Fully mature, this was poured after maybe 20-30 minutes in the decanter.

6,186 Views

Tasted

Jan 15, 2017

Flowers, spice, green pepper, cassis and fresh cherries kick off the perfume. The wine is ready to drink. And if you do pop a well stored example, be prepared for a silky, soft, polished, elegant and delicious wine with a sensuous, rich finish.

6,434 Views

Tasted

Jan 14, 2016

Pure silky pleasure that is made better with fruits displaying the texture of polished velvet, a complex nose and a dark chocolate, black cherry, plum finish that does not quit.

6,889 Views

Tasted

Dec 22, 2015

A riveting example of Pauillac at its best. Picture silky, decadent textures, pure, ripe, sultry, polished, silky berries, complex aromas of fruit, truffles, Cuban Cigars and earth and you get the idea. The long, sensuous finish is the best of the experience.

6,958 Views

Tasted

Oct 20, 2014

Showing a color with more bricking than it should, the aromatics offered intense scents of cedar wood, cassis, forest floor, tobacco and leafs. Silky, plush and polished, there are no hard edges to this sensuous expression of Pauillac. However, the wine was slightly more advanced than other bottles tasted recently.

8,420 Views

Tasted

Mar 13, 2013

1982 Pichon Lalande remains the most consistent and stunning representative of the vintage. If you're seeking opulent, sexy, lush, silky textures, complex aromas with truffles, forest floor, cassis, blackberry, olives and cigar box with a finish that lasts close to a minute, this is the wine to buy. From the day this majestic elixir was bottled, some tasters claimed it would not last. Not only has it lasted, it continues to improve.

9,353 Views

Tasted

Oct 29, 2012

Smoke, tobacco, cigar box, cassis, wet earth, truffle, spice and forest floor pop from the glass the moment the wine is poured. The real fireworks start with the luxurious, glycerin filled, sensuous, silk and velvet textures. Layers of opulent, polished perfectly ripe dark berries remain on your palate for close to 60 seconds. If you want to know why people spend big money on Bordeaux, this is the wine to experience.

14,207 Views

Tasted

Jun 18, 2012

This was not a perfect bottle. So, please do not think this is indicative of well stored examples. There were no visual clues that the wine would be less than stellar. In the nose, along with smoke, truffle, cassis, cedar and spice, red fruit aromas became apparent as well. Plush in texture, but lacking the richness and opulence found in better examples, the wine ended with a touch of tart flavors. Another example of only good bottles and no great wines.

13,615 Views

Tasted

Dec 5, 2011

The best bottles are showy, opulent and decadent. This bottle was close to the level found in the best bottles. Tobacco, plums, prunes, cedar, truffle and blackberry started off the perfume. In the mouth, wonderful layers of ripe, cassis, blackberry and black cherry fill your palate with textures akin to satin and silk. This elegant, polished, concentrated and intense wine is the thinking man's sex bomb!

8,646 Views

Tasted

Nov 15, 2010

This round, soft, supple, opulent and plush Bordeaux wine is filled with sexy, ripe, spicy fruit. The powerful, complex nose gets you started, but the supple texture in the mouth is where the real pleasure is truly released. Interestingly, often when I taste wines from Bordeaux, they show much younger than they do in the states. But this bottle was at the same level of maturity as the 82 Pichon's from my cellar. No real hurry to drink it. This has remained at the same stellar level of maturity for the past several years.

8,116 Views

Tasted

Jul 2, 2009

This offered an explosive nose! Rich blackberry, black cherry, raspberry, truffles, cigar and herb notes. Big, powerful, concentrated, opulent and with great balance coupled with finesse.

7,237 Views

Tasted

Dec 1, 2008

The best bottles have delivered sublime tasting experiences. Luckily, this bottle delivered the goods. Ruby in color, the explosive nose of cassis, black fruit, olives, spice and truffle are a treat. But where this wine delivers the goods is on the palate. Lush, fat, sexy, opulent and flamboyant. Layer after layer of luscious juice with a silk laden finish lasting close to one minute! 82 Pichon Lalande is a contender for the most decadent Pauillac ever made! Well stored wines have another decade or two of evolution in their future.

8,002 Views

Tasted

Oct 1, 2008

Lush, opulent and sexy. Truffles, cigar box, cedar, sweet black fruit and spicy plums. Richly decadent with an opulent texture on the palate. The endless finish was seamless. The wine continued showing some improvement in the glass.

7,385 Views

Tasted

Nov 15, 2007

This incredibly rich, lush, sexy, mouth filling Bordeaux wine is hedonism in a glass. Black fruit, earth and spices start off the aromatic fireworks. But, the deep, layer after layer of opulent ripe fruit that coats your mouth is for me, the true hallmark of this magnificent wine. The seamless finish last close to a minute. When this wine shows well, it's one of the great treats from Bordeaux and this bottle was rocking

8,542 Views

Tasted

Jun 6, 2007

Soy, graphite, olive tapanede, and cassis take over the controls of your senses. This bottle did not offer the usual parade of opulent textures. Slightly brawny for an 82 Pichon, this proves by 20 years of age, there are no great wines, just great bottles.

7,401 Views

Tasted

Mar 2, 2007

The ruby color sported some bricking, but one whiff of this complex perfume showed how great this wine truly is. Cassis, figs, coffee, coca powder, hot stones, tobacco & herbs explode from the glass. The palate where this wine really struts its stuff. Seamless taste sensations of juicy, ripe plums and blackberry liqueur coat every nook and cranny of your palate with multiple layers of dense, lush, silky fruit. Shared with dad for Fathers day.

8,335 Views

Tasted

Jun 20, 2006

Screaming notes of tobacco, coffee, cedar, black fruit, Asian spices and steel. This bottle was firing on all cylinders. Thick, lush, decadent, ripe fruit, filled every nook and cranny of your palate. Very seamless and elegant. Fully mature, but there is probably no rush to consume it. This is still a wow wine. For me, this style of wine is the quintessential Bordeaux marrying power with elegance. A real treat to taste.

8,164 Views

Tasted

Jan 10, 2005

The color was closer to ruby than dark red with slight lightening around the edges. The texture reminded me of dense, voluptuous, liquid silk. This was absolutely seamless! The aromatics showcased cassias, plums, smoke and a cornucopia of black & red fruits with a cedary component. This was a stellar bottle offering as much pleasure as you can get from a wine!

8,035 Views

Tasted

Jul 12, 2004

1981
Château Pichon Longueville Comtesse de Lalande (Pauillac)

This fully mature, elegant Pauillac offers truffle, tobacco, earth, cassis, blackberry, spice and aked fruit aromas. Medium/full bodied, with all the tannins fully resolved, there is no reason to hold this any longer.

6,473 Views

Tasted

Jul 1, 2010

1979
Château Pichon Longueville Comtesse de Lalande (Pauillac)

On the downhill slope, but not without charm, especially texturally, as the wine is soft and silky. Focused on the bright, red berry side of ripeness, there is a strong, leafy, green olive, tobacco leaf and peppery component in the nose and palate. Still, considering its age and the vintage, this was still nice to drink. But it is not a wine for further aging. Drink up.

4,166 Views

Tasted

Jun 7, 2018

1978
Château Pichon Longueville Comtesse de Lalande (Pauillac)

1978 Pichon Lalande offered a herbaceous, tobacco, cigar box and spice aroma that led to a fully mature wine. Light in style, without much charm or fruit remaining, this wine should be opened sooner than later.

6,652 Views

Tasted

Sep 15, 2010

The nose offers cassis fruit, herbs, cigar box and earthy scents. Good weight and mouth feel with a medium body. The palate enjoys black cherry and dark chocolate notes. This is at, or slightly past it apogee.

2,534 Views

Tasted

Feb 18, 2004

1975
Château Pichon Longueville Comtesse de Lalande (Pauillac)

This tea colored wine is filled with smoke, cigar box, tobacco leaf, cedar wood, olive and earthy scents. Medium bodied and starting to drop its fruit, this classic style of Pichon Lalande requires consumption sooner than later.

4,066 Views

Tasted

May 7, 2012

The tannin has melted away and the wine showed the textbook, elegant stylings the Chateau is known for. This is one of the better Medoc from a difficult year. It's worth seeking out in auctions as it usually sells for a song.

5,809 Views

Tasted

Jul 2, 2009

1970
Château Pichon Longueville Comtesse de Lalande (Pauillac)

This fully mature wine offers tobacco, earth, truffle, spice, cassis, cedar, cigar and ash aromas. Medium bodied and lightly textured, this wine finishes with spicy cassis and strawberry flavors. This will not improve, Drink up.

6,962 Views

Tasted

Jul 1, 2010

1966
Château Pichon Longueville Comtesse de Lalande (Pauillac)

A nice surprise, the blend of truffle, herbs, tobacco, cedar and plums gets you going. Silky, soft, but not quite refined on the palate, the wine has enough sweet, red pit fruits remaining to go another decade, if well stored.

2,120 Views

Tasted

Sep 21, 2018

1961
Château Pichon Longueville Comtesse de Lalande (Pauillac)

Intensely smoky, with more tobacco and cigar box than most high end, cigar shops. The tannins felt rustic and this bottle had moved slightly past its prime. The finish moved from sweet to tart in a hurry, as if it had someplace else to be. If you're sitting on any, I'd find a reason to drink it sooner than later.

3,144 Views

Tasted

Jul 6, 2017

The perfume offered tobacco, earth, truffle, smkoe, cassis and sweet cherry scents. Medium bodied and soft in texture, the wine finished with tart cherries and strawberry. Drink up as this was probably better several years ago. On the other hand, who wasn't better 50 years ago?

3,044 Views

Tasted

Dec 5, 2011

1959
Château Pichon Longueville Comtesse de Lalande (Pauillac)

Fully mature, elegant, soft and refined, this is all about the delicate, fresh, fruits, silky textures and earthy, cedar, cherry driven nose.

3,598 Views

Tasted

Dec 22, 2014

Light in color, with notes of ripe cherries, smoke, tobacco and earth, the wine was light and the soft finish was short. This is well past its prime. Drink up.

5,145 Views

Tasted

Dec 5, 2011

1955
Château Pichon Longueville Comtesse de Lalande (Pauillac)

This opens with a truffle laden, earthy, tobacco and spice perfume. This fully mature wine displays the special, unique patina of age, but with a slight rustic quality to the finish.

6,869 Views

Tasted

Jun 18, 2009

1949
Château Pichon Longueville Comtesse de Lalande (Pauillac)

What a beautiful wine! Popped and poured, the essence of violets and roses started off the aromatic show. They were quickly joined by Cigar wrapper, cedar wood, smoke, leather, and bright red fruits. Medium bodied, elegant, silky, vibrant and gorgeous to feel as it caresses your palate. Surprisingly, the wine put on weight as it remained in the glass. This is what fully mature, Bordeaux is all about. One little note, the bottle has not moved since release and was recorked in the mid-1980's, so it is going to be hard to replicate this experience. Still, with provenance, it is worth taking a chance on in the auction market.

2,178 Views

Tasted

Mar 18, 2019