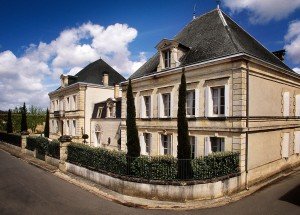 Learn everything about Chateau Bernadotte Haut Medoc with wine tasting notes and wine with food pairing tips. Learn the best vintages, the history of the property, and information on the vineyards and winemaking. If you want to read about other important, Bordeaux Chateaux: Links to all Bordeaux Wine Producer Profiles
Chateau Bernadotte History, Overview
Chateau Bernadotte takes its name from a previous owner, Marshal Bernadotte, who had connections to royalty. Marshal Bernadotte was appointed the Sovereign Prince by Napoleon I. However, the vineyard was not always known as Bernadotte. In fact, that name is quite recent. Prior to 1997, the estate was known as Chateau Fournas.
The name was changed in 1997 when what we know of as Chateau Bernadotte was purchased by Madame de Lencquesaing from Curt Eklund. Curt Eklund acquired the estate in 1973, along with 10 hectares of vines in Pauillac.
This was not the first vineyard that was managed by de Lencquesaing. May Eliane de Lencquesaing was already quite experienced in Bordeaux by that time as she was the owner of Chateau Pichon Lalande in Pauillac.
The following year after taking over the estate, two things took place. The 10 hectares of vines that came with the deal were integrated into Pichon Lalande. Next, May Eliane de Lencquesaing ordered a complete renovation of Chateau Bernadotte.
The entire property was rebuilt from top to bottom. The Chateau, vat rooms, grape reception area, and cellars were all modernized. In the vat rooms, they increased the number of vats to 23. This allowed Chateau Bernadotte to vinify in thermoregulated vats on a parcel by parcel basis for the first time.
The vineyards also received extensive improvements and replanting of several parcels. The amount of Merlot planted in the vineyards was also increased from 36% to 44%, which helped soften and round out the wine.
In 2007, Chateau Pichon Comtesse de Lalande in Pauillac and the two properties in St. Estephe, Chateau de Pez and Haut Beausejour were purchased by the Roederer Champagne house from May Eliane de Lencquesaing. Since the purchase by the Rouzaud family, headed by Frederic Rouzaud, the wines of Chateau Bernadotte began showing a marked improvement in style and quality.
In December 2012, Chateau Bernadotte was sold to the King Power Group. The King Power Group has massive business holdings in a myriad of different industries including; real estate, food, beverages, retail with the Agatha company, and a host of other industries including a massive presence in the duty-free area. In 2015, Hubert de Bouard came on board as consultant.
Chateau Bernadotte, Vineyards, Terroir, Grapes, Winemaking
The 44 hectare Left Bank vineyard of Chateau Bernadotte is planted to 51% Cabernet Sauvignon, 48% Merlot, and 1% Petit Verdot. This is a change in the vineyard with much more Merlot being planted and the small amount of Cabernet Franc has been removed.
The terroir is gravel and sand with some clay in the soil on sloping hillsides, which rise to 31 meters at their peak. The vineyard On average, the vines are 25 years of age. The vines are planted to a density of 6,500 vines per hectare with newer plantings taking place at 10,000 vines per hectare. On average, the vines are a respectable 30 years of age. Harvests are done by machine.
To produce the wine of Chateau Bernadotte, vinification takes place in 23, large, temperature-controlled, stainless steel vats. Malolactic fermentation takes place in the tank. The wines of Chateau Bernadotte are then aged in an average of 30% new, French oak barrels for 12 to 18 months, depending on the quality and character of the vintage.
On average, the large Medoc vineyard produces close to 20,000 cases of Chateau Bernadotte per year. The estate also makes a second wine, Le Fournas Bernadotte.
The best vintages of Chateau Bernadotte are: 2022, 2021, 2020, 2019, 2018, 2016, 2015, 2010 and 2009 and 2005.
When to Drink Chateau Bernadotte, Anticipated Maturity, Decanting Time
Chateau Bernadotte needs some time before it can be enjoyed. Young vintages can be decanted for about 1 hour, or so. This allows the wine to soften and open its perfume. Older vintages might need very little decanting, just enough to remove the sediment.
Chateau Bernadotte is usually better with at least 4-6 years of bottle age. Of course, that can vary slightly, depending on the vintage character. Chateau Bernadotte offers its best drinking and should reach peak maturity between 5-15 years of age after the vintage.
Serving and Decanting Chateau Bernadotte with Wine, Food, Pairing Tips
Chateau Bernadotte is best served at 15.5 degrees Celsius, 60 degrees Fahrenheit. The cool, almost cellar temperature gives the wine more freshness and lift. The wine of Chateau Bernadotte is best served with all types of classic meat dishes, veal, pork, beef, lamb, duck, game, roast chicken, roasted. braised and grilled dishes.
Chateau Bernadotte is a perfect match with Asian dishes, hearty fish courses like tuna, mushrooms, and pasta as well as cheese.
https://www.chateau-bernadotte.com
Château Bernadotte Wine Tasting Notes
13 Vintages 47,596 Views Sort by Vintage-Rating
2022
Château Bernadotte (Haut-Médoc)

Medium-bodied with ample ripe, dark red fruits, soft tannins and floral accents, but with a bit too much wood in the finish. If the oak becomes better integrated, this could be quite tasty. Drink from 2025-2037. 88-90 Pts.

499 Views

Tasted

May 8, 2023

2021
Château Bernadotte (Haut-Médoc)

Light, soft and fresh, the fruits are easy to like in this medium-bodied, forward, red berry filled wine, finishing with an herbal, savory edge to the crisp red fruits. Drink from 2023-2029. 86-88

1,096 Views

Tasted

May 20, 2022

2020
Château Bernadotte (Haut-Médoc)

With a bit of oak to resolve, the wine is soft, round, and creamy on the mid-palate, and in the finish, which is perfect here, as it allows the sweet, black currants to come through easily from the start to finish. Drink from 2023-2038.

311 Views

Tasted

Mar 21, 2023

The nose with its cherry pipe tobacco, currants and cedar notes is quite nice. Medium-bodied, with a shot of juicy black currants and tobacco on the palate and plenty of chewy, ripe, earthy, lively fruits and cedar in the finish are good now, and will be even better with 5-6 years of age. This is the best Bernadotte I have tasted in years. 88-90 Pts

1,295 Views

Tasted

May 20, 2021

2019
Château Bernadotte (Haut-Médoc)

Medium-bodied and already focused on showing off its blackberry and plummy core of fruits with its accents of tobacco leaf and espresso. Soft, round and approachable, this is showing much better in bottle than it did in the barrel. Give it a year or two in the cellar and it should be even better. 2023-2034.

613 Views

Tasted

Mar 29, 2022

Medium-bodied, juicy, fruity, tobacco-tinged and bright, with a crisp, lifted, earthy finish. Give it a few years in the cellar. 86-88 Pts

2,212 Views

Tasted

Jun 8, 2020

2018
Château Bernadotte (Haut-Médoc)

A mild touch of toffee along with red fruits are easy to find on the nose and palate. Soft, medium-bodied and easy to like, with a cherry and spicy red currant finish, give this a few years to fill out and it could be even better.

698 Views

Tasted

Mar 9, 2021

Medium bodied, tobacco-tinged, crisp, red berries, with an earthy, bright finish. 86-88 Pts

1,663 Views

Tasted

Apr 19, 2019

2017
Château Bernadotte (Haut-Médoc)

Tobacco, cedar and bright red fruits load you up. The wine is medium bodied, soft and forward, with gentle tannins and a smooth, bright, fruity finish.

1,955 Views

Tasted

Apr 26, 2018

2016
Château Bernadotte (Haut-Médoc)

Light in color, medium-bodied and on the spicy red fruit range, this needs to be opened in its youth for the maximum amount of pleasure.

2,249 Views

Tasted

Sep 21, 2019

Loads of tobacco, earth and cassis going on here. Medium-bodied, classic in nature, as the fruit is ripe and there is depth. Salty tannins in the end note add complexity.

3,526 Views

Tasted

Apr 29, 2017

2015
Château Bernadotte (Haut-Médoc)

Medium bodied, with, sweet, dark red fruits, tobacco and a hint of earthy nuances. This is already drinking well. with dusty, drying tannins and dark fruit finish.

2,856 Views

Tasted

May 21, 2018

Medium bodied, with dusty, drying tannins and dark fruit finish. 83 - 85 Pts

2,948 Views

Tasted

Apr 26, 2016

2014
Château Bernadotte (Haut-Médoc)

Filled with sweet black cherries, licorice and espresso, this medium-bodied wine is slightly dry on the finish. 86-88 Pts

3,017 Views

Tasted

Apr 21, 2015

2012
Château Bernadotte (Haut-Médoc)

Medium bodied with a tart side to the red berry, dominated wine. 84-86 Pts

4,981 Views

Tasted

Apr 23, 2013

2010
Château Bernadotte (Haut-Médoc)

Bernadotte - Blending 51.5% Cabernet Sauvignon with the remainder Merlot, the wine opens with cassis and sweet black cherry balsamic scents. Medium bodied with dark berries and cassis in the finish, this should drink well on release. 88-90 Pts

6,616 Views

Tasted

Apr 21, 2011

2009
Château Bernadotte (Haut-Médoc)

Ripe, soft, dark berries, spice and earth. This crowd pleasing style of wine will deliver a lot of pleasure early in life. This is the best wine I've tasted from Bernadotte.

6,137 Views

Tasted

Jul 19, 2010

2005
Château Bernadotte (Haut-Médoc)

Fully mature, soft textured, medium bodied wine with loads of cedar and tobacco surrounding the bright, red, spicy, earthy fruits. There is no need to age this any longer, but it will be around for at least another 5-8 more years.

4,924 Views

Tasted

Oct 6, 2017