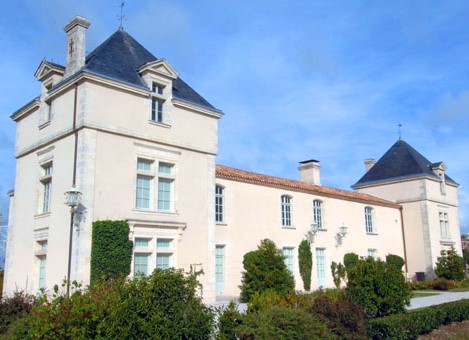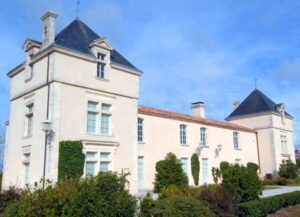 Learn everything about Chateau de Pez St. Estephe Bordeaux, with wine tasting notes and wine with food pairing tips. Learn the best vintages, wine ratings, a history of the property, information on vineyards and winemaking. If you want to read about other Bordeaux wine producers: Links to all Bordeaux Wine Producer Profiles
Chateau de Pez History, Overview
Chateau de Pez is perhaps the oldest Bordeaux wine-making estate in the Saint Estephe appellation. The only other Saint Estephe property with as much history is the neighboring vineyard of Chateau Calon Segur. The de Pez estate was created in 1452 by Jean de Briscos.
Chateau de Pez was later owned by the Pontac family. The Pontac family are known for creating the vineyard and estate that later became what we know of as Chateau Haut Brion in Pessac Leognan. Chateau de Pez became the property of the state during the French Revolution and was eventually sold at auction.
Like every vineyard in the Medoc, Chateau de Pez passed through a countless array of owners until it was purchased in 1995 by Jean-Claude Rouzaud. Rouzaud is best known for the Roederer Champagne house, the maker of the famous, high-end Champagne Cristal.
However, the Rouzaud family had several other important investments in Bordeaux including Pichon Comtesse de Lalande in Pauillac, Chateau Bernadotte, and Chateau Haut-Beausejour, both of which are also located in Saint Estephe.
Since the estate was first purchased, Frederic Rouzaud has been in charge of making significant investments in improving the Left Bank vineyards and the wine-making facilities at Chateau de Pez.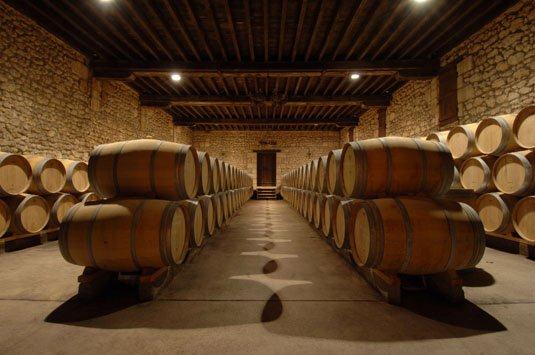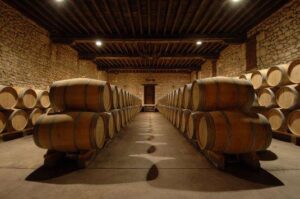 Chateau de Pez Vineyards, Terroir, Grapes, Winemaking
The 48 hectare Left Bank vineyard of Chateau de Pez, located in the north of the appellation, just due west of Chateau Calon Segur is planted to 48% Merlot, 46% Cabernet Sauvignon, 4% Cabernet Franc, 3% Petit Verdot. All of the Malbec has been removed. The vineyard, which is in 1 large parcel of vines has a terroir of gravel, limestone, and clay soils.
The plantings shown here represent a marked increase in the amount of Merlot planted here, which helps add more softness to the wine. Until the mid-1990s, the vineyard was planted to about 70% Cabernet Sauvignon. The additional Merlot vines were added after the purchase by the Rouzaud family.
The vineyard of de Pez has good natural drainage because the slopes rise to almost 17 meters. The Saint Estephe vineyard of Chateau de Pez is planted to a vine density of 9,000 vines per hectare. The vines average 25 years of age.
In 2018, the chateau completed construction on an all-new, modernized cellar which allows for a parcel by parcel vinification.
To produce the wine of Chateau de Pez, vinification takes place in both traditional, large, oak, wood vats and conical, stainless steel tanks. Malolactic fermentation takes place in oak and steel tanks. The wine is then aged in 40% new, French oak barrels for an average of 15 months before bottling. In most vintages, the production of Chateau de Pez is close to 18,500 cases per year.
The Best Vintages of Chateau de Pez are: 2022, 2021, 2020, 2019, 2018, 2017, 2016, 2015, 2014, 2010, 2009, 2005, 2003 and 2000.
When to Drink Chateau de Pez, Anticipated Maturity, Decanting Time
Chateau de Pez can be enjoyed early. However, the wine is often better with at least a few years of bottle age. Of course, that can vary slightly, depending on the vintage. Chateau de Pez is usually best enjoyed in the first 10-18 years of life.
Young vintages can be decanted for 1-2 hours. This allows the wine to soften and open its perfume. Older vintages might need very little decanting, just enough to remove the sediment.
Serving Chateau de Pez with Wine, Food, Pairing Tips
Chateau de Pez is best served at 15.5 degrees Celsius, 60 degrees Fahrenheit. The cool, almost cellar temperature gives the wine more freshness and lift.
Chateau de Pez is best served with all types of classic meat dishes, veal, pork, beef, lamb, duck, game, roast chicken, roasted, braised, and grilled dishes as well as mushrooms, pasta, and cheese. Chateau de Pez is also quite good with Asian dishes, hearty fish courses like tuna, mushrooms, and pasta.
Château de Pez Wine Tasting Notes
23 Vintages 94,531 Views Sort by Vintage-Rating
2022
Château de Pez (St. Estèphe)

Opening with licorice, black cherries, flowers, and blackberries, you also find of spice on the back of the perfume. On the palate, the wine is round, fresh, fruity, and loaded with crushed rocks, and stones, finishing with layers of licorice, and salty, chewy, black currants. The wine blends 59% Merlot, 38% Cabernet Sauvignon, 2% Cabernet Franc, and 1% Petit Verdot. After 10 years of renovations, and work in the vineyards, this is the first vintage of de Pez offered as a future on the Place de Bordeaux. Drink from 2025-2037. 92-94 Pts.

592 Views

Tasted

May 8, 2023

2021
Château de Pez (St. Estèphe)

Earthy clay and red fruits with touches of spice and leafy herbs on the nose lead you to a medium-bodied, earthy, chewy, savory, edged, dark red berry filled wine with an olive accent in the round, fruity finish. The wine blends 49% Cabernet Sauvignon, 47% Merlot and 4% Petit Verdot. Drink from 2024-2035. 90-92

1,065 Views

Tasted

May 20, 2022

2021
Château de Pez 2nd Pez (St. Estèphe)

Medium-bodied, soft, forward, fruity and already open, you can enjoy this early-drinking charmer on release. Drink from 2023-2027. 86-88

992 Views

Tasted

May 20, 2022

2020
Château de Pez (St. Estèphe)

Black currants, cedar, mint and cocoa show right off the bat in the nose. On the palate you find intensity, ripe, sweet, creamy blackberries, lift and length with a soft, engaging finish that delivers a lot of bang for the buck. This is probably the best vintage of Chateau de Pez I have ever tasted. Drink from 2024-2045.

441 Views

Tasted

Mar 21, 2023

The spicy character is just great here. Instantly it adds character and complexity to the perfectly ripe, juicy, fresh, red fruits. Soft, round and inviting, the ripeness and energy in the red berries keeps on going from the mid-palate straight through to the finish. 91-93 Pts

1,154 Views

Tasted

May 20, 2021

2020
Château de Pez 2nd Wine (St. Estèphe)

Forward, fresh and fruity, this medium-bodied, already fully-drinkable, red berry, soft textured charmer is ready to go for easy drinking pleasure. 88-90 Pts

3,299 Views

Tasted

May 20, 2021

2020
Château de Pez 2nd Pez (St. Estèphe)

Black and red fruits, cedar and spice combine on the nose and palate. The wine is medium-bodied, vibrant, and chewy, with a nice hit of crunchy red berries in the finish. Drink from 2023-2032.

292 Views

Tasted

Mar 21, 2023

2019
Château de Pez (St. Estèphe)

Quite floral in nature, the wine continues picking up steam with the addition of spice box, pepper, herbs, red and black currants and espresso bean on the nose. From there the wine is fresh, sweet and vibrant, with chewy fruit, creamy tannins and a long, fruit-packed finish with a touch of spice, dark cocoa and dusty tannins in the endnote. Drink from 2025-2039.

2,527 Views

Tasted

Apr 10, 2022

Flowers, spice, wet earth, cigar box and black currants on the nose work perfectly with the round, medium/full-bodied, rich wine on your palate. The blast of spicy currants and espresso on the mid-palate and finish makes this a stellar vintage for de Pez. The wine blends 56% Cabernet Sauvignon, 42% Merlot, 1% Cabernet Franc and 1% Petit Verdot reaching 14.3% ABV. 92-94 Pts

2,606 Views

Tasted

Jun 8, 2020

2018
Château de Pez (St. Estèphe)

Wet earth, spice box, tobacco, cedar and currants create the nose. On the palate, the wine is round, lush and fresh. Soft, with ample sweet, dark red fruits and a peppery kick in the back end, give this 4-6 years in the cellar before it is fully ready to go. The wine blends 49% Cabernet Sauvignon, 49% Merlot, 1% Cabernet Franc and 1% Petit Verdot.

1,378 Views

Tasted

Mar 9, 2021

The darkest color ever seen at de Pez! From there it takes just a single sip to know this is a special wine. The fruits are just as dark as the hue which produces a generous, fleshy, ripe, full-bodied wine. The black cherries come in sprays before the spice, cocoa, espresso, licorice and vibrancy kicks in. Energy and elegance is here in spades. The wine blends 49% Cabernet Sauvignon, 49% Merlot, 1% Cabernet Franc and 1% Petit Verdot. 92-94 Pts

2,479 Views

Tasted

Apr 19, 2019

2017
Château de Pez (St. Estèphe)

Medium-bodied with a jolt of juicy, bright, sweet, spicy, red berries at its core, you can drink this with just a year or two of aging. The wine is made from a blend of 51% Cabernet Sauvignon, 45% Merlot and an even split of 2% Petit Verdot and 2% Cabernet Franc to round things out.

2,116 Views

Tasted

May 14, 2020

Medium bodied with a polish to the fruits, the wine is delicate with a waft of cedar, tobacco leaf and a cassis finish – enjoy this wine while it is young.

1,939 Views

Tasted

Apr 26, 2018

2016
Château de Pez (St. Estèphe)

Full bodied, fresh and focused on its layers of sweet, ripe, luscious, dark fruits, the wine offers a nice depth of flavor and real character.

3,240 Views

Tasted

Feb 9, 2019

Dusky in color with equally dusky fruits on the nose and in the mouth, this wine has more softness than usual with round, silky berries, plum and licorice in the finish.

2,687 Views

Tasted

Apr 29, 2017

2015
Château de Pez (St. Estèphe)

Medium bodied, with fresh red fruits and tobacco leaf on the nose. The finish is crisp and bright with a spicy, red berry ending.

2,559 Views

Tasted

Mar 12, 2018

With tobacco and crisp, red fruits, this medium-bodied wine delivers a fresh, bright, spicy finish in a forward style. 87 - 89 Pts

2,719 Views

Tasted

Apr 19, 2016

2014
Château de Pez (St. Estèphe)

Truffle, earth, burnt wood and dark red fruits open to a forward, easy to like, dark berry and wet earth filled wine that can be enjoyed in its youth.

2,481 Views

Tasted

Jun 25, 2017

With tobacco and dark berries on the nose, this medium-bodied wine delivers a fresh berry and spice finish, offering a lot of charm for the money. 88-90 Pts

2,523 Views

Tasted

Apr 13, 2015

2013
Château de Pez (St. Estèphe)

Medium bodied, fresh, bright red fruits and a tart cranberry and cherry note are found in this wine.

2,601 Views

Tasted

Feb 7, 2016

Medium bodied, gritty tannins and a bright, spicy, red berry character that will be best in its youth. 84-86 Pts

1,502 Views

Tasted

Apr 20, 2014

2012
Château de Pez (St. Estèphe)

Medium bodied, slightly rustic, bright red fruits and earth are found in this blend of 48% Cabernet Sauvignon, 47% Merlot, 3% Cabernet Franc and 2% Petit Verdot.

1,618 Views

Tasted

Mar 11, 2015

Medium bodied, rustic tannins and focused on red berries, with a short finish. 86-88 Pts

1,965 Views

Tasted

Apr 23, 2013

2011
Château de Pez (St. Estèphe)

From a blend of 50% Cabernet Sauvignon, 46% Merlot and 4% Petit Verdot, the wine is medium bodied with black cherries, earth and vanilla notes. This is already easy to taste, with its open personality.

3,826 Views

Tasted

Feb 16, 2014

Cassis, wood and earth. Medium-bodied with a soft, earthy, bright cassis finish. 87-89 Pts

2,996 Views

Tasted

Apr 8, 2012

2010
Château de Pez (St. Estèphe)

Coming along, the wine needs more time for its crisp, fresh, cassis and red plum profile, spice, earth and tobacco can develop. At the moment, the tannins remain a bit firm. Give it time or air.

3,899 Views

Tasted

May 4, 2016

2010 de Pez From a blend of 52.5% Cabernet Sauvignon paired with 47.5 Merlot, (which is almost the exact assemblage as they used in Haut Beausejour), the wine shows fresh blackberry, licorice, stone and spice aromas. Full bodied with fresh dark berry flavors on the palate, the wine ends with a cassis filled finish. 90-92 Pts

2,595 Views

Tasted

Apr 19, 2011

2009
Château de Pez (St. Estèphe)

Dark berry and earthy aromas pair with muscular tannins. From a blend of 47% Cabernet Sauvignon, 47% Merlot and 6% Petit Verdot, the wine demands a few years of bottle age to flesh out.

4,808 Views

Tasted

Nov 26, 2014

Chocolate covered blackberries, cassis, earth, and truffle make up the aromas. This sweet, rich, round wine ends with a mouthful of chocolate covered cassis. This is the finest wine I've ever tasted from de Pez.

6,511 Views

Tasted

Jul 19, 2012

de Pez starts off with chocolate, blackberry, and earth aromas. Rich, sweet, ripe, and round, the wine ends with dark berries, cassis, and cocoa. 89/91 Pts

6,413 Views

Tasted

Jun 26, 2010

2008
Château de Pez (St. Estèphe)

Medium bodied, earthy and already showing secondary aromas of forest floor, spice and tobacco, coupled with its blackberry and red plum character. The wine was made from a blend of 50% Merlot, 45% Cabernet Sauvignon and 5% Petit Verdot.

3,370 Views

Tasted

Oct 28, 2014

2006
Château de Pez (St. Estèphe)

Fully mature, slightly firm, medium-bodied, earthy, spicy, bright, red berry, cedar and tobacco filled wine that is ready for drinking today.

1,894 Views

Tasted

Aug 13, 2020

2005
Château de Pez (St. Estèphe)

Fully mature, medium bodied, lacking in refinement, but not pleasure, the wine easily shows off its dark cherries, plums, spice box, wet earth and tobacco character. Drink this now, or age it another year or two, this is already showing nice, and does not need or want more aging.

2,628 Views

Tasted

Oct 8, 2016

2004
Château de Pez (St. Estèphe)

Fully mature, medium bodied, more red fruit than black, this earthy, tobacco, leafy scented wine requires drinking over the next few years.

4,774 Views

Tasted

Jan 4, 2015

2003
Château de Pez (St. Estèphe)

Fully mature, there is a voluptuous character to the earthy, dark, red fruits, with touches of wet earth, tobacco, thyme and spice. Medium/full bodied, with round textures, freshness and a nice feeling in the, deep red, berry finish, there is no reason for further aging.

3,465 Views

Tasted

Sep 15, 2017

2000
Château de Pez (St. Estèphe)

Medium-bodied, earthy, dusty, and with a nice mix of red and black fruits, the wine is soft, round, spicy and in its core, you find cedar, cigar box, spice, and chewy currants. No decanting is needed, just pop and pour here.

2,577 Views

Tasted

Dec 14, 2021