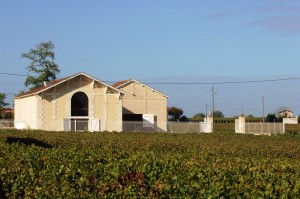 Learn everything about Chateau Haut Beausejour St. Estephe with wine tasting notes, wine with food pairing tips. Learn the best vintages, a history of the property, information on vineyards and winemaking. If you want to read about other Bordeaux wine producers: Links to all Bordeaux Wine Producer Profiles
Chateau Haut Beausejour Overview and History
Chateau Haut Beausejour, located not far from Chateau Phelan Segur in Saint Estephe, was purchased by Jean Claude Rouzaud, the owner of the famed Roederer Champagne house. The Rouzaud family have extensive interests in Bordeaux as they also own Chateau Pichon Comtesse de Lalande in Pauillac as well as 2 other estates in the Saint Estephe appellation, Chateau Bernadotte and Chateau de Pez.
While the majority of Bordeaux chateaux have long histories in the Medoc, that is not the case with Chateau Haut Beausejour. In fact, Chateau Haut Beausejour was created after the vineyards were obtained by the Rouzaud family in 1992 when they purchased two St. Estephe properties from the Brossard family, Chateau Picard and Chateau Beausejour.
The new owners created one large estate from both chateaux, thus, Chateau Haut Beausejour was born. A few years later, Chateau Haut Beausejour sold 17 hectares of what they considered to be their less desirable vineyard land to the negociant Mahler Besse. The property is one of the few estates without a chateau. Instead, here you find simple buildings used as a cellar.
Following the purchase and creation of the Left Bank estate, Chateau Haut Beausejour enjoyed significant improvements from its new owners in the vineyards and wine-making facilities. In an effort to produce the best wine possible, they declassified their entire first vintage, the 1992, due to a lack of quality in the grapes.
They use the same technical wine-making team and philosophy as their sister property in St. Estephe, Chateau de Pez. Some of the changes include manual sorting, green harvesting and most importantly, increasing the percentage of Merlot as well as the amount of new oak Haut Beausejour is aged in.
All of this has clearly boosted the quality of Haut Beausejour. All these improvements are easily seen when tasting the wines from vintages 2009 forward at Haut Beausejour.
Chateau Haut Beausejour Vineyard, Terroir, Grapes, Winemaking
The 10 hectare vineyard of Chateau Haut Beausejour is planted to 56% Merlot, 39% Cabernet Sauvignon and 5% Petit Verdot. Previously, the vineyard was more than 20 hectares in size, but parcels have been sold off. Also, you found up to 5% Malbec in the plantings, but those vines have since been removed. The terroir is gravel and clay with some limestone in the soil. They have old vines, some of which are close to 60 years of age.
The wine of Chateau Haut Beausejour is vinified in traditional, large, oak vats. Malolactic fermentation takes place in tank. The wine is aged in about 35% new, French oak barrels for about 12 months before bottling. On average, close to 5,000 cases of Chateau Haut Beausejour are produced every year.
The Best Vintages of Chateau Haut-Beausejour are: 2022, 2021, 2020, 2019, 2018, 2017, 2016, 2015, 2014, 2010, 2009, 2005 and 2003.
When to Drink Chateau Haut Beausejour, Anticipated Maturity, Decanting Time
Chateau Haut Beausejour can be enjoyed early. However, the wine is often better with at least a few years of bottle age. Of course, that can vary slightly, depending on the vintage. Chateau Haut Beausejour is usually best enjoyed in the first 10-15 years of life.
Young vintages can be decanted for 1-2 hours. This allows the wine to soften and open its perfume. Older vintages might need very little decanting, just enough to remove the sediment.
Serving Chateau Haut Beausejour with Wine and Food Pairings
Chateau Haut Beausejour is best served at 15.5 degrees Celsius, 60 degrees Fahrenheit. The cool, almost cellar temperature gives the wine more freshness and lift.
Chateau Haut Beausejour is best served with all types of classic meat dishes, veal, pork, beef, lamb, duck, game, roast chicken, roasted, braised, and grilled dishes. Haut Beausejour is also good with Asian dishes, hearty fish courses like tuna, mushrooms, pasta, and a wide variety of hard and soft cheeses.
Château Haut-Beauséjour Wine Tasting Notes
14 Vintages 39,816 Views Sort by Vintage-Rating
2022
Château Haut-Beauséjour (Pomerol)

Medium-bodied, fresh, bright, sweet, dark red currants, tobacco leaves, and spice show in the nose, and on the palate, finishing with juicy, red berries, and chalky tannins on the backend. Drink from 2025-2038. 89-91 Pts.

682 Views

Tasted

May 8, 2023

2020
Château Haut-Beauséjour (St. Estèphe)

Cigar box, tobacco leaf, red currants and floral aromas pack the perfume. The wine is medium-bodied, round, soft and polished with a blackberry, cocoa, spice and savory centric, chewy finish. 89-91 Pts

1,333 Views

Tasted

May 20, 2021

2019
Château Haut-Beauséjour (St. Estèphe)

Medium-bodied, forward, soft and ready to deliver its herbal, cedar, spicy red berry, olive and thyme charms. 88-90 Pts

2,717 Views

Tasted

Jun 8, 2020

2018
Château Haut-Beauséjour (St. Estèphe)

Cherries, tobacco, espresso and sweet red fruits from start to finish are found here. Soft, silky, medium-bodied, fresh and charming, this is ready to go.

865 Views

Tasted

Mar 9, 2021

2017
Château Haut-Beauséjour (St. Estèphe)

Medium-bodied, hot and sweet, this wine is forward with a distinct olive, thyme and red berry character in the finish.

2,850 Views

Tasted

Apr 26, 2018

2016
Château Haut-Beauséjour (St. Estèphe)

Medium-bodied, round, forward, fruity, and easy to like for all of its ripe, dark cherries and fresh, sweet currants. No need to decant, just pop, pour and enjoy. Drink from 2022-2030.

2,035 Views

Tasted

Aug 23, 2022

Medium bodied with dark red fruits, spice and herbs on the nose, this wine offers forward, sweet, juicy cherries, round fruits and softness in the texture. This opened-styled wine should be just about ready on release.

1,638 Views

Tasted

Apr 29, 2017

2015
Château Haut-Beauséjour (St. Estèphe)

Dried flowers, cigar box, tobacco leaf, spice, and underbrush add to all the bright, fresh, spicy red berries in the nose and on the medium-bodied, crisp palate. Drink from 2022-2032.

1,931 Views

Tasted

Jul 8, 2022

A medium-bodied, crisp, earth-centered wine with a bright, red berry character that is ready for early consumption 85 - 87 Pts

2,228 Views

Tasted

Apr 19, 2016

2014
Château Haut-Beauséjour (St. Estèphe)

Medium-bodied, this is a soft, black raspberry centered wine with a bold, red berry character. 86-88 Pts

2,320 Views

Tasted

Apr 13, 2015

2012
Château Haut-Beauséjour (St. Estèphe)

Medium bodied, forward, with bright, red fruits, tobacco and dusty tannins, this will be best in its youth.

3,017 Views

Tasted

May 4, 2016

Light red berries with an austere finish. 85-88 Pts

3,305 Views

Tasted

Apr 23, 2013

2010
Château Haut-Beauséjour (St. Estèphe)

2010 Haut Beausejour With 53% Merlot and 47% Cabernet Sauvignon in the blend, this well-priced St. Estephe wine combines smoke, espresso bean, red and black fruit and hints of spice for a wine with freshness, backbone and a fair price. A top value Bordeaux wine pick from St. Estephe. 88-90 Pts

5,787 Views

Tasted

Apr 19, 2011

2009
Château Haut-Beauséjour (St. Estèphe)

Beausejour is another value play from the vintage. From a terroir located close to Phelan Segur, this is a supple style of wine and should drink well early.

2,471 Views

Tasted

Jun 26, 2010

2008
Château Haut-Beauséjour (St. Estèphe)

Mature, developed, pleasant, spicy, earthy, red berry oriented wine that\'s easy to drink. If you have a bottle or two, it is time to drink up.

1,571 Views

Tasted

Feb 10, 2019

2005
Château Haut-Beauséjour (St. Estèphe)

Surprisingly light, with a bright, red fruit, earth and spice character. This is already fully mature and requires drinking sooner than later, as there is not much going on now, and I suspect there will be less going on here in the future. Subsequent vintages from 2009 forward have been much better wines that are also more age-worthy.

3,042 Views

Tasted

Oct 8, 2016

2003
Château Haut-Beauséjour (St. Estèphe)

Medium bodied, earthy, light in fruit, but with nice, tobacco, tinged, red fruit aromatics, the wine is just past full maturity and needs to be consumed sooner than later.

2,024 Views

Tasted

Dec 10, 2017