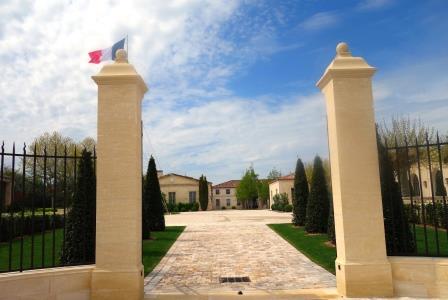 Learn everything about Chateau Montrose, St. Estephe Second Growth with wine tasting notes and wine with food pairing tips. Learn the best vintages, wine ratings, a history of the property, and information on vineyards, and winemaking. If you want to read about other important, Bordeaux Chateaux: Links to all Bordeaux Wine Producer Profiles
Chateau Montrose, History, Overview
Chateau Montrose is known today for its powerful, full-bodied Bordeaux wine. But that is not what the property was originally known for. In fact, before Bordeaux wine was produced at the estate, it earned fame for being a hunting area.
That all changed when Alexandre de Segur, who also owned numerous, other illustrious Bordeaux properties such as Chateau Mouton, Chateau Lafite, and Chateau Latour, gave the property to his son, Nicolas Alexandre. At the time, the estate was known as La Lande de l'Escargeon. Alexandre did not keep the property long. In 1778, he sold it to Etienne Theodore Dumoulin.
During the early 1800's what we know of today as Montrose was actually part of the large Calon Segur estate. It was Etienne Dumoulin who created Chateau Montrose, due to its unique, hillside, gravel terroir.
What Etienne Dumoulin noticed in those days is thought of as one of the best terroirs in all of Bordeaux today. It is at that point in time, that the true birth of Chateau Montrose takes place. The Dumoulin family eventually sold Chateau Calon Segur and retained Chateau Montrose.
Next, under the direction of the son of Etienne Dumoulin, Theodore Dumoulin, the vineyards for Chateau Montrose were fully planted. The Dumoulin family built the chateau that is in use today. They also added modern wine-making facilities and cellars.
By1815, Chateau Montrose was on its way to being one of the top vineyards Saint Estephe. Because they were not producing wine before 1815, that makes Chateau Montrose the youngest of all the 1855 Classified Growths.
How did Chateau Montrose get its name? According to local legend, when the heather was in flower, the hillsides turned pink. Keep in mind, pink is rose' in French. In time, sailors on the river referred to the area as Mont Rose.
Due to that local strain of dialect, the owner, the Dumoulin family eventually followed along with the sailors and began calling their Left Bank estate, Chateau Montrose.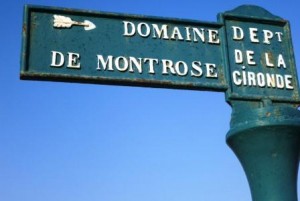 In 1861, Chateau Montrose was sold to Mathieu Dollfus. Credit goes to Mathieu Dollfus for rebuilding Chateau Montrose from top to bottom. He constructed apartments for the estate workers and erected new farm buildings too. By 1880, a small village was created on the grounds of Chateau Montrose.
In 1896, the next major chapter in the history of Chateau Montrose took place when the estate became the property of the Charmolue family. The new owner, Louis Victor Charmoule had a long history in the Bordeaux wine trade as he was born at Chateau Figeac in St. Emilion.
By marriage, Louis Victor Charmoule acquired Chateau Cos dEstournel and Chateau Pomys, also located in the St. Estephe appellation. The Charmolue family sold Chateau Cos d'Estournel in 1917 to Fernand Ginestet.
Chateau Montrose remained in the Charmolue family for three generations. During the ownership period of the Charmoule family, Chateau Montrose became one of the first Bordeaux estates to bottle their own wine. An old sales catalog from the early 20th century shows offerings stating the 1904 Montrose was bottled by the chateau. In 1960, Jean Louis Charmoule took control of the Saint Estephe property.
Chateau Montrose the Modern Era
Montrose has been producing one of the best wines in all of Bordeaux for centuries. In fact, the inspiration to purchase the estate by the Bouygues brothers came after tasting the exalted 1989 Chateau Montrose. Thomas Bouygues stated that the wine was so good, if he ever had the chance to purchase the famous estate, he would buy it. In 2006, that is exactly what took place.
In May 2006, Jean Louis Charmolue sold the estate in 2006 to Martin Bouygues and Thomas Bouygues. For the Bouygues family, it was the perfect addition to their massive business portfolio, which includes Bouygues Telecom and Bouygues Construction.
In fact, they soon added a neighboring Bordeaux property to their holdings a short time later, Chateau Tronquoy Lalande. One of the first moves made by the Bouygues brothers was hiring key personal. They hired Jean-Bernard Delmas, the previous director of Chateau Haut Brion.
Their next important hiring took place a few years later when they brought in Herve Berland as the Gerant. Herve Berland was well-known in Bordeaux as he had spent the previous 4 decades at Chateau Mouton Rothschild. Herve Berland remained with Chateau Montrose intil late 2022.
Aside from bringing in new management, the new owners of Chateau Montrose quickly began an intensive renovation project that was completed in time for the 2013 harvest at a cost of close to 55 million Euros!
The renovations were designed by the respected architects, Yves Gremont and Bernard Mazieres. One of the key mandates for the renovations was to ensure Chateau Montrose was as green and environmentally conscious as possible.
Similar to what was accomplished at Chateau Tronquoy Lalande, Chateau Montrose obtains as much of its energy through the use of solar, wind, and water with the use of sophisticated geothermal energy systems. To aid in this effort, custom insulation that is up to three feet thick and windows that are as deep as 1 inch are in place.
Along with the massive improvements and renovations at Chateau Montrose, after purchasing the estate, the new owners brought one of the more popular and revered figures in Bordeaux out of retirement to manage both, Chateau Montrose and Chateau Tronquoy Lalande. Jean Bernard Delmas. Delmas was director of Chateau Haut Brion for decades until he retired and was replaced by his son.
The elder, Jean Bernard Delmas was placed in charge of both Chateau Tronquoy Lalande and Chateau Montrose. Aside from modernizing the winemaking facilities at Chateau Montrose during the renovation, the Bouygues brothers added numerous changes that were environmentally sound at their Medoc estate.
One of the unique features of Chateau Montrose is the hail canon that uses ultrasonic waves to protect the vineyard from damage caused by hail storms. They installed a geothermal pumping technology that is used for cooling as well as heating. Striving to be as green and energy-efficient as possible, they added solar power as well to Chateau Montrose.
Martin Bouygues and Thomas Bouygues expanded their vineyard holdings outside of Bordeaux in early 2017, when they announced they were purchasing the revered Loire Valley producer, Clos Rougeard.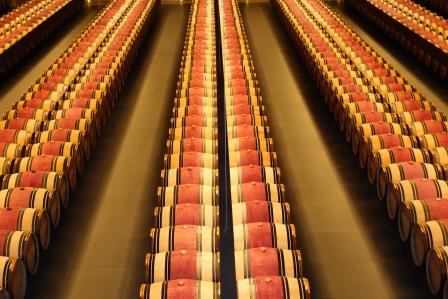 Chateau Montrose Vineyard, Terroir, Grapes, Winemaking
The vineyard of Chateau Montrose is planted to 60% Cabernet Sauvignon, 32% Merlot, 6% Cabernet Franc and 2% Petit Verdot with vines that are on average close to 40 years of age.
However, the goal of the estate is to increase the percentage of Cabernet Sauvignon to as much as 65% of the vineyard plantings. Chateau Montrose has old Cabernet Sauvignon vines, some of which were planted back in 1932 that are located in the front of the estate, close to the water.
The 95-hectare vineyard of Chateau Montrose has a hillside terroir of deep gravel, with sand and clay soil. Of those hectares, 88 to 90 hectares are always in production.
The depth of the gravel can vary. At its deepest, the gravel can run over 2 meters deep. The large vineyard is actually one single block of vines with gentle slopes and elevations which can be split into 4 main blocks. Those blocks are further subdivided into 100 parcels.
Terrace #4 is the closest parcel to the river and has the least amount of elevation. Terrace #3, has deeper gravel and clay, allowing for more root development. More importantly, terrace #3 has the highest level of elevation which reaches 18 meters at its peak.
There are also parcels located between the 2 terraces. The remaining block of vines is closest to the river. Those 4 main blocks can be further subdivided into 100 separate parcels. With a southeast exposure and direct view of the Gironde, the terroir is clearly some of the best vineyard lands in the entire Left Bank, giving Montrose its own, unique micro-climate.
The vine density is 10,000 vines per hectare. In 2010, Chateau Montrose purchased 22 hectares of vineyards from their neighboring estate, Chateau Phelan Segur.
Interestingly, all 22 hectares of those vines were originally part of the vineyards of Montrose. The purchased vines consisted of Merlot, Cabernet Sauvignon, and Cabernet Franc. This additional acreage increased the vineyard of Chateau Montrose up to its current size of 95 hectares.
Vines are replaced slowly at Chateau Montrose. On average, the vines reach between 40 and 60 years of age before they are replanted. In 2006, Chateau Montrose began a massal selection program.
The long-term goal is to have the majority of the vineyard replanted over a 40-year period of time. While the vineyard is managed using self-sustaining, farming techniques, by 2017, close to 50%, or 43% of their vines are being farmed using organic methods with 40 hectares of vines farmed organically.
It is hoped that before 2025, 100% of Chateau Montrose will be farmed organically. There is one more special point worth taking note of regarding the vineyards of Chateau Montrose, their 95 hectares are a single parcel, which is relatively unique in Bordeaux.
Chateau Montrose Wine Making
To produce the wine of Chateau Montrose, vinification takes place in 59 temperature-controlled, stainless steel tanks of various sizes.
The vats range in size from 15 hectoliters up to 30, 45,80, 100, 130, and 200 hectoliters. There are 4, 200 hectoliter tanks, 4, 130 hectoliter tanks, 9, 100-liter hectoliter tanks, 4, 80 hectoliter tanks, and 2 smaller, 50 hectoliter tanks. These 59 tanks allow for more precision during the vinification of Chateau Montrose.
Malolactic fermentation takes place in tank. Frequent pump-overs are part of the winemaking practices at the estate. The wine of Chateau Montrose is aged in an average of 60% new, French oak barrels for about 18 months. There is a second wine, Le Dame de Montrose. Interestingly, Chateau Montrose was one of the first estates in Bordeaux to make a second wine, as they first began making a second wine in about 1860.
The estate also produces a third wine, Tertio de Montrose, which is only made in select vintages. Until 2016, the third wine was called Le Saint Estephe de Montrose. Due to its early drinking charm, Tertio de Montrose is sold mostly to restaurants.
The wines are usually divided as follows, 40% of the harvest is placed in the Grand Vin, which gives you on average, 15,000 cases per vintage. To give you an idea of how things are different today at Chateau Montrose, close to 30,000 cases were produced in 1982 of the Grand Vin.
That means today, the production of Montrose is half of what it was. 30% of the crop is used for the second wine and the remaining 20% is either placed in the third wine or sold off in bulk.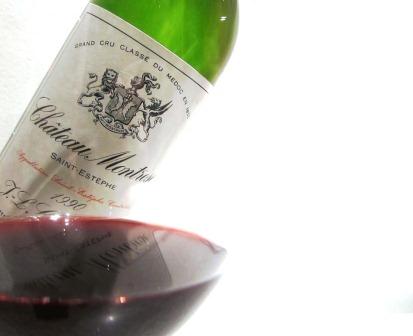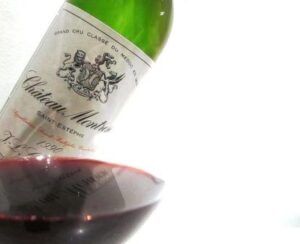 The best vintages of Chateau Montrose are: 2022, 2021, 2020, 2019, 2018, 2017, 2016, 2015, 2014, 2012, 2010, 2009, 2008, 2006, 2005, 2003, 2000, 1996, 1995, 1990, 1989, 1961 and 1959. I am positive older vintages are equally stunning, as they have the ability to age for decades. But with rare exceptions, I seldom get to taste them. That being said, older vintages of Montrose are well worth taking a chance on at auctions.
As you can see, Chateau Montrose has produced a litany of stunning wines. From the modern era, 2000, 2003, 2005, 2009, 2010, 2016, 2018, and 2019 are certainly at a higher level.
When to Drink Chateau Montrose, Anticipated Maturity, Decanting Time
Chateau Montrose is a wine that demands time in the cellar. Due to the large amount of tannins, concentration, and structure, the wine is always better with at least 10-20 years of bottle age. Of course, that can vary slightly, depending on the vintage.
Chateau Montrose offers its best drinking and should reach peak maturity between 15-50 or more years after the vintage. Young vintages should be decanted for at least 2-4 hours. This allows the wine to soften and open its perfume. Older vintages might need very little decanting, just enough to remove the sediment
Chateau Montrose Style and Character of the Wine
Chateau Montrose at its best is powerful, refined, masculine, elegant, and complex. The fruit has a richness that fills your mouth and coats your palate. But the wines are also firm and tannic.
The wine of Chateau Montrose can age and evolve for decades. In fact, purchasers should know, that in the best vintages, the wine requires decades to develop. Chateau Montrose is seldom a wine that is fun to taste in its youth. It's a very long, lived wine.
The 1921 Montrose tasted recently was still in top form! If you've ever wondered why Chateau Montrose is prized by Bordeaux lovers all over the world, 1989 Chateau Montrose is the wine to buy.
That being said, for a Montrose to age, the 2009 Chateau Montrose is off the charts, deserving its 100 Pt score and a place in your cellar, if you can afford it! Chateau Montrose has been one of the top producers in Bordeaux for decades. However, under the direction of Herve Berland, it looks like the best is yet to come.
Serving Chateau Montrose with Wine, Food, Pairing Tips
Chateau Montrose is best served at 15.5 degrees Celsius, 60 degrees Fahrenheit. The cool, almost cellar temperature gives the wine more freshness and lift.
Chateau Montrose is best served with all types of classic meat dishes, veal, pork, beef, lamb, duck, game, roast chicken, roasted, braised, and grilled dishes. Chateau Montrose is a perfect match with Asian dishes, hearty fish courses like tuna, mushrooms, and pasta as well as cheese.
Château Montrose Wine Tasting Notes
64 Vintages 1,550,963 Views Sort by Vintage-Rating
2022
Château Montrose (St. Estèphe)

Almost opaque in color, the wine is equally dark in character with its core of blackberries, black currants, black cherries, and licorice. In the nose, you also find flowers, citrus, and a kitchen full of spices. The level of depth on the palate is almost off the charts, yet, the wine somehow remains light on its feet. There is intensity matched with purity, elegance and seamlessness in the finish that holds your focus for at least 60 seconds. Clearly, this is one of the great vintages of Montrose with a uniqueness of character that fans of the estate should have in their cellar. Lastly, it is important to note there is no feeling of heat, jam or over ripeness here. The wine is a blend of 66% Cabernet Sauvignon, 25% Merlot, 8% Cabernet Franc and 1% Petit Verdot. 14.5% ABV, pH 3.78. Harvesting took place September 2 - September 22. Yields were 31 hectoliters per hectare. The Grand Vin was produced using only 58% of the harvest. The wine is aging in 60% new, French oak barrels for 18 months before bottling. Drink from 2030-2065. 98-100 Pts.

4,648 Views

Tasted

May 8, 2023

2022
La Dame de Montrose (St. Estèphe)

Dark black fruits, flowers, cocoa, and wet earth open the nose. On the palate is where you find this is at its best, with its layers of supple, creamy, fresh, elegant, dark red fruits, and chocolate. There is softness paired with richness, and a depth of flavor that lingers, with an energetic touch of orange rind in the endnote. You can enjoy this on release for all its up-front fruit, or age it for more complexity. The wine blends 71% Merlot, 23% Cabernet Sauvignon, 5% Petit Verdot and 1% Cabernet Franc. 14.5% ABV. Drink from 2025-2042. 93-95 Pts.

3,102 Views

Tasted

May 8, 2023

2021
Château Montrose (St. Estèphe)

Deep in color, especially for the vintage, you find tobacco leaf, black cherry, pencil shavings, cedar, spice, and dark fruits appearing in the perfume with no effort at all. There is a richness in the palate. The fruit is ripe, fresh, vibrant, and chewy, with lift and energy in the mouth that carries through to the finish. As all fans of Montrose know, the wine more often than not requires decades of age before it is ready to taste, but 2021 is a different beast, allowing you to enjoy it with just a few years before it begins to be fun to taste. The wine was made by blending 62% Cabernet Sauvignon, 31% Merlot, 6% Cabernet Franc and 1% Petit Verdot, 13.1% ABV, 3.7. Yields were 38 hectoliters per hectare, with 40% of the harvest going into the Grand Vin. The harvest took place from September 21 to October 6. Drink from 2028-2055. 94-96

3,404 Views

Tasted

May 20, 2022

2021
La Dame de Montrose (St. Estèphe)

Tobacco leaf, currants, forest floor and cherries on the nose move you quickly to the medium-bodied, soft, fresh palate, finishing with all of its sweet, polished, red fruits with touches of peppery cherries in the finish. The wine is a blend of 53% Merlot, 38% Cabernet Sauvignon, 6% Petit Verdot and 3% Cabernet Franc. Drink from 2023-2038. 89-91

2,195 Views

Tasted

May 20, 2022

2020
Château Montrose (St. Estèphe)

This is just about off the charts, and could hit triple digits in a few years if it keeps developing. Inky black in color, the wine explodes aromatically with its blackberries, blueberries, boysenberries, and tobacco, and that's before you get to its deeper nuances of Indian spice, chocolate, and cigar box scents. But the real fireworks are when the wine coats your palate with its multiple layers of dark red fruits, blackberries, and cocoa. Even with all of its richness, there is ample lift, making it easy to get lost here with all the depth, and concentration. The wine is just about seamless on the palate, lingering, building, and expanding for close to 60 seconds. One of the great vintages of Montrose is the swansong of Herve Berland at the helm of the estate. Drink from 2029-2065.

5,615 Views

Tasted

Mar 21, 2023

2020
La Dame de Montrose (St. Estèphe)

Earthy, blackberries, herbs, licorice and roses are found in the nose. On the palate, the wine is packed with layers of dark red and black fruits, round, creamy tannins and a touch of roasted, leafy herbs in the mid-palate and in the finish. This baby Montrose is perfect to enjoy while waiting for the Grand Vin to develop. Drink from 2023-2038.

1,976 Views

Tasted

Mar 21, 2023

2019
Château Montrose (St. Estèphe)

One of a handful of wines I did not taste in barrel. However, it was worth waiting for as the wine hits all the right notes. Deep in color, the nose offers a spice-tinged array of dark red and black fruits, herbs, espresso, tobacco leaf, and black currants. The wine is full-bodied, intense, dense, long, and concentrated. There is a solid depth of flavor that resonates on the palate and in the finish, which leaves you with an earthy display of dark red pit fruits and a touch of peppery spice. Like all the great vintages of Montrose, this is built to age and evolve for decades. Drink from 2030-2060.

12,066 Views

Tasted

Mar 29, 2022

2019
La Dame de Montrose (St. Estèphe)

Ripe sweet, dark red berries surrounded by cedar, tobacco wrapper, spice and wet forest aromatics is at work on the nose. On the palate there is more than ample, soft, ripe, sweet, crisp, elegant, earthy red fruits with a spicy touch on the backend to offer loads of pleasure with just a year or two of cellaring. This is a top vintage for La Dame de Montrose for drinking until the Grand Vin has a chance to develop and mature. Drink from 2024-2040.

3,451 Views

Tasted

Mar 29, 2022

2018
Château Montrose (St. Estèphe)

Inky in color, the wine is opaque. On the nose, spice box, smoke, espresso, roasted black and red fruits, flowers, and 5 spice come through. On the palate, the wine is intense, full-bodied, rich, dense, opulent, sweet, fresh, long, and concentrated. The depth of flavor is impressive. Black and red fruits build and expand. The tannins are ripe, round, and refined. With a depth of flavor, a flamboyant character, and a nonstop finish, this is a rockstar in the making. The wine was made by blending 72% Cabernet Sauvignon, 20% Merlot, 6% Cabernet Franc and 2% Petit Verdot, 14.5% ABV. The wine is a bit more reserved today than in previous tastings, but it is a clear candidate for a triple-digit score when it begins to reach maturity. Drink from 2028-2060.

5,058 Views

Tasted

Jul 8, 2022

Inky in color, the wine is opaque. On the nose, spice box, smoke, espresso, roasted black and red fruits, flowers and 5 spice come through. On the palate the wine is intense, full-bodied, rich, dense, opulent, sweet, fresh, long and concentrated. The depth of flavor is impressive. Black and red fruits build and expand. The tannins are ripe, round and refined. With a depth of flavor, a flamboyant character and a non stop finish, this is a rockstar in the making. The wine was made from blending 72% Cabernet Sauvignon, 20% Merlot, 6% Cabernet Franc and 2% Petit Verdot, 14.5% ABV.

7,548 Views

Tasted

Mar 9, 2021

When you taste a barrel sample and the first thought that comes to mind is 'I want this in my cellar' you know you're tasting a rock star! The color of a pitch black night, this beauty is completely opaque. The wine is powerful, concentrated and palate staining. The fruits vary from black to dark red. The tannins are incredibly soft and sweet plus there is a polish that feels fantastic in your mouth. As the wine coats your palate, teeth and gums, you experience a beautiful purity of fruit, intensity and volume with lift and a finish that crosses the 60 second mark. Like all the top vintages of Montrose, you need to allow it time in the cellar, at least 10 to 15 years or if you're have patience 20. It is hard to fathom that Montrose has been able to put together an unequaled run of vintages at this high-level of quality. A vertical of 2014, 2015, 2016 and 2018 is going to be fascinating to experience. The wine was made from blending 72% Cabernet Sauvignon, 20% Merlot, 6% Cabernet Franc and 2% Petit Verdot, reaching 14.8% ABV with a pH of 3.7. The Grand Vin was made from 52% of the harvest, which took place September 17 to October 5. The yields were quite low here due to issues with mildew, so the estate only realized 26 hectoliters per hectare. 98-100 Pts

8,368 Views

Tasted

Apr 19, 2019

2018
La Dame de Montrose (St. Estèphe)

Bearing a resemblance, albeit smaller in stature, this is going to drink great on release, though it will improve with some age. Medium/full-bodied with sweet, ripe red fruits and spice, the wine is juicy, fresh, sweet, round and ripe. This is quite classy, especially when you consider it is only a second wine. Enjoy this while waiting for the Grand Vin to develop.

3,315 Views

Tasted

Mar 9, 2021

Classified Growth in quality, it is hard to believe this is a second wine. Full-bodied, juicy and ripe, this is a serious mouthful of sweet Cabernet Sauvignon with pop, length and complexity. Give this 4-5 years in the cellar. The wine was produced from blending 52% Merlot, 30% Cabernet Sauvignon, 5% Petit Verdot and 4% Cabernet Franc. 92-94 Pts

6,662 Views

Tasted

Apr 19, 2019

2017
Château Montrose (St. Estèphe)

Deep and shiny in color, tobacco leaf, cedar wood, pencil shavings and dark fruits appear with no effort at all. Full bodied, lively, vibrant and juicy fruits, this wine is long and intrepid with a strong tannic backbone. The tannins are perfectly polished and there is an established purity of fruit and a structure to age for decades. Like all the top vintages of Montrose, you will need to allow it time in the cellar, at least 10 to15 years, which in the world of Montrose is almost forward. The wine was made from blending 76% Cabernet Sauvignon, 20% Merlot, 3% Cabernet Franc and 1% Petit Verdot, reaching 13.5% ABV with a pH of 3.65. The Grand Vin was made from 37% of the harvest, which took place September 12 to September 29.

8,435 Views

Tasted

Apr 26, 2018

2017
La Dame de Montrose (St. Estèphe)

Cedar and tobacco leaf on the front end, this is all about juicy, bright, crisp cassis. There is suitable spice and a hint of green olive with soft tannins and even more fruit on the back end. This should drink well with just one to three years of age.

3,162 Views

Tasted

Apr 26, 2018

2016
Château Montrose (St. Estèphe)

A clear candidate for legendary status from Montrose, this wine has it all going on. Even though it is still an adolescent, it is impossible not to be enthralled by its multiple layers of perfectly ripe, fresh, sweet, black, and red fruits that paint your palate. Length, purity, persistence, and energy galore, this needs time, but it is going to be well worth the wait! Drink from 2030-2065.

11,898 Views

Tasted

Nov 2, 2022

Starting to tighten up, so decanting is needed if you are going to taste this in its youth a well as a lot coaxing. With effort the wine is full-bodied, concentrated, deep, fresh and long. The wine marries power with elegance, energy and complexity with a juicy, clean quality to the dark, perfectly ripe, red and black fruits. There is a tobacco leaf and Asian spice quality to the fruits in the finish that is a nice addition to the complexities in the wine. This is not a wine for youthful enjoyment, so if you have the patience to wait for 15 years, you are going to have one of the best vintages of Montrose ever produced in your cellar. The Grand Vin was produced from just 36% of the crop, blending 68% Cabernet Sauvignon, 25% Merlot and 7% Cabernet Franc.

15,777 Views

Tasted

Sep 21, 2019

Caliginous in color, the fruits are just as dark creating a matched set. Incredibly dense, the endless layers of mouth-filling, palate-staining, fresh fruit provides the backdrop for the wall of refined, firm but soft tannins. The seemingly endless finish offers a purity of fruit that lasts at least 60 seconds. This will take 2 decades to start becoming civilized and if well stored should easily last for 5-6 decades or longer!

16,930 Views

Tasted

May 12, 2018

Inky black in color with incredible levels of density, the first thing you notice when the wine hits your palate is the salty, mineral-driven tannins. The purity of the fruit, concentration, richness and velour textures bring you to pleasure with spice, dark chocolate, licorice, blackberry and plum notes. The endnote resonates for at least 60 seconds! Completely satisfying in every way. In the old days you'd need a cigarette after tasting this wine! The best wine since the historic duo of 2009 and 2010, this is right at that level, or even better! Time alone, will be the final arbiter. The Grand Vin was produced from just 36% of the crop, blending 68% Cabernet Sauvignon, 25% Merlot and 7% Cabernet Franc. This wine reached 13.3% ABV with a pH of 3.55. The harvest took place September 23 to October 14.

27,824 Views

Tasted

Apr 29, 2017

2016
La Dame de Montrose (St. Estèphe)

Showing polish, freshness and energy in the juicy Cabernet Sauvignon, the wine offers a lot of ripe fruit, spice, tobacco and earthy characteristics on the nose and palate. Clearly this is a top vintage for La Dame de Montrose.

8,359 Views

Tasted

Sep 21, 2019

Using 52% Merlot, 35% Cabernet Sauvignon, 11% Petit Verdot and 2% Cabernet Franc in the blend, there is a sapidity of fruit, lift and focus, along with concentration and length that makes it hard to believe this is a second wine. The finish gifts you with luscious fruits for all your sensory receptors to enjoy.

9,303 Views

Tasted

Apr 29, 2017

2015
Château Montrose (St. Estèphe)

This is another gem that is much better from bottle than barrel. There is a smoky, spicy character to the waves of fruit on your palate. Full bodied, concentrated, long, fresh and clean, with a finish that stick with for at least 40 seconds. Comparing with the 2014, 2016 and 2017 over the years is going to make for a lot of fun tastings!

5,709 Views

Tasted

May 21, 2018

A year in barrel has added a lot of complexity, richness, and polish to the wine. There is depth of flavor and concentration now, along with more aromatic complexities. A bt more time of aging could make this even better! This should hit the top of my initial range with ease.

5,533 Views

Tasted

Jul 12, 2017

Showing a good depth of color, the tobacco, cassis, boysenberry and spice-filled aromatics are hard to avoid. Full-bodied and concentrated, there is a lot of power and tannin to contend with this year. It's going to take time for this wine to become civilized. The finish packs a large bushel of ripe, sweet fruit and flavor along with tannins in every mouthful. Representing 36% of the production, the blend consists of 67% Cabernet Sauvignon, 29% Merlot and 4% Cabernet Franc. This wine reached 13.4% ABV with a pH of 3.6 and the harvest took place between September 15 and October 8. Montrose which is on top of its game these days can fool you. It can be a bit hard to get a read on some vintages in their youth, making it is quite possible this wine could end up much better when it is in bottle. It would not be the first time that happened. I can tell you that from personal experience. 94 - 96 Pts

12,568 Views

Tasted

Apr 19, 2016

2015
La Dame de Montrose (St. Estèphe)

Energetic and fruity, with soft, sweet, ripe, dark, red berries, cigar box and cedar. The wine has length and ample fruit to carry the finish.

5,353 Views

Tasted

May 21, 2018

Built from 55% Cabernet Sauvignon, 41% Merlot and 4% Petit Verdot, this wine is focused on a vibrant cranberry, cassis and cocoa character. 88 - 90 Pts

5,097 Views

Tasted

Apr 19, 2016

2014
Château Montrose (St. Estèphe)

I really like how this wine is developing. Full-bodied, earthy, fresh, and vibrant, you find a leafy, cigar wrapper and spice edge to all of its layers of currants and blackberries. Give it a few more years in the cellar and it could be even better. Drink from 2027-2050.

7,121 Views

Tasted

Nov 2, 2022

This is a super wine, and due to the uneven reputation of the vintage, it sells for a very fair price. However, the wine is already starting to shut down, so if you are thinking of tasting a bottle in its youth, to get the most out of the fresh, sweet, earthy, tobacco and cassis charms, full body and regal tannins, I suggest you pop a cork on this before the year runs out.

9,999 Views

Tasted

Nov 14, 2017

Roasted nuts are the first thing you catch, as you begin nosing the wine. Tobacco leaf and cassis are next in line. On the palate, the wine is full bodied, fresh, vibrant and classy. There is a strict, but refined quality here, ending with dark, dense, spicy fruits that linger. The wine was produced from a blend of 67% Cabernet Sauvignon, 29% Merlot and 4% Cabernet Franc.

9,163 Views

Tasted

Mar 30, 2017

Cavernous in color and succulently layered with summer boysenberries, there is a refined freshness and a luxurious, creamy, soft texture to this wine. The wine is powerful, tannic and carries the structure to age. A sweet, fruity finish envelops the senses and lingers nicely on the palate. Representing 47% of the production, the blend is from 61% Cabernet Sauvignon, 30% Merlot, 8% Cabernet Sauvignon and 1% Petit Verdot. The wine reached 13.7 ABV. This is a wine that could turn out better after elevage, so stay tuned. Herve Berland is clearly on top of his game producing sublime wines at both his St. Estephe chateaux today. There is going to be a lot of talk and attention focused on Montrose this year, as the annual Fete de la Fleur takes place at the estate in June. 94-96 Pts

12,398 Views

Tasted

Apr 13, 2015

2014
La Dame de Montrose (St. Estèphe)

Medium/full bodied, with spicy red and black fruits, the wine is going to drink well with just a year or two of age.

3,659 Views

Tasted

Mar 30, 2017

This wine is Medium-bodied and approachable with freshness, plump, dark red fruits and character. 88-90 Pts

5,038 Views

Tasted

Apr 13, 2015

2013
Château Montrose (St. Estèphe)

Medium bodied, surprisingly early drinking Montrose which is perhaps more interesting on the nose than on the fresh, spicy, charming palate. For consumers not willing to wait for vintages like 2010 that take 20 years to come around, this is a nice, easy to drink style of Montrose.

4,483 Views

Tasted

May 25, 2016

Smoke, coffee bean, fennel, tobacco, truffle and blackberry aromas come forth with no effort. In the mouth, the wine is soft and polished, especially when considering the vintage, the wine finishes with cassis, fresh black cherries and licorice. Tannic, but not obtrusive, the wine should be given at least 5 years to come around. On the bright side for fans of Montrose, this still places it at the top of the queue for early drinking vintages of Montrose! Representing 60% of the production, the wine was made from a blend of 68% Cabernet Sauvignon, 29% Merlot and 3% Petit Verdot. With 2013, the property purposely decided not to include Cabernet Franc in the blend. Yielding 30 Hectoliters per hectare, the brix of the wine reached 12.9% ABV which is aging in 60% new, French oak barrels. According to Herve Berland, who serves as a Group Managing Director and Member of the Management team, success of the wine in this difficult vintage was due to picking later than many estates, and having to remove leaves in the middle of September to help aerate the vines were key factors. Montrose finished their harvesting on October 16. For those that like to keep track of everything taking place; the wine was released to the market only a few days after the premier tastings were finished at 57.60 Euros Ex Negociant. 92-94 Pts

10,994 Views

Tasted

Apr 20, 2014

2013
La Dame de Montrose (St. Estèphe)

Spearmint, leaf and cherry on the nose, this lighter, forward styled St. Estephe will drink well on release. 86-88 Pts

4,506 Views

Tasted

Apr 20, 2014

2012
Château Montrose (St. Estèphe)

Earth, cedar wood, lead pencil, black licorice, cassis and blackberry open the nose. On the palate, the wine is polished, the tannins are soft, but the concentration and complexity found in the top vintages is not available. The wine is also shutting down and needs to be cellared, like any good vintage of Montrose for at least 8-10 years.

6,792 Views

Tasted

May 15, 2015

From a blend of 57% Cabernet Sauvignon, 37% Merlot, 5% Cabernet Franc and 1% Petit Verdot, the wine sported deep colors. Earth, coffee, stone and blackberry notes require effort to find. Cassis and black fruits share the stage with minerality and a tannic backbone. With time, this should come together nicely. 91-93 Pts

7,144 Views

Tasted

Apr 23, 2013

2012
La Dame de Montrose (St. Estèphe)

On the lighter, fresh, side of Dame de Montrose, with some olive and herb in the finish.

6,084 Views

Tasted

May 15, 2015

For the second wine, the estate blended 76% Merlot with 24% Cabernet Sauvignon to produce a forward, crowd-pleasing and soft style of wine. 87-89 Pts

5,004 Views

Tasted

Apr 23, 2013

2011
Château Montrose (St. Estèphe)

Fresh herbs, cigar wrapper, cedar chest and blackberry aromas pair with light tannins, medium body and a spicy, fresh, cassis and black cherry finish.

5,178 Views

Tasted

May 17, 2014

From a blend of 63% Cabernet Sauvignon, 22% Merlot, 12% Cabernet Franc and 3% Petit Verdot. 100% of the vines were affected to some extent by the September hail storm. As the hail was mostly small stones, only 2% of the harvest was lost. Yields were low due to the problems caused by sunburn and a lack of water with the Cabernet Sauvignon as well as the loss suffered from the hail storm. Deep in color, earth, cedar wood, mineral, clay, crème de cassis scents lead to a full-bodied, concentrated, masculine, tannic, brawny wine filled with ripe cassis and bitter chocolate. 91-93 Pts

5,823 Views

Tasted

Apr 8, 2012

2011
La Dame de Montrose (St. Estèphe)

This has morphed into a much better wine than anticipated. The wine has put on weight, gaining complexity and texture. Now, you find a fully ready-to-go claret with round, soft, cassis, cedar and tobacco notes. There is a gentle softness to the tannins and a fruity, earthy, round textured finish.

3,254 Views

Tasted

Aug 3, 2020

72% Merlot and 28% Cabernet Sauvignon produce a wine that starts with earth, stone and cassis scents. Medium-bodied, soft-textured and round, the wine ends with a creamy blackberry finish. There is a hint of green in the end notes. 88-89 Pts

6,775 Views

Tasted

Apr 8, 2012

2010
Château Montrose (St. Estèphe)

Young, but not quite primary, there is such a wealth of ripe, sweet, black, and red fruit, it is hard not to be seduced by the endless layers of flavor, fruit, and tannins on the palate. This is one of those wines where once it gets going, it seemingly never wants to stop, and that's a good thing because you want as much of those perfectly ripe, poised, vibrant black and red fruits as you can get, as they coat your palate and stay there. Give it a few more years and it will only get better. Drink from 2025-2060.

6,683 Views

Tasted

Sep 25, 2022

I certainly dropped the ball on this wine in its youth. But I get it now. Holy Cow! The wine is black, almost opaque in color. There is so much concentration, you can almost eat it with a spoon. The wine is powerful, yet clearly refined. It's dense, intense, full bodied and rich, simultaneously remaining in perfect balance and harmony. With mouth coating levels of intensity, the finish must last 60 seconds. Not as flashy or fleshy as the opulent 2009, yet it's at the same level of quality in a different style.

16,068 Views

Tasted

May 17, 2018

From a blend of 53% Sauvignon, 37% Merlot, 9% Cabernet Franc and 1% Petit Verdot, the wine is inky color. With a nose of smoky tobacco leaves, cassis, blackberry, cocoa, the wine has no trouble establishing its presence. Big, rich, packed with fruit, ripe tannins, freshness and the structure to age for decades, this demands time and is going to be well worth the long wait!

14,520 Views

Tasted

May 17, 2014

Inky in color, this is shutting down quickly. Incense, cedar, cassis, creamy vanilla and a minor hint of licorice come forth, after intense swirling. Concentrated, rich, full bodied and deep, the wine is packed with sweet, ripe, dense, black fruits that remain and continue to expand on your palate for at least 40 seconds. Clearly this is one of the great vintages of Montrose. But only patient consumers should consider buying this wine. It could take 20 years to develop and come around.

12,955 Views

Tasted

May 8, 2013

Montrose - From a blend of 53% Cabernet Sauvignon, 37% Merlot, 9% Cabernet Franc and a smidgen of Petit Verdot, this represents 64% of the production. Opaque in color, with a nose of coffee, blackberry liqueur, cassis and spice, this is a powerful, dense, massive, tannic wine. Firm and structured, the wine paints your palate with a wall of fruit, tannin and acidity. This big wine will require decades to develop. 95-96 Pts

14,093 Views

Tasted

Apr 19, 2011

2010
La Dame de Montrose (St. Estèphe)

Tight at the moment, a little work is needed to wake the wine and its crushed stone, herbs and black fruit scents. The tannic wine demands at least a few years in the cellar before the cassis, oak and blackberries come together. This was not showing at its potential best when tasted, with time, this could be a much better wine. As it sells for a fair price, for savvy consumers that like the style, as it sells for a fair price, it's well worth taking a chance on.

8,545 Views

Tasted

May 8, 2013

2009
Château Montrose (St. Estèphe)

Everything here is on fire! This is what great wine is all about. Incredibly concentrated, powerful, rich, deep, long, and complex. From the sniff, you should be hooked. But the real star of the show is on the palate, which is completely coated with layer after layer of perfectly ripe, opulently textured layers of black, red, and blue fruits that linger well past the 60-second mark! The seamless finish must be tasted to be believed. This is already just great to taste. But it is in the future where it will achieve its future legendary status. Drink from 2025-2060.

8,062 Views

Tasted

May 30, 2022

Full-bodied, powerful and concentrated, the wine clearly takes up a lot room on your palate. Opulent, as well as refined, now, you find an oceanic influence with its saltiness in the tannins. The wine has depth, freshness and perfectly ripe, soft tannins. If you are lucky enough to have a bottle of this gem in your cellar, try to wait another 10 years for it top really start opening up and displaying all of its incredible charms.

8,245 Views

Tasted

Sep 20, 2019

This wine is consistently mind-blowing! If your thing is a long, voluptuous, rich, ostentatious, full-bodied, concentrated wine, made from perfectly ripe, velvety, dark fruits, combined with the structure to age, and a unique, showy, combination of intellect and sensuality, with a 50-second finish. this is the wine to own. In another decade, (Which is young for Montrose) this is not only going to show great, it will be looked at as one of the key vintages of Montrose to own!

9,865 Views

Tasted

Feb 25, 2019

If wine infanticide was a crime, perhaps I broke the law, but this is stunning, who cares? Even at this youthful stage, the dark, inky hued wine sports a floral, black cherry, licorice and earthy nose resonates. But it's the action on the palate, with all its layers of sexy, voluptuous, opulent fruits that steals the show. If you like 'em young, go ahead and pop a cork. Else, when this stunner hits 20, it should be out of control! I'm going to need to set up a blind tasting with this and the 2009 Cos d'Estournel one of these days, as those wines are reasonable contenders for the wine of the vintage.

9,634 Views

Tasted

May 17, 2018

This was has hit triple digits from me before, and it just hit that magic mark again! This is so silky, exotic, sultry, long and fresh, it is hard to believe. With layers of concentration, depth and finesse, if you are a fan of Montrose, or just great Bordeaux, this is a legend in the making.

11,035 Views

Tasted

Nov 14, 2017

I'm not sure there has been a more consistent performer from this young, but already legendary vintage for my palate. Eech time this has been in my glass, I've been blown away. The level of purity, elegance, sensuous textures and length is remarkable. This is a contender for the best wine from the Medoc. If you do not own this wine, and you've been thinking about it, if you have the cash, what are you waiting for?

11,207 Views

Tasted

May 30, 2017

Boom, Out Go The Lights! This is off the charts. With mind boggling levels of richness, layers of incredibly, unctuous, perfectly ripe, decadent fruits and a finish that goes well past 60 seconds, this is a definite candidate for future legendary status. This is Cabernet Sauvignon based Bordeaux at its best.

11,832 Views

Tasted

May 5, 2016

This wine gets better every time I taste it. This could very well end up the wine of the vintage, and that says a lot in an amazing vintage like 2009. With no decanting, the wine is pure, opulent silk that coats your palate, teeth and gums with pleasure. The aromatics are already developing. Incredibly dense, yet balanced, fresh and complex, this is absolutely stunning!

10,739 Views

Tasted

Nov 28, 2015

Using 65% Sauvignon, 29% Merlot, 5% Cabernet Franc and 1% Petit Verdot, the wine sports a deep rich purple color. With intense earth, truffle, blackberry, cassis and spice, the wine is palate coating. Picture dense, pure, fresh layers of silky, velvet drenched fruit that will make you a believer. Better than when last tasted, this sublime wine builds and expands for close to 60 seconds! This is one future I regret not buying. This should hit triple digits if it keeps improving as I expect it to.

12,633 Views

Tasted

May 17, 2014

Opaque in color, coffee, licorice, chocolate, plum, blackberry and ripe cassis in the nose lead to a massive, fleshy, ripe, dense, opulent, mouth filling wine. Fresh, ripe and powerful, the long cassis, blackberry and spicy cassis filled finish remains in your mouth for 50 seconds! Due to the incredible density, structure and concentration found in this vintage of Montrose, lay this down for 15-20 years.

13,764 Views

Tasted

May 4, 2012

Montrose is dark purple. Aromatics of earth, rocks, cocoa and dark berries are easy to find. Full bodied and massive in concentration, with a wall of polished tannins, this structured wine finishes with a long, mouth filling expression of espresso beans and fresh picked dark berries. This could be the longest lived wine of the vintage. It will take decades to develop. This is the biggest wine from the Medoc in 2009. 95/97 Pts.

18,053 Views

Tasted

Jun 26, 2010

2009
La Dame de Montrose (St. Estèphe)

Mature, bright, fresh, earthy, tobacco-stained and with crisp red fruits, the wine is classic in style with a medium-bodied, slightly austere, bright, red fruit and forest leaf profile. The wine has entered its prime time window.

4,536 Views

Tasted

Sep 20, 2019

From 82% Merlot and 18% Cabernet Sauvignon, licorice, smoke, coffee, blackberry, cocoa and cassis scents open to a round, sweet, soft and filled with ripe black cherry, herb and fresh blackberry. This is already delicious.

6,826 Views

Tasted

May 4, 2012

2008
Château Montrose (St. Estèphe)

Big, powerful, young, tannic, fresh and bright, the nose, with its tobacco, leaf, cedar, menthol, and spice accents along with the bright, red fruits is in full force. Young as should be expected, this is a very good example of a modern, classicly styled, Left Bank Bordeaux. It is always going to be on the crisp vibrant side, but give it time, and it should be good. But you need to be patient, as this will take at least 12-15 more years before it is ready for prime time.

6,997 Views

Tasted

Feb 25, 2019

Smoke, tobacco, forest floor, cigar and black currant aromatics are there. And so is a full bodied, structured, dense wine that is still holding on to its tannins. Give it time for layers of pepper, bright, cassis to soften and for the wine to develop more complexities. This is classic and powerful in style, so some tasters are going to dig this more than others.

6,511 Views

Tasted

Sep 17, 2018

Using 65% Sauvignon, 30% Merlot, 4% Cabernet Franc and 1% Petit Verdot to produce the blend, this is all about the cassis, fresh herbs, dark berries and bright, powerful, tannic sensations that demand at least 10 years or more to be fun to drink.

13,455 Views

Tasted

May 17, 2014

The 2008 Montrose is deeply colored. Oak, black and red fruit made complex by tobacco notes are easy to find on the nose. The wine is concentrated. On the palate, sensations of ripe, dark black fruits fill your mouth. The tannins are polished with good sensations of freshness in the finish. This a refined wine for the vintage. 93-95 Pts

14,383 Views

Tasted

Aug 31, 2009

2008
La Dame de Montrose (St. Estèphe)

Bright, juicy, fresh fruits on the front end with the kick of green olives, cassis and tannins on the back end. Classic in style, everything has come together, so you can drink this now.

2,725 Views

Tasted

Sep 17, 2018

2007
Château Montrose (St. Estèphe)

The second vintage for the Bouygues family is quite successful for vintage. Smoke, tobacco, forest floor, cigar and black currant aromatics are there. The wine is soft and probably close to, if not already fully developed. The spicy, dark red pit fruit and tobacco filled finish has a lot of charm.

7,050 Views

Tasted

May 30, 2017

2007
La Dame de Montrose (St. Estèphe)

Medium-bodied, fully mature and just starting to fade, drink this to catch the remainder the fruit, and soft textures.

3,254 Views

Tasted

Mar 30, 2017

2006
Château Montrose (St. Estèphe)

Big, powerful, dense and tannic, this is a step back into the more, strict, severe styling with a strong, strict, tannic edge. The fruit is ripe, there is concentration, but the tannins are severe, and the fruit, is on the bright, fresh side of the style range. Time could bring this around, but I am not sure it will change the style of the vintage. Lovers of old-school Cabernet Sauvignon Bordeaux blends could enjoy this more than I did.

5,124 Views

Tasted

Feb 25, 2019

Full bodied, powerful, concentrated, and tannic. This needs at least another 10 years to come together as the firm, muscular tannins are out in full force today. The dark red fruits and earthy, spicy, ripe berries are crisp and fresh, but it's really hard to move past the strict wall of tannins today. This is the first vintage under new owners, the Bouygues family.

6,911 Views

Tasted

May 25, 2016

Powerful, tannic and with some austerity in its profile, this classic Medoc displays fresh, crisp cassis, tobacco, earth and spice. Masculine in style, the dusty textured finish is long, but this wine is not for early drinking. Give it another 10-15 years.

9,643 Views

Tasted

May 17, 2014

Ruby with some lighteneing already showing at the edge, the nose offers earth, mint, cassis, coffee and blackberry aromas. The wine is developing quickly for Montrose. This is an elegant style for Montrose, lacking the depth and power found in the best years.

13,931 Views

Tasted

Jan 20, 2011

2006
La Dame de Montrose (St. Estèphe)

Medium bodied, firm, earthy, strict, austere wine that is better on the nose, with its earthy and tobacco character than on the palate.

3,424 Views

Tasted

May 25, 2016

2005
Château Montrose (St. Estèphe)

Powerful, concentrated, deep, long, intense, youthful, and tannic, there is a strong backbone here that will allow this to age gracefully for 2-3 decades with ease. But it is not ready to go at this point. So, either give it 2 hours of air, or wait 5-10 more years.

7,458 Views

Tasted

May 30, 2022

The old saying, "Slow but steady wins the race" is clearly applicable here as this gem keeps getting better and better with age. Full-bodied, concentrated, tannic, and young, yet it has slipped into adolescence as you find cedar, cigar wrapper, tobacco leaf, herbs, black currants, and a melange of cherries, cassis, and lead pencil on the nose and palate. Powerful, but not overwhelming, classic, regal, and deep, with length and complexity in the finish. Offer it 2 hours of air if you are popping a bottle now, or wait another 5 years and this will really start to shine.

7,640 Views

Tasted

Jun 27, 2021

This just keeps getting better with age. Still a bit tightly wound, so more cellaring is needed until you enjoy the all that ripe, juicy, fresh, sweet, dark, red fruits and spice. The wine is full, deep and intense. It's tannic, but the tannins are ripe, the fruits are sweet, and there is length and purity. The finish shows some dusty texture on the tannins. Give it until 2025 and it should be rockin'!

10,755 Views

Tasted

Feb 25, 2019

It's been a few years since this last crossed my path. 3 hours of decanting added a lot of flesh and softness, to this still youthful treat. The wine is fresh, clean, powerful and tannic. There is length and intensity, with a dusty, tannic finish. I'd wait until the wine hits 20, if you are seeking a more mature experience.

8,763 Views

Tasted

May 17, 2018

With air, and effort, smoke, tobacco, wet earth, cassis, blackberry, spice box, thyme and a hint of truffle make their wine from the glass. Full bodied, concentrated, powerful, tanninc, balanced and refined, in a masculine way, the wine requires another decade to soften and become civilized. That being said, I'm sure your patience will be rewarded.

10,874 Views

Tasted

Jul 19, 2016

A big, juicy, mineral driven, blackberry filled, tobacco, smoke, cigar box, Asian spice, Cuban cigar and cassis filled perfume lets you know you're not in OZ anymore. This is concentrated, full bodied, powerful, rich, intense and very tannic. Yet, the tannins are so ripe, there is so much rich fruit, the wine can be enjoyed today if you like a primary drinking experience. It's lush, mouth filling, regal and refined.

10,635 Views

Tasted

Jun 28, 2015

If you like truffle with your cigars, you came to right place. From a blend of 65% Sauvignon, 31% Merlot, 3.5% Cabernet Franc and just a dab of Petit Verdot at 05%, the wine is deep, long and concentrated with the needed structure and ample tannins to age. There is a lot of depth of raw material, but this requires serious time in the cellar to come around and be fun to taste.

12,371 Views

Tasted

May 17, 2014

The most enjoyable wine tasting experiences are usually due to a discovery. It could be a vintage not previously tasted, or a wine could show better and I am forced to rethink my view on that wine. 2005 Montrose tasted last night has me singing me a different tune. Previously, I found the wine impressive, but tannic and masculine. It lacked elegance. That's not my opinion today. Licorice, earth, truffle, cassis and spice aromas required little effort to bring them out. Full bodied and intensely concentrated, this still tannic wine sported a muscular personality, but it was refined and elegant, in a masculine way. The long, powerful, ripe, round, dense finish remained on our palate for over 40 seconds, This will require decades to mature, but due to the ripeness and finesse of the tannins, fans that cannot wait for full maturity will enjoy an outstanding Bordeaux wine. I prefer 2003 Montrose, but make no mistake, 2005 Montrose is an outstanding Bordeaux wine.

20,346 Views

Tasted

Jul 25, 2013

Caramel, spice, black currants, black cherry and tobacco notes make up the nose. Tannic, full bodied and concentrated, as well as tight. Not very expressive in the mouth. This wine is sleeping and needs at least another decade before it beings to open. This is not in the class of the great vintages for Montrose like 89, 90 or 03

21,258 Views

Tasted

Jan 20, 2011

2005
La Dame de Montrose (St. Estèphe)

Fully open for business, the wine has softened, filled out and delivers a spicy, red berry, medium-bodied, earthy, tobacco, cedar filled wine. Drink this over the next few years for maximum enjoyment.

3,295 Views

Tasted

Feb 25, 2019

Tannic, fresh, crisp, cassis, tobacco and spicy notes with an earthy background is delivering its pleasure today. Drink it now while waiting for its big brother to grow up.

4,799 Views

Tasted

Jun 28, 2015

2004
Château Montrose (St. Estèphe)

Medium bodied and starting to display secondary characteristics of tobacco, earth, cassis, spice, and forest floor, the wine is focused on its subdued tannins, dark cherries and earthy profile.

9,141 Views

Tasted

Jan 4, 2015

Beefy, brawny and tannic, this powerful, cassis and gravel filled wine is on the austere side of the style range. With rusticity to the tannins, the wine finishes with cassis, cranberry and minor hints of green flavor. This St. Estephe wine is well suited to fans of more traditional, old school styles of Bordeaux wine.

16,614 Views

Tasted

Sep 11, 2011

2003
Château Montrose (St. Estèphe)

Showy flamboyant, rich, lush, ripe, and packed with layers of deep, dark, red, and black fruits, opulent textures, and a finish that keeps on going. This is simply great now and could be even better with a 3-5 more years of bottle age.

6,780 Views

Tasted

May 30, 2022

Opulent, rich, full-bodied, showy and intense, this feels just great as layers of perfectly ripe, sensuous black and red fruits glide over your palate. There is no heat, jamminess or overripe characteristics. What you do experience with all its lush, velvety, showy fruit is layer after layer of intensity, richness and pleasure. Decanted about 90 minutes, this rock star hits all the right notes.

10,073 Views

Tasted

Apr 20, 2020

This is a super wine, although this bottle was not as expressive as other recently tasted examples, still, it is impossible not to be wowed by the flamboyant, showy nature. The tannins and fruit are expressive opulent and rich. The showy finish keeps on going. Drink this now, or over the next 20 or more years.

17,340 Views

Tasted

Feb 25, 2019

Just stunning! The licorice, smoke, espresso, blackberry and cassis perfume almost overwhelms your senses. Full bodied, intense and mouth-filling, the wine coats your palate with, rich dark, opulent layers of fruit. Young and not close to mature, because the fruits are so ripe and the tannins and so polished, you can enjoy this now, or wait a decade.

20,408 Views

Tasted

May 17, 2018

A little more discreet, or quiet than previous bottles, while this lacked some of its showy quality, there was no denying layer after layer of perfectly ripe, earthy fruit, Cuban cigar wrapper, truffle and stone that was found in every sniff. On the palate, the wine is rich, full bodied, deep and impressive. This is drinking great today, and it will only get better over the next several years.

22,790 Views

Tasted

Nov 14, 2017

The nose, with its truffle, tobacco, spice box, blackberry, cassis, cigar wrapper and dark cherry nose could not get any better. But the perfume is only part of the show. The main event is on the palate, where this exotic, decadent wine really shows its stuff. Fat, rich and intense, there is intense concentration, silky, tannins and a mouth filling, powerful, yet regal, supple finish that sticks with you for at least one full minute!

25,258 Views

Tasted

May 2, 2016

Still showing a lot of color, smoke, licorice, truffle, forest floor, fresh herbs, leafs, cigar wrapper, Asian spice and cedar chest make a compelling perfume. On the palate, the wine is powerful, dense and mouth filling, yet equally balanced, supple and rich. Everything is exactly where it should be. This is not a candidate for 50 years of aging like 1989 or 1990, but in its own way, it's close to the same level of quality. The finish remained alive for more than 60 seconds. Bravo! This could be the wine of the vintage! The wine was produced from a blend of 62% Cabernet Sauvignon, 34% Merlot, 3% Cabernet Franc and 1% Petit Verdot.

29,892 Views

Tasted

Dec 18, 2014

Tobacco, cedar chest, cassis, forest floor, espresso and cigar box aromas make their way to the perfume. On the palate, the wine is all about power matched with grace and elegance. Long and intense, with sweet, roasted berries, slightly dusty tannins and cassis in the finish. Drink this now, or age it for years.

27,801 Views

Tasted

Jan 24, 2013

2003 Chateau Montrose hooks you with the first sniff of its exotic, liqueur aromas complicated by wet earth, incense, blackberry jam, cassis, cedar wood, tobacco and truffle. This is so rich, you can drink it or eat it. The ripe tannins are incredibly silky and lush. The expansive, palate coating finish gets better and better as it remains on your palate for over 60 seconds. This is worth buying today. While it's not cheap, few wines are this good.

29,670 Views

Tasted

Oct 29, 2012

Very lush, powerfull and concentrated. The mouth feel is opulent. Floral aromas, wood and red with black fruits. This is a knockout

25,655 Views

Tasted

Jun 27, 2007

2003
La Dame de Montrose (St. Estèphe)

One of the best second wines you are ever going to taste, there is a lot going on in the gravel, blackberry, cassis, tobacco and forest floor nose. Medium bodied, firm, but refined, this is probably drink at its peak today.

4,209 Views

Tasted

Dec 18, 2013

2002
Château Montrose (St. Estèphe)

Concentrated, full bodied and more interesting on the earthy, spicy, herb and cassis nose, than on the palate, which finishes a bit stern and dry. You can drink this now, or age it, but the character will remain the same.

5,034 Views

Tasted

Jun 19, 2016

Tight, the wine needs time and air to wake it. With effort, earth, tobacco and spicy cassis notes can be found. Meaty tannins, olive and blackberry, with hints of herb and cranberry in the solid, beefy finish.

8,478 Views

Tasted

Jul 29, 2013

2001
Château Montrose (St. Estèphe)

Stone, tobacco, blackberry, minerality, lead pencil and spicy, red and black plum flavors are easy to find. This is not the most concentrated vintage for Montrose, yet there is still refined tannins to resolve. From an assemblage of 62% Cabernet Sauvignon, 34% Merlot, 3% Petit Verdot and 1% Cabernet Franc, this mineral driven, St. Estephe wine wants another 3-5 years before entering prime time drinking.

11,543 Views

Tasted

Sep 13, 2011

2000
Château Montrose (St. Estèphe)

Slow, steady, and holding its course on the way to maturity, the wine is still youthful, with all of its currants, spicebox, tar, blackberry ad black currants held in check. Tannic, but not overly so, the wine is a modern classic that will age for another 40 years. Drink from 2025-2060.

6,742 Views

Tasted

Oct 26, 2022

There is a lot going on here with this full, concentrated, youthful, tannic wine. There is weight, intensity, freshness, and waves of spicy, fresh, energetic, lifted, chewy red fruits, blackberries, and crunchy currants that have serious staying power in the finish. Give it 2-3 hours in the decanter, or allow it to age another 5 years or so. This should drink great for another 2-3 decades.

6,039 Views

Tasted

Sep 13, 2021

Slowly but surely, the wine keeps edging its way to maturity. On the nose, the wine shows olives, herbs, mint and leafy notes that add to the dark, black fruits. Full-bodied, tannic and intense, the wine offers power and a regal nature, with ripe tannins, and ample, deep fruits in the slightly dusty finish. This will probably need a few more years to further come together. Give it until 2025 and enjoy it over the next 30 years after that!

6,485 Views

Tasted

Feb 25, 2019

As this beauty continues marching closer to its 20th birthday, it's easier to sense all its qualities and characteristics. Full-bodied, concentrated, tannic, but not overly so, this is everything that's great about true, classic Bordeaux. Firm, but not austere. Long, mouth-filling, deep and complex, layers of ripe fruits, cedar, cigar box, tobacco, exotic spices and dark red fruits at its core. 2020 is just around the corner and is probably the right time to check in a bottle.

6,727 Views

Tasted

Nov 2, 2018

Coming up on 17 years of age, this is still young, firm, masculine , concentrated and classic. But it's holding on tight to its youth, refusing to age. There is a lot of potential here, with its tobacco, exotic spice box, cedar, crushed rock and dark red fruit core. Give it until at least 2020, or 2025 for more development.

8,742 Views

Tasted

Mar 19, 2017

This is a super wine and vintage of Montrose that keeps improving with age. We should all age this well. Still young, the wine retains a depth of color. The perfume, with its black fruit, cigar box, spice and forest floor nose grabs. On the palate, the dense, powerful wine is even better with a concentrated blast of ripe, dark berries, ripe tannins and sweet cassis in the end note. This beauty is good now and will be even better in 5, 10, 15 or 20 years! If you like Montrose, or just great Bordeaux, this is worth laying a few bottles down in your cellar.

8,119 Views

Tasted

Jan 22, 2016

With its black fruit and cassis filled nose also expressed notes of earth, forest floor and oak tones. Big, dense and concentrated, this structured wine needs time. The wine ends with a blast of black fruit and freshness.

20,808 Views

Tasted

Mar 5, 2010

This massive wine keeps everything in balance. Blackberries, cassis, minerals and spice kick off the perfume. Very concentrated with chalky tannins. The wine delivers a long finish. This is not as powerful as the stunning 89, but it is in that style with a little more polish.

16,575 Views

Tasted

Jan 15, 2009

1999
Château Montrose (St. Estèphe)

Bright, fresh, crisp and ready to go, this has a lot of weight and density for the vintage. The wine is medium/full bodied, with a focus on red fruits, cedar, tobacco, wet earth, smoke, cigar wrapper and spiced cherries. There is some leafy notes, herbs and crunchy, red fruits in the finish, as you'd expect with a cool vintage. You can drink this is now, or give it a couple more years, but I am not sure there is much if anything to be gained by waiting.

5,260 Views

Tasted

Mar 17, 2018

1998
Château Montrose (St. Estèphe)

A little austere, but that does not mean this is without an abundance of classic charm. Firm and full-bodied, with a backbone and a lot of lift, the red fruits are vibrant, the nose is complex and there is a nice spicy tone that goes along with the finish, You can drink this now, or age it for more softness and development.

3,751 Views

Tasted

Nov 2, 2018

Tannic, steely, almost austere in style, with a definite masculine leaning to the cassis, spice, earthy, tobacco scented personality. Time might help a bit, but I would not be holding this, waiting for a miracle to occur. This is going to be appreciated more by tasters with a strong preference to old school, classic, firm Bordeaux.

4,226 Views

Tasted

May 13, 2015

1996
Château Montrose (St. Estèphe)

Old school, classic in style, the wine is crisp, energetic and stubbornly tannic. The fruit is short, bright, and leaning to the strict, austere, cranberry and light red fruit side of the style range. The wine is a bit more interesting on the developed, cedar and tobacco edged nose, than on the palate. If this is your taste, you will probably like it more than I did.

5,078 Views

Tasted

Feb 25, 2019

Crushed stone, tobacco, cassis, spice, cigar box, earth and barnyard aromas are found with only a little swirling. The nose is the best part of this Bordeaux wine. Full bodied, powerful, tannic and with an austere leaning, this vintage of Montrose is more of an old school style of St. Estephe. The wine was produced from a blend of 76% Cabernet Sauvignon, 20% Merlot, 3% Cabernet Franc and 1% Petit Verdot.

11,090 Views

Tasted

Jul 23, 2011

1995
Château Montrose (St. Estèphe)

Firm, crisp, structured, tannic, reserved, full-bodied, youthful wine with a crunchy edge to its layers of herbs, spice, cedar, tobacco leaf, and red currants. Drink from 2022-2045.

2,727 Views

Tasted

Nov 2, 2022

Classy, classic, masculine, big, tannic, young and demanding more time to soften, develop and offer more complexities. Clearly, this has good structure, and the ability to age and develop, but its beefy, masculine, tobacco, cassis and firm tannic style is going to be a problem for some tasters, while fans of more classic wines might like it more than I did.

5,755 Views

Tasted

Aug 28, 2014

1994
Château Montrose (St. Estèphe)

Lean and sharp, with a strong cranberry component alongside the bright cassis fruits, you also find cedar, tobacco and green leafy notes. Stoic and firm, there is an austerity to the wine that perhaps fans of decades gone by will appreciate more than I did.

5,232 Views

Tasted

Jun 7, 2018

1990
Château Montrose (St. Estèphe)

Bacchus was shining on us today because 1990 is either murdered by brett, or if it's clean, the bottle can be majestic. This bottle was majestic and more. The wealth of palate-staining, perfectly ripe, sweet, regal fruit is something to behold. The finish hits the 60-second mark, crosses it with ease, and keeps right on going. However, it is imperative to keep in mind the wine is Jekyll or Hyde and there is no way to know without popping a cork. Drink from 2023-2055.

158 Views

Tasted

Sep 27, 2023

A clean bottle! The issue with this wine is, will you open Jeckyl or Hyde? The worst bottles are filled with TCA. However, the best bottles and this was one of the best bottles are a thrill-a-sip experience. There is an incredible level of intensity that is packed with Asian spice, Cuban cigars, cedar chest, forest floor, currants, smoke, tobacco, and oceanic influences. Full-bodied, long, structured, and displaying the patina of age that has softened its once fierce tannins, replacing them with a regal textured, fruit and earth packed wine, the finish builds and expands for at least 60 seconds.

5,115 Views

Tasted

Dec 10, 2021

A nice clean bottle, with a developed personality of cedar, Asian spice, tobacco leaf, cigar wrapper, cherry cassis and herbs. Full-bodied, dense and powerful, the wine is long, complex and mouth-filling. This is probably quite close to the sweet spot for this gem, where is should remain for at least another 20-25 years with ease.

5,973 Views

Tasted

Feb 25, 2019

From a bottle never moved from the cellars of Chateau Montrose, this was mind blowing! Not off aromatics or brett here. Powerful, full bodied, deep, concentrated and intense, the fruit was pure, earthy and spicy. The texture was like velvet, stained with wet earth, leaving you with a finish that stuck around for close to 60 seconds. I've had this wine a lot, but I've never experienced a bottle this good before. It's in a good place to open now, but there is no rush, you could easily wait another 20 years or longer without fail.

9,756 Views

Tasted

Apr 15, 2017

With 1990 Montrose, similar to Jekyll and Hyde, you never know who is going to show up as some bottles are completely marred by brett. Fortunately, this was a fresh, clean bottle and it was singing. Still young, but past the primary stage, the wine is big, powerful, concentrated, yet regal in its bearing. The fruit is fresh, earthy and vibrant, and the finish sticks with you for close to 50 seconds. 2 hours of air helped, but 10 more years of age will help even more.

7,846 Views

Tasted

Feb 6, 2016

This occasionally perfect wine lacks consistency as some bottles are ruined by brett. Sadly, this bottle was quite bretty. It smelt like I was in a barn with Mr. Ed. I cold not finish the glass. Others raved about it. Clearly it was massive and intense, with incredible levels of concentration and richness, but the barnyard smell just took over the wine.

8,405 Views

Tasted

Nov 9, 2015

It's always a crap shoot with this wine. There are bottles with such overwhelming notes of horse and barnyard, they are not fun to drink. And then, there are the clean bottles that let you know you are in Bordeaux at the top level. This bottle was clean. The intensity of the aromatics, the incredible weight, density and concentration, coupled with ripe, regal, soft tannins and a seamless finish are well worth the price of admission. Still young, but showing its stuff, this is a thrill to taste today and if well stored, your grand children can probably enjoy a bottle in 2090!

9,600 Views

Tasted

Oct 31, 2014

We were lucky. This was a clean bottle that delivered an exotic melange of scents; gravel, incense, creme de cassis, blackberry, barnyard, cedar wood, tobacco, truffle and spice box aromas. Dense, rich and thick, with layers of ripe, dark, tannic fruit that seems to last for close to 50 seconds on your palate. There are no hard edges in this still very young wine. This truly coats your mouth. At close to 22 years of age, it's starting to open and show signs of maturity. This could easily improve for another 30-40 or 50 years! The wine was produced from a blend of 64% Cabernet Sauvignon, 32% Merlot and 4% Cabernet Franc.

14,643 Views

Tasted

Mar 11, 2013

The perfume rivets your nose to the glass. Powerful scents of Asian spice, tobacco, cassis, smoke, incense, barnyard, gravel, blackberries and cedar get you wound up. The palate is coated with thick layers of juicy, ripe cassis and spice that remain on your mouth for well over 40 seconds! Still young, at 21 years of age, it is finally starting to show its true St. Estephe character. Stunning stuff! Some bottles of this wine display a pronounced horse like quality that ranges from interesting to so strong, it's like Mr. Ed was over for dinner. Other bottles can be much cleaner, with only a touch of barnyard. Fortunately, this bottle was clean. This special wine is only going to improve over the next several decades.

13,887 Views

Tasted

Oct 24, 2012

Since the day this Bordeaux wine was released, I have always felt 1989 Montrose the better wine of the dynamic duo. 21 years after the 1990 Montrose was made, my view has suddenly changed. The wine remains a deep ruby color. An intoxicating perfume of smoked meat, tobacco, blackberry, barnyard, gritty earth, spice and cassis pops from the wine as it spills into your glass. This wine is powerful, dense and masculine, as well as refined. There are no hard edges to be found. Layers of flavor float all over your palate, teeth and gums. This stunning wine ends with a long, pure, clean cassis, blackberry and spice sensation that seems to last for close to 50 seconds. The mark of all great wines is the ability to improve with age and time in the glass. 1990 Montrose continued improving in the glass for several hours. The problem with this wine has been the massive wall of tannin and amount of brett many bottles have displayed. This example was a very clean wine and as you can see from the note, the tannins have integrated into the wine. While secondary aromas are clearly developed, this is only now starting to become civilized. As good as this bottle is today, it will be better with 10-20 or even 30 more years of bottle age.

15,960 Views

Tasted

Mar 22, 2011

The levels of fruit in this wine are off the charts! Jammy fruit, toffee, licorice and a slight horsey aroma made for a compelling and complex perfume. Massive layers of fruit fill every nook and cranny of your mouth. But, as gargantuan as it is, it remains perfectly balanced.

9,679 Views

Tasted

Jun 15, 2010

With its cedar, cassis, tobacco, black fruit and smoke filled nose, caught my attention. Full bodied, concentrated and filled with dense black fruit. The structure was there to age. The wines finish was long. Still young, this is a wine to see what happens to it in the future

8,804 Views

Tasted

Jun 30, 2009

Strong horse tinged aromatics are the first thing a taster will notice. Powerful, dense, thick levels of black fruit, minerals and spice fill your palate. This remains extremely young. Full bodied, dense and concentrated.

8,796 Views

Tasted

Feb 5, 2008

This comes in two styles and there is no way to know which you're going to get until you pop the cork. Either you find a stable full of horses, or you discover a glint of horsiness. Personally, I prefer the subtle, gentle hint reminiding me of standing in the winners circle at the Kentucky Derby. I got lucky as this bottle was the latter. I got lucky last night too, but that's a different story. Adding complexity to the horse aromas was wonderful layers of cassis, black fruit, herbs and truffles. Huge, massive and concentrated in the mouth. Every nook and cranny of your palate enjoys an ocean of dense, ripe, rich, deep, black fruit. The long finish was a pleasure, very fresh and clean with great follow through from start to finish. Still some tannin to resolve.

9,005 Views

Tasted

Jul 7, 2007

Was Mr. Ed in the house, or was this bottle only slightly horsy? Well, the horse was in the barn, but he was sleeping as this bottle was not too bretty. Huge, dense and very concentrated. Still relatively primary, this beefy, concentrated, thick, masculine wine demands at least 15-20 more years before it reaches full maturity

8,868 Views

Tasted

Jun 15, 2006

This was horsy. Lots of barnyard scents in this bottle. Upon pouring, a conversation ensued discussing if this smelled more like horseshit or cow pies and the difference between each. Erudite, no. But fun. After the strong barnyard aromas, beefy, dark, spicy fruit notes were apparent. This is a huge, hulking wine than remains tannic and shockingly youthful.

8,976 Views

Tasted

Mar 14, 2006

This displayed the bretty, horse aroma it's famous for. Very powerful, probably the most concentrated and backward wine of the night, the 90 Montrose was so dense, you could cut it with a knife. This needs at least another decade before becoming civilized.

9,035 Views

Tasted

Feb 17, 2005

The 90 Montrose is opaque, with an inky black, purple hue. A slight, horsey aroma blew off in a few moments revealing a powerful perfume of spices, jammy red & black fruit, licorice and cedar and black cherries. This is so dense and thick, you could eat it with a spoon! It's amazingly concentrated! Dense, full bodied with soft tannins that are buried in an ocean of fruit. The almost endless finish is absolutely seamless. This is a huge wine, but not overpowering. It's like an elephant that can dance.

9,539 Views

Tasted

Aug 5, 2004

On the nose, earth, spicy oak, cassis, truffles, coffee, cuban tobacco and clay. Dense, full bodied wine with very tannic finish. Mountains of black fruit fill every nook and cranny of the palate. 40 second finish. This is a bigger wine than the 89, but IMO, the 89 is almost as good, and 1/3 the money! Blind I guessed Gruaud Larose. Close, but no cigar. The 90 Montrose will outlive everyone at the table. The wine made dramatic improvements after two additional hours in the glass.

8,804 Views

Tasted

Apr 25, 2004

1989
Château Montrose (St. Estèphe)

Often as good as, and sometimes even better than the famous 1990, this bottle was singing at the top of its lunch with layer after of sweet, ripe, juicy currants, flowers, citrus, and cedar. Long, intense, concentrated, full-bodied, and harmonious, this is one of the wines of the vintage. Drink from 2023-2055.

152 Views

Tasted

Sep 27, 2023

A thrilling wine that is happily catching up to the 90 in quality, and sadly, catching up in price as well. Full-bodied, deep, concentrated, long, intense, complex and powerful, the wine opens with an incredible nose of tobacco leaf, cedar, cigar box, ash, spice and currants. There is fabulous volume, weight and density on the palate and in the long, cigar, and red berry-packed finish. An hour of air would really add a lot to the wine. In a few more years, I'd bet and give odds this scores even higher!

5,239 Views

Tasted

Oct 18, 2021

Smoky, cigar box, tobacco, spice and cassis on the nose pop with little effort. On the palate, the wine is powerful, full-bodied, chewy and loaded with juicy, ripe, fresh red berries and cigar wrapper. Long and vibrant, the tannins have softened and the secondary nuances are more attractive than ever. At 30 years of age, this is at maturity and delivers everything fans of Montrose could have hoped for.

4,478 Views

Tasted

Feb 22, 2019

It's been 2 years since my last tasting note on this wine. The past 24 months has added more softness and approachability to this beauty. With 2 hours of air, the tobacco, olive, cedar chest, cigar wrapper, forest leaf and dark red fruits shine on the nose. When you get to the palate, the wine is still youthful, with freshness to the fruits. There is concentration, power, and refined elegance, leaving you with a peppery, cedar and, red fruit finish. At a few months before the wine hits 30, this is still going strong.

5,290 Views

Tasted

May 17, 2018

A super example of this wine in all its tobacco, cassis, spice, earth, cigar box and cedar wood charm. Full bodied, concentrated, masculine, yet refined, the finish kept going, with close to 60 seconds of fresh, spicy, ripe fruits that shifted from black to red. The bottle was decanted for about 2 hours before serving. This was much better than the last bottle I tasted about 6 months ago.

6,361 Views

Tasted

Feb 2, 2016

With age, every bottle develops its own personality. This bottle was not at the same level as previous, recent experiences. While good, with its nose of cigar box, cedar, pencil, tobacco, earth, blackberry and cassis, the wine did not display its usual, unreal levels of depth and mouth filling concentration. With 2 hours of air, the wine fleshed out, but not as far as it should. This is not to say the wine is not where it used to be, far from it. I'm simply letting you know where this one bottle was. I'm willing to bet, the next bottle will show much better.

6,475 Views

Tasted

Jul 19, 2015

This is the real deal here. The knock out nose of tobacco, cigar box, cedar chest, earth, blackberry and cassis is all there. Full bodied, intense, mouth filling, long and intense, the fruit really leaves a lasting impression on your palate. This is great now and will be even better in 5-10-15 or 20 years! This is one of those price wines that is truly worth the money.

5,927 Views

Tasted

May 12, 2015

What a wine! The tobacco, earth, spice, cassis, blackberry, cedar, earth and truffle nose is a winner. But that's just the warm up. The palate is where the real action takes place. The fruit does not quit and neither does the finish. This is stellar now, and if you wait, it's going to be even better.

6,991 Views

Tasted

Oct 31, 2014

WOW! Seldom are wines in the Oh My God category. 1989 Montrose is the real deal. Explosive levels of perfume filled with crushed gravel, stone, licorice, tobacco, cocoa, creamy blackberry, mint, caramel, smoke, truffle and incense are off the charts. There is only a minor whiff of barnyard aromas, which adds to the complexity. Powerful, full bodied and almost dense enough to eat with a spoon. This beautiful, pure wine coats your mouth, palate, teeth and gums with sweet, polished, jammy blackberries, There is an intense purity to this stunning wine. The long, finish remains etched in your palate and mind as it builds in flavor and intensity for almost 60 seconds. This sublime tasting experience is only going to get better for several decades. If you love Bordeaux, this wine belongs in your cellar.

12,499 Views

Tasted

Apr 8, 2013

1989 Chateau Montrose is so good, it's close to being off the charts! Not only is this a stunning wine, it's remarkably consistent as well. Licorice, espresso, cassis, jammy blackberry, earth, truffle, smoke, cigar box and stone aromas grab you. But it's the waves of fresh, intense, expansive fruit and spice that remain on your palate for close to 60 seconds that you know, this is what great Bordeaux is all about. This wine is often compared to the 1990 Montrose. This is almost as good, or even better if you like, and it sells for a fraction of the price. This can be enjoyed today or aged for 30 to 50 more years! The wine was produced from a unique blend of only two grape varieties, 70% Cabernet Sauvignon and 30% Merlot.

8,295 Views

Tasted

Oct 28, 2012

Can this wine get any better? Each time I taste 1989 Montrose, it seems to improve. It's full bodied, powerful, concentrated, rich, deep, complex and offers a big mouthful of ripe black fruit, spice, tobacco and earth. The tannins are ripe and the finish must last at least 60 seconds! Everything about this wine is in balance. Drink this now, or hold it for 20 or more years. With the exception of the 2003 Montrose, this is the vintage of Chateau Montrose to own.

9,301 Views

Tasted

Aug 7, 2012

Tobacco, truffle, cassis, wet earth and BBQ aromas reveal themselves without much effort. Full bodied, dense and filled with blackberry, cassis and earthy flavors, this mouth filling wine coats your palate with layers of rich, ripe, roasted, spicy black fruit. Still young and fresh, this beautiful example of Montrose that perfectly pairs power with elegance will evolve for decades.

11,049 Views

Tasted

Mar 22, 2011

1989 Montrose continues developing in a positive direction at a slow and steady pace, showing this is a wine for the ages. Filled with powerful scents of truffle, tobacco, cassis, earth, slate, cassis, chocolate, spearmint, underbrush and smoke, the Bordeaux wine is powerful, concentrated and dense. The wine ends with a hint of dusty tannins, a long cassis and blackberry filled finish. Many 89 Left Bank wines have developed a green streak in the finish. That is not the case with 89 Montrose. This is a contender for one of the top wines of the vintage from the Left Bank. 97 Pts

10,304 Views

Tasted

Nov 17, 2010

Deep ruby with hints of brick in the hue. Cassis, cedar, earth, mineral, truffle, and licorice scents are made even more complex by intriguing notes of Asian spice. This Bordeaux is dense and concentrated. The mid palate is where it truly shines. The rich, corpulent, multi-layered mouth feel ends with a blast of spicy, black cherry and black berry that lasts at least 40 seconds. After the wine had been decanted about an hour, I scored it 96 Pts. But after a few more hours of air, the wine developed additional nuances, and an elegance married to a power that was stunning. I ended up scoring it two points higher.

7,639 Views

Tasted

Jun 19, 2009

This is the real deal. F the 90! To me, this is a better wine. At the table I referred to it as "Black Death!" Why? Because it starts with an inky, black color and offers an incredibly complex Bordeaux perfume of black fruits and finishes with a compelling palate wash of intense, rich, ripe black fruit. Still young, it will improve for decades. This wine is First Growth in quality! And at half the price of the 90, (a wine I never understand) this is the wine to buy. The 90 is more concentrated and possibly when fully mature, clean bottles will best the 89. But if the money were the same, I'd swap my 90 for 89 all day long.

6,719 Views

Tasted

Feb 10, 2008

On the palate, a wonderful sensation of multiple layers of deep, rich, concentrated black fruit washed over your senses. Still tannic, this wine might take another decade before it becomes fully mature. For Montrose, this is almost supple.

5,939 Views

Tasted

Jul 7, 2007

This huge wine is packed and stacked with layers of deep, ripe, black fruit. On the nose, a hint of horse adds to the complex scents of oak, spices and black fruit. Very powerful, concentrated and full bodied, this wine will only get better with time.

5,828 Views

Tasted

Feb 27, 2006

Herbs, olives, cassis, blackberry and wood aromas coupled with amazing concentration make this wine hard not to notice. Huge, expansive mouth feel. Multiple layers of deep, rich, ripe dark fruit cascade over your palate. While this is a monster of a wine, it's a monster with manners. There is a lot of tannin to resolve.

5,985 Views

Tasted

Oct 5, 2005

Sporting an opaque, purple, ruby, robe the wine had a great perfume. Black fruit, oak, spice and cassis on the nose. Very tannic, dense wine. Multiple layers of rich, ripe black fruit coat your mouth. This is a huge wine, but balanced. More bottle age will improve this already exceptional wine.

5,887 Views

Tasted

Aug 5, 2004

This wine is First Growth quality! It is that good! The color is an opaque, purple with no lightening at the edge. The nose offers spectacular scents of walnuts, dark black fruits and cedar. On the palate the weight and depth are incredible. Full bodied does not begin to describe it. Immense concentration, but it's not heavy. It's light on it's feet but in a masculine style. This fills your mouth coating your palate with sweet ripe fruit and soft tannins. This is so unctuous you could almost eat it with a spoon. The wine is seamless. The finish lasts over :50 seconds.

6,815 Views

Tasted

Jan 26, 2004

1988
Château Montrose (St. Estèphe)

Old school, hard, austere, stern style of wine, with tough tannins and bright, cranberry and red berry character. The nose is interesting, but it does not stop you from feeling the strict tannins on the palate. Time is not going to help here as the wine is about 30 years of age already.

3,504 Views

Tasted

Nov 17, 2017

1986
Château Montrose (St. Estèphe)

Brick tinged, ruby color with some browning at the edge of the rim. Herbs, tobacco, licorice, cassis and earthy notes in the nose. Masculine and brutish in style. Probably close to full maturity. This is for lovers of austere claret stylings.

3,604 Views

Tasted

Jul 7, 2007

1985
Château Montrose (St. Estèphe)

Fully mature, medium bodied, with fruit on the bright, cranberry and crisp cassis side of the syle range, this needs to be consumed sooner than later.

5,890 Views

Tasted

May 9, 2014

1982
Château Montrose (St. Estèphe)

Fully mature, earthy with loads of tobacco, smoke, leaf and spice found among the bright red fruits. Medium-bodied, soft, charming and easy to drink with zero decanting, there is just enough red fruit, cigar box and cedar chest to keep everyone happy. However, there is no reason to hold this any longer.

4,419 Views

Tasted

Feb 15, 2020

Light in color with definitive bricking, medium bodied and more about its fully mature, secondary notes than fruit, this requires drinking as it's clearly past its prime.

7,071 Views

Tasted

Jan 14, 2016

Tobacco, stone, red plums, cassis and herbal notes lead to a medium/full bodied wine that is already fully mature. Austere and linear in nature, this stern wine will offer more appeal to extreme traditionalists. The wine ends with cassis, spice and cranberries.

11,946 Views

Tasted

Oct 5, 2011

1981
Château Montrose (St. Estèphe)

Another nice surprise from this forgotten year, the wine is not big or powerful. But it is complex, earthy, fresh, vibrant and pleasing, in an older, classic style. If you're seeking an anniversary or birth year wine, this is a good choice.

4,148 Views

Tasted

Sep 21, 2018

1975
Château Montrose (St. Estèphe)

Ruby tea colored with an earthy, Asian spice, smoke, tobacco and cassis filled nose. Old school in style, this foursquare wine is on the firm and austere side of the style meter. It ends in a cassis and cranberry finish. This wine was better in the nose than than on the palate.

7,945 Views

Tasted

Jan 20, 2011

1971
Château Montrose (St. Estèphe)

Better on the nose, with spicy, earthy, cigar and cedar accented character, than on the pleasant, old-school, classic, piquant red berry palate. The wine requires drinking sooner than later.

3,650 Views

Tasted

Oct 5, 2018

1970
Château Montrose (St. Estèphe)

Old-school, hard, rustic, crisp, and crunchy with a strong herb and cedar edge to the bright red fruits on the nose and palate. If you are seeking a Bordeaux showing how wine was made in years gone by, this is probably a good example. Drink from 2022-2025.

2,612 Views

Tasted

Nov 2, 2022

With its tobacco, forest floor, cassis and cedar perfume, the wine showed promise. On the palate, tart cranberry, bright sweet and sour cherries and hard tannins made me want to go back the perfume. Not my style of Bordeaux. The wine was produced from a blend of 65% Cabernet Sauvignon, 25% Merlot and 10% Cabernet Franc.

6,155 Views

Tasted

Dec 1, 2013

1970 Chateau Montrose is an austere, lean, hard style of Bordeaux with a tannic, tough, cassis, cedar , forest floor and cigar filled personality. There is no hurry to drink this. But I doubt it's going to improve much from here. This was more interesting on the complex nose than the old school palate.

6,177 Views

Tasted

Oct 28, 2012

Brawny, tannic, beefy and masculine, this cassis, tobacco, spice and truffle scented wine is tough and even after almost 4 decades, tannic. Full bodied, rustic and showing years younger, this reminds me of an 86 Medoc.

4,321 Views

Tasted

Jul 7, 2007

1961
Château Montrose (St. Estèphe)

The best example of this gem I have ever tasted delivered all of its spicy, red currants, green pepper, herbs, cedar, tobacco, and cigar wrapper with ease. More regal than elegant, full-bodied, and intense, with a cedar, currant and tobacco finish. Drink from 2023-2030.

80 Views

Tasted

Sep 27, 2023

One of the better examples I've had of this gem. The nose, with its Asian spiced, red berry, tobacco wrapper, cigar ash and herbed perfume gets the ball rolling. There is ample concentration, loads of sweet and tart, crisp red fruits and some spice on the backend. This is at peak, but if well-stored, it is worth seeking out.

2,574 Views

Tasted

Apr 6, 2022

Tobacco, cedar chest, fresh herbs, forest floor, barnyard and faded red cherry notes in the nose. The wine is soft, delicate, sweet, medium bodied and ends with an earthy, red berry and spice box finish. I've tasted better examples of this wine over the years. It's all about the provenance with wines this old.

2,695 Views

Tasted

Dec 9, 2014

1961 Chateau Montrose must have been a monster when it was bottled because it's still massive, concentrated and tannic. The nose is pure, mature Medoc wine, with its lead pencil, spice, cassis, earth and tobacco personality. The tannins are a bit rough around the edges, but the wine offers a lot of pleasure and old school Bordeaux style that is hard to find these days. I'm sure this has at least another 15-20 more years to go.

3,840 Views

Tasted

Oct 28, 2012

Light ruby in color with bricking, this elegant beauty offers the type of complex perfume you'd expect from a great Bordeaux with close to 50 years of bottle age. The palate enjoyed an intense cassis, cherry bath. The finish brought it all together. The wine did not improve with air and began losing fruit after 45 minutes

3,377 Views

Tasted

Sep 12, 2011

Brick in color, with spicy aromatics, truffle, cigar and dark berry aroma were the best part of the wine.The rustic, wine while good, did not promote much excitement. It lacked ample fruit and sweetness for the finish. Oh well, you know the old saying, after 46 years…. there's only great bottles and no great wines.

3,487 Views

Tasted

Jun 6, 2010

The color was a red, bricky tint with light edges. The wine had a luxurious texture that comes from mature wine. Spice, tobacco, earth and hints of black fruit on the nose. Slight rustic feel in mouth In the long finish.

3,453 Views

Tasted

Aug 16, 2007

1959
Château Montrose (St. Estèphe)

Good provenance makes a difference because this wine rocked! Packed with smoke, forest leaf, cedar, cigar box and sweet, currants with a touch of spice and herbs, the wine provides a depth of flavor on the palate and in the long, generous, fresh finish.

3,081 Views

Tasted

Sep 16, 2021

1955
Château Montrose (St. Estèphe)

The perfume of aged Bordeaux is on fire with its cedar, tobacco leaf, ash, sea salt, spice, herbs, red cherries, and redder currants. The finish is chewy, chunky, and firm, yet regal as well. Fully mature, if you have a bottle and its well stored, you are in for a treat. Drink from 2023-2030.

46 Views

Tasted

Sep 27, 2023

1934
Château Montrose (St. Estèphe)

Light and bricky in color, the wine gave a nice, spicy, cassis, damp earthy perfume. Still beefy and masculine in style. The palate enjoyed the sensation that comes from fully mature Bordeaux.

4,399 Views

Tasted

Dec 28, 2006

1929
Château Montrose (St. Estèphe)

Recorked, this was probably topped off with a younger vintage, due to the youth and vigor in this bottle. Still, the tobacco cedar chest, herbs, forest leaf, and spicy cherries on the nose, and the rustic, but charming, bright, earthy, red berry palate was a treat to taste.

2,634 Views

Tasted

Oct 6, 2018

1928
Château Montrose (St. Estèphe)

Recorked in 1998, this seems to have been heavily topped off. The wine had power. The tannins and textures were on the rustic side and this seemed to be lacking some of the nuances associated with 90 years of age. Good, but sadly, not great.

3,715 Views

Tasted

Oct 10, 2018

1921
Château Montrose (St. Estèphe)

Bottled history is always a thrill. Released just a few years before the creation of Art Deco and the great depression, the wine is bricky in color. Smoke, tobacco, cigar box, truffle, forest floor, spice and black cherries are the first thing you notice. The wine is full bodied, with an old school, slight rusticity to the texture in the sweet and spicy red berry finish.

4,408 Views

Tasted

May 8, 2014