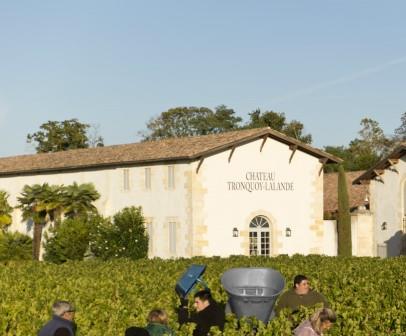 Learn everything about Chateau Tronquoy Lalande, St. Estephe with wine tasting notes, and wine with food pairing tips. Learn the best vintages, a history of the property, and information on vineyards and winemaking. If you want to read about other important, Bordeaux Chateaux: Learn about all Bordeaux Wine Producers
Chateau Tronquoy Lalande History, Overview
Chateau Tronquoy Lalande takes its name fittingly from the family that owned the chateau in its formative years, the Tronquoy family. After they sold the estate in 1859, it passed through several owners before becoming part of the well-known Casteja family holdings, who purchased the vineyard in 1968.
In 2006, Chateau Tronquoy Lalande was purchased by Martin Bouygues and Olivier Bouygues from the Casteja family. The Bouygues brothers earned their fortune in the telecommunications industry.
For Martin Bouygues and Olivier Bouygues, it was the perfect addition to their portfolio, as they already owned the famed Second Growth, Chateau Montrose, which is also located in the Saint Estephe appellation. Both transactions for the Left Bank estates took place in 2006.
Chateau Tronquoy Lalande, The Modern Age
Chateau Tronquoy Lalande enjoyed a complete, 10 million Euro renovation after it was purchased. This is a fortune when you consider the estate is a Cru Bourgeois and that the wines do not sell for that much money.
That represented a serious commitment to quality! A large portion of those funds was allocated to making Chateau Tronquoy Lalande a responsible, fully, environmental, green winery. They obtain much of their power from geothermal energy. To achieve this for their Left Bank estate, they placed 3,000 photovoltaic panels on their roofs. The construction took 3 years to complete.
The new owners purchased additional vineyard land, increasing the size of the estate. The yields were reduced and the selection became much, more stringent. All of these changes have clearly helped improve the wine.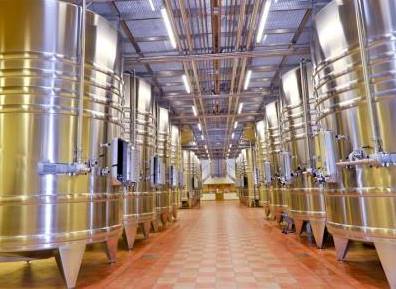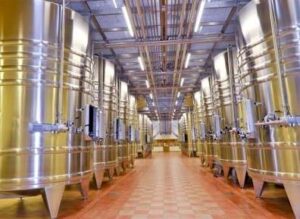 The wines of Chateau Tronquoy Lalande are produced by the same team that is responsible for the Bordeaux wine being made by the owners, the Bouygues brothers at their other Medoc estate, Chateau Montrose.
Shortly after Chateau Tronquoy Lalande was purchased by the Bouygues brothers, they brought in one of the more popular and revered figures in Bordeaux out of retirement to manage both, Chateau Montrose and Chateau Tronquoy Lalande.
Jean Bernard Delmas. Delmas was director of Chateau Haut Brion for decades until he retired and was replaced by his son. The elder Jean Bernard Delmas was in charge of both Chateau Tronquoy Lalande and Chateau Montrose. He was replaced by Herve Berland, who is also firmly in charge of Chateau Montrose.
Chateau Tronquoy Lalande Vineyards, Terroir, Grapes, Winemaking
The 30 hectare Saint Estephe vineyard of Chateau Tronquoy Lalande is planted to 52% Merlot, 39% Cabernet Sauvignon, 6% Petit Verdot and 3% Petit Verdot. This represents a large shift in the vineyard since the new owners took control. Now, you find much more Merlot and less Cabernet Sauvignon.
With a total of 18 planted hectares of vines, the vineyard is planted to a density of 9,000 vines per hectare. The vines are on average, close to 25 years of age. The terroir is mostly gravel with some clay in the soil. The vineyard is located inland from Chateau Montrose. The vineyard was certified as being 100% organic in 2024.
To produce the wine of Chateau Tronquoy Lalande, vinification takes place in 22 geothermal powered, stainless steel tanks. The tanks allow for a parcel by parcel vinification. The tanks were made with a slight pitch or tilt at the bottom of the vat. The purpose is to allow the winemaker to capture more of the press wine.
The additional press wine that is recovered utilizing this method is of better quality. The reason behind it is that it does not require mechanical actions to be produced.
Gentle actions do produce softer, more elegant wine, which of course lends more softness to Tronquoy Lalande. All of these changes have clearly improved the quality here, giving the wine more finesse, softer, more gentle textures, and much better purity of fruit.
On average, the wine is aged in 25% new, French oak barrels for an average of 12 months before bottling. There is a second wine, Tronquoy de Sainte Anne. Chateau Tronquoy Lalande property produces 7,500 cases of St. Estephe wine per year.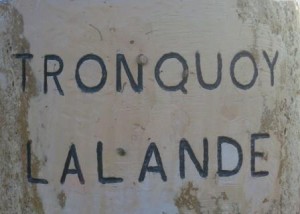 The Best Vintages of Chateau Tronquoy Lalande are: 2022, 2021, 2020, 2019, 2018, 2017, 2016, 2014, 2012, 2010, 2009, 2008, 2005 and 2003. Chateau Tronquoy Lalande is not a wine that requires long-term aging. Instead, it offers delicious, character-filled drinking during its first 2 decades of life for a consumer-friendly price.
The White Wine of Chateau Tronquoy Lalande
Chateau Tronquoy Lalande also produces a small amount of white Bordeaux wine which is sold as an AOC Bordeaux Blanc. The reason is that the appellation laws for St. Estephe do not allow for the planting of white wine, grape varieties. The vines for the white Bordeaux wine of Tronquoy Lalande were planted in 2009 by Jean Bernard Delmas.
Less than .5 hectares are reserved for white wine grape varieties. The vines are planted to 70% Semillon and 30% Sauvignon Gris. To produce the white wine of Tronquoy Lalande, vinification takes place in barrels with regular battonage.
There is no malolactic fermentation. The barrels are one year old, French oak, and come from La Mission Haut Brion. The production is limited to approximately 250 cases of wine per year.
When to Drink Chateau Tronquoy Lalande, Anticipated Maturity, Decanting Time
Chateau Tronquoy Lalande can be enjoyed on the young side. The wine is usually better at 3-6 years of bottle age. Of course, that can vary slightly, depending on the vintage. In the best vintages, the wine should be consumed within 12-18 years after the vintage.
Tronquoy Lalande is usually best enjoyed in the first 10-15-20 years after the vintage. Young vintages can be decanted for 1-2 hours. This allows the wine to soften and open its perfume. Older vintages might need very little decanting, just enough to remove the sediment.
One other tip for you. Since 2008, Tronquoy Lalande has really upped their game, making better wine each year. For value wine hunters that love Cabernet Sauvignon dominated, Left Bank wines, this is a wine to watch!
Serving Tronquoy Lalande with the Best Wine, Food, Pairing Tips
Chateau Tronquoy Lalande is best served at 15.5 degrees Celsius, 60 degrees Fahrenheit. The cool, almost cellar temperature gives the wine more freshness and lift.
Tronquoy Lalande is best served with all types of classic meat dishes, veal, pork, beef, lamb, duck, game, roast chicken, roasted, braised, stewed, and grilled dishes. With its spicy character, Tronquoy Lalande also pairs well with a wide variety of Asian dishes.
For the white wine of Tronquoy Lalande, it is best served with all types of seafood, both fish and shellfish, which can be grilled, roasted, broiled, and even served raw, as the wine makes a perfect match with sushi, sashimi, and even cheese courses.
Château Tronquoy-Lalande Wine Tasting Notes
29 Vintages 137,086 Views Sort by Vintage-Rating
2021
Château Tronquoy-Lalande (St. Estèphe)

Spicy, peppery currants and flowers are on the nose. On the palate, the wine is bright, fresh, forward, fruity and sweet, with a slight green-olive edge to the spicy fruit in the red berry packed finish. The wine blends 48% Cabernet Sauvignon, 40% Merlot and 12% Petit Verdot. 13.1% ABV. Drink from 2024-2039. 90-92

1,688 Views

Tasted

May 20, 2022

2020
Château Tronquoy-Lalande (St. Estèphe)

Medium/full-bodied with an attention seeking nose packed with espresso, dark chocolate, spice, smoke, blackberries, currants and licorice. Dark in color, and deep in character with layers of ripe, plump, round, lush, dark red fruits, creamy tannins and just a hint of cocoa and mint in the endnote. This is already simply delicious and with a few years of age, it promises to be even better. Drink from 2024-2040.

1,015 Views

Tasted

Mar 21, 2023

2020
Château Tronquoy-Lalande Blanc (Bordeaux)

Flowers, spice, orange rind, almonds and lemon zest show easily on the nose. The wine is forward, lush, fruity and oily, with a spicy, creamy, lemon finish. Drink from 2023-2029.

932 Views

Tasted

Mar 21, 2023

2019
Château Tronquoy-Lalande (St. Estèphe)

Spicy, with tinges of wet earth, tobacco leaf, Asian spice, herbs and currants. The wine is rich, ripe, round, fleshy and packed with sweet, dark red pit fruits and wet earth, finishing with the right amount of dark chocolate, espresso, blackberries and currants. The wine should be allowed to age for a few years before popping a cork. 2025-2040.

2,212 Views

Tasted

Mar 29, 2022

2018
Château Tronquoy-Lalande (St. Estèphe)

Showing good color with cigar box, dark chocolate, black cherry and smoked plums at its core, the wine is rich, ripe, round and fruity with a gorgeous earthy character that is already shining. This is a superb vintage for Tronquoy Lalande. The wine blends 51% Merlot, 44% Cabernet Sauvignon, 3% Petit Verdot and 2% Cabernet Franc, 14.5% ABV.

4,330 Views

Tasted

Mar 9, 2021

With a gorgeous nose of dark cocoa, blackberry, bitter chocolate, thyme and ripe, red fruits, this is a stunner. The wine has body, depth and freshness with a dark roast espresso and blackberry pop in the finish. This is the strongest vintage for Tronquoy Lalande produced yet! Blended from 51% Merlot, 44% Cabernet Sauvignon, 3% Petit Verdot and 2% Cabernet Franc, the harvest took place September 18 to October 4. 92-94 Pts

4,880 Views

Tasted

Apr 19, 2019

2018
Château Tronquoy-Lalande Blanc (Bordeaux)

Ripe, fresh, sweet lemons, flowers and fresh cut grass aromas waft from the glass. The creamy, bright, yellow citrus filled wine, with its hints of green apple and dab of honey is fully ready to enjoy on release.

1,421 Views

Tasted

Mar 9, 2021

2017
Château Tronquoy-Lalande (St. Estèphe)

Medium-bodied, bright, fresh, lively expression or crisp red fruits, wet earth, flowers, touches of bitter chocolate and tobacco leaf. Give this 3-5 years of rest, allowing it to soften and round out and it will be an even better wine.

2,553 Views

Tasted

Mar 28, 2021

Bitter chocolate, thyme and dark, red fruits in the nose bring you to a round, soft, sweet, fruity sensation. The wine is open with bright tannins and a sweetness of fruit in the finish. Produced from a blend of 55% Merlot, 37% Cabernet Sauvignon, 6% Petit Verdot and 2% Cabernet Franc, the harvest took place from September 7 to October 3.

2,323 Views

Tasted

Apr 26, 2018

2017
Château Tronquoy-Lalande Blanc (Bordeaux)

Here you find a vibrant, crisp, fresh, bright blast of ripe, yellow citrus, tart green apple and honeysuckle. Fresh and refreshing, this is already showing well today.

2,333 Views

Tasted

Mar 28, 2021

2016
Château Tronquoy-Lalande (St. Estèphe)

Earthy, fruity rich, and youthful, this fresh wine offers its dark red fruit, spice and tobacco leaf shortly after the wine hits the glass. Medium-full bodied, the should be allowed to age for a few years before popping a cork.

5,068 Views

Tasted

Sep 21, 2019

Tempting dark plum, blackberry and earth are available with little effort in this deeply colored, equally luxuriant wine. The fruit is bottomless, the tannins are smooth and there is a plushness, depth and purity to the fruit I have never seen before at Tronquoy Lalande. The finish has distinct intensity of flavor. Produced from a blend of 58% Merlot, 34% Cabernet Sauvignon, 6% Petit Verdot and 2% Cabernet Franc. The harvest took place from September 27 to October 15. Clearly, this is the best wine ever produced at this estate!

5,269 Views

Tasted

Apr 29, 2017

2016
Château Tronquoy-Lalande Blanc (Bordeaux)

From a blend of 77% Semillon and 23% Sauvignon Gris, the wine delivers a white peach, yellow citrus and honeydew character. Fleshy, with good sweetness, this will drink well on release.

1,348 Views

Tasted

Apr 29, 2017

2015
Château Tronquoy-Lalande (St. Estèphe)

Fresh, vibrant and juicy with ripe, you find soft tannins and a blend of cassis and cranberry that is there from start to finish.

5,032 Views

Tasted

May 21, 2018

Plums and mocha on the nose, this wine offers a medium/full-bodied, fresh example of Tronquoy Lalande, ending with an open, approachable, spicy, peppery, dark chocolate and coffee covered, cherry finish. Produced from a blend of 55% Merlot, 37% Cabernet Sauvignon, 6% Petit Verdot and 2% Cabernet Franc. 88 - 89 Pts

5,251 Views

Tasted

Apr 19, 2016

2015
Château Tronquoy-Lalande Blanc (Bordeaux)

Made from 60% Semillon and 40% Sauvignon Gris, the wine is fat, semi sweet and packed with pomelo, lemon peel, hints of honeysuckle, orange, lime and tangerine with a few drops of honey and bracing acidity.

1,378 Views

Tasted

Apr 29, 2016

2014
Château Tronquoy-Lalande (St. Estèphe)

Classic in a good way, the tobacco laden wine offers cassis, olives, and spice. Tannic, and holding most of its quality in reserve at the moment, let it rest for at least 5 years, and this should be a much better wine. Made from a blend of 56% Merlot, 37% Cabernet Sauvignon, 6% Petit Verdot and 1% Cabernet Franc, the wine reached 13.7% ABV.

3,720 Views

Tasted

Mar 30, 2017

It will be difficult to find a better wine for the money in from 2014. Chocolate covered black cherries and a hint of truffle set the perfume in motion. The texture is round on the palate with a satiating, sweet fruit finish. Produced from a blend of 56% Merlot, 37% Cabernet Sauvignon, 6% Petit Verdot and 1% Cabernet Franc, the wine reached 13.7% ABV. 91-92 pts

4,371 Views

Tasted

Apr 13, 2015

2014
Château Tronquoy-Lalande Blanc (Bordeaux)

Already drinking in the perfect place, the blend of Sauvignon Blanc and Sauvignon Gris produces a fresh, vibrant, lively blast of grapefruit, flowers, lemons and green apple. The floral notes in the nose, and lift on the palate make this perfect for pairing with most seafood courses.

1,536 Views

Tasted

Nov 2, 2018

2013
Château Tronquoy-Lalande Blanc (Bordeaux)

Refreshing, mineral driven, lemon, lime, green apple profile, with a crisp, bright, easy to like, fresh, citrus finish.

1,522 Views

Tasted

May 25, 2016

2013
Château Tronquoy-Lalande (St. Estèphe)

89% of the production was used for the Grand Vin, with a blend of 52% Merlot, 38% Cabernet Sauvignon, 8% Petit Verdot and 2% Cabernet Franc, the wine leads with toasted oak and black raspberry aromas. In the mouth and on the palate, the wine is medium bodied with a bright side of red and black fruit style. Already accessible, the wine has a hint of green in the finish, drink this young. 87-89 Pts

3,245 Views

Tasted

Apr 20, 2014

2012
Château Tronquoy-Lalande (St. Estèphe)

Medium bodied, with a smoky, round textured, forward, licorice and blackberry essence, the wine is drinking well already and should provide a lot of pleasure more than a decade or longer.

4,241 Views

Tasted

May 16, 2015

Blending 57% Merlot, 40% Cabernet Sauvignon and minor bits of 2% Cabernet Franc and 1% Petit Verdot produced a wine showing jammy black raspberry, earth and herbs. This fresh and medium-bodied wine offers a minor hint of oak, which adds to the finish. The wine was made in an easy-to-like style and should drink well early. 88-90 Pts

3,464 Views

Tasted

Apr 23, 2013

2012
Château Tronquoy-Lalande Blanc (Bordeaux)

The debut vintage for this new white Bordeaux wine from Tronquoy Lalande. With a floral, honeysuckle, lemon, lime and green apple nose, the has volume, sweetness and fresh, citrus rind notes that come through in the finish. The wine was produced from a blend of 70% Semillon and 30% Sauvignon Gris.

2,079 Views

Tasted

Feb 18, 2016

2012
Tronquoy de Sainte-Anne (St. Estèphe)

Showing a light nose of fennel and earthy cherry, this lightly styled wine offers simple cassis and black cherry notes. Produced from 45% Merlot, 29% Cabernet Sauvignon and 26% Petit Verdot, this should drink well on release. 84-86 Pts

2,405 Views

Tasted

Apr 23, 2013

2011
Château Tronquoy-Lalande (St. Estèphe)

Charcoal, vanilla bean and peppery black raspberry scents, with light textures, some drying tannins and black cherry sensations are discovered in the finish. I'd give this a year or two age before drinking over the next 5-7 years

2,200 Views

Tasted

May 21, 2014

47% Cabernet Sauvignon, 42% Merlot and 11% Petit Verdot make up this blend, which represents 56% of the production. Blackberry, jam, earth and black cherry scents with a medium-bodied, bright, cassis-filled finish. 87-89 Pts

1,644 Views

Tasted

Apr 8, 2012

2010
Château Tronquoy-Lalande (St. Estèphe)

Earth, charcoal, tobacco, oak and cassis scents lead to a round, fresh, black cherry and spice dominated wine that is drinking surprisingly well already, yet a few years of age should soften the tannins and add more complexity. One of the top values from St. Estephe.

6,049 Views

Tasted

May 8, 2013

2010 Tronquoy Lalande Produced from a blend of 50% Cabernet Sauvignon, 40% Merlot and 10% Petit Verdot, this likable, easy to understand wine offers blackberry and earth aromas, finishing with a mélange of sweet, red and dark berries. 90-92 Pts

5,590 Views

Tasted

Apr 19, 2011

2009
Château Tronquoy-Lalande (St. Estèphe)

Fully developed, the wine is ripe, round, open and loaded with juicy, earthy, leafy, olive and herb infused red fruits.

4,007 Views

Tasted

Sep 20, 2019

Vanilla, blackberry, coffee bean scents, soft, rich textures and a round, chocolate covered boysenberry finish. This wine of pleasure drinks well now and should improve over the next few years.

5,391 Views

Tasted

May 11, 2012

2009 Tronquoy Lalande sports berry, licorice, and earth aromatics. Soft and approachable, the wine ends in chocolate covered blackberry flavors. 90/92 Pts

5,479 Views

Tasted

Jun 29, 2010

2009
Tronquoy de Sainte-Anne (St. Estèphe)

Cocoa, smoke, blackberry, soft dark berry finish. This is a wine to drink now as it's already open.

3,212 Views

Tasted

May 11, 2012

2008
Château Tronquoy-Lalande (St. Estèphe)

Fully developed, the secondary characteristics are kicking in The tannins have melted away and you're left with a mouthful of sweet, ripe, perfectly aged, fruits.

2,989 Views

Tasted

Sep 17, 2018

Medium/full bodied with notes of earth, stone, blackberry, black cherry and leafy, forest aromas. Still young, there is a nice softness to the fruit and the tannins. I'd give it a few more years. Produced from a blend of 50% Merlot, 37% Cabernet Sauvignon and 13% Petit Verdot.

4,291 Views

Tasted

Jul 17, 2013

2007
Château Tronquoy-Lalande (St. Estèphe)

Fully developed, with some bricking in the color, secondary aromas of tobacco, wet earth, smoke and red fruits. Medium bodied, open and accessible and drinking at peak, if you are sitting on any bottles, you should be popping the corks.

2,132 Views

Tasted

May 30, 2017

2006
Château Tronquoy-Lalande (St. Estèphe)

From a blend of 59% Merlot, 29% Cabernet Sauvignon and 12% Petit Verdot, this has developed nicely since release. Lots of blackberry, cassis, earth, tobacco and forest floor scents create the perfume. This round wine is drinking quite well today. It might get better, but why wait?

2,449 Views

Tasted

Nov 23, 2013

2005
Château Tronquoy-Lalande (St. Estèphe)

At its peak today, the wine offers soft, earthy, black fruits and freshness. This is ready to drink.

5,672 Views

Tasted

Jun 28, 2015

From a blend of 59% Cabernet Sauvignon, 32% Merlot and 9% Petit Verdot, this earthy, blackberry and forest floor scented wine is medium/full bodied in weight, round in texture and is just starting to open up. This is the first vintage from the new owners. Subsequent vintages show a lot more depth and character.

4,005 Views

Tasted

Jan 1, 2012

2004
Château Tronquoy-Lalande (St. Estèphe)

Black raspberry and oaky aromas, medium bodied, some dryness in the finish and green flavors are found in this fully mature wine. Drink up.

3,894 Views

Tasted

Jan 4, 2015

2003
Château Tronquoy-Lalande (St. Estèphe)

Jammy black and red fruits, licorice, pie crust, spice and cedar chest aromas open to a soft, polished, supple textured, sweet, spicy, red and black fruit filled wine that is drinking great today.

4,466 Views

Tasted

Dec 18, 2013