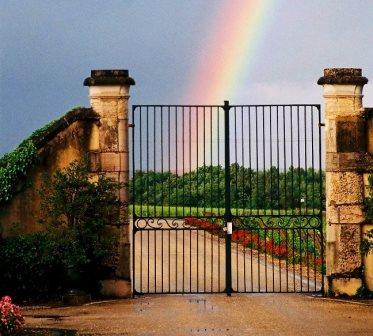 Learn everything about Chateau Carbonnieux Pessac Leognan, Bordeaux with wine tasting notes, and wine with food pairings. Learn all the best vintages, the history of the property, information on the vineyards, and winemaking. If you want to read about other important, Bordeaux Chateaux: Links to all Bordeaux Wine Producer Profiles
Chateau Carbonnieux History, Overview
Chateau Carbonnieux has a long and extensive history in the Bordeaux wine appellation. In fact, it's one of the oldest estates in the entire Bordeaux wine region with a history dating back to the 12th century! The estate takes its name from the Carbonnieu family, who owned the property in 1234. In those days, the vineyard was used to produce wine for religious purposes.
The original chateau was first constructed during the years when the 100-year war was taking place. This is easily noticed when looking at the unique design that includes a myriad of historical features from the time period.
Chateau Carbonnieux The Modern Era
Jumping ahead to the modern age for Chateau Carbonnieux, after World War 2 ended, Chateau Carbonnieux was in poor condition. By that time, only 29 hectares of vines were remaining. The original chateau had been uninhabited since the First World War and was also in bad shape.
The cellars and wine-making equipment were in even worse condition. After the Perrin family, headed by Marc Perrin, purchased the property, they renovated the entire estate and replanted a large portion of the vineyard. The cellars were renovated in 1990. Today, Chateau Carbonnieux is managed by his two sons Eric Perrin and Philibert Perrin.
Chateau Carbonnieux has nice neighbors. In fact, they are situated close to Chateau Haut Bailly and Chateau Smith Haut Lafitte. The gravel-based, Pessac Leognan vineyard of Chateau Carbonnieux is planted to red and white grapes. Interestingly, Chateau Carbonnieux is one of the few Bordeaux vineyards that continue maintaining plantings of all 5 red Bordeaux wine varietals.
Chateau Carbonnieux Vineyards, Terroir, Grapes, Winemaking
The massive 170-hectare estate of Chateau Carbonnieux is perhaps the largest vineyard in Pessac Leognan with 100 hectares planted with vines. The vineyard of Chateau Carbonnieux is almost evenly split between plantings of the grapes with 55 hectares for the production of red wine and 45 hectares used to make white wine.
You can easily divide the vineyard into 3 main sections. All 3 sections are well placed on one large gravel hill. The terroir is gravel, sand, limestone, and clay soils. The large vineyard can be further subdivided into 119 different parcels. There are gravel slopes with elevations that rise to 50 meters at their peak.
Even with all those separate parcels, the vineyard is basically split in two, with the red wine grapes on the gravel and the white wine grapes in soils with more clay and limestone in a cooler micro-climate.
Chateau Carbonnieux has 55 hectares of vines for red wine grapes planted to 50% Cabernet Sauvignon, 40% Merlot, 5% Cabernet Franc and 5% Petit Verdot. This marked a change in the vineyard with less Cabernet Sauvignon, more Merlot, and the Carmenere and Malbex have been removed. 45 hectares are reserved for the white wine grape varietals.
For the white Bordeaux wine of Chateau Carbonnieux, the vineyard is planted to 65% Sauvignon Blanc and 35% Semillon. All of the Muscadelle has been removed from the vineyards. On average the vines are 26 years of age. Chateau Carbonnieux is one of the few Bordeaux estates to produce close to equal amounts of red and white Bordeaux wine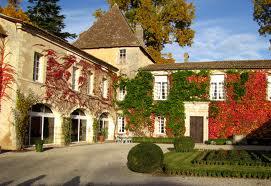 In 2011, to allow the property to vinify on a parcel-by-parcel basis, Chateau Carbonnieux renovated and remodeled its cellars. They added new, temperature-controlled, stainless steel vats in a myriad of sizes ranging from 150 hectoliters to 200 hectoliters and all the way up to 250 hectoliters. This allows for a plot-by-plot vinification of their Pessac Leognan wine.
Chateau Carbonnieux Winemaking
To produce the red wine of Chateau Carbonnieux, vinification takes place in stainless steel tanks. Malolactic fermentation takes place in tanks with a small portion of the wine going through malolactic in barrel, perhaps 10%. The red wines of Chateau Carbonnieux are aged in an average of 33% new, French oak barrels for an average of 18 months.
To produce the white Bordeaux wine of Chateau Carbonnieux, vinification takes place in 25% new, French oak barrels. Malolactic fermentation takes place in barrels. The wine is aged in the same barrels for an average of 10 months before bottling. However, a small portion, about 25% of the white wine is aged in foudres.
The Best Vintages of Chateau Carbonnieux are: 2022, 2021, 2020, 2019, 2018, 2017, 2016, 2015, 2012, 2010, 2009, 2005 and 2000. However, it is important to note that the best red wine vintages are often not the same as their white wines. For example, 2013, 2011, and 2007 were all difficult years for red wine. But all 3 of those vintages are sublime for Chateau Carbonnieux white wine.
The production here is large. On average, close to 18,000 cases of red wine and 18,000 cases of white wine are produced each vintage by Chateau Carbonnieux. There are two-second wines for both the red and white varieties, Tour Leognan and La Croix de Carbonnieux. Denis Dubourdieu was their consultant starting in 1988.
When to Drink Chateau Carbonnieux, Anticipated Maturity, Decanting Time
Chateau Carbonnieux can be enjoyed on the young side with decanting. Young vintages can be decanted for an average of 1-2 hours, give or take. This allows the wine to soften and open its perfume. Older vintages might need very little decanting, just enough to remove the sediment.
Chateau Carbonnieux is usually better with at least 5-7 years of bottle age. Of course, that can vary slightly, depending on the vintage character. Chateau Carbonnieux offers its best drinking and should reach peak maturity between 9-17 years of age after the vintage.
Serving and Decanting Chateau Carbonnieux, with Wine, Food, Pairing Tips
Chateau Carbonnieux is best served at 15.5 degrees Celsius, 60 degrees Fahrenheit. The cool, almost cellar temperature gives the wine more freshness and lift. The red wine of Chateau Carbonnieux is best served with all types of classic meat dishes, veal, pork, beef, lamb, duck, game, roast chicken, roasted, braised, and grilled dishes.
Chateau Carbonnieux is a perfect match with Asian dishes, hearty fish courses like tuna, mushrooms, and pasta as well as cheese.
The white wine of Chateau Carbonnieux is a perfect wine to serve with shellfish, sashimi, sushi, all types of seafood, chicken, veal, and cheese.
Château Carbonnieux Wine Tasting Notes
40 Vintages 178,598 Views Sort by Vintage-Rating
2022
Château Carbonnieux (Pessac-Léognan)

Cocoa, smoke, blackberries, black cherries, tobacco leaf, and herbs create the nose. On the palate, the wine is medium-bodied, vibrant, silky, and soft, with a sweetness to the fruits that meshes perfectly with its lift and energy that carries through to the blackberry, currant, and earthy chocolate packed finish. The wine blends 50% Cabernet Sauvignon, 40% Merlot, 5% Cabernet Franc and 5% Petit Verdot. Drink from 2026-2045. 91-93 Pts.

583 Views

Tasted

May 8, 2023

2022
Château Carbonnieux Blanc (Pessac-Léognan)

Flowers, green apples, tangerine, pineapple, and honey notes are packed into the perfume. Rich, oily white peaches, and yellow citrus with a drizzle of tart green apple combine to fill your palate with a touch of crushed rocks on the backend. The wine blends 65% Sauvignon Blanc and 35% Semillon. Drink from 2024-2030. 92-92 Pts.

572 Views

Tasted

May 8, 2023

2021
Château Carbonnieux Blanc (Pessac-Léognan)

Lemon, lime, flowers, green apples and a hint of white peach on the backend with loads of racy-acidity and crisp, sweet, yellow citrus in the creamy finish. Drink from 2023-2031 92-92

1,193 Views

Tasted

May 20, 2022

2021
Château Carbonnieux (Pessac-Léognan)

Smoke, tobacco leaf, lead pencil, herbs, currants and plums create the bouquet. Medium-bodied, elegant, fresh, bright, crisp and savory, the wine finishes with spicy currants and a touch of cigar wrapper in the endnote. The wine blends 58% Cabernet Sauvignon, 28% Merlot, 7% Cabernet Franc and 7% Petit Verdot, 13.5% ABV. Drink from 2024-2037. 90-92

1,035 Views

Tasted

May 20, 2022

2021
La Croix de Carbonnieux Blanc (Pessac-Léognan)

Vibrant, fresh, juicy and crisp, steely yellow citrus with a touch of mint in the mid-palate and in the finish is perfect for short term enjoyment. Drink from 2023-2026. 87-87

1,794 Views

Tasted

May 20, 2022

2020
Château Carbonnieux (Pessac-Léognan)

The nose, with its smoke, flowers, cocoa, and wet earth scents is a treat. But it is on the palate, with all its layers of lush, elegant, ripe, silky, blackberries, plums, and cocoa where the wine shines. Soft, supple, long and complex, with a solid depth of flavor in the finish that is packed with ripe fruits, chocolate and coffee bean, this is in contention as the finest vintage of Carbonnieux I have ever tasted. Drink from 2025-2045.

596 Views

Tasted

Mar 21, 2023

Deeply colored, this is already showing off its vanilla bean, flowers, tobacco, cherry and currant character on the nose. Supple, soft and silky, with refined fruits that feel stellar on your palate, give this 4-5 years in the cellar and it is going to be even better. This should age for at least 2 decades. 91-93 Pts

1,927 Views

Tasted

May 20, 2021

2020
Château Carbonnieux Blanc (Pessac-Léognan)

Orange rind, mint leaf, green tea, honeysuckle, spice and lemon peels are found in the nose and on the fresh, creamy, sweet, lush, palate. This is simply delicious. Drink from 2023-2034.

1,089 Views

Tasted

Mar 21, 2023

Bright, fresh lemon, orange peel, flowers and honeysuckle come through on the nose. Creamy, sweet and fresh, with a tinge of honey along with crisp lemons on the backend, this will be easy to like on release. 91 Pts

1,949 Views

Tasted

May 20, 2021

2019
Château Carbonnieux (Pessac-Léognan)

A bit reticent on the nose at the moment, it took some effort to bring out the herbs, mint, tobacco leaf, cherries, and a touch of espresso on the nose. Medium-bodied, refined, soft, and silky, there is freshness and lift to the lush, fresh, spicy, pure red berries on the palate and in the finish. You can drink this young, but if you wait a few years, it is going to be even better. Drink from 2024-2037.

2,255 Views

Tasted

May 8, 2022

Already soft and silky, and showing good freshness to the sweet red fruits. The wine is medium-bodied with nice length and a good persistency of flavor. You can drink this young or age it for more aromatic complexity. 90-92 Pts

3,077 Views

Tasted

Jun 8, 2020

2019
Château Carbonnieux Blanc (Pessac-Léognan)

Waxy lemon peel, orange tropical fruit, vanilla and honeysuckle come through on the nose and on the sweet, juicy, crisp, green apple-tinted palate. Drink from 2022-2027.

1,752 Views

Tasted

Mar 29, 2022

Crisp yellow citrus combined with hints of sweet orange and mango on the nose and palate are a perfect match for all that racy acidity found here. 92 Pts

4,071 Views

Tasted

Jun 8, 2020

2019
La Croix de Carbonnieux Blanc (Pessac-Léognan)

Fresh, light, forward, easy-drinking citrus and white peach filled wine to enjoy while waiting for the Grand Vin to come around. 85 Pts

2,426 Views

Tasted

Jun 8, 2020

2018
Château Carbonnieux (Pessac-Léognan)

Campfire embers, cedar, tobacco leaf, spice and red pit fruits create the core of this medium-bodied, elegant, fresh wine. Soft and polished with a solid depth of flavor and a hint of oak in the elegant finish. The wine blends 60% Cabernet Sauvignon, 30% Merlot, 5% Cabernet Franc and 5% Petit Verdot.

2,941 Views

Tasted

Mar 9, 2021

It is easy to dig into the smoky black cherries wafting in the perfume but there is more than aromatics going on here. This medium-bodied affair has a plush palate, supple textures and a long, round, polished, elegant finish. The wine was made from a blend of 60% Cabernet Sauvignon, 30% Merlot, 5% Cabernet Franc and 5% Petit Verdot. 91-93 Pts

4,482 Views

Tasted

Apr 19, 2019

2018
Château Carbonnieux Blanc (Pessac-Léognan)

Lemon, lime and floral aromatics come through instantly. Sweet juicy, fresh and with a creamy, yellow, citrus character on the palate, this offers a lot of up front, fresh, fruity charm..

2,045 Views

Tasted

Mar 9, 2021

The nose works well with its blend of green apples, Meyer lemon and a touch of floral and there is vibrancy in the fruit as well but this is not a long term drinker. So, enjoy it early in life for all that delicious fruit.

3,427 Views

Tasted

Apr 19, 2019

2018
La Croix de Carbonnieux (Pessac-Léognan)

Medium-bodied, light, forward, easy drinking wine that's perfect for early, uncomplicated consumption.

1,330 Views

Tasted

Mar 9, 2021

2018
La Croix de Carbonnieux Blanc (Pessac-Léognan)

Fresh, light, forward citrus filled early drinker with hint so white peach in the end note. Drink this over the next few years.

1,372 Views

Tasted

Mar 9, 2021

2017
Château Carbonnieux Blanc (Pessac-Léognan)

Medium bodied, fresh and refreshing, the yellow citrus fruits pop with acidity, the floral notes stand out and blast of honeysuckle and pomelo in the finish is just what the doctor ordered.

3,301 Views

Tasted

Apr 26, 2018

2017
Château Carbonnieux (Pessac-Léognan)

Much better in bottle than in barrel, the wine is fresh, medium-bodied, soft, refined, forward and lifted. Easy to like, the elegant red fruits, with their cigar box overtones taste and feel fine. Give this at least 5 years to develop more depth and nuances.

3,367 Views

Tasted

May 17, 2020

Medium bodied with smoke-glazed red fruits, soft and gentle textures and a captivating tobacco and cassis oriented finish.

3,278 Views

Tasted

Apr 26, 2018

2016
Château Carbonnieux (Pessac-Léognan)

This is another Pessac Leognan that rocks in 2016! With a good depth of color, the perfume with its smoky fruits, flowers, earth and tobacco leaf is great. And on the palate, the medium- bodied, refined wine is already easy to drink, leaving you with a core of silky, fresh, gravelly red cherries.

3,376 Views

Tasted

Sep 21, 2019

This is another Pessac Leognan that took a giant leap forward during the barrel aging process. The nose combines smoky fruits, flowers, earth and tobacco leaf. Medium bodied and elegant, the wine is already easy to drink, finishing with its fresh, red cherry core of fruits.

2,463 Views

Tasted

Feb 10, 2019

Medium bodied, elegant and fresh, with a sweet cherry and tobacco profile, the wine has a bright quality to the fruit that you taste and feel in the finish.

3,155 Views

Tasted

May 12, 2018

Medium bodied, with forest and leafy notes, smoky, cassis and red berries in the light, finish.

3,472 Views

Tasted

Apr 29, 2017

2016
Château Carbonnieux Blanc (Pessac-Léognan)

Floral in character with zesty lemons, green apples and pomelo is ripe, sweet, energetic and crisp. This is fresh and refreshing.

1,967 Views

Tasted

Sep 21, 2019

Either I got this wrong in barrel, or the wine has really improved since then, or maybe both, but this was a beauty! The mix of fresh, green apples, lemon, grass and zesty, fresh grapefruit hit the spot.

3,051 Views

Tasted

Feb 11, 2019

Light, fresh and still refreshing, the juicy mix of lemon, tart green apple, and lime rind is already easy to drink.

3,495 Views

Tasted

Apr 29, 2017

2015
Château Carbonnieux Blanc (Pessac-Léognan)

Vibrant freshness, with ample notes of just squeezed lemonss, green apples and flowers. The yellow citrus filled finish delivers a nice racy acidity.

2,834 Views

Tasted

May 21, 2018

Lively, lemon, green apple, honeysuckle and white peach filled wine offers a vibrance from acidity with a crushed stone characteristic.

2,632 Views

Tasted

Mar 12, 2018

Lively, bright, ripe citrus notes with a kick of lime, freshness for lift and a sweet, citrus peel and honeysuckle finish.

3,069 Views

Tasted

Apr 23, 2016

2015
Château Carbonnieux (Pessac-Léognan)

Medium bodied, energetic, soft, earthy expression, that already shows an elegant, easy to drink charm. The finish delivers ripe, sweet, red berries and tobacco. This will be a pleasure to well early in life, yet it can be aged for more complexity.

3,411 Views

Tasted

May 21, 2018

Medium bodied, fresh, lively expression with soft tannins and a smoky bright red berry and earthy character that will drink well early in life.

3,355 Views

Tasted

Mar 12, 2018

Finesse, charm and soft, polished, fresh, ripe, smoky, dark, red fruits make this medium-bodied wine quite the treat. 90 - 92 Pts

2,781 Views

Tasted

Apr 23, 2016

2014
Château Carbonnieux Blanc (Pessac-Léognan)

Bracing acidity, unsweetened lemonade, grapefruit, and honeydew melon notes really get the perfume going. Fresh, and energetic on the palate, this is quite nice.

2,991 Views

Tasted

Feb 6, 2017

Lemon, lime and green apple notes make an appearance in this fresh, energetic and bright wine, leaving you with a clean dose of crisp citrus fruits in the finish. 90-92 pts.

2,885 Views

Tasted

Apr 24, 2015

2014
Château Carbonnieux (Pessac-Léognan)

Lighter style of Pessac Leognan, with all the tobacco, cigar box, some and red fruits you need on the nose, but on the palate, while it hits all the rights notes, it's just a bit thin.

3,222 Views

Tasted

Feb 6, 2017

A leafy green aroma with smoked and dried red fruits, this wine is medium-bodied with a dry finish. 86-88 Pts

2,344 Views

Tasted

Apr 24, 2015

2013
Château Carbonnieux Blanc (Pessac-Léognan)

Spring flowers, honeysuckle, citrus peel and a hint of tangerine create the nose. Medium bodied, fresh, zippy up front about its crisp, lemon and grapefruit charms. The wine was produced from a blend of 70% Sauvignon Blanc and 30% Semillon.

2,476 Views

Tasted

Feb 1, 2016

Fresh lemon, lime and floral notes work well with the wine's lively, citrus-filled character that carries through from start to finish. 90-91 Pts

2,804 Views

Tasted

Apr 21, 2014

2013
Château Carbonnieux (Pessac-Léognan)

Tart, dried, red fruits with tobacco in character are found in this light, crisp wine.

2,349 Views

Tasted

Feb 3, 2016

Light in aromatics and in fruit, the wine will offer its fresh cherry personality early in life. 86-88 Pts

2,207 Views

Tasted

Apr 21, 2014

2012
Château Carbonnieux Blanc (Pessac-Léognan)

Fresh, lively lemon peel, grapefruit, vanilla bean and green apple on the nose is a treat, but it gets even better with the sweet, slightly honeyed, fresh citrus fruits with just a hint of vanilla in the zesty finish. The wine was produced from a blend of 70% Sauvignon Blanc and 30% Semillon.

2,708 Views

Tasted

Mar 11, 2015

2012
Château Carbonnieux (Pessac-Léognan)

Soft textured, medium bodied, fresh, light and easy to drink, yet there is ripeness and character to the wine and the fruit. This is not going to make old bones and should be best in its first decade of life.

2,787 Views

Tasted

Mar 11, 2015

Medium bodied with tart black cherries and tapenade in the finish. 87-89 Pts

3,657 Views

Tasted

Apr 25, 2013

2011
Château Carbonnieux (Pessac-Léognan)

Light in color, style and depth, with bright, red berries and spice, from a blend of 70% Cabernet Sauvignon and 30% Merlot, the wine is dry in the tart finish.

2,240 Views

Tasted

Feb 19, 2014

This wine is medium bodied with fresh and bright cranberry, cassis and plums. 86-89 Pts

2,640 Views

Tasted

Apr 25, 2012

2011
Château Carbonnieux Blanc (Pessac-Léognan)

From a blend of 65% Sauvignon Blanc and 35% Semillon, this lighter, fresh, style of white Bordeaux wine offers a bright, citrus and apple profile in the finish.

2,413 Views

Tasted

Feb 10, 2014

2010
Château Carbonnieux Blanc (Pessac-Léognan)

Fully ready to go, the blend of just squeezed yellow citrus, white peach, pears, honeysuckle and pomelo hits the spot. Fresh, crisp and creamy, with a touch of honeyed orange and yellow citrus in the endnote. This is not a wine I would hang onto for further aging.

2,629 Views

Tasted

Aug 24, 2020

2010
Château Carbonnieux (Pessac-Léognan)

On the light, elegant side of the style range with ripe, fresh cherries and black raspberries, earth and tobacco characteristics. The wine finishes with fresh, spicy, bright, red berries.

5,475 Views

Tasted

Feb 15, 2013

2009
Château Carbonnieux Blanc (Pessac-Léognan)

Just squeezed lemons, lime and green apple hit you right off the bat. On the palate, the wine is juicy, sweet, vibrant and fresh. Fully mature, there is no reason to wait, as this is tasting just great today!

2,180 Views

Tasted

Sep 20, 2019

Light, fresh and refreshing, with a sweet, slightly honeyed citrus and grapefruit character.

3,032 Views

Tasted

Oct 29, 2014

2009
Château Carbonnieux (Pessac-Léognan)

Medium-bodied, with smoke, burning leaf and cherry pipe tobacco aromas on the nose, the wine is elegant, soft and polished, with an olive and herb edge to the red fruits in the finish.

2,804 Views

Tasted

Sep 20, 2019

Smoke, earth and black cherry scents lead to a soft, medium bodied, crowd pleasing, lighter style of Pessac Leognan that will drink well early.

5,778 Views

Tasted

Jan 30, 2012

2008
Château Carbonnieux Blanc (Pessac-Léognan)

More lemon peel than lemon on the nose, you also find tangerine, flowers and a hint of honey. Still vibrant, the fruit has flavor and freshness from start to finish.

1,904 Views

Tasted

Sep 17, 2018

2008
Château Carbonnieux (Pessac-Léognan)

Medium bodied, fresh, bright and almost crisp, there is a strong leafy component that is interspersed with the bright red, dried fruits and smoky, tobacco notes here.

2,324 Views

Tasted

Sep 17, 2018

Carbonnieux is a medium bodied, light wine with a delicate smoky, cherry filled personality. This wine will drink young.

3,644 Views

Tasted

Jan 28, 2011

2007
Château Carbonnieux Blanc (Pessac-Léognan)

No need to wait here as this is a full-maturity. The yellow citrus and green apples, with their honeysuckle accents, remain sweet and fresh, though you should consider drinking any bottles over the next few years before the fruit fades.

2,746 Views

Tasted

Aug 21, 2021

2005
Château Carbonnieux (Pessac-Léognan)

Earth, smoke, cassis, red plums and tobacco smells require little effort to find, Medium bodied, elegant and soft, this lighter style of Pessac Leognan should add more complexity over the next several years. I'd start drinking it in a few years.

7,134 Views

Tasted

Jul 18, 2011

2004
Château Carbonnieux (Pessac-Léognan)

Medium bodied, finesse styled, mature, soft textured, strawberry and cherry driven wine.

3,115 Views

Tasted

Jan 4, 2015

2001
Château Carbonnieux (Pessac-Léognan)

Fully mature, this medium bodied wine exchanges concentration for grace, elegance and refinement. The fruit is ripe, the tannins are silky and the freshness provides all the lift you need, so you can enjoy the earthy, smoky, red berry complexities. This is good for at least another decade of evolution.

3,099 Views

Tasted

Dec 11, 2017

2000
Château Carbonnieux (Pessac-Léognan)

Creme de cassis, black cherries, plums, tobacco and forest floor scents make up the perfume. Medium bodied, with a feminine, almost light style, this is ready to drink. The wine ends with smoke, spice and cherries.

4,368 Views

Tasted

Jul 18, 2011

1952
Château Carbonnieux Blanc (Pessac-Léognan)

The oldest dry, white wine I have ever, and probably will ever taste was quite nice, considering it was 70 years old! Reminding of an old, dry Sauternes, the yellow fruit was slightly honeyed with hints of tropical fruits and nuts. Tasted blind, most of the group thought this was from the mid to late 1980s, or early 1990s.

1,358 Views

Tasted

Jul 3, 2022