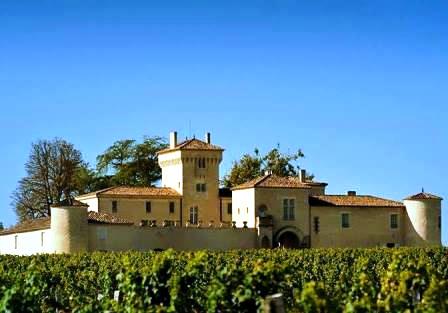 Learn everything about Chateau Lafaurie Peyraguey Sauternes, Premiers Crus with wine tasting notes, and wine with food pairing tips. Learn all the best vintages, the history of the property, and information on the vineyards and winemaking. If you want to read about other important, Bordeaux Chateaux: Links to all Bordeaux Wine Producer Profiles
Chateau Lafaurie Peyraguey History, Overview
The stunningly beautiful chateau of Lafaurie Peyraguey was built as far back as the 13th century. In those days, it was used as a fortress.
The first known owner of what we call Chateau Lafaurie Peyraguey today was Sieur Raymond Peyraguey, who moved to the Sauternes appellation after purchasing the property in 1618.
The last name of the Peyraguey family is of course where the estate took the second part of its name. Over one century later, in 1796, the estate was obtained by Pierre Lafaurie. After Pierre Lafaurie added his name to the label, as was the custom of the day, the Bordeaux estate changed its name for the last time to Chateau Lafaurie Peyraguey.
Jumping ahead to modern times, in 1917, Desire Cordier, a Bordeaux wine negociant purchased Chateau Lafaurie Peyraguey. The Cordier family owned several other Bordeaux wine properties including Gruaud Larose and Talbot as well as their negociant business.
Their negociant arm helped to handle the exclusive distribution of the wines of Chateau Lafaurie Peyraguey for more than 80 years. In 1984, the entire Cordier Group was sold to the GDF Suez Company.
In January 2014, Silvio Denz, the owner of numerous chateaux including Peby Faugeres in St. Emilion purchased Chateau Lafaurie Peyraguey from GDF Suez.
Rumors placed the value of the transaction at close to 10 Million Euros. With the spare no expense attitude of Silvio Denz, the wine is set to improve. Once Silvio Denz took charge, changes and improvements quickly began to take place at Chateau Lafaurie Peyraguey.
As soon as they took over, they began a complete renovation of the cellars and wine-making facilities. This was followed by a new look for the wines in the marketplace. Starting with the 2013 vintage, the new labels featured an updated design. The bottles of Chateau Lafaurie Peyraguey now include an engraved logo that looks like it the bottle was Lalique factory. They are just stunning.
Part of the plans made by the new owner Silvio Denz for Chateau Lafaurie Peyraguey includes decreasing the yields and production to improve the quality. Future vintages will only use grapes from the best 17 hectares of vines for the Grand Vin. The portion of land that is being leased by the estate is going to be offloaded.
Silvio Denz improved wine tourism at Lafaurie Peyraguey as he turned a portion of the large chateau into a hotel. Not only that, but as part of the hotel, they added one of the must eat at dining destinations in Bordeaux, aptly named "Lalique" with a Michelin starred chef. The restaurant earned its first Michelin star by early 2019!
Chateau Lafaurie Peyraguey Vineyards, Terroir, Grapes, Winemaking
The large, 36 hectare vineyard of Chateau Lafaurie Peyraguey is planted to 93% Semillon, 6% Sauvignon Blanc and 1% Muscadelle. This shows a slight increase in the amount of Semillon planted in the vineyard. Chateau Lafaurie Peyraguey is located mostly in the commune of Bommes. Although they also have vines in Fargues, Preignac, and Sauternes.
In Sauternes, they have parcels that are adjacent to Clos-Haut-Peyraguey, Rabaud Promis and dArche. The vineyards have a terroir of silica gravel and clay with gravel and limestone soils. The vines are planted to a density that is kept at an even 6,666 vines per hectare. On average, the vines are close to 40 years of age. However, they have old vines that date all the way back to 1926.
To produce the wine of Chateau Lafaurie Peyraguey, after vertical pressing, vinification takes place in new and used, French oak barrels. The wine is aged in an average of 60% new, French oak barrels for 18 – 20 months. The amount of new oak and time in the bottle varies, depending on the character and quality of the vintage.
Lafaurie Peyraguey can be a difficult vineyard to harvest because they have vines with varied terroir in different communes, thus, maturity levels of the vines are often varied.
Chateau Lafaurie Peyraguey produces an average of 4,500 cases of Sauternes per year. There is a second wine, La Chapelle de Lafaurie Peyraguey. The estate also makes 2 dry white wines, Le Brut de Lafaurie and Le Lys de Lafaurie-Peyraguey,which made its debut with the 2014 vintage
The best vintages of Lafaurie Peyraguey are: 2022, 2021, 2020, 2019, 2018, 2017, 2016, 2015, 2014, 2013, 2011, 2010, 2009, 2007, 2003, 2001, 1990, 1989, 1988, 1986, 1983 and 1926.
It is important to note that out of the 4,500 cases of wine produced since Chateau Lafaurie Peyraguey was purchased by Silvio Denz in 2014, less than 40% of the production will be placed into the Grand Vin.
The remainder of the harvest will be used to produce either dry white Bordeaux wine or the second wine, La Chapelle de Lafaurie Peyraguey. This is much closer to the level of production that was taking place at Chateau Lafaurie Peyraguey at the time of the 1855 classification of Bordeaux.
When to Drink Chateau Lafaurie Peyraguey, Anticipated Maturity, Decanting Time
Chateau Lafaurie Peyraguey can be enjoyed on the young side with no decanting. In fact, it is delicious and quite a treat young, even on release! However, like all great wines, Chateau Lafaurie Peyraguey is much better with age and does not reach full maturity until it's between 15-40 years of age, or in some years, perhaps even longer in the best vintages! That is when the magic happens!
But that is unrealistic for 99% of the world's wine drinkers. So, enjoy it on any special occasion that calls for it.
Of course, the wine is sweet, but there is so much, incredible, racy acidity, the wine always feels fresh, and never cloying, which makes it quite fun to enjoy young. With Chateau Lafaurie Peyraguey and frankly, all Sauternes, the temperature is more important than decanting.
Serving Chateau Lafaurie Peyraguey with Wine and Food Pairings
Chateau Lafaurie Peyraguey is best served at 14 degrees Celsius, 57 degrees Fahrenheit. The cool, almost cellar temperature gives the wine more freshness and lift. The wine will naturally warm in the glass, while it develops more aromatic complexities and fleshes out.
Chateau Lafaurie Peyraguey can be served with seafood dishes, especially shellfish, lobster, crab, and oysters on the half shell. Foie gras is a perfect pairing with its natural sweet, salty and savory characteristics. Chateau Lafaurie Peyraguey can also be paired with roasted chicken, veal, and pork dishes that are either spicy or prepared with a touch of sweetness.
Spicy Asian cuisine, raw fish, like sushi or sashimi, and cheese, both hard and soft also make great pairings with Chateau Lafaurie Peyraguey.
Château Lafaurie-Peyraguey Wine Tasting Notes
27 Vintages 125,924 Views Sort by Vintage-Rating
2022
Château Lafaurie-Peyraguey (Sauternes)

Ripe, very ripe, and over ripe pineapples, mangos, candied oranges, apricot, flowers, honey, and marmalade create the intoxicating perfume. Perfectly perched between its decadently, sweet side, and its raciness on the other side, this is sublime. The roasted passion fruits, mangos, apricots, pineapple, roasted cashews, and saffron on the palate are all slathered with honey. This has the potential to be a future legendary sweet wine. If this is your thing, grab it as only 1,200 cases were produced. It is going to be stunning on release. But if you prefer your sweet wines with age, this will evolve for 3 or more decades. The wine blends 95% Semillon with 5% Sauvignon Blanc. Drink from 2025-2055. 97-99 Pts.

1,956 Views

Tasted

May 8, 2023

2022
Château Lafaurie-Peyraguey Grand Vin Sec (Bordeaux)

Creamy, sweet and fresh lemons, green pears, green apples and white peach and a nice hit of pineapple on the nose and on the fruity palate. The wine blends 60% Sauvignon Blanc with 40% Semillon. Drink from 2024-2030. 92-92 Pts.

1,827 Views

Tasted

May 8, 2023

2021
Château Lafaurie-Peyraguey (Sauternes)

Yellow tropical fruits dipped in honey, with flowers, oranges, lemon curd, vanilla, mango and roasted nuts. Fresh, sweet, racy and energetic, with touches of roasted white peach, overripe apricots and tropical fruits slathered in honey shine brightly in the mid-palate and in the finish. This is a sublime, sweet treat. Though it is going to be difficult to find as only 500 cases were produced! Drink from 2023-2050. 94-96

1,765 Views

Tasted

May 20, 2022

2021
Château Lafaurie-Peyraguey Grand Vin Sec (Bordeaux)

White peach, pineapple, lemon, grapefruit, and flowers on the nose and on the crisp, bright, pure, clean palate. This is already just great to taste. Drink from 2023-2032. 92-92

2,408 Views

Tasted

Jun 6, 2022

2020
Château Lafaurie-Peyraguey (Sauternes)

The key to sweet wines is the balance between its luscious sweet fruits and acidity, Here, you find all that and more. With a core of roasted apricots, honeysuckle, spice, candied tangerines, mangos, honey and vanilla that coat your palate, it is the attention-grabbing, racy quality of the fruits, due to all of its fresh acidities that makes this an effortless, treat to taste. Drink from 2023-2055.

964 Views

Tasted

Mar 21, 2023

Grilled oranges, pineapple, flowers, apricots and macadamia nut honey crowd into the perfume. Lush, sweet, juicy and fresh, with a honey slathered, racy, tropical fruit accent, the wine hits all the right notes needed for a sweet treat. 93-92 Pts

2,521 Views

Tasted

May 20, 2021

2020
Château Lafaurie-Peyraguey Grand Vin Sec (Bordeaux)

Grapefruit, ginger, white peach, pineapple and lemon chiffon with a touch of flowers create the beautiful perfume. On the palate, the wine is creamy, fresh and focused on its blend of white peach and yellow citrus with just a touch of honey, pineapple and chalk on the backend. Drink from 2023-2029.

1,336 Views

Tasted

Mar 21, 2023

2019
Château Lafaurie-Peyraguey (Sauternes)

Honeyed tropical fruits with candied mango, orange rind, apricots and pineapple all slathered in honey. This is showing much better in the bottle than it did in barrel. Now, you find a rich, lusciously textured, unctuous and racy sweet treat that will show well young and yet, it can age and evolve for 2 decades as well. Drink from 2022-2050.

1,362 Views

Tasted

Mar 29, 2022

Honeyed orange, mango, candied lemons and tropical fruits come with a liberal dose of vanilla and honeysuckle. The wine provides ample lift to balance all the sweetness out. This could be enjoyed as a sweet treat, or with select savory dishes. 91-93 Pts

4,363 Views

Tasted

Jun 9, 2020

2019
Château Lafaurie-Peyraguey Grand Vin Sec (Bordeaux)

Floral, fresh and already just delicious to drink today with all of its green apples, lemon oil, white peach and vanilla on full display on the nose and on the lusciously textured, lifted palate. Drink from 2022-2032.

1,201 Views

Tasted

Mar 29, 2022

2018
Château Lafaurie-Peyraguey (Sauternes)

Honeyed yellow and orange tropical fruits with beautiful notes of vanilla, flowers, spice and candied citrus are just great. On the palate, all the sweet, fresh, honeyed tropical fruit with touches of white peach and marmalade in the endnote hits all the right spots if you are craving something sweet.

1,607 Views

Tasted

Mar 9, 2021

With a nose of honeysuckle, orange, tropical fruit, vanilla, white peach and marmalade, there is a lot of sweetness here, and just enough acidity to give it pop.

2,964 Views

Tasted

Apr 19, 2019

2017
Château Lafaurie-Peyraguey (Sauternes)

Fresh, ripe, opulent sweet honey-drenched apricots, pineapple, mango, vanilla and white peach hit the spot, for those looking for a sweet nectar treat. Rich, honeyed and full, the wine remains lifted and fresh.

3,083 Views

Tasted

May 17, 2020

Vanilla, pineapple, honey, flowers and overripe apricot create the nose but it is the density, sweetness and purity of fruit along with the piercing acidity and length that make this wine a standout. The harvest, which took place September 25 through October 12, was the shortest picking period in the history of the chateau. Close to 20% of the vineyard was damaged by frost this year. The Grand Vin was made from only 50% of the harvest.

3,524 Views

Tasted

Apr 26, 2018

2016
Château Lafaurie-Peyraguey (Sauternes)

The blend of vanilla bean, pineapple, honey and nuts in the perfume gets you going. The rich, round, ripe and over ripe tropical fruits coated with honey on the palate is already delicious. For the record, this tastes almost as good as the stunning, Lalique bottle looks on your table which clearly makes a statement.

2,399 Views

Tasted

Feb 11, 2019

Take a jar of honey and drop in all the juicy, ripe and over ripe pineapple, orange and apricot fruits you can squeeze into the jar and you're close. All you need is a bouquet of flowers, vanilla bean and some acidity and you get the picture.

3,402 Views

Tasted

Apr 29, 2017

2016
Château Lafaurie-Peyraguey Le Lys de Lafaurie-Peyraguey (Bordeaux)

The second vintage for this new dry white Bordeaux wine really shows off its fresh, lively, floral and fresh green apple, grapefruit and lemon peel character with ease. Vibrant and refreshing there is a nice splash of honey, vanilla bean, tropical fruit and crushed rocks on the palate and in the refreshing finish. Similar to the bottle with the Lalique insert used for their Sauternes, this makes a stunning presentation at your table.

1,497 Views

Tasted

May 1, 2017

2015
Château Lafaurie-Peyraguey (Sauternes)

It is the combination of honeyed citrus and tropical fruits that gives this wine its character. Add in all that honey, flowers and vanilla, and you get the picture. Sweet, ripe, fresh and balanced, this tastes almost as good as the stunning, Lalique bottle looks on your table. This certainly makes a statement.

3,712 Views

Tasted

Mar 12, 2018

From 65% Semillon and 35% Sauvignon Blanc, the wine smells great with its nutty, pineapple, vanilla and lemon custard aromatic profile. Fresh and zippy, the wine is rich, fat, sweet, and dense with the right amount of acidity to keep all that sweetness in check. 94 - 96 Pts

3,566 Views

Tasted

May 3, 2016

2015
Château Lafaurie-Peyraguey Le Lys de Lafaurie-Peyraguey (Bordeaux)

The debut vintage for this new wine from Silvio Denz is made from a blend of 89% Semillon and 11% Sauvignon Blanc. The wine is exactly what you are looking for, provided you're seeking a fresh, crisp white Bordeaux wine packed with honeysuckle, lemons, green apple and slightly candied pomelo. Similar to the bottle with the Lalique insert used for their Sauternes, this makes a stunning presentation the table. – 91 Pts

1,648 Views

Tasted

Apr 30, 2016

2014
Château Lafaurie-Peyraguey (Sauternes)

Lively, fresh, floral and spice notes add to all that ripe, sweet, juicy, yellow fruit, vanilla bean and honey. Energy, and length with that balance of sweet and acidity is right here. The wine was made from a blend of 93% Semillon, 6% Sauvignon Blanc, 1% Muscadelle.

3,184 Views

Tasted

Feb 4, 2017

2013
Château Lafaurie-Peyraguey (Sauternes)

Freshness paired with a concentrated blast of honeyed, spicy, tropical fruits, vanilla, honey, apricots and candied orange rind! Young and obviously primary, but who cares? This is delicious stuff!

3,457 Views

Tasted

Jan 3, 2017

2011
Château Lafaurie-Peyraguey (Sauternes)

I like Sauternes when it's mature and when it's on the young side. And there's nothing wrong with that, as variety is the spice of life. Right? This already a delicious, sweet treat that pops with apricot, pineapple and white nectarines topped with vanilla, honey and roasted nuts. Fresh, vibrant, sweet and lush, with a tropical slant in the finish, this is only going to get better over the years.

4,393 Views

Tasted

Sep 22, 2016

2010
Château Lafaurie-Peyraguey (Sauternes)

Young, but who cares as this is a delicious treat. Loads of honey coated pineapple, apricot, candied tangerine, vanilla and honeysuckle in the nose and in the mouth. Rich, juicy, sweet and fresh, this should only get better with age.

5,220 Views

Tasted

Jun 11, 2016

2009
Château Lafaurie-Peyraguey (Sauternes)

Apricot, orange, honey and pear notes produce a perfume that has trouble catching your attention. The palate does not ave enough going to create excitement. This is a plesant Sauternes, but it lacks the depth, complexity and definition that makes the wines great.

2,368 Views

Tasted

Jan 25, 2012

2007
Château Lafaurie-Peyraguey (Sauternes)

What a nice, finesse style of Sauternes. Focused on freshness, coupled with ripe, honeyed fruits, the wine offers apricot, orange, pineapple and candied citrus rind with sweet vanilla accents and refreshing acidity giving this taste treat lift, along with its honeyed tropical fruit flavors. I enjoy Sauternes young, but this is only going to get better with time.

5,681 Views

Tasted

May 10, 2013

Rich, sweet, lush, pure, clean and with the right amount of freshness, this honey drenched, apricot, vanilla, floral, spice and candied citrus peel flavored wine is a pure delight to drink. But its best days are in the future with another 5 - 10 more years in the cellar.

4,000 Views

Tasted

Jan 25, 2013

2006
Château Lafaurie-Peyraguey (Sauternes)

Youthful, vigorous, sweet and fresh, there is a nice purity in the honeyed tropical fruits. Tempered with candied apricots and vanilla bean, the sweet, honey coated, tropical finish has ample lift.

3,936 Views

Tasted

Sep 23, 2018

2005
Château Lafaurie-Peyraguey (Sauternes)

Lacking the depth and concentration found in the best vintages of Lafaurie Peyraguey, the wine focuses on its apricot, floral, honey, spice, vanilla and orange marmelade perfume. Soft, sweet and ready, this finish serves up sweet, bright, tropical fruits with orange honey in the end notes.

4,161 Views

Tasted

Feb 10, 2014

2001
Château Lafaurie-Peyraguey (Sauternes)

With layers of sweet, ripe, tropical pineapple, apricots, orange, peach, vanilla and honey, this medium/full bodied sweet, Bordeaux wine offers a juicy mouthful of rich, spicy, honey coated nuts and ripe yellow fruits. This is a Sauternes I enjoy drinking during its first two decades of life. This is probably not a wine to hold for longer periods of time.

6,646 Views

Tasted

Feb 26, 2012

1990
Château Lafaurie-Peyraguey (Sauternes)

There is a deep gold, with copper color in its hue. Thick, fat, very sweet, with honey coated apricots, orange rind, pineapple and tangerine. This is probably fully mature at this point. There is no reason to age this any longer as the sweetness seem to be less than it was a few years ago.

3,582 Views

Tasted

Sep 23, 2014

1988
Château Lafaurie-Peyraguey (Sauternes)

Fresh, lifted, sweet, candied tangerines, orange rind, pineapple, and mango with loads of caramel, butterscotch, and spice on the nose and palate. This has moved slightly past its peak, so there is no reason to age this any longer. It is best if it's consumed over the next few years. Drink from 2022-2028.

2,605 Views

Tasted

Aug 16, 2022

I was surprised at how good this bottle was still showing. The color has taken on more amber, copper tones than I remember, but the nose, with its honeyed apricot, candied orange rind, caramel, butterscotch and creme brulee spoke to me. And I was listening as it said to start sipping the delectable blend of pineapple, orange, butterscotch, vanilla bean and honey. This is on the bright, fresh, orange side, but there was enough other things going on here that it kept the score right up there.

3,479 Views

Tasted

Jan 20, 2018

On the orange, marmalade, butterscotch and creme brulee side of the style range, there is good acidity, freshness, sweetness here. The finish is a beautiful, honeyed, apricot, pineapple, orange and spice sensation.

3,386 Views

Tasted

Jan 17, 2017

Pure apricots, candied orange, tangerine, pineapple and butterscotch custard all slathered with honey and spices. Concentrated, sweet, lush and lusty, this is delicious. Even the deep, orange, copper hue is a beauty. I am not sure this is a wine for that much more evolution, but as it is so delicious today, if you have a bottle and need a treat, pop a cork.

2,882 Views

Tasted

Nov 9, 2016

Deep gold in color, butterscotch, tropical fruits, honey, apricot and vanilla scents were in abundance. Still young, sweet, fresh, and rich, this delicious, sweet Bordeaux wine is drinking great today.

4,118 Views

Tasted

Mar 13, 2012

Honey coated apricots, orange rind, caramel, vanilla, smoke, pineapple and spice are easy to find. Sweet, round and fully mature, this delicious Sauternes fills your mouth with layers of caramel coated oranges, nectarines and spice. There is no reason to wait to drink this wine as I doubt it will get better in time. Wines like this make me think I need to drink more sweet wines as they are unique.

4,870 Views

Tasted

Sep 8, 2011

This wine has the unique distinction of owning the most difficult name in Bordeaux to pronounce correctly. It's also an elegant, fully mature wine that delivers sweet, orange, pineapple, mango and nectarine with honey and toasted vanilla flavors.

3,433 Views

Tasted

Aug 15, 2008

On the nose, rich, ripe, sexy, honeyed fruit, flowers and custard notes. Medium/full bodied with ripe, sweet, honey and nut crusted tropical fruit, this was wine to end the night with.

2,550 Views

Tasted

Feb 20, 2007

1983
Château Lafaurie-Peyraguey (Sauternes)

Fully mature, with a honey, apricot, caramel, roasted pineapple and orange marmelade nose, the wine is medium bodied and elegant in style, offering a delicous mouthful of over ripe apricots, tropical fruit and honey in the finish.

2,611 Views

Tasted

Mar 8, 2014

1926
Château Lafaurie-Peyraguey (Sauternes)

There was so much chocolate in this beauty, you could think it was a hundred year old, vintage Port! Add to that, honey coated oranges, caramel, brown sugar, butterscotch, breakfast tea with a few tablespoons of honey and you start to get the idea about the bouquet. The wine still retains fruit and it's in balance with the acidity, finishing with sweet, fresh, candied orange, burnt caramel and honeyed nuts in the end notes.

2,257 Views

Tasted

Apr 28, 2015